Ohio State vs. Penn State Odds & Picks: Our Best Bets for Saturday's Primetime Big Ten Matchup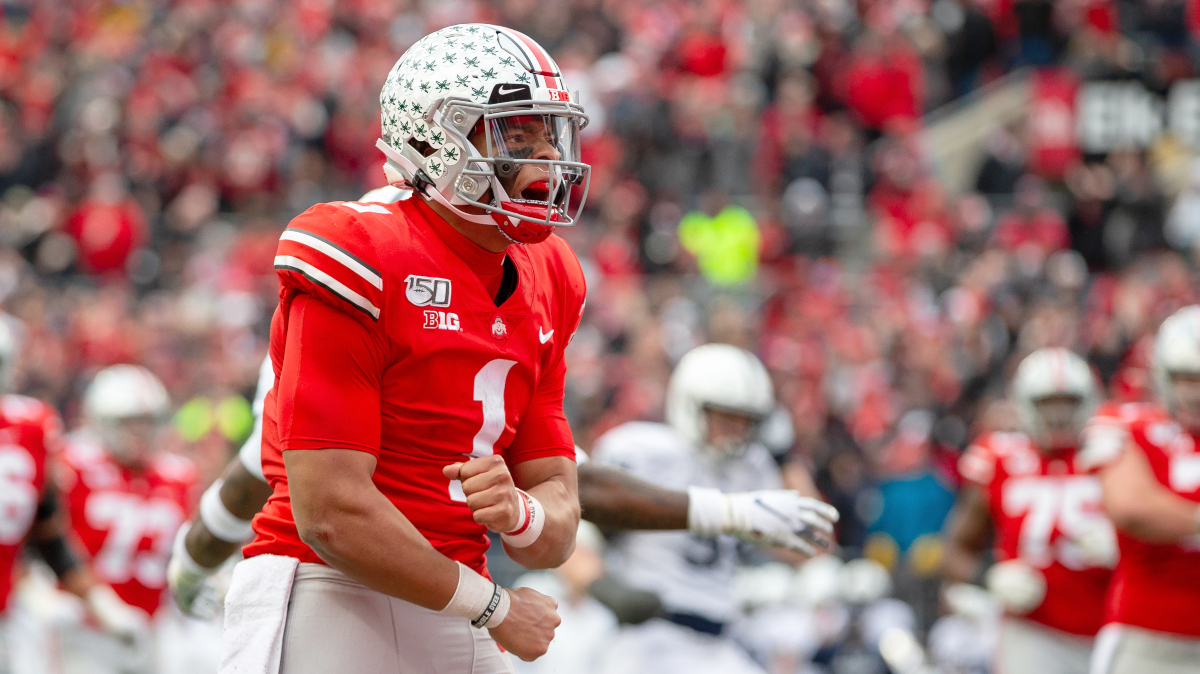 Ohio State vs. Penn State Betting Odds
| | |
| --- | --- |
| Ohio State Odds | -10 (-109) [BET NOW] |
| Penn State Odds | +10 (-112) [BET NOW] |
| Moneyline | -375/+270 [BET NOW] |
| Over/Under | 64 (-108/-113) [BET NOW] |
| Time | 7:30 p.m. ET |
| TV | ABC |
The eyes of the college football world will be trained on University Park, Pennsylvania on Saturday night as the Ohio State Buckeyes hit the road to take on the Nittany Lions of Penn State.
The looming Big Ten matchup lost some of its luster last week when Indiana upset Penn State in Bloomington. The Hoosiers' victory denied us an early-season 1-0 battle between undefeated Big Ten powers. Nonetheless, there's still plenty to root for in this matchup — and even more ways to bet on it.
In honor of the second pseudo-"play-in game" for the College Football Playoff — and following a similar cadence from Week 7's Georgia vs. Alabama game — our college football betting team has pulled out all the stops for Saturday night's game to top off your betting card.
The brief was simple: What are you most eager to bet from this Saturday night game? Yet, the responses were anything but 'simple.' There formed a minor coalition of three bettors who are unified in their position on the game total. But, beyond that small trend, the rest of our team's preferred betting positions are disparate and eclectic.
Among our nine contributors, only one preferred a moneyline play — and he parlayed it with an over/under bet. One other person — only one! — took a stance on the listed spread as of writing. In fact, the majority of our college football betting analysts opted for exotics, props and alternative lines.
With that much diversity of opinion, you're sure to find something worth betting on for Saturday's Big Ten Showdown. So, if you haven't already, download the Action App to get real-time odds, track your bets and follow all of our picks in the app.
Why sweat your betting card alone on the couch? Come join the rest of us in the app this Saturday night.
Ohio State vs. Penn State Staff Best Bets
Without further ado, let's dive in to each of our nine staff best bets for No. 3 Ohio State vs. No. 18 Penn State (navigate to a specific author or bet type by clicking the respective links below):
---

---
Over/Under
It is easy to look at these teams and focus on players like Justin Fields and Pat Freiermuth and the high-powered offenses for both Penn State and Ohio State, but they also boast two of the best defenses in the entire country.
Last season, Ohio State finished with the fourth-best scoring defense in the country, allowing a measly 13.7 points per game. Penn State wasn't far behind, sitting eighth at just 16.0 points allowed per game.
The loss of Chase Young is certainly going to slow the Buckeyes' pass rush, but they were so dominant against the pass last season that it's hard to envision them falling too far. The Ohio State defense was a no-fly zone for opposing offenses, giving up only 156 passing yards per game. The Buckeyes allowed just nine passing touchdowns all season and had 15 interceptions.
Cornerback Shaun Wade deciding to reverse his opt-out decision was huge for keeping this Ohio State secondary as strong as last year. In their first game against Nebraska, the Buckeyes held the Huskers to 160 yards passing and allowed only three points in the second half.
_BookPromo=99
For the Penn State Nittany Lions, their dominance is defending the run and anchored by an elite front seven. Penn State led the nation last season allowing just 2.6 yards per carry to opposing rushers. The defense held its opponents to under 100 total rushing yards in eight of their 13 games.
Despite All-American linebacker Micah Parsons opting-out for the season, the Nittany Lions are still loaded on defense: They held Indiana to just 1.6 yards per carry and 41 total rushing yards last week.
The biggest cause for concern for the Buckeyes in their first game was the amount of pressure Nebraska was able to get on Justin Fields. Ohio State allowed a Sack Rate of 10.0%, which puts them 88th out of the 101 active FBS teams. Penn State has two elite pass rushers in Shaka Toney and Jayson Oweh. Toney had 6.5 sacks last season and already registered two against Indiana. Fields could find himself forced to run around a lot more than he would prefer against Brent Pry's defense.
Each team's offense has a weakness that the other should be able to expose. Penn State has lost its top two running backs, which could force the offense to pass more than it would like against a terrific Ohio State pass defense. The Bukeyes looked vulnerable against the pass rush one week ago and now must face a unit built to get after the quarterback.
The game total is 64.5 as of writing. These two teams have only combined for that many points once in the past six meetings and just twice in the past 25. The under is the best bet in this game between two of the best defenses in college football.
Pat McMahon: Under 64.5 (-110) at William Hill [BetNow]
This total feels high to me for a variety of reasons. First, both of these defenses should be among the nation's best this season. While the Buckeyes lost several key players from last season to the NFL, they've re-loaded and still have tons of talent on the defensive side of the ball.
The Buckeyes allowed fewer than 14 points per game in 2019 and only gave up 17 to the Nittany Lions in last year's game. Outside of allowing a pair of first-half touchdown drives by Nebraska last week, the unit played extremely and really slowed the Huskers down in the second half, only giving up a field goal.
Despite the overtime loss to Indiana last week, the Penn State defense was very strong, holding the Hoosiers to 211 yards for the game. The Nittany Lions were incredible against the run, stifling the Hoosiers ground game and allowing only 1.6 yards per carry. Like the Buckeyes, the Nittany Lions had one of the top defenses in the sport last season, and early on it looks they haven't dropped off much.
Another reason to like the under is that both teams lack the reliable offensive weapons that they had last season. Without KJ Hamler to lean on, Sean Clifford did not look impressive in his season debut. He threw two first half interceptions and looked out of sync with his receivers all day. Clifford still has his security blanket over the middle in tight end Pat Freiermuth, but he'll need more than Freiermuth to step up on Saturday to be able to move the ball consistently against this stout Buckeyes defense.
For the Buckeyes, Justin Fields and the passing game looked great in the season opener, but the ground game surprisingly struggled. The Buckeyes are using a running back by committee to replace JK Dobbins, and Trey Sermon and Master Teague III got the bulk of the workload against Nebraska.
Teague did punch in two touchdowns, but managed just 41 yards on 12 carries, and both backs left a lot to be desired. The offensive line didn't help, struggling to open up holes for the ball carriers. Against a very talented Penn State front seven, the Buckeyes rushing attack could be in for a long day.
With two top defenses squaring off, explosive plays will be at a premium. I expect this game to play out similarly to last year's tilt, which only had a total of 45 points.
I would play this under down to 61.
It's really a shame that this game occurs this early in the COVID-19-rejiggered Big Ten schedule. There are a lot of unknowns about both teams at this juncture, and with a sample size of one game for each team, it's really hard to have faith in the data.
In the first half of both team's opening matchups, rusty football was on display. Penn State was careless with the ball, throwing two interceptions and fumbling once. The Nittany Lions found themselves facing a 10-point deficit heading into halftime.
The Buckeyes started the first half with poor tackling, giving up a touchdown in each of the first two quarters. The Buckeyes went into halftime up 10 points, having failed to cover the first-half spread. I think it's really important to look to the second half of both teams' opening Big Ten conference games to get a feel for handicapping this game.
Penn State came out of the halftime break and closed the 10-point gap to force overtime. The Nittany Lions eventually lost in overtime, but they did score three touchdowns in the second half. They also missed two field goals in the second half, both of which would have helped them avoid an overtime loss.
The Nittany Lions defense held the Hoosiers to 11 points in the second half and registered an interception. If it wasn't for Penn State's first-half mistakes and missed field goals, it should have easily won this game.
Ohio State scored 28 points in the second half and held the Cornhuskers to three second half points, cruising to a comfortable 52-17 win while covering the spread. The Buckeyes effectively shut down the Huskers' passing and running game after they settled into the season.
Expect to see the second-half version of the Buckeyes show up in Happy Valley on Saturday night — particularly on defense.
On Saturday night, Penn State won't make the same mistakes that it made in the first half last weekend, but neither will Ohio State. Two quarters of live football knocked the rust off of the Buckeyes defense, and they will be ready for Penn State.
Penn State will look to reduce their offensive errors and apply pressure to Ohio State's vigorous offense. My over/under model makes this matchup a 62-point game total based on full-game data from Week 8. After I adjust for each team's sloppy play in the opening stanzas of their respective contests, the total falls to the mid-50s. I would play this under down to 60.
---

---
Point Spread & Alternate Lines
The ABC Saturday night game has lost some of its appeal with Penn State stumbling on the road at Indiana last weekend. But looking at the box score, it's honestly astonishing how the Nittany Lions lost the game. They outgained the Hoosiers by 277 yards and held them to 3.4 yards per play — including only 1.6 yards per rush attempt. Penn State also controlled time of possession by a 2-to-1 margin. So, this game wasn't an indictment on Indiana, but more about how badly Penn State let it slip away.
Last year, Penn State was the No. 5 team in the country in terms of rushing success and averaged 4.6 yards per rush attempt. However, most of that was with running back Journey Brown, who is no longer with the team. Devyn Ford filled in last week, rushing for 69 yards. But, as is the theme with this Penn State offense, it revolves around Sean Clifford, who led the Nittany Lions with 117 rush yards in Week 8.
If Penn State is going to have any chance of being in this game, it's going to have to come through Clifford, especially in the passing game. Ohio State had to replace a ton of NFL in its secondary and up front with the losses of Chase Young, Jeff Okudah, and Damon Arnette. Even though the Buckeyes blew out Nebraska last weekend, the Huskers ran the ball for a 63% Success Rate and averaged 5.8 yards per carry. So, the Buckeyes have some work to do to return to where their 2019 defense was.
Justin Fields and the Ohio State offense looked unstoppable; so for Penn State to cover this game, Sean Clifford is going to have to rise to the occasion and play better than he did when these two teams met last year in Columbus.
I only have Ohio State projected as -6.59 favorites, so I think there is some value on the Nittany Lions to cover the 11.5-point spread at home on Saturday night. I would play this down to Penn State +10.5, but I would lay off the Nittany Lions' side at +10 or less.
_BookPromo=156
Reed Wallach: Penn State 1H +7 (-115) at PointsBet [BetNow]
The numbers don't lie: Penn State should've won last Saturday, considering the team had a postgame win expectancy of 100%. Sean Clifford and the PSU offense drove inside the Indiana 40-yard line eight times and came away with only 21 points. While this is a step up in class against Ohio State, there should be some positive regression for the offense, and I think that it comes early with State bringing a sense of urgency to this one.
I do think that the market has overreacted to Penn State's opening weekend loss, and the number is now over inflated. If the Nittany Lions leave Bloomington with a win, even in overtime, this line is not hovering around 12 and is most likely inside of 10.
While I do lean with James Franklin's bunch, I am wary of how Ohio State took over in the second half against Nebraska last week, and I want to get a feel for the game before investing in a full-game side.
With that in mind, I'll take Penn State in the first half. I expect to see Franklin get his team up for this one. The Nittany Lions can take advantage during the early stages when they can trust Sean Clifford to stick to the script. And that script is sure to be its best of the year with what is on the line against the Buckeyes.
While it won't be the raucous Penn State White Out that we have grown accustomed to for big games in Happy Valley, I think that we see a big effort from PSU to show up early and throw the first punch.
As for the second half, Justin Fields and co. may simply take over and push this out over two scores. So, I'll take the first half and reassess at halftime. I would play this down to +6 (-100) but would much prefer to get the juiced +7 if possible.
It's only human nature to see this game hit the board and assume that we're in for more of the same from this Buckeyes-Nittany Lions series. The average margin of victory between these teams has been four points during their last four meetings.
The difference in this spot is that Penn State is simply outgunned offensively against a truly special Ohio State team. In a normal year, Beaver Stadium would be enough to bridge that gap, but with COVID-19 protocols in place in the Commonwealth of Pennsylvania, Happy Valley will not be rocking.
It may only have been one game, but Penn State's performance against Indiana confirmed something for me: The Nittany Lions are not as explosive as they once were. Yes, Penn State can move the football and was efficient on third downs (9-for-17), but it mustered only two plays of 30 or more yards and averaged just 6.8 yards per pass attempt. You can't dink and dunk against an aggressive Ohio State defense that took the ball away 25 times last year and twice in its opener against Nebraska.
Once the Buckeyes have the ball, it's the Justin Fields show. He was nearly perfect last week against the Cornhuskers, and I believe he's aware of Trevor Lawrence's positive COVID-19 test, which shifts Fields into the front-runner position for the Heisman Trophy. I expect a massive game from Fields and the Buckeyes (No. 1 in offensive Success Rate) to run away from Penn State in the second half.
My confidence stems from Ohio State's performance as a road favorite last season (4-1 ATS), during which span the Buckeyes beat the closing number by an average of 14.6 points.
---

---
Exotics & Player Props
Matt Wispe: Ohio State ML & Under 64 (+145) at SugarHouse [Bet Now]
While Penn State's season-opening loss to Indiana may have lowered expectations of this game and its importance to the College Football Playoff, this still represents a matchup between two programs that have finished first and second in the Big Ten East in three of the last four seasons.
These two teams have played in close games in recent years, with an average margin of victory of 8.8 points over the last five seasons. Furthermore, four of the last five matchups have hit the under.
Ohio State's season-opening win, while dominant, may have exposed some weaker areas in its team. The Buckeyes allowed a 63.3% rushing Success Rate to Nebraska, led heavily by their running QBs, and allowed 3.39 line yards per attempt. But, they did manage to create Havoc (19.6%) and stop Nebraska from finishing drives with touchdowns (2.83 points per opportunity).
Penn State's loss to Indiana was both controversial and undeserved based on the numbers. But, the loss revealed enough concerns with the offense to warrant concern that Ohio State will limit the Nittany Lions' scoring chances more than Indiana did.
Penn State only scored 2.63 points per opportunity against the Hoosiers despite posting strong Success rates and line yards and while limiting its Stuff Rate and Havoc allowed. And with the team losing starting RB Noah Cain for the season, the Nittany Lions will have to move further down the depth chart in their attempts to expose Ohio State's apparent weakness.
Both Ohio State and Penn State will experience a step up in talent for opposition in this matchup as they rank third and 13th, respectively, in the Team Talent Composite. Ohio State appears to be the superior team, but they've struggled enough in recent years with this game to scare me away from the spread. But the moneyline parlayed with the total seems to have plenty of value.
Ace DeCardano: Penn State Team Total Over 26 (-115) at PointsBet [Bet Now]
Penn State coach James Franklin is 5-1 ATS against THE Ohio State University.
However, I can't back this Nittany Lions team given the number of question marks on defense — and because the electric "White Out" will not be a factor this season. I also can't lay the points with Ohio State. The line moved from 9.5 to 11.5, and we are talking about a double-digit road favorite who lost three first-round draft picks on defense.
What we always want to look for, however, is the potential for hidden value. This might be found in the Penn State team total.
One would think the losses of Young, Okudah, and Arnette would hurt the Ohio State pass defense. Nebraska's QBs were a combined 16-for-20 passing last week, so this is a possibility.
The Nittany Lions had no trouble moving the ball (488 yards of total offense), against the Hoosiers last week. But, they shot themselves in the foot with 10 penalties for 100 yards. They should have scored more points, and penalties shouldn't be as much of a problem this week. The home team usually doesn't experience this many penalties in Happy Valley.
Although losing RBs Noah Cain and Journey Brown is certainly not ideal, I believe their losses have been overvalued by the market. Devyn Ford is still available, and Penn State will find a complementary back.
Lastly, this defense is missing two stars from last season. Yetur Gross-Matos is in the NFL, and superstar linebacker Michael Parsons has opted out of the season. There is a possibility that Justin Fields and the fast-paced Buckeyes (7th in FBS in plays per game last season) score early and often. This would only serve to send the Penn State offense back on the field for more opportunities.
That confluence of factors leads me to the over on the 26-point Penn State team total, which I would play up to 27.5.
_BookPromo=212
Darin Gardner: Penn State Tight End Pat Freiermuth to Score (+150) at FanDuel [Bet Now]
This feels like a square bet, but there are seven players in this game with better odds than Freiermuth to score a touchdown. His +150 odds are equal to teammate Jahan Dotson, who only has six career touchdowns. Over the course of Freiermuth's career, he has scored 16 touchdowns in 26 games, for a percentage of 61.5%. Additionally, he has accounted for 32.7% of all team receiving touchdowns since his first game at Penn State.
Freiermuth was targeted 11 times versus Indiana, and he figures to see a healthy dose of targets against Ohio State in a game where Penn State will likely lean on the pass. The Buckeyes also had problems defending the pass against Nebraska, and rank 72nd in pass defense EPA this season (small sample caveat).
A number of +150 implies a 40% probability, and that's a little too short for this one. I think this prop play holds value down to about the +115 to +120 range. I ran a pretty simple model on this, and it projects the true odds to be about 52%. Penn State's team total is in the 26-point range, so there should be a good opportunity for Freiermuth to get in the end zone here.
Are you looking for a safe, reliable, trustworthy sportsbook? Check out our ratings of the best sportsbooks and their current sign-up offers for new customers.