College Football Odds & Picks: 2020 MAC Conference Preview & Wednesday Betting Guide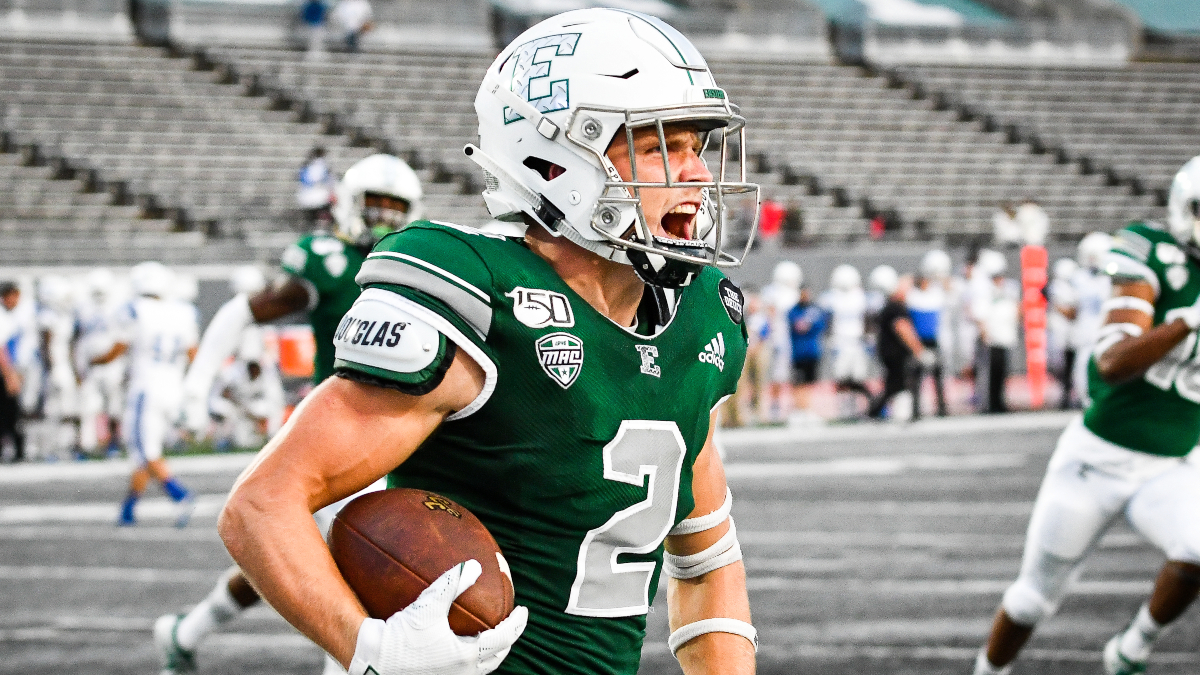 Last Wednesday marked the first time since July 22 that we didn't have a single NBA, NHL, NFL, MLB or college football game. We will have the same thing happen on Tuesday night, but don't worry: MACtion is back on Wednesday to save our midweek betting itch, as all 12 MAC teams kick off their reduced six-game conference-only schedule.
The winners of the East and West divisions will then face off at Ford Field in Detroit for the MAC Championship on Friday, Dec. 18. As of now, the general public will not be permitted to attend any games.
Each MAC team will play its first three games on either a Tuesday or Wednesday before finishing up the conference slate with a trio of Saturday games. Fortunately, those midweek games will take us right up to the start of college basketball.
Getting back to MAC football, let's take a look at each of the six matchups on Wednesday night. I'll provide a season preview for each team before touching on any potential betting angles I'm looking at on opening night. It's a wide-open conference with zero head coaching changes but quite a few new quarterbacks after the graduation of all three signal-callers who received All-Conference honors.
In a year in which continuity and returning production may hold extra importance, it may be even more critical in the MAC, where there isn't as much depth as other conferences. Miami (Ohio), Ball State, Buffalo and Toledo should all feel good in that department. Central Michigan should as well, but its quarterback situation remains in limbo.
Let's dig in.
MAC Schedule for Wednesday, Nov. 4
Click on a matchup to skip to that preview and pick.
---
All listed odds are current as of early Tuesday morning and via DraftKings. Specific bet recommendations remain unadulterated as of the time of writing. Always shop for the best price using our College Football Odds page, which automatically surfaces the best lines for every game.
_BookPromo=49
Eastern Michigan Eagles at Kent State Golden Flashes
| | |
| --- | --- |
| Eastern Michigan Odds | +6.5 (-114) [BET NOW] |
| Kent State Odds | -6.5 (-107) [BET NOW] |
| Moneyline | +175/-215 [BET NOW] |
| Over/Under | 62.5 [BET NOW] |
| Time | Wednesday, 6 p.m. ET |
| TV | ESPN+ |
Eastern Michigan Eagles

It's a potential rebuilding year in Ypsilanti for head coach Chris Creighton, who has done a remarkable job turning this program around from almost dead to respectable.
Offense
Creighton's first and toughest task will be replacing quarterback Mike Glass, who threw for over 4,000 yards last season. That job will fall to Preston Hutchinson, who did at least sparkle in his only career start against Western Michigan last year. The junior finished 31-of-36 for 357 yards, so he at least has confidence he can produce at this level even if only in a one-game sample size.
Still, it's hard to imagine there won't be at least some drop-off early on after everything Glass did for this offense. It wasn't the most explosive offense, but it ranked in the top 20 in efficiency, Success Rate and completion percentage. Those numbers will be hard to duplicate.
After the departure of offensive coordinator Aaron Keen, Creighton will take over play-calling duties. He hopes an inexperienced running back by committee can get the job done on the ground. EMU lost its top four rushers from 2019 after Shaq Vann graduated and Willie Parker II opted out.
The Eagles lost leading-receiver Arthur Jackson in addition to Matthew Sexton, but they still have 6'6 tight end Thomas Odukoya and a dangerous duo on the outside in Dylan Drummond and Quian Williams. For my money, Williams is one of the most underrated wide receivers in the country.
Quian Williams of @EMUFB led the MAC with a drop rate of just 1.9% last season, while also posting the conference's third highest yards per target rate pic.twitter.com/Ss046ws4TH

— CFB Film Room (@CFBFilmRoom) July 11, 2020
Jairus Grissom, a converted quarterback, also has loads of potential at wide receiver. The weapons are certainly there for Hutchison.
The offensive line has two reliable returning starters in center Mike Van Hoeven and tackle Brian Dooley, but it also must replace two other key starters. It's all eyes on Hutchison on Wednesday night. If he looks as pristine as he did last year against Western Michigan, this EMU offense might not miss a beat.
Defense
After a rough season for EMU's base 4-2-5 defense, it now must replace the following contributors:
First-team All-MAC safety Vince Calhoun (most starts in EMU history with 49)
Second-team All-MAC hybrid safety/linebacker Brody Hoying
Third-team All-MAC inside linebacker Kobie Beltram
Third-team All-MAC cornerback Kevin McGill (40 starts; signed with Chargers this summer)
The front seven had a particularly tough go last season. The Eagles struggled to stop the run (outside top 100) and couldn't get any pressure, ranking 121st in tackles for loss. That wasn't too surprising after losing star defensive linemen Maxx Crosby (now starting for the Raiders) and Jeremiah Harris (who got a shot with the Giants).
Defensive end Turan Rush leads a defensive line that should improve with experience, but major questions remain at linebacker. Also, the secondary lost three players who previously received All-Conference recognition. Cornerback Freddie McGee is a playmaker but extremely undersized. Safety Blake Bogan will have to elevate his game to compensate for the attrition in the secondary.
Synopsis
The offense has to replace a substantial amount of production from last season, most notably Glass. That won't be easy in an offseason with shortened preparation and the loss of an offensive coordinator.
The same can be said for a defense that lost most of its primary contributors from a unit that had a down year in 2019. EMU ranks in the bottom 10 nationally in returning production, which might show out of the gates.
However, if Hutchison is the real deal, a lot of those concerns go away. From a pure numbers perspective, EMU is a play for me at +7.5 or better. If it doesn't get there pregame, I'd look for the Eagles live.
---
---
Kent State Golden Flashes

At 3-6 on the season and down three touchdowns in the fourth quarter against Buffalo, it looked like it would be a disappointing season for head coach Sean Lewis. But after a miracle FBS-record fourth-quarter comeback, Kent went onto win its final two games to become bowl eligible.
The Golden Flashes then secured their first bowl win in program history over Utah State. They hope to ride that wave into this year.
Offense
Kent State does return star senior quarterback Dustin Crum, who threw 20 touchdowns to just two interceptions last year while also finishing as the team's leading rusher with over 700 yards. Crum is a legit pro-prospect who had the fewest turnover-worthy throws of any quarterback, per PFF, which graded him as the third-best QB in the country.
Dustin Crum and @KentStFootball with two touchdowns in less than a minute late in the 4Q is pure #MACtion pic.twitter.com/oBBm4bV0XS

— Collin Wilson (@_Collin1) November 15, 2019
Crum will benefit from the return of 2019 leading receiver Isaiah McKoy, but other weapons will need to emerge after the departure of the other top-three receivers, including third-team All-MAC Mike Carrigan. Will Matthews led all Kent State backs with 570 rushing yards, but with him now out of the picture, Xavier Williams will take over as the lead back.
The offensive line does return four starters, but it's an undersized unit that ranked in the bottom 10 nationally in Sack Rate and tackles for loss allowed. There are some promising pieces to build on, including Nathan Monnin and Julian Sams. The entire group also played significantly better after Daniel Johnson stepped in at right tackle over the final four games.
It's noteworthy that one lost starter was Nate Warnock, who started at center the past two seasons. He was arguably Kent State's best offensive lineman at one of the most important positions on a fast-paced offense in which the center makes all of the line calls in just a few seconds. It will be interesting to see if Kent State moves someone like Sams over to center and how that impacts the offense.
Defense
Kent also lacks bulk along a defensive line that finished 120th out of 130 FBS teams in Line Yards last year. As you might imagine, the Golden Flashes really struggled against the run, allowing 5.1 yards per carry (114th). They do bring back eight of their top 10 tacklers, but there are still more questions than answers up front after losing third-team All-MAC defensive lineman Theo Majette, who led the team in sacks in 2019. Zayin West will really have to step his game up this season.
The secondary also lost its best player in third-team All-MAC cornerback Jamal Parker — a four-year starter. They will also need to replace starting safety Qwuantrezz Knight. There are at least two talented pieces to build around in cornerback Elvis Hines and senior safety Keith Sherald, who has first-team All-MAC potential.
Despite being a bit undersized (a consistent theme with Kent State), the linebackers should be the most reliable unit on the defense. Senior Manny Lawrence-Burke is one of the best backers in the conference, and he will get plenty of assistance from Kesean Gamble and Cepeda Phillips.
Reigning Special Teams Player of the Year Matthew Trickett returns at kicker and could even take over punting duties after Derek Adams transferred to Northwestern. Trickett is a weapon for the Golden Flashes.
Synopsis
Lewis has stated he wants to run the ball more, so maybe Kent State doesn't play as fast. That could help out a defense with major questions, while also allowing it to figure out what other weapons will emerge to help out McKoy. Crum is the real deal, but he can't do it on his own. Improvements in pass protection and on defense could make Kent State a bona fide threat in the East division.
Game Breakdown & Betting Recommendation
EMU has to replace plenty of key pieces on both sides of the ball, but its success will all come down to Hutchinson, who did look the part in his lone start last year.
I actually think there's a slight bit of line value on the Eagles in a game I make -4. For reference, EMU was a 3.5-point home favorite in the season finale last year. Kent State won that game by eight with the difference being a kickoff return touchdown in a game in which EMU finished with over 500 yards of total offense.
With all of the roster turnover and increased uncertainty heading into this season, I'd prefer +7 or better on the Eagles before pulling the trigger. If that key number never pops prior to the opening kick, I'll look for a 7 or better live. I also think EMU is the best ML dog on the card with the potential upside of Hutchinson under center. The total looks about right to me but could be a little high if Kent State really does run the ball at a higher clip, which is something I'll be monitoring early in the season
Bets to Watch: EMU ML, EMU +7 or better (pregame or live)
_BookPromo=19
Western Michigan Broncos at Akron Zips
| | |
| --- | --- |
| Western Michigan Odds | -17.5 (-113) [BET NOW] |
| Akron Odds | +17.5 (-108) [BET NOW] |
| Moneyline | -1000/+600 [BET NOW] |
| Over/Under | 54.5 (-105/-117) [BET NOW] |
| Time | Wednesday, 6 p.m. ET |
| TV | ESPN3 |
Western Michigan Broncos

The Broncos actually boasted both the 2019 MAC Offensive and Defensive Player of the Year in running back LeVante Bellamy and linebacker Treshaun Hayward.  Those two led an offense that finished second in the MAC in total offense and a defense that finished third in scoring defense. However, WMU only went 7-6 in large part due to the inability to win away from home (1-6).
Offense
WMU will have to replace Bellamy — who rushed for just under 1,500 yards last season — in addition to 3,000-yard passer quarterback Jon Wassink. That's a common theme for the Broncos, who were the most experienced team in the nation heading into the 2019 season. Therefore, it makes sense they'd have a mass exodus of senior production.
Overall, Western Michigan led the MAC with 13 players receiving All-Conference honors, including six first-team All-MAC selections. Four of those six graduated. WMU will try to replace Bellamy with Sean Tyler and a pair of Power Five transfers. (Michigan State transfer La'Darius Jefferson could become the go-to back, but he's still waiting on a waiver request decision.)
There are three options at quarterback, but Kaleb Eleby should start the season as QB1. He redshirted last year but played in five games in 2018 as a true freshman when Wassink was injured. The former three-star pro-style quarterback doesn't seem to be as willing to use his legs as Wassink, but he has a promising arm.
From a skill position standpoint, slot wide receiver Skyy Moore returns after starring as a true freshman with 51 receptions and over 800 yards. Similar to another Moore — Purdue's Rondale Moore — Skyy is extremely dangerous after the catch.
Congratulations to Skyy Moore @skyymoore_3 for inclusion on the Biletnikoff Award Preseason Watch List! @WMUBroncos @WMU_Football #OutstandingReceiver #NCFAA pic.twitter.com/Wc2KtLQdge

— Biletnikoff Award (@biletnikoffawrd) July 16, 2020
Western has to replace its second- and third-leading receivers, including All-MAC first-team tight end Giovanni Ricci and wide receiver Keith Mixon, who will be sorely missed in the return game.
However, a name to keep an eye on is rare two-way player D'Wayne Eskridge. The future pro prospect has played both cornerback and wide receiver in the past but will likely spend most of his time at wide receiver in 2020 after missing the majority of last season with a broken collarbone. The senior deep-threat caught 38 balls for just under 800 yards in 2018 for an average of over 20 yards per grab. Eskridge, Moore and Jaylen Hall are an excellent wide receiver trio that will put up gaudy numbers if Eleby pans out at quarterback.
Last season, Western Michigan also benefited from a very strong offensive line that finished fifth nationally in Passing Downs Sack Rate. This unit possesses plenty of experience, starting with two stalwarts in guard Mike Caliendo and NFL tackle prospect Jaylon Moore, who have a combined 62 starts. Those two should lock down the left side all season.
The Broncos will miss their best offensive lineman in first-team All-Conference center Luke Juriga, who's now on the Eagles' practice squad. Senior Wesley French, who does at least have tons of size, has transitioned from defensive lineman to replace the three-time All-Conference selection.
For an unknown reason, Spencer Kanz and Jordan Asbury are not listed on the most recent roster after getting most of the starts on the right side in 2019. However, Mark Brooks projects as one of the better right tackles in the conference, while Junior Dylan Deatherage should have no issues filling in at right guard if Asbury is indeed gone.
Overall, WMU's projected starting offensive line consists of five upperclassmen with four seniors, who all weigh in at 295 pounds or greater.
Defense
The defense fared decently last year for MAC standards and will return its two best players in the aforementioned Howard and defensive end Ali Fayad. The pass rush should be terrific once again with those two potential MAC DPOY candidates along with defensive linemen Ralph Holley and Andre Carter.
The defensive line also has depth for days, which is important to second-year defensive coordinator Lou Esposito, who likes to frequently rotate to keep his guys fresh. WMU should have no problems finishing in the top 25 in Sack Rate in all situations as it did last season. It could stand to improve against the run, where it got gashed at times in 2019 (96th in yards per rush).
It will miss second- and third-leading tacklers OLB Drake Spears and safety Justin Tranquill. WMU also lost projected starting outside linebacker Zaire Barnes for the year due to injury, which forced A.J. Thomas to move from safety to fill the SAM position. WMU will at least see the return of 2018 starter Corvin Moment, who missed last season with an injury.
Bottom line, the Broncos will need some very inexperienced pieces to step up at outside linebacker and defensive back. WMU can rely on returning starter Patrick Lupro at one cornerback spot and hope Pitt transfer Therran Coleman can step up at the other to help improve a bad pass defense from 2019.
There are also questions at safety, especially after Thomas moved to linebacker. WMU hopes another Pitt transfer, Bricen Garner, can adequately step in as the starting free safety. The outlook at strong safety looks a lot dicier with a competition between a walk-on and two converted wide receivers.
Synopsis
After losing so many seniors, regression looms for Western Michigan on both sides of the ball. Replacing Wassink and the lightning-quick Bellamy will be no easy task — even with a potentially dominant offensive line.
The defense also lost a number of key contributors. While the pass rush should still be productive, WMU could struggle some on the back end and could see some serious turnover regression after finishing in the top 20 in takeaways per game.
The special teams also struggled across the board last year outside of Mixon in the return game, but he's now gone.
---
Akron Zips

Well, it can't get any worse for Akron this year after becoming the first team in college football history to start 0-10 ATS en route to an 0-12 season.
Akron is 0-9 against the spread this season .. and it's as bad as it seems:

• Failing to cover by 14.8 points per game.

• Only 2 of 9 games finished within one possession of spread pic.twitter.com/t65cyvypb0

— The Action Network (@ActionNetworkHQ) November 5, 2019
Offense
The offense was historically bad as the Zips were the only FBS team to average fewer than one point per possession. They averaged a pitiful league-worst 4.0 yards per play and 10.5 points per game.
I can't really say anything positive about the offense, which somehow averaged only 1.8 yards per rush (130th) and had an offensive line that couldn't block anybody. The Zips failed to score more than seven points in seven of their 12 games. Yikes.
Now, Akron will have to replace both starting tackles as well as its best offensive lineman in guard Brandon Council, who transferred to Auburn. The Zips hope Indiana transfer Cole Gest can give them anything in the running game, but this offensive line should still really struggle to open up any lanes.
Senior quarterback Kato Nelson does return under center with basically all of his receiving targets from last year, but can he get enough time to throw?
Defense
Relative to the offense, the defense wasn't that bad. Especially considering how often it had to take the field (average of 34 minutes per game) with the offense doing nothing. Akron's only two All-Conference selections came on this side of the ball in linebacker John Lako and defensive back Alvin Davis. However, both of those tackling machines are now gone, as are five of the team's top eight tacklers.
The secondary and linebacker group have the most potential, but the defensive front will likely still struggle to generate any type of pressure after securing only 10 sacks in 2019.
The Zips, who have lost 17 straight games overall, should at least benefit from a much more experienced roster with 54 returning players this season. They still remain extremely young but were even younger last year. You'd think there should at least be some improvement with 15 returning starters and some potential help from incoming freshmen and JUCO grabs.
Synopsis
I expect Akron to be a tad better this year, but it will be extremely outclassed in the trenches on both sides of the ball. That spells doom against Western Michigan's massive offensive line and relentless pass rush. Nelson will likely be running for his life, while Eleby should have all day to throw.
Game Breakdown
Luckily, this is a pure pass for me. I thought I might end up liking the Zips before the lines came out. Fortunately, the line is spot on to where I have it. It's also just a lopsided matchup in the trenches on both sides of the ball for the Broncos.
Western Michigan really needs its two Pitt transfers to step up in its secondary this season, but I'm not sure Akron has the firepower to provide a real threat.  And I don't know if the offensive line can hold off one of the best pass rushes in the MAC.
Bets to Watch: Pass pregame. I'd look WMU live under two touchdowns if Akron scores first on a fluke.

_BookPromo=49
Ohio Bobcats at Central Michigan Chippewas
| | |
| --- | --- |
| Eastern Michigan Odds | -1.5 (-103) [BET NOW] |
| Kent State Odds | +1.5 (-118) [BET NOW] |
| Moneyline | -112/-109 [BET NOW] |
| Over/Under | 59.5 (-113/-108) [BET NOW] |
| Time | Wednesday, 7 p.m. ET |
| TV | ESPN |
Ohio Bobcats

Believe it or not, Ohio has not won a MAC championship since its 10-1 season in 1968. If the Bobcats can figure out their quarterback situation, they may have a shot to end that drought this season.
Offense
So, let's start at quarterback. Ohio will need to find a way to replace three-year starter Nathan Rourke, who led Ohio to three straight bowl victories. The dual-threat QB from Canada finished his collegiate career with just under 7,500 yards passing and over 2,500 yards rushing.
The two most likely replacements are UNLV transfer Armani Rogers and Rourke's younger brother, Kurtis Rourke. Rogers has the speed and athleticism to give Ohio a vaunted rushing attack, especially with each of the top three running backs returning. O'Shaan Allison and De'Montre Tuggle each averaged over six yards per rush in 2019.
However, Rogers really struggled with accuracy at UNLV, which could hurt a passing attack that returns all five top receivers from last year, including senior tight end Ryan Luehrman and a pair of electric wide receivers, Isiah Cox and Shane Hooks.
On the other hand, Kurtis Rourke, while much less experienced than Rogers, has a cannon for an arm, which could give Ohio a more dynamic passing attack. If the younger Rourke does get the starting nod, he would become the first freshman starting quarterback at Ohio under Frank Solich (16 years).
🎞 Check out the highlight reel for Kurtis Rourke! 😼🏈 #BleedGreen pic.twitter.com/tGrdY9eHaQ

— Ohio Football 🏈 (@OhioFootball) December 19, 2018
If either Rogers or Rourke can step up to the plate, this Ohio offense will continue to light up the scoreboard. Last year, the offense finished as a top-20 overall unit, per S&P, ranking in the top 20 in both yards per rush (5.5) and yards per pass (8.6).
Don't be surprised if Ohio rotates both quarterbacks on Wednesday. Solich has done that in the past.
The Bobcats did lose three offensive linemen who received All-MAC honors, which is worrisome. The interior will be fine with the returning experience and talent around center Brett Kitrell, but there are major questions at both tackle spots. Don't expect Ohio to duplicate last year's ranking of fifth nationally in Line Yards.
Defense
While the offense was explosive and efficient (12th nationally in Success Rate) in all phases last season, the defense really struggled, especially against the run. Ohio allowed 4.7 yards per rush (94th), and its defensive front couldn't generate a consistent push, finishing outside the top 90 in both Standard Down Line Yards and Sack Rate.
Overall, the defense does bring back seven starters, along with 16-of-24 from last year's two-deep. However, it must replace star safety Javon Hagan. The four-year starter, who received All-MAC honors every year in Athens, now sits on the Buccaneers' practice squad. Ohio also received unfortunate news when two returning senior starters, cornerback Marlin Brooks and linebacker Dylan Conner, opted out of the season due to COVID-19 concerns.
The defensive front loses Cole Baker and Brian Arp, but both were part of a unit that got pushed around. I actually think the run defense could improve with the addition of highly-touted recruit Denzel Daxon, who became eligible this year. The 6'2 335-pound junior brings some much-needed bulk up front to pair with Kai Caesar. Those two give the Bobcats just under 650 pounds of beef inside, which should allow linebackers. Jared Dorsa and Keye Thompson to roam free behind them. Will Evans and Austin Conrad also give Ohio a decent duo of returning defensive ends, but the overall defensive line depth is concerning with Marcus Coleman no longer on the roster.
If Alvin Floyd can help fill the void left by Hagan, the secondary could work out even after Brooks opted out. There's a plethora of experience in the defensive backfield with safety Jarren Hampton and three talented corners in Jamal Hudson, Xavior Motley, and Ilyaas Motley. Those four have played in 126 games for the Bobcats.
Lastly, let's talk special teams — an area of concern for the Bobcats. Ohio's 2019 special teams actually rated in the top 30, thanks to the terrific trio of kicker Louie Zervos, punter Michael Farkas and long snapper Devin King, per S&P. Solich must replace all three, so we may see a precipitous drop in production from Ohio's now inexperienced third phase.
Synopsis
I don't see how either Rogers or the younger Rourke can replace what Nathan Rourke did both through the air and on the ground. Therefore, I expect this offense to take a step back, especially with questions at both tackle spots. The special teams should also regress hard from 2019. However, I actually think the defense will be improved in the second year of Ron Collins' system.
The defensive numbers were ugly last season, but they started to show significant improvement toward the end of the year. I think Ohio could be a sneaky under team early in MAC play, starting with its opener on Wednesday night.
---
Central Michigan Chippewas

What a remarkable turnaround it was for the Chippewas in 2019 when first-year head coach Jim McElwain took them from a 1-11 season to MAC West champions.
Offense
McElwain, along with first-time offensive coordinator Charlie Frye, completely revamped an anemic offense by transitioning it from an RPO-based scheme to a more pro-style one. And the results were astounding, as CMU doubled its scoring average in 2020 from the year prior.
The offense all started with the run with two 1,000-yard backs in Jonathan Ward and Kobe Lewis, who ran behind an offensive line that finished in the top 25 nationally in Line Yards. Ward is gone, leaving Lewis as the primary back heading into 2020.
The passing game flowed nicely from there, as the Chips had two first-team All-MAC receivers in JaCorey Sullivan and Kalil Pimpleton, who led the conference in receptions last season. While the Chips lost Ward (now on the Cardinals roster), they bring the other three back in addition to speedy slot Tyrone Scott.
As we continue to highlight each of our returning All-MAC athletes, we move to Kalil Pimpleton who earned 2️⃣0️⃣1️⃣9️⃣ All-MAC First Team honors after leading the league in receptions and receiving yards‼️#FireUpChips 🔥⬆️🏈 || @231_Peezy pic.twitter.com/d10ihGeeTe

— CMU Football (@CMU_Football) June 22, 2020
However, Central Michigan will have to make do without tight end Tony Poljan, who transferred to Virginia this past offseason. Still, all of the skill position talent is there for this offense to get even better — if it finds a quarterback and the offensive line can effectively replace three starters. Those are two big "ifs."
Last year, JUCO transfer and former Memphis product David Moore started the first four games before being suspended for one year for a banned substance. That opened the door for former Houston and Tennessee transfer Quinten Dormady, who started the rest of the season.
Well, Dormady graduated and Moore still has yet to receive clearance from the NCAA. If he doesn't get cleared before the opener, CMU will turn to true freshman Daniel Richardson.
Central Michigan head coach Jim McElwain on the QB situation: "We have not heard anything on David Moore. We're waiting for the final report from the NCAA."

Says Daniel Richardson will be the starter if there's no report on Moore's status.

— Hustle Belt (@HustleBelt) October 29, 2020
Sam Houston State transfer Ty Brock or a few other transfers could also get a shot. Regardless, expect some growing pains if Moore can't suit up — especially after three offensive line starters graduated and Luke Goedeke (one of the best run-blocking tackles in the conference) was lost for the year due to injury. That leaves guard Derek Smith and four new starters — two of which may be a former tight end and defensive lineman.
Defense
Central Michigan was extremely stout against the run in large part due to a defensive line that finished 11th in Line Yards and No. 1 in all of FBS in Stuff Rate. Michigan transfer Deron Irving-Bey would've given this unit even more size, but he decided to opt out.
Still, most of the defensive line contributors are back in the mix for a very deep group featuring defensive tackles Robi Stuart, Tico Brown, Jacques Bristol and newly added Texas A&M transfer Mohamed Diallo. It's a group that led the nation in tackles for loss percentage on run plays. The Chips are also in good shape at defensive end with LaQuan Johnson and Troy Hairston. They should once again be very stout against the run.
CMU did lose middle linebacker Michael Oliver, but budding star Troy Brown remains on the outside.
The secondary is the most intriguing unit, as CMU has completely overhauled its entire cornerback group and will rely on a trio of Power Five transfers. The cupboard was left bare after promising freshman Kyron McKinnie-Harper got kicked off the team after an arrest, while both Demarcus Governor and Montrae Braswell entered the transfer portal. On top of that, Darius Bracy, who started six games at cornerback last season, was moved to running back to help provide depth to a position that has troubling depth behind Lewis.
That leaves three new projected starters in Florida transfer Brian Edwards (who McElwain recruited to Gainesville), Iowa State transfer Richard Bowens III and JUCO transfer Dishon McNary, who did at least see the field in CMU's bowl game after being academically ineligible for the fall semester. There's a lot of experience and depth at safety, headlined by Alonzo McCoy and Willie Reid. But ultimately, this brand new unproven corner group could make or break CMU's season.
On special teams, Pimpleton and Lewis are two of the better return men in the MAC.
Synopsis
The NCAA's quarterback decision on Moore is huge in the second year of this staff. If he can't go, the offense may sputter early. The defense has a chance to really take a step forward if the transfer cornerbacks work out, as the run defense should remain extremely stingy.
Game Breakdown
A lot of unknowns here at quarterback with CMU presumably rolling with a true freshman and Ohio still not announcing a starter.
It's tough to project what Ohio's offense will look like without knowing if it's Rogers or Rourke under center, as I think Rourke actually gives the Bobcats the best chance to move the ball against a Chippewa defense that is stout against the run but vulnerable through the air.
There's a good chance Ohio might rotate both. I'd personally like to see it roll with Rourke and might look to back Ohio live after seeing how it handles its quarterback rotation in addition to seeing how the true freshman looks in his first collegiate action for CMU. I make the Bobcats a 1.5-point favorite.

_BookPromo=19
Ball State Cardinals at Miami (OH) RedHawks
| | |
| --- | --- |
| Ball State Odds | +1.5 (-107) [BET NOW] |
| Miami (OH) Odds | -1.5 (-114) [BET NOW] |
| Moneyline | +108/-134 [BET NOW] |
| Over/Under | 55.5 [BET NOW] |
| Time | Wednesday, 7 p.m. ET |
| TV | CBS Sports Network |
Ball State Cardinals

There are high expectations in Muncie this season, and rightfully so with 17 seniors and five grad transfers ready to get to work in 2020. Ball State finished 5-7 last season, but three of those losses came by a combined eight points. The Cardinals realistically could have won all but one of their conference games in 2019.
Offense
Senior quarterback Drew Plitt returns under center. He will lead a very veteran offense that led the MAC in scoring last year.
The offensive line lost star right tackle Danny Pinter, who started all 24 games the past two years. However, Curtis Blackwell leads a unit that will have four senior starters. It excelled in run blocking last year but has some gaps in pass protection it can clean up.
Second Team All-Conference wideout Riley Miller graduated, but three of the top four receivers return, led by First Team All-MAC Justin Hall and junior Yo'Heinz Tyler. The Cardinals lost underrated running back Walter Fletcher, but retain the services of senior Caleb Huntley, who ran for 1,275 yards last year. The skill position weapons surrounding Plitt are plentiful.
Offensive coordinator Joey Lynch left for the same position at Colorado State. Former running backs coach and offensive assistant Kevin Lynch now holds that title. He shouldn't have to change much with an extremely explosive and well-balanced offense that I have rated as the best in the MAC.
Defense
The defense let the Cardinals down last year despite benefiting from a high number of takeaways. You could see regression in that department — although they have two aggressive corners with great ball skills.
Fortunately for Ball State, 12 of the top 15 tacklers are back in the fold. While Ball State does have to replace inside backer Jacob White — Jordan Williams, Jaylin Thomas and Christian Albright all return to Muncie. Plus, Brandon Martin returns after missing all but one game last season. The linebacker group, which features three starting seniors and one junior, should be one of the better units in the conference.
The secondary also has plenty of experience and potential with those two aforementioned corners who received All-Conference honors in upperclassmen Antonio Phillips and Amechi Uzodinma. Phillips has been one of the best pure cover corners in all of college football over the past two years.
He may be a Cardinal, but you can also consider @A_phillips_21 a certified ball hawk!

Congrats to Antonio for being named to the @NagurskiTrophy Watch List!@BallStateFB I #MACtion pic.twitter.com/2iXS0XQAk5

— #MACtion (@MACSports) July 21, 2020
Plus, senior safety Bryce Cosby returns to man the back end along with safety Brett Anderson, who has enough experience to try to fill the void left by Ray Wilborn, who received a shot with the Atlanta Falcons in the offseason. All eight projected starters at linebacker and defensive back are upperclassmen.
The weakness of the 3-4 defense last season was the defensive line, which just couldn't make tackles for loss or generate any pressure, ranking 123rd in Sack Rate . That, in turn, negatively impacted the secondary. If the defensive line can be a little more productive, this defense should take an enormous step forward in defensive coordinator Tyler Stockton's second season. There's just too much experience and talent not to.
Synopsis
This loaded Cardinals team is my pick to win the MAC. In an unprecedented year with reduced preparation, Ball State's senior-laden roster and abundance of returning production is invaluable.
The Cardinals have the best offense in the conference, which means they don't need the defense to dominate, but rather just marginally improve up front to help out the best cornerback tandem in the league. They have a real shot at winning their first MAC title in program history.
---
Miami RedHawks

Despite having extremely poor offensive numbers in a conference generally dominated by offenses, Miami won the 2019 MAC Championship.
How did a very young RedHawks team with a freshman quarterback pull it off? Well, for starters, the RedHawks (8-6 overall) went 5-0 in one-possession games. That's an incredible turnaround for what has been one of the worst teams in the country in one-possession games under head coach Chuck Martin.
Since they were young last year, they rank in the upper echelon of MAC teams in terms of returning production as they look to defend their title.
Offense
The RedHawks had a paltry Offensive Success Rate (113th) and finished 117th in yards per play. They will return 2019 MAC Freshman of the Year Brett Gabbert under center. Despite the accolades, the pocket passer posted underwhelming numbers in 2019, throwing for just over 2,400 yards with 11 touchdowns and eight interceptions.
Miami hopes Gabbert will make a sophomore leap with all of his weapons back at his disposal. That includes both running backs, Jaylon Bester (who has been a little banged up in camp) and Tyre Shelton. The RedHawks also bring back their top three receivers, including senior Jack Sorenson, who led the team with 44 catches last year.
Poor offensive line play plagued the RedHawks last season, which wasn't surprising for a group that started two freshmen and dealt with injuries. They ranked 122nd in Line Yards and 98th in Sack Rate. They do have two very talented seniors with NFL potential in center Danny Godlevske and left tackle Tommy Doyle. The other three projected starters got valuable experience last season but need more consistency.
If the offensive line plays better and Gabbert becomes a more efficient passer in his sophomore campaign, the offense features the weapons to post much more respectable numbers than last season.
Defense
Miami's defense was ahead of its offense last year. For reference, the RedHawks finished 111th on offense and 77th on defense, per the final S&P rankings.
The defensive line could be pushed around, ranking 86th in Line Yards. That could become even more of an issue after losing stud defensive tackle Doug Costin, who is now a member of the Jacksonville Jaguars.
However, the unit excelled at getting after the quarterback, finishing with a top-20 Sack Rate. Defensive end Kameron Butler (14.5 TFL) is the star of the show. Butler also gets some help from the likes of Andrew Sharp, Ben Kimpler and Lonnie Phelps.
Miami will have to rely on youth to replace will backer Myles Reid — one of two primary linebackers last year in Miami's 4-2-5 base. Nickel Bart Baratti will also be missed in run support and blitz packages.
The secondary looks like the strength of the defense. Martin will need to replace cornerback Travion Banks on one side, but senior Emmanuel Rugamba is a lockdown corner on the other. Meanwhile, the safety position is set with two returning starters in Sterling Weatherford and Mike Brown — a pair of reliable playmakers.
Synopsis
The offense started four true freshman in 2019, including one at quarterback, so you'd expect a jump in output for a group that returns 10 starters. That said, I still think the ceiling is fairly limited. The pass rush and secondary are the strength of a defense that lost some key pieces. It's an undersized unit that will likely still struggle against the run.
I think the RedHawks are a prime regression candidate in 2020. Not only did they have Lady Luck on their side in close games, but they relied on their special teams to win the field-position battle and squeak out the coin flips. Well, that might not be as easy this year after losing star punter Kyle Kramer and star kicker Sam Sloman, who's now starting for the Rams. They even need to find new returners and a new holder.
Miami's special teams, which ranked 38th in S&P, could take a significant step back in 2020, which could swing all of those close wins from last year to close losses.
Game Breakdown
This is my favorite bet of opening week between a team I'm higher on than the market (Ball State) against a team I'm lower on Miami (Ohio), which I expect to see some serious negative regression a year after going 5-0 in one-possession games.
Meanwhile, Ball State lost three of its conference games by a combined eight points. The offense is excellent and I expect a major improvement on a defense that features two excellent cornerbacks on the outside. I make Ball State a favorite, so I scooped up the +3.5 earlier in the week. I still see value at +2 but would obviously try to hunt out the key number of +3 or buy to +3 on the cheap at -120 or better.
Bet to Watch: I think the senior-led Cardinals make a statement on opening night with a victory over the defending MAC champs, so I'll gladly take +3 or better.

_BookPromo=19
Buffalo Bulls at Northern Illinois Huskies
| | |
| --- | --- |
| Buffalo Odds | -10.5 (-109) [BET NOW] |
| Northern Illinois Odds | +10.5 (-112) [BET NOW] |
| Moneyline | +455/+320 [BET NOW] |
| Over/Under | 51.5 (-115/-106) [BET NOW] |
| Time | Wednesday, 7 p.m. ET |
| TV | ESPN2 |
---
Buffalo Bulls

Fresh off an 8-5 season that was capped off by a blowout bowl victory — the first in school history — Buffalo heads into 2020 as the preseason favorite to win the conference. And it's for good reason, as the Bulls are the only team in the MAC to rank inside the top 50 in Success Rate on both sides of the ball last year. Heading into 2020, they bring back as much production as any other team in the league.
Buffalo also really turned it on at the end of last year. If not for an FBS record fourth-quarter comeback by Kent State, it would have finished the season 7-0.
Offense
Kyle Vantrease comes back at quarterback for the Bulls. He wasn't great statistically last year but has some mobility they utilize in a variety of ways. Still, he isn't necessarily a lock for the starting gig as of now. Head coach Lance Leipold stated there's a real competiiton between Vantrease and Matt Myers, who was the starter at the beginning of 2019 before suffering an injury. We'll see who ultimately gets the job on opening night.
Regardless, this is still a run-heavy offensive attack. To know where the strength of this offense lies, look no further than the 2019 yards per pass (outside the top 100) vs. yards per rush (top 25). Wide receiver Antonio Nunn does return as a bona fide explosive deep threat, but this offense goes as far as the ground game takes it.
Undoubtedly, the star of the show is running back Jaret Patterson. The two-star out of Laurel, Maryland, who didn't garner much national attention out of high school, ran for 1.799 yards last season. By almost every measure, he was a legitimate top-five back nationally in Buffalo's heavy outside zone running scheme.
Jaret Patterson's (@__JP26) film is special. From the second you turn it on, he is making play after play. Really good vision and contact balance. He has starter potential at the next level and should be one of the best players once the MAC returns. #NFLDraft #DraftTwitter pic.twitter.com/a5QRdfcxkV

— Jack Borowsky (@thegridiron_nfl) October 4, 2020
And don't forget about backup Kevin Marks, who also ran for over 1,000 yards for a Buffalo team that was one of only two schools (Central Michigan) in the country with two 1,000-yard rushers.
Of course, you can't mention the rushing attack without bringing up the offensive line, which was tremendous in every way. Not only was it an elite run blocking unit (27th in Line Yards), but it absolutely dominated in pass protection, finishing top in the nation in Sack Rate.
Can Buffalo maintain that level of production up front? That's a tall order after losing three starters, including two key pieces in Evin Ksiezarczyk and Paul Nosworthy. It will still have the services of Kayode Awosika, the best offensive lineman in the conference that we'll eventually see play on Sundays. He will be asked to move from right to left tackle, but you can assume it will be a smooth transition. Ultimately, this offensive line will have plenty of new faces and moving parts, so it's safe to assume a drop in production. At least Buffalo has a reliable commodity in the middle with center Mike Novitsky.
Defense
The defense was the best in the MAC in 2019, ranking 26th nationally in Success Rate. It started up front with a defensive line that had no glaring weaknesses. It ranked 17th in Line Yards and fourth in Sack Rate, which almost mirrored its offensive line from a statistical perspective. Buffalo clearly got it done in the trenches on both sides of the ball.
The Bulls have the best edge-rush duo in the conference with first-team All-MAC defensive ends Taylor Riggins and Malcolm Koonce. They'll miss Ledarius Mack, but make no qualms about it — this is still an elite MAC defensive front. Chibueze Onwuka transferred to Boston College, but massive Eddie Wilson will still hold down the interior for a defense that ranked fourth nationally in yards per rush allowed at a minuscule 2.9.
There's also no shortage of talent behind that front. While Patterson drives the bus on offense, his twin brother, James, is no slouch at linebacker, especially against the run. He'll move to the middle of Buffalo's 4-3 base, flanked by Kadofi Wright (an outstanding off-ball linebacker) and FCS All-American transfer Keith Woetzel.
The Buffalo front seven is still loaded.
In regards to the secondary, the Bulls will miss Joey Banks, but All-MAC safety Tyrone Hill and cornerback Aapri Washington come back for a more than serviceable secondary.
Synopsis
The special teams are dreadful, but that's a common theme in the MAC. That won't hurt Buffalo. What will is a significant drop in production along the offensive line, which was nothing short of extraordinary last year. If it can come close to duplicating last year's effort, Patterson and Marks will run wild again.
Meanwhile, the defensive front should once again wreck havoc against opposing offenses. It's hard to envision any other team coming out of the East to play for the MAC title at Ford Field in mid-December.
Keep in mind Buffalo may come out a little salty for its season opener. The last time it faced Northern Illinois was in the 2018 MAC Championship when NIU made a miraculous late comeback to win by one.
---
Northern Illinois Huskies

Former Ravens running backs coach and NIU alum Thomas Hammock hopes to build some momentum in his second season as head coach in DeKalb. NIU finished with a 5-7 record, but not much went right. It dealt with key injuries and transfers in addition to an offense and defense that both ranked in the bottom 25 nationally.
Hammock will need to find a way to plug quite a few holes after losing 11 primary starters from last year's squad. Five of those starters departed in the offseason via transfer. As a result, it's a very young roster with 66 underclassmen.
Offense
NIU at least has a very experienced quarterback in Ross Bowers under center, but he will have a completely overhauled backfield after Tre Harbison transferred to Charlotte. Plus, second-leading rusher Jordan Nettles is no longer listed on the roster.
Losing tight end Mitchell Brinkman to the transfer portal is a big blow for an offense that features the tight end position, but three of the top four receivers do return.
Even with Harbison, NIU couldn't run the ball, primarily as a result of an offensive line that ranked 119th in Line Yards. And when Bowers dropped back, the offensive line didn't do a very good job of pass blocking, ranking 91st in Sack Rate. Now, the offensive line has to figure it out after losing its best player in Jordan Steckler, a four-year starter at tackle who just signed with the Patriots' practice this past week. It will be a very inexperienced unit with more questions than answers outside of Marques Cox at left tackle.
Defense
In 2019, NIU's defense performed slightly better than its offense, but it was nowhere near the level we've seen in recent years. The Huskies will get only five returning starters back, including senior linebackers Lance Deveaux and Kyle Pugh, who missed most of last season due to injury.
The defensive line was fairly stout up front, ranking 24th in Line Yards, but it failed to generate much of a pass rush (11th in Sack Rate). NIU will now have to find replacements for two starters who decided to transfer in Jack Heflin and Matt Lorbeck, who both darted for Iowa. Weston Kramer is still very good up front, but he doesn't have much experienced help.
Even the secondary lost a lot of production and will particularly miss safety Mykelti Williams. The linebacker corps is the clear strength of NIU's 4-3 base defense, but the secondary and defensive line have major gaps to fill.
Synopsis
The offense returns a league-low 39% of returning production from 2019. That's not ideal after such an unprecedented spring and summer. There are major question marks all over the offense. The same can be said for a defense that needs to quickly find solutions along the defensive line and secondary. It may be a struggle for NIU all season. At least the Huskies should field decent special teams with kicker John Richardson and punter Matt Ference.
Game Breakdown
Ball State is my pick to win the conference on a hunch and the team I see the most value with in the futures market.
That said, the highest-rated team in the conference by far is Buffalo, which is the only team in the MAC that I have projected with a top-50 offense and defense. When you combine what Buffalo was doing to MAC teams in the second half of last year with how much returning production it has, the Bulls are the well-deserved odds-on favorite to win the MAC.
There are some questions about how much of a drop-off we'll see with some new pieces along an offensive line that destroyed opposing defensive fronts in every aspect last season. I make this line Buffalo -13, so it's either Bulls or nothing. I want no part of this NIU team early on after all of the offseason transfers and inexperienced pieces it will need to rely on. Buffalo should control the line of scrimmage on both sides of the ball, and it has the best skill position players by a wide margin.

_BookPromo=39
Bowling Green Falcons at Toledo Rockets
| | |
| --- | --- |
| Bowling Green Odds | +21.5 (-107( [BET NOW] |
| Toledo Odds | -21.5 (-114) [BET NOW] |
| Moneyline | +800/-1667 [BET NOW] |
| Over/Under | 62.5 (-108/-113) [BET NOW] |
| Time | Wednesday, 8 p.m. ET |
| TV | ESPNU |
Bowling Green Falcons

Head coach Scot Loeffler hopes things turn out a little better in his second season. Loeffler, who came from Boston College as a highly-regarded quarterback whisperer, prefers a run-first offensive attack and an aggressive blitzing defense.
However, nothing worked in 2019, with the offense and defense finishing 128th and 124th in the final S&P ratings, respectively. The special teams were even worse, ranking 130th of 130 squads.
Despite being the youngest team in the MAC last season, Bowling Green still lost over 50% of its offensive and defensive production. The only other teams dealing with that much lost production are Western Michigan and Eastern Michigan. Amazingly, Bowling Green's 2020 roster consists of over 60% freshman.
Offense
Loeffler hopes Matt McDonald can provide a boost to an offense that lost both quarterbacks who started games last year. With the graduation of Darius Wade and transfer of Grant Loy to Auburn, it's all up to McDonald with no proven depth. McDonald has at least been in Loeffler's system for four years between Boston College and Bowling Green.
McDonald does have one very reliable target coming back in 6'4 tight end Quintin Morris — an NFL prospect who converted to tight end from wide receiver — who Loeffler will feature in the passing game. He was the only offensive player to receiver any All-MAC honors.
The entire wide receiver corps is extremely inexperienced. There just wasn't any reliable threat last year, and the Falcons will need to change that to open up the offense.
Bowling Green should benefit from the return of a healthy Andrew Clair at running back. Clair, who missed most of last year due to injury, ran for over 700 yards in both 2017 and 2018 at a clip of over five yards per carry. Expect him to be the focal point of the offense.
Welcome to the Andrew Clair Show! 🎤@DoakWalkerAward watch list member @_LuhDrew is a game-changer! @BG_Football I #MACtion pic.twitter.com/AHvDebXUdB

— #MACtion (@MACSports) July 15, 2020
The offensive line actually played pretty well from an advanced metrics standpoint in 2019, allowing the fewest sacks in the MAC. However, it will need to replace its two top offensive linemen after center Jack Kramer graduated and left tackle Caleb Bright retired. It looks as if guard Tim Tanner-Blair will be the only player to play the same position as last year. Sam Neverov will apparently move from guard to right tackle, while reserve senior guard Joe Ware will move to left tackle. The Falcons will also likely have a new starter at center in sophomore Cameron Stage.
Loeffler has also mentioned potentially having to use a number of freshmen up front. If the extremely inexperienced offensive line can't figure it out, we may not see any improvement from an offense that averaged only 16.0 points per game — third-worst in the country.
Defense
Bowling Green has been a dumpster fire on defense for the past four seasons. If you want to take an optimistic view, this will mark the first time in four seasons that the Falcons will run the same defensive system in back-to-back years. That continuity can only help, but I'm personally just not a fan of defensive coordinator Brian VanGorder.
Plus, four of the top six tacklers have departed. The only defender who received All-MAC honors in 2019, outside linebacker Kholbe Coleman, does return to lead a unit that should be the strength of the defense.
The secondary simply couldn't cover anybody in 2019. Bowling Green was one of only three teams to allow at least 7.0 yards per pass, along with UMass and UConn. There are serious questions in the secondary outside of one corner spot (Caleb Biggers) and one safety (Jordan Anderson).
The defensive line was awful in the running game and may get pushed around once again. The one strength of this defense was getting pressure on opposing quarterbacks, as its heavy blitzing defense finished 26th in Sack Rate. Defensive end Karl Brooks is the player who can cause the most disruption from the line.
Synopsis
A healthy Clair should help the rushing attack if the Bowling Green offensive line can come together.  However, the offense will go as McDonald goes at quarterback. It would help if a few receivers elevate their play to provide reliable options other than Morris at tight end.
Meanwhile, the defense will in all likelihood be a sieve once again. It's hard to envision Bowling Green doing much in 2020 after shortened preparation with a roster that consists of an insane 60% freshmen. The recruiting class ranked as the second-best in the MAC, so Loeffler may have things headed in the right direction. However, this will likely be another long year.
---
Toledo Rockets

Toledo is poised for a rebound after a disappointing 6-6 season filled with bad injury luck. With over 70% of returning production on both offense and defense, Toledo was actually picked as the preseason favorite to win the MAC West in the preseason coach's poll.
Offense
The offense wasn't a total disaster, especially on the ground, where the Rockets averaged 5.2 yards per carry (19th nationally). Overall, it was a fairly average unit when the passing game is factored in. The offense will have a new coordinator after Brian Wright left for the head coaching gig at Pittsburgh State.
Bryant Koback and Shakif Seymour highlight one of the league's best running back groups Also, 2019 All-MAC wide receiver Bryce Mitchell returns on the outside.
Trying to find a needle in a haystack? Here are some deep devy dives of small school RB's to keep an eye on…

Bryant Koback @koback27
RS Soph 6'0 205 lbs Toledo
105 att 688 yds 6 tds
6 rec 57 yds 2 tds

This Kentucky transfer impressed last year and he is only getting better pic.twitter.com/Dc70U9r3NG

— Garret Price (@DynastyPrice) October 15, 2019
Guard Nick Rosi and center Luke Doerger lead an offensive line with four returning starters who mauled teams in the ground game, ranking in the top 15 in almost every advanced run-blocking metric. However, the pass blocking needs to improve.
Speaking of which, we still don't know who the offensive line will need to protect. There's a three-man quarterback competition between Eli Peters (the favorite), Carter Bradley and Dequan Finn. Peters and Bradley are the experienced options with 17 and 10 starts, respectively. However, head coach Jason Candle has said dual-threat redshirt freshman Finn, who won Michigan's Mr. Football in 2018, will get a fair shot. Finn could provide the mobility that Toledo lacked at quarterback after Mitchell Guadagni went down with an injury last year after a 4-2 start.
Defense
In stark contrast, the defense was among the worst in the MAC. Toledo ranked outside the top 100 in Success Rate and allowed over 475 yards per game (123rd in FBS). Consequently, Candle brought in two new co-defensive coordinators, who will surely make changes from a scheme perspective. They will at least have seven returning starters to work with, including All-MAC defensive linemen Jamal Hines.
The run defense has to get better after allowing 5.4 yards per rush in 2019 (122nd). The tackling was abysmal, and the defensive line got pushed around. The defensive front also couldn't generate any pass rush, ranking dead last in FBS in Passing Downs Sack Rate. That certainly didn't help a secondary that still remains the strength of the defense, led by a pair of very good cornerbacks in Sam Womack and Justin Clark (who missed most of last year with an injury) — and a solid safety in Tycen Anderson.
Synopsis
After nine straight winning seasons, Toledo failed to finish above .500 in 2019. The Rockets also ended a nine-year winning streak over Bowling Green when they were upset in stunning fashion as 28-point favorites. The Rockets should be in the running for a MAC title and will be out for blood in their opener, looking to avenge that embarrassing loss to its close rival. The rushing attack will be unstoppable, and the secondary will be formidable. If the defense can just figure out how to stop the run — or at least stop missing so many tackles or force more takeaways — Toledo might be the best team in the MAC.
Game Breakdown
Akron is still Akron, but Bowling Green might actually be the new Akron in 2020 and end up as almost unbettable this season.
I actually have Bowling Green rated as the worst team in the conference just behind the Zips. Having a roster with over 60% freshmen will always present a tough situation for any college team, but that's especially true after a shortened spring and summer.
There's no reason to believe that Toledo shouldn't be able to run wild all over the Falcons. The advantage in the trenches will be significant, and the Rockets may keep their foot on the gas, as I'm sure they'd like to beat down their rival 20 miles down the road after suffering a shocking 20-7 loss last year as huge favorites. Toledo just came out sleepwalking for that one and Loy — who's now with Auburn — went bonkers on the ground (137 yards rushing) and through the air (187 yards passing) in his first start.
Bet to Watch: I make this line Toledo -25, so I do lean that way at -22. It's Rockets or nothing here.
_BookPromo=7
MAC Predictions
Mac West
Ball State
Toledo
Central Michigan
Western Michigan
Eastern Michigan
Northern Illinois
MAC East
Buffalo
Ohio
Kent State
Miami (Ohio)
Akron
Bowling Green
Championship: Ball State over Buffalo
Futures: Ball State 9-1
_BookPromo=49
Are you looking for a safe, reliable, trustworthy sportsbook? Check out our ratings of the best sportsbooks and their current sign-up offers for new customers.