College Football Odds & Picks: Our Staff's 11 Best Bets for Week 11 (Saturday, Nov. 14)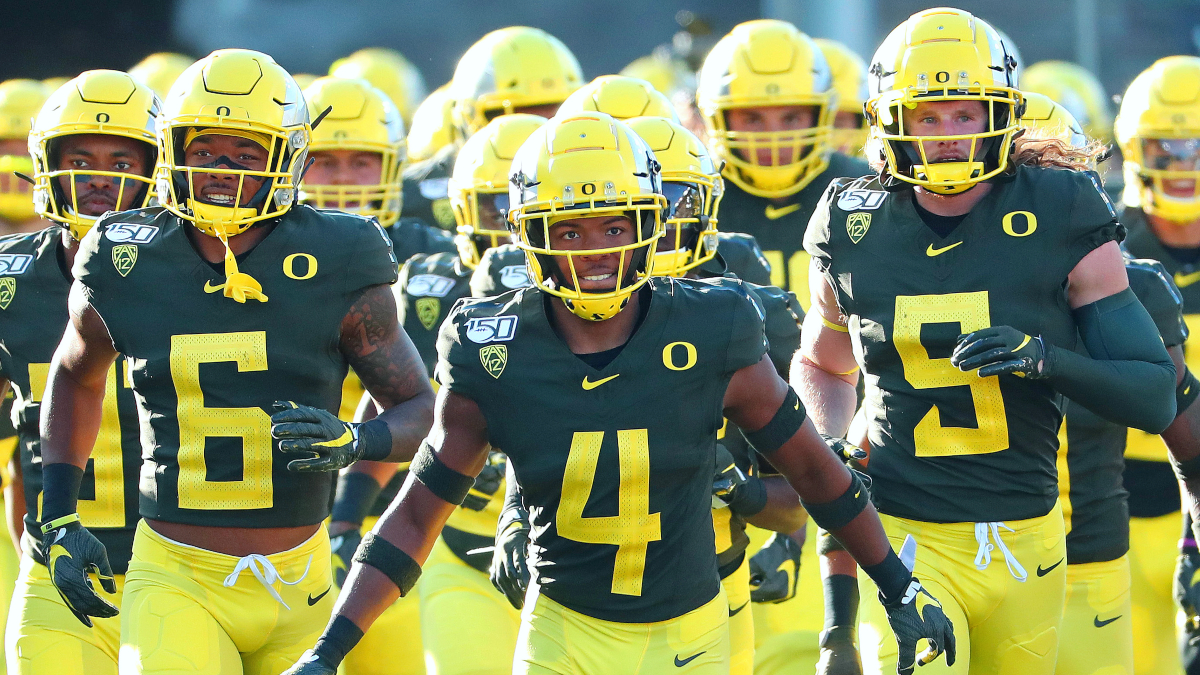 We braved the workweek, we suffered an all-time bad beat from Western Michigan vs. Toledo on Wednesday night, endured a 52-21 shellacking in Boise State vs. Colorado State on Thursday, stayed up deep into the night for Friday Night Lights … and now, we've arrived:
Saturday. College. Football.
Of course, the road to Saturday has been wrought with more peril than simply MACtion-being-MACtion: We've also had to cope with losing huge games off the Week 11 schedule due to the increasingly pervasive effects felt from COVID-19. In total — as of writing — 15 games were canceled or postponed in Week 11, including three top-five teams, six of the country's top-25 programs, and four out of seven SEC matchups.
Yet, rather than mourning the loss of Alabama vs. LSU or Utah vs. UCLA, instead let us be thankful for the games that yet remain. So, in that spirit, our staff has broken down the odds and highlighted their favorite betting spots for the Week 11 Saturday college football slate. From the noons to the nightcap, we've got you covered with our 11 best bets across the entire slate of college football action on Saturday.
---
Saturday College Football Best Bets for Week 11:
Check our top Saturday picks below, each of which comes from one of the following 11 games. Click any of the games below to navigate to a specific matchup.
---
All odds have been updated as of Friday evening.
---
Army vs. Tulane
The Black Knights have had it pretty easy so far this season outside of a 14-point loss at Cincinnati. However, despite the easy schedule, the triple option has been humming to the tune of 5.5 yards per carry in their games against FBS opponents.
With Jemel Jones questionable, it looks like Christian Anderson will be under center on Saturday after missing the last three games. Anderson played in the opening 42-0 win against Middle Tennessee State.
Army is 39th in the country in rushing success and sixth in power success this season. Tulane's defense has been solid against the run, allowing only 3.1 yards per carry but ranks 69th nationally in defensive power success. The last three times Tulane has faced the triple options, they've had no answers, allowing 5.8 yards per play, including 5.33 and 33 points to Army when these two teams met last season in West Point.
Tulane's offense has been humming, but it's about to run into a roadblock. The Green Wave have run the ball all over their opponents to a 5.3 yards per carry clip. Army counters with one of the best run defenses in the country, allowing only 3.4 yards per carry and ranking sixth nationally in defensive rushing success. Tulane will also have to make the best use of their time on offense, because Army is sixth nationally in opponent's plays per game at 59.2.
As long as Anderson or Jones is under center, this Army offense is legit and will be an issue for Tulane to stop. I have Army projected as -3.74 favorites on the road, so I think there is plenty of value on the Black Knights at +4.
Pick: Army +4
---
---
CLICK THE DROPDOWN ARROW TO EASILY NAVIGATE TO ANY GAME
---
TCU vs. West Virginia
Country Roads, take me home, to the place I belong … West Virginia. What a difference home sweet home has made for the Mountaineers this season. WVU has gone 4-0 at Milan Puskar Stadium and 0-3 away from Morgantown.
West Virginia is anchored by one of the best defenses in the country. They rank in the top 15 nationally in passing Success Rate (seventh), rushing Success Rate (12th) and Havoc created (eighth). They are fourth in the FBS in total defense, surrendering just 271 yards per game.
That terrific defense has tightened the clamps even more at home this season. In their three road games, the Mountaineers are allowing 351 yards per game. While still very solid, in their four home games, they have allowed a meager 211 yards per game.
West Virginia has an elite group of defensive backs, led by Dreshun Miller and Tykee Smith. Miller leads the Big 12 in passes defended, and Smith hasn't allowed a play of more than 15 yards all season.
TCU has been awful trying to pass the ball this season, ranking 99th in the country in passing Success Rate. Max Duggan threw for just 73 yards last week against Texas Tech, the worst passing defense in the Big 12. West Virginia has the best passing defense in the Big 12.
The Horned Frogs have relied exclusively on their running game this season, but while more dominant against the pass, the Mountaineers defense still ranks 12th in the nation in rushing Success Rate. Brothers Darius and Dante Stills are both beasts that clog up the middle for a defensive line that ranks 22nd in Line Yards and 33rd in Stuff Rate.
On offense, West Virginia has really found its groove. Quarterback Jarret Doege has thrown for over 300 yards in four straight games and is second in the conference in passing. The Mountaineers are balanced well, though, as running back Leddie Brown is second in the Big 12 with 105.9 rushing yards per game.
The Mountaineers are second in the Big 12 in total offense and first in the Big 12 in total defense. It's hard to tell how much home field advantage matters with limited capacity, but it clearly has an impact for West Virginia. I am confident in the Mountaineers here and will let the country roads take me home. Take West Virginia -2.5, and I would play it to -4.
Pick: West Virginia -2.5
---
---
CLICK THE DROPDOWN ARROW TO EASILY NAVIGATE TO ANY GAME
---
Illinois vs. Rutgers
by Stuckey
I'm sure nobody has this game circled on Saturday, but sometimes you have to go dumpster diving at noon to start your weekend off on the right foot. That's what I'll try to do in this Big Ten matchup between two teams with a combined 1-5 record.
Illinois has undoubtedly looked abysmal during an 0-3 start to the year. It's never a good sign when a team ranks dead last in the conference in both scoring offense and defense. That said, COVID-19 caused head coach Lovie Smith to turn to start his fourth-string quarterback last week against Minnesota. Smith's third-string QB, Isaiah Williams, will be available for this one.
Rutgers is off to a 1-2 start, which might be better than most fans in Piscataway thought after three games of a conference-only slate. I'm a big fan of Greg Schiano. I think he'll eventually turn this program around, but the rebuild will take some time.
The Rutgers offense is a horror show, ranking 119th in yards per play. On the other side of the ball, experience and new schemes have led to some improvements on defense — especially up front where the Scarlet Knights actually sit in the top 10 in tackles for loss per game.
Rutgers did open with a win at Michigan State, which may be contributing to the perception difference here. However, the Scarlet Knights were still outplayed in that game, averaging a meager 3.9 yards per play.
The Scarlet Knights also caught Indiana in a very bad situational spot but failed to cover in a conniving Hoosiers' win. Last week against Ohio State, the final score was very misleading in a game the Buckeyes led 35-3 at halftime.
Ultimately, I'm buying low on the Illini at +6 in a game I make much closer to a coin flip. There's just too much value here, as I don't think Illinois is as bad as it has looked.
I also bet under 52.5. I expect both defensive fronts to dominate against two bad offensive lines that rank outside the top 100 in Adjusted Line Yards and have struggled in pass protection. Don't expect too much through the air from teams that rank 109th and 110th in passing efficiency.
I ultimately trust the Illinois ground game a bit more in what could be a rock fight. Let's just hope the turnovers and special teams swings break our way.
Pick: Illinois +7 | Under 52
---
---
CLICK THE DROPDOWN ARROW TO EASILY NAVIGATE TO ANY GAME
---
South Alabama vs. Louisiana-Lafayette
by Pat McMahon
The Louisiana-Lafayette Ragin' Cajuns are a very good football team and just cracked the AP Top 25 this week. The Ragin' Cajuns are off to a 6-1 start that includes a win at Iowa State, and their only loss is to undefeated Coastal Carolina. They've taken care of business against inferior opponents this season but haven't been able to put teams away.
In five games where Louisiana-Lafayette is more than a touchdown favorite, they're 0-5 against the spread. They were a 9-point favorite in the loss to Coastal and won the four games that they were favored by double digits without covering any of them. It's tough to put a finger on exactly why the Ragin' Cajuns aren't blowing out the teams they're supposed to, but they've looked sloppy and not as prepared in those games compared to when they are underdogs or the game is expected to be close.
The Ragin' Cajuns were sharp in big victories over Iowa State and UAB but looked like a completely different team in tight wins over Georgia State and Georgia Southern, among others, when they seemed to sleepwalk through much of the game.
I'm not only fading Louisiana-Lafayette because of this trend — I also like what South Alabama brings to the table. The Jaguars are at the middle of the pack in the Sun Belt with a 2-2 conference record (3-4 overall). However, they're a tough out and always seem to hang around against better competition.
South Alabama is 2-0-1 as a double-digit underdog this season, including an outright win over Southern Miss in the season opener. The Jaguars did get blown out against UAB as a 7.5-point underdog in September, but they were without injured starting quarterback Desmond Trotter. He is fully healthy now and playing pretty well, completing 70% of his passes with eight touchdowns and just two interceptions on the season.
This number opened at Louisiana-Lafayette -14, and I was surprised to see it bet up to a couple of points. Louisiana simply plays up or down to the level of their opponents, and time and again have shown that they shouldn't be favored by more than two scores in conference play. There's some 16s out there at the time of this writing, but if the spread starts to go down as we get closer to kickoff, I still think it's worth a play down to 14.
Pick: South Alabama +16
---
---
CLICK THE DROPDOWN ARROW TO EASILY NAVIGATE TO ANY GAME
---
UTEP vs. UTSA
The Roadrunners and Miners are both being outscored this season. The key to beating both of these teams is taking advantage of their weak passing defenses. Both teams prefer to run the ball and have had more success doing so this season, but the film is clear that an efficient passing attack would go a long way in ensuring the victory in this one. Both teams are in the bottom half defensive passing Predicted Points Added per play in FBS.
I have three different models for calculating the over/under. All three of my models forecast the final score coming in over 50 points. The main reason for that is both teams' poor pass coverage. The Roadrunners and Miners have both scored more touchdowns on the ground than through the air this season, but given the weak passing defenses, the opportunities to score through the air will be plentiful. Additionally, both of these teams are poor defensively once teams are inside the 40-yard line. Both teams are in the bottom 50% in FBS in defensive points per opportunity.
I think that both teams should look to the passing game initially. Even with both program's mediocre passing success rates, this is a favorable matchup.
My model also finds value in UTEP as the outright winner, so look to get value on them in live betting.
Pick: Over 45.5 up to 47 | Live bet UTEP at +10 or better.
---
---
CLICK THE DROPDOWN ARROW TO EASILY NAVIGATE TO ANY GAME
---
USC vs. Arizona
Let me get this straight. Last Saturday at 9 a.m. MST, the Trojans were giving double digits to Arizona State, which is one of the better teams in the Pac-12. Fast forward to this weekend, and I only have to lay two touchdowns to an Arizona team projected to have one of the very worst defenses in all of college football (SP+ defensive ranking of 122nd)?
It's true that USC needed a fourth-down miracle and onside-kick recovery in order to escape with a win against the Sun Devils. However, anyone watching the game could see the Trojans were clearly the better team. They were almost done in by four turnovers (including a fumble at the goal line and an interception at the 10) and missed opportunities on fourth-and-1, one of which occurred at the 6-yard-line.
USC outgained ASU, 556-392. The defense was gashed on the ground, including Sun Devils QB Jayden Daniels' 111 yards. However, the Trojans managed to hold Arizona State's star to 11 of 23 passing for only 134 yards.
Arizona sophomore QB Grant Gunnell has great arm talent. However, he is certainly not the running threat of Daniels, and he's still young and playing behind an offensive line that might struggle to protect him. The Wildcats' offense won't be able to keep pace with the Trojans on Saturday.
Following their sloppy opening day performance, look for a focused USC team to strike up the (virtual) band early and often against a porous Arizona squad, with a new defensive coordinator, playing their first game of the season.
Take USC -14. If necessary, take the DraftKings alternate spread of -14 juiced up to -130.
Pick: USC -14
---
---
CLICK THE DROPDOWN ARROW TO EASILY NAVIGATE TO ANY GAME
---
Baylor vs. Texas Tech
by Matt Wispe
Baylor Odds
-1.5 [BET NOW]
Texas Tech Odds
+1.5 [BET NOW]
Moneyline
-121 / +100 [BET NOW]
Over/Under
58 [BET NOW]
Time
4:00 p.m. ET
TV
FS1
Odds via DraftKings. Get up to a $1,000 sign-up bonus at DraftKings today.(Photo Credit: Sean Gardner/Getty Images)
In some scenarios, wind isn't a dramatic factor on a total because teams will lean on an effective running game.
Not in this matchup, as the Windy Under Pro System is in full effect. Both of these teams pass the ball on more than 50% of their offensive plays and the forecast is projecting crosswinds ranging from 12 mph to 22 mph.
Texas Tech has an overall success rate of 44.7% and are slightly less effective passing the ball at 42.7%. Defense is the risk for this game, as the Red Raiders have allowed more than 40 points per game and a success rate of 46.6.
Baylor wouldn't appear to be a team capable of exploiting a bad Texas Tech defense. They have averaged 27.6 points per game with only two games over 28 points and an overall success rate of 34.6%. They run the ball on 47% of plays but have a rushing success rate of 33% and are stuffed on 28.3% of attempts.
All of The Action Network tools identify this as a positive play. Sharp money and big money plays are on the under and the Pro Projections rate this play as an A+ with more than 5 points over value. At 58, I love this total in the weather conditions and I would play this as low as 56.
Pick: Under 58
---
---
CLICK THE DROPDOWN ARROW TO EASILY NAVIGATE TO ANY GAME
---
Northwestern vs. Purdue
Pat Fitzgerald's efforts to resurrect the Wildcats program is noteworthy, even only three games into the 2020 season. After only covering and winning three games in 2019, Northwestern is undefeated and has covered every game this season.
The offense has been transformed with stability at the quarterback position under Indiana transfer Peyton Ramsey. In 75 passing attempts, Northwestern has just three drops on the season.
The defense has been the driver behind the Wildcats' success. Northwestern ranks top 20 in defensive Havoc, opponent pass explosiveness, coverage and Finishing Drives. While there has not been much pressure on the quarterback, the Wildcats defense has come up big when needed the most.
Purdue head coach Jeff Brohm released a list of players who will not see action against Northwestern, with Rondale Moore headlining the group. In the absence of the All-American has been David Bell, the wide receiver opposite of Moore who is working on his own All-American season. In 31 targets, Moore has four touchdowns and just one drop.
While COVID-19 has played a part in the Boilermakers' starting defense, the unit has produced a top-20 rank in opponent pass explosiveness and Finishing Drives. The biggest key is in Pro Football Focus' tackling grade of ninth in FBS.
Purdue has just six tackles for loss on the season and a grade of 106th in coverage. The Boilermakers have been willing to give up short passing, but have defended chunk plays through the air better than any team in the Big Ten.
One element that will be missing when the new heavyweights from the Big Ten West collide is a pass rush. Each of these teams ranks in the bottom 15 in FBS in Sack Rate. That might only be a positive for Purdue, as the Boilermakers pass at a 59% rate.
---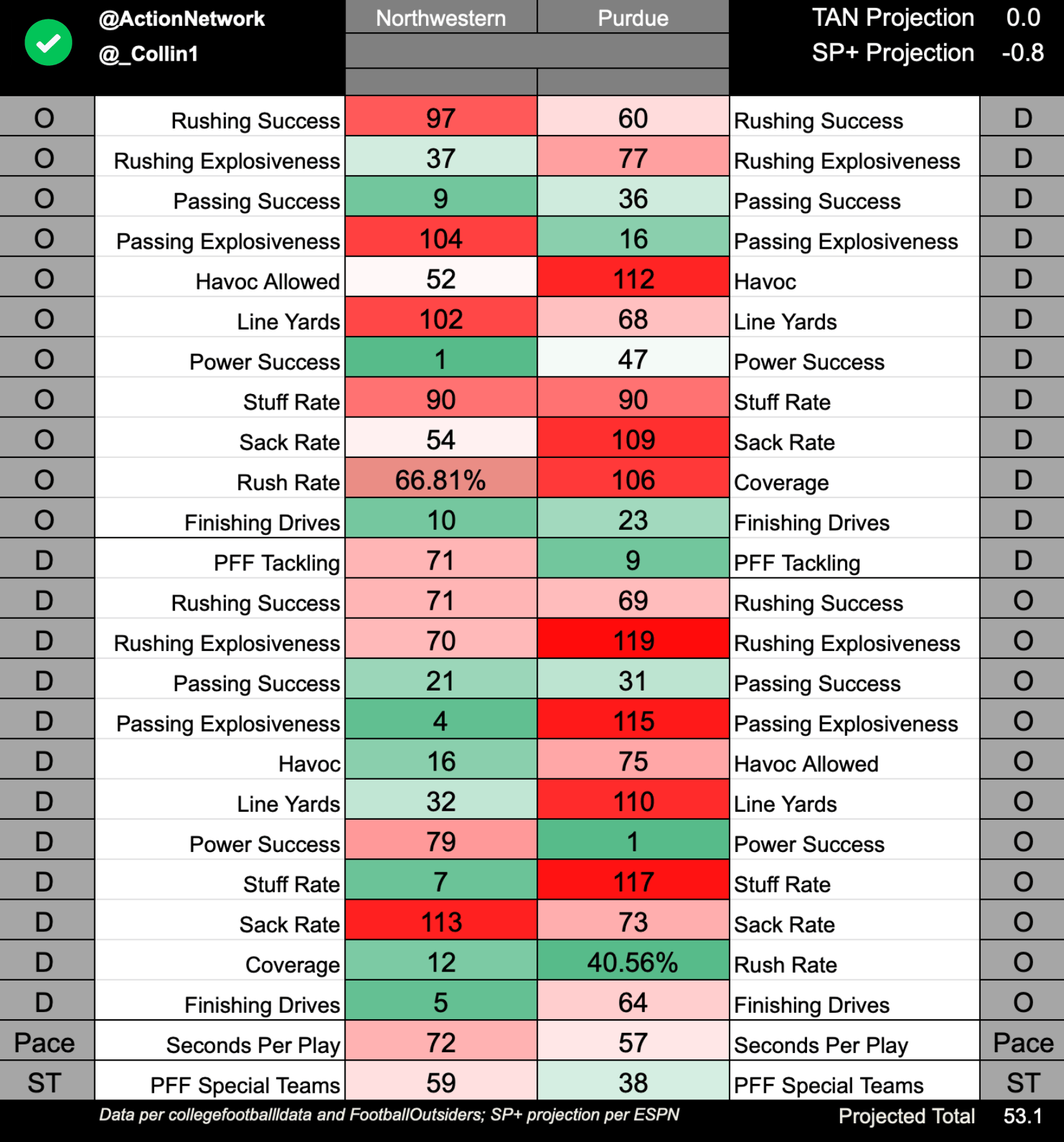 ---
While Northwestern has not put up the numbers Purdue has in tackling, it has feasted on Havoc plays.
As discussed in the Havoc Ratings for Week 11, Northwestern ranks third in the nation in passes defended per game. Purdue's offense has been subpar in rushing and in scoring opportunities, which will be a bad combination against a Wildcat team ranking fifth in Defensive Finishing Drives.
Northwestern will also have its share of problems putting points on the board. Opponent Passing Success Rate and explosive playmaking is the forte of the Purdue defense.
Our Action Network projections make this game a Pick'em. Taking each side with points live during the game should be the play.
As for the total, these defenses are stingy past the 40-yard line. Northwestern has relied on Havoc and coverage, with Purdue excelling in tackling and Finishing Drives. Look for points to be at a premium.
Pick: Game Total Under 50.5 or better.
---
---
CLICK THE DROPDOWN ARROW TO EASILY NAVIGATE TO ANY GAME
---
Arkansas vs. Florida
My university is undefeated against the spread in 2020, which has this alum singing, "Oh Lord, it's hard to be humble when you're an Arkansas Razorback fan" daily. That tune is rambled universally by Razorbacks fans after victories in any sport, leading to high aspirations on the Hill in Fayetteville.
The biggest news on the Arkansas side is head coach Sam Pittman testing positive for COVID-19, which will keep the coach of the year candidate from traveling to The Swamp.
But, luckily for the Razorbacks faithful, the rest of Pittman's staff is elite. As a result, there is no reflection in the Arkansas power rating without Pittman because of coordinators Kendal Briles and Barry Odom. Both coaches are responsible for the game plan, execution and halftime adjustments.
Arkansas continues to cover despite deficiencies in every facet. The Razorbacks are outside of the top 100 in rush explosiveness, tackling and special teams. The most explosive player on offense has been Treylon Burks, who averages 6.4 yards after contact on rushing attempts.
Only three players in the country have as many rushing attempts and more yards after contact. Those numbers are even more impressive considering Burks' primary position is wide receiver.
Will the Gators be able to survive the hangover of defeating Georgia for the first time since 2016? The biggest takeaway stat from the cocktail party was Florida finally showing up on third down, limiting the Bulldogs to two conversions in 13 attempts. A 4-1 Gators team is projected to win the SEC East with a remaining schedule of Arkansas, Vanderbilt, Kentucky, Tennessee and LSU.
Florida's best weapon is tight end Kyle Pitts, who suffered a concussion after a brutal collision against Georgia. Quarterback Kyle Trask leaned on Pitts the most, as the tight end holds a team best in first downs, receiving yards and touchdowns. In 35 total targets this season, Pitts has yet to drop a pass or fumble the ball.
The Florida defense had its best day against Georgia, but the question remains whether or not it can deliver the same level of play for a second week in a row. The Gators still rank outside the top 100 in tackling, coverage and Rushing Success Rate. Florida improved marginally to 85th in opponent third-down conversion rate following its game against Georgia.
The balance in this game hangs on the news of Pitts' availability. Florida is still very much in the national-title picture, but a loss at any point does not hurt its chances to compete against Alabama for the SEC Championship.
The Action Network projection is dead on with the current market, but any steam on the Florida number with or without Pitts will require a small play on Arkansas leading up to kick.
---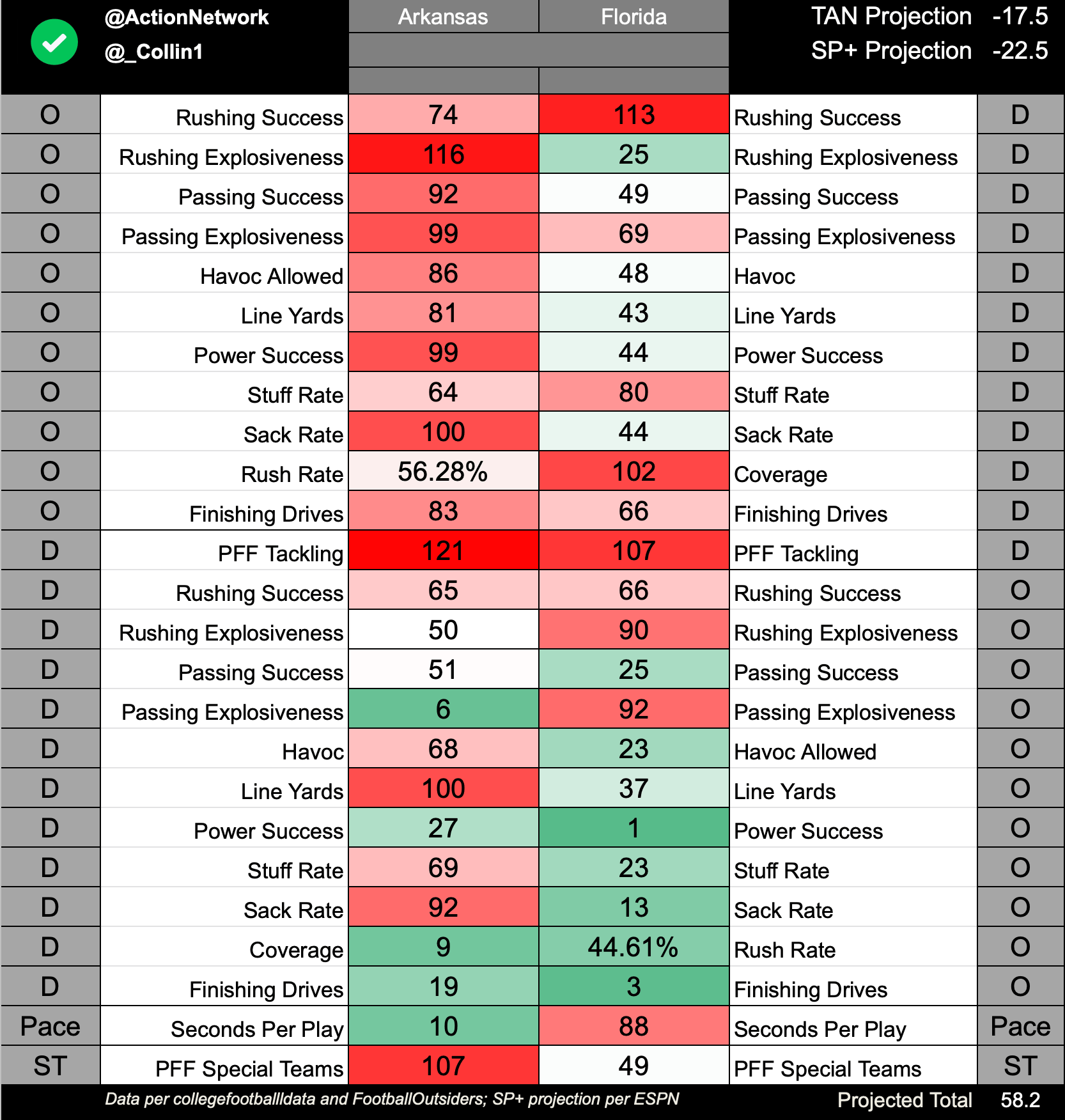 ---
Dan Mullen commented that the "mental toughness and mental attitudes" from Arkansas do not show up in the stat line. This is apparent with Arkansas, which ranks in the bottom half of almost every offensive statistical category.
If there is an angle on this game, it is the full-game under. The Pace Report projected a total of 58 points, with Florida running a tempo that is 88th in the country. The Gators would take a hit as a pass-first offense without Pitts, while the Arkansas defense is top-20 in coverage and Defensive Finishing Drives.
Pick: Game total under 62
---
---
CLICK THE DROPDOWN ARROW TO EASILY NAVIGATE TO ANY GAME
---
Oregon vs. Washington State
Although it was only one game, it looks like the Oregon offense will be fine without Justin Herbert. The upgrade at offensive coordinator with Joe Moorhead is a big reason why.
Oregon averaged 7.5 yards per play against Stanford, and its one-game sample size has the offense sitting at fifth in Expected Points Added (EPA) and second in success rate. Quarterback Tyler Shough showed that he is a threat with both his arm and his legs, as he averaged 8.7 yards per pass attempt and added 11 carries for 85 yards on the ground.
Oregon was expected to have one of the best defenses in the country this year, but it certainly did not show that kind of potential against Stanford. Against an offense that was missing its starting quarterback and top receiver, the Ducks allowed Stanford to cross the Oregon 40-yard line 10 times. Oregon's defensive performance looked much better on the surface because Stanford's kicker missed all four of his field-goal attempts. The Oregon defense currently sits at 95th in EPA per play.
Washington State underwent a lot of offseason changes, including a new head coach and starting quarterback. After game one, Cougars fans have to be excited about what freshman quarterback Jayden de Laura showed on the field. He currently ranks first among all Pac 12 quarterbacks in his Pro Football Focus grade, and seventh in the country among quarterbacks with at least 40 snaps. Washington State's offensive performance against Oregon State currently has it sitting at 13th in the country in EPA per play and 20th in success rate.
Washington State definitely struggled on the defensive side of the ball in 2019 (124th in EPA per play), and it seems to be continuing that trend in 2020. Against an Oregon State team that was breaking in a new quarterback, the Cougars allowed a 53% success rate and allowed QB Tristan Gebbia to complete 70.8% of his passes. Currently, the Cougars rank fourth worst in success rate allowed.
I project the total at 64.5, so this line of 58 definitely sticks out as value to me. I'm not sure key numbers on totals even exist anymore with this wild season, but getting anything under the number of 59 (eight touchdowns and a field goal) looks pretty good to me.
Pick: Over 58
---
---
CLICK THE DROPDOWN ARROW TO EASILY NAVIGATE TO ANY GAME
---
Wisconsin vs. Michigan
When this game hit the board with Michigan installed as a 3-point favorite, the general reaction from the public ranged from out-and-out confusion to suspicion.
The opening point spread was reflective of Wisconsin's quarterback situation, which earlier in the week looked dire. Then Graham Mertz was cleared to play and the spread swung by 7.5 points in favor of the Badgers. Generally speaking, a touchdown swing that's triggered by the availability of a quarterback is on the outer limits of a reasonable range, but Mertz is worth more than that in this matchup.
The highest-rated quarterback recruit in the history of Wisconsin football was absolutely flawless in his debut against Illinois, connecting on 20 of 21 passes for 248 yards and five touchdowns. Simply put, Wisconsin has been missing this level of quarterback play since Russell Wilson in 2011.
Prior to Mertz securing the starting role, Wisconsin had already proven to be one of the safest bets in college football when favored on the road. Since 2016, the Badgers are 12-3 against the spread (ATS) when traveling as a road favorite. No team has more wins ATS as a road favorite during that time span.
If Mertz's availability and UW's historical performance ATS doesn't grab you, how about Michigan's non-existent running game? According to our Matt Wispe, the Wolverines are generating just 2.56 Line Yards per attempt, and Michigan backs have been stuffed on 25% of attempts. This isn't something that will be cleaned up against a Wisconsin defense that finished sixth against the run last season and returned 81% of its defensive production (17th).
Once Joe Milton and the Wolverines are forced to abandon the run, the prospect of a Badger runaway becomes more realistic. I would play UW up to 6.5 at -110 odds and will be playing them on the alternate line at -13.5 (+245).
Pick: Wisconsin -4.5
---
_BookPromo=267
Are you looking for a safe, reliable, trustworthy sportsbook? Check out our ratings of the best sportsbooks and their current sign-up offers for new customers.