Saturday College Football Odds & Picks: Collin Wilson's Top 5 Betting Picks for Week 12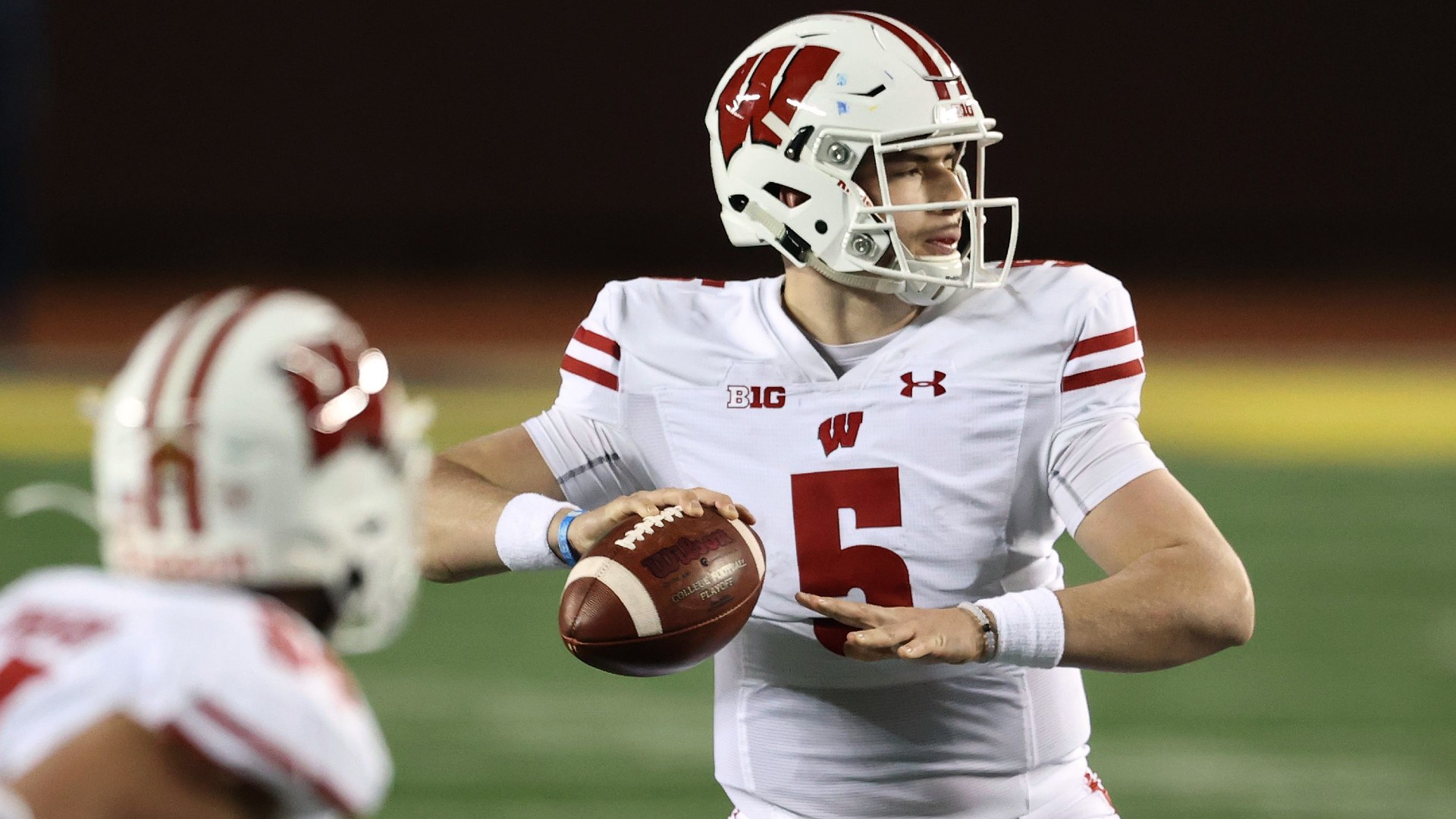 Well, it happened again. After a number of games were canceled or postponed due to COVID-19 last week, a new record has been set for Week 12. But we will bounce back.
As is the case with betting, there will be good weeks, and there will be bad weeks. There's always uncertainty regarding COVID, but that's what makes the sport so special once we do get it.
Each game should be cherished moving forward, and that's especially true with this slate. After all, how often do we get to see two top-10 Big Ten teams duke it out at noon?
And after that, we have both the afternoon and evening slots filled with top-25 games that have made their way onto my betting card. Check out the Action Network Power Ratings for all Week 12 games and follow me on the Action App for the latest updates.
---
---
My College Football Betting Card for Week 12
Here's a rundown of my favorite betting spots on Saturday's slate of games:
---
All listed odds have been updated as of Friday night and via DraftKings. Specific bet recommendations at the end of each matchup breakdown come from the sportsbook offering preferred odds as of writing.
Always shop for the best price using our NCAAF Odds page, which automatically surfaces the best lines for every game.
---
_BookPromo=158
---
CLICK THE DROPDOWN ARROW TO EASILY NAVIGATE TO ANY GAME
---
#9 Indiana vs. #3 Ohio State
Indiana Odds
+20.5 [BET NOW]
Ohio State Odds
-20.5 [BET NOW]
Moneyline
+600 / -1000 [BET NOW]
Over/Under
67 [BET NOW]
Time
12 p.m. ET
TV
FOX
(Photo Credit: Steven Branscombe/Getty Images).
---
CLICK THE DROPDOWN ARROW TO VIEW COLLIN'S MATCHUP MATRIX
---
Indiana Hoosiers
Based solely on the eye test, the Hoosiers are legitimate Big Ten contenders with an undefeated record straight up and against the spread. However, there is probable cause for further inspection.
Indiana has beaten Michigan State, Rutgers, Michigan and Penn State. If their records against each other aren't included, Indiana's opponents have a combined 1-13 record.
Head coach Tom Allen was a former defensive coordinator, and that side of the Indiana equation has been stable. The Hoosiers rank 18th in tackling, per Pro Football Focus grading. The team also reports a top-10 defensive Havoc rating, derived from 27 passes defended and 26 tackles for loss.
Indiana's opponents are averaging just 2.4 points per trip past the 40-yard line, making Indiana one of the best defenses at limiting scores. Opponents have only driven past the Hoosiers' 40-yard line nine times this season, with the defense allowing just five touchdowns on those drives in four games.
---
Ohio State Buckeyes
The Buckeyes are the top overall team in Offensive Success Rate, with that overall rating breaking down to 17th in the rushing game and seventh in passing attempts.
Yet, anyway you slice it, no one is moving the chains better than Ohio State.
While Justin Fields is completing plenty of explosive plays through the air, an Offensive Rushing Expected Points rank of 75th exposes the breakaway speed of the Ohio State running game.
Running backs Trey Sermon and Master Teague III average no more than 3.1 yards after contact, which tells you Ohio State has been on cruise control without facing a quality run-stop unit. However, at some point this season, a defense that can play one-on-one coverage will give the Buckeyes issues.
Defensively, only the Nebraska ground game has been able to get a punch in on the Buckeyes. The Cornhuskers put up more than 200 yards rushing on the Buckeyes' front seven, something Rutgers and Penn State were unable to replicate.
Ohio State's 118th-place rank in defensive Power Success reveals a key deficiency: Any opposing offense that is successful in short-yardage rush attempts will handle the Buckeyes. Opponents have also been able to score when reaching the red zone, as Ohio State ranks 105th in opponent red-zone scoring percentage.
---
Betting Analysis & Pick
The job for Indiana is to expose the holes revealed by the Buckeyes' advanced statistics. Nebraska found some success rushing against Ohio State, but the Hoosiers' ground game is one of the worst in the nation.
The Buckeyes rank 102nd in Defensive Passing Success Rate, a known issue for a secondary that has been in preparations for two weeks after a COVID-19 disruption in the schedule.
Ryan Day acknowledged the pressure must be turned up on Indiana quarterback Michael Penix Jr. Both edge rushers — Tyreke Smith and Jonathon Cooper — have recorded seven pressures a piece, an element needed with a struggling secondary.
Of the three cornerbacks receiving the most snaps, Shaun Wade, Marcus Williamson and Sevyn Banks have combined for only two pass breakups on 28 targeted throws. Penix has graded the highest on deep passes between the hash marks, but might need a plan to go at the sidelines at a higher clip.
---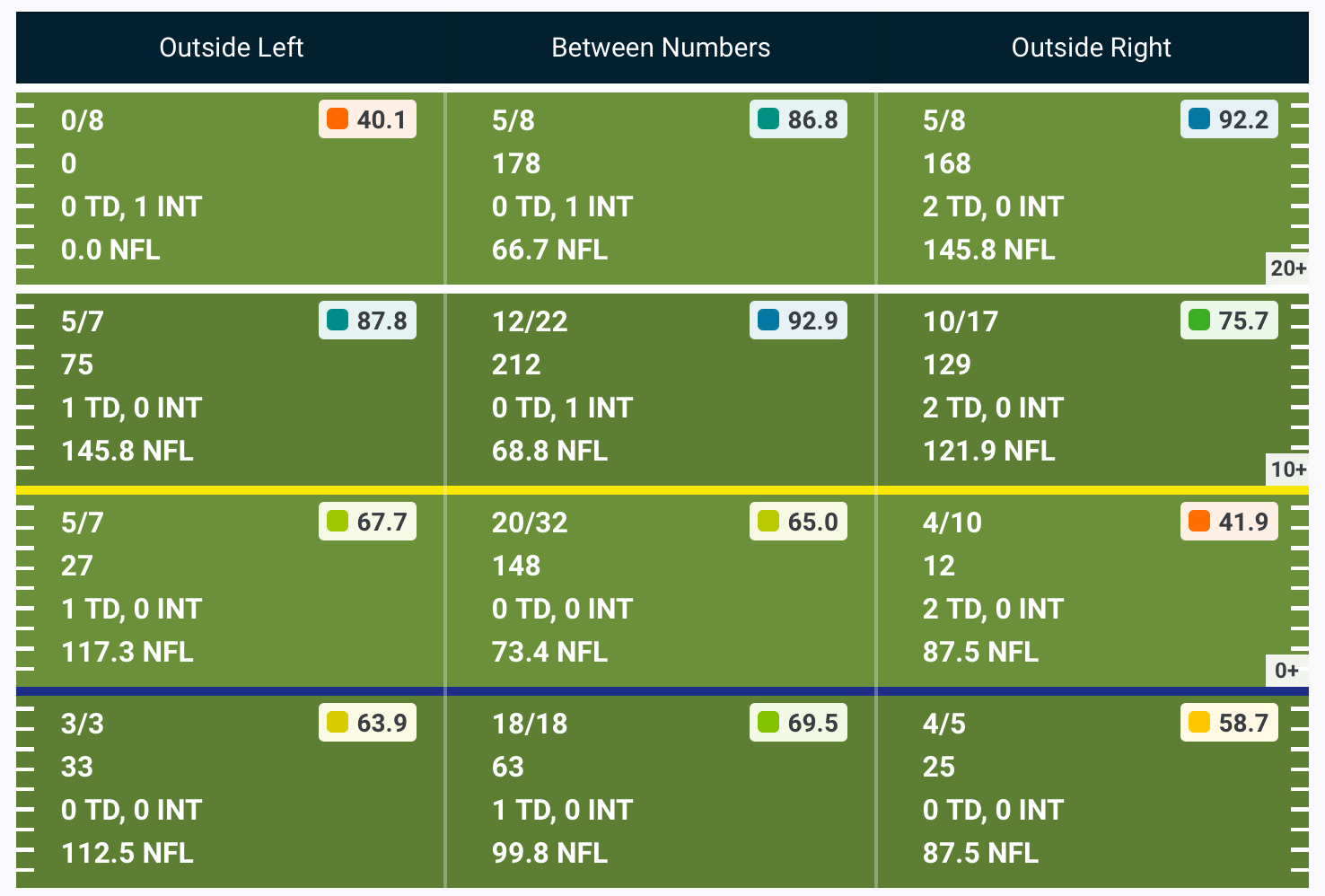 ---
Digging into the quality of opponents Indiana has faced, it becomes apparent the Hoosiers simply haven't competed against a talented pass rush. Penn State produced one quarterback hurry, and Michigan recorded zero sacks.
Without a running game, Penix will be throwing early and often. If he has success, this game flies over the total. If Penix cannot take advantage of poor Buckeye corner play, Ohio State covers.
The Buckeyes' speed will be a complete change of pace from what Indiana saw in its first four games. This is a major step up in talent level, and Indiana has shown nothing that can stop Fields.
Ohio State put up 51 points in Bloomington, Ind., last season, and there's no reason to think that output will change Saturday in Columbus
Pick: Ohio State -10.5 1H | Ohio State Team Total Over 42.5 or better.
---
_BookPromo=300
---
CLICK THE DROPDOWN ARROW TO EASILY NAVIGATE TO ANY GAME
---
#4 Clemson vs. Florida State
Clemson Odds
-35 [BET NOW]
Florida State Odds
+35 [BET NOW]
Over/Under
64.5 [BET NOW]
Time
12 p.m. ET
TV
ABC
(Photo Credit: John Byrum/Icon Sportswire via Getty Images.).
---
CLICK THE DROPDOWN ARROW TO VIEW COLLIN'S MATCHUP MATRIX
---
Clemson Tigers
There's a new reality for Dabo Swinney as we pull closer to the first release of the College Football Playoff rankings. Clemson has ranked in the top four of every single rankings release since the 2014 season. The first set of rankings will be released next Tuesday, and if current numbers hold, Ohio State, Alabama and Notre Dame will comprise the top three.
Although Clemson ranks fourth in the AP Top 25, will the committee look to push other undefeated teams ahead of the Tigers? Will Oregon eventually overtake Clemson if the Ducks remain undefeated? This is the new reality for Swinney, and style points must be considered in the Clemson handicap from here on out.
Injuries on the defensive front were the primary reason for the team's loss at Notre Dame. James Skalski and Mike Jones Jr. — two players who the highest-graded in the country in pass defense — were missing from the linebacker unit.
The results were clear for a Notre Dame team that was vanilla in the passing game leading up to Clemson. The Irish posted a 44% Success Rate in passing downs, 13% above the national average. Skalski and Jones are both out against Florida State, along with defensive tackle Tyler Davis and wide receiver Frank Ladson.
The biggest news is Trevor Lawrence returning under center for the Tigers. Most of the talk focuses on Lawrence losing his spot as the top player in Heisman betting, but the focus at practice has been timing with his wide receivers.
From a gambling standpoint, there's no boost with Lawrence from DJ Uiagalelei, who threw for 439 yards and posted a 52% Success Rate with 11 passes exceeding 15-plus yards.
---
Florida State Seminoles
It was announced before last week's game with NC State that Seminoles star wide receiver Tamorrion Terry was no longer with the team, and it had an impact on the passing game.
With Chubba Purdy under center, the Seminoles recorded a 14% Success Rate on passing downs, a cliff dive drop from the national average of 31%. Florida State posted an average third-down distance of 9.2 yards against the Wolfpack.
Purdy suffered a collarbone injury and will be out the rest of the season. Jordan Travis will return as quarterback, which should make Mike Norvell call an increase in the running game and design quarterback draw plays.
Travis graded lower than Purdy and James Blackman in passing attempts. In 63 pressured dropbacks, Travis posted just one touchdown, four interceptions and 16 scrambles.
---
Betting Analysis & Pick
The swap of Purdy back to Travis makes Florida State one-dimensional. The Seminoles will not be able to expose the biggest hole the same way the Irish did in passing over the middle against backup linebackers. Florida State ranks 94th in Offensive Passing Success Rate and 108th in Havoc allowed.
The Havoc allowed number is fueled by 62 tackles for loss and a rank of 116th in the nation. The Clemson defense ranks third in the country in tackles for loss, making it apparent that every single Florida State snap is going to have a Tigers defender in the backfield.
All that said, the market has Clemson at such a high number that investors are forced to look at the Florida State side. A number Action Network projects at Clemson -26 is floating two scores more on the betting board.
For Florida State to cover, Travis is going to have to turn pressure into busted plays that result in scramble first downs. Those explosive plays must turn into touchdowns, as the Clemson defense is 12th in Finishing Drives. There is a large gap in special teams and tackle grading.
Trevor Lawrence may have issues in timing with his wide receivers, but his highest-graded zone for throwing is between the hashes in 20-plus yard throws.
That will be trouble for the four safeties that have garnered the most playing time in Renardo Green, Raymond Woodie III, Jaiden Lars-Woodbey, and Sidney Williams. Those safeties have amassed six penalties and just three pass breakups.
As mentioned earlier, style points now matter to Clemson, which is vying for the fourth spot in the College Football Playoff rankings. The Tiger defense will attempt to limit Travis scrambles while Lawrence and Uiagalelei will do everything they can to get the committee's attention.
Pick: Over 63.5 or better.
---
_BookPromo=158
---
CLICK THE DROPDOWN ARROW TO EASILY NAVIGATE TO ANY GAME
---
#10 Wisconsin vs. #19 Northwestern
Wisconsin Odds
-7.5 [BET NOW]
Northwestern Odds
+7.5 [BET NOW]
Moneyline
-335 / +255 [BET NOW]
Over/Under
44 [BET NOW]
Time
3:30 p.m. ET
TV
ABC
(Photo Credit: Brian Rothmuller/Icon Sportswire via Getty Images).
---
CLICK THE DROPDOWN ARROW TO VIEW COLLIN'S MATCHUP MATRIX
---
Wisconsin Badgers
The Badgers should be commended for their performance to this point, as plenty of players dealt with COVID-19 during the two-week hiatus between dates against Illinois and Michigan. Quarterback Jack Coan was originally slated to be the starter, but a preseason injury gave way to Graham Mertz. The freshman has posted an outstanding 74% completion rate along with seven touchdowns and no interceptions. That number is even more outstanding considering four of his 11 incompletions were drops by receivers.
Listeners of the Action Network podcast know that we've mention the explosive rushing attack — or the lack thereof. That was the analysis on Nakia Watson, who averages 2.7 yards after contact.
However, the Badgers may have resolved that issue with the switch to Jalen Berger. After receiving zero carries against Illinois, Berger took the lion's share of carries in the Michigan game for 87 total yards and an astounding 5.12 yards after contact.
There goes that man ❗️❗️❗️

2020 All-American Jalen Berger (@JalenBerger) scores the first touchdown of his college career.#OnWisconsin #AllAmericanBowl 🇺🇸

— All-American Bowl (@AABonNBC) November 15, 2020
The defense has held up its end of the bargain, especially in the area of Havoc. The Badgers finished second in Havoc last season and had to replace many of those contributors entering 2020. Wisconsin now ranks third in defensive Havoc with 22% of snaps resulting in an opponent disruption.
---
Northwestern Wildcats
Head coach Pat Fitzgerald led the Wildcats to a 1-8 Big Ten record in 2019. Now, he has produced the biggest turnaround in college football with a 4-0 record this season. With only four games remaining, Wisconsin presents the only hurdle to returning to the conference championship game.
How has Northwestern pulled off such an amazing feat? The answer comes in finishing drives, third downs and transfer-quarterback Peyton Ramsey. Ramsey leads a passing attack that ranks 18th in Success Rate. With Northwestern executing a rush-heavy attack, the Wildcats average 6.4 yards to gain on third-down attempts and rank top-30 in conversions.
The defense also deserves plenty of credit for the undefeated record. Northwestern is fifth in defending opponent pass explosiveness and ranks second in Stuff Rate. It's a great combination to stop the long pass and short-yardage attempts in the trench, but a rank of 10th in Finishing Drives reveals that the Wildcats play their best defense near the goal line. Also give the secondary its due credit for ranking third in passes defended per game.
---
Betting Analysis & Pick
Mother Nature is planning on having a say in this game, with Ryan Field forecasted for an increasing chance of rain and wind gusts in the double-digits as the game goes on.
These teams rank top-20 in coverage defense, Finishing Drives and Opponent Passing Success Rate. The market has steamed the under to the low 40s, but with the weather predicted to be stable through the first half, an investor should look for a live total under after early scoring.
Despite all the excitement around Mertz under center, the Badgers are still a run-first team. That may be a positive for Wisconsin, as Northwestern has feasted on passing attacks. The Wildcats must contain the newfound explosiveness of Berger. With a rank of 13th in Line Yards and second in Stuff Rate, there is an expectation Northwestern will stop Wisconsin on the ground.
The handicap comes down to whether or not the Wildcats will do enough on offense to cover a spread north of a touchdown. Northwestern is 110th in Rushing Success Rate with freshmen on the offensive line. That will not get the job against a Wisconsin defense that ranks among the best in the nation against the rush. Yes, the Badgers' opponents have been Michigan and Illinois, but the Wildcats managed only 80 rushing yards in bad weather against a Purdue front seven last week.
The biggest volume play should be a live wager to the under after early scoring in the first half if the forecast holds for 25 mph gusts and rain in the second half.
Northwestern will not have an answer for a Wisconsin defense that is dominating in the trenches and producing turnovers. The weather may make this a one-dimensional rushing matchup in which the Badgers have an advantage. In a game with such a low total, this is a rare but necessary spot to pay the juice for the hook.
Pick: Wisconsin -7 (-120 or better).
---
_BookPromo=302
---
CLICK THE DROPDOWN ARROW TO EASILY NAVIGATE TO ANY GAME
---
#14 Oklahoma State vs. #18 Oklahoma
Oklahoma State Odds
+7 [BET NOW]
Oklahoma Odds
-7 [BET NOW]
Moneyline
+195 / -275 [BET NOW]
Over/Under
59 [BET NOW]
Time
7:30 p.m. ET
TV
ABC
(Photo Credit: Brian Bahr/Getty Images).
---
CLICK THE DROPDOWN ARROW TO VIEW COLLIN'S MATCHUP MATRIX
---
Oklahoma and Oklahoma State meet Saturday in Norman for the 115th edition of Bedlam. The Cowboys have won this rivalry matchup just twice in the past 10 years, and the Sooners are a touchdown favorite. But signs point to Oklahoma State having a shot at a road upset this season.
_BookPromo=303
Oklahoma State Cowboys
A bye week was needed for the Cowboys after a home loss to Texas and a narrow victory over Kansas State.
Oklahoma State posted a 28% Success Rate in passing downs and just one explosive drive in 13 possessions against Kansas State. An 85-yard fumble return for a touchdown was the biggest contributor to the victory.
The Pokes were without some of their most talented players heading into the bye week, including wide receiver Tylan Wallace and safety Kolby Harvell-Peel. Running back Chuba Hubbard was limited in practices before the Kansas State game, and his status, along with the others,  is unknown.
Spencer Sanders continues to struggle with pressure, an issue that continues with the loss of two offensive linemen in previous games. Sanders has a completion percentage of 71% without pressure, but with pressure, the quarterback falls to 43% with 10 sacks on 31 dropbacks.
---
Oklahoma Sooners
Boomer hit the bye week rolling, scoring an average of 52.5 points over four games since its loss to Iowa State. In those four games against Kansas, Texas Tech, TCU and Texas, the offensive line allowed just nine quarterback hurries. This produced an explosive pass attack led by quarterback Spencer Rattler, who posted an 8:2 touchdown-to-interception ratio.
As Rattler and the offense excelled in pass explosiveness and finishing drives, the defense has improved under coordinator Alex Grinch. Oklahoma is 11th in defensive Havoc and 12th in Line Yards. More importantly, the Sooners are top-30 in Opponent Success Rate, which is proof of the hustle; the team grades 99th in tackling. Linebacker Nik Bonitto ranks in the top 40 individually in the nation with eight tackles for loss.
---
Highest QB pressure % this season
1. Nik Bonitto, Oklahoma – 27%
2. Jordan Smith, UAB – 23%
3. Scott Patchan, Colorado St – 20%
4. Azeez Ojulari, Georgia – 19%
4. Kwity Paye, Michigan – 19% pic.twitter.com/AKSSh4Jcy5

— PFF College (@PFF_College) November 17, 2020
---
Betting Analysis & Pick
The Bedlam series has been dominated by high-flying offenses with recent names such as Mason Rudolph, Kyler Murray, Jalen Hurts and Baker Mayfield headlining.
The 2020 version is all about the defenses, creating a change of pace in how to handicap this game.
Mike Gundy has increasingly mentioned missing offensive linemen replaced by freshmen, an issue that may be exposed against an Oklahoma defense that is among the top 15 in Line Yards, Power Success and Stuff Rate.
Oklahoma State has primarily been a run-first offense at a 64% rate, well above the national average of 54%. The Pokes have a clear advantage in explosiveness if Hubbard is healthy, an unknown element until kickoff.
As for Oklahoma State, the defense and special teams have been the drivers behind the success this season. Rattler will see pressure in passing downs, and if he reverts to how he played in September, this game could be all Oklahoma State. The Pokes have played their best defense within their 40-yard line, allowing just 2.2 points per trip to opponents.
Historically, Bedlam has been a house of horrors for the Cowboys, with just two wins in the past decade. Those previous Oklahoma State teams tried to match offensive firepower with the Sooners, but this season both teams have Havoc-minded defenses. That may not be good news for Rattler, who has been turnover-prone when chased from the pocket.
Look for the Pokes offense to do enough in run blocking to get a healthy Hubbard the explosive runs needed to put points on the board. Oklahoma State fields the better tackling defense and special teams, which may lead it to an outright upset in windy Norman.
Pick: Oklahoma State +7 or better.
---
_BookPromo=7
---
CLICK THE DROPDOWN ARROW TO EASILY NAVIGATE TO ANY GAME
---
Boise State vs. Hawaii
Boise State Odds
-14 [BET NOW]
Hawaii Odds
+14 [BET NOW]
Moneyline
-530 / +380 [BET NOW]
Over/Under
56 [BET NOW]
Time
11 p.m. ET
TV
CBS Sports Network
(Photo Credit: Douglas Stringer/Icon Sportswire via Getty Images.).
---
CLICK THE DROPDOWN ARROW TO VIEW COLLIN'S MATCHUP MATRIX
---
Boise State Broncos
In the past two games, it has been a quarterback merry-go-round with Hank Bachmeier, Jack Sears and Cade Fennegan. Head coach Bryan Harsin mentioned that 14 players missed the Colorado State victory due to quarantine procedure. The defensive trench analytics may be skewed, as Boise has had offensive and defensive lineman switch roles due to depth issues entering the season.
Boise's strength comes via pass explosiveness, particularly from Bachmeier. The starter returned to action last week, throwing for 202 yards along with four passes of 15 yards or more.
The Broncos now rank fifth in Finishing Drives, averaging 5.2 points per trip past the opponent 40-yard line. Boise State is an astounding 12-for-12 in red-zone-trips to-touchdown ratio. That incredible red-zone efficiency has helped the Broncos cover for their defensive deficiencies, from allowing pass explosiveness to Defensive Finishing Drives. The updated special teams boost came from multiple punt blocks against the Rams.
---
Hawaii Rainbow Warriors
A nightmare trip to San Diego ended in a 24-point loss as the Aztecs exposed the biggest hole of the Hawaii defense: Front seven run-stoppers. San Diego State rushed for 326 yards on an average of 6.4 yards per carry.
The Rainbow Warriors gave up six runs of 20 yards or more, which falls squarely in line with their 102nd-place rank in Opponent Rush Expected Points this season. Missed tackles also continued to be a problem for the 'Bows. Hawaii now ranks 123rd out of 126 FBS teams in tackling grade, per Pro Football Focus.
On the other side of the ball, the story is Hawaii's new GoGo offense under G. J. Kinne and wide receivers coach Brennan Marion. The scheme transition has successfully achieved chunk yardage on the ground, but the passing game lacks sustainability. Quarterback Chevan Cordeiro has been asked to lead an offense that primarily lines up in 10 and 20 personnel with a few wrinkles.
Cordeiro is the team leader in rushing categories such as yards per attempt and avoided tackles. The offensive line ranks sixth in Line Yards, but Cordeiro has contributed 136 yards on 20 scramble attempts. The quarterback's legs are vitally important to the passing game. Keeping the secondary grounded allows home run-hitting wide receiver Calvin Turner to get free.
---
Betting Analysis & Pick
The news to monitor heading into Saturday night's contest is who exactly will be on Boise State's charter jet to the island. The Broncos have dealt with COVID-19 weekly, including 14 players in quarantine in last Friday's game.
The Broncos are expected to have a full boat of players make the six-hour flight to Honolulu for their Week 12 matchup against the 'Bows.
The No. 1 handicap in this game is whether or not Cordeiro can be stopped on designed and scramble rush attempts. Those plays have given Hawaii the 15th-most explosive ground attack at a tempo that ranks 23rd in seconds per play.
Boise State reports very poor numbers against the rush, and it's important to remember that the defense has suffered the most with regards to COVID-19. Meanwhile, the Rainbow Warriors will only cover the spread if they improve in Offensive Finishing Drives.
The Boise pass defense has been excellent, posting a rank of 24th in Opponent Success Rate and a top-10 ranking in Opponent Third-Down Conversions. Despite those daunting opposing numbers, Hawaii will run an uptempo offense similar to that of Colorado State, which had 17 possessions in the game against Boise State.
If the Broncos are granted 15 offensive possessions due to Hawaii's pace, then Boise State should deliver a lengthy highlight reel. The 'Bows rank 85th in opponent pass explosiveness and 123rd in tackling — both of which serve as propellants enabling the Broncos to put ample points on the board.
Considering Boise State's sterling red-zone efficiency, taking the traveling Broncos over their team total and against the spread is the best bet.
Pick: Boise State -14 or better | Boise State Team Total Over 37.5
---
---
CLICK THE DROPDOWN ARROW TO EASILY NAVIGATE TO ANY GAME
---
[CANCELED] Washington State vs. Stanford

(Photo Credit: Thearon W. Henderson/Getty Images).
---
CLICK THE DROPDOWN ARROW TO VIEW COLLIN'S MATCHUP MATRIX
---
Washington State Cougars
Nick Rolovich may have been the perfect hire with regards to a transition in offensive scheme. The Mike Leach Air Raid offense ran primarily out of 10 personnel, similar to the Rolovich run and shoot that has been exclusively in the same set. Freshman Jayden de Laura has graded out in early returns against Oregon and Oregon State with 547 passing yards and four touchdowns.
However, there is room for improvement from the wide receivers, who have combined for seven drops through 72 passing attempts. The Cougars offense is among the best in the country in preventing Havoc allowed, but consider that this is a pass-first offense, and de Laura's successful pass completion percentage comes within 2.2 seconds off the snap.
The Washington State defense could use a huge yellow sign reading "Under Construction." From a Success Rate standpoint, the Cougars rank in the bottom 10 in FBS. The biggest gaps are in trench warfare, where the defense ranks 118th in Line Yards and Power Success Rate. The Cougars grade only marginally better in coverage and tackling via Pro Football Focus, ranking 99th and 100th, respectively.
---
Stanford Cardinal
The numbers on the Cardinal can be a bit misleading, as Davis Mills sat out the opener in a loss to Oregon due to an inconclusive COVID-19 test. The Trees did what they could with a balance of rush and pass attempts against an Oregon defense chock-full of fresh faces.
Mills returned against Colorado, and head coach David Shaw unleashed a heavy dose of passing. More than 72% of snaps were passing plays against the Buffaloes. Most would point out that Stanford trailed in this game 28-9, but Mills attempted a pass in five out of the first six plays in the first drive of the game.
The Stanford defense has had issues through the first two games against Oregon and Colorado. Success Rate, Havoc and Sack Rate rankings all show up in the bottom-10 rankings of all FBS teams. The only areas of positivity come in Finishing Drives and tackle grading, per PFF. Passing attacks will continue to beat a Cardinal back seven that averages outside the top 100 in pass breakups per game.
---
Betting Analysis & Pick
Does either team want to play any defense in this game?
While both Stanford and Washington State rank outside the top 100 in tempo, each defense has a penchant for allowing opponents to move the chains. Consider that through two games, Stanford and Washington State rank 123rd and 126th, respectively, in opponent third-down conversions.
One of these offenses has found more success in putting points on the board when given the opportunity. Washington State averages 4.7 points on trips past the 40-yard line, while Stanford checks in at 2.3 per attempt.
With the Cougars, an investor gets better special teams and red-zone offense. If the Washington State defense can put up a third-down stop, this could be an outright underdog victory.
Pick: Washington State +0.5 or better.
---
Are you looking for a safe, reliable, trustworthy sportsbook? Check out our ratings of the best sportsbooks and their current sign-up offers for new customers.