Saturday College Football Odds & Picks: Our Staff's Favorite Week 13 Bets, Including Indiana vs. Maryland & Saturday MACtion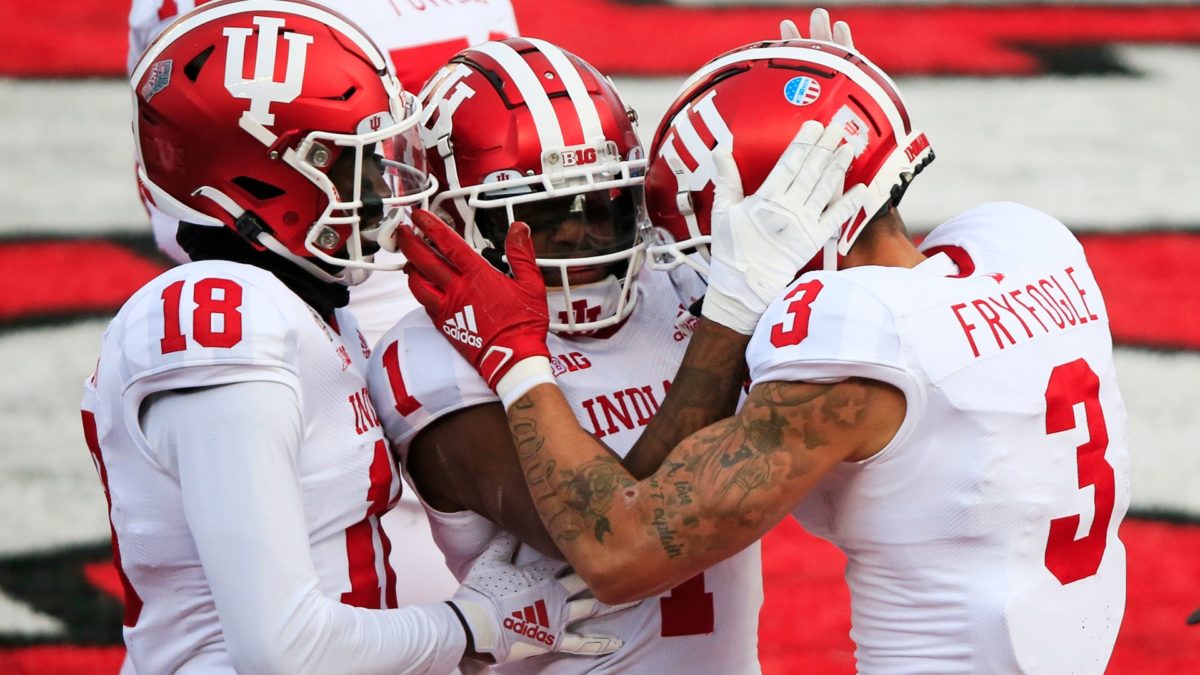 We braved the (shortened) workweek, made it through Thanksgiving, stayed up deep into the night for Black Friday football … and now, we've arrived:
Saturday. College. Football.
Of course, the road to Saturday has been wrought with more peril: We've once again had to cope with losing huge games on the Week 13 schedule due to the increasingly pervasive effects felt from COVID-19.
Yet, rather than mourning the losses, in the spirit of Thanksgiving, let us be thankful for the games that yet remain. So, in that spirit, our staff has broken down the odds and highlighted their favorite betting spots for the Week 13 Saturday college football slate. From the noons to the eve, we've got you covered with our seven best bets across the entire slate of college football action on Saturday.
---
---
Saturday College Football Best Bets for Week 13:
Check our top Saturday picks below, each of which comes from one of the following seven games. Click any of the games below to navigate to a specific matchup.
---
All listed odds have been updated as of Friday afternoon and via DraftKings. Specific bet recommendations at the end of each matchup breakdown come from the sportsbook offering preferred odds as of writing.
Always shop for the best price using our NCAAF Odds page, which automatically surfaces the best lines for every game.
---
CLICK THE DROPDOWN ARROW TO EASILY NAVIGATE TO ANY GAME
Kent State vs. Buffalo
Kent State Odds
+7.5 [BET NOW]
Buffalo Odds
-7.5 [BET NOW]
Moneyline
+195 / -265 [BET NOW]
Over/Under
67.5 [BET NOW]
Time
12 p.m. ET
TV
CBS Sports Network
(Photo Credit: Frank Jansky/Icon Sportswire via Getty Images)
Kent State was a major beneficiary of the COVID-19 schedule reshuffling. Instead of suffering through an opening slate that included road trips to three Power Five schools, including Alabama, the Golden Flashes were gifted with an opening slate of Eastern Michigan, Bowling Green, and Akron. I had high expectations for Sean Lewis' offense against that "gauntlet," but it has blown past any reasonable projections. Through three games, Kent is leading the nation in points per game (52.7) and ranks in the top 10 in the following offensive metrics:
Yards Per Game (616, first)

Rushing Yards Per Game (299, first)

Points Per Play (.632, fifth)

Third-Down Conversions (61.9%, second)
The Flashes can beat you through the air or on the ground, making them an incredibly difficult team to corral. Buffalo, meanwhile, is a one-man show. Jaret Patterson is averaging 7.2 yards per carry despite facing seven- and eight-man boxes with regularity. If you put weight in Pro Football Focus' analysis, the compact scatback is running his way toward a first-round NFL Draft evaluation. He's that good. 
You won't confuse Kent's run defense with the '85 Bears, but it's considerably better than the Bowling Green unit that was gouged for 301 by Patterson last week. I foresee the Golden Flashes bending considerably but not completely breaking. That should be enough to hold Patterson under 150 yards while keeping Buffalo under 35 points. In that scenario, +220 odds with one of the nation's best offenses is a play I can get behind.
Pick: Kent State moneyline +220.
CLICK THE DROPDOWN ARROW TO EASILY NAVIGATE TO ANY GAME
---
Kent State vs. Buffalo
Kent State Odds
+7.5 [BET NOW]
Buffalo Odds
-7.5 [BET NOW]
Moneyline
+195 / -265 [BET NOW]
Over/Under
67.5 [BET NOW]
Time
12 p.m. ET
TV
CBS Sports Network
(Photo Credit: Justin Casterline/Getty Images)
This game features two of the top seven teams in terms of Offensive Success Rate, with Kent State sitting at second in the nation and Buffalo at seven. Each team has been explosive to this point as well. Buffalo ranks second nationally in points per play, and Kent State is just behind it at fifth. The Golden Flashes have scored at least 60 points in both of their past two games, while the Bulls have yet to be held under 40 points on the season. 
Kent State plays with tempo and currently sits at third in the nation in plays per game. Buffalo has been slow so far but has also been playing with massive leads. Buffalo's margins of victory this year have been 19, 32, and 25 points. When you are sitting on big leads, there is no reason to play with tempo. Over the course of 2019, however, Buffalo ranked 34th in plays per game. This matchup should be much closer than Buffalo's first three games of the season.
Buffalo and Kent State also have two of the best quarterbacks in the group of 5. Kent State quarterback currently ranks 3rd nationally in Expected Points Added per play among quarterbacks behind only Mac Jones and Trevor Lawrence. Meanwhile, Buffalo quarterback Kyle Vantrease is PFF's third-highest graded quarterback in the Group of Five. 
On defense, Buffalo has faced Northern Illinois, Miami (Ohio), and Bowling Green. Those offenses all rank 115th or lower in SP+. Kent State has faced two of the three worst offenses in the country in terms of SP+, as well as Eastern Michigan, which ranks 114th. Both of these defenses have yet to face an offense with a pulse.
I project this total at 75.6. These have been two of the most efficient offenses in the country, and both teams have gone three weeks without getting tested whatsoever on defense. I expect a decent amount of tempo on both sides as well.
CLICK THE DROPDOWN ARROW TO EASILY NAVIGATE TO ANY GAME
---
Indiana vs. Maryland
Indiana Odds
-12 [BET NOW]
Maryland Odds
+12 [BET NOW]
Moneyline
-455 / +300 [BET NOW]
Over/Under
64 [BET NOW]
Time
12 p.m. ET
TV
ESPN2
(Photo Credit: Steven Branscombe/Getty Images)
The Maryland offense has done a complete 180 after it laid an egg in the season opener against Northwestern. The Terps put up 45 and 35 points in their next two games and averaged 540 yards against Minnesota and Penn State. They now rank second in the Big Ten in total offense.
Quarterback Taulia Tagovailoa has quickly found his groove and ranks second in the Big Ten in quarterback rating. Tagovailoa's ability to make plays with his arm and his legs gives him a dangerous ability to extend drives. Maryland converts on third down at the fourth-highest rate in the conference.
Freshman wide receiver Rakim Jarrett exploded against Penn State, going for 144 yards and two touchdowns. The Indiana defense was torched by Ohio State wideouts Chris Olave and Garrett Wilson last week, and this spot sets up nicely for Jarrett to make plays against a struggling secondary.
Maryland ranks second in the country in explosiveness and has shown an ability to make something out of nothing, seemingly turning broken plays into huge gains out of nowhere. The Indiana defense ranks 86th in defending explosiveness.
_BookPromo=297
On offense, the Hoosiers just threw for 491 yards and five touchdowns on the Buckeyes offense. For some teams, this could mean a letdown spot is coming. But not for a Tom Allen-led team. The way Indiana was able to hang with Ohio State should give it confidence moving forward, especially for Michael Penix Jr. and the Hoosier offense.
Indiana is averaging 34 points per game, second in the Big Ten, thanks in large part to its pair of stud wide receivers Ty Fryfogle and Whop Philyor. Fryfogle, in particular, ranks sixth in the nation with 128.4 receiving yards per game, and the Hoosiers' big-play threat averages 20.7 yards per catch.
The Indiana offense completed four passes that went for over 50 yards against Ohio State last week.
Maryland's defense ranks 114th in the country in total defense, allowing 474 yards per game while lacking the ability to create negative plays, sitting just 103rd in defensive Havoc.
Both of these teams have a quarterback with the ability to keep plays alive with their legs and convert big plays with their arms. These defenses won't be able to contain the playmakers each team possesses on offense, and this game sets up to be an exciting matchup in Bloomington.
CLICK THE DROPDOWN ARROW TO EASILY NAVIGATE TO ANY GAME
---
UTEP vs. Rice
UTEP Odds
+12 [BET NOW]
Rice Odds
-12 [BET NOW]
Moneyline
+390/ -530 [BET NOW]
Over/Under
44.5 [BET NOW]
Time
1 p.m. ET
TV
ESPN3
(Photo Credit: Tim Warner/Getty Images)
The UTEP Miners (3-4) will face the Rice Owls (1-2) at Rice Stadium in Houston, Texas. UTEP was off last weekend due to a COVID-19 postponement against UAB. Rice is coming off of a 27-17 loss to North Texas last weekend.  
Rice has hit the over once this season and hit the under twice, while UTEP has hit the over three times and the under four times.  
This one, though, sets up for the over.
UTEP is allowing 29 points per game this season, while also ranking 40th in FBS in total defense and ranked 58th in the FBS in passing yards allowed. It gives up an average 232.1 passing yards per game. The Miners have allowed 27 touchdowns through seven games this season, with 14 of those coming through the air. UTEP has a defensive Predicted Points Added per play of 0.20, which is worse than the Conference USA average of 0.14. 
Rice is affording opponents an average of 24.3 points a game. It's ranked 36th in FBS total defense and allows an average of 251 passing yards per game, which is good for 83rd in FBS. The Owls have allowed three passing touchdowns in three contests this season. They hold a defensive PPA per play of 0.13, which is slightly better than the conference average. 
UTEP averages 20 points per game and has an offensive PPA per play of 0.11. Rice scores 27 points per game and has an offensive PPA per play of 0.19. The Miners have scored five passing touchdowns this season, while the Owls have scored all 10 of their touchdowns through the air this season. 
Rice is a pass-first offense and will look to throw the ball whenever possible. UTEP prefers to run the ball, but it does have the ability to move the chains in the passing game. Neither of these teams has a shutdown defense, with passing defense being the weak spot on both teams. I expect both squads to look to the passing game in search of a victory. 
My model has the total at 57 points for this one. Look for both teams to rely on the passing game to exploit the weak passing defenses en route to the over.
Pick: Over 44.5.
---
CLICK THE DROPDOWN ARROW TO EASILY NAVIGATE TO ANY GAME
---
Northwestern vs. Michigan State
by Matt Wispe
Northwestern Odds
-12.5 [BET NOW]
Michigan State Odds
+12.5 [BET NOW]
Moneyline
-670 / +400 [BET NOW]
Over/Under
41.5 [BET NOW]
Time
3:30 p.m. ET
TV
ESPN
(Photo Credit: Steven Branscombe/Getty Images)
They say, "Never look a gift horse in the mouth," and this year, that gift is Northwestern unders. Northwestern has gone under in all five of its games by an average of nine points per game. 
Since its opening-week 43-point performance, Northwestern has averaged 21.5 points per game. The offense runs the ball on 57.8% of plays, has a Success Rate of 37.7%, and runs a play every 25.37 seconds. But the focus should be on its rushing efficiency since that's its offensive focus. The Wildcat line produces 2.2 yards per attempt and owns a Stuff Rate of 22.7%. The one benefit to the Northwestern offense is that it reduces the risk of opposing defensive scores, as it allows Havoc on just 16% of plays.
Michigan State's best offensive performances were 27-point games against Michigan and Rutgers, but it has averaged just 15.2 points per game. The Spartans run a relatively fast-paced offense that runs a play every 22.8 seconds, but they only hold a Success Rate of 34.9%. Their line produces just over two yards per attempt and allows a Stuff Rate of 24.4%. 
These two defenses are built to stop one another. They each have a Success Rate under 40%, a Stuff Rate over 24%, and allow fewer than 2.7 Line Yards per attempt. Northwestern has allowed just 12.6 points per game. Michigan State has allowed 33.8, but Northwestern isn't the type of team to run up the score. 
Sure, the total is low, but Pat Fitzgerald's team is built more to win with its opponents in the teens than the 20s. So, look away, click under, and wait for the winning ticket to come in. 
_BookPromo=122
CLICK THE DROPDOWN ARROW TO EASILY NAVIGATE TO ANY GAME
---
Boise State vs. San Jose State
Boise State Odds
-11 [BET NOW]
San Jose State Odds
+11 [BET NOW]
Moneyline
-435 / +310 [BET NOW]
Over/Under
58 [BET NOW]
Time
4 p.m. ET
TV
FOX
(Photo Credit: Douglas Stringer/Icon Sportswire via Getty Images)
The Spartans made a drastic switch on offense last season by going to a more pass-heavy attack, and so far, it's done wonders. Arkansas transfer Nick Starkel has been fantastic, averaging 9.2 yards per attempt and leading the Spartans to a ranking of 16th in terms of Passing Success, according to College Football Data. San Jose State returned all of its main targets from last season, so there shouldn't be any drop-off any time soon.
Boise State has struggled on the defensive side, mainly because it has given up way too many explosive plays. The Broncos are 116th in explosiveness allowed and 121st in explosive passing allowed this season, per College Football Data. That is not going to bode well against Starkel and Company on Saturday.
In its biggest test of the season, Boise's defense got torched by BYU. It allowed 8.81 yards per play and 12.3 yards per attempt to Zach Wilson. Starkel and San Jose State's offense will be the best offense it's seen since the BYU game. Will the Broncos be up for the task on Saturday, or will we see a repeat of the BYU game?
Boise State's offense has been stellar behind sophomore quarterback Bachmeier, who is averaging 8.6 yards per attempt and has four touchdowns in his three starts on the season. In those three games, the Broncos have scored 40+ points.
Bachmeier is in a perfect situation to succeed, with all of his targets and top three running backs returning in 2020. Junior wide receiver Khalil Shakir has been a matchup nightmare for opposing secondaries, as he already has 38 catches and six touchdowns on the season.
The running game has struggled at times this season because of their offensive line. The Broncos had to replace four starters on the line. That's going to be an issue against San Jose State, as the Spartans already have 14 sacks in four games this season.
The defensive side of the ball has improved greatly from last season, as the Spartans are 35th in defensive success rate per College Football Data. They've allowed only 4.8 yards per play through their first four games and have excelled versus the run.
Eight of SJSU's top 11 tacklers are back from 2019, and the Spartans are poised to be one of the best defenses in the Mountain West. They've allowed only 3.1 yards per rush attempt so far this season, which is the second-best mark in the Mountain West. They also rank inside the top 35 in Power Success Allowed, Defensive Rushing Success, and explosive rushing allowed. That will come in handy against Boise, which has struggled to run the ball this season at only 3.8 yards per carry.
I only have Boise State projected as -3.25 favorites on Saturday afternoon, so I think there is plenty of value on San Jose State at +12. 
CLICK THE DROPDOWN ARROW TO EASILY NAVIGATE TO ANY GAME
---
Louisville vs. Boston College
by Pat McMahon
Louisville Odds
+1.5 [BET NOW]
Boston College Odds
-1.5 [BET NOW]
Moneyline
-103 / -118 [BET NOW]
Over/Under
54.5 [BET NOW]
Time
4 p.m. ET
TV
ACC Network
(Photo Credit: Fred Kfoury III/Icon Sportswire via Getty Images)
Louisville brings its explosive offense up to Chestnut Hill to face Boston College on Saturday afternoon. The Eagles had an extra week to prepare for this contest and were last seen in a high-scoring loss to Notre Dame on Nov. 14 in a game that featured just two punts.
Both teams are capable of hitting the deep ball and have 30+ completions of greater than 20 yards on the year. Louisville also has the fourth-most running plays of 20+ yards this season with 23. On the flip side, both defenses are very susceptible to big plays through the air. Boston College has been one of the worst teams in the country at defending the deep ball, giving up 32 passing completions of more than 20 yards. Louisville's defense is below the national average in that category as well, surrendering 23 such plays. 
Louisville quarterback Malik Cunningham has been inconsistent as a passer and is capable of completing a deep bomb for a touchdown or throwing a pick-six at any moment, both of which are great for an over. The Cardinals' pass defense has been strong this season, but BC quarterback Phil Jurkovec played well against tough Notre Dame and Clemson defenses. With an extra week of preparation, Jurkovec and his receivers should be able to post a big day against the Cardinals. 
Recency bias may be a factor for the low total here, as three of the last four games these teams were involved in have gone under. However, both teams have been involved in their fair share of high-scoring games this season as well. With the ability of both teams to hit big plays in the passing game and the inability of both defenses to defend them, there should be plenty of points involved in this one.
---
CLICK THE DROPDOWN ARROW TO EASILY NAVIGATE TO ANY GAME
---
Ole Miss vs. Mississippi State
by Stuckey
Mississippi State Odds
+9.5 [BET NOW]
Ole Miss Odds
-9.5 [BET NOW]
Moneyline
+255 / -335 [BET NOW]
Over/Under
69 [BET NOW]
Time
4 p.m. ET
TV
SEC Network
(Photo Credit: Peter G. Aiken/Getty Images)
I'm heading down south to another offense-heavy matchup and taking a shot on Mike Leach in the Egg Bowl.
I started pleading for Mississippi State to go to freshman quarterback Will Rogers after the first few games. KJ Costello just didn't seem comfortable in the Air Raid offense. Rogers doesn't have that issue, as he's very familiar with the Air Raid, having run it in high school and being personally recruited by Leach.
Well, Leach made the change two games ago and was paid off handsomely with a win over Vanderbilt, but more impressively, a competitive loss against Georgia in which Rogers finished 41-of-52 for 336 yards and zero interceptions against one of the best defenses in the country. The offense has seemed to figure some things out and will now go up against a bottom-25 defense in FBS.
Ole Miss certainly has the better offense, but Mississippi State has the superior defense. This one might just come down to a random turnover or a couple of stops. I'll side with the juicy underdog in a game that should have no shortage of debauchery.
CLICK THE DROPDOWN ARROW TO EASILY NAVIGATE TO ANY GAME
---
Are you looking for a safe, reliable, trustworthy sportsbook? Check out our ratings of the best sportsbooks and their current sign-up offers for new customers.