Where Is Sports Betting Legal? Projections for All 50 States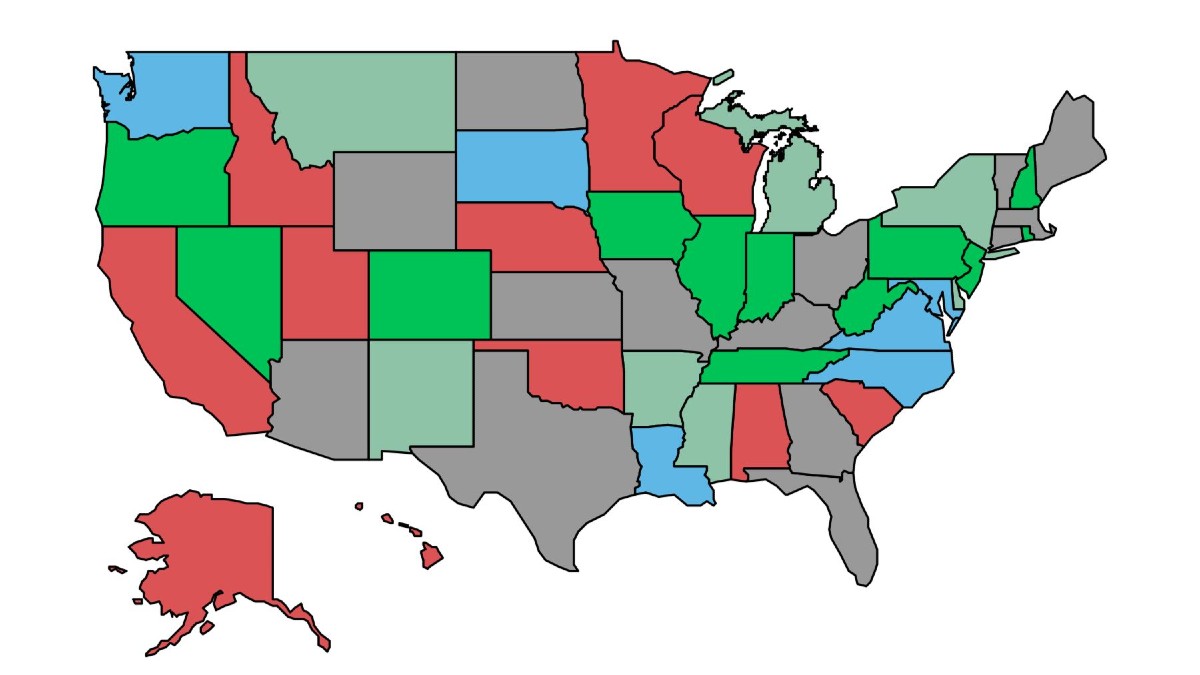 Updated on Dec. 7, 2020
It's been more than two-and-a-half years since the Supreme Court struck down the federal ban on sports betting, allowing states to legalize it if they wish.
So where do we stand now? What states are in business, and how are they doing? What states are imminently coming online? And what states are on the back burner? We've compiled a comprehensive look at all 50 states (plus Washington D.C.), with projected legalization dates for every state.
Budget shortfalls have many legislations considering sports betting if they weren't already. But the reality is that full online sports betting will not come to more than a dozen states for a long time due to deep-seeded political opposition to gambling or complex tribal relationships.
An interactive map is below, and the text for each state is ordered by the projected year we expect them to come online. Two experts — Daniel Wallach, principal at Wallach Legal, the nation's first law firm solely devoted to sports betting, and Jake Williams, vice president of legal and regulatory affairs for Sportradar — helped with the projections and sub-categories for every state.
Pending states fall into two categories. Virginia, for example, will have online betting, but hasn't yet launched. Louisiana voted to legalize, but still hasn't figured out any framework, including whether or not online betting will be allowed.
"Possible" states for 2021 and 2022 include states such as Georgia, which has seen some movement but has no real timeline for legalization, and Maine, which had a bill vetoed by the governor, killing sports betting until at least 2021.
---
[Check out the best online sportsbooks in Illinois, Colorado, New Jersey, Pennsylvania, Tennessee, Indiana and West Virginia.]
_BookPromo=49
_BookPromo=7
_BookPromo=24
---
Where Is Sports Betting Legal?
Ala. | Alaska | Ari. | Ark. | Calif. | Colo. | Conn. | Dela. | Fla. | Ga. | Hawaii | Idaho | Illinois | Ind. | Iowa | Kan. | Kent. | La. | Maine | Mary. | Mass. | Mich. | Minn. | Miss. | Mo. | Mont. | Neb. | Nev. | N.H. | N.J. | N.M. | N.Y. | N.C | N.D. | Ohio | Okla. | Ore. | Penn. | R.I. | S.C. | S.D. | Tenn. | Texas | Utah | Ver. | Virginia | Wash. | Wash. D.C. | W.V. | Wisc. | Wyo.
---
LEGAL, TAKING BETS
Only physical sportsbooks (4)
"In-person online" betting (2)
One mobile betting option (4)
Only physical sportsbooks
Legal sports betting started in Arkansas on July 1, 2019, at Oaklawn Racing Casino Resort. An additional sportsbook was added in October 2019 at the Saracen Casino Resort.
There is no online wagering in the state.
Lawmakers have considered statewide mobile legislation but this could still be a difficult sell in one of the nation's more politically and culturally conservative states.
A 2018 ballot measure that allowed the two sportsbooks and permitted two new casinos in the state passed, but a 2020 measure that would have allowed even more casinos didn't make that year's ballot. It could be a while before Arkansas has full mobile betting.
Full mobile betting with multiple options
Colorado accepted its first online and retail wagers in 2020 and has quickly turned into one of the most robust markets with all the major players involved, including DraftKings, FanDuel, BetMGM and BetRivers from day one.
In Sept. 2020, Colorado joined Nevada, New Jersey, Pennsylvania and Indiana among states to record more than $200 million in monthly betting handle. Australian-based PointsBet opened its North American headquarters in Denver, helping what could be a major player in U.S. sports betting.
_BookPromo=19
Colorado has one of the most operator-friendly setups in the country and more than two-dozen digital sportsbooks are expected to be live there in the coming years.
Only physical sportsbooks
Delaware was the first state outside Nevada to accept a legal single-game sports bet, beating New Jersey by a few weeks after the Supreme Court struck down the federal wagering ban in May 2018.
Delaware's lottery-run sports betting market still prohibits online betting, leaving only three retail sportsbooks in the state — and unimpressive revenue numbers.
Its small size, population and the proliferation of digital sports betting options in its neighboring states will leave Delaware a relative afterthought despite its quick start.
Full mobile betting with multiple options
The state launched betting on March 9, 2020, (just ahead of an NCAA Tournament that didn't wind up happening) and launched online betting in June 2020.
One of the nation's most populated (and sports-crazy) states, Illinois is expected to be a major player in the U.S. sports betting sphere. However, market participation has been slow, in part due to limited online skin counts and stiff taxes and fees.
More importantly, Illinois bettors are required to register at a retail sportsbook before betting with an online option, though this requirement has been waived on a month-by-month basis by Gov. J.B. Pritzker during COVID-19.
As more sportsbooks enter — and as long as the in-person registration requirements are waived — Illinois should continue to grow. The registration mandate sunsets permanently in 2022, and marquee sports venues such as Wrigley Field and the United Center could open sportsbooks in coming years.
Full mobile betting with multiple options
Indiana went live Sept. 1, 2019 and has done well, pulling in more than $200 million a month in handle in the 2020 football season. It took just a few months from legalization to first bet, and Indiana has continued its fast start with a well-rounded market.
The biggest players, including FanDuel and DraftKings, take up most of the market share within the state, but a dozen or so sportsbooks are expected to make noise in the coming years. More operator entrants and a business-friendly environment should help continue Indiana's sports betting success.
Full mobile betting with multiple options (in-person sign ups lifted on Jan. 1, 2021)
Iowa started accepting bets on Aug. 15, 2019 and has methodically grown in the months since. The in-person registration requirement set to sunset in 2021 should help the market even further.
Iowa has some of the cheapest licensing fees in the land — $45,000 for the first year to get an initial license and a renewal fee of $10,000 annually. Iowa took in $72 million in bets in September 2020 alone.
Though it has a smaller in population and has no professional sports teams, it could still be among the more lucrative per capita markets in the country.
Full mobile betting with multiple options (online begins by end of 2020)
_BookPromo=122
Michigan launched in-person wagering at the MGM Grand Detroit on March 11, 2020. Online books such as BetMGM could launch before the end of 2020 or very early in 2021.
Michigan has the potential to be one of the biggest sports betting and online gaming markets in the country, and its legislation allows for a competitive market with multiple operators.
"In-person online" betting
Mississippi was one of the earlier states to launch, opening up for business on Aug. 1, 2018.
The state technically has mobile wagering, but you can only place bets while inside a casino. This has hurt its market share, despite being one of the few legal Southern betting states.
The initial retail sports betting legislation was passed as a corollary to a fantasy sports bill at a time when the federal ban appeared it would not be lifted.
Passing a statewide online betting bill in conservative Mississippi will be a far more difficult task.
"In-person online" betting
Montana officially started taking bets in March 2020 with a sports betting app run by the company that runs the state lottery. This government-run monopoly keeps out other top sportsbooks and can jeopardize competitive prices. It also only works in licensed gaming properties.
Not surprisingly, Montana's limited betting options and sparse population make it a small part of the overall U.S. market.
Full mobile betting with multiple options (in-person sign up required)
Nevada, the gold standard for in-person betting, still hasn't quite mastered online wagering. The state requires bettors to come into a casino to register in person before placing via the Internet.
That's really hurt the state during COVID-19, when casino traffic plummeted. Nevada will always hold a special spot for American gaming, but it is already just the second-most lucrative sports betting state and it could continue to fall down the ranks as more and more populated states (with statewide mobile wagering) launch in the coming years.
One mobile betting option
Online wagering began on Dec. 30, 2019. DraftKings is the sole mobile operator in the state, though there are a handful of retail betting locations that have opened or intend to do so.
New Hampshire has done decently well despite its limited market, but this could end when (or if) Massachusetts launches mobile wagering.
Full mobile betting with multiple options
New Jersey, the state to bring the sports gambling case to the Supreme Court, is now enjoying the fruits of its labor. "The Gold Standard" for legal sports betting was the third state to take a legal bet and has continued to set state records thank to a competitive, operator-friendly system.
Although there are physical books in Atlantic City and at the Meadowlands, more than 80% of bets taken are on online, a number that's risen during COVID-19 and should continue going forward.
New Jersey brought in $4.5 billion in sports bets in 2019 and is on track to bring in $5 billion in 2020, beating out Nevada in handle every month that year. A New York mobile launch could cut into these massive numbers, but New Jersey will still continue as a marquee market for years to come.
Only physical sportsbooks
No bills have been passed, but Native American tribes have interpreted that sportsbooks are legal at tribal casinos under existing state tribal gaming compacts. There are only a handful of retail sportsbooks spread across the state and it appears the first state to take a bet without an act of the legislature or voters will continue to do so.
Only physical sportsbooks
New York has retail sports betting at a handful of upstate commercial and tribal casinos, but these have generated little revenue despite the state's massive population and gaming interest.
While New Jersey has essentially turned into "Vegas East" (with the help of New Yorkers coming across the border), Gov. Andrew Cuomo has dragged his feet for online sports betting legislation. This comes even as a study released in February 2020 estimated that New York is losing $200+ million in revenue by not legalizing online sports betting.
New York State Senator Joseph Addabbo is the most adamant proponent of online betting, and believes those against it will come around given the budgetary crisis posed by COVID-19.
But what would be the largest online sports betting market remains dormant. There are hopes legislation could pass in 2021, but a major obstacle remains in the governor's mansion. Cuomo is up for re-election in November of 2022, but there are no term limits for the governor of New York.
One mobile betting option
Thanks to a limited exemption in the federal sports betting ban that allowed it to offer parlay cards, Oregon officials determined the state lottery could begin taking bets without a separate act of the legislature. The state lottery app took its first bet in 2019, but with only one legal mobile wagering option, it has not been able to match competitive markets.
Notably, in-state college betting is prohibited via the lottery app. A handful of Native American casinos have opened retail sportsbooks, which permit college betting as well, but these too are small revenue generators.
Full mobile betting with multiple options
Pennsylvania was among a handful of states to accept a legal retail sports bet in 2018 and, beginning with its 2019 digital launch, has been among the biggest markets in the country.
Despite high fees for operators to get into the game, Pennsylvania consistently sees the third-largest sports betting monthly handles, behind New Jersey and Nevada, despite a larger population, pulling in close to $500 million in bets during the meat of the football season.
The fees, and a limit of only 14 total operator licenses, will continue to hinder Pennsylvania's potential, but it's large population and high-profile sports teams will help it maintain some of the nation's highest-grossing handle totals.
One mobile betting option
Rhode Island has been offering legal sports betting since 2018 when retail sportsbooks opened at its two commercial casinos.  William Hill (now owned by Caesars) is the only legal retail and online sportsbook in the state.
Lawmakers repealed an in-person mobile registration requirement, but the small population and lone legal option keep revenues small, despite Rhode Island's proximity to Connecticut and Massachusetts.
Full mobile betting with multiple options
Since it has no casinos, Tennessee is the only state that has online-only sports betting. The conservative state's unlikely launch of an uncapped, digital sports betting market excited industry stakeholders, but other restrictions could hurt its potential.
_BookPromo=7
Tennessee is also the only state that makes the operators return a 10% hold. Since the typical hold, which is the percentage of the total bets taken in that the books hold on to, is around 5-7% in most states, making sure that 10% is held could mean that bettors within the state will get worse odds.
Also, Tennessee took roughly 18 months to launch its first online sportsbooks after it's legislature technically legalized betting. All major operators could enter the market in coming years, but Tennessee's self-imposed restrictions could hurt its potential.
One mobile betting option
D.C. is technically a sole-source operator jurisdiction. The lone legal District-wide mobile app, GamBet, is run by the lottery and, partially because it has no legal competition, has offered lines worse than market averages. Also the app is geofenced out of any federal properties, a major problem in the nation's capital.
That has allowed the city's first retail sportsbooks, a temporary operating booth in Capital One Arena,
William Hill's retail book that opened on July 31 in a makeshift sportsbook in the box office of the Capital One Arena before its anticipated move into the actual building when ready.
Another entrant, Handle 19, is readying to enter the marketplace with a retail location. Overall, D.C. hasn't generated much from sports betting because of unfair pricing.
Full mobile betting with multiple options
Mobile betting had some initial hiccups in West Virginia, but it's been fully live since August 2019.
The state has a handful mobile operators, including DraftKings, FanDuel, BetMGM and William Hill. It will never rival some of the larger markets, but bettors at least have several legal options to place a bet from anywhere within the state. 
PENDING, 2021 LIKELY (6 TOTAL STATES)
Awaiting further action by legislature (3)
Approved, awaiting first bet (3)
Awaiting further action by legislature
In 2020, voters in 55 of the state's 64 parishes supported legal sports betting, including all those around New Orleans, Baton Rouge and Lafayette. Louisiana is the first to approve sports betting at a county or parish level, so it remains to be seen what sports betting will look like when it launches in 2021 or 2022.
Lawmakers will also need to determine key regulatory details — including allowing online access — which could be a complex legislative process.
Retail casinos will almost assuredly be able to open retail sportsbooks as early as 2021, but it remains to be seen how (or if) online wagering would be conducted in Louisiana.
Awaiting further action by legislature
The voters of Maryland said yes to legalizing sports gambling in the Nov. 2020 election, bringing legal wagering to the last remaining Mid-Atlantic state without a licensed sportsbook.
There's still work to do as the legislature has to come up with rules, including what retail establishments will get licenses and how mobile betting will potentially work.
But there is widespread, bipartisan support for online and retail betting, meaning Marylanders should expect the launch of a competitive, digital marketplace as early as 2021.
Approved, awaiting first bet
North Carolina legalized in-person sports betting in July 2019 for two tribal casinos in the western portion of the state, but both are still working towards opening their respective sportsbooks.
While that bill did not permit any mobile wagering, the state is expected to consider statewide mobile wagering in 2021.
Awaiting further action by legislature
South Dakota legalized sports betting in November 2020 as part of a ballot initiative.
Lawmakers still need to pass follow-up legislation, but bettors should expect retail books to open in the historic gaming community of Deadwood as well as tribal casinos as early as 2021.
The state constitution only permits wagering within Deadwood and tribal lands, but some believe statewide mobile wagering could be approved as long as the servers are placed in Deadwood. This is far from a sure bet, but could open an interesting new digital market.
Approved, awaiting first bet
Virginia's sports betting laws went into effect on July 1, 2020, but so far, they haven't taken any bets. The Virginia Lottery, which oversees sports betting, expects to approve its first online sportsbooks in late 2020 or early 2021, with betting beginning sometime in 2021.
There should be around a dozen mobile sportsbooks live in the coming years, including many top brands.
Approved, awaiting first bet
Washington legalized sports betting on March 25, 2020, though no bets have been taken because the state is in compact negotiations with tribal representatives to come up with terms of a new agreement that will allow sports betting to take place on tribal lands.
Mobile sports betting, like Mississippi, will only be allowed if it is placed within a casino facility, a huge deterrent to the state's revenue potential. Statewide mobile betting doesn't seem like a reality anytime soon.
POSSIBLE 2021 & 2022 (14 TOTAL STATES)
Under consideration by legislature (10)
2021 action Possible (2)
Tribal action possible (2)
Under consideration by legislature
Arizona officials have touched on sports betting proposals the last few years and are still considering a path for state tribes to take sports bets.
Key details would still need to be resolved, but officials from both parties are bullish on a deal, possibly as early as 2021. Online betting may be a tougher endeavor, but Arizona seems on solid footing for some sort of legal wagering sooner than later.
Under consideration by legislature
Connecticut lawmakers have supported sports betting since the federal wagering ban was struck down, but have not been able to work out a deal that appeases all the state's powerful gaming interests, including the tribes.
With politicians largely supportive, Connecticut remains one of the more plausible states to pass a sports betting bill. But until, or if, stakeholders can reach a deal, sports betting remains illegal.
2021 action Possible
Some Florida politicians have come out in support of legal wagering, but a host of legal and logistical obstacles have thwarted any legislative efforts.
Miami-based sports betting legislation expert Daniel Wallach said a 2018 constitutional amendment that prohibits lawmakers from passing gaming legislation without a voter referendum would not necessarily stop the legislature from authorizing sports gambling. It could still be a major legal stumbling block.
The other major concern is the interests of the Seminole Tribe of Florida. The proprietors of the state's largest casinos, any new gaming idea would have to earn their approval. Though the Seminoles would almost assuredly support the right to open sportsbooks in Florida, as they have in other states, any authorization would have to come on their terms, which may not include online betting.
Meanwhile, the state continues a multi-year standoff over slot machine tax payments and exclusivity rights that also will need to be settled before sports betting authorization can take shape.
Under consideration by legislature
Polls in Georgia say that voters are in favor of legalized sports betting. Executives from the Atlanta Falcons, Atlanta Braves, Atlanta Hawks and Atlanta United also came out in support of sports betting in late 2019. A last-minute legalization bill failed in the final moments of the 2020 legislative session, but legal betting could get another look in 2021.
The state doesn't have casino gaming of any kind, which complicates the process, and conservative Georgia Gov. Brian Kemp might also be a veto threat to sports gambling progress.
Popular support is on sports betting's side, but it's not clear if that's enough to overcome entrenched anti-gambling sentiment in the statehouse. As we saw during the November election, though, Georgia seems to be trending more and more politically blue every year.
Under consideration by legislature
Kansas seemed like a safe bet to approval legal wagering in 2020 after both the House and Senate introduced bills to do so. However, the COVID-19 pandemic prematurely shuttered that year's session, and lawmakers will have to take up a new bill in 2021.
The 2020 progress is an encouraging sign, and it appears the idea of sports betting has gained support in Kansas. Key regulatory issues will need to be resolved, and it remains to be seen if online betting is politically palatable, but Kansas could be among the favorites to pass legal retail betting as early as 2021.
Under consideration by legislature
A sports betting bill zoomed out a legislative committee in the Kentucky House in early 2020, but quickly hit a snag as Republican leadership tanked the bill despite bipartisan support. Conservative, anti-gambling sentiment runs deep in Kentucky and remains a massive political barrier.
Kentucky will now have to wait until 2021, at least, for legal sports betting — and in odd years, the state requires bills to get 60% support for them to pass, an extra hurdle to clear that wasn't present in 2020.
The good news is that Democratic Gov. Andy Beshear is a big proponent of sports betting legalization, but until Republicans get on board, Kentucky sports betting may not happen. In that environment, it makes statewide mobile wagering even more difficult.
Governor vetoed bill
A Maine online sports betting bill seemed like a sure bet until Gov. Janet Mills vetoed what would have been the most competitive market in New England.
Mills was "unconvinced at this time" that the state's residents wanted expanded gambling, and thought the proposal lacked protections for problem gambling.
A veto override fell a few votes short, but sports betting backers are hoping to work with Mills on a new sports betting bill in 2021.
Under consideration by legislature
Republican Massachusetts Gov. Charlie Baker and members of both parties in the Democrat-controlled General Court support sports betting. It still hasn't passed.
Elected officials have not reached consensus on several key issues, such as which entities would be allowed to take bets and if legal betting should include wagers on in-state college teams. Some want only MGM and Penn National/Barstool to have sports betting since they have casinos in the state, while other legislators favor a fully-competitive market.
Legal wagering doesn't have some of the massive political or legal obstacles as other states, but the aforementioned issues must first be resolved before online and retail wagering can begin. Legal betting should come to Massachusetts in the next two years.
Under consideration by legislature
Had it not been for the coronavirus, it's possible Missouri could have had sports betting in 2020. Multiple bills floated through the legislature but were dropped when the session ended early.
It's definitely one of the states feeling the pressure as states around them are up and running — Iowa, Illinois, Arkansas and others. Expect to see some action in 2021 for both online and in-person wagering — especially if Kansas is close to doing the same.
Possible tribal action
There's been no political movement to legalize sports gambling in North Dakota, but state tribes are reportedly considering opening sportsbooks, which they argue would be allowed under existing law. This would likely mean retail only, but North Dakota could be among a rare group of states that can take bets without an act of the legislature.
Under consideration by legislature
Ohio is another sports-crazy state that's behind in legalizing sports gambling, especially given the action in many of its Midwestern neighbors.
Lawmakers held out hope for a bill in the final moments of 2020, but it seems more likely a fresh set of legislators will have to take a new bill when the 2021 session begins.
Legal wagering has widespread bipartisan support in the legislative and executive branches, but politicians still need to hammer out a few issues that have stalled legislation for months. There's a good possibility online betting will be part of that.
2021 action Possible
Texas would appear to be an unlikely sports betting adopter, but a dire budget situation and investment from outside gaming interests make it a possible target in 2021.
The Lone Star State is still a longshot, but the pressures of the 2021 session (the legislature only meets regularly in odd-numbered years) could move Texas past its long-standing gambling opposition.
Under consideration by legislature
Vermont is one of the few remaining states without casinos, but it may be okay with legal sportsbooks, at least online. The state is considering a study bill and may feel pressured to accept wagering especially as the greater New England market continues to grow.
Possible tribal action
Lawmakers seem unlikely to take up a sports betting bill anytime soon, but the Northern Arapaho Tribe appears it may add retail sports betting under the authority of existing law, much in the way tribes in New Mexico are operating sports betting without any legislation.
2023, BEYOND & NEVER (11 TOTAL STATES)
No movement (4)
Possible tribal action (4)
Longshots under consideration by legislature (3)
Alaska is pretty much nowhere on sports gambling. The 49th state might actually be the 49th to legalize it, if ever.
Longshot, under consideration by legislature
Alabama is one of the few remaining states without a lottery and seems unlikely to thaw its gambling opposition.
The legislature had a sports betting bill in the works in March before COVID-19 ended the session early that would have included both in-person and online sports betting, but passing such a bill is still a difficult task in a state with strong gaming aversions.
Possible tribal action
California sports betting looks like it will be a reality, but only at tribal casinos, not online and most likely not until 2023.
State tribes are pushing a 2022 ballot measure that would allow sportsbooks on tribal grounds. Assuming voters approve, wagering could begin as early as 2023.
This would disappoint industry stakeholders hoping for a statewide mobile network in what would be the nation's most lucrative market. A 2020 proposal that would have allowed mobile sports betting while granting extend gaming options to the state commercial cardrooms fell short. That's because the tribes were against giving the state's many cardrooms table games.
With potentially billions of dollars at stake, gaming interests will still pursue California mobile betting, but it appears the tribal-only option is the most likely reality for a legal wagering market.
No movement
Hawaii is one of just two states currently without any major gambling entity of any kind, and it seems sports betting will not be coming to the state for the foreseeable future, if ever.
No movement
State laws as written are currently against gambling, save for horse racing. The state doesn't allow fantasy sports, either and there's been little political appetite for legal sports betting.
Possible tribal action
Lawmakers have considered sports betting bills in recent years, but the state has not worked out how it would work, and which entities, most notably Minnesota Native American tribes, would be allowed to take bets.
Longshot under consideration by legislature
Voters approved three constitutional amendments in November that would legalize "games of chance" at Nebraska's licensed horse tracks. That doesn't necessarily mean sports betting will be allowed at these facilities, and any retail or online sportsbook is probably years away even if technically allowed to opperate.
Possible tribal action
Oklahoma gaming is dominated by Native American entities and most seem disinclined to agree to sports betting until other key issues with the state government are resolved. Two tribes struck sports betting deals in 2020, but those were later invalidated, part of a larger conflict between competition gaming interests and the government. 
A court ruling that renewed a previous compact between the two entities gives tribes the upper hand in negotiations with the government. Sports betting, which makes up a small fraction of most casino's revenues, is a comparatively minor issue as billions of gaming dollars are up for further negotiations.
Longshots under consideration by legislature
Several bills have been introduced in the past in South Carolina, but none have gained any traction. This appears to be a longshot to happen any time soon, especially with deep gambling opposition from the state's leading political figures.
Sports betting is likely never coming to Utah, the only state in the continental U.S. without any major legal gaming form..
Possible tribal action
There has been little sports betting momentum in the state legislature or Wisconsin's tribal stakeholders. Any sports betting would almost assuredly come through the state's Native American casinos.
Are you looking for a safe, reliable, trustworthy sportsbook? Check out our ratings of the best sportsbooks and their current sign-up offers for new customers.