Moore: My Rankings and Analysis for All 30 NBA Team Win Total Bets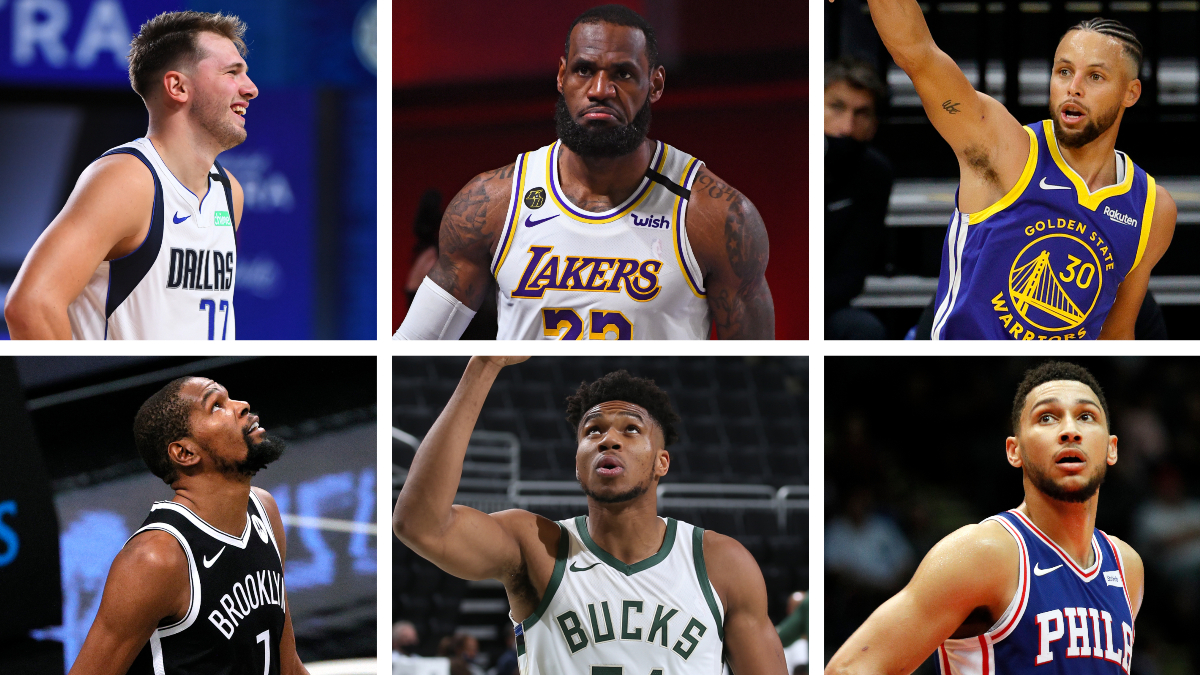 The NBA is back in a week, and that means I'm betting win totals for all 30 NBA teams!
As we did last year, I've written the case on the over and under for every team's win total and ranked whichever one I'm going with based on my confidence in the bet. Those confidence levels comprised the tiers below.
Now, normally this would be done in October using very standard rankings. But in the spirit of the holiday season, I decided to have a little fun with these tiers and make them Christmas shopping themed.
A few notes on the analysis below: These win totals are based on the shortened 72-game season that the NBA has scheduled for the 2020-21 season. Because Covid-19 is still very much around and could impact games, sportsbooks have set threshold on how many games need to be played for bets to be valid — make sure you check those out before you bet them.
Additionally, because there's no guarantee that a 72-game season will be fulfilled for every team, DraftKings has posted win percentages instead of win totals like other books.
If you want a full breakdown of a specific team, just find your team and click the "read more" links.
OK? OK.
2021 NBA Win Totals
Mail Them a Gift Card In January Instead
Los Angels Lakers Over
They are the defending champions with LeBron James, Anthony Davis and arguably a better supporting cast than last season. That's the case.
The Lakers weren't great without James on the floor last year even with Davis. The addition of Dennis Schroder and Marc Gasol as a more versatile offensive player than Dwight Howard even if he's not as durable still presents a potential upgrade. Those players in particular provide a better surrounding structure for Davis when James sits, which he may do more of this season.
The Lakers are also settled into their identity. We've seen this before where a team takes a season to figure out their identity and then can find that gear consistently. The Lakers don't have to solve for how they approach things, or how to play a certain way, they know that now.
There's also a pride measure to this. The Lakers are expected to take off more this season. They might respond to that by pushing harder. Just a pure "Fuck you" from the defending champs.
LeBron made it clear last season he was mad about not winning MVP. Does that spur him to go hard one more time in his career to get that last MVP award?
LA's defense should remain elite despite losing Rajon Rondo, Danny Green, and Avery Bradley. They retained Kentavious Caldwell-Pope, added Schroder, and can promote Alex Caruso to a larger role.
There's also the schedule component. The Lakers play West teams 42 times, and East teams 30 times. The Lakers won 64% of their games vs. the East last season. That same figure gets them to 19 wins this season, meaning they'd only have to go 27-15 in the West, winning 64% of their games. They won 78% of their games vs. the West last season.
If that doesn't convince you, think of it this way: there are more teams expected to be below .500 in the East next season than in the West. The Lakers went 32-5 vs. teams under .500 last season (86%). There are just several paths to 47 wins for the Lakers based on the schedule.
The Case for the under: The Lakers' last game in the Finals was Oct. 11. They will have two months and 10 days off before the start of the season. That's just not enough … Read more here.

Brooklyn Nets Over
Whew, man. OK, here we go.
Let's start with Kevin Durant. Since Durant suffered an Achilles tear 18 months ago, I have maintained the following stance: If Dominique Wilkins can come back from the injury and be an All-NBA selection, Durant can return to MVP-level status.
The key is to recognize that the Achilles tear robs you of levels of how good you are. It's stratified. So role players go from above-average to slightly below. Stars go from major impact players to minor impact players. Superstars go from top tier to upper-middle tier, etc.
But Durant existed somewhere above all that. It was obscured in Golden State, but Durant was the best player in basketball at the time of his injury. He was fast-tracked toward top-five all-time status before the injury derailed him.
Durant is a 7-foot tall, 50-40-90 shooter with guard handles and All-Defense potential. You can't call him a unicorn because it's an insult to how he would chew up and spit out the bones of other unicorns. He was the Apex Mythical Predator.
So even if he plummets a level, Durant maintains a level that is still above 95-98% of all other NBA players. You can drop 20 stories in the building if you started at the top of the radio tower that was sticking up through the clouds.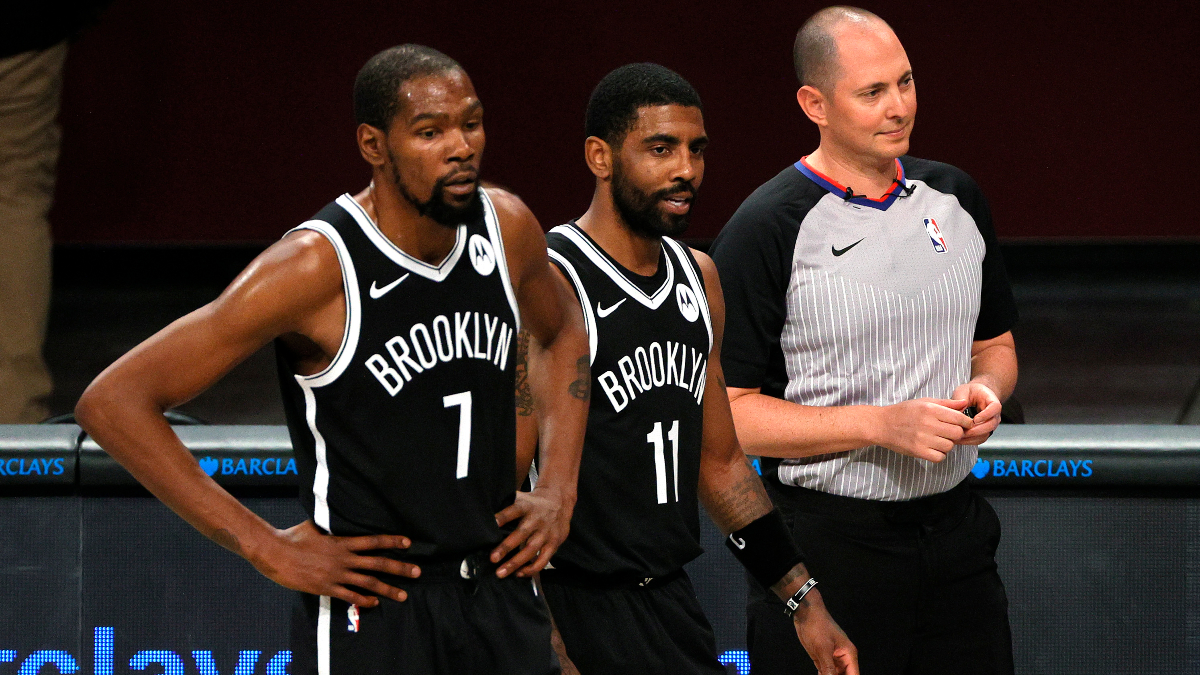 Yes, Kyrie Irving is a headache, and not just for the media. But there are a lot of headaches in the league who are just not as publicly discussed. And for all that, Irving is still an elite scorer and capable of averaging double-digit assists if it was ever something he decided to endeavor toward.
The rest of the roster is sound. Multi-level scorers like Spencer Dinwiddie and Caris LeVert join pure role players like sharpshooter Joe Harris and big man DeAndre Jordan. This is not a roster filled with barely-league-average players around the two stars. It's much better than that.
Ultimately, the final four teams in last season's playoffs were decided by LeBron James and Anthony Davis, Nikola Jokic and Jamal Murray, Jimmy Butler and Bam Adebayo, and then Jayson Tatum and whoever the Celtics eventually figure out is the No. 2 to him.
The Nets have top-end talent. That's proven to be a winning formula. They are calling their shot by inviting a coach to be a "collaborator" in their "art." Irving and Durant are dictating terms in a way no tandem has done so (at least as openly) in the NBA. The sheer audacity is something to behold.
It's easy to question whether it will work given its departure from normative power structures, but the NBA has been defined over the past 10 years by stars determining their own careers and everything that goes with it. This is just the extension of that, and it should work.
The case for the under: The Nets' two stars have publicly made themselves out to be victims of a cruel and vicious media environment. They've repeatedly expressed a deep dissatisfaction … Read more here.

New Orleans Pelicans Under
I can't stop thinking about the bubble.
The Pelicans had it lined up in front of them. They were the odds-on favorite to snag the No. 8 seed even after the restart. To even things out from them losing the easiest remaining schedule, they got an easier bubble schedule. New Orleans played Memphis, Washington, San Antonio and Sacramento twice.
The Pelicans beat Memphis and Washington, but those were their only wins in the bubble. They fell completely apart.
It wasn't just that New Orleans lost. It was the way it lost. The Pelicans completely fell apart and while watching them, the word "quit" came to mind. Maybe that was coaching. Maybe that was just the bubble, but that hangs over things.
Bear in mind that when he was drafted, Brandon Ingram, who just got a max extension, believed he was going to be a top-tier superstar. Lonzo Ball, when he was drafted, felt the same. And Zion is already thought of as that.
If there's a chemistry issue on the team, Van Gundy is not the coach I want to handle it. He's all business and a total pro, but he's also not a rah-rah coach.
Adams slipped defensively the past two seasons. He has so many miles on him from the many playoff runs he experienced in Oklahoma City that there's some wear on those tires. Williamson might be better defensively, but will still be young and mistake-prone.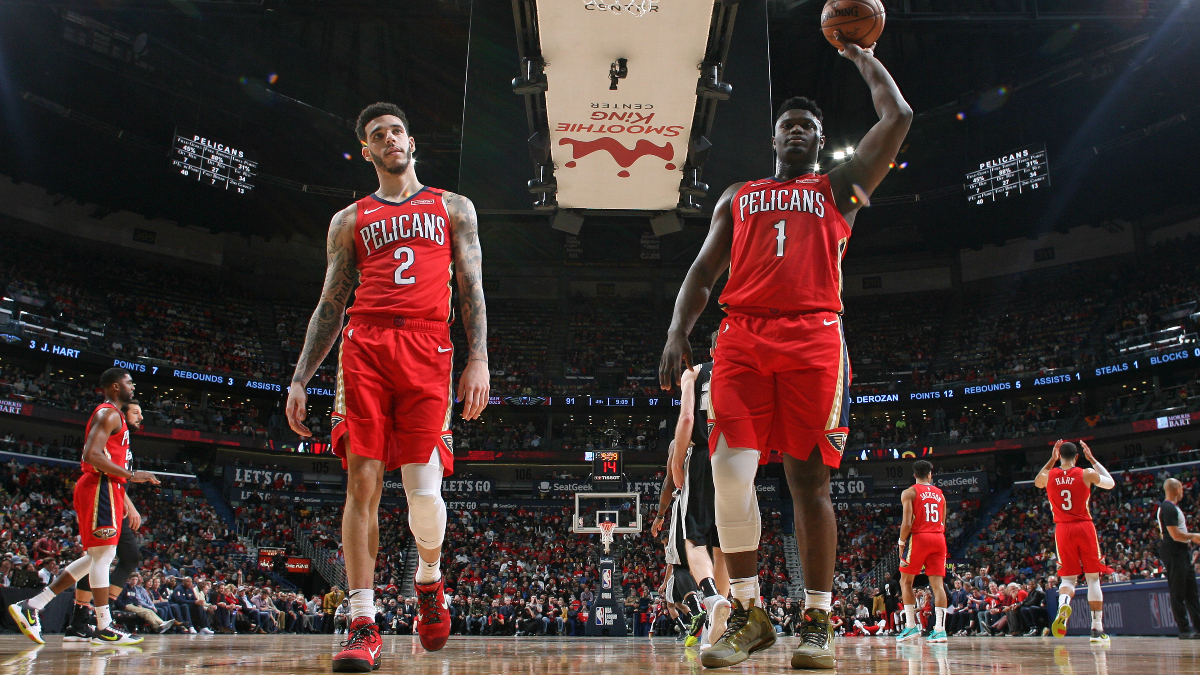 Ball goes from awful to brilliant and back again, sometimes all within a single possession. Ball's defensive capacity is immense, but there were times last year when astute Pelicans watchers knew that perimeter containment was the problem.
Much of what made the Pelicans great offensively last year was their transition, up-tempo play. Will they adopt that this season? If they play any slower and are any worse offensively, will their defense jump enough to offset that? And doesn't that just mean they'll be mediocre in both respects?
Finally, the biggest concern from league personnel about Williamson is durability. There's a broad fear that he simply won't be able to manage a full season. The Pelicans have six back-to-backs, on the low-end for teams in the first half of the schedule. But those six games may all be situations where Williamson misses one of the two. That drastically reduces their chances of going over their win total.
New Orleans plays in a strong division that sent all five teams to the bubble in Orlando and three to the playoffs, including the play-in. New Orleans went 9-29 last season vs. teams over .500, the third-fewest wins in the West against good teams.
The Pelicans are absolutely in a "prove it to me" situation.
The case for the over: Stan Van Gundy is a professional head coach by every definition. His teams have gone … Read more here.
Charlotte Hornets Under
This team's Pythagorean expectation per 72 games last year was 21. Does an aging, overpaid, injury-prone Gordon Hayward and a rookie many feel has the highest ceiling but also does the most to send games sideways with his decision-making really get this team to almost a playoff team, even in the East?
Bear in mind that the Hornets had the fourth-worst SRS of any team — Basketball Reference's Simple Rating System that puts point differential up against strength of schedule. They were bottom five in offense and defense.
Hayward's best role is as the third man with two stars next to him. Now, he's having to be the adult in the room for a team that's young and brash.
There are few quality defenders on this team outside of Hayward. The Hornets will have to win with their offense. There are weapons like Graham and Washington, and LaMelo might be a transcendent player. But being in that kind of hole every night will wear on Hayward, and keeping the team engaged the whole season might be a struggle.
The case for the over: Talent. Pure and simple, talent. The Hornets added two potential star … Read more here.
LA Clippers Under 
You can't trust their best player to play in any given game and if he suffers any sort of injury, that's it for a while for him. Kawhi Leonard saves his body for the playoffs and specifically has concerns about a leg injury that consistently gives him problems. You just can't believe he's going to play in 72 games, or even 65. He played 57 of 72 last season.
Lue's teams in Cleveland went 1-2 in team total overs, including a half-game clearance in the one season the Cavs went over (2015-16). Those totals were higher as the East favorite, however.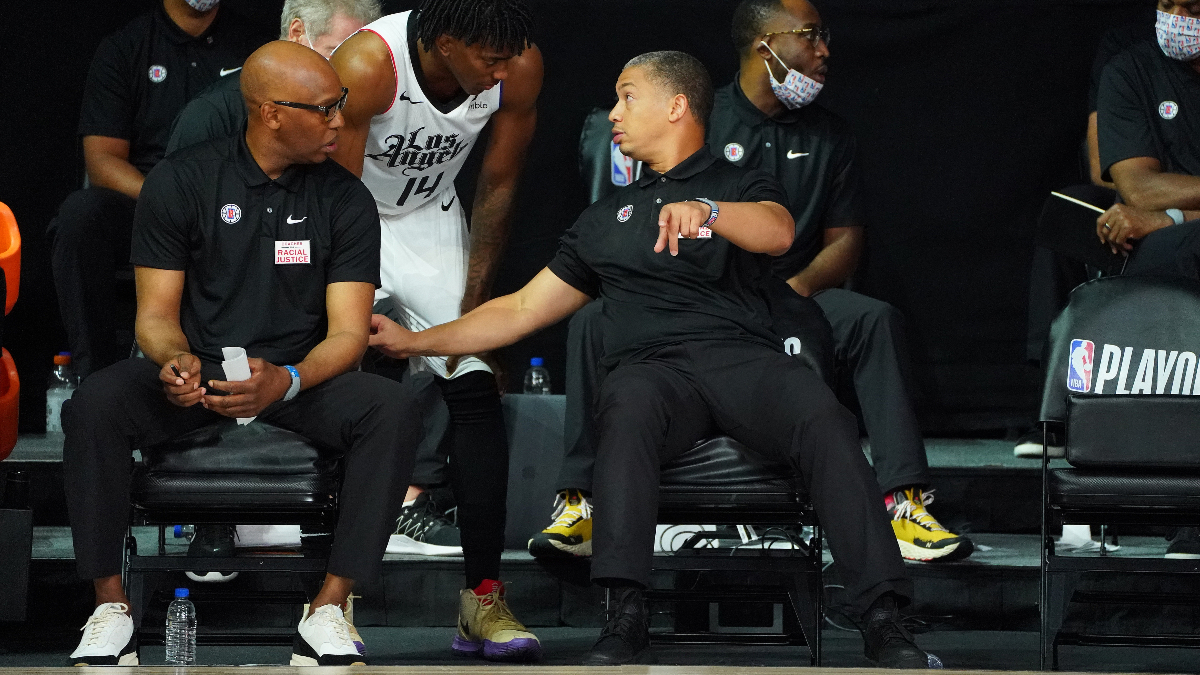 The Clippers' biggest problem was chemistry and that's difficult to solve. Adding Ibaka for Harrell is a situational upgrade; the Clippers needed better defense and spacing and to not have Harrell's immobility hampering them defensively.
However, under Lue, the Cavaliers were not a defensive juggernaut. Their Defensive Rating ranks were 10th in 2016, then 19th, and finally 29th (!!!) in 2018. The Clippers have better defensive personnel across the board than the Cavs did, but as a whole, it's another data point to consider.
The Clippers took some risks in free agency as well, shipping out Landry Shamet for Luke Kennard, who is a gunner but may bring something extra. Ibaka as I said is a situational upgrade, but he's also 31. The Clippers' center depth remains thin.
The Clippers just seem a little unstable when trying to establish a floor high enough to clear a 54-win bar in a normal season.
The Case for the Over: The Clippers also had a rash of injury issues. Leonard missed 15 games, which weren't all load management. Paul George missed 24. Patrick Beverley missed 21. Yet they still won at a 55-win pace, which would have cleared the over … Read more here.
---
Check out our free NBA odds page, which automatically surfaces the best line for every game. Subscribe to our new NBA Insiders tool at FantasyLabs to beat the market with our cutting edge player projections, injury news and betting thresholds.
---
Only If It's Secret Santa
Portland Trail Blazers under
Last year's Blazers team wasn't really the Blazers. They lost Rodney Hood within the first few weeks. Jusuf Nurkic was out until the bubble. Zach Collins went down early. You can just throw out that entire season for not being representative of what the team is.
Damian Lillard is absolutely an MVP-caliber player in his absolute prime. His play the past three seasons has been incredible beyond words. There just aren't enough superlatives for how he's played, and there's no reason to think he drops off.
This season, the Blazers get a fully healthy Nurkic, added Robert Covington to help with defense and as a floor spacer, get Hood back, will get Collins back later in the season, have developed Gary Trent Jr., have gotten Carmelo Anthony to defend somewhat, and convinced him to move to the bench.
The Blazers have not missed the postseason since Terry Stotts' first year on the job, with seven consecutive appearances, including two second-round appearances and one conference finals appearance.
Portland has the offense to carry them, and the defense should improve to at least the middle of the road with the return of Nurkic and addition of Covington. Some said they were the most dangerous 8th seed in NBA history last year.
What's to stop this team from winning 50 games?
The case for the under: Spoiler alert: You can't just throw out who they were last year. They were 27th in defensive rating. The Warriors, Knicks, and Hornets were … Read more here.

Philadelphia 76ers under
How many times are we going to do this?
Every year is the year the Sixers make "the leap."
Every year!
People have talked themselves into this team time and time again. Everyone has a year where they do it. Mine was last year. Had an Embiid MVP ticket and a Sixers East winner ticket (alongside a Bucks one, never again, Bucks).
Here's the problem: We keep blaming everything around Embiid while he continues to be unable to beat a double-team. The talk last year was spacing but Josh Richardson is a career 36% 3-point shooter who shot 37% before landing in Philly, and Al Horford had become a floor spacer, again, before he landed in Philly.
But it's always someone else's fault.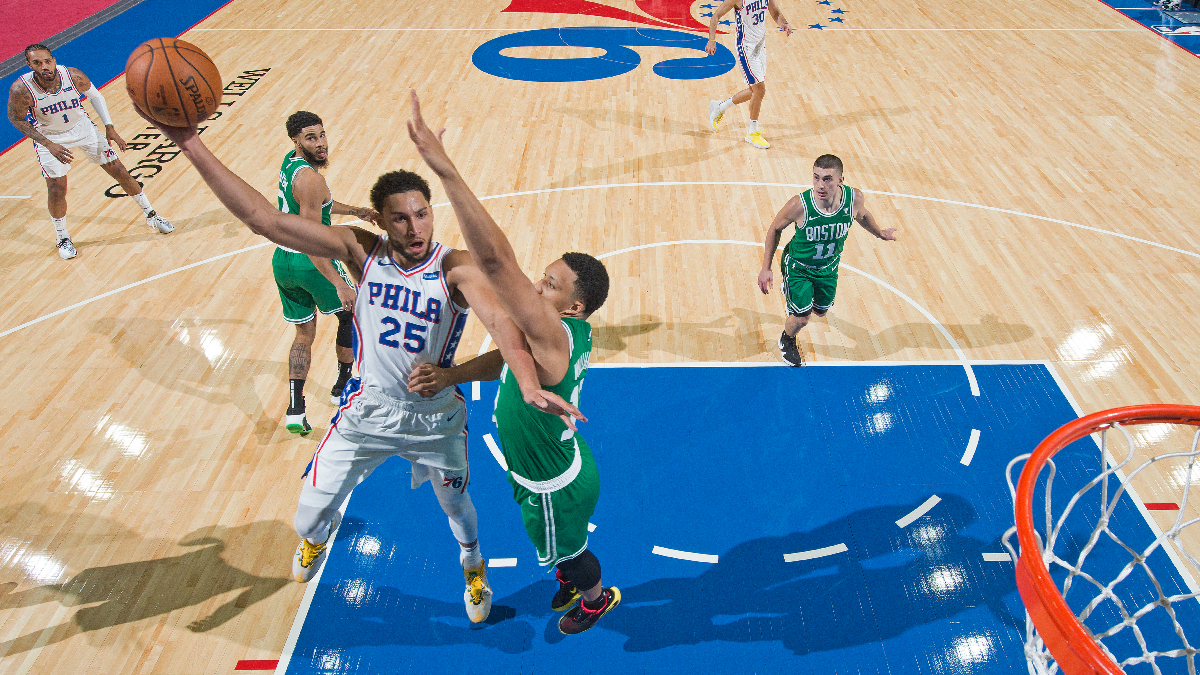 I'm as high on Ben Simmons as anyone at this point. I did a deep dive last year and he's phenomenal. I don't care that he can't shoot, that's how good he is at everything else. Ev-ery-thing.
But they downgraded on defense. Seth Curry is a non-factor and Green is 33 years old; there was some slippage last year with the Lakers.
Win totals were 5-2 to the under when Doc Rivers was with the Clippers and 5-4 with the Celtics.
This team has constantly failed expectations. Adding two role guys, a new GM and a good coach who's not exactly analytics-forward is going to get them to top tier?
The case for the over: They have spacing now! The 76ers added Danny Green and Seth Curry. Those shooters are going to open … Read more here.

Houston Rockets under
James Harden didn't show up for the start of individual workouts, but has separate club nights in Atlanta and Las Vegas that were well documented on social media. Since Fertitta took over, the Rockets have lost Daryl Morey, Mike D'Antoni, Robert Covington, Chris Paul, and his replacement, Russell Westbrook.
The well is pretty poisoned at this point.
You don't get better trading a top-three player like Harden. The return, even if they get a talented young player and picks, is never going to be equal. You're taking a step back.
Plus, if they don't trade him, the players know he's not all the way plugged in. That drains a team. Look at what happened to the Pelicans the year that Anthony Davis asked out, or the Nuggets before Carmelo Anthony was traded.
These disruptions derail entire seasons.
You cannot feel good about this team without knowing what they'll do with Harden and he's done nothing to alleviate concerns that he has completely checked out.
There are also some major depth issues. Wood showed absolutely everything in his bag last season. He's either an unknown name who put up the big numbers that can mark the beginning of a star, or another Hassan Whiteside.
Behind that, the cupboard is not stocked. This is not a team to feel good about without Harden.
The case for the over: Let's imagine that the Rockets hold firm. They don't cave to James Harden's wishes and make him play it out after he made it clear he wants out … Read more here.

Milwaukee Bucks over
The Bucks with Mike Budenholzer, in the regular season, have been a juggernaut. They have such a huge margin of error. They won 38 games by double-digit points last season, six more than the next team. They went 39-4 vs. teams under .500, just annihilating bad teams.
They sacrificed depth in the offseason to add Jrue Holiday, but that just makes them a stronger team. Holiday is an upgrade on Eric Bledsoe offensively and is even or superior defensively. The Bucks have a true Big 3 with Holiday, Khris Middleton, and Giannis Antetokounmpo.
The Greek Freak will be in contention for a third straight MVP and while I am skeptical he wins it, it won't be because his numbers or impact dipped, but pure voter fatigue.
Milwaukee has been the best defensive team in the league over the past two seasons with a top-five offense to boot. The Bucks can go toe to toe with any team including the Lakers and Clippers and beat them; their playoff foibles are not applicable in the regular season.
The Bucks trample teams. And they don't have to go full tilt to hammer them. Losing their depth isn't crippling because of the young talent they've developed and even if their bench unit suffers some, that just means more minutes for the starters. (That's a problem Budenholzer honestly needs to suffer.)
They're a 60-win team in a regular 82-game season, and it's pretty safe as long as Giannis is on the team.
The case for the under: The Bucks thought they'd landed Giannis his preferred running mate, Bogdan Bogdanovic, but no, that deal turned into a fiasco. The result is … Read more here.

Denver Nuggets over
Jerami Grant was great in the playoffs, and the Nuggets losing him matters. But in the regular season, when the Nuggets played at a 50-win pace before the suspension, Grant came off the bench and all the metrics indicated they were worse with him on the floor.
This isn't to say Denver wouldn't be better off if Grant didn't sign with Detroit, because they would be. But if the Nuggets were good enough last year to hit this over with his having not gotten acclimated to the team, perhaps his absence isn't going to be the difference between 45 wins and 42.
Nikola Jokic returns, Jamal Murray returns, most of last year's roster (save Grant and Mason Plumlee) returns. Grant has been replaced by JaMychal Green, who is a downgrade but provides shooting and defense. Isaiah Hartenstein is a downgrade from Plumlee but is a finisher to run the pick and roll with the second unit.
Denver added Euroleague sensation Facundo Campazzo as well. He's 5-foot-11 but brings toughness, creativity, and style. Defensively, he won't lack for effort even if he struggles with size.
The biggest reason for the over? Michael Porter Jr.
The youngster averaged 20 points and 10 rebounds per game last season per 36 minutes. All word from training camp is the Nuggets are ready to take the training wheels off the 6-foot-10 scorer.
Even if MPJ's playoff defensive struggles remain an issue, he raises their regular-season floor. He'll help Denver win a lot of games that it couldn't last year under the circumstances of "No one played well, but MPJ scored 28 and that was enough."
He is a bonafide, top-flight scorer waiting to happen.
Denver has hit its over every season under head coach Michael Malone except last year, and despite missing half their team to start the bubble and being without multiple starters in the bubble games, they finished with a win percentage that would have put them just two wins under their preseason over/under.
A sub-.500 pace is too far a drop.
The case for the under: The Nuggets lost two veterans who were major rotation pieces in Grant and Plumlee. You can make the argument they … Read more here.

Phoenix Suns over
Christopher Paul.
The Suns added an All-NBA player in the offseason and few teams did that. Paul is a wash vs. Ricky Rubio as a defender and passer, and an upgrade as a scorer. His gravity will open up things offensively without costing them defensively.
Phoenix had a Pythagorean win percentage of .507 vs. an actual win percentage of .466 last season; they underperformed relative to expectation.
The losses they suffered (Kelly Oubre, Aron Baynes) should be compensated for with internal growth from Mikal Bridges, Cam Johnson, and Deandre Ayton. They added veteran wings with Jae Crowder and E'Twaun Moore and kept Dario Saric.
The Suns finished 15th in SRS (Basketball Reference's Simple Rating System that factors strength of schedule vs. point differential) just behind Indiana and ahead of the Pelicans. They finished 12th in Offensive Rating and 17th in Defensive Rating. Even before their 8-0 run in the bubble, they were 16th and 19th, respectively, in offense and defense.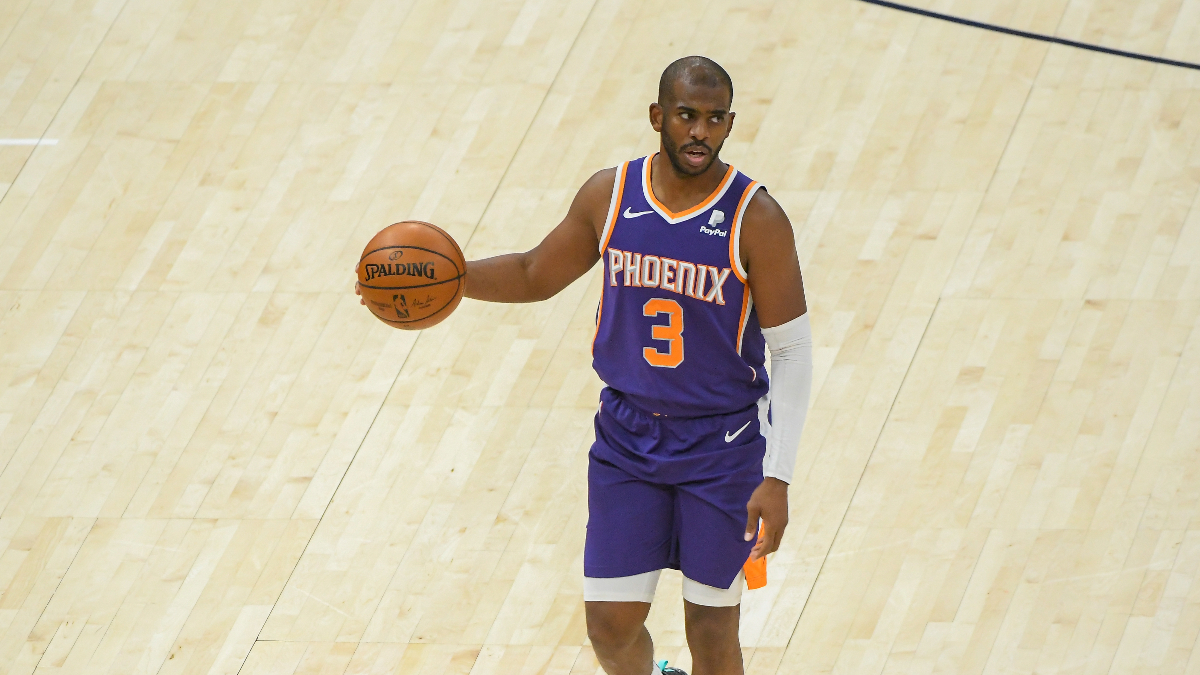 Phoenix was also beset with injuries last season. Their starting unit of Rubio, Oubre, Booker, Bridges, and Ayton had the sixth-best net rating in the league (minimum 20 games played, at least 50 minutes played). But they only appeared in 21 games together. Rubio played just 65 games, Oubre just 56, Baynes just 42, and Ayton just 38.
Paul is older but sturdier; he rarely misses games and keeps himself at a high physical level. Devin Booker is primed for an All-Star season, and Ayton should be better after his development last season.
The Suns are considered to be a sleeping giant and Paul is the alarm clock that wakes them up.
The case for the under: The Suns should have been better last season, but they weren't. They were 4-8 in games decided by three points or fewer, and just 20-18 vs. teams under .500. You need … Read more here.

Boston Celtics over
The Celtics have gone over in five of the past six years (if you count last year, given that they were on pace for 54 if they played 82).
Last year's win total for Boston was 48.5, the lowest it had been for a Stevens Celtics team since 2015-16. They breezed past that. The big reason there was skepticism towards that Celtics team last year, skepticism I shared, was their frontcourt was so short on impact players.
It didn't wind up mattering because Daniel Theis filled in well, and they had enough contribution from Grant Williams and Robert Williams.
So why would this team be worse, even after losing Gordon Hayward, after they added Tristan Thompson?
Thompson is an impact big, able to rebound, run pick and roll, finish small plays that matter. He sets great screens and can defend on the perimeter on switches.
Let's talk Hayward.
Yes, losing Gordon Hayward hurts, especially when the sign-and-trade didn't return actual players. Hayward was valuable for his defense, passing, and on-dribble scoring, but all of those are things the Celtics have in droves.
Marcus Smart, Jayson Tatum, and Jaylen Brown may all be better defenders at this point in Hayward's career. Smart and Kemba Walker are better passers. Walker and Tatum are better scorers.
The Celtics just didn't need Hayward with their roster makeup.
The Celtics are more balanced with Thompson. They have internal development not only with Tatum and Brown but with the two Williams bigs who are different but both have a lot of potential.
Not having to get as many players touches can be a good thing. With Kemba Walker out to start the season, Jayson Tatum gets to feast.
Is more Jayson Tatum a bad thing?
Brad Stevens put extra emphasis on winning back to back games. The Celtics are 30-24 on back to back games since 2017. That kind of advantage in a season like this could be the difference.
The case for the under: Walker is out for some undetermined stretch of time,  — at least until January — with knee soreness. So, to start the season, the Celtics are losing … Read more here.
---
Good as Stocking Stuffers
Miami Heat over
The Heat cost me more than any other team last season, and profited me more than any other team last season. I took their under and the Magic to win the division.
Miami finished at a 49-win pace over an 82-game season, easily won the Southeast Division and landed solidly in the playoffs.
I bet them to beat the Bucks, which was a pretty obvious underdog value play, and it paid off. But I had no reason to think they'd beat the Celtics, and I'm still not sure how Boston blew it.
So here we are again.
This number suggests that the Heat, who return all the key members from last year's team except Jae Crowder, will be as good as last year. That seems like a decent bet.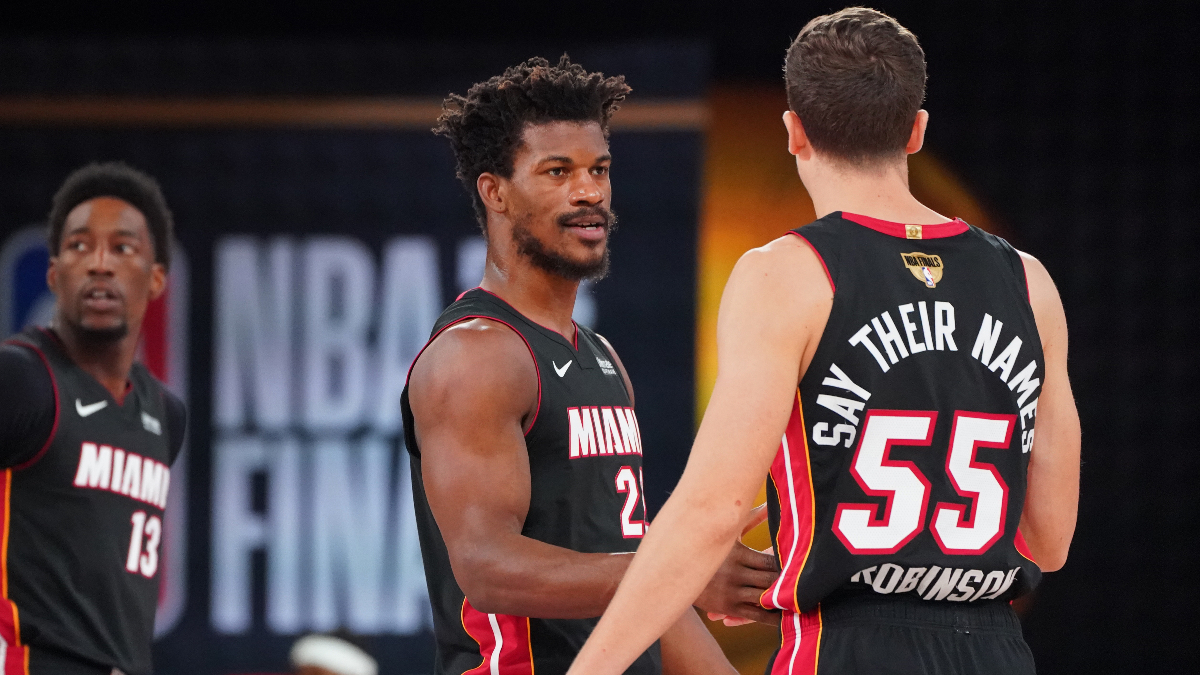 Miami's offense remains multifaceted, with numerous ways of beating the opposition. There will be internal improvement, most likely, from Bam Adebayo and Tyler Herro. The Heat have shooting, rebounding, size, speed, creators and finishers.
Miami proved in the playoffs that their fastball can take out any top team, just not the Lakers.
Erik Spoelstra is a phenomenal coach, so it's no surprise that the Heat have gone over in four of the last five seasons.
Miami has the most rest advantage games in the first half of the season and the second-least rest disadvantage games. The Heat may have to make that up in the second half but at that point, they might have built up a cushion to go over.
The case for the under: The Heat were three different teams last season. There was the team early in the season that vastly outperformed … Read more here.

Orlando Magic over
The Magic suffer from what is referred to in politics as an enthusiasm gap. If the Magic had played 82 games at their win percentage after the bubble, they would have won 37 games, two more than the lowest total on the board.
They lost DJ Augustin in free agency and Jonathan Isaac to injury, sure. But the rest of the core is there. Markelle Fultz continues to develop; he averaged 15.7 points and 6.7 assists per 36 minutes last season. Aaron Gordon is still a net positive, even if he continues to believe he's more than just a Shawn Marion replicant (which is an ideal role for him).
Nikola Vucevic is still there, still plugging away, and Steve Clifford is there, so the defense is going to top-12 again.
The bar here is painfully low.
The Magic don't tank; they are yet another team toiling for a playoff spot with no real title aspirations. They won't be much better than last season, but they likely won't be worse, either.
The case for the under: The Magic should have reconfigured the team this offseason, but they basically ran it back. They don't have … Read more here.

Oklahoma City Thunder over
Shai Gilgeous-Alexander is a legit stud. Al Horford is a legit vet. The team has a lot of institutional knowledge. The over is just 21 wins. Less than 30% win percentage for the over.
We're talking the lowest of bars.
There are more guys on this team than you'd think. George Hill has won everywhere he's gone (except Sacramento, but let's not talk about that). Kenrich Williams, Frank Jackson, Lu Dort, Justin Jackson, Mike Muscala — these are all NBA-roster-caliber guys.
The Thunder can finish with a top-three pick and still win 21 games. And that combo of SGA and Horford is legit. They'll tear up some teams.
The case for the under: There is no reason to suspect Horford, Trevor Ariza or Hill will be on the roster by the end of the season. The Thunder have made their intentions completely clear … Read more here.

---
Went to Three Stores, But it Was Worth it
Washington Wizards over
Before the Russell Westbrook trade, this was 28.5. Is Westbrook worth four wins per 72 games? They're projected for 10 more wins per 82 games than last season. Is that reasonable?
Considering this team openly tanked the bubble, yes. Both Bradley Beal and Davis Bertans bailed on the Orlando experiment, ending any playoff hopes.
I liked the Wizards last year. They couldn't defend, but their offense was surprisingly inventive for a Scott Brooks team. They used weird mechanisms like Bertans-Moritz Wagner pick-and-rolls, moved the ball, and played fast.
They added Robin Lopez, who will help defensively, but the biggest difference is that this team will be fully committed to winning. Westbrook sets a tone, and his teams usually rally.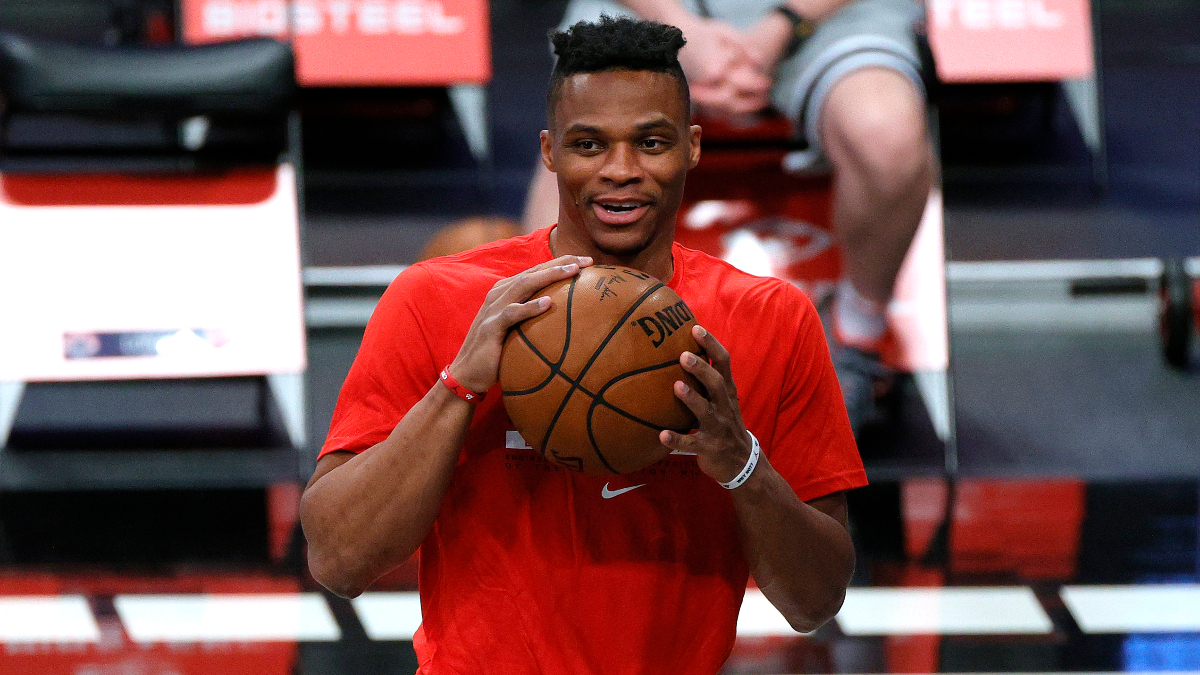 You can knock Westbrook for his playoff foibles chasing triple-doubles, but there's no questioning his effort and commitment in-season. There will be nights he wins the Wizards some games.
Washington has a fairly balanced schedule and two legit stars, with some shooters. In the East, this is a team closer to .500.
The case for the under: In the preseason, Westbrook said he remarked to Brooks "Hey, this is all stuff we used to run (in OKC)." That's a bad sign. Brooks broke out of his conventional models last season and the Wizards' offense … Read more here.

San Antonio Spurs over
A great deal went wrong for San Antonio last year, you know, before the global pandemic. Dejounte Murray regressed as he tried to come back from his injury. The defense fell off a cliff for the first time in a decade. LaMarcus Aldridge suffered a shoulder injury that kept him out of the bubble.
Noting gelled for the Spurs.
However, there's so much young talent on this roster with Murray, Derrick White, and Lonnie Walker. Internal improvement seems pretty likely.
The Spurs' offense was still great at 10th in the league in offensive rating. You would think that the Spurs, with Gregg Popovich as coach, will not repeat a bottom-10 defensive performance. That's simply not in their character.
Aldridge and DeMar DeRozan were awful on the floor defensively last season. However, they were both individually and cooperatively better — not good, still bad, but better– with Bryn Forbes off the floor. The difference was roughly four points per 100 possessions allowed for each of them without Forbes.
That difference, plus internal improvement, set them up to not be awful. Bear in mind that this number represents a regression from last season. They were already the worst Spurs team of Popovich's tenure, and now they're going to be worse?
You can make the case for this being an overreaction.
The case for the under: The Spurs started in a deficit more often than not last year. If you're an above .500 team, you're expecting your best players … Read more here.

New York Knicks over
Obi Toppin is my Rookie of the Year pick. I think the kid is a bucket and is going to earn the minutes he needs and play enough under new Knicks head coach Tom Thibodeau to get the counting stats.
When looking at the overs for bad teams, I like to start with "how many NBA rotation players are there" even if the bench guys are starting. Michael Kidd-Gilchrist, Austin Rivers, Julius Randle, Reggie Bullock, Elfrid Payton, Mitchell Robinson.
That gets us to six guys, even if none of the young players improve.
Look at how low this number is. Lowest win total on the board here for the Knicks. The lowest numbers on the board went 6-4 in the past 10 years before last season. Some of those were openly tanking seasons, some were the Nets who gave away all their first round picks.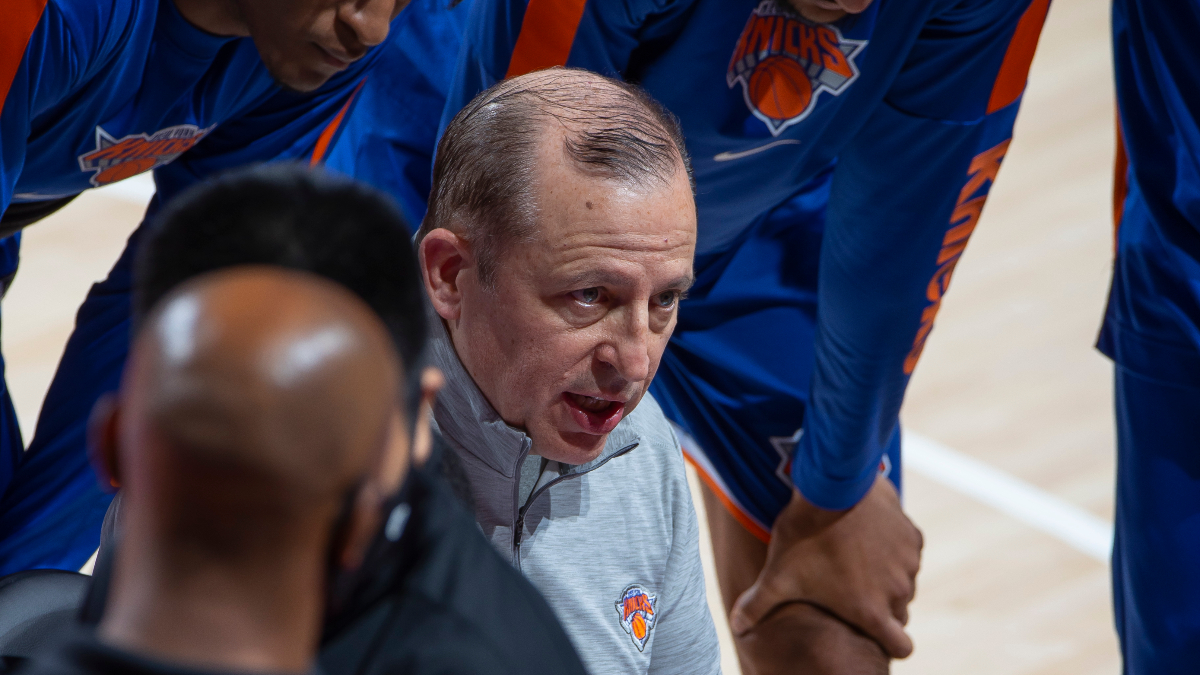 The Knicks are not openly tanking this season — Thibs doesn't do that.
Thibs' Bulls team went over in his first year in Chicago, and his Timberwolves team under in his first season in Minnesota. However, part of that was expected: The Bulls a good, fun, underrated team. The Wolves were expected to make a leap under Thibodeau after his success in Chicago.
We need the Knicks to win 28% of their games, still be a bottom-five team and find 22 wins vs. the various bottom dwellers and random upsets.
The case for the under: It's the Knicks. No, seriously, it's the Knicks. Under in five of the past six seasons. Under in seven of the … Read more here.

Cleveland Cavaliers over
This is a great buy-low spot.
The Cavs have developing first-round talent in guards Darius Garland and Colin Sexton, some talented young players like Kevin Porter Jr., first-round pick Isaac Okoro (who hit a game-winner in his first preseason game) plus big men Kevin Love and Andre Drummond.
The bench units have actual NBA players like Dante Exum, JaVale McGee and Matthew Dellavedova. Just increasing the number of actual NBA guys in the rotation helps.
I'm high on Sexton and Garland. Both are inconsistent, but when they look good, they're especially impressive. The duo showed quite a bit last season for all the losses and will continue trending in the right directions as they get more comfortable.
I'm not sure this is the worst team in the division, let alone the conference, let alone the league. Buy low.
The case for the under: Do you really want to invest your hard-earned money in the Cleveland Cavaliers? If this thing goes sideways … Read more here.

Detroit Pistons Under
Pistons roster last season:
Christian Wood (gone, free agency)
Andre Drummond (gone, traded)
Langston Galloway (gone, free agency)
Tony Snell (gone, traded)
Derrick Rose (still on roster)
Bruce Brown (gone, traded)
Luke Kennard (gone, traded)
So you can take the Pythagorean win percentage last year and toss it, because all the players that made them look better than their record are gone.
Grant has been discussed among league sources as maybe the worst signing of the offseason. It basically comes down to Detroit general manager "Troy Weaver believes in Grant, going back to his time at Syracuse."
And maybe Weaver's right. He is known far and wide as a really smart basketball guy. But that's a lot to ask of Grant.
Bear in mind that Grant and Mason Plumlee, who the Pistons gave a combined $85 million to this offseason, were both bench players in the regular season last year.
Grant was slated to take over the starting spot for Denver this year, but last year in the regular season, his numbers were poor in terms of impact; Denver was better with him on the bench. Now, there's context there and the Nuggets needed him in the playoffs. But banking on him to be a star is a lot.
Rookie point guard in Hayes. Warning. Often injured superstar in Griffin. Warning. Unproven and young roster. Warning.
There will be bad teams this season. Detroit is likely to be one of them.
The case for the over: Detroit had the biggest discrepancy between Pythagorean win percentage and actual last season. They should have … Read more now.

---
Bought it From a Guy Who Knows a Guy
Atlanta Hawks Under
What in God's name are we doing here?
This team — this team — is jumping seventeen wins (per 82 games)? This team?
The Hawks had the third-worst defense in the NBA last season. With Trae Young on the floor, it was two points worse than that mark and eight points worse than when he was on the bench.
Young is probably the single worst defender in the NBA. Incredible offensive talent. Horrendous defender.
There's a knock on Young that the way he plays directly is antithetical to winning basketball. I'm not sold on that concept, because there are a lot of revolutionary players you could have said the same thing about early on in their careers. However, to win with his approach, you have to have a high-end roster on both ends of the floor.
Gallinari's defense waxes and wanes with his role and circumstance. He made noise before free agency about wanting to pursue a championship, which was his first and top goal. Then he signed with … a team that won less than 30% of their games last season.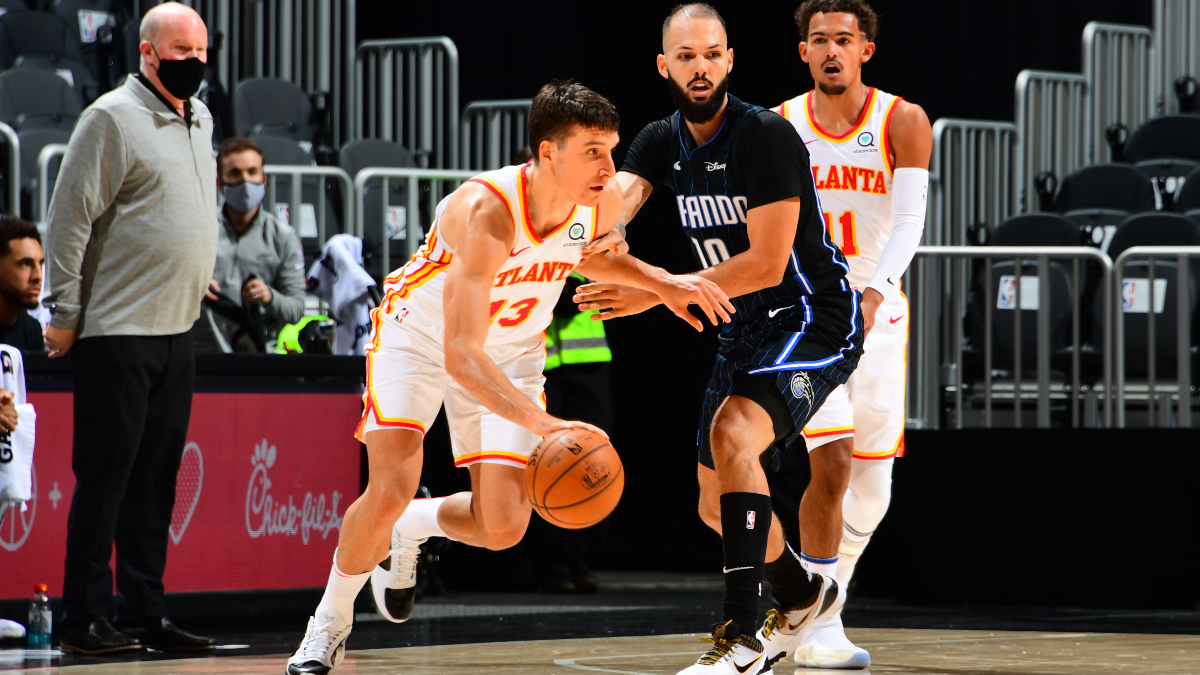 Bogdanovic is great and was a value pick-up. Except the Hawks already had not only Gallinari but also Kevin Huerter. And Hunter. And Reddish. They're stocked with wings and got … more wing players?
Capela was rough defensively last year, which was partly why he was dealt by the Rockets in their small-ball initiative. Capela will hopefully be more healthy this season, which will help a lot. When he gets banged up, his defensive performances start to really drop off because of how much his athleticism helps.
If Capela isn't healthy, they have a major drop-off in size at the center position, which will create matchup issues.
The Hawks' division isn't a cakewalk, anymore. The Magic have been a playoff team and while everyone's written them off, they're well-coached and likely will be back in the play-in mix. The Heat went to the Finals, and the Wizards added Russell Westbrook, which is at least a bump up from last year.
Atlanta had the second-most double-digit losses last season. They weren't a young, scrappy team who hung in. They got blasted more often than not.
Again, they'll be better. But 17 wins per 82 games better? Am I on mescaline, what are we doing here?!
The Case for the Over: Atlanta's roster is vastly improved, and you have to go back to last season … Read more here.

Indiana Pacers Over
Why will the Pacers be worse?
There's been no conversation about trading Victor Oladipo in months. They returned all their key players: Oladipo, Domantas Sabonis, Malcolm Brogdon, TJ Warren, Myles Turner.
They still play in a division with three .500 or worse teams, in the lesser conference. There's internal stability and roster continuity. Those things are vital in a year expected to be disrupted by COVID.
New coach Nate Bjorkgren comes highly recommended. Nate McMillan did great work with them, but also had the Pacers taking very few 3-pointers. That should increase, which would improve a mediocre offense. There's no reason to think they'll fall from their No. 6 defensive ranking.
So why is this team all the way down to one game over .500? For comparison, the highest Atlanta Hawks win total is 36.5.
It really centers around Oladipo. If they trade him, they're getting a decent package back. If Giannis signs his extension, the Heat may go for Oladipo if the price for James Harden is too steep.
In that instance, the Pacers would get back multiple role players because the Heat don't have the picks to make that the selling point of a trade package. You'd rather have Oladipo, for sure, long-term.
But in the short term, evaluating this season vs. last season, Oladipo wasn't great coming back from injury last year. Even if they trade Oladipo, they only need enough to replace his production and impact from last season, which wasn't great.
The case for the under: They tried to trade Turner to the Celtics this offseason for Hayward; those kinds of things can hurt your team later with chemistry … Read more here.

Utah Jazz Over
Utah was 10th last season in Basketball Reference's Simple Rating System, which factors strength of schedule vs. point differential. They clocked bad teams, going 33-9 vs. sub-.500 teams, the building block of a 50-win team.
All this despite Mike Conley struggling to acclimate and then suffering an injury, a barebones frontcourt, missing Bojan Bogdanovic in the bubble and playoffs, and of course, all the mess that came once COVID hit.
The tension between Rudy Gobert and Donovan Mitchell seems to have settled and Mitchell signed his max extension.
Utah finished ninth in offensive rating but fell to 13th in defensive rating last season. That was the first time in three seasons the Jazz haven't been top-five and the first time in four seasons the Jazz haven't been top-10 in defensive rating.
With Derrick Favors back, I expect the defense to return to one of the best units in the league. They have too much talent on that end not to figure it out.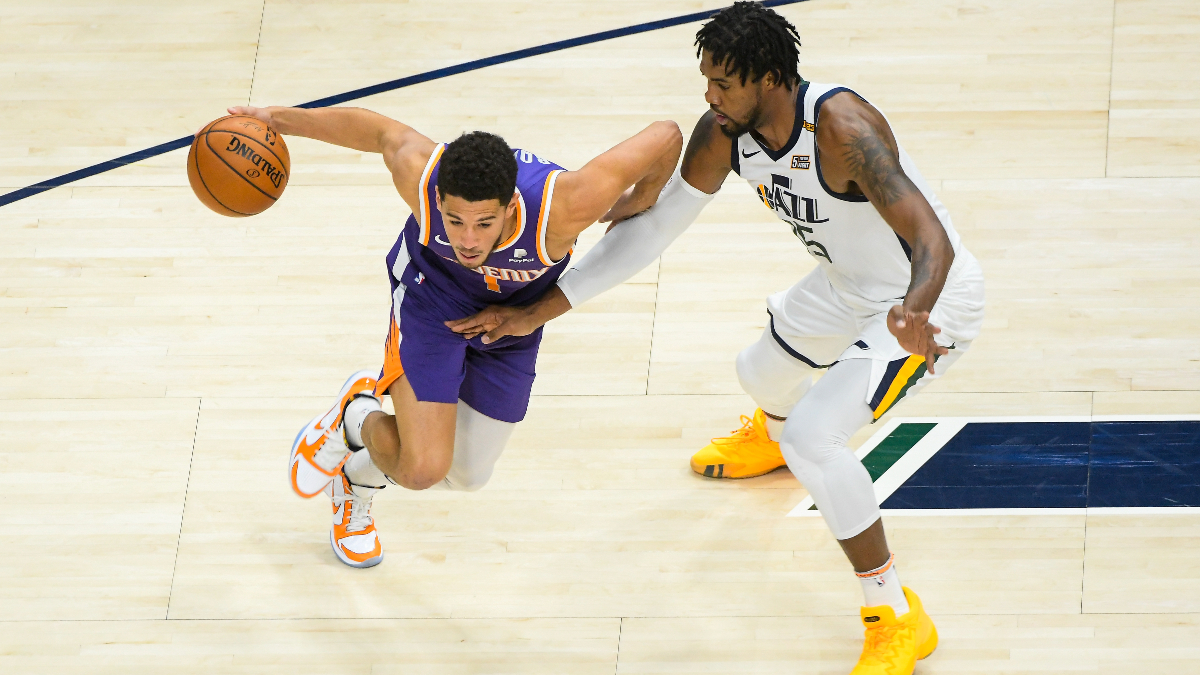 Conley looked to have settled in by the time the playoffs rolled around. Getting Bogdanovic, their leading scorer, back will help as well. Utah can grind out wins vs. the big bad defensive squads and win shootouts vs. the top teams. Mitchell showed in the playoffs what he can do when unleashed.
Utah went over in four of the past five seasons before last season's COVID-disturbed season. There's every reason to think they get back to being a dominant regular-season team, even if their playoff seeding hopes are somewhat endangered.
The Jazz finished on a 50-win pace last season, despite losing Bogdanovic before the bubble and struggling in Orlando. There's little reason to think they'll be worse this season.
The case for the under: The Jazz had 11 wins vs. teams over .500, the 10th-most in the West, with 19 losses. They were wretched vs. good teams and … Read more here.

Toronto Raptors Over
This should be an autoplay. Nick Nurse has shown himself to be so good that 50 wins is the floor.
Yes, they lost Serge Ibaka and Marc Gasol. But Ibaka was coming off the bench often and Gasol only played 44 games. The Raptors notoriously thrived despite injuries to waves of players throughout the season, and the Raptors will likely be able to figure out enough player development to cover the gaps.
The Raptors added Alex Len and Aron Baynes in the offseason. Those are two underrated centers and by the time they get acclimated midseason you'll start to hear "You know who's been sneaky good?" about one of them.
Kyle Lowry looks as good as ever. Fred VanVleet was top-15 in both assists and made threes this year. They have shooters, rebounders, team defense, leadership — the whole package.
The Raptors were on pace for 60 wins based on their win percentage. Sixty! We're talking an 11-win drop-off. What are we doing?
The case for the under: Another year on Lowry. The foundational bigs are gone. Pascal Siakam took a huge step back last season. The Raptors travel more miles in the first half of the season … Read more here.

Memphis Grizzlies Under
Memphis didn't add any impact veterans this summer. The Grizzlies added more young dudes in rookies Desmond Bane and Xavier Tillman. The advanced metrics and 3-point percentages on Jae Crowder were terrible last season, but down the stretch, in key games, they needed a veteran and didn't have one.
If Memphis is competing for a playoff spot again late in the season, it'll miss having someone like that. Kyle Anderson is not it.
Jackson's supposed to be back early in the season but coming off a meniscus tear, he may not be right for a while, especially without a full offseason of normal recovery and training.
Then there's Winslow. The entire story of Winslow's career thus far is "not yet back." His injuries have not just been intermittent; they've been intermittent and prolonged. He's always out for longer than expected. That's not his fault, that's just bad luck.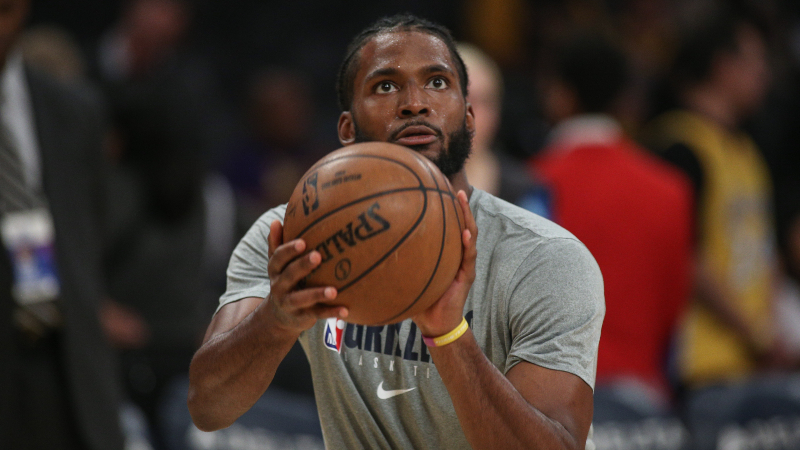 But Winslow is a huge key to Memphis' potential success. The Grizzlies traded two significant contributors in Crowder and Solomon Hill for him (forget about Iguodala).
Memphis was 21st in offensive rating last season and 14th in defensive. If you move past their exciting young talent, they were the Magic. The Magic are not a playoff team or finishing over .500 in the Western Conference.
The Grizzlies were under .500 in every month but one last season: January, when they went 11-4. That's 32% of their wins on the season in one month. Memphis is not a slightly sub.-500 team all season; it was a 23-35 (40% win percentage) team that had an excellent month.
The West got better. There's little reason to believe the Grizzlies did, or that they can replicate last year's win profile.
The case for the over: Memphis was one of the easiest overs last season. (I bet the under.) The Grizzlies soared over … Read more here.

---
Got it on Black Friday, it's Already Wrapped and Under the Tree
Chicago Bulls Over
I loved this over last year. LOVED it. And the Bulls were just terrible on offense, despite having more offensive talent than defensive talent. Jim Boylen was great at getting that team to defend … at the cost of any offensive cohesion whatsoever.
The Bulls hated playing for Boylen, that's pretty clear. New coach Billy Donovan has mixed reviews around the league, but he treats his players as men and as professionals.
The Bulls enter the season healthy aside from Thaddeus Young (leg) and Garrett Temple (COVID-19), which is an improvement over previous seasons.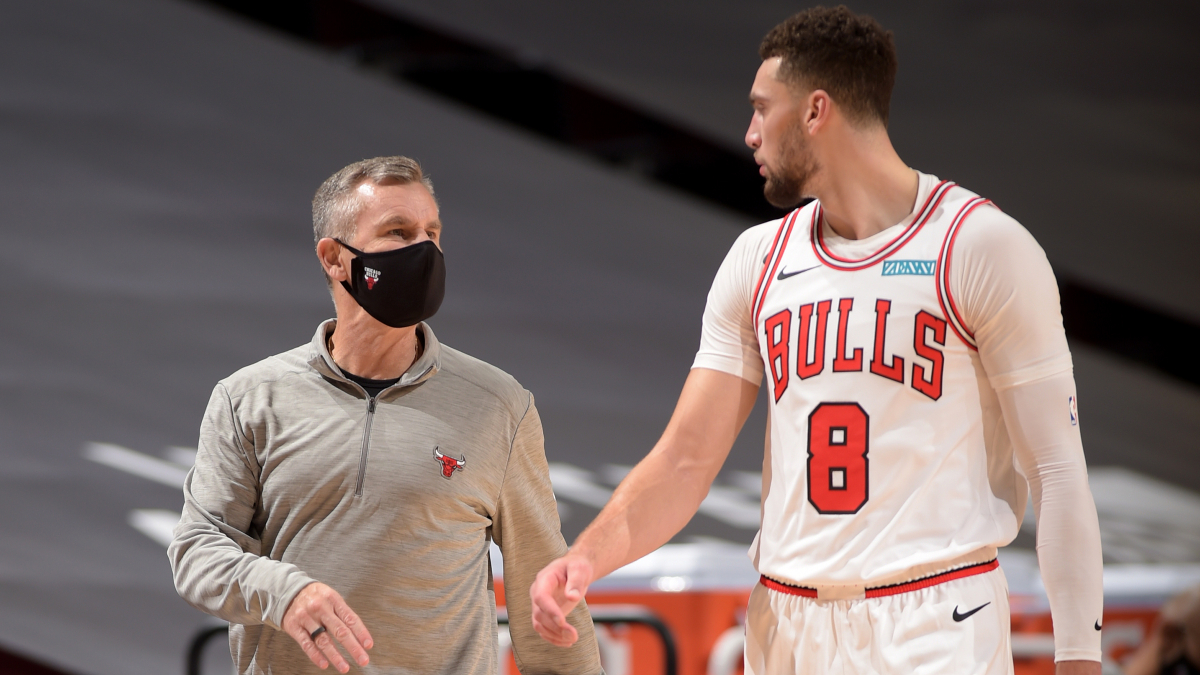 The Bulls won 34% of their games last season. Their Pythagorean mark was 40%. That was the fourth-biggest differential. They could have replaced Boylen with a ham sandwich and I would be taking the over.
New head of basketball operations Arturas Karnisovas is shrewd. He'll make tough decisions and be aggressive in improving the team.
There's talent all over this roster. Zach LaVine, Lauri Markkanen (due for a bounce-back season), Wendell Carter Jr., Coby White, rookie Patrick Williams, Tomas Satoransky and Temple (once he returns).
I think this is a .500 team.
The case for the under: The only thing the Bulls were good at last season was … Read more here.

Sacramento Kings Under
Four of the top eight players for the Kings in on-court net rating, minimum 200 minutes, are gone. Alex Len, Kent Bazemore, Dewayne Dedmon, and Bogdan Bogdanovic all found other homes.
The Kings under Luke Walton have been a mess. Instead of coming in and pushing the fast-tempo team Dave Joerger had built to more of a chaotic speed, Walton tried to slow it down. He alienated Buddy Hield to the point where Hield was nearly traded, and now Hield is still on the team.
They lost veterans. They lost talent. They didn't replace it. Their biggest offseason addition, Tyrese Haliburton, is a rookie who plays the same position as De'Aaron Fox
The wins in the West have to come from somewhere, and it sure looks like they're coming from the Kings.
The case for the over:  The Kings' Pythagorean win percentage last season was 43.1%. This is a move to .405. Are Bogdan Bogdanovic and Harry Giles the difference … Read more here.

Dallas Mavericks Over
Dallas jumped 10 wins last season from its 2018-19 total, despite playing seven fewer games. That kind of jump is rare in the NBA (despite what every bad team's fans think). And even after that jump, their Pythagorean win percentage was even higher, 65.3% to their actual 57.3%. They should have won even more games, which is just buck wild.
I faded the Mavericks last season and would have paid dearly for it if the season finished. A roster with Tim Hardaway Jr., Seth Curry, Maxi Kleber, Dorian Finney-Smith and Justin Jackson, all in prominent roles, was still unbelievably better than expected.
That's the Luka Doncic effect.
Doncic is the type of generational talent that raises the game of all those around him. The Mavericks went 7-7 without Doncic in the lineup and 38-29 with him on the floor.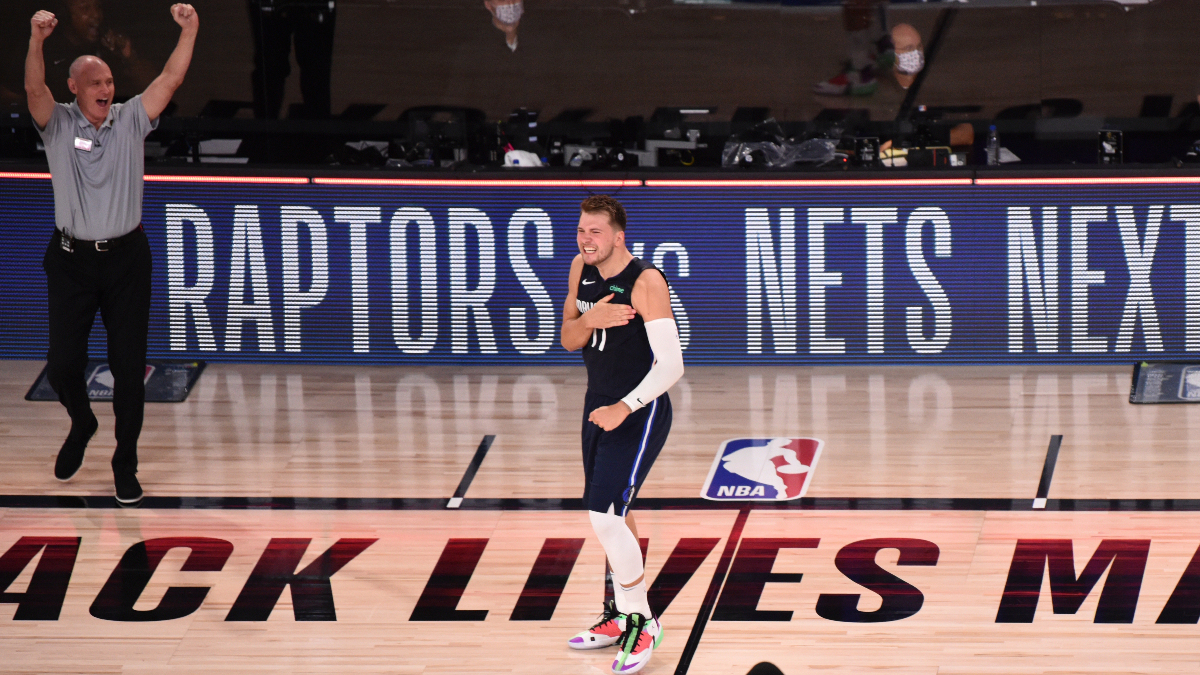 Now, the Mavericks have added players who can defend in James Johnson and Josh Richardson, who is a 37% shooter. Richardson somehow got labeled as a non-shooter because everyone will always make up reasons to deflect blame from Joel Embiid.
With Richardson and free-agent signing Wes Iwundu, Dallas should be markedly improved defensively.
The Mavericks might be without Kristaps Porzingis until January, but they still have Dwight Powell, their best pick-and-roll weapon, returning.
The big loss is supposedly Curry, but the Mavericks were better with Doncic and Curry on the bench than they were with both on the court. But even if you don't like that figure, the Mavericks' offense was roughly the same 115.9 to 115.2 with Curry next to Doncic rather than Doncic without Curry.
This may not be the team with the best offensive rating in history as it was last season, but it's still going to cook. The Mavericks will defend better.
Oh, and they have the favorite to win the MVP.
The case for the under: The Mavs overachieved last season. Now we're talking about going from 47 wins to 50-plus in a season with a lot of back-to-backs with Porzingis' return … Read more here.
Minnesota Timberwolves Under
The T-Wolves had 117 Defensive Rating over the stretch that preceded the shutdown last season. That's not just bad, that's nightmarish. That's "fish in the microwave, left for eight hours" horrendous.
For comparison, the Mavericks set the all-time record for Offensive Rating with 115. So the Wolves, after trading for Russell, made every team score like it was the greatest offense of all time per 100 possessions … plus two points.
Towns has been through a lot this year, and I think it's pretty understandable if he's still trying to wrap his head around all the trauma he's been through. He's had more important things than basketball in his life happen in his life.
Russell has yet to prove he can make a team better when he's on the floor. Lots of talent, good numbers, cool plays … very little positive impact.
Malik Beasley may miss time due to legal issues. The rest of the roster is one of the youngest in the league.
Bringing back Ricky Rubio seems like a nostalgia play more than anything, and the presence of Rubio, Ed Davis and Josh Okogie is not enough to offset all the negative defensive players.
Finally, there's the number. The Wolves have the fourth-biggest jump from last year to this season based on win percentage behind the Nets, Hawks and Warriors. Two of those teams get at least one All-NBA player back. The Wolves do not.
Wins for other teams in the Western Conference have to come from somewhere. They'll come from Minnesota.
The case for the over: Sheer talent and fit. The Wolves to start the season in 2019-20 were ill-suited for the basketball they wanted to play. Head coach Ryan Saunders … Read more here.
Golden State Warriors Over
Let's talk about this in the context of an 82-game season. The pre-free-agency number for the Warriors for an 82-game projection at PointsBet was 49.5. Then Klay Thompson got hurt and the number is 43 for an 82-game season.
But that's minus Thompson, plus Kelly Oubre and Kent Bazemore.
Thompson is worth a major drop-off. He's an All-Defense player and the second-best pure shooter in the NBA behind Stephen Curry. But Oubre and Bazemore are going to bring probably 70% of Thompson's defense at the very least. They're both plus-defenders.
Bazemore shot 34% from deep last season as he bounced around on bad teams, Oubre shot 35% in Phoenix. I'm not expecting either to crack 40% — but if both got around 37% I wouldn't be surprised, and that's all you need.
I tend to think of Andrew Wiggins as a net negative. He has bad defensive instincts and shot selection. But another season in the Warriors' system, and him adopting more of a small forward role, could be huge for the former No. 1 pick.
Oh, and there's Curry. There's been talk of "The Warriors' stars are in their 30's now" as if this is somehow meaningful. By 34-36 there's typically a drop off, but most stars are good up until that point these days with where training and diet can push them.
Curry remains the greatest shooter in NBA history and the most impactful player in the NBA over the past six seasons. The Warriors are simply another monster when he's on the floor, and he's expected to be on the court this season.
There were reasons to pull back on both he and Green last year, the plan was always to tank for this year. Thompson's injury changes their outlook, but the Warriors can't just pass up this season. They have enough horses to make a run and on any given night; Curry surrounded by good defense can get them a win.
Another way to put this into perspective? The Blazers' lowest over/under is higher than the Warriors' highest on the market. How on Earth does that make sense?
The case for the under: In the limited sample size of useful minutes from last season, the were not a great team, or a good team, or a decent team with Curry. They lost by 19 to the Clippers on opening night … Read more here.
Are you looking for a safe, reliable, trustworthy sportsbook? Check out our ratings of the best sportsbooks and their current sign-up offers for new customers.