CFP National Championship Odds & Picks: The Ultimate Betting Guide for Ohio State vs. Alabama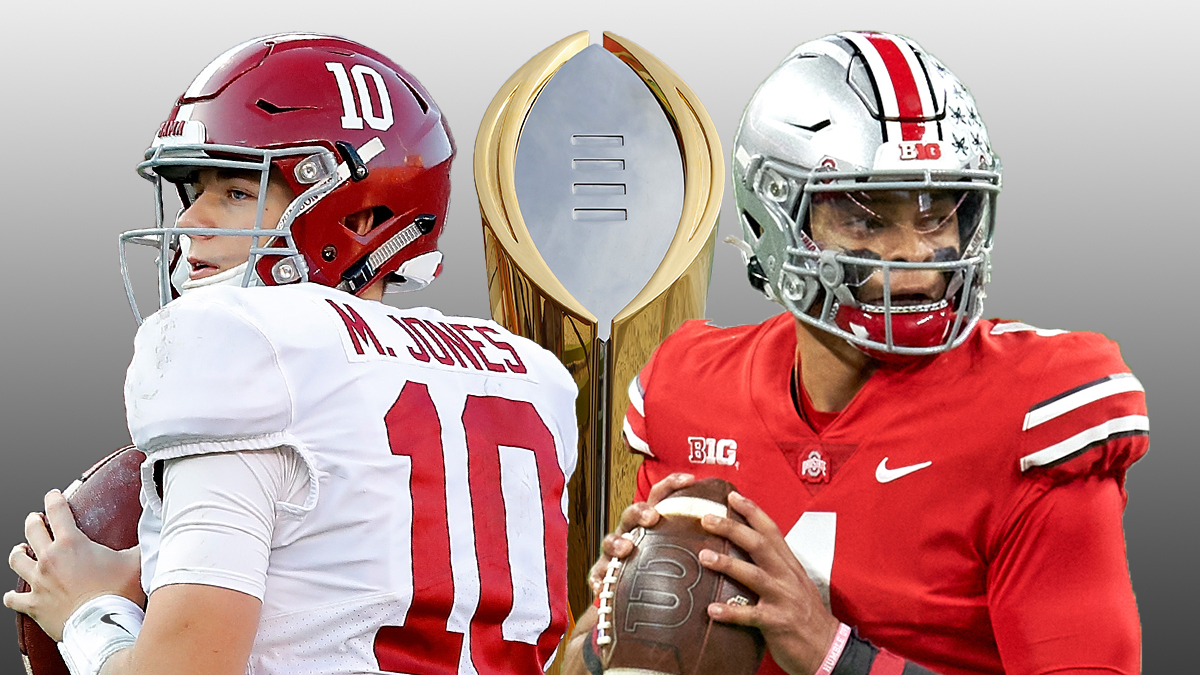 Ohio State vs. Alabama Odds
---
_BookPromo=512
Hard Rock Stadium in Miami Gardens is set to host the National Championship game for the first time in the College Football Playoff era.
While the venue is new to crowning a champion, the participants are not. There is no surprise Alabama and Ohio State are playing in the final game of the season, especially if you follow the recruiting trail.
Since 2018, the Crimson Tide and Buckeyes are ranked first and second in team talent ranking, a composite score compiled by 247Sports.
No team has collected more four-stars than the two competitors in the national championship, while Georgia is the only other FBS team in the nation that can compete at a five-star level.
---
Table of Contents
---
Team Overviews & Program Histories
The Alabama Crimson Tide will make their fourth championship appearance in just the seventh national final since college football ended the BCS. Alabama won in 2016 and 2018, with losses in 2017 and 2019.
There is no doubt this is the biggest game in the long career of Nick Saban. Legendary Crimson Tide coach Bear Bryant won six national titles in his 24-year stint at Alabama. Not only would Saban earn his seventh national title in this game, but he would also tie Bryant for national titles won in Tuscaloosa.
The vibe is different for Ohio State head coach Ryan Day, who is in his second year of the position after serving as offensive coordinator for Urban Meyer back to 2017. Day is building quite the resume in his short career, with a 23-1 straight-up record as head coach or interim head coach.
This is the Buckeyes' second trip to the national championship game in the playoff era, with their 2014 victory run including a win over the Crimson Tide in the semifinals.
This is unprecedented territory for Day, who has collected an 11-7 against-the-spread mark since taking the job to start 2019. Ohio State has been favored by at least nine in every single game coached by Day with the exception of two meetings against Clemson.
The victory against Clemson in the 2020 Sugar Bowl was the revenge Ohio State had been seeking the entire season. The Buckeyes averaged 8.9 yards per play in standard downs, defined as downs with a maximum distance of first-and-10, second-and-7, or third and fourth downs with just two yards to go.
Despite an average of 8.5 yards to go on third-down situations, the Buckeyes put up 639 total yards thanks to a 22-of-28 passing mark from Justin Fields and 97 yards after contact by Trey Sermon.
Ohio State gained 64% of available yards, surpassing the national average by 20%, per Sport Source Analytics.
---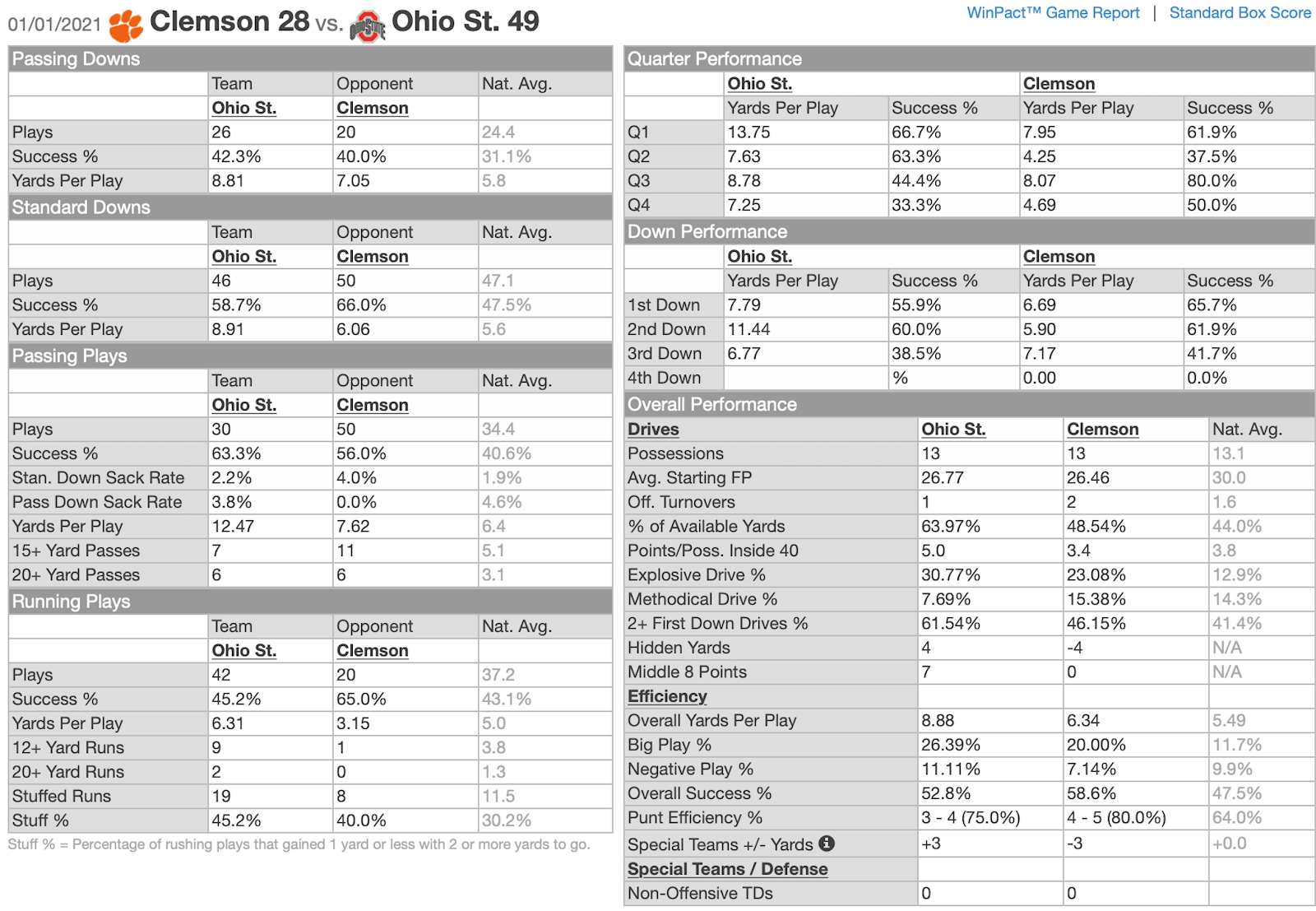 ---
While the Sugar Bowl provided a college football consumer with plenty of highlights, the Rose Bowl proved to be a grinding slugfest. With a two-touchdown lead after the first quarter, the Crimson Tide downshifted the tempo to keep Notre Dame multiple scores away.
Alabama ran just 17 plays in passing downs, with a standard downs Success Rate of 71% at 9.4 yards per play. The offensive game plan was by design, as quarterback Mac Jones attempted just four deep balls against the Irish secondary, per Pro Football Focus.
---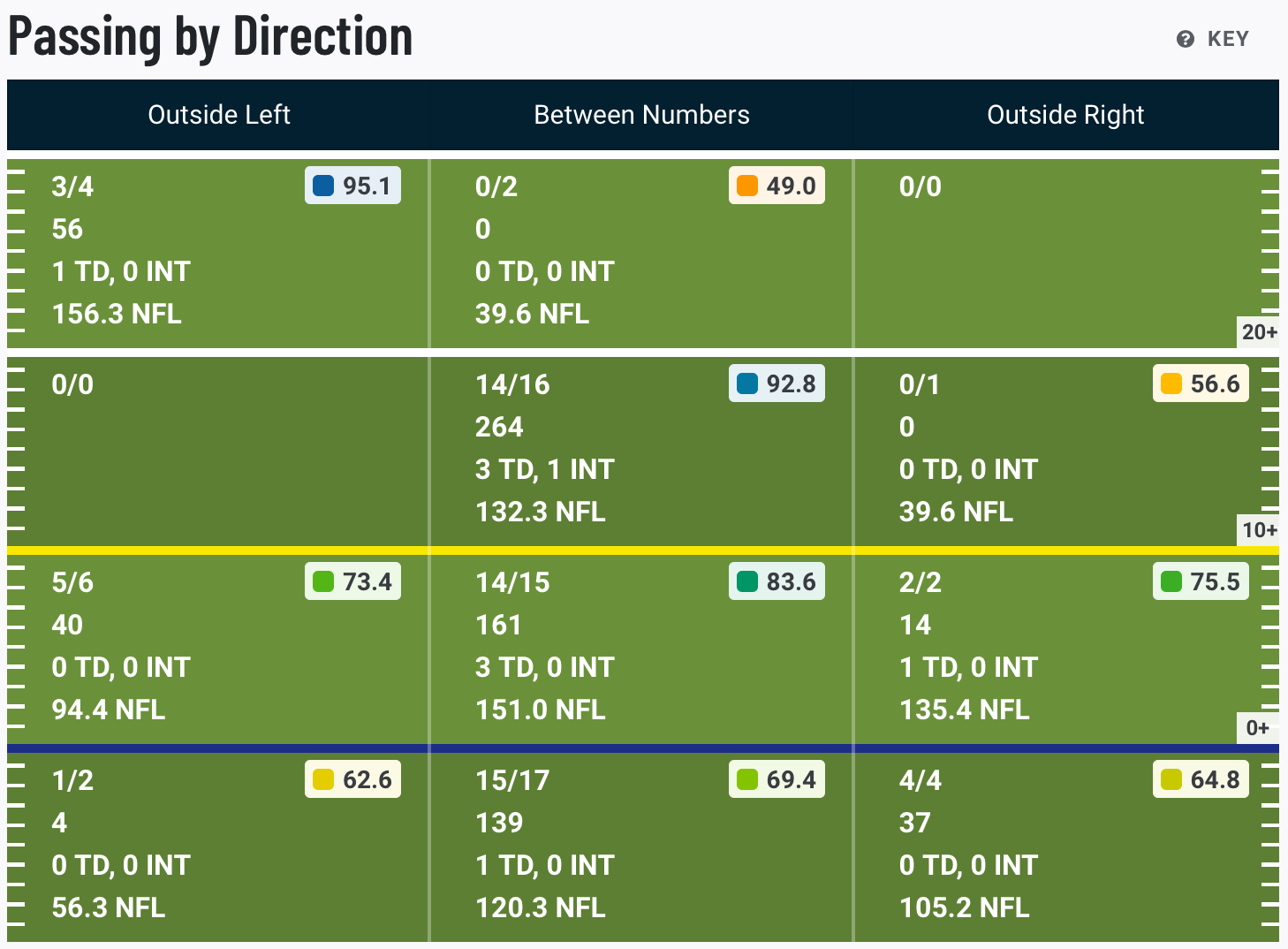 ---
The Crimson Tide defense played its part in limiting Notre Dame's points, as the Irish did not have a single explosive drive in 10 possessions.
Although quarterback Ian Book had sustained drives with at least two first downs in over half of his possessions, the Irish could only capitalize in two of their five trips past the Alabama 40-yard line. Success in passing downs during the fourth quarter led to a Notre Dame cover of the full game spread.
---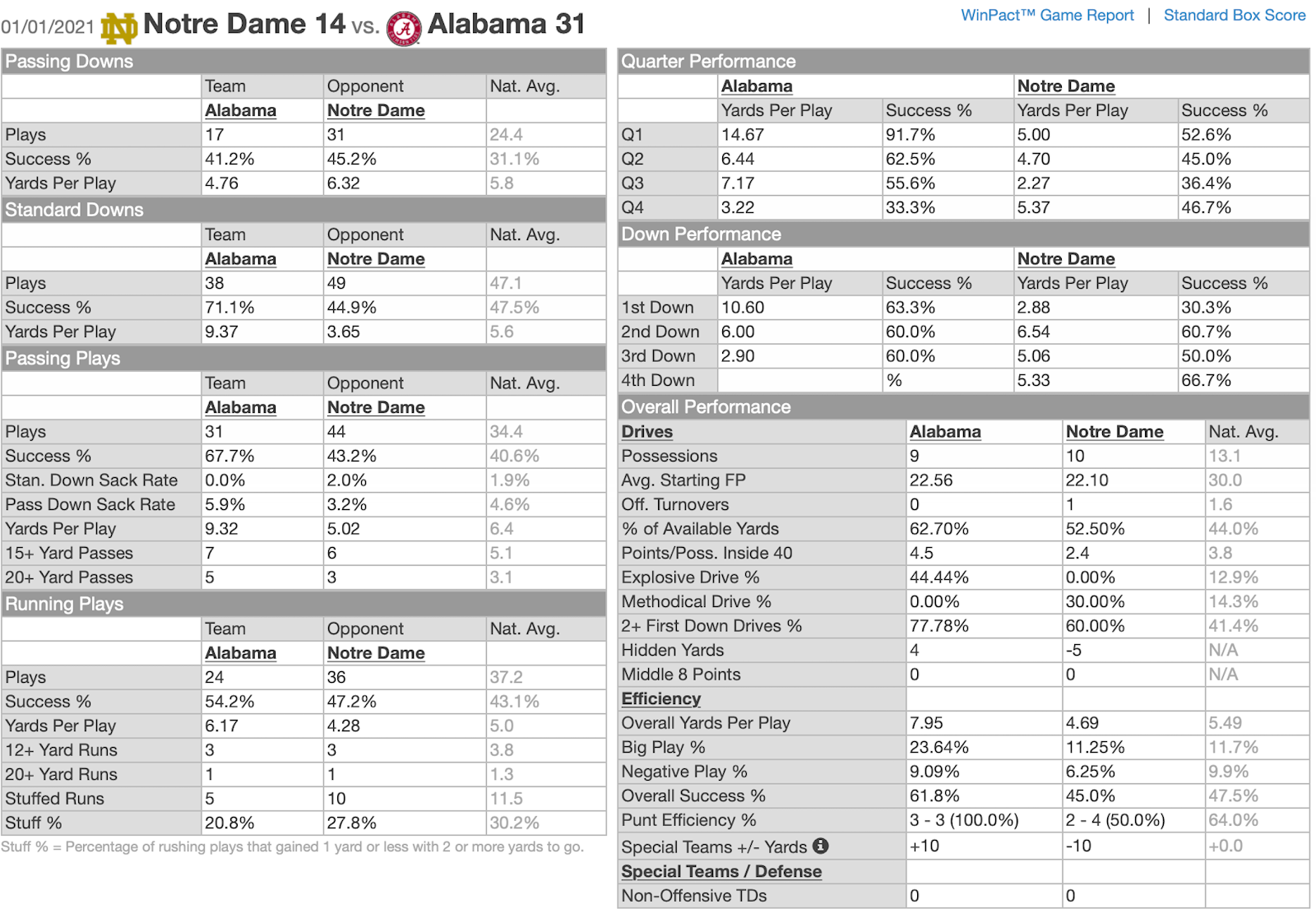 ---
If the history of the playoff is any indication of results, Ohio State is in great shape heading into Miami. The lower seeds are 5-1 straight up against higher seeds at the championship stage.
LSU in 2019 was the first No. 1 seed to win the national championship since the dissolution of the BCS. These two teams represent the only four-seeded programs to win the playoff, as Ohio State accomplished the feat in 2015 and Alabama did so in 2018.
---
All-time appearances in 7-year history of @CFBPlayoff

Alabama 6 (7-3, 2 titles)
Clemson 6 (6-4, 2 titles)
Ohio State 4 (3-2, 1 title)
Oklahoma 4 (0-4)
Notre Dame 2 (0-2)
LSU 1 (2-0, 1 title)
Georgia 1 (1-1)
Oregon 1 (1-1)
Florida St 1 (0-1)
Mich. St 1 (0-1)
Washington 1 (0-1)

— Brett McMurphy (@Brett_McMurphy) January 4, 2021
---
Ohio State is 3-2 all-time in the College Football Playoff, breaking a win drought since the national title run in January 2015. There's a more checkered history for Saban and the playoff when it comes to the spread, as the Tide have advanced to four national title games.
Through 10 playoff games in the championship or semifinals, Saban has covered just three games. Per Action Labs, two of those games came as multi-score favorites against Washington in 2016 and Michigan State in 2015.
---
---
This total is historically high, with an opener at BetMGM of 76.5. Only the 2016 version of the championship final score eclipsed the current total, as Derrick Henry led Alabama with three rushing touchdowns against Deshaun Watson's four passing scores. That edition of the championship game fielded NFL talent at every position and ended with 85 total points.
Only 10 postseason games have closed with a total of 76 or higher since 2008, per Action Labs, with an even distribution of five games to the under and five to the over.
As for the 2021 National Championship, the viewing might require a seatbelt. Both Alabama and Ohio State have decimated the competition from an offensive perspective, ranking top-10 in 50-plus yard drives and scoring drive percentage.
---
«« Return to Table of Contents »»
---
When Alabama Has the Ball
---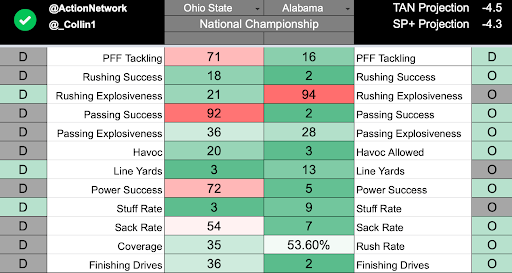 ---
The injury to Rimington Trophy finalist Landon Dickerson may have influenced the game plan against Notre Dame. Backup tackle Chris Owens stepped in at center in the Rose Bowl for the All-American but recorded the worst results in run and pass blocking of any lineman, per PFF. Owens recorded 57 snaps and allowed two quarterback hurries and committed a penalty. The senior has played more than 600 snaps in his four-year career for the Crimson Tide but has allowed more pressure than any other offensive lineman this season.
Alabama countered the loss of its center by moving the pocket, using misdirection, and using quick-strike pass attacks to allow outside weapons to collect plenty of yards after catch.
---
---
The great news for Alabama is that when Jones is under pressure, his numbers tend to rise in the accuracy department.
Jones has the highest NFL ratings in dropbacks under pressure and the fifth-highest number in adjusted completion percentage. Jones' comfort release time is in the 2.25 to 2.5 seconds range, but success in short throws has provided a rating just as high.
---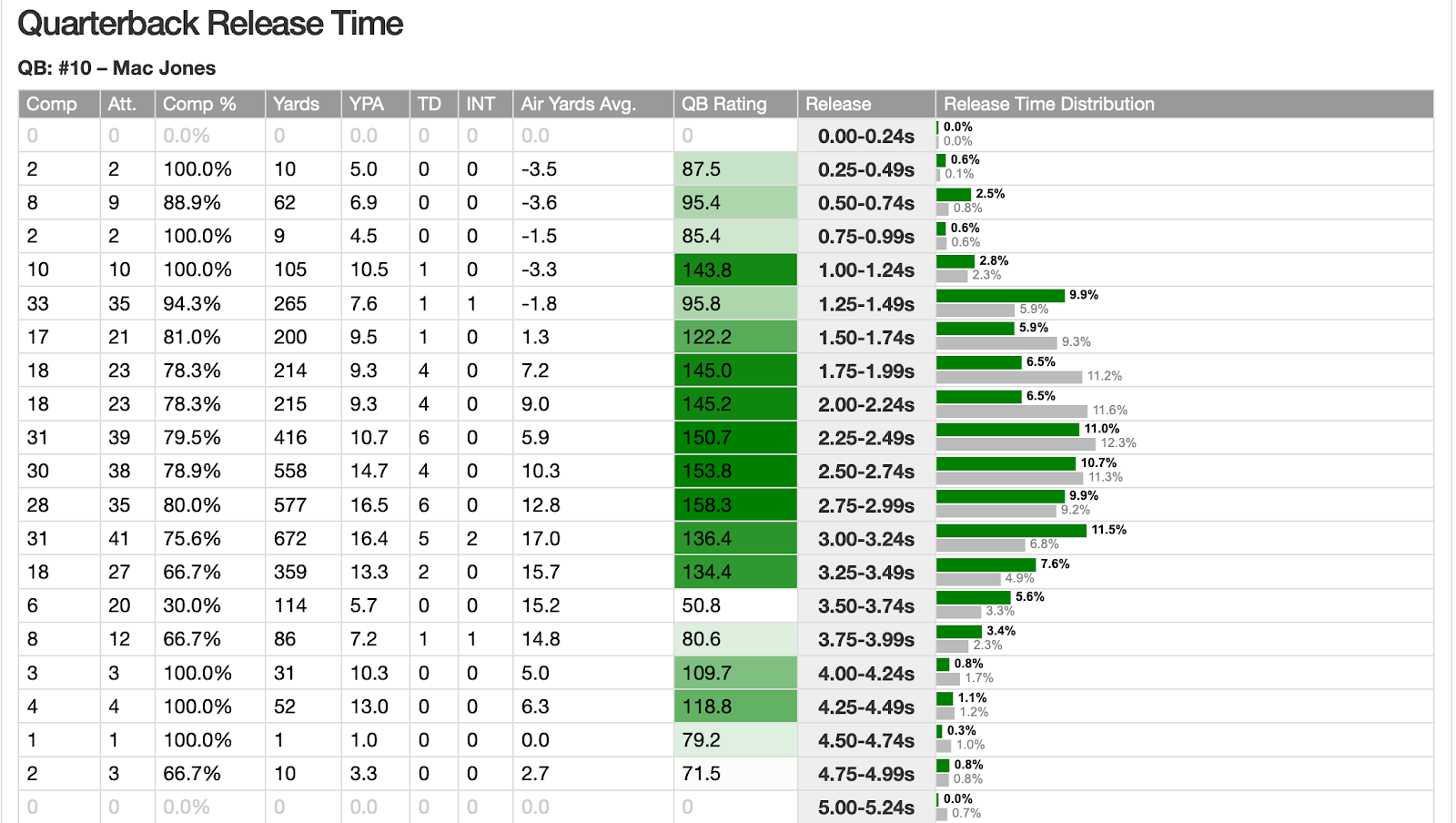 ---
As shown against the Irish, connecting with DeVonta Smith in the left or right outside receiver slot was the clear plan of attack on short passing attempts. If Ohio State plans on sending the blitz through the middle of the offensive line to challenge Owens at center, Alabama will have the option for the quick pass to targets in the flats.
---
---
Ohio State runs predominantly in the 4-3 scheme, sending blitzes on second down more than any other down and distance. That may be an opportunity for Alabama to strike deep in standard downs.
The Crimson Tide stay on schedule more than anyone in the country, specifically ranking second in FBS in average yards to go on second down at seven yards per attempt.
Tyreke Smith and Jonathon Cooper have been two of the best defensive ends in the nation at generating pressure, but the Crimson Tide excel at the tackle position with Alex Leatherwood and Evan Neal. Per PFF, Alabama's four offensive linemen outside of Owens each rank within the top 130 individually in pass block efficiency.
One of the biggest reasons for why Alabama has put up historic numbers in Success Rate is a stat titled "momentum killer." This area looks at a collection of events that can stop an offense dead in its tracks with elements such as interceptions, fumbles, missed field goals, sacks, turnover on downs and 10-plus yard penalties.
The Crimson Tide own the second-lowest momentum killer rate of all FBS teams. In short, Alabama's probability of taking itself out of a scoring possession is one of the lowest in the country.
---
ONE OF THE MOST INSANE HURDLES YOU'LL EVER SEE FROM NAJEE HARRIS!! pic.twitter.com/P3Wvlc6hK9

— TSN (@TSN_Sports) January 1, 2021
---
After Owens was beaten on the block, Najee Harris showed his athletic skills by popping the run out to the sideline before executing the hurdle highlight.
Alabama has the lowest third-and-out percentage in the nation at 7.9%, which should be advantageous against the Buckeyes. Despite a lackluster set of offenses in the Big Ten, Ohio State ranks 113th in forcing three-and-outs on defense.
Considering Alabama has the lowest momentum killer rate in the Power Five, the Buckeyes will consistently have issues stopping a Crimson Tide team that is second in standard downs Success Rate.
The Buckeyes' best shot of shutting down Alabama may come on third down. Despite the Crimson Tide holding the top spot in Power Five conferences for average yards to go on third down, Ohio State sits 25th in opponent third-down conversions.
If dealing with Smith, Harris and Metchie weren't enough for any defense, coordinator Steve Sarkisian has gravitated to more 12 personnel as the season goes on. Tight end Jahleel Billingsley tied his season record of targets with four, catching every attempt and even going for a score against Notre Dame.
---
Mac Jones to Jahleel Billingsley for the touchdown in the back corner of the endzone. #RollTide #Bama #CFBPlayoff pic.twitter.com/Ot9Gk9KO0X

— Justin Groc (@jgroc) January 1, 2021
---
Opposite of Billingsley is tight end Miller Forristall, who has become Jones' most reliable target, catching 23-of-27 targets on the season while not dropping a pass since the 2016 Texas A&M contest.
The tight end duo is not going away in the Alabama attack, as half of Forristall's targets have come in the past three games, while Billingsley has hauled in all 15 targets over the past five games played.
After Sark paid little attention to two-tight end sets in recent years, 25% of all Alabama formations are now in 12.
_BookPromo=497
Two areas of concern for the Buckeyes are missed tackles and pass coverage.
Ranked 35th in pass coverage by PFF, free safety Josh Proctor and cornerback Shaun Wade posted the lowest grades against Clemson.
Cornerbacks Marcus Williamson and Sevyn Banks both missed two tackles each, as seven different defensive players allowed Trevor Lawrence to complete a target of 15 yards or more.
That has been the critical data point for Ohio State all season long, as it ranks 84th in opponent big plays through the air. Over 17% of passes completed against Ohio State go for more than 15 yards.
Specifically, Wade will have to stay with his assignments unlike he did on a Trevor Lawrence-to-Cornell Powell touchdown in the Sugar Bowl.
---
Trevor Lawrence stands tall as pressuring is coming down his throat (phrasing) pic.twitter.com/6tjfNDM8Ph

— Greg Brandt (@devywarehouse) January 2, 2021
---
In 40 combined targets, Wade and Williamson are allowing opposing quarterback ratings over 115. Wade's six allowed touchdowns on the season are more than all other Buckeye back seven defenders combined. If there's a place for Jones to find explosiveness, it's identifying who Wade will cover pre-snap.
As for who on Alabama will find the most success in the passing game, that will come in the right outside receiver position. That spot draws the most targets with a quarterback rating of 113.
---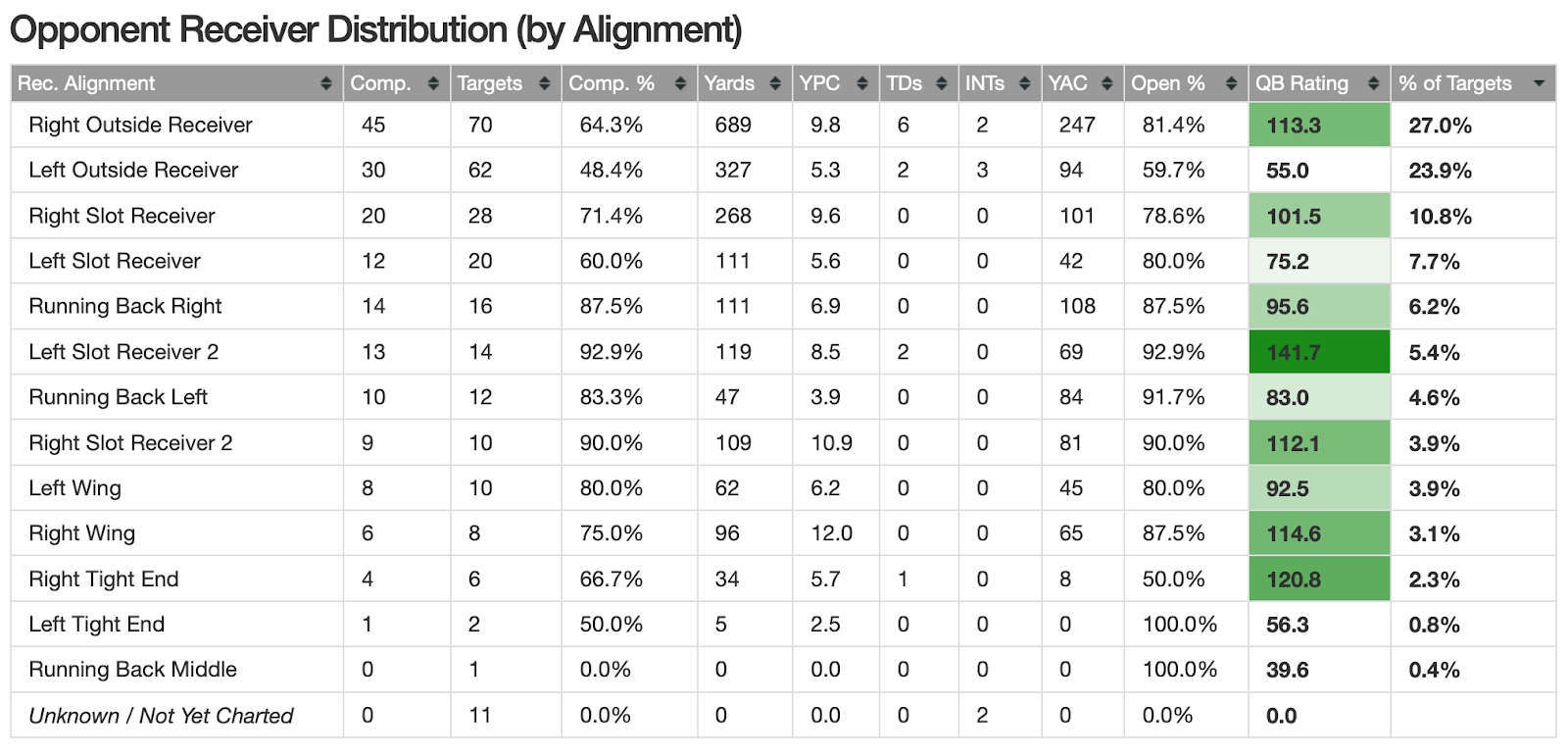 ---
While Williamson is expected to take the slot position defensively, Banks and Wade will defend the corner spots against Metchie and Smith. Smith split time most of the season between the slot and wideout position, but that ratio has grown for the outside position over the past two games.
Smith has 94 snaps as the left or right wideout and only 42 in the slot over the past two games against Notre Dame and Florida. One reason for Smith getting relief in the slot position is the emergence of Billingsley. The sophomore tight end lined up in the slot 14 times against Notre Dame, a decent amount of work before facing an Ohio State defense that struggles to defend the position.
Saban's Monday presser made mention of a stout defense that gave Clemson all it could handle in the pressure department.
The key note from the Saban press conference was that the Ohio State secondary "played well enough." While not outright saying what the offensive game plan will be against the Buckeyes, there's enough to believe Saban knows the plan of attack should be directly at the secondary.
---
«« Return to Table of Contents »»
---
When Ohio State Has the Ball
---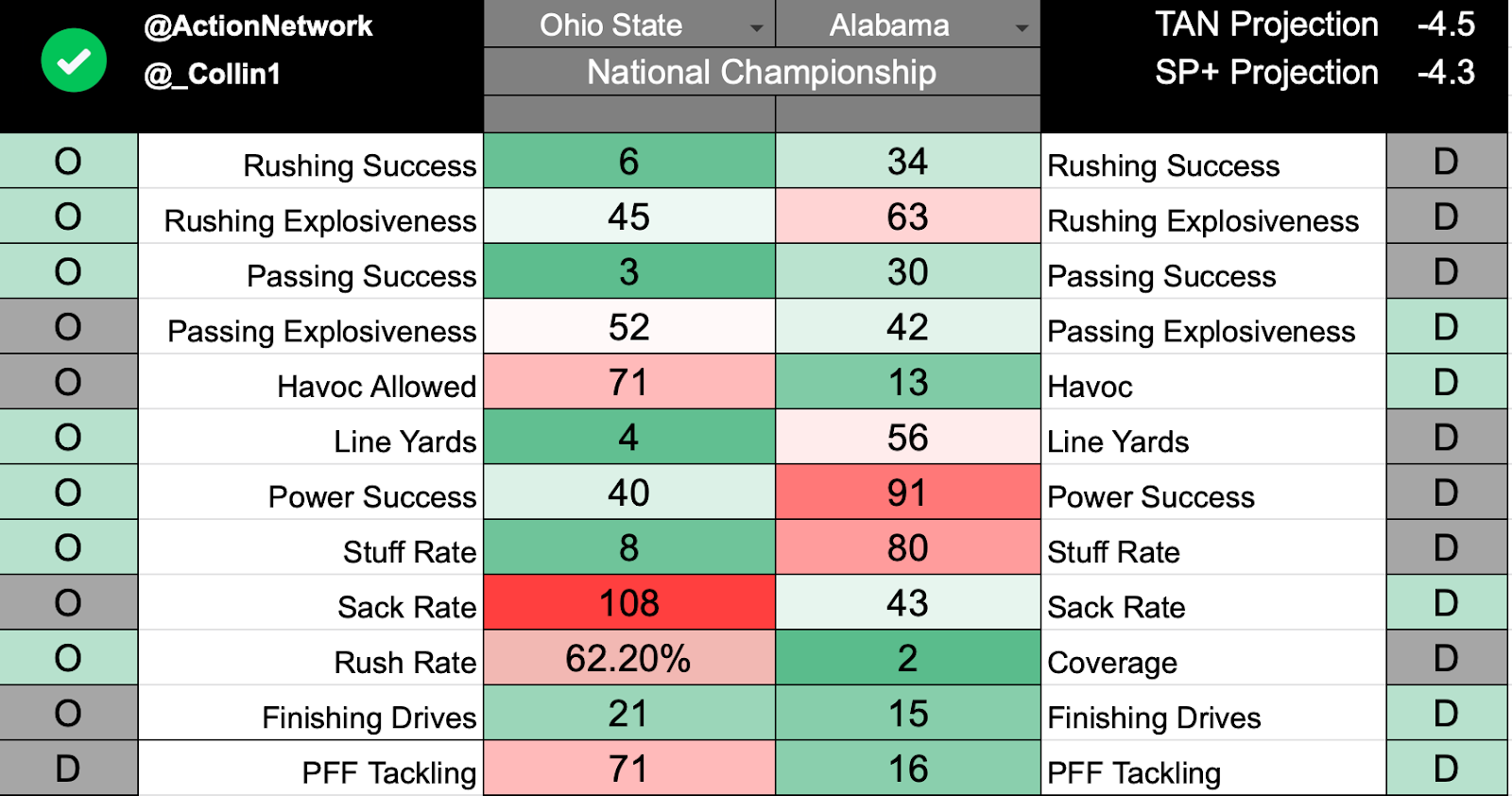 ---
Chris Olave's return from COVID-19 at wide receiver made all the difference in the world for quarterback Justin Fields in the Sugar Bowl.
After struggling in the Big Ten Championship game with two interceptions, Fields targeted Olave eight times against Clemson. The result was 133 yards and two touchdowns, but more importantly, the Buckeyes' passing game opened up more holes for the running game.
To summarize the past two games for Ohio State, running back Trey Sermon has attacked the field like a man possessed.
---
TREY SERMON UNTOUCHED

— PFF College (@PFF_College) January 2, 2021
---
Sermon went through a metamorphosis once Ohio State's five-game regular season concluded, as he collected just nine avoided tackles and 175 yards after contact in that early span.
In the past two games against Northwestern and Clemson — the best defenses he's faced all season — the Ohio State running back posted 293 yards after contact and 24 missed tackles.
Sermon's biggest success in rushing direction has come straight over the left guard this season, as he's averaged 10.9 yards after contact on 13 attempts. Although offensive left guard Harry Miller is expected to miss the national title game with a positive COVID-19 result, sophomore Matthew Jones posted one of the highest run-blocking grades of the Sugar Bowl.
Even with Jones exiting the game with an ankle injury, freshman Paris Johnson stepped in and continued to create holes big enough for a Brinks truck. Expect the Buckeyes to continue running left, where they have found the most success the past two games.
---
Trey Sermon picking up right where he left off in the Big Ten Championship 😍 pic.twitter.com/xBVtHo8Jrc

— Barstool OSU (@BarstoolOSU) January 2, 2021
---
The biggest question for Day will be the plan of attack on third downs.
Fields has targeted Olave and wide receiver Garrett Wilson on 57% of dropbacks this season. The list of targets gets super thin with Julian Fleming, Jameson Williams and Jaxon Smith-Njiba combining for 32 of the 179 targets on the season.
If there's a player to target in props, tight end Jeremy Ruckert returned to action in the Sugar Bowl with four targets and two touchdowns. Prior to that game, Ruckert had not seen a target since Nov. 7 against Rutgers.
---
The Buckeyes (+225) score on their 5th straight drive and are taking a 21-point lead into halftime.

Jeremy Ruckert to score 2+ TDs +1100. 💰

— The Action Network (@ActionNetworkHQ) January 2, 2021
---
Similar to Alabama, Day has called for an increase in the usage of 12 personnel. After running a two-tight set in just 21% of plays during 2019, the Buckeyes have gone 12 in 33% of offensive play calls this season.
The Crimson Tide field some of the best corners in the nation with Patrick Surtain II, Josh Jobe and Malachi Moore patrolling the outside and slot receivers.
There's no doubt the point of attack for Day in the passing game will be directly at linebackers Christian Harris and Dylan Moses through crossing routes and screens.
---
Ian Book bubble-screen pass to Chris Tyree for 27-yds #NotreDame 0 #Alabama 14 Q1 #RoseBowl pic.twitter.com/CnKBz8SAlQ

— Sports ②④x⑦ (@B_R_R_D) January 1, 2021
---
Of the 16 defensive players who have taken snaps in at least 11 games for the Tide, Harris and Moses grade as two of the bottom-six defenders in coverage.
Opposing quarterbacks have an NFL rating of 120 on targets to Harris, while Moses has allowed an average of 10.1 yards after catch. Moses and Harris were targeted 11 times by Notre Dame in the Rose Bowl, allowing 75 yards and an Ian Book touchdown.
Ohio State should have plenty of success in Sermon rushing attempts and any targets crossing the middle on passing downs.
Where the Buckeyes will run into resistance is testing the Alabama secondary, which grades out as the second-best coverage unit, per PFF.
Tackling was the primary concern for the Tide after the high-scoring Ole Miss game, but Alabama quickly resolved those issues. The Crimson Tide tallied nine missed tackles against Notre Dame, with four of them coming from outside linebacker Christopher Allen.
Execution is the path to victory for the Buckeyes. Alabama ranks 79th in third-down efficiency, allowing conversions 41% of the time in 186 opponent attempts.
When the Crimson Tide defense breaks down, the result is chunk-yardage touchdowns. Consider that of the 27 touchdowns the Crimson Tide have allowed, nine of them came from longer than 30 yards out.
Alabama ranks 120th in the nation in allowing touchdowns from 40-plus yards with eight total on the season. As recently as the SEC Championship game, Florida posted two touchdowns at least 50 yards by Kadarius Toney and Trevon Grimes.
---
---
Both Ole Miss and Florida ended the season with an overall Offensive Success Rate and explosiveness rank in the top 20. Ohio State is third in both categories, making this the most difficult challenge of the season for the Alabama defense.
The biggest deterrent to Ohio State's offensive success might be the Buckeyes themselves.
We mentioned momentum killer rates — a stat that groups interceptions, fumbles, missed field goals, sacks, turnover on downs and 10-plus yard penalties — in the Alabama section. While the Crimson Tide offense has the second-lowest momentum killer rate in the country, Ohio State is 77th at 9.3%.
The largest portion of the momentum killer rate comes in sacks and 10-plus yard penalties. The Buckeyes have the 23rd-highest rate in FBS of 10-yard penalties, while sacks have been a season-long issue for the offensive line.
Football Outsiders grades Ohio State 108th offensively in Sack Rate, a number that plummets to 122nd in standard downs. While Mac Jones has posted the third-best NFL rating and a 7:1 touchdown-to-interception ratio in pressured dropbacks, the story is completely different for the Buckeyes' quarterback.
Fields ranks 123rd in NFL passer rating and 99th in adjusted completion rate during pressured dropbacks with two touchdowns and two interceptions.
Alabama will bring pressure with Will Anderson Jr. and Christian Barmore, who combined for 58 quarterback hurries and 15 sacks.
---
My goodness, big Christian Barmore splits the guard & center and gets the sack on Ian Book! #RollTide pic.twitter.com/rnQ8eXRTX3

— 🌹 (@RespectDaBeard1) January 1, 2021
---
An additional area of concern for the offensive line is tackles for loss, as the unit ranks 84th, averaging 6.71 per game.
The coming-out party for Sermon has done little to stop these gaps in run blocking, as Clemson posted six tackles for loss and stuffed 19-of-42 rushing attempts.
Ohio State is one of the top offensive lines in the nation in Stuff Rate, which indicates the percentage of carries by running backs who are stopped at or before the line of scrimmage, per Football Outsiders.
The Buckeyes had been cruising all season long in controlling the line of scrimmage, and thankfully for OSU, the Crimson Tide do not have the same metrics in Defensive Line Yards or Stuff Rate to combat Sermon and running back Master Teague III.
Alabama does boast a top-15 defensive Havoc rate, but a large portion of that comes from statistics outside of tackles for loss.
Alabama has forced 15 fumbles this season, just one shy from the overall FBS leader in Coastal Carolina. When forced fumbles are viewed in a per game rate, Ohio State's defense has a higher rate of getting the ball on the carpet.
Where the Crimson Tide defense shines is in breaking up passes. With 69 passes defensed, Alabama averaged 5.75 per game, led by the cornerback trio of Surtain II, Moore and Jobe.
---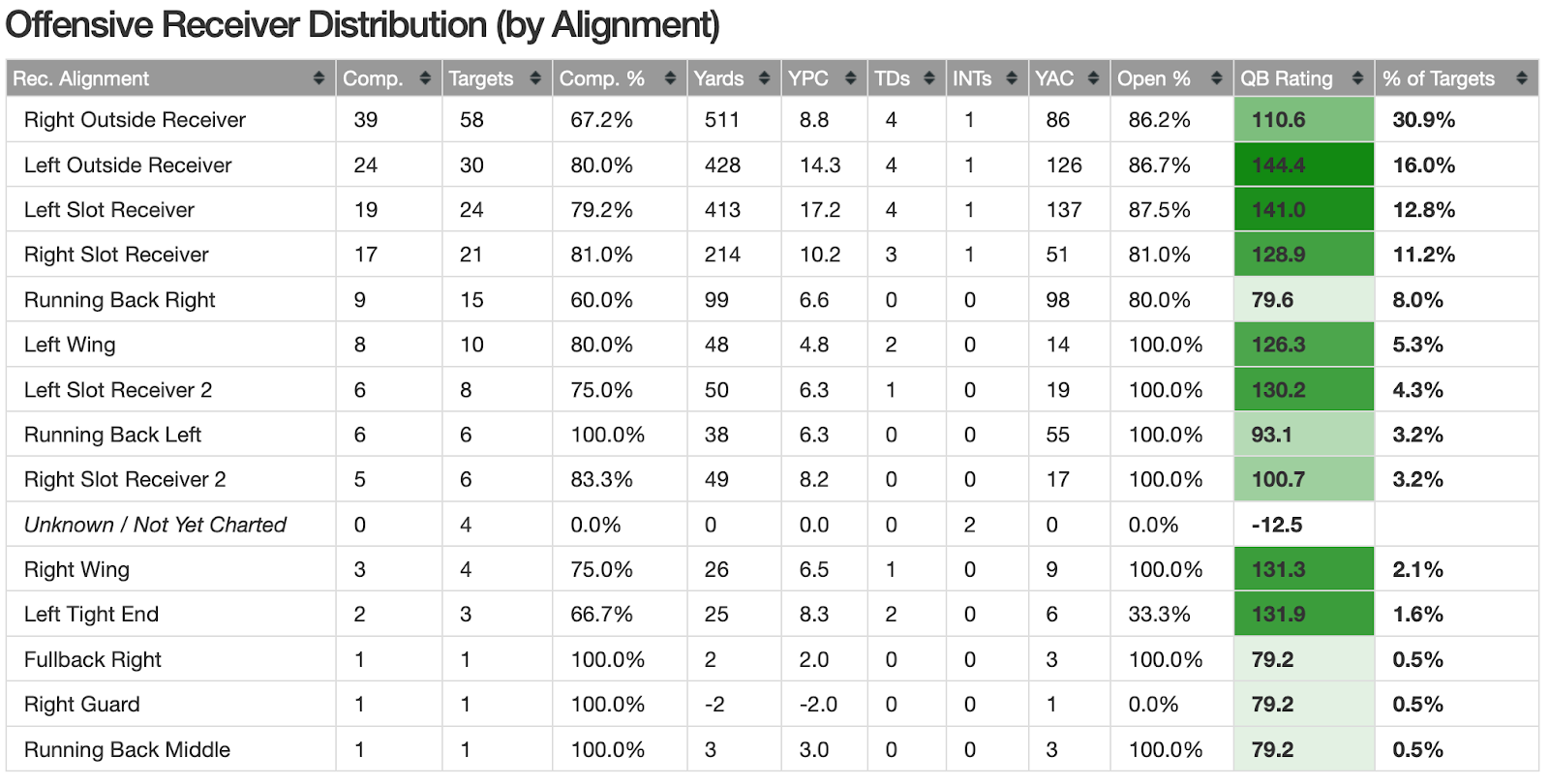 Fields' most targeted area of the field is right outside receiver, but to beat this Alabama defense, a look at the slot routes over the middle may produce a higher Success Rate.
---
«« Return to Table of Contents »»
---
Special Teams
From a penthouse looking down, a simple overall rank would favor Alabama in the special teams department.
---

---
That's a change from most other years the Crimson Tide have made a run to the title game, specifically in the department of field-goal kicking.
A college football season does not seem complete without a breakdown in the Bama kicking department. The names are endless, including Leigh Tiffin, Jamie Christensen, Cade Foster and Adam Griffith.
Just a short three years ago, kicker Andy Pappanastos had a chance to seal the national championship against Georgia with a 36-yard attempt, but it ended up being his second miss of the game.
---
---
Enter Will Reichard, an in-state recruit from Hoover, who went 4-of-7 in limited play through the early part of the 2019 season. The sophomore went back to the drawing board in the offseason to produce a perfect season for Alabama. Reichard has hit all 13 field goals and 73 point-after attempts.
Alabama has hit three field goals over 40 yards this season, including a 52-yarder against Georgia.
Ohio State has a senior placekicker in Blake Haubeil. In his three-year kicking career, the senior has posted 28 field-goal makes on 35 attempts. Strangely enough, the Buffalo native has been great from 40-plus at 8-of-10, but he's just 6-of-9 from the range of 30-to-39 yards.
Both kickers have connected on their attempts outside of 50 yards, so distance is not an issue. There's a history of shorter field goals being missed on the Ohio State side.
_BookPromo=502
With a total in the mid-70s, field-goal kicking may not be in the equation for much of this game. For the expected amount of kickoff returns, average starting field position may favor Alabama in winning the hidden yards battle. Ohio State ranks 126th in kickoff return yards at 13.3 yards per attempt.
Adding to the low special teams rating for the Buckeyes is the punt department.
There's no expectation that the punters will break a sweat in Miami Gardens, but if they happen to, there's a clear edge on the Alabama side.
The difference in punt return units is night and day, with Alabama ranking ninth in return average at 15.6 yards per attempt and Ohio State 72nd at 6.7 yards per attempts.
Smith put up 219 punt return yards this season, half the total of Alabama's best punt return season from Jaylen Waddle in 2019.
This is an area that Alabama can change the game in with multiple options to score a touchdown. Meanwhile, Ohio State ranks 102nd on the season in net punt yards differential.
---
«« Return to Table of Contents »»
---
Referee Crew 
The Big 12 will provide the officiating crew for the National Championship game after plenty of turnover this past offseason.
With five years of Division I experience, Brandon Cruse migrated from the Mountain West to a senior member of the Big 12. Four referees and a cumulative 42 years had to be replaced this offseason, leaving officials such as Cruse, Scott Campbell and David Alvarez to call New Year's Day bowls.
Cruse may be famously known for his offsides call during a 2018 Mountain West Conference game between Hawaii and Colorado State.
---
"False start, everybody but the center" 😂 pic.twitter.com/zaoTR7VuK5

— CBS Sports (@CBSSports) August 26, 2018
---
Those laughs turned to anger within the Big 12 after a game clock alteration caused an additional 46 seconds in the fourth quarter of the Red River Showdown.
Texas tied the game with 14 seconds to play to set up a historic overtime, but Cruse's mistake of moving the clock from 5:50 for 6:36 came at a time when the Sooners led, 31-17.
---
---
Lincoln Riley expressed displeasure before congregating with the Big 12. The conference then released a statement saying that there certainly was a mishandling of the clock, but it didn't reference disciplinary action against Cruse. Now, the referee will run the crew to call the biggest game of the college football season.
As for the officiating itself, Cruse is right in line with other head officials in college football.
The average penalties per game in FBS are 12.24, and Cruse called 12.38 per game in 2020. His 103 average yards per game fall just a few short of the national average of 107. Cruse's most frequent calls come are false starts on both sides, per SportSource Analytics.
---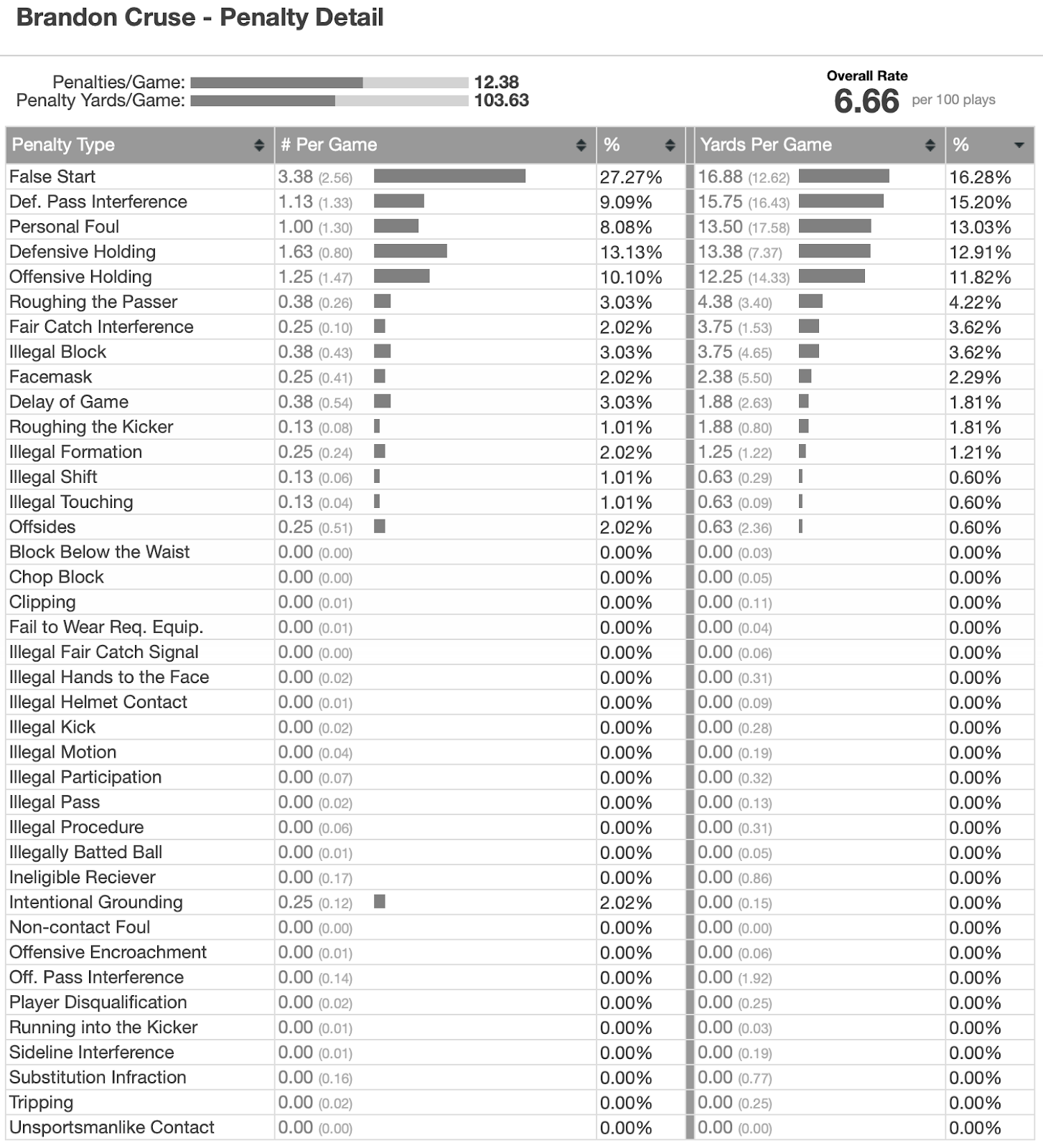 ---
The officiating crew under Cruse has called a lower-than-average rate of personal fouls when compared to FBS peers, but there's a spike in defensive holding calls.
Cruse ranks third in comparison to all head officials in defensive holds called per 100 plays.
No Ohio State defensive player has committed more than two penalties, but there may be an issue on the Alabama side. Crimson Tide cornerback Jobe has been flagged 10 times this season, with five coming in the last two games against Florida and Notre Dame.
---
«« Return to Table of Contents »»
---
Weather and Stadium Landscape
There could not be a better forecast for a championship game, as Miami Gardens is expected to see 70 degrees with no precipitation leading up to kickoff.
Turf issues experienced in previous playoff games in Santa Clara and Glendale will not be a factor at Hard Rock Stadium.
The last time this venue hosted a playoff game, 79 total points were scored in a high-scoring affair between Tua Tagovailoa and Kyler Murray. That game had three field goal attempts split the uprights, as wind did not play a factor.
The most recent Super Bowl between the Chiefs and 49ers also saw success on every field goal attempt.
---

---
Joe Robbie Stadium was renovated in 2015 and 2016, providing the new Hard Rock Stadium a flat roof that vertically covers the seats.
The wind can be overstated in this specific venue, as the new design does not allow winds to swirl at field level. Although wind may jet across the sidelines, most of that will be above where the action will be played. Bettors should expect no restrictions in points from a wind, precipitation or turf angle.
---
«« Return to Table of Contents »»
---
Final Analysis
There's plenty of narrative to surround a bettor when making a decision on where to invest in the national championship game.
Alabama offensive coordinator Sarkisian was named Texas head coach after the Rose Bowl but will continue to serve the Crimson Tide through this game. National Signing Day is Feb. 3, essentially making the space between now and that Wednesday a dead period in recruiting.
Texas currently ranks 17th in 2021 recruiting, just shy of Oklahoma. There are still a number of recruits available or willing to flip, but those conversations are expected to take place after Sarkisian coaches this game and builds a staff.
The injury to Fields is another portion of white noise that some may take into consideration. The quarterback took an injection to re-enter the Sugar Bowl after taking a hard hit from linebacker James Skalski that was flagged for targeting.
Fields left the game with less than six minutes on the first-half clock, missed a single play and returned to hit Olave on a slant for a nine-yard touchdown.
---
James Skalski was called for targeting and ejected after this hit on Justin Fields. pic.twitter.com/0oqTQCTEDi

— ESPN (@espn) January 2, 2021
---
While it's unknown what was taken inside the medical tent, Day informed the media that it's a  policy not to go into specifics on injuries.
Whether Fields' ribs are broken or bruised, the 10-day layoff between games can only improve his health. One possibility of the injection is Toradol, the pain-killing serum used frequently in the NFL. Like many other pain-killing injections, Toradol cannot be used more than once in a five-day span. The longer the distance between New Year's Day and the Alabama kickoff, the better Fields will be from a health standpoint.
This titanic battle between the Crimson Tide and Buckeyes is about momentum-killing drives. As previewed above, Alabama has the second-lowest rate in momentum kills in the nation as an entire slate of SEC teams has had to deal with an impossible task of slowing down the offense.
Alabama's Success Rate of 55.5% has eclipsed the numbers put up by Joe Burrow and the 2019 LSU offense.
Available yards is a stat that takes into account how many yards are gained versus the total needed from the starting field position. The national average in available yards rate is 44%. The Crimson Tide's lowest available yards game was 55% in a 41-point shutout of Mississippi State. The important aspect of available yards is in comparison to teams that are successful and explosive on offense.
Florida and Ole Miss were the only teams to surpass 24 points scored against Alabama. The Crimson Tide posted an 80% mark against the Gators and 95% mark against the Rebels in available yards.
_BookPromo=512
Ohio State is no slouch on offense with the top overall rank in Success Rate in standard downs. The Buckeyes posted more than 60% of available yards on offense in their last two games against Clemson and Northwestern.
Ole Miss, Florida and Texas A&M are the only offenses with a top-35 Success Rate on the Alabama schedule. Two of those games turned into shootouts, a situation Saban wants to avoid because of the missteps on defense.
The Ohio State defensive line may elect to get pressure on Jones, but the quarterback has proven time and again that his NFL rating only increases when harassed in the pocket.
Alabama elected to quick-pass to multiple spots, moving Smith around the field against Notre Dame. Sarkisian's last act as coordinator for Alabama should involve quick-strike passes to the outside receivers while calling plenty of play-action to all weapons, including the tight ends.
Considering the quality of play from the Ohio State secondary, there's no reason to think Alabama does not exceed 60% of available yards.
The addition of Waddle on the field is positive no matter if the wide receiver draws a target. His presence on the field alone could draw one-on-one coverage for Smith and Metchie while opening up everything in the backfield for Harris.
The total will be steep, but the Alabama Team Total Over 41.5 is a play considering Ohio State's defensive weakness will be the primary weapon for the Crimson Tide offense.
---
Trevor Lawrence finds Cornell Powell for a 10 yard TD to cut the Clemson (-7) deficit to 35-21
pic.twitter.com/oq2nbp9WE8

— Bet The Pigskin (@betthepigskin) January 2, 2021
---
The handicap is whether or not Ohio State will be able to achieve the proper amount of available yards to keep pace with Alabama. According to third-down statistics, that answer is yes.
The Crimson Tide defense is 11th in Success Rate on first down, but that number falls in later downs no matter the distance.
Ohio State primarily calls running plays on first down with a 70% ratio, something that it can use to take advantage of an Alabama front seven that is 56th in Line Yards.
Where the Buckeyes can strike big is on third down, when Saban's defensive unit is 77th in Success Rate.
I mentioned earlier that a third of touchdowns against Alabama have come from greater than 30 yards away, giving the high probability that long-range third-down attempts could have a huge payoff for Ohio State.
Because the Buckeyes can keep up score-for-score with the Crimson Tide, taking Ohio State +8 or better will cover any one-possession game.
The biggest question is whether or not Ohio State can win this game, and to do that, it needs to have a flawless effort.
_BookPromo=497
Referring back to momentum-killing drives, a rank outside of the top 75 suggests that the Buckeyes will have a lapse. They started the Sugar Bowl off with a drive that ended in a punt followed by five consecutive drives of a touchdown. That kind of rebound against Clemson will be needed in a full game against Alabama and not just in the first half.
Although Ohio State had a 21-point lead, the Buckeyes produced four drives of punts or interceptions and just two touchdowns in the second half against the Tigers.
Ohio State has the highest scoring differential of any team in the second quarter this season, which may set up a buy opportunity for the Tide. Day has the highest ranking of any "Middle 8" coach since the beginning of 2019, with the biggest differential coming in the final four minutes of the first half.
A live Alabama moneyline wager at anything less than -150 is recommended throughout the first half, but this gambler will not be laying many live bets in the second half. These programs know how to win, and their straight-up records prove that.
Since 2017, these teams have led at halftime in 81 games. Alabama has compiled a 43-1 straight up mark when leading at halftime, while Ohio State is 36-1 in that same time frame. For any investors looking into exotics, the "team that leads at half wins the game" could be a trusted investment with these two teams.
As for the player props, investors should look for Alabama targets in the longest catch category.
No matter if Jones is going quick-strike to the outside receivers or deep through the Ohio State secondary, the Crimson Tide targets will accumulate plenty of yards after catch.
Right outside receiver is Jones' primary target area, isolating Metchie and Smith. Metchie's targets have come down over the past several games, collecting a season-high nine targets against Arkansas but just a total of nine over the past two games against Florida and Notre Dame. Whether it's a push to prove Smith deserved the Heisman Trophy or just a result of the game plan, no Metchie props can be played.
Smith has been listed as the left outside receiver the past three games after a stint in the slot against Auburn and LSU. Smith will draw head-to-head action with cornerback Wade.
Targets for Smith may be a little tough to project as the totals weave in and out of double-digits each game. Smith tallied 40 targets against Kentucky, LSU and Florida and only 18 in games versus Auburn, Arkansas, and Notre Dame.
One area that can be counted on is Smith's longest catch prop. Jones has connected with Smith for a minimum 30-yard pass in eight of the past 10 games. In three of the past seven games, Smith has logged at least a 53-yard catch. Look for any DeVonta Smith reception over 40.5 yards or better when props hit the board.
Harris should be at the top of all names for first touchdown scored. Alabama ranks fifth in the nation in red-zone touchdown scoring, utilizing the rush in 62% of those scores. The Crimson Tide are one of the heaviest teams in terms of utilizing the run in scoring opportunities, but with Najee Harris first touchdown +400 or better not offering a ton of value, there could be opportunity at other positions.
The increased usage of 12 personnel by both Sarkisian and Day must be accounted for in Miami. The increase in play-calling should present a great opportunity for tight end props in the area of recording a touchdown.
_BookPromo=99
Both Farrell and Ruckert hauled in the second and third touchdowns, respectively, against Clemson. Look for odds on both Luke Farrell and Jeremy Ruckert to score the first touchdown at 30-1 or better.
If team-specific props are offered, betting Farrell or Ruckert to score Ohio State's first touchdown 15-1 or better would be a good addition to the portfolio. Sermon is certainly going to get first crack in the red zone, but second and third downs may belong to the play-action pass for both tight ends.
Speaking of Sermon, the running back was virtually nonexistent to Fields in the passing game throughout the regular season. The Oklahoma transfer saw just five targets through five regular-season games, but that all changed against Northwestern and Clemson.
Sermon has been targeted 10 times over the past two games. The weakness of the Alabama defense is the linebacker unit, an area Kyren Williams and Ian Book exposed with the screen pass.
Oddsmakers may look at Sermon's totals from the year and not think twice about posting a low number of receptions and yards, but Sermon receptions over 2 and Sermon receiving yards over 20 certainly hold value when Day schemes to attack the middle of the Alabama defense.
Billingsley has missed just one target the entire season, coming in Week 8 against Tennessee. Since then, the sophomore tight end has caught all 15 targets and has collected a touchdown in three of his last four games played.
It's a monster longshot that Sark would call for No. 19 in the red zone, but his usage in the passing game continues to increase. As Saban and Sark continue to sing the praises of the tight end, look for the prop Billingsley over 2.5 receptions.
_BookPromo=502
With a game expected to have a ton of scoring, there's reason to believe there could be value in all kinds of over props.
When it comes to the Ohio State wide receivers, we may find some inflation on total yards, number of receptions and touchdowns.
Chris Olave returned to action against Clemson, drawing eight targets and two touchdowns for 132 yards. That performance whittled Garrett Wilson down to just two targets the entire evening. Alabama has been stout against opposing wide receivers, with just 11% of red-zone touchdowns from opponents coming via the pass.
Wilson has not been productive in deep passing, as both he and Olave have 11 targets and seven receptions on those plays this season. The difference between the two is Olave's five touchdowns to Wilson's one in deep pass attempts.
Wilson lines up in the left slot, which will draw direct attention from Moore. The Crimson Tide freshman is one of the highest-graded slot coverage defenders in all of FBS, per PFF. Wilson under total receiving yards and Wilson under 1 touchdown< will be added to a number of props that mainly feature the over.
In summary, available yards and momentum-killer drives are the key to the National Championship.
Both offenses have been highly successful and explosive, with Alabama showing no kinks through the season during possessions. Sermon and Fields will be the offensive catalysts looking to expose the middle of the Alabama defense, while the Tide run through an embarrassment of riches to stay ahead of the Buckeyes.
Both Florida and Ole Miss' high-powered offenses kept pace with the Crimson Tide. The Buckeyes have proven to boast enough offensive firepower to produce the same results.
---
My Full 2021 College Football National Championship Betting Card:
Alabama Team Total Over 41.5
Ohio State +8
DeVonta Smith Longest Reception Over 40.5
Najee Harris First Touchdown +400
Luke Farrell First Touchdown +3000
Luke Farrell First Ohio State Touchdown +1500
Jeremy Ruckert First Touchdown +3000
Jeremy Ruckert First Ohio State Touchdown +1500
Trey Sermon Over 2 Receptions
Trey Sermon Over 20 Receiving Yards
Jahleel Billingsley Over 2.5 Receptions
Garrett Wilson Under Total Receiving Yards
Garrett Wilson Under 1 Touchdown
---
_BookPromo=512
Are you looking for a safe, reliable, trustworthy sportsbook? Check out our ratings of the best sportsbooks and their current sign-up offers for new customers.