Leboff's 2021 NHL Betting Preview: Odds, Value Rankings & Best Bets for All 31 Teams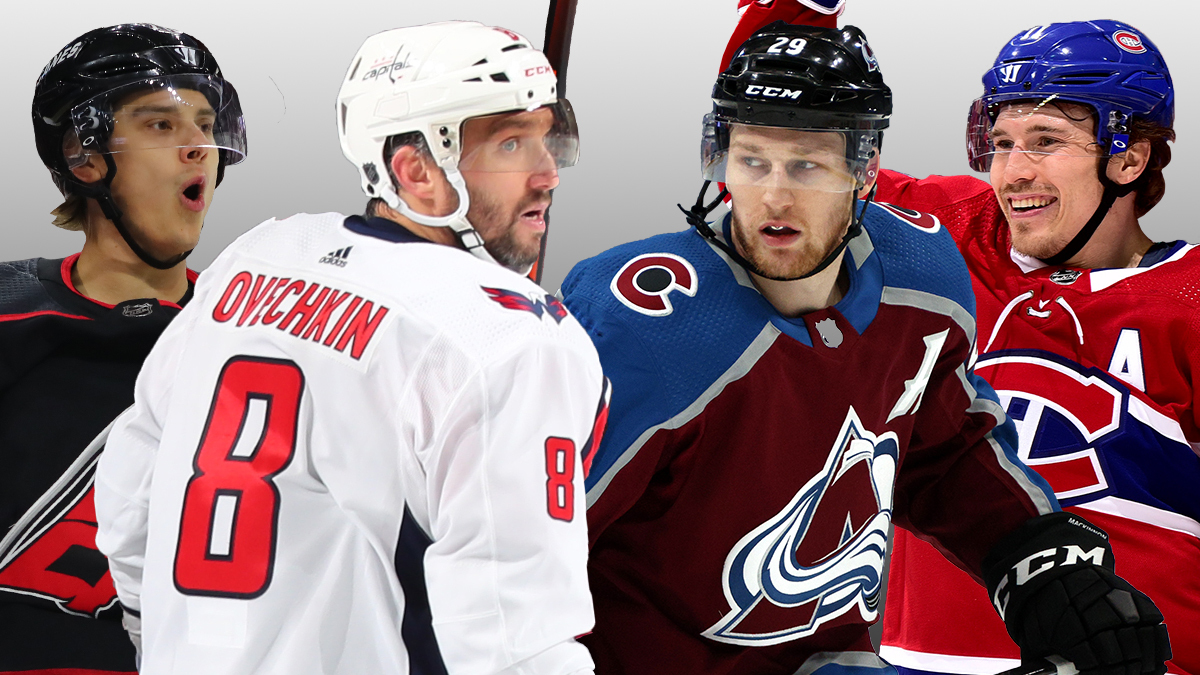 The 2021 NHL Season is upon us. For the next six months, bettors will get to endure the ups, downs, highs and lows that only betting on a bunch of blokes skating after vulcanized rubber can bring. I can't promise it will be fun nor can I promise it will be enjoyable, but I can promise that this adventure will not be boring.
To prepare for the upcoming 56-game season, I've ranked every team in the NHL (even the Red Wings) by their odds. These aren't like your normal power rankings. If you want to know who the best team in the NHL is, just look at the odds. Instead, these are my own rankings based on how I think each team is being priced in the futures markets. In other words, it's a ranking of most overrated to best value using the pre-season betting market as a guide.
I've also listed my favorite bet for each team. I don't think all of these bets are +EV, but I wanted to leave an actionable takeaway in case you are looking to have some skin in the game as we grind through this peculiar NHL season. (Please do not make all 31 of these wagers, you maniacs.)
In most season previews, pundits will just pick which teams they think will win a division, make the playoffs or win the Stanley Cup. This won't be like those previews, but instead will focus on projected value based on how teams are priced in the pre-season market.
---
A special note of thanks to HockeyViz, Top Down Hockey, Clear Sight Analytics, Natural Stat Trick and Evolving Hockey for the statistical data used in this preview.
---
2021 NHL Power Rankings
Click on a team to skip ahead to that analysis.
Philadelphia Flyers | Chicago Blackhawks | Arizona Coyotes | San Jose Sharks | Colorado Avalanche | Dallas Stars | Vegas Golden Knights | Vancouver Canucks | Buffalo Sabres | Edmonton Oilers | Minnesota Wild | Los Angeles Kings | New York Rangers | Tampa Bay Lightning | Detroit Red Wings | Boston Bruins | Washington Capitals | Winnipeg Jets | New Jersey Devils | Toronto Maple Leafs | Florida Panthers | New York Islanders | Columbus Blue Jackets | Nashville Predators | Calgary Flames | Pittsburgh Penguins | Anaheim Ducks | Ottawa Senators | St. Louis Blues | Montreal Canadiens | Carolina Hurricanes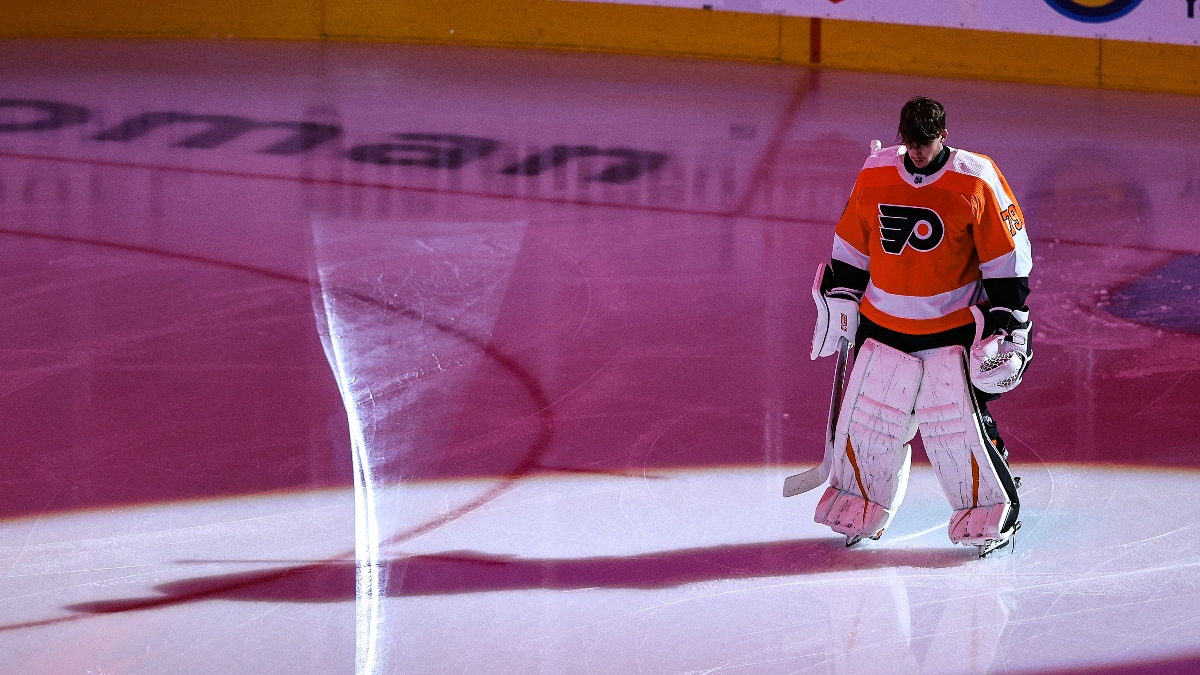 31. Philadelphia Flyers 
Just because they are near the bottom of this list doesn't mean I think the Flyers are bad, I just don't think they are as good as the betting market. Ask yourself this question: Do the Flyers have a 5.6% chance of winning the Stanley Cup this season?
At the moment, I think the Philadelphia Flyers are the most overrated team in the pre-season betting market. The Flyers are solid, but there's nothing extraordinary about this roster.
Additionally, Philadelphia is slated to play in the East Division with the Bruins, Penguins, Capitals, Islanders, Rangers, Devils and Sabres. I think you can make a better argument for the Flyers being the fifth-best team in that set than you can for them being at the top, so it's a bit perplexing to see them priced as one of the favorites to win the Stanley Cup. Philadelphia is as low as +1400 at some sportsbooks.
There are a couple of factors driving up this price. The Flyers were red hot before the hiatus and used a 9-1-0 stretch to vault themselves into the top four of the Eastern Conference. That earned Philadelphia a spot in the seeding round robin in the bubble and the Flyers took that opportunity and ran with it. Philadelphia swept the round robin to become the No. 1 seed in the Eastern Conference.
The Flyers eked by the 12th-seeded Montreal Canadiens in Round 1 and then fell to the Islanders, 4-3, in the Conference Semifinals. Philadelphia was out-played in both series, but got timely goaltending from Carter Hart to make it 13 games into the playoffs. To the naked eye, getting within one game of the Conference Finals looks impressive, but a deeper look reveals that the Flyers were quite fortunate to get that deep into the tournament.
The other reason this price could be this short is that the Flyers are well-followed in Pennsylvania and Southern New Jersey, two places where online sports betting is fully legal. The good ol' local tax.
On the whole, the Flyers are an above-average team. Their statistical profile in 2019-20 was a good reflection of the type of team I project the Flyers will be in 2021 — good, but not great.
| Stat (5-on-5) | Regular Season (69 games) | Postseason (16 games) |
| --- | --- | --- |
| Goals per 60 | 2.77 | 2.41 |
| Goals Against per 60 | 2.4 | 1.99 |
| Expected Goals per 60 | 2.43 | 2.02 |
| Expected Goals Against per 60 | 2.34 | 2.49 |
Expected goals (also known as xG) is a predictive statistic that gives an indication of whether results are based on sustainable factors like a steady creation of scoring chances, or whether it is down to aspects such as shooting luck or outstanding goaltending.
Simply put, an expected goals rate (xGF%) above 50% is considered good because it means a team is creating the majority of the scoring chances. Anything below 50% is usually a sign that a team is struggling to control play.
xG numbers cited from Evolving Hockey.
---
The Flyers were fifth with a +0.37 Goal Differential per 60 minutes, but their xGD per 60 was 13th at +0.09. Those kind of numbers don't leave much room for error in terms of goaltending or goal-scoring, so the Flyers could become overly reliant on Hart to play at a high level. That could be an issue with a jam-packed schedule that will force teams to rotate their netminders with more frequency.
Alain Vigneault's No. 2 goalie, Brian Elliott, posted a -6.77 Goals Saved Above Expectations (GSAx) in 31 starts in 2019/20. According to Clear Sight Analytics, Elliott cost the Flyers 10.5 goals, the fifth-most in the NHL last season. It's hard to trust the veteran will provide stability behind their young star.
---
Goals Saved Above Expectation (GSAx) is an advanced statistic that measures a goaltender's performance against the quality of scoring chances he faced. It is a better catch-all metric compared to save percentage because every SV% counts every saved shot and goal the same, while GSAx weights shots by the quality of the scoring chance.
GSAx numbers cited from Evolving Hockey.
---
It would be unfair if I neglected to point out that the Flyers can certainly be noise-makers in the East Division. Philadelphia has a strong, if unspectacular, top-six with Sean Couturier, Kevin Hayes, Travis Konecny, Claude Giroux and Jakub Voracek leading the way. It's a similar situation on defense with Ivan Provorov, Philippe Myers and Travis Sanheim. There aren't any game-breakers in this bunch, but each player can be effective in the right role.
There's no shame in building a solid roster and hoping things break right. A lot of teams have made deep runs in the spring with that exact plan. That said, I think this price is more indicative of a team with higher expectations than that.
There's a chance I am very wrong about the Flyers, and if that's the case it could be a long season for me, but if these odds are any indication of how the Flyers will be priced in the early going, I think they will make great fade material out of the gates.
Favorite Bet: Fade Philadelphia early in the season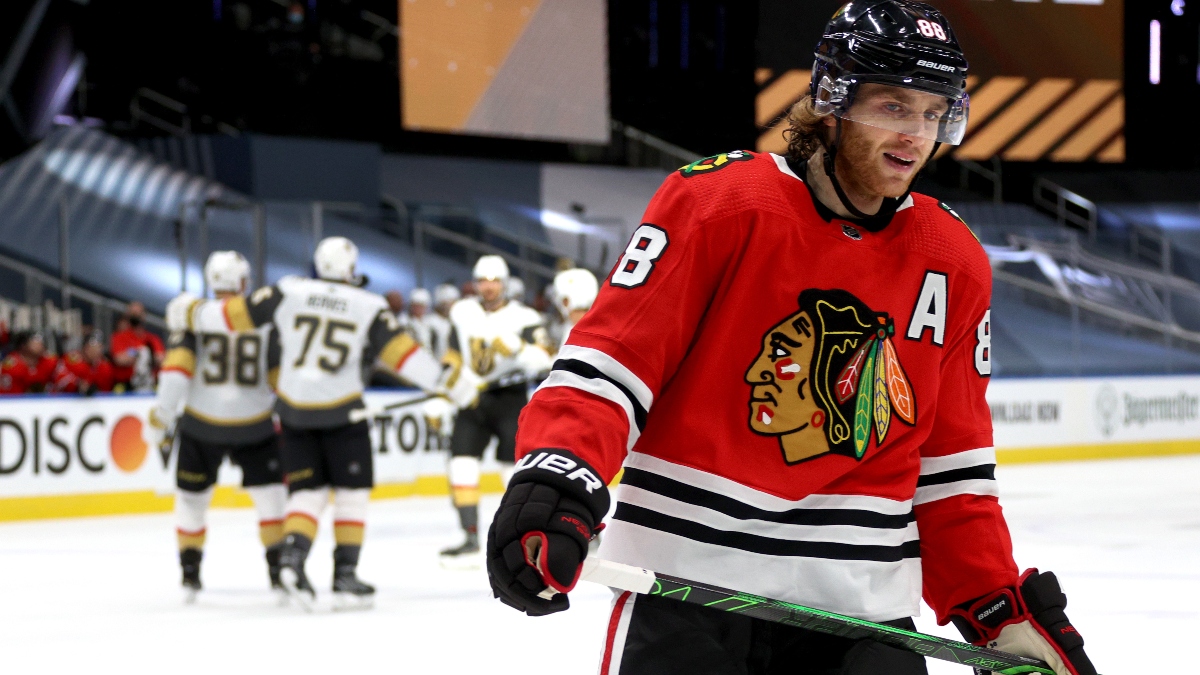 30. Chicago Blackhawks
Over the last two seasons, the Blackhawks have tried to out-score their defensive shortcomings. That job will be a lot harder in 2021.
Chicago finished last in the NHL with a 2.78 expected goals against per 60 minutes (5-on-5) in 2019-20, and if it wasn't for the brilliance of Robin Lehner and Corey Crawford in goal, the Hawks would have been cut adrift long before the hiatus.
Lehner and Crawford have both moved on to new franchises, and instead of signing a reliable veteran to man the cage, the Blackhawks are going to see if they can catch lightning in a bottle with Malcolm Subban and/or Collin Delia. Subban is the more experienced of the two with 66 games under his belt, but neither goalie has sparkling numbers. Delia owns a -6.38 GSAx over 18 games while Subban has posted a -14.45 GSAx over the last three seasons. Putting two unproven goaltenders behind this defense could be a recipe for disaster.
For a team that needs to outscore its defensive flaws, the Blackhawks could ill-afford to lose any scoring talent from their roster. Unfortunately, Chicago will be without top-six forwards Kirby Dach and Jonathan Toews for a chunk of the season.
It's hard to envision a path to contention for this team in 2021 and it's even harder to get excited about investing in a team that already notified its fanbase they shouldn't expect a contender this season.
I expect the Blackhawks to be active sellers over the course of the campaign and that makes them a good option for an under bet if you're betting season-long totals.
Favorite Bet: Under 49.5 Points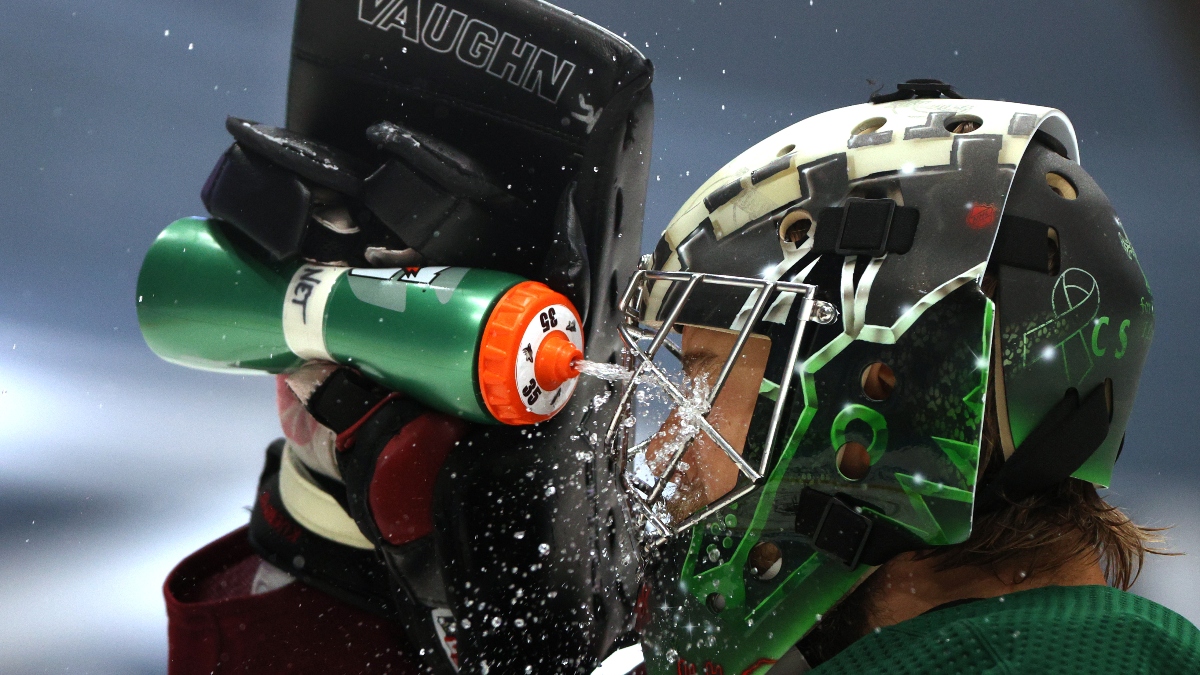 29. Arizona Coyotes
The West Division projects to be quite top-heavy. Colorado is the Stanley Cup Favorite at +700. Vegas is right behind them at +1000. The St. Louis Blues are just one season removed from winning the Cup and had the best record in the West in 2019-20.
The likely scenario is that those three teams grab one of the four playoff spots in the West Division, leaving one spot for Minnesota, Anaheim, Arizona, Los Angeles and San Jose.
Of the five clubs expected to finish fourth through eighth, I think Arizona could be the one that struggles the most, despite the fact that the Kings and Ducks are bigger longshots and the Sharks have roughly the same odds as the Yotes.
Arizona lost its best player, Taylor Hall, to free agency. That leaves a massive hole at the top of a lineup that was already short on scoring talent. Without Hall, the Coyotes will lean on Phil Kessel, Nick Schmaltz, Conor Garland, Christian Dvorak, Derick Brassard and Clayton Keller to lead the line. All six of them are nifty supporting players, but none of them would be considered first-liners on a contender.
It's a similar situation on defense. Arizona's blueline is a stronger overall unit than the forwards, but nothing really leaps off the page.
Arizona's biggest strength is its goaltending. Darcy Kuemper has been one of the NHL's best goaltenders over the past two seasons and Antti Raanta has been everyone's pick for "the next backup that will thrive in a starting role" for the past half-decade.
Kuemper and Raanta can keep Arizona in games, but asking your goalie to steal the majority of your points is not a recipe for success. Plus, there's no guarantee that either of them will be in the Grand Canyon State for much longer. Arizona's new general manager, Bill Armstrong, seems to be committed to rebuilding and would be willing to move basically anybody in order to build towards the future.
A team with 50/1 pre-season odds is not supposed to be good, but I think Arizona will underperform relative to its odds. If you are into season-long Over/Unders, the Coyotes profile as a good under bet.
Favorite Bet: Under 55.5 Points
28. San Jose Sharks
The San Jose Sharks are at a crossroads, stuck somewhere between fringe contender and a team in desperate need of a rebuild. The fact that there is a viable path to the playoffs for this team complicates things even further.
The philosophical question for the Sharks is how much they want to chase the No. 4 seed in the West Division. They certainly have the talent to compete and possibly beat out Minnesota, Arizona, Anaheim and Los Angeles, but whether the franchise, which is staring down a rebuild, would benefit from what would likely be a one-and-done playoff push is an interesting dilemma.
As bettors, that type of narrative doesn't matter on a game-by-game basis, but when sizing up the futures market it could give you an edge if you think the Sharks will struggle, sell off assets and begin to re-tool. I think there's more than a 50% chance that happens and it all comes down to San Jose's goaltending — or lack thereof.
The Sharks were pretty bad across the board in 2019-20. San Jose finished 30th in goal differential per 60 minutes, 24th in xGD per hour and last in 5-on-5 save percentage. Nothing went right.
You can see why people are picking the Sharks to be the fourth seed in the West. The top of the roster looks formidable with Logan Couture, Tomas Hertl, Timo Meier, Evander Kane, Brent Burns and Erik Karlsson. That's a competitive core and one that can be built around, but unfortunately San Jose lacks a strong supporting cast, leaving a huge burden on a half-dozen or so players.
A flawed roster can be bailed out if your goaltending is up to scratch, but it's unlikely that will be the case for the Sharks. It's a situation that could have been avoided, too.
Instead of bringing in one of the many capable free agents over the offseason, the Sharks decided to trade for Devan Dubnyk, who rates out as one of the worst goalies in the NHL for 2021. Dubnyk and incumbent starter Martin Jones have bombed over the past two seasons:
Martin Jones: 103 games played, -25.58 GSAx
Devan Dubnyk: 97 games played, -46.21 GSAx
The Sharks' goaltending situation makes them impossible to back in the futures market and has the potential to torpedo their season pretty quickly. I think San Jose profiles as a good under bet down to 54.5 points.
Favorite Bet: Under 54.5 points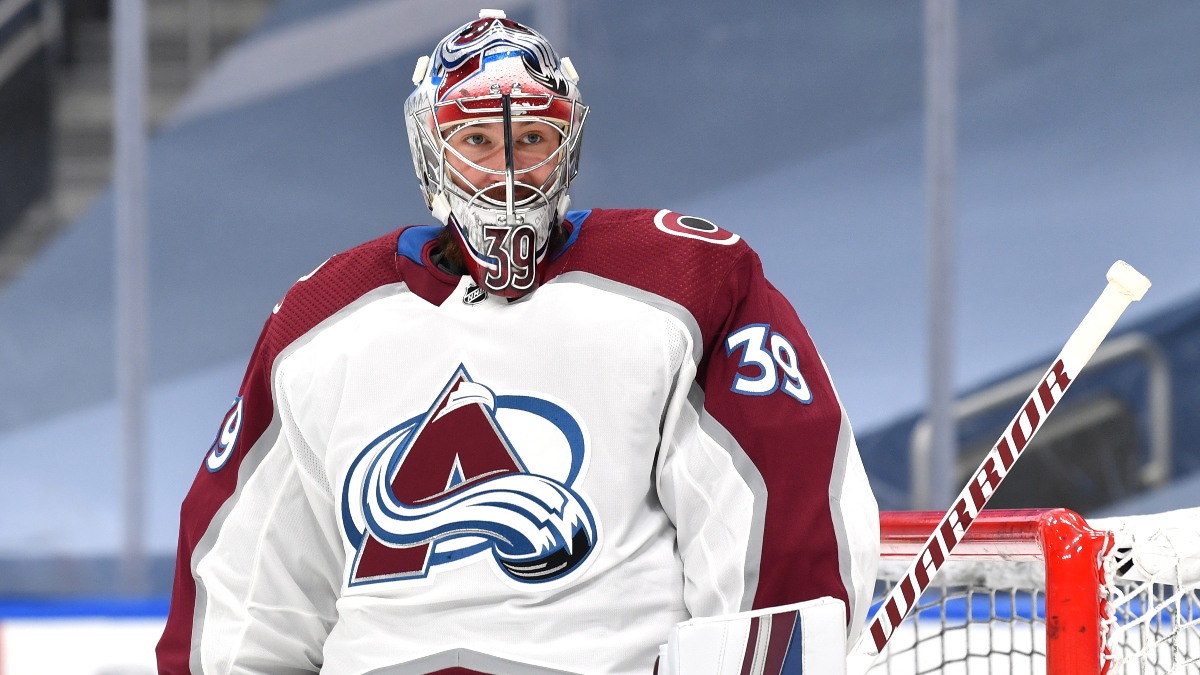 27. Colorado Avalanche
Just because the Colorado Avalanche are the best team in the NHL doesn't mean they are the most likely to win the Stanley Cup. That may sound counterintuitive, since a team's path to success is worth weighing in any season, but it carries more water in 2021 with teams playing 56 regular season games exclusively within their division.
That said, there's every reason to believe that the Avs can handle what's thrown at them in the West. Nathan MacKinnon is one of the league's best players and he has a ton of help. Mikko Rantanen, Gabriel Landeskog and Cale Makar are all stars. The Avs are deep down the middle and deeper on defense.  In fact, Colorado was one of the best defensive teams in the NHL in 2019/20, allowing just 2.06 goals and 2.17 expected goals per 60 minutes.
That defense, which was bolstered by the addition of Isles puck-mover Devon Toews, coupled with an offense that led the NHL with 2.96 goals per hour at 5-on-5, should provide enough cover for Colorado's boom-or-bust goaltending tandem featuring Philipp Grubauer and Pavel Francouz.
So if there's so much to like about the Avalanche, why are they so far down this list?
It's nothing against the Avs, but the West Division is going to be really hard to win when it comes to the postseason. Though not as deep as the East Division, the West is very top-heavy with three contenders, three mediocre teams and two longshots.
Not only will the Avs have to play the Blues and Knights a combined 16 times in the regular season, but it's likely that Colorado will need to beat at least one of them in a best-of-7 when the playoffs roll around, and maybe both. We are reminded every spring that the Stanley Cup Playoffs are a fickle beast, so it's hard to make an argument that there's value backing the Avalanche at such short odds.
And on a game-to-game basis, I can't foresee many nights where the Avalanche are going to be in range for a bet. They will be expensive and bookmakers will know that they will get action on the moneyline, puckline and in parlays, so they can afford to price the Avs up.
If you are an Avalanche fan or just want to bet them, I'd suggest waiting on the season to start. It's not all that rare for elite teams to start slow (Tampa Bay did last season) and for their price to drift a bit.
Favorite Bet: Mikko Rantanen to win the Hart Trophy (+6600)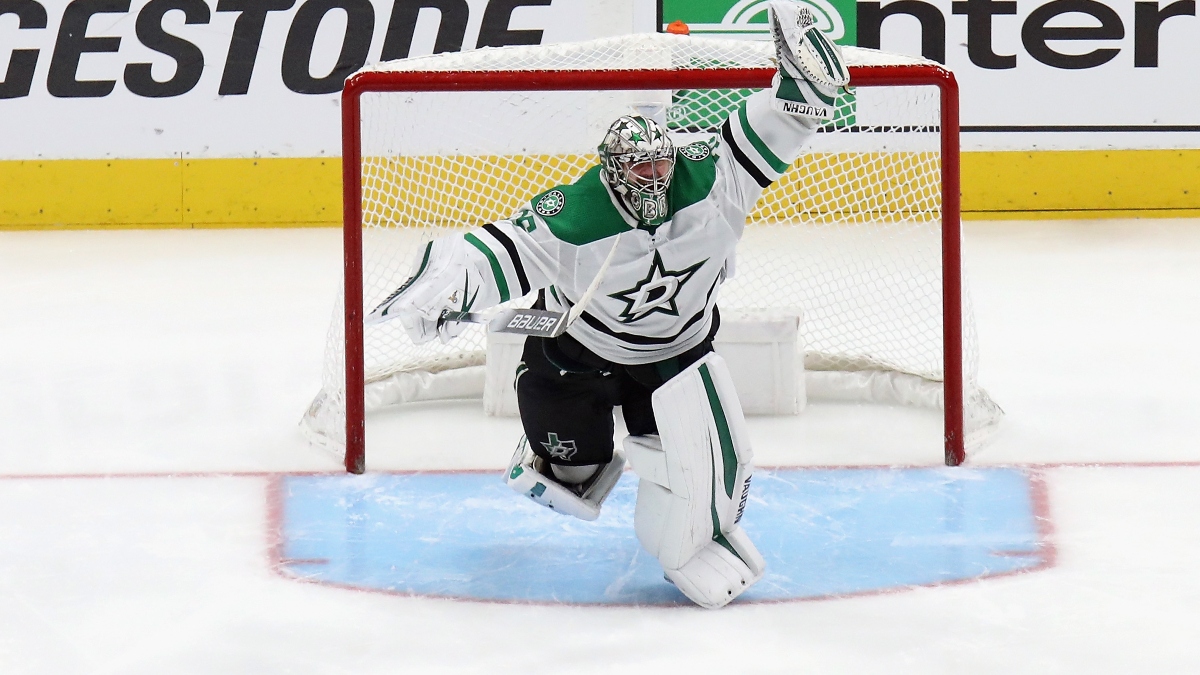 26. Dallas Stars
The Stars were a wonderful story in The Bubble. An adorably-scrappy underdog that took down Colorado and Vegas before running out of steam against the Lightning, Dallas captured the hearts of casual fans around the NHL-universe in 2020.
That type of story has the tendency to carry over into the next season and even though 26/1 isn't a short number, I am skeptical that the Stars will get enough results in the early part of the season without Tyler Seguin and Ben Bishop.
As a team, the Stars are built to score just enough goals, play good enough defense and get the big saves from either one of their star-caliber goaltenders. Anton Khudobin was the Stars' MVP in The Bubble and rates out as one of the NHL's best goaltenders, but if he falters or goes down in a jam-packed season, the Stars will need to turn to Jake Oettinger until Bishop returns in March.
Injuries, especially those to top-of-the-roster players, will be especially detrimental in this environment. Losing a player like Seguin for two months in a normal season is survivable, but it could be pretty disastrous when you consider he's going to miss about half the season. That's a big knock against a team that already lacks scoring punch.
Without Seguin to lead the line, the Stars will need Joe Pavelski to be the lynchpin between Jamie Benn and Alex Radulov. Those three veteran producers still provide Dallas with a legitimate first line, but bumping Pavelski up leaves the middle-six wanting. If there was such a thing, Denis Gurianov and Roope Hintz could be part of an All-Underrated Team, but outside of those two there are more questions than answers down the lineup.
With Seguin and Bishop out, this team's success will hinge on its defense and how effective the Stars are at limiting scoring chances. The good news is that Dallas was one of the league's best teams at doing just that in 2019/20 and its defense is led by star-in-the-making Miro Heiskanen and the impressive John Klingberg.
| Stat (5-on-5) | Regular Season (69 games) | Postseason (26 games) |
| --- | --- | --- |
| Goals per 60 | 1.96 | 2.43 |
| Goals Against per 60 | 1.99 | 2.42 |
| Expected Goals per 60 | 2.42 | 2.38 |
| Expected Goals Against per 60 | 2.17 | 2.51 |
As you can see from the numbers above, Dallas struggled to score in the regular season but was bailed out by a defense that led the Western Conference in GA/60. Dallas executed that low-event style of hockey well enough to earn a bye to Round 1 in the postseason.
It may seem startling that the Stars' numbers ballooned across the board during the playoffs, but when you consider that they played three best-of-7 series against Colorado, Vegas and Tampa — perhaps the three best offensive teams in the NHL — it starts to make sense.
I'd expect Dallas' statistical portfolio this season to fall back towards where it was in the regular season, but that style of hockey leaves little margin for error and prevents the Stars from being the team that would be able to easily swat aside bottom-feeders like Detroit or Chicago.
The last time that hockey fans saw the Stars they were in the Stanley Cup Final. That will potentially inflate the price on Dallas out of the gates and provide astute bettors with the opportunity to fade the reigning Western Conference Champions at a decent price.
Favorite Bet: Fade Dallas early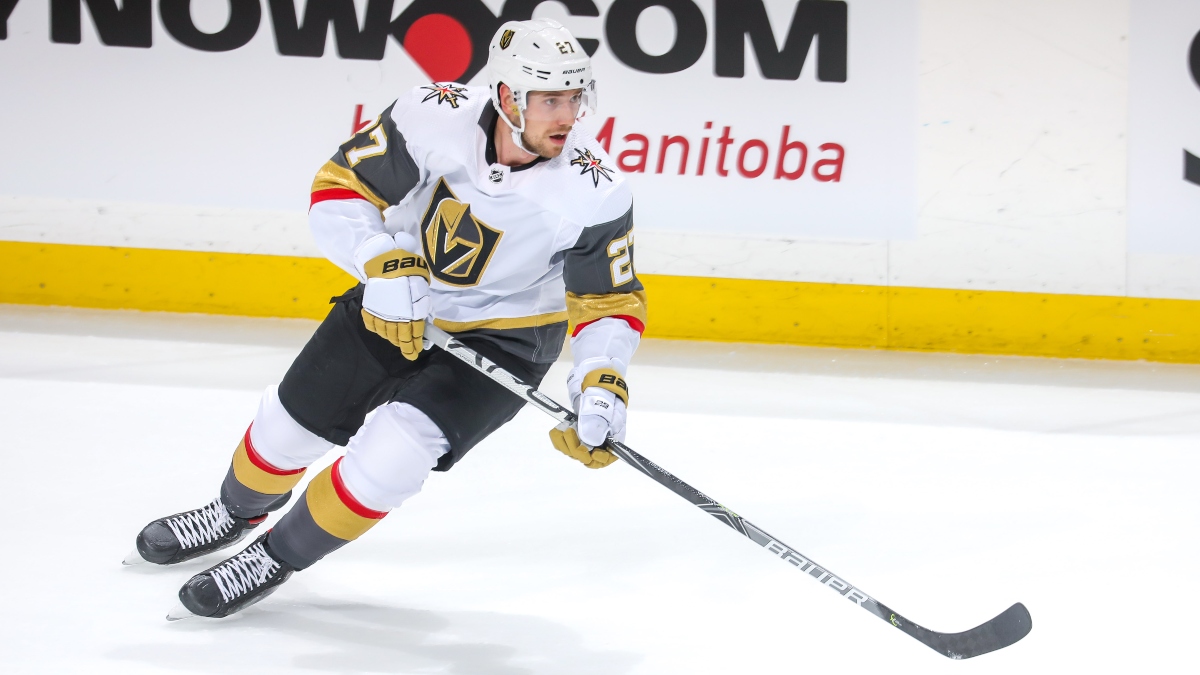 25. Vegas Golden Knights (+900)
Just because a team is really good doesn't mean it can't be overrated.
The Golden Knights had a weird offseason. It was flashy and they improved, but they kind of just consolidated strengths and never upgraded on their biggest needs.
A possession juggernaut, the Knights led the NHL with a +0.65 expected goal differential per 60 minutes (5-on-5) in 2019/20. Vegas generated a league-high 2.85 xG per 60 and were tied for eighth with a 2.2 xGA/60.
Despite a gaudy statistical profile, the Knights were barely above average with a +0.09 goal differential per hour. It was pretty clear to see what ailed the Knights — suspect goaltending and inconsistent finishing. The goaltending part of the equation seemed to be addressed when Vegas traded for (and eventually extended) Robin Lehner, but the finishing could still be an issue as the Golden Knights spent their offseason wooing Alex Pietrangelo rather than finding another scorer to round out a deep forward corps.
Pietrangelo, whose move to Sin City forced the Knights to ship out the steady Nate Schmidt, is an upgrade and solidifies an already fantastic blueline, but I'm not sure his arrival provides the answer to Vegas' biggest flaws.
The Knights are one of the league's best teams and deserve to be near the top of the odds, but there's nothing that excites me about this price on a team that will need to find consistent scoring from somewhere.
As part of their salary cap samba, the Knights also had to part ways with Paul Stastny, weakening their depth at center. Chandler Stephenson looked like he found a new gear when he joined Vegas, but it's a big ask of Stephenson and Cody Glass to slot in as the middle-six pivots.
If you are a Vegas fan, or just want to be invested in the Knights this season, I'd look to the player prop market instead of team futures. Shea Theodore was a break-out star in 2019/20 and his performance in The Bubble was exemplary, so he could be worth a look for the Norris at decent odds.
While Pietrangelo will likely get the most shine on the Vegas blueline, Theodore is not without a chance to lead defensemen in scoring in 2021 and that is what Norris voters look for more than anything these days.
Favorite Bet: Shea Theodore to win the Norris Trophy (+2500)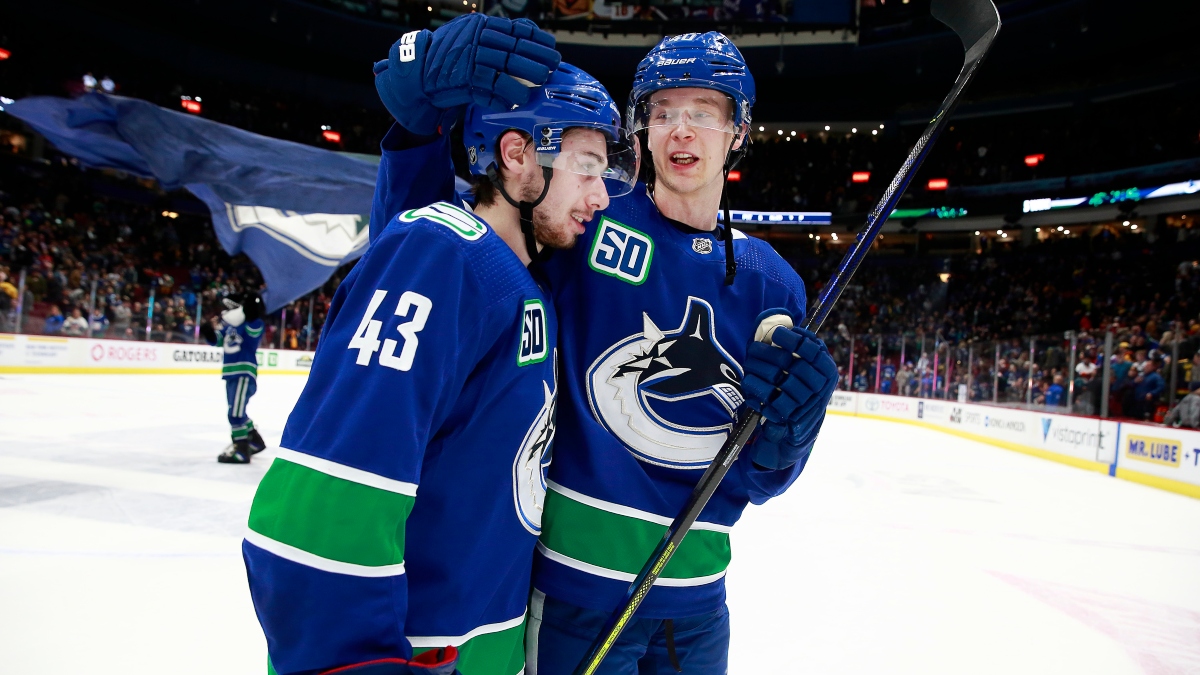 24. Vancouver Canucks
Bettors love glitz. They love glamour. And most of all, they love goals.
The Canucks should have all of that in spades, but what I worry that they don't have is enough depth to make all that resplendency matter.
Vancouver does have enough talent to be dangerous. Elias Pettersson is an MVP candidate. Quinn Hughes is a Norris Trophy candidate. They both have splendid runningmates in J.T. Miller and Brock Boeser for Pettersson, and Nate Schmidt for Hughes. The top of this roster can compete with the contenders. Nobody will argue that. The problem is that the bottom of the lineup card has more than enough holes to give bettors pause.
As good as their top-six is, the Canucks really could have really benefited from bringing in some reinforcements to round out their forward group. Adam Gaudette, Antoine Roussel, Zac MacEwen and Brandon Sutter likely won't cut it for a team with hopes of contending in this division.
That lack of depth showed up in the numbers last season as the Canucks were a bottom-10 team in both goal share and expected goal percentage in 2019/20.
| Stat (5-on-5) | Regular Season (69 games) | NHL Rank |
| --- | --- | --- |
| Goals per 60 | 2.57 | 14th |
| Goals Against per 60 | 2.64 | 23rd |
| Goal Differential per 60 | -0.07 | 20th |
| Expected Goals per 60 | 2.38 | 18th |
| Expected Goals Against per 60 | 2.55 | 25th |
| xG Differential per 60 | -0.17 | 22nd |
The one thing that is keeping me from betting the Under and/or Vancouver to miss the postseason is the North Division. The Canucks are good enough to compete for a playoff spot in this group. So instead I think the Canucks-related wager is on Pettersson to score the most goals in the NHL at 55/1. Pettersson is clearly on the cusp of putting up some snazzy numbers, so I'd be fine having a flutter that he puts up something special in 2021.
The Bet: Elias Pettersson to win the Rocket Richard Trophy +5500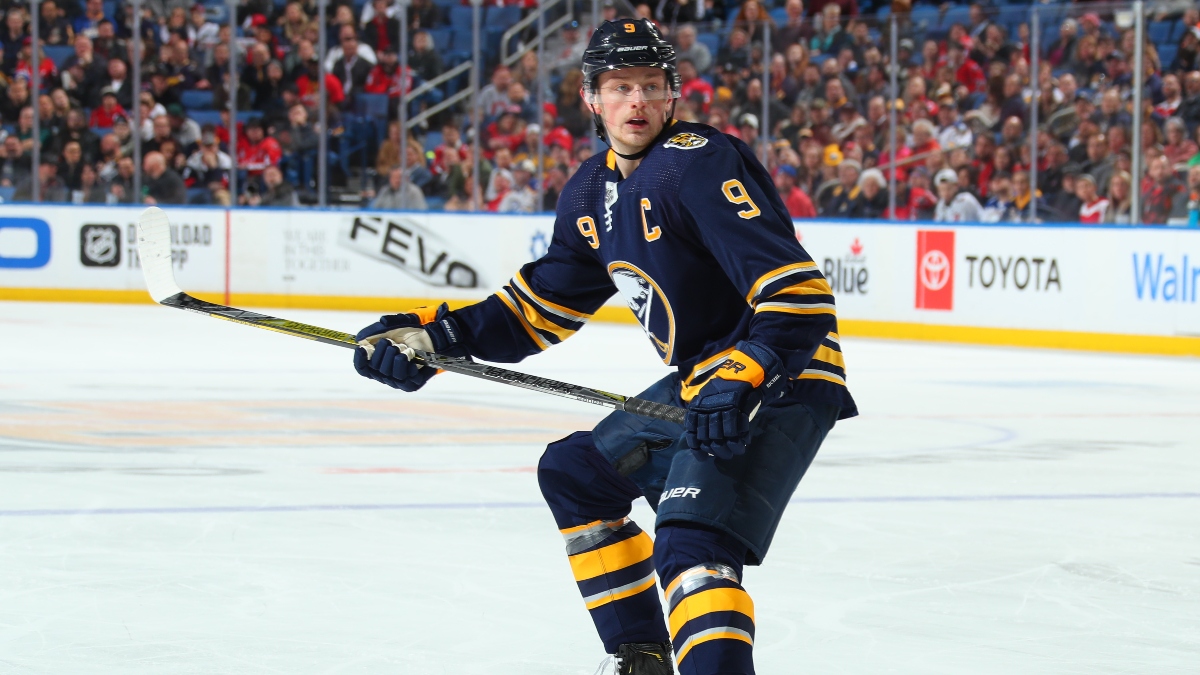 23. Buffalo Sabres 
The Sabres did get better during the offseason. They made perhaps the biggest splash of the offseason by signing 2017/18 MVP Taylor Hall to a one-year deal. Hall and Jack Eichel give Buffalo a dynamic first line.
The Sabres also improved their center depth by acquiring Eric Staal, who will slot in nicely behind Eichel. Buffalo's top-six, which also will include Jeff Skinner, Victor Olofsson and Sam Reinhart, is a real strength and should provide a boost to a team that ranked 30th with a 2.05 xGF/60 in 2019/20.
The influx of talent certainly lifts Buffalo's ceiling, but I think the betting market overreacted to a flashy offseason without taking other factors into account.
The biggest red flag is in goal, where the Sabres don't seem to have a reliable starter. Carter Hutton and Linus Ullmark split duties in 2019/20 as neither netminder established himself during the season. Hutton struggled to a -13.49 GSAx in 31 games last season, while Ullmark was better, but still not impressive with a -4.81 GSAx in 34 games.
If Hutton and/or Ullmark drastically improve, the Sabres will have a shout at making the playoffs, but that doesn't seem all that likely at the moment.
Buffalo played a relatively strong defensive game last season, allowing 2.37 goals and 2.26 xG per 60. But Buffalo's defense is still a work in progress with no clear-cut top pairing. Rasmus Dahlin could become a true No. 1 rearguard in 2021, but the rest of the unit leaves something to be desired.
My biggest concern for the Sabres is not something that is within their control. The East Division figures to be a true gauntlet and the Sabres will open the season as the seventh-favorite in the eight-team set.
I can see how bettors can get infatuated with the Sabres. It's been a while since Buffalo has been successful and it always looks like the Sabres are close to taking the next step. I think that sentiment, combined with a noteworthy offseason, is causing a few too many people to buy the Sabres as a sleeper and is inflating their price in the futures markets.
In the end, I think there's just as much a chance that the Sabres struggle, look to cash in on Hall, Staal and maybe even Eichel, than there is of Buffalo competing for a playoff spot in this division. Thus, I think Buffalo's profile is closer to an 80/1 longshot than a 50/1 team on the fringe.
Favorite Bet: Jack Eichel to lead the league in points (+2000)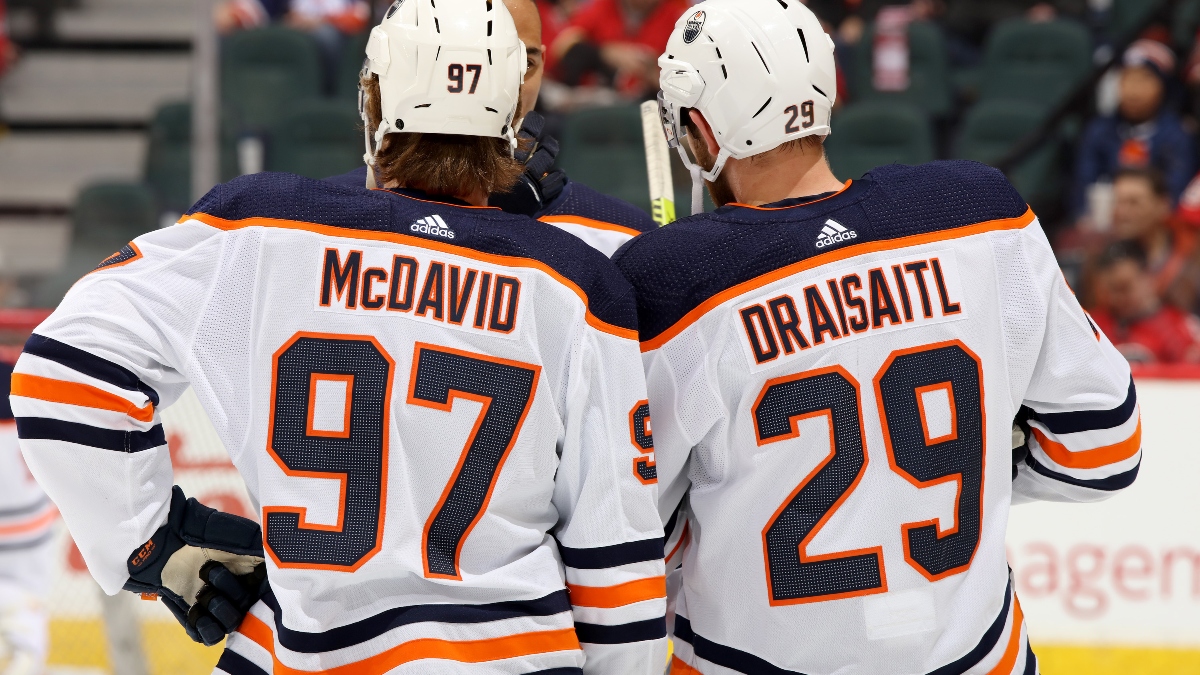 22. Edmonton Oilers
The Edmonton Oilers could be the NHL's most combustible team in 2021.
After getting unceremoniously dumped by the Chicago Blackhawks in the Qualifying Round, it was pretty obvious what ailed the Edmonton Oilers. A porous defense and a lack of depth earned the Oil an early ticket out of The Bubble.
Another disappointing end to a season that had some promise early on left the Oilers with a significant to-do list in the offseason. The top priority was to re-vamp a defense that was 25th in goals against and 22nd in xG against at 5-on-5 last season. Teams can survive by getting bailed out by their superstars or by the power play for a while, but it's not a sustainable way to win.
Unfortunately, the Oilers didn't address this problem.
| Stat (5-on-5) | Regular Season (71 games) | Rank |
| --- | --- | --- |
| Goals per 60 | 2.43 | 18th |
| Goals Against per 60 | 2.7 | 25th |
| Expected Goals per 60 | 2.39 | 14th |
| Expected Goals Against per 60 | 2.52 | 22nd |
Not only did Edmonton fail to meaningfully reinforce its wobbling blueline, but it also lost No. 1 defenseman Oscar Klefbom for the entire season. Tyson Barrie, an offense-first rearguard, was brought in via free agency, but he doesn't really provide the skillset the Oilers sorely need.
Another season of pedestrian defensive play could be bad news since the team has a fragile goaltending situation. Mikko Koskinen ended up with a pretty impressive +5.01 GSAx in 38 starts in 2019/20, so he was an above-average starter, but if he falters or gets hurt the Oilers are in trouble. Koskinen's deputy, Mike Smith, is 38 years old and has a combined -14.59 GSAx over his last two seasons.
What will help the goaltenders and defense is that the Oilers should score plenty of goals. We all know the type of league-shattering numbers that McDavid and Draisaitl can produce, but they do have plenty of help up front with Ryan Nugent-Hopkins, Kailer Yamamoto and, potentially, Jesse Puljujarvi. All five of those players are first-round picks and four of them were all selected inside the top-four of their respective draft (Yamamoto is the outlier at 22nd overall.)
If Yamamoto can build off his mini-breakout from last season, he put up 26 points in 27 games, and Puljujarvi can make good on his potential, this offense will be able to out-score it's flaws. But that's asking a lot of this offense and that type of volatility is not something I'm interested in betting on at this price. Frankly, I'd need Edmonton closer to 50/1 to start scratching my chin.
The Oilers are talented enough to beat any team in the NHL in a game or even a best-of-7, but they also profile as the type of team that could go south in a hurry. I think a bet on the Under at 65.5 points or better is worth exploring.
Favorite Bet: Under 65.5 points or better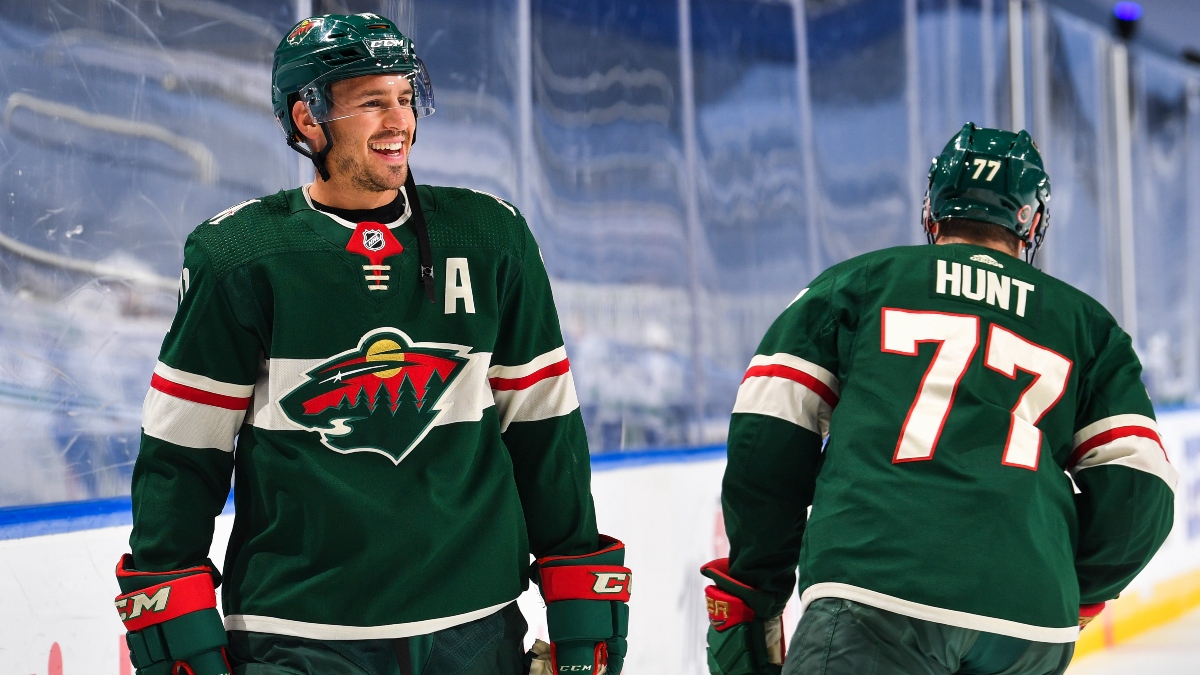 21. Minnesota Wild
Underlying metrics (like expected goals) help provide some context for a team's actual results. But sometimes advanced stats need context, too. Take for instance the Minnesota Wild and their sparkling statistical portfolio.
I was part of the Minnesota Wild Hype Parade before the 2019/20 regular season and then re-joined the parade before The Bubble. The Wild ticked a lot of boxes for a potential sleeper.
Not only did Minnesota finish with the second-best xGA/60 in the NHL during the regular season, but it was sixth with a +0.3 goal differential per hour. Suspect goaltending doomed the Wild to mediocrity, as is tradition, but I am usually willing to play a longshot on a team with strong underlying metrics and bad goaltending, so I was happy to throw a dart at Minnesota.
| Stat (5-on-5) | Regular Season (69 games) | NHL Rank |
| --- | --- | --- |
| Goals per 60 | 2.82 | 5th |
| Goals Against per 60 | 2.52 | 17th |
| Expected Goals per 60 | 2.26 | 26th |
| Expected Goals Against per 60 | 2 | 2nd |
That bet didn't pay off. And even though Minnesota's defense remains a true strength, I can't bring myself to be optimistic about the Wild's chances in '21. This is a changed team from the one we saw the past few seasons and it may take some time for the market to catch up if the Wild do flail in the early going.
To address their goaltending issue, the Wild traded Devan Dubnyk and his league-worst -27.5 GSAx to San Jose and signed Cam Talbot to be the No. 1. Talbot has basically traded good seasons with bad ones to this point in his career, but playing behind Minnesota's defense should bring Talbot's numbers up. No matter how you look at it, Talbot is an upgrade. The problem is that I'm not sure this team will score enough, no matter who is in goal.
The Wild did score at an impressive clip last season, but their 9.43% even strength shooting percentage seems unsustainable, especially with Eric Staal, the team's most productive center from last season, out of the picture.
Staal's departure leaves Minnesota without a true No. 1 center and it's fair to question whether the Wild have a pivot that would be considered for a top-six role on any average-or-better team in the NHL. As of right now, Nick Bjugstad, Nick Bonino, Joel Eriksson Ek and Victor Rask are slated to play down the middle for Dean Evason. That's not exactly Murderers' Row. Of the four, Eriksson Ek provides the most value but his best attribute is his defensive work.
The Wild do have some scoring talent on the wings. You can count on Zach Parise to play at a 20-goal pace. Kevin Fiala looks like he's on the cusp of something big. Kirill Kaprizov is a favorite for the Calder Trophy. But behind those three things become mediocre and I'm still skeptical that Minnesota will be able to create enough opportunities for its best finishers.
If you are bullish on the Wild, you are counting on their terrific defense to be good enough to separate Minnesota from San Jose, Arizona, Anaheim and Los Angeles, none of whom are expected to contend. If the Wild outpace those four teams, they will make the playoffs and would likely be dispatched by Colorado, Vegas or St. Louis.
Additionally, it seems like the Wild are on the verge of tearing things down and committing to a rebuild. A slow start could mean that Bill Guerin tries to trade away some veterans, which would ding their chances at making the playoffs or eclipsing their modest season point total.
One bet I do think is worth considering is Jared Spurgeon to win the Norris Trophy. Spurgeon has long been an analytics darling, but he's starting to crack into the mainstream, and deservedly so. The new Wild captain would likely need to up his offensive output (his career-high is 43 points), but with more and more people paying attention to advanced stats, Spurgeon could be in the Norris conversation if the Wild are decent.
The Bet: Jared Spurgeon to win the Norris Trophy +5500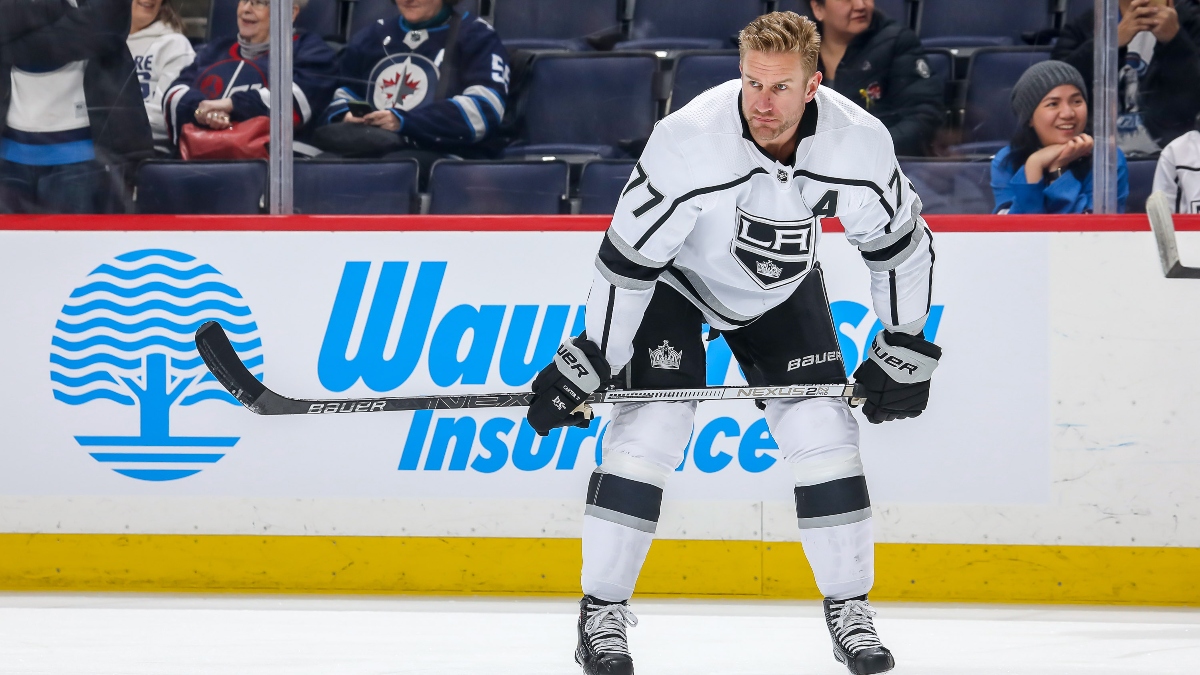 20. Los Angeles Kings
The Kings are a weird one.
All things considered, the Kings had some pretty good play-driving numbers in 2019. Los Angeles was a top-10 team in xGF/60, middle of the pack in xGA/60 and the Kings created more high-danger chances than they surrendered at 5-on-5.
The problem was that the Kings didn't have nearly enough talent to make good on those modest metrics. That will likely be the case again in 2021. For all of the talent that Los Angeles has coming through the pipeline, the Kings don't have many reliable NHL-level producers on the roster at the moment.
| Stat (5-on-5) | Regular Season (70 games) | Rank |
| --- | --- | --- |
| Goals per 60 | 2.05 | 29th |
| Goals Against per 60 | 2.42 | 24th |
| Expected Goals per 60 | 2.46 | 9th |
| Expected Goals Against per 60 | 2.37 | 14th |
There is a reason for optimism in 2021 for Los Angeles, though. The Kings are basically playing in a mini-division against Minnesota, Anaheim, Arizona and San Jose for the fourth and final playoff spot in the West Division.
The Coyotes are tearing it down, the Ducks are in the middle of a rebuild and neither the Sharks nor Wild would be considered as trustworthy favorites in this quintet. It isn't likely, but there is a sliver of hope for the Kings and in a 56-game season that will certainly be filled with randomness, I could see an argument for backing the Kings to make the playoffs at a decent price.
My favorite Kings-related bet, however, is on Alex Turcotte to win the Calder Trophy at +4000 (BetMGM). The Kings are in a position to give their exciting prospects a ton of minutes and I think Turcotte could see a lot of playing time considering he is known as a responsible two-way player. If Turcotte is trusted as a middle-six center, he could have enough opportunities to put up the numbers needed to be nominated for this award.
Favorite Bet: Alex Turcotte to win Calder Trophy (+4000)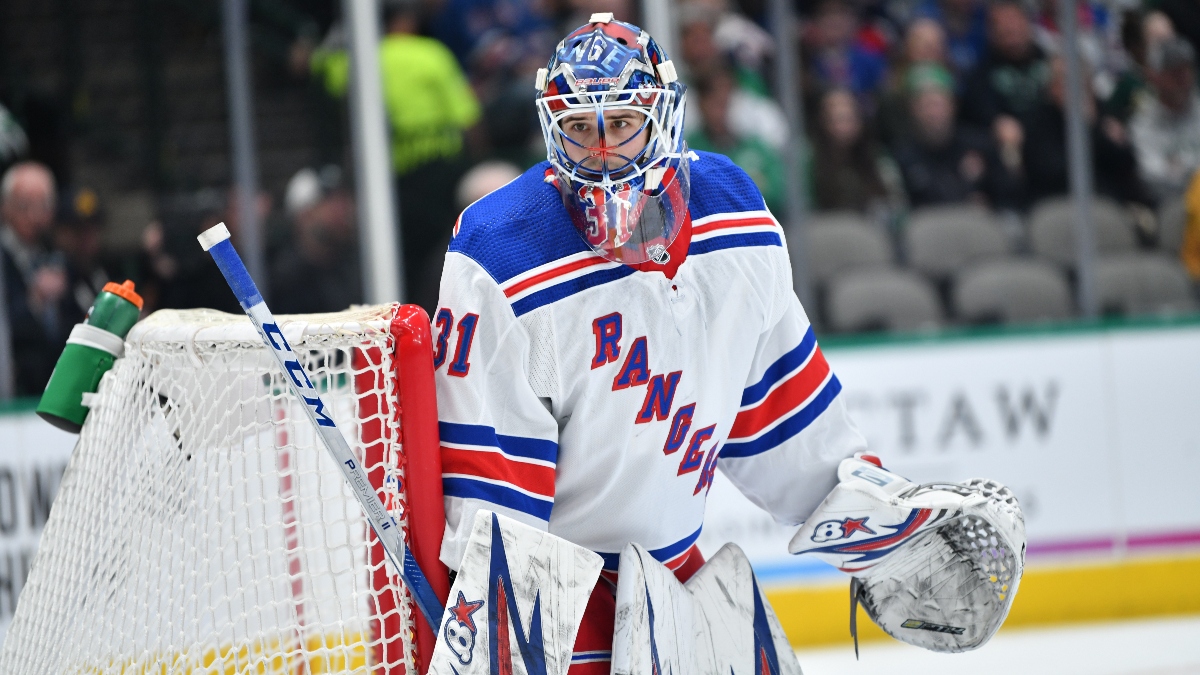 19. New York Rangers
You can see why the Rangers will be popular among casual bettors this season. Not only are the Blueshirts a "public team," but they play an exciting brand of hockey, have a lot of high-end talent and are coming off a promising season that ended with them landing the No. 1 overall pick and drafting Alexis Lafreniere.
The formula for the Rangers is pretty simple: score a lot and hope either Igor Shesterkin or Alexandar Georgiev make enough saves to get them over the line. Both goaltenders seemed up to the task in 2019/20 as Shesterkin posted a +5.9 GSAx in just 12 appearances while Georgiev skated to a respectable +1.91 GSAx in 34 games.
Thanks to its two young netminders and an abundance of high-end producers, New York is one of the few teams in the NHL that can succeed consistently playing a high-risk, high-reward style of hockey.
Artemi Panarin, Mika Zibanejad, Chris Kreider, Kaapo Kakko, Pavel Buchnevich and Alexis Lafreniere give the Rangers a top-six worth dreaming on, Adam Fox and Tony DeAngelo can chip in offensively from the blueline and Shesterkin and Georgiev can provide New York the type of goaltending needed to make the goals the Rangers do score hold up.
| Stat (5-on-5) | Regular Season (70 games) | Rank |
| --- | --- | --- |
| Goals per 60 | 2.73 | 9th |
| Goals Against per 60 | 2.61 | 22nd |
| Expected Goals per 60 | 2.46 | 10th |
| Expected Goals Against per 60 | 2.74 | 30th |
The problem with playing all-or-nothing hockey is that it can leave a team exposed if you run into a hot goalie, a strong/organized defense or your best players go through a rough patch. Those concerns are also amplified in the playoffs — just ask the Toronto Maple Leafs.
Because the Rangers are a big-market team with a ton of stars that plays a fun brand of hockey, it was always likely that the market would be a little too high on them going into the new season. Casual bettors like to bet on teams that are easy-on-the-eye and the Blueshirts are one of the glitziest organizations in the NHL.
But one thing that is perhaps flying under the radar is that the Rangers could have some stylistic disadvantages in the East Division. Not only is the East the deepest set in the league, but it also features plenty of teams that like to slow the game down and feel most comfortable in a mudfight.
The Rangers play the Bruins, Penguins, Flyers and Islanders a combined 32 times and all of those teams prefer to play more pragmatic style of hockey and will do their best to avoid getting into the see-saw battle that the Rangers want.
There is a path to success for the Rangers, but I don't think these odds represent how likely it is to come to fruition.
I don't bet anything except moneylines and player props in an NHL game, but one avenue of betting on the Rangers that could be +EV is to target the Under in the early part of the season. That may seem counter-intuitive considering New York's profile, but bookmakers know that the Over Bettors will flock to the Rangers and they will tax the Over.
Favorite Bet: Play Unders in the early part of the season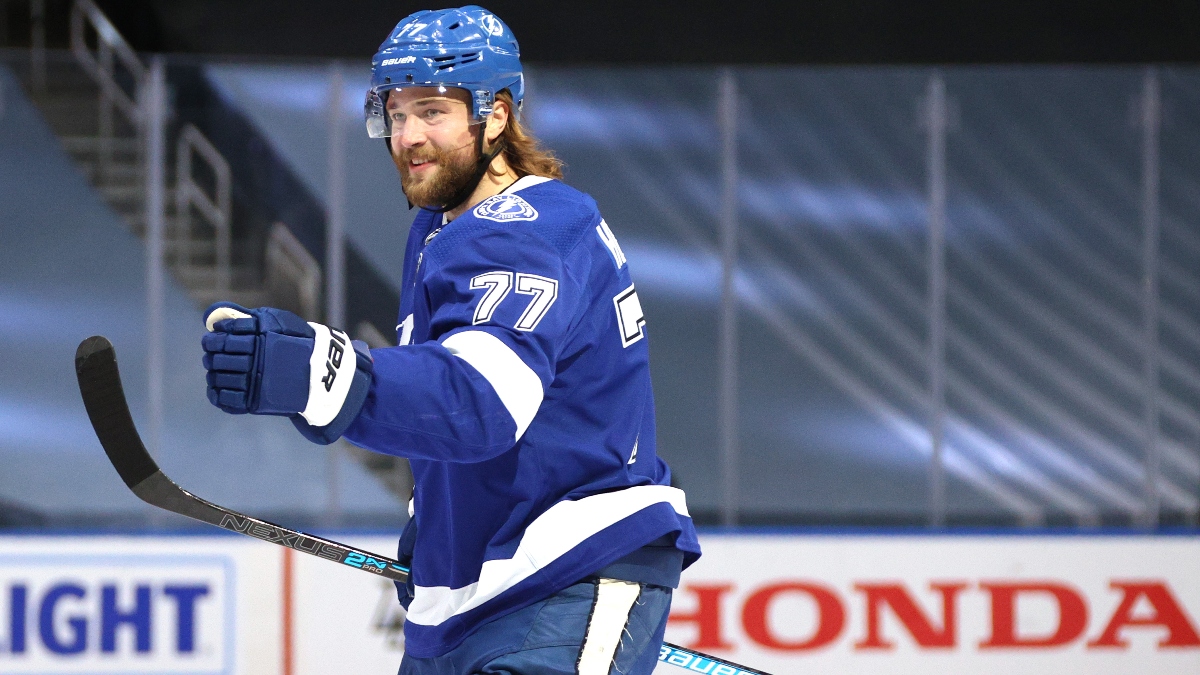 18. Tampa Bay Lightning
How good are the Tampa Bay Lightning? So good that bookmakers barely downgraded the Bolts after it was announced that their best forward, 2019 MVP Nikita Kucherov, would miss the regular season with a hip injury.
For most teams losing a world-beating forward would spell doom. For Tampa, it's merely a test. And it doesn't even seem that daunting.
Tampa's offense certainly will get dinged without Kucherov, perhaps the league's best dual-threat player in the offensive zone, but the fact that Jon Cooper can still roll Brayden Point, Steven Stamkos and Ondrej Palat out as a top line shows you the type of depth the Lightning have at their disposal. Even without Kucherov, the Palat-Point-Stamkos line figures to be one of the most productive first lines in the NHL. If Stamkos is healthy and finds his form, he's good enough to be an MVP candidate.
Elite players always get the column inches, but its Tampa's depth that sets it apart. Anthony Cirelli is one of the world's best two-way centers, Yanni Gourde is a terrific third-line pivot and they both have plenty of support on the wings with Alex Killorn, Blake Coleman, Tyler Johnson and Patrick Maroon.
That type of forward depth allows Cooper to roll four lines and gives him some wiggle room should Tampa lose a forward to injury.
Cooper also has an embarrassment of riches on defense with Victor Hedman, Ryan McDonagh and Mikhail Sergachev.
Hedman is the star of the show on the blueline and is the Norris Trophy favorite for 2021 after his spellbinding performance in The Bubble. With do-it-all Hedman at the top, Cooper can deploy McDonagh and Sergachev in the right situations. McDonagh can play tough minutes, while Sergachev, who is quickly becoming one of the game's best puck-moving defensemen, can play against exploitable opposition.
If you want to nitpick, you can question Tampa's defensive depth on the right side. Erik Cernak, Jan Rutta, Luke Schenn and/or Cal Foote don't move the needle much, but they don't need to. All Cooper needs out of them is to not drag down their terrific partner. Good work if you can get it.
The Bolts are also set in goal with Andrei Vasilevskiy. There were some in the deep analytics community that thought Vasilevskiy was a bit overrated, but I think it's pretty clear by now that it's more likely than not that the 26-year-old Russian provides above-average netminding for the Bolts in 2021. It also doesn't hurt that Tampa allowed just 2.09 xGA per 60 minutes at 5-on-5. Vasilevskiy is top-notch and the team in front of him makes him better.
I could keep on going about how good the Lightning are, but you get the point by now. While I'm not all that interested in their pre-season markets — though I could be convinced on Steven Stamkos to win the Rocket Richard at a decent price, say 35/1 or longer — I do think there could be an opening for Lightning backers if they are patient.
The Bolts got off to a rather mundane start in 2019/20 and it wouldn't be a huge surprise if Tampa stalked the field in the early weeks of 2021. Should the Bolts struggle (relative to their lofty expectations) in the beginning of the campaign, this number could drift — especially since Carolina seems poised to compete with Tampa in the Central. Should the Canes get out ahead of Tampa in the early going, this number could get high enough to get involved.
The Bet: Tampa Bay at +1200 or longer if the number drifts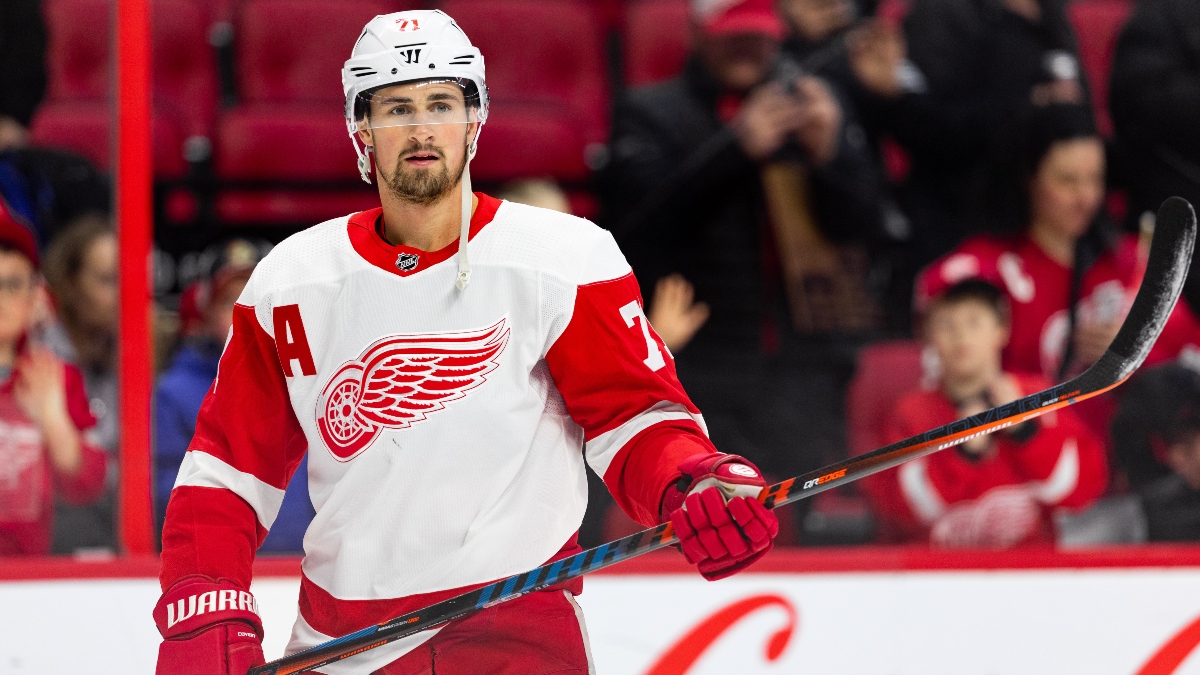 17. Detroit Red Wings
This season figures to be another wash for the Red Wings as they continue their rebuild. But just because the Wings are expected to be the worst team in the NHL doesn't mean bettors can just ignore them. The cold reality is that if you're going to be betting on the NHL consistently, you're going to have get real familiar with teams like the Red Wings. So cozy up.
Detroit was on pace for a historically bad 45 points in 2019/20. The Wings won just 17 times in 71 games and had a -122 goal differential. Rock bottom.
The good news is that Detroit couldn't get any worse than it was last season. And the Red Wings made some marginal improvements to a roster that needed to be blown to bits. Just because the Red Wings are improved doesn't mean they will be significantly better, but they should at least compete more, which will make it a little bit easier to stomach when you feel like you "need to bet" them at +300 or higher against Tampa Bay or Carolina in 2021.
The most significant improvement is in goal where Thomas Greiss will assume the starting role instead of Jimmy Howard. Greiss posted a +8.76 GSAx over his last two seasons on Long Island, though that was on a team that prided itself on defense and worked relentlessly to make life easy on its goaltender. Detroit's defense will look chalk and cheese compared to what the German saw with the Islanders, so you can expect his play to reflect that.
That said, Greiss and Jonathan Bernier give the Wings a much better chance at stealing a game here or there than Jimmy Howard and his -26.86 GSAx did last season.
Detroit also improved its depth with a couple of free agent signings. None of Bobby Ryan, Vladislav Namestnikov, Troy Stetcher or Jon Merrill are game-winners, but they do give the middle of this lineup a sliver of hope. That's something that couldn't really be said about the Wings in 2019/20.
The NHL's intra-divisional schedule means that the Red Wings will get to see many other bottom-feeders throughout the next five months, but it also means eight games against the Blackhawks as well as 32 against beatable teams like Florida, Columbus, Dallas and Nashville. In other words, there will be opportunities for the Red Wings to be worth a punt. You just gotta hope that lady luck and the goalies are on your side that night.
Because of how bad Detroit was last season, there will be very few people looking to back the Wings coming out of the gates. Not only does that mean that Detroit's season point total (41.5) is probably a little too low, but it could also create some value on the Red Wings on a game-to-game basis right out of the gates.
It won't bet fun, but get used to the idea of backing the Red Wings in 2021.
Favorite Bet: Over 43.5 points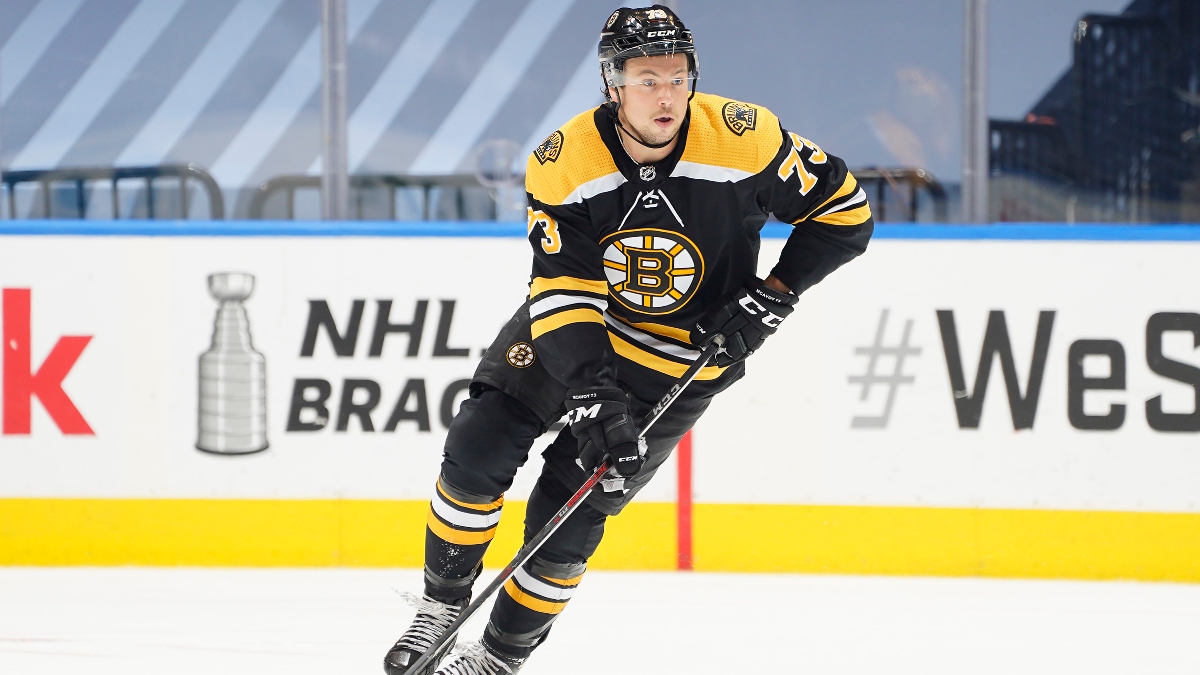 16. Boston Bruins
It's hard to remember the last time the Boston Bruins have undergone this much change in an offseason.
"The Perfection Line" will still run the show in Beantown and the B's have returned most of a deep forward group, but the defense has undergone a significant facelift as Zdeno Chara and Torey Krug have moved on.
Chara is a Boston legend and provided steady minutes alongside Charlie McAvoy, but Krug leaves the bigger hole after developing into one of the most effective offensive-defensemen in the NHL. Regardless of who was more important to Bruce Cassidy, the two departures leave a big gap on a stabile defense that made the Bruins a force to be reckoned with over the past decade.
McAvoy is an elite defenseman at this point in his career and he's got support with Brandon Carlo and Matt Grzelcyk behind him, but for the first time in a decade there seem to be some question marks on the Boston blueline.
John Moore, Connor Clifton and Jeremy Lauzon will be asked to fill in the back-end of the defense, and no matter who ends up playing on which pair it seems pretty obvious that this unit will be a work in progress and will likely not put up the same gaudy numbers that the B's posted over the past few seasons.
| Stat (5-on-5) | Regular Season (70 games) | Rank |
| --- | --- | --- |
| Goals per 60 | 2.56 | 15th |
| Goals Against per 60 | 1.88 | 1st |
| Expected Goals per 60 | 2.22 | 27th |
| Expected Goals Against per 60 | 1.98 | 1st |
The good news is that the Bruins are good enough elsewhere on the ice to give the defense time to settle. Boston also has the luxury of having two steady goaltenders, Tuukka Rask and Jaroslav Halak, as failsafes should the defense wobble a bit. Rask and Halak have a combined +14.84 GSAx in Halak's two seasons as Rask's deputy.
Where it could go south is if Rask or Halak slip or if the Bruins run into injury problems. The latter is already a bit of a concern as David Pastrnak, one of the league's best goalscorers, is already set to miss the beginning of the season.
There are players on this roster who can step in for Pastrnak on a game-to-game basis, but the Czech's presence on "The Perfection Line" alongside Patrice Bergeron and Brad Marchand has been a significant part of what has made Boston so good over the past few seasons.
Previous iterations of the Bruins could handle a lot of adversity, but that becomes a little more iffy after losing two top defensemen. Part of that comes down to depth, but also because The B's of seasons past could rely on their best-in-class special teams to make up ground when they needed to. Losing Krug and Chara will likely have a negative impact on the power play and penalty kill in 2021.
Despite having more question marks than usual, I still think the Bruins have the highest floor in the East Division and are deserving of their status as favorites. However, the B's seem more vulnerable than they have in quite some time and in the league's deepest division, it isn't out of the question that the Bruins, a team that has coasted to the playoffs with sparkling regular season performances over the past few seasons, end up in a scrap to just make the playoffs.
The one bet that I am intrigued by is backing McAvoy to win the Norris Trophy as the NHL's best defenseman. Although the Long Island native has not posted eye-popping point totals, his play-driving metrics jump off the page. With a bigger role, including more power-play opportunities, McAvoy seems ready to make a leap in 2021. There may be bigger numbers out there for this bet, so be sure to shop around. Even at this number, it could be a fun season-long sweat.
Favorite Bet: Charlie McAvoy to win the Norris Trophy (+2000)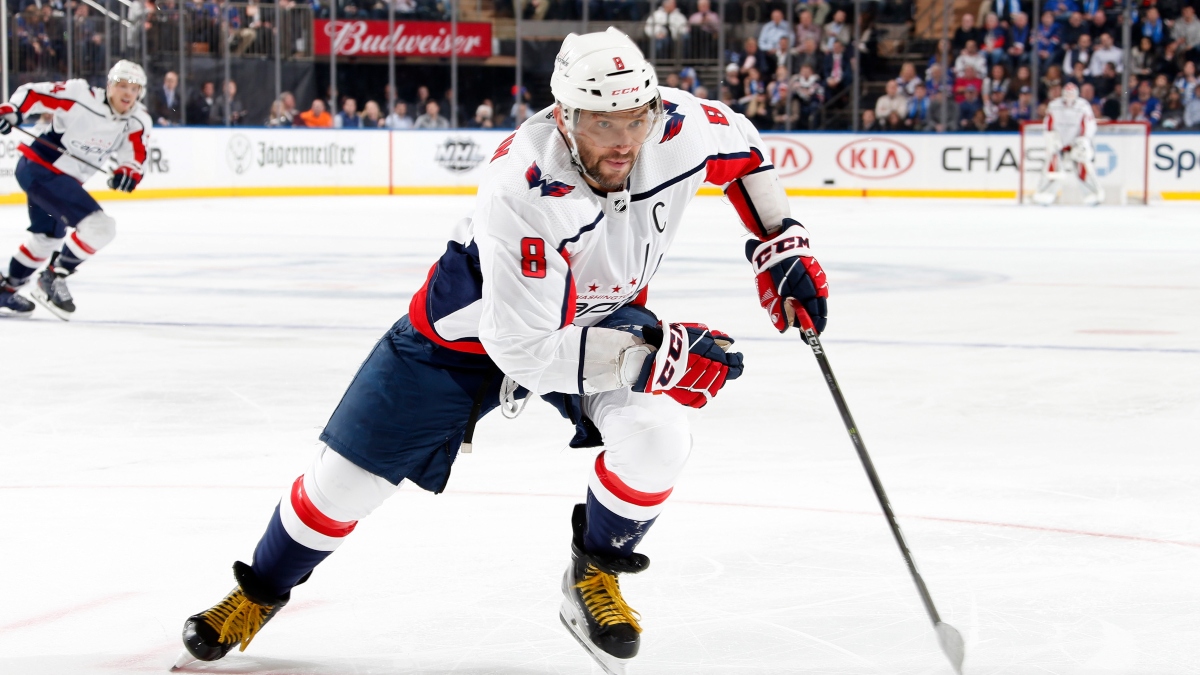 15. Washington Capitals
Over the last 13 seasons, the Washington Capitals have won a Stanley Cup, made the playoffs 12 times, finished first in their division 10 times and won three Presidents' Trophies. The Alex Ovechkin Era has been a booming, franchise-changing success, but all good things must come to an end.
Ovi's Caps have likely peaked, but oddsmakers aren't counting them out in 2021. Despite back-to-back first-round exits in the postseason, the Capitals are still listed among the 10 favorites at almost every sportsbook for the upcoming season. Can new head coach Peter Laviolette keep Washington's window open?
The top of the Capitals' roster looks familiar. Alex Ovechkin, Nicklas Backstrom, T.J. Oshie, Evgeny Kuznetsov, Jakub Vrana and Tom Wilson are back to lead the line and make up one of the league's most dynamic top-sixes. The depth behind that sextet won't knock your socks off, but this isn't a team that relies on scoring depth to carry the water. The scoring burden lands on Washington's offensive stars, and that unit has rarely not answered the call.
My main concern for the Capitals is in defense, though they did address the lack of depth by signing Zdeno Chara right before training camp. Chara is certainly past his prime, but he's still an effective defensive-defenseman who helps his team with his presence on the ice.
It's hard to gauge where Chara will be deployed but after rolling with Charlie McAvoy on the Bruins top pairing over the past few seasons, we could end up seeing him playing alongside John Carlson, another of the NHL's best rearguards.
That pushes Branden Dillon, Dmitri Orlov and Justin Schutlz into more suitable roles and gives Laviolette a capable, if not exemplary, defense. You can bet that Laviolette will make improving Washington's defensive play a priority after the numbers the Caps posted in 2019/20.
| Stat (5-on-5) | Regular Season (69 games) | Rank |
| --- | --- | --- |
| Goals per 60 | 2.91 | 3rd |
| Goals Against per 60 | 2.66 | 24th |
| Expected Goals per 60 | 2.54 | 5th |
| Expected Goals Against per 60 | 2.49 | 19th |
As the numbers show, Washington's offense drives the bus. The Capitals have enough scoring talent to outrun their underlying metrics, but what we saw last season was a team that created a bounty of scoring chances but also was clinical in finishing them off. In addition to ranking fifth with a 2.54 xG/60, the Capitals also created the fifth-most high-danger scoring chances in the NHL last season.
That type of chance creation, blended with Washington's scoring talent, will always provide the Caps with a viable path to success, so long as the defense and goaltending holds up.
While I am skeptical that Washington's defense will improve on a mediocre showing in 2019/20, their goaltending could be a strength once again as 23-year-old Ilya Samsonov will take over for franchise-icon Braden Holtby.
Samsonov didn't look out of place in his debut season, posting a +0.25 GSAx in 26 appearances in 2019/20, but asking him to carry the load over a frenetic 56-game campaign will be something else entirely. Especially since Samsonov lost his back-up, Henrik Lundqvist, to a medical issue before training camp. Without a reliable No. 2, Samsonov could end up as one of the busiest goaltenders in the NHL over the next five months.
I am pretty much inline with the market on the Capitals. To call them washed up is unfair, but it's fair to be skeptical about a team that is counting on aging stars, a first-year starter in goal and a coach whose best days seem to be behind him.
Washington's price seems bang on to me, but if you are looking for a fun bet to ride for the season you could throw a few bucks on Ovechkin to win the Rocket Richard Trophy. Ovi is 188 goals behind Wayne Gretzky's all-time record, so even though this is not a +EV bet, it would be pleasant to have some stake in Ovechkin's quest to unseat The Great One.
Favorite Bet: Alex Ovechkin to win Rocket Richard Trophy (+600)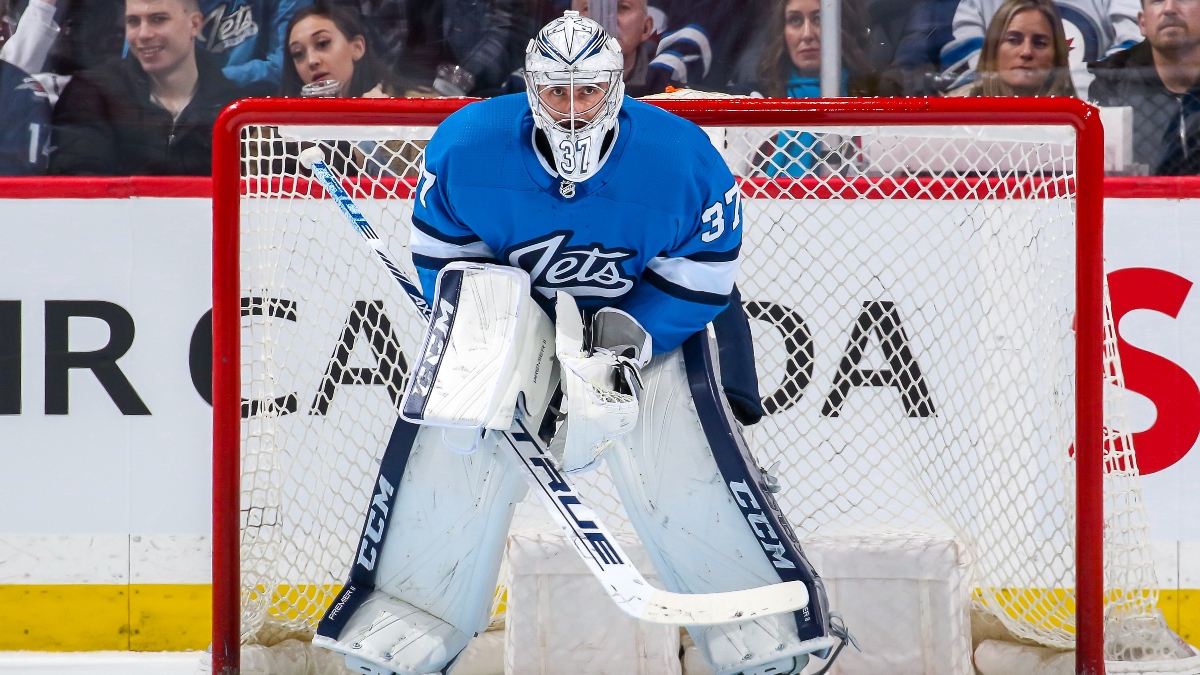 14. Winnipeg Jets
Like many, I was very hesitant to back the Jets last season because they relied so heavily on goaltender Connor Hellebuyck to get results. While Hellebuyck played at an elite level last season and was awarded the Vezina Trophy, the rest of the Jets underwhelmed. The team didn't drive play, create scoring chances or suppress opportunities at 5-on-5, leaving them at the discretion of the hockey gods.
Winnipeg scratched and clawed its way into the playoff picture thanks to Hellebuyck and the team's finishing talent, but it was pretty clear that the Jets would be found wanting at some point. You can't survive, let alone succeed, when you spend most of your team chasing the puck.
Winnipeg finished the regular season with the worst expected goals (xG) rate in the NHL, nearly a half-xG behind the historically bad Detroit Red Wings. Only two teams, Chicago and the Rangers, allowed more expected goals against per 60 minutes at 5-on-5 than the Jets did. Similarly, only Detroit and Buffalo generated fewers xG per 60 than Winnipeg.
Having offensive talents like Mark Scheifele, Kyle Connor, Blake Wheeler, Patrik Laine and Nikolaj Ehlers will help the Jets outperform their expected goals, but an improvement in dictating play is necessary if the Jets want to be noisemakers in 2021. Just think, each of those five players put up at least 58 points last season. Where would those totals go if the Jets create more scoring chances?
The good news is that Winnipeg did address one of its fatal flaws from last season. Bryan Little only played seven games, leaving a sizable hole in the middle of the team's second line. Paul Stastny, acquired from Las Vegas, turns that position into a strength. Stastny is set to play in between Nikolaj Ehlers and Patrik Laine, a role he succeeded in during his last stint in Winnipeg. His playmaking ability immediately makes Laine a viable bounce-back candidate, should he not be traded.
Even if Stastny helps sort out Winnipeg's play-driving and chance-creation woes, the Jets will still need to work through their defensive deficiencies. The North may be the softest division in the NHL, but there are some prolific offenses in Canada. Winnipeg will be playing half of its games against the likes of Toronto, Edmonton and Vancouver.
That means that even if the Jets' offense does take off, the defense will still need to improve or else Hellebuyck will be asked to carry the team again. That's a situation that Winnipeg fans and bettors will want to avoid in 2021.
The good news is that the Jets should modestly improve on defense. Dylan DeMelo was brought in to solid effect for the second half of last season, and a full season with him should provide a path to a bounce-back season for Josh Morrissey, who looked like he was on his way to great things until last season. Part of Morrissey's demise has to do with the pieces surrounding him, but this unit as a whole should be on its way up with DeMelo, Derek Forbort and 2019 first-round pick Ville Heinola.
Nobody is saying that a defense headlined by Morrissey, DeMelo, Neal Pionk and Derek Forbort is a world beater, but it should give the Jets a boost on the back-end. That's all that this team needs if Hellebuyck is on song.
It's nearly impossible to project how a goaltender will play over a full season, but you'd think that Hellebuyck should be above average in 2021. The Michigan native led the NHL with a +19.86 GSAx last season, giving him a pair of +10 GSAx seasons in his last three. It should be noted that Hellebuyck endured a down year in 2018/19, but if you're betting on which side of the ledger he'll be on for '21, I'd go with the plus-side.
Sharper hockey minds rightfully perceived the Jets as an overrated team last season, so I wouldn't be surprised if that notion carries over to 2021. That sentiment could provide a tinge of buy-low opportunity with the Jets. I have the Jets as a 50/50 playoff team in the North, but there is definitely a chance that this team sneaks up the table on people. If that happens, it wouldn't surprise me if head coach Paul Maurice, a media darling in Canada, starts to get love for the Jack Adams Trophy.
There's an adage in hockey that says, "Show me a good coach and I'll show you a great goalie." That could certainly apply here.
Bet: Paul Maurice to win Jack Adams Trophy +2000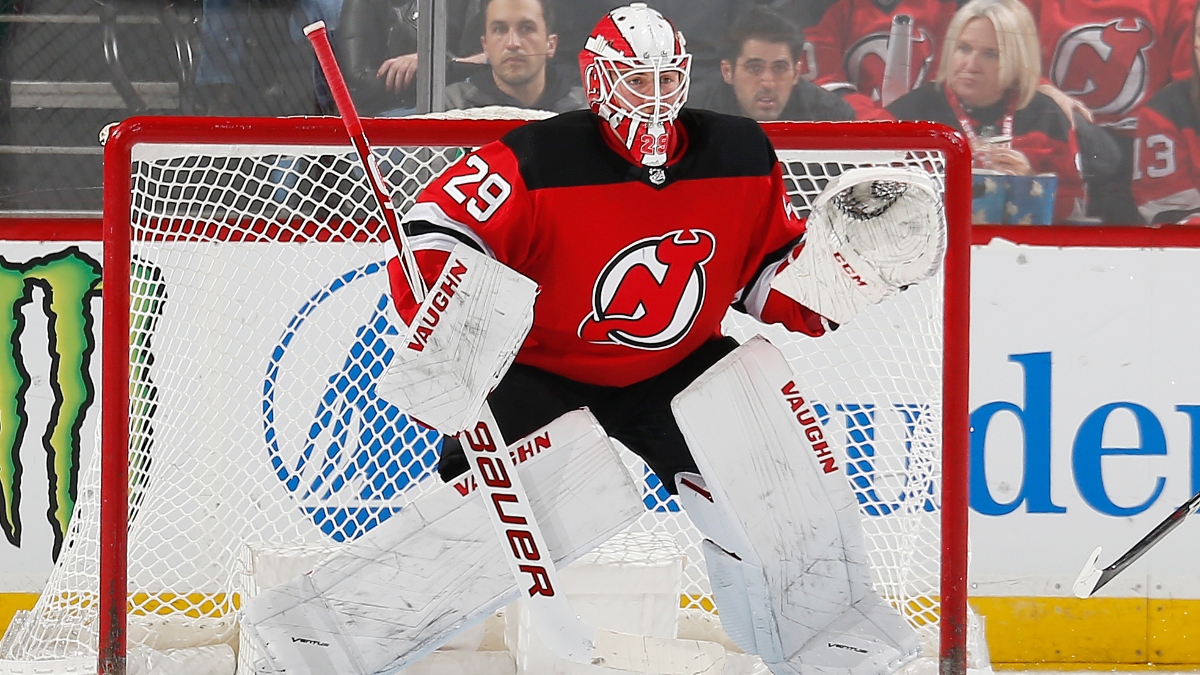 13. New Jersey Devils
There are plenty of reasons to be excited about the future of the New Jersey Devils. Jack Hughes and Nico Hischier should give the Devils an enviable 1-2 punch at center for years. Mackenzie Blackwood looks like a bona fide NHL starter in goal.
Unfortunately, the Devils don't have the depth to make an orchestra out of those promising pieces.
Hischier and Hughes are the story in Newark as neither former No. 1 overall pick covered himself in glory in 2019/20. While Hischier's production took a step back, his overall game remained solid and I don't think there's anything too concerning. Same goes for Hughes, who just didn't look up to speed in his rookie campaign. Both players will need to step forward for the Devils to be relevant in the coming season, but I like their chances.
Taylor Hall won't be along for the ride anymore, but the Devils do have talented wingers to help get the best out of Hischier and Hughes. Though none of Kyle Palmieri, Jesper Bratt, Nikita Gusev and Andreas Johnsson fall into the game-breaker category, this is still a potent top-six and one that could give teams trouble.
The good news is the Devils should see some improvement on defense. New Jersey finished 28th in goals and xG against per hour at 5-on-5, putting a pretty hefty burden on Blackwood. The addition of Ryan Murray should immediately improve this blueline.
Should Murray stay healthy, he gives New Jersey a potential No. 1 defenseman and a reliable partner for P.K. Subban. The Devils sorely need Subban to bounce back and Murray is the best defenseman he's played with since coming to Newark. That top pair also allows Ruff to deploy solid puck-mover Damon Severson in a more suitable second-pair role in hopes that he develops some chemistry with former first-round pick Ty Smith. Sami Vatanen and Will Butcher give the Devils a decent bottom pairing, compared to the rest of the league.
| Stat (5-on-5) | Regular Season (69 games) | Rank |
| --- | --- | --- |
| Goals per 60 | 2.21 | 25th |
| Goals Against per 60 | 2.88 | 28th |
| Expected Goals per 60 | 2.27 | 25th |
| Expected Goals Against per 60 | 2.61 | 28th |
New Jersey's biggest weakness is its forward depth. The team will need to find a way to survive when Travis Zajac, Pavel Zacha, Jesper Boqvist and a host of younger, developing players are on the ice. That's not an insignificant amount of time and will put a ton of pressure on this blueline and Blackwood behind them.
But the biggest red flag for this team is that it will play in the NHL's version of the 'Group of Death.' The East Division features six teams with genuine playoff aspirations, four teams with Cup odds at or below 25/1 and even the other longshot, Buffalo, should be better compared to the bottom feeders in other divisions.
That means that the Devils will likely be relegated to a spoiler role while Hischier and Hughes get their NHL legs under them. That said, this team has the right ingredients to be a thorn in the side of the heavyweights in this division. New Jersey has emerging high-end talent, a decent defense and a solid goalie. That's a pretty good recipe to pull of some upsets in a sport where random luck is often the deciding factor in who gets the 'W.'
Note: I had the New Jersey Devils a little higher on this list when training camps opened, but the news that Corey Crawford left the team for personal reasons has downgraded them.
The Bet: Target the Devils as big underdogs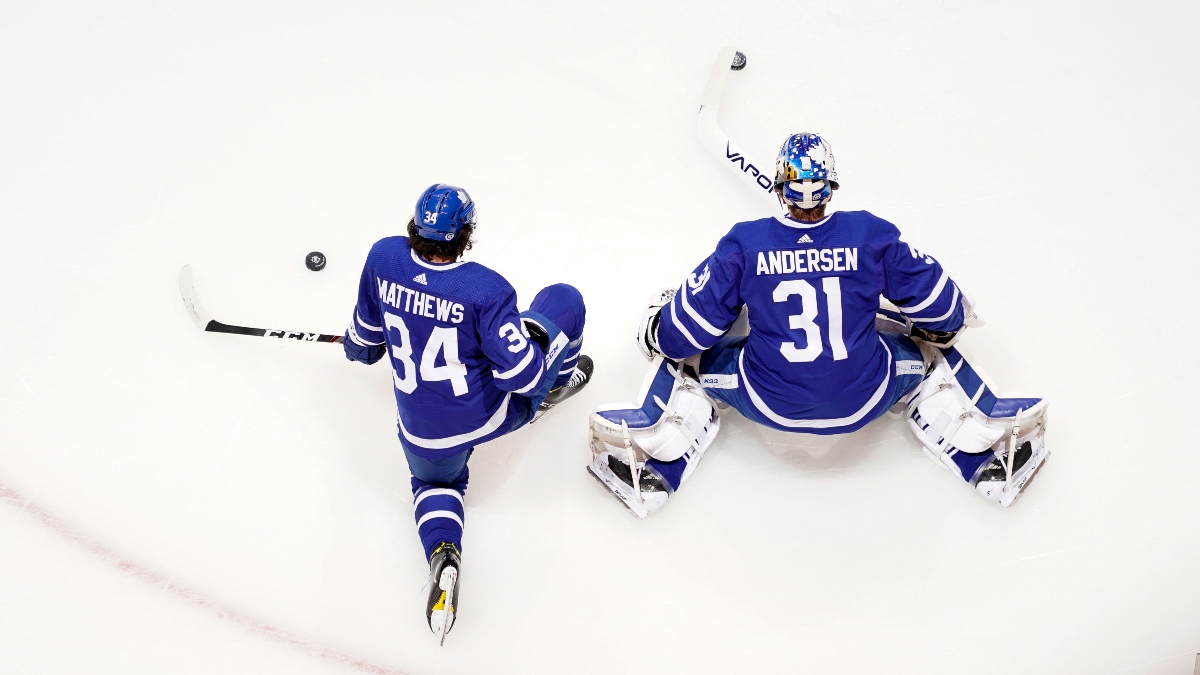 12. Toronto Maple Leafs 
The clear favorite in the North Division, Toronto is once again expected to contend for a Stanley Cup in 2021. The Leafs deserve credit for having a talented roster, but they will also benefit from playing in a division that lacks another heavyweight. Toronto is +125 to win the North Division, meaning that the Leafs would come out on top 44.4% of the time.
But just because the Leafs are the chalk doesn't mean it's a foregone conclusion that Sheldon Keefe's team will romp to a division title. Sure, it is the most likely to win, but the odds imply that there's a 55.6% chance that another team raises the banner instead.
What we can expect from Toronto is a hard-to-stop attack powered by four of the league's best (and most expensive) forwards. Auston Matthews, Mitch Marner, John Tavares and William Nylander give the Leafs one of the NHL's most talented forward groups, though because of their salary structure Toronto has not had the type of depth needed to take the next step.
To address those issues, general manager Kyle Dubas traded away Andreas Johnsson and Kasperi Kapanen, two offensively gifted middle-sixers, and signed Joe Thornton, Jimmy Vesey and Wayne Simmonds to fill the gap. Those three veterans are not only in Toronto to provide some secondary scoring, but also to make the Leafs "tougher to beat," which was a major complaint about Toronto after it lost to the Blue Jackets in the bubble.
Toronto is a team that thrives in high-event games. The Leafs are happy to sacrifice some defensive stability in order to try and run up the score. They will always bet on themselves to come out on top in a 5-3 game rather than trying to manage their way to a 3-2 victory. That philosophy may be changing a bit considering how Dubas spent this offseason, but it's hard to imagine the Leafs looking to emulate the Blue Jackets or Bruins with this roster.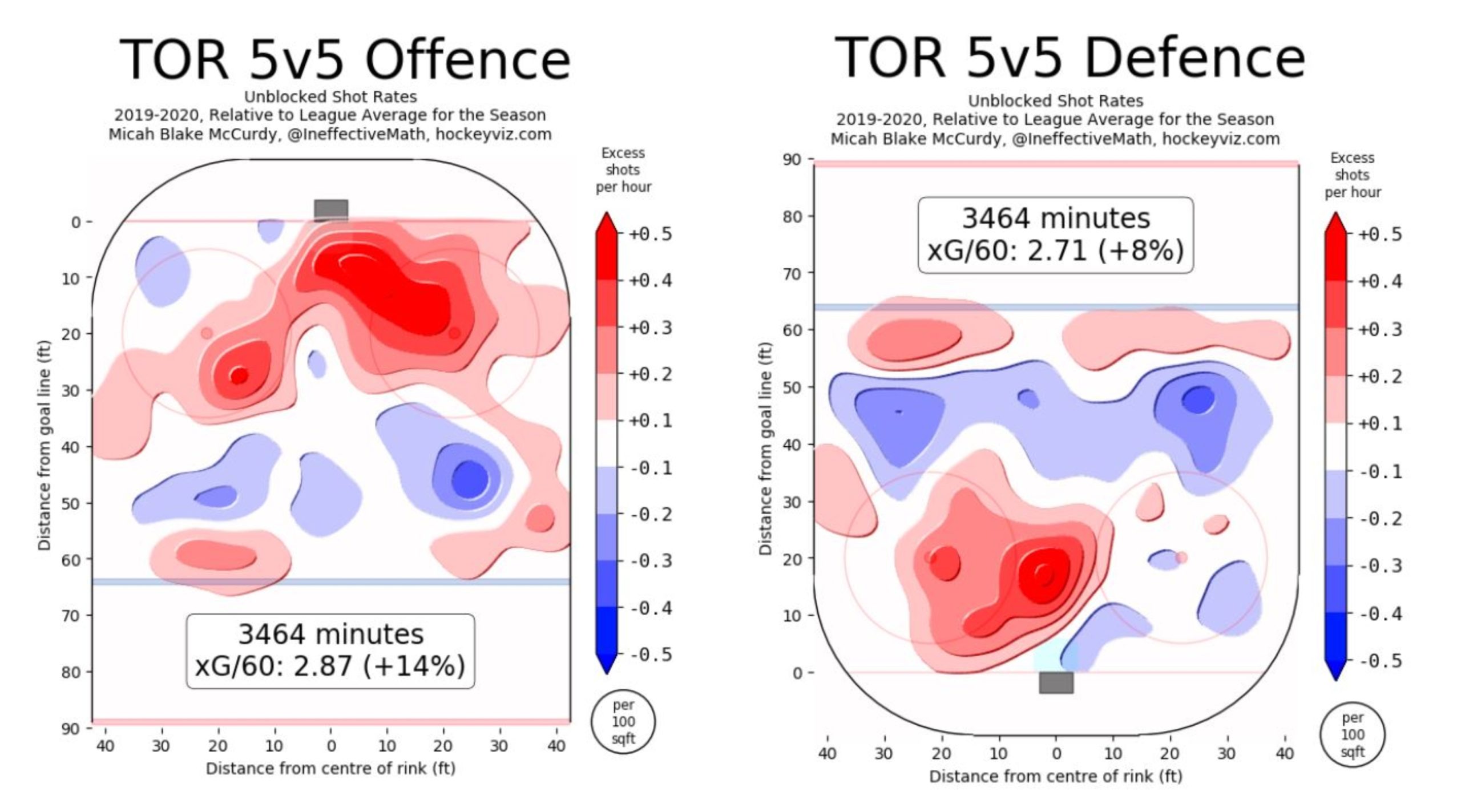 The good news is that the North Division is littered with teams that play a similar style. But of that bunch the Leafs have the biggest margin for error, partly thanks to a defense that has been bolstered by the signing of T.J. Brodie from Calgary. You could see any combination of Brodie, Jake Muzzin and Morgan Rielly making up the top pair, with the other slated for a No. 3 role alongside Justin Holl, who surged in the second half of last season.
Interestingly, Dubas brought in Zach Bogosian to stiffen up Toronto's blueline. Bogosian has the potential to sink a pair and is the exact opposite of the type of player people associate with new-school Dubas. But it's clear that the Leafs wanted to make themselves tougher and Bogosian checks that box.
There are questions to be asked of this unit, though. The biggest of those is in goal, where Frederik Andersen will have the weight of the world on his shoulders after stumbling through 2019/20. If Andersen isn't able to bounce back from his -10.27 GSAx, Toronto will be in a world of trouble even with Jack Campbell and Aaron Dell behind him.
Prior to his 2019/20 howler, Andersen was regarded as one of the NHL's most reliable goaltenders. The 31-year-old Dane finished with a save percentage between .917 and .919 in the four seasons before last, so there is hope for a return to form.
Another question mark is whether or not Brodie will be able to put up the same results that he did in Calgary. An expensive free agent signing, Brodie will be expected to provide top-four quality and you'd think he'd be able to do that considering his resume, but he also spent a lot of time in Calgary alongside Mark Giordano, one of the NHL's best rearguards. If Brodie stumbles in the Toronto Pressure Cooker, the balance of the defense could come unglued.
And then there's the bottom-six. As fun as it is for Leafs fans to think about Joe Thornton playing with Auston Matthews and Mitch Marner, he is 41 years old. Asking a player at that age to be able to play every game — and do it effectively — in this unique environment is a tall ask. The same can be said of Jason Spezza and Wayne Simmonds.
Compared to most teams in the NHL, and every club in their division, the Leafs have more answers than questions. They should be able to coast to a playoff spot (they are -835 to make the playoffs at DraftKings) and have a relatively easy path to the League Semifinals. A lot will have to go wrong for The Buds to not be in the mix, but this number is too low to get involved.
If you are going to be watching a lot of Leafs games and want to root for them, I think a bet on Auston Matthews to win the Hart Trophy could be worth the sweat. Matthews is the favorite to win the Rocket Richard (most goals), and if he does that I'd imagine he'd be well in contention to win the Hart.
Favorite Bet: Auston Matthews to win the Hart Trophy (+1100)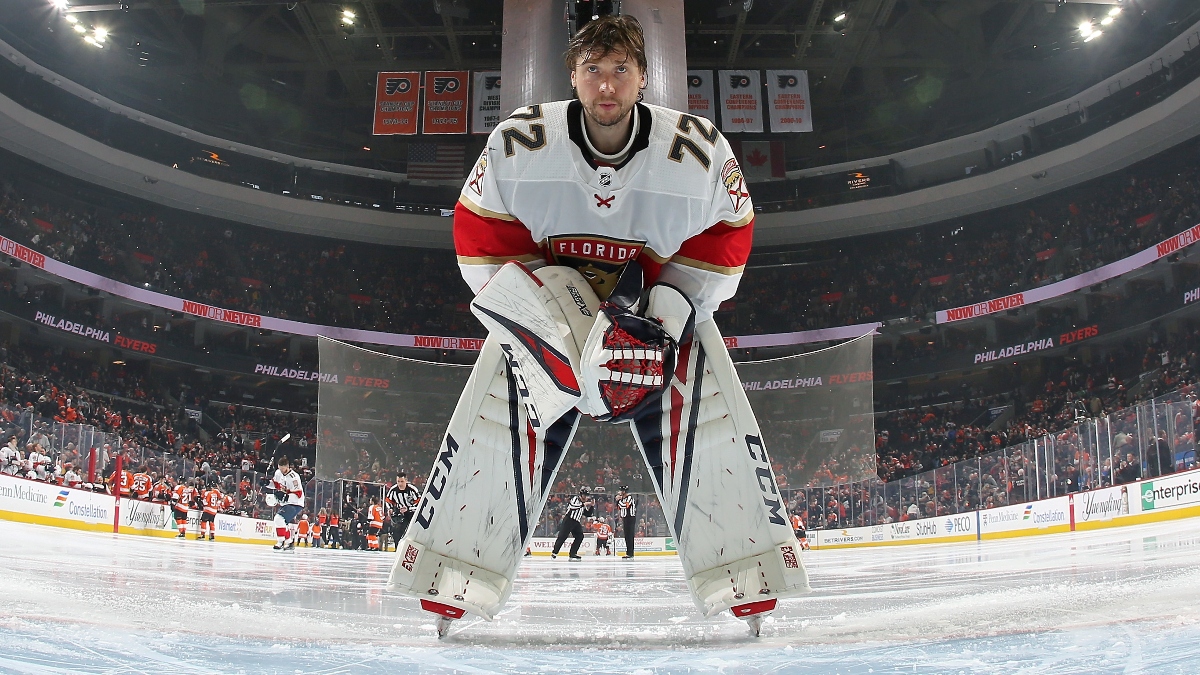 11. Florida Panthers 
The Panthers received a little bit of hype ahead of last season thanks to an extravagant offseason that saw them sign one of the game's best goaltenders, Sergei Bobrovsky, and hire a hall-of-fame coach in Joel Quenneville. 'Bob' and Coach Q joined forces with a roster that featured two dynamic top-line forwards, Aleksander Barkov and Jonathan Huberdeau, and a former No. 1 overall pick on the blueline in Aaron Ekblad.
The results were a mixed bag as Bobrovsky struggled, Barkov wasn't up to his lofty standards and the Panthers could never really put everything together. This was despite having two other bona fide top-six forwards in Mike Hoffman and Evgenii Dadonov, neither of whom are still in Florida for 2021.
In the end, the Panthers finished in a familiar spot: No Man's Land. The Cats weren't good enough to contend, nor were they bad enough to land a top draft pick. Oddsmakers believe it will be another pedestrian season for Florida, but there are some reasons to believe that the Panthers could be better than expected.
Losing Hoffman and Dadonov for nothing isn't a great thing, but the Panthers did manage to at least plug their spots with capable replacements in Anthony Duclair and Patric Hornqvist. Those two veterans, along with highly-regarded rookies Grigori Denisenko and Owen Tippett, should give Florida a chance at replacing the production that Hoffman and Dadonov take with them to their new homes.
Barkov, Huberdeau, Hornqvist, Tippett and Duclair is a decent enough core to work around, and the Panthers have decent depth players like Brett Connolly, Vinnie Hinostroza and Frank Vatrano to help provide support on the wings.
While bounce-backs from Barkov and Bobrovsky are needed for Florida to contend, Tippett also figures to be a make-or-break player for Coach Q. If Tippett, the 10th-overall pick in 2017, scores at a second-line clip, that could be the difference between the Panthers being stuck in purgatory or making the postseason. Ditto for Denisenko.
Florida's most glaring weakness is down the middle as the team has no true No. 2 center at the moment. It looks like Noel Acciari will get the gig to start, but choosing between him, Carter Verhaeghe and Alex Wennberg for that role does not leave Quenneville in a good spot.
That said, none of them are going to sink a roster as they've all had success in bottom-six roles in their career. Verhaeghe is especially interesting after a successful stint with the Lightning as a depth center. If he can succeed between Duclair and either Tippett or Brett Connolly, things look a bit brighter.
The Panthers were fourth in the NHL with 2.82 goals per hour (5-on-5) in 2019/20 despite only producing 2.33 expected goals per 60 minutes. The only teams that finished ahead of them were Colorado, Tampa Bay and Washington. If you're scoring that many goals on 5-on-5 you should be contending, but Florida's defense and goaltending wilted, dooming them to outsider status.
A lot of the blame lands on Bobrovsky, who posted a shockingly bad -13.86 GSAx, but the defense was nothing to write home about, either. The good news is that general manager Bill Zito made a couple of unheralded improvements to the back-end of the blueline by bringing in Markus Nutivaara and Radko Gudas to stabilize the third pairing.
With Aaron Ekblad, who quietly put together a break-out season in 2019/20, and MacKenzie Weegar, ditto, at the top and Gudas and Nutivaara at the bottom, the Panthers look to have a dependable, if not spellbinding, defense.
That should give Bobrovsky at least a chance at re-claiming his place among the game's best goaltenders, which is an absolute necessity if the Cats have big plans for this season.
Tampa Bay is the clear favorite in the Central Division but things really open up behind the defending champs as the next four teams (Carolina, Dallas, Nashville and Columbus) are all sitting between +2000 and +4500 at most sportsbooks. That tells you that the Panthers are not out of their league in this division and could be an interesting buy-low candidate.
That said, a lot has to go right for this team to just make the playoffs, so I would need a much bigger number to invest in Florida before the season. Perhaps the best course of action for potential investors is to be patient and wait to see what kind of form Bobrovsky is in as the season starts. If things look encouraging, this number starts to become more palatable.
In the end, I think the best way to buy into Florida is by backing the coach, Joel Quenneville, to win the Jack Adams. A strong season from the Panthers will likely land Quenneville in the conversation for the award and given his status in the game, it would be hard for a lot of the PHWA voters to look away.
The Bet: Joel Quenneville to win the Jack Adams 20/1 or better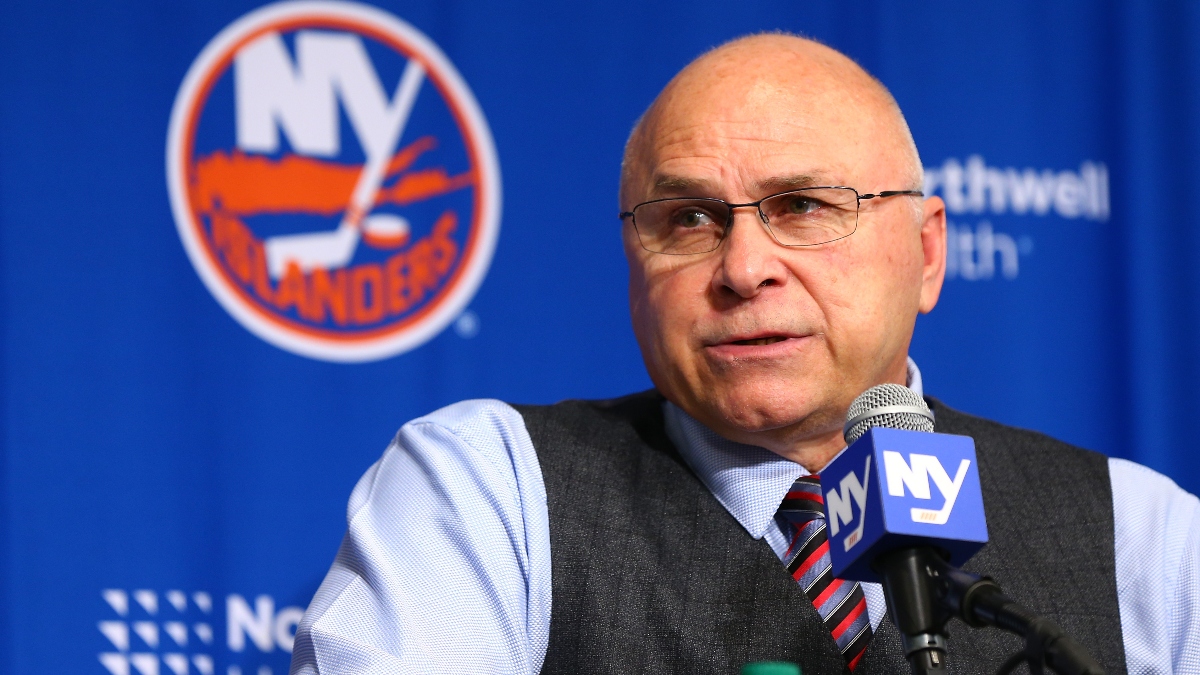 10. New York Islanders
The New York Islanders were a win away from being a win away from a trip to the Stanley Cup Final in 2020. It's an astonishing accomplishment for a club that only two seasons ago watched its franchise player walk via free agency, leaving many to think the Isles were staring down another tedious re-build.
What everybody underestimated was the impact that head coach Barry Trotz, fresh off a Stanley Cup Parade with the Capitals, would have on the Islanders. Not only that, but most of the hockey universe also overlooked that the Isles had a foundation of players to work with. Brock Nelson, Josh Bailey, Jordan Eberle, Adam Pelech, Ryan Pulock and Anders Lee may not be sexy names, but it's a formidable group. Sprinkle in some sizzle with Mat Barzal and Anthony Beauvillier, and you're starting to see how the Islanders became odds-defiers in Trotz's first two seasons.
Of course this narrative could have been very different had the NHL not re-convened in the Bubble. The Islanders were the coldest club in the league before the hiatus, free-falling out of a playoff spot that they earned through one of the best starts they've ever had. You often hear "it was a tale of two seasons" for a particular team, but for the 2019/20 Isles, it was really a play in three acts. They started 16-3-2, then followed that up by going 19-20-8 over the winter and putting their sure-fire playoff spot in jeopardy. Then came The Bubble, where the Islanders looked better than ever.
| Stat (5-on-5) | Regular Season (68 games) | Postseason (22 games) |
| --- | --- | --- |
| Goals per 60 | 2.21 | 2.34 |
| Goals Against per 60 | 2.36 | 1.85 |
| Expected Goals per 60 | 2.38 | 2.36 |
| Expected Goals Against per 60 | 2.39 | 2.16 |
Those numbers leave you with a dilemma. Which version of the Islanders should bettors expect?
The easy answer is to expect a team somewhere in between. A solid team, but not the elite one we saw dispatch the Panthers, Capitals and Flyers without much issue before giving the Lightning a good series in the Conference Final.
While I don't foresee the Isles putting up the same kind of results they did in the Bubble, I also think we should expect them to be closer to that version of the team than the one we saw struggle to even score a goal last January and February.
That's because the Islanders' struggles last year coincided with a pair of key injuries. Top-pair defenseman Adam Pelech was supposed to miss the whole season after an ACL injury he suffered in a pre-game kick-up game and Casey Cizikas was out for weeks after he got cut with a skate.
The Islanders started to address those issues by trading for third-line center Jean-Gabriel Pageau and reliable third-pair defenseman Andy Greene. When the Isles got to The Bubble, Cizikas and Pelech were back and Greene and Pageau got to go through a mini-camp with their new team. The proof was in the pudding.
The Islanders are a relatively unchanged group heading into 2021. Devon Toews, the team's best puck-moving defenseman the past two seasons, was a cap casualty, but there's a chance that the defense continues to be a strength thanks to the development of Noah Dobson and the swapping of Greene in for Johnny Boychuk, who was clearly struggling in the twilight of his proud career.
The other notable addition to this roster is the long-awaited arrival of Ilya Sorokin, a highly-touted Russian goaltender who has spent the last five seasons absolutely dominating the KHL. It's best to pump the brakes when talking about rookie goaltenders but it's hard not to get caught up in what Sorokin, 25, accomplished for CSKA Moscow. Over his last two seasons with CSKA Moscow, Sorokin posted save percentages of .940 and .935 with 20 shutouts in 80 games. That's one shutout for every four games.
If Sorokin settles in quickly, the Islanders will immediately get interesting. He should have a pretty decent chance at doing so considering Trotz's record with goaltenders and the fact that he has a very steady partner in Semyon Varlamov.
Perhaps my Islanders' fandom is clouding my judgment a bit, but I think it's worth taking a stand on the Isles once again. It's not like they are being priced like a team that was inches away from a trip to the championship last season, so it won't be an expensive mistake if you're too high on a team like this.
For the third season in a row, I think the Islanders could be worth backing on a game-to-game basis. It'll be pretty rare that the Isles will be big favorites. They are projected to finish fifth in the East Division, but I think they are every bit as good as Washington and Philadelphia, and the gap between them and the Bruins and Penguins isn't that wide.
The Bet: Ilya Sorokin to win the Calder Trophy (+2800)
9. Columbus Blue Jackets
I was generally higher on the Blue Jackets in 2019/20 and I didn't think that would be the case in 2021 because Columbus looked impressive in The Bubble and upset the Maple Leafs, so I figured more people — and bettors — would see the Jackets coming this time around and that would drive up their price.
That sort of happened, but I still believe the Jackets are a team worth keeping an eye on in a competitive Central Division. At the moment, the Jackets are projected to be between the fifth or sixth-best team in the division behind the Lightning, Hurricanes, Stars and Predators. While most books have the Jackets projected to be better than Florida, there are a few that rate the Panthers as slightly better than Columbus.
Due to its lack of starpower, Columbus is a team built on a defensive, we-dare-you-to-beat-us mentality. John Tortorella is a master at getting the most out of his players and, as cliché as it sounds, the Blue Jackets overachieve because they are one of the hardest-working teams in the NHL.
That said, there are a handful of talented players at the top of this roster. None of Pierre-Luc Dubois, Oliver Bjorkstrand, Cam Atkinson and Max Domi are surefire stars, though each of them, Dubois especially, has a pretty high ceiling.  Unfortunately, Dubois has requested a trade out of Columbus, which would be a pretty big deal if it comes to fruition.
Dubois, Domi, Mikko Koivu and Riley Nash give the Jackets four effective centers, though Koivu and Nash won't be counted on to fill the stat-sheet but instead provide the Jackets with two very capable checking centers.
You can argue all you want about just how good Seth Jones and Zach Werenski truly are, but the important thing for bettors is that Jones and Werenski give the Jackets a trustworthy top pairing. Columbus did take a hit behind them, though, as Ryan Murray and Markus Nutivaara have both moved on. Neither Murray nor Nutivaara were top-pair rearguards, but they were both perfect for roles on the second or third pairing. Murray also was an adept plug-and-play option if Jones or Werenski went down.
Stop me if you've heard this one before, but goaltending will likely be what propels the Jackets into the mix or keeps them on the outside looking in. There are reasons to be optimistic that the Blue Jackets will be well off in goal. Elvis Merzlikins looked like he was on his way to establishing him as a reliable No. 1 goalie during the middle part of the season. Joonas Korpisalo may have struggled in the regular season, but he was brilliant in the Bubble. And of course there's Columbus' terrific team-defense that makes life easy on its netminders. The Blue Jackets posted the fifth-best GA/60 and xGA/60 in the league last season.
There are also reasons to be cautious. Merzlikins only has 32 games of NHL experience and his overall numbers aren't that impressive thanks to a slow start in 2019/20. And Korpisalo's performance in the postseason may distract people from remembering that he posted a -19.05 GSAx over 64 games the last two seasons.
If you're the type of bettor that likes to throw a couple of darts on a few longshots, I could see the Blue Jackets as an attractive punt. I don't think 45/1 is great number on a team that will need to outlast Tampa, Carolina and Dallas in the playoffs, but the Jackets have mastered the art of punching above their weight under Tortorella so I would not talk anybody out of the Jackets in this range. If you are interested in betting on Columbus, I do think you can be patient. Unless the Jackets have an absolute pearler of a season, these odds will likely remain in this range heading into the postseason.
Instead, my hypothesis with the Blue Jackets is that they will, once again, be a team to target as underdogs and to walk away from as big favorites. They excel at turning games into 50/50 contests, which is a valuable asset as an underdog but something that gives you pause when they are big favorites. Over the past two seasons (including playoffs), the Jackets are 45-45 as underdogs and would have won you $1,433 (15.9% ROI) if you bet $100 each time Columbus was the pooch. On the contrary, Columbus is 45-37 as the chalk and would have lost you $773 (-9.4% ROI) if you bet them in each game (courtesy of Action Labs).
Favorite Bet: Target Columbus as an underdog, fade as a favorite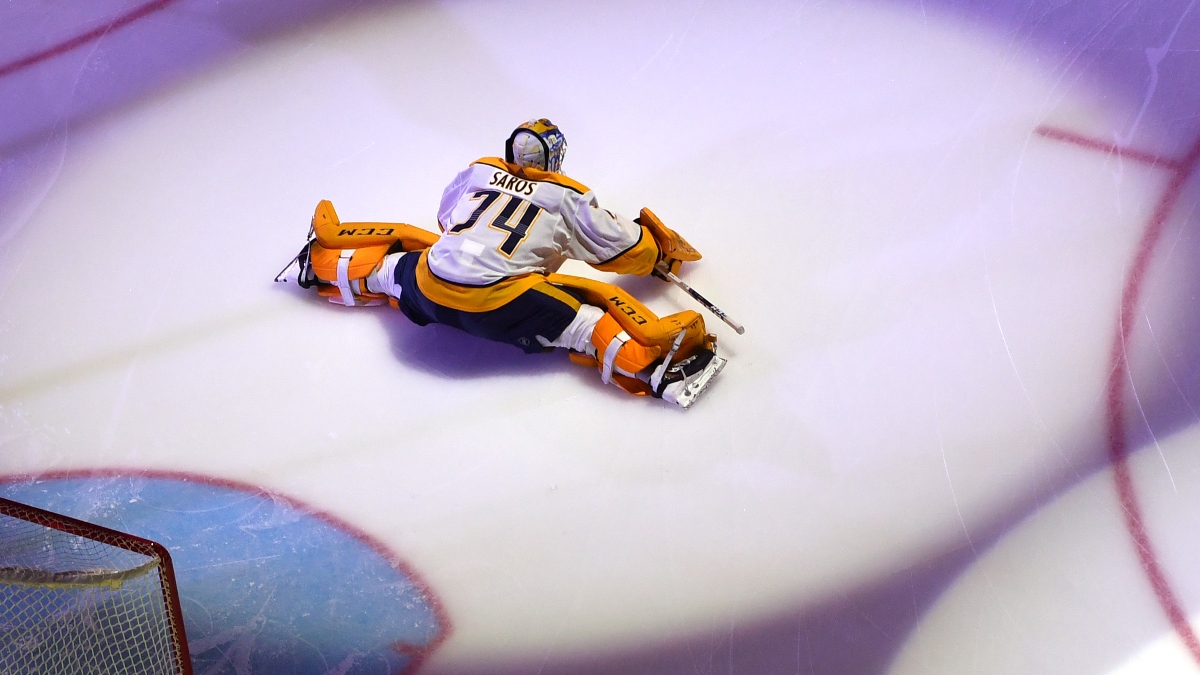 8. Nashville Predators
A couple of seasons ago it seemed like it was a question of if, not when, the Nashville Predators would win the Stanley Cup. They got close, losing to the Pittsburgh Penguins in 2017 Finals, but since then the Preds has slowly slinked back into the pack.
There's still a chance for this group, though.
Any conversation about Nashville starts with the defense. That's both a good and bad thing. For one, it tells you that the Preds lack star-power up front. Fans, pundits and writers typically like to spill ink on forwards first, so when so much attention is paying paid to a team's blueliners, it tells you that there may be some oomph missing up front.
Of course it isn't a bad thing to have a good defense. And if you've got the NHL's best pairing, which the Predators do, it buys you some leeway while the team tries to find someone to break open a game on offense.
There were some points where it looked like the Predators found their talisman over the years. Filip Forsberg, Viktor Arvidsson, Ryan Johansen and Matt Duchene all have had terrific seasons in their respective careers, but not one of them has been able to maintain that level. If the Predators can find a top line that puts up crooked numbers, look out because the rest of the pieces are there for an intriguing contender.
Whatever that top line ends up being, let's say it's Duchene in between Forsberg and Arvidsson for this thought experiment, it would allow Johansen to be deployed in a more suitable role as a No. 2 pivot with Mikael Granlund and Eeli Tolvanen at his side. The bottom six would be in good shape, too, as Erik Haula, Rocco Grimaldi, Nick Cousins and Calle Jarnkrok can all do a job in checking-line roles.
All of this is hypothetical of course, but you can see where I'm going. The Predators have a real chance to be noise-makers, so long as they can find a few forwards to carry the water.
If not, the team will likely need to be carried by its elite top-pairing on defense. Roman Josi, fresh off his Norris Trophy season, and Ryan Ellis form the game's best partnership in the NHL and can turn games on their own, but imagine how much stronger the Preds would be if Ellis and Josi had more production in front of them. 
More goals would also provide some support for Nashville's goaltending duo, which I am pretty bullish on, so long as Juuse Saros is doing the heavy lifting with Pekka Rinne serving as deputy.
Long the heir apparent to the blue paint in Nashville, Saros endured a roller coaster 2019-20 season. The first half of the season was a bit of a trainwreck as the 25-year-old Finn posted a -11.99 Goals Saved Above Expectation (GSAx) in his first 20 games.
However, something seemed to click for Saros in the new year: The yellow-padded stopper led the NHL with a +13.19 GSAx over his next 20 contests. That form seems to have gone unnoticed by the market, as Saros is listed as the biggest longshot for the Vezina at DraftKings. At 50/1 Saros has longer odds than Malcolm Subban, Martin Jones, Thomas Greiss, Antti Raanta and Matt Murray. None of those goaltenders play for contenders, and some of them have some very suspect numbers over the past few seasons.
While I do think there's something intriguing about Nashville as a Stanley Cup dart, I'd want a bigger number. Instead, Saros to win the Vezina at +5000 is my favorite Nashville-related bet.
The Bet: Juuse Saros to win the Vezina Trophy (+5000)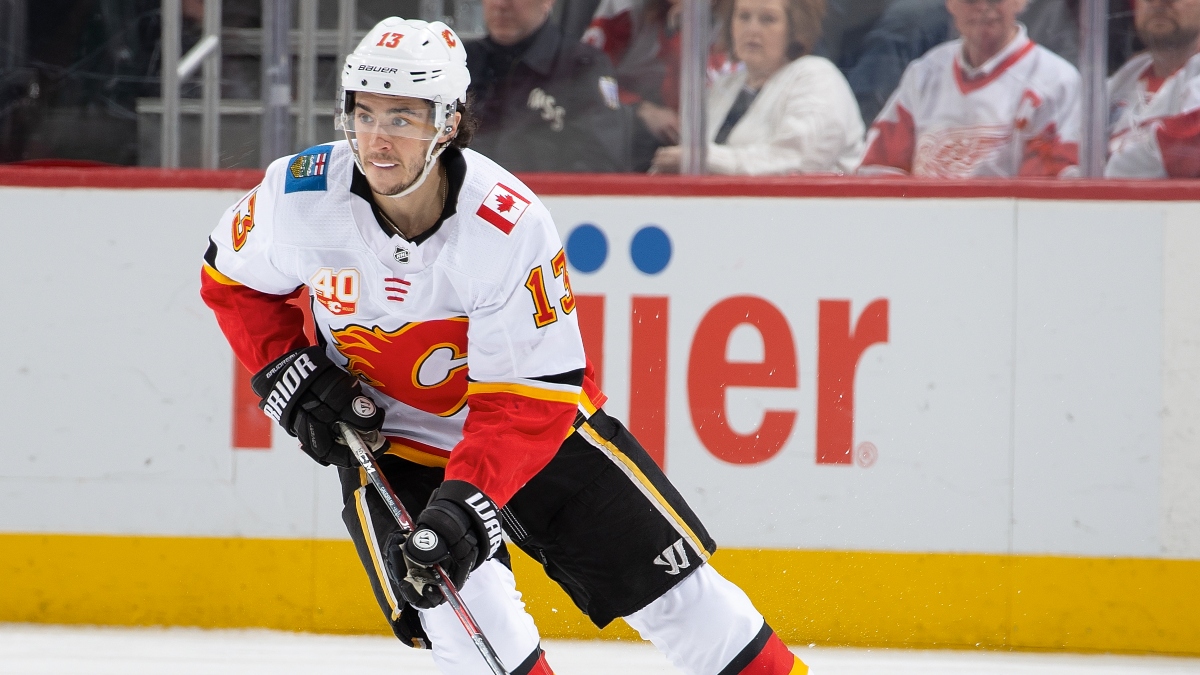 7. Calgary Flames
After posting the best record in the Western Conference in 2018/19, things went sideways in Calgary last season and the Flames failed to meet expectations, not just as a team but on the individual level, as well. Players like Johnny Gaudreau and Sean Monahan saw their production and on-ice impact dwindle, leaving a strapping top-six from '18/19 look ordinary one season later.
If you are bullish on the Flames, you are counting on a bounce-back season from Calgary's stars, but you also get the added bonus that the team made a significant upgrade in goal by signing Jacob Markstrom to take over in goal.
Markstrom broke out with a star-turn season in Vancouver in 2019/20 and projects to give Calgary something they haven't had since Miikka Kiprusoff left his post in 2013. Whether Markstrom can match, or even improve, on his play from last season will be what decides how far the Flames go, but he should have a pretty good chance at coming close to his '19/20 level because Calgary's defense is a sizable upgrade over what he was dealing with in Vancouver.
Calgary's blueline is led by Mark Giordano who, even at age 37, is still one of the circuit's best defensive defensemen. Giordano is the main man in Cowtown, but Rasmus Andersson has turned himself into a valuable asset for the Flames and could play a top-pair role if needed. The depth behind Giordano and Andersson won't knock you over, but Noah Hanifin, Chris Tanev, Juuso Valimaki, Oliver Kylington and Nikita Nesterov should be good enough for Calgary considering its strength in goal and, hopefully, up front.
We have a pretty good idea of what to expect out of most of the other Canadian teams. The Canadiens are deep and have a high floor. The Leafs are uber-talented and have the highest ceiling. The Oilers will go as far as their stars take them. But the Flames are a bit of a mystery because we are dealing with two very different performances from their star forwards over the last two seasons.
Asking Gaudreau, Monahan, Lindholm and Co. to repeat their 2018/19 output is probably a fool's errand and frankly the Flames don't need to be that version of themselves to succeed. Instead, if that group — Gaudreau, especially — can improve off of last season, Calgary will be in good shape.
While I think that the Flames are appropriately priced, I think you can make a case for a bet on Gaudreau to win the Hart Trophy at a big number. Johnny Hockey is just one season removed from a 99-point season. While he would likely need to surpass that pace to be in contention for MVP, I don't think that is outside the realm of possibilities.
The Bet: Johnny Gaudreau to win the Hart Trophy +7000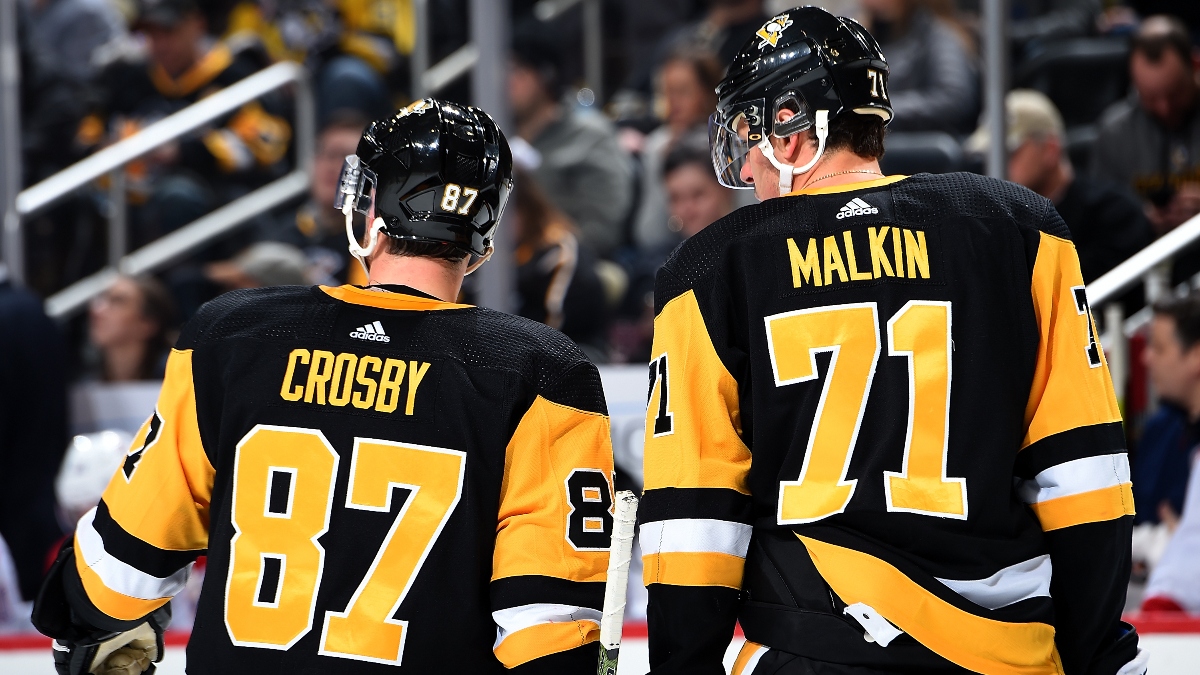 6. Pittsburgh Penguins
Bettors are kind of like toddlers. You give a three-year-old a new toy and he or she will likely drop whatever used to have their attention to play with the  shiny, new item. The Penguins are kind of like that old toy. They've been forgotten about as bettors have started to fall for teams like the Avalanche. And while Pittsburgh's days as a Cup Contender may finally be numbered, but it would be foolish to think that we've seen the last of Sidney Crosby, Evgeni Malkin and Co.
You can't really blame the market for being lukewarm on the Pens in the brutal East Division. The Penguins were swept by the New York Islanders in Round 1 of the 2019 Playoffs and then lost in a best-of-5 to the Canadiens in the Bubble. Those types of performances will stick with bettors through the offseason. Savvy punters will recognize that and try to surmise if those results are creating some buy-low value on the Penguins.
You'd think a team with Malkin, Crosby and Jake Guentzel on board would be known for its offense, but it was Pittsburgh's defense that led the way in 2019/20. The Penguins finished seventh in the NHL with a 2.2 expected goals against per 60 minutes, but were let down by their goaltending as Matt Murray finished with a -13.98 GSAx in 38 games in 2019/20.
The Penguins and Murray parted ways in the offseason but Pittsburgh elected to promote from within rather than acquire a goalie from elsewhere. That means that, at least for the early going, Tristan Jarry and Casey DeSmith will be Mike Sullivan's puck-stopping tandem.
It's hard to project any netminder, but this partnership is especially tough since neither Jarry nor DeSmith have much of a resume. Jarry posted a +0.99 GSAx in 33 appearances in 2019/20, while DeSmith played to a +0.6 GSAx in 36 contests in 2018/19. It's a calculated risk to roll with two unproven goaltenders, but the Penguins figure to be a team that can set up Jarry and DeSmith for success because of their ability to limit scoring chances.
| Stat (5-on-5) | Regular Season | Rank |
| --- | --- | --- |
| Goals per 60 | 2.71 | 10th |
| Goals Against per 60 | 2.46 | 14th |
| Goals Differential per 60 | +0.25 | 8th |
| Expected Goals per 60 | 2.35 | 19th |
| Expected Goals Against per 60 | 2.2 | 7th |
| xG Differential per 60 | +0.15 | 10th |
John Marino had an exemplary rookie season. Kris Letang and Brian Dumoulin can both be trusted in top-pair roles and Marcus Pettersson rounds out a pretty nifty top-four. Cody Ceci and Michael Matheson leave something to be desired as the third pair, but they should be fine in a sheltered role on a team that plays a cohesive defensive game for one of the NHL's best coaches.
Offensively, you know the story. Sidney Crosby and Evgeni Malkin lead the way and any team with a pair of game-breakers like Crosby and Malkin will be dangerous. With Jake Guentzel, Bryan Rust, Kasperi Kapanen and Jason Zucker joining them, the Pens have enough scoring heft to scare teams. Add to that a third line that consists of solid two-way players like Jared McCann, Zach Aston-Reese and Brandon Tanev and the Penguins are starting to look like a complete team.
Whether or not they are that team will come down to health and goaltending. But that's the case with any club in the NHL. It's all about which teams are set up to survive the grind and still find a way to succeed. I think the Penguins can do that. One last hurrah, if you will.
At the very least, this is an intriguing number on a sleeping giant and should provide some value on a game-to-game basis. I'd consider investing in Pittsburgh in a number of ways and I certainly wouldn't argue with anybody that thinks +2100 (4.55% implied probability) is worth a bet, but I also like the 25/1 payout on Sidney Crosby to win the Hart Trophy.
It's important to remember that awards voters are human beings. More specifically, they are human beings whose job it is to write/tell stories about hockey. A big season from Crosby to lead the Penguins back into contention, that's a story worth voting for.
Favorite Bet: Sidney Crosby to win Hart Trophy +2500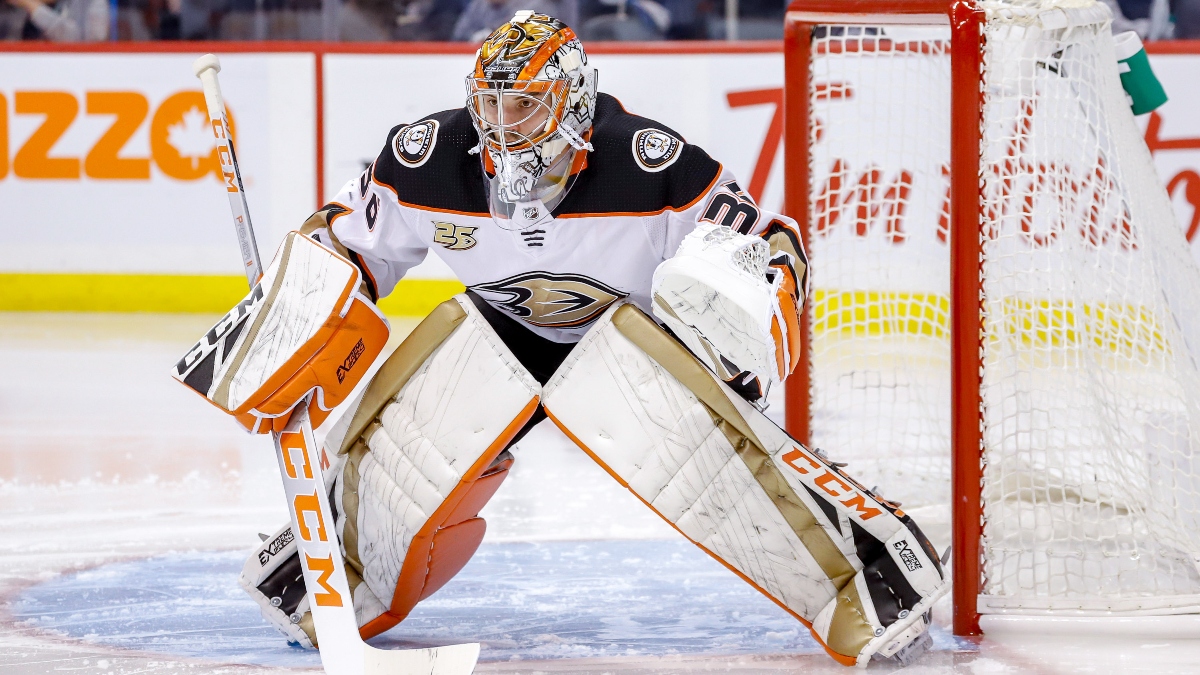 5. Anaheim Ducks
Call me crazy, but I think the Ducks are live in 2021. No, not as a longshot to win the Stanley Cup, but I think Anaheim can be better than expected and perhaps make the playoffs.
The West Division is very peculiar. There are three legitimate Cup Contenders at the top and five below-average squads behind them. Because of the way this season will be formatted, the West is basically two mini-divisions. Colorado, Vegas and St. Louis will likely compete in a three-horse race for the top seed, while Minnesota, Arizona, San Jose, Anaheim and Los Angeles will race for the fourth playoff spot. In this unique environment, I think the Ducks could be a potential sleeper and that could lead to a few interesting betting options for a team that most people will be overlooking in 2021.
If you just judge the Ducks in terms of overall talent, you'll be left disappointed. But when you compare Anaheim to Minnesota, San Jose, Los Angeles and Arizona, the optimism can start to creep in.
That optimism would quickly dissipate if John Gibson doesn't find his form.
Gibson entered the 2019/20 season on the shortlist for best goaltender in the world. That made sense considering that Gibson posted a +32.86 GSAx in 2017/18 and followed that up with a  +26.9 GSAx in 2018/19. Bad seasons can come out of nowhere for goaltenders and that's what happened in '19/20 as Gibson allowed nearly 10 goals more than expected.
Some teams can get by with league-average goaltending, but Gibson playing at a near-star level is a huge part of Anaheim's gameplan since the Ducks don't have enough supporting talent to provide cover for pedestrian goaltending.
I do remain hopeful that Gibson can re-gain his form. We saw Connor Hellebuyck of the Winnipeg Jets come back from a down year to the win the Vezina and single-handedly pull the Jets into the playoff mix, so it's not out of the question for Gibson — who is among the favorites for the Vezina this season — to pull a similar stunt.
Banking on bounce-back seasons is going to be a common theme for the Ducks as Gibson isn't the only player who took a step back in 2019/20. Anaheim's once-promising core of defensemen, Hampus Lindholm, Cam Fowler and Josh Manson, spent last season treading water, though they were not helped out by a forward group that rates out as one of the weakest in the NHL.
Speaking of bounce-backs, Kevin Shattenkirk is a prime example of what can happen when a player is put in the right situation. After a disastrous stint at Madison Square Garden, Shattenkirk enjoyed a resurgence with the Lightning last season. If Shattenkirk truly re-discovered his form, he could help bring players like Fowler, Lindholm or Manson back to the level they were at in previous seasons.
No matter how you shake it, this is a team that is going to need to win from the back to the front because Anaheim does not have much staying power up front. Rickard Rakell, Jakob Silfverberg, Adam Henrique and Ryan Getzlaf are all still effective players, but they don't make up a core that you'd want to build around. The Ducks do have some promising young forwards like Troy Terry, Sam Steel and, most notably, World Juniors MVP Trevor Zegras, but you can't expect any of them to carry a load this heavy.
The other advantage the Ducks may have is that the quality of competition in the West Division provides Anaheim with a semi-realistic path to the playoffs. Sure, the Ducks are far from a complete team, but how much worse are they than Arizona or Minnesota? I don't think the margin is that wide, especially if Gibson is himself.
A bet on the Ducks to win the Stanley Cup is pushing it — even at 100/1 — but I think there's plenty of opportunities to hunt for a big price on Anaheim in derivative markets. My favorite of the bunch is on Gibson to become the third goaltender since 2000 to be named MVP.
Think about it this way, the bookies have Anaheim at +225 to make the playoffs. That means they have a 30.8% chance of getting into the tournament. If that comes to fruition, it will likely be thanks to a heroic season from Gibson, which could land him in the Hart conversation.
Favorite Bet: John Gibson to win Hart Memorial Trophy (+10000)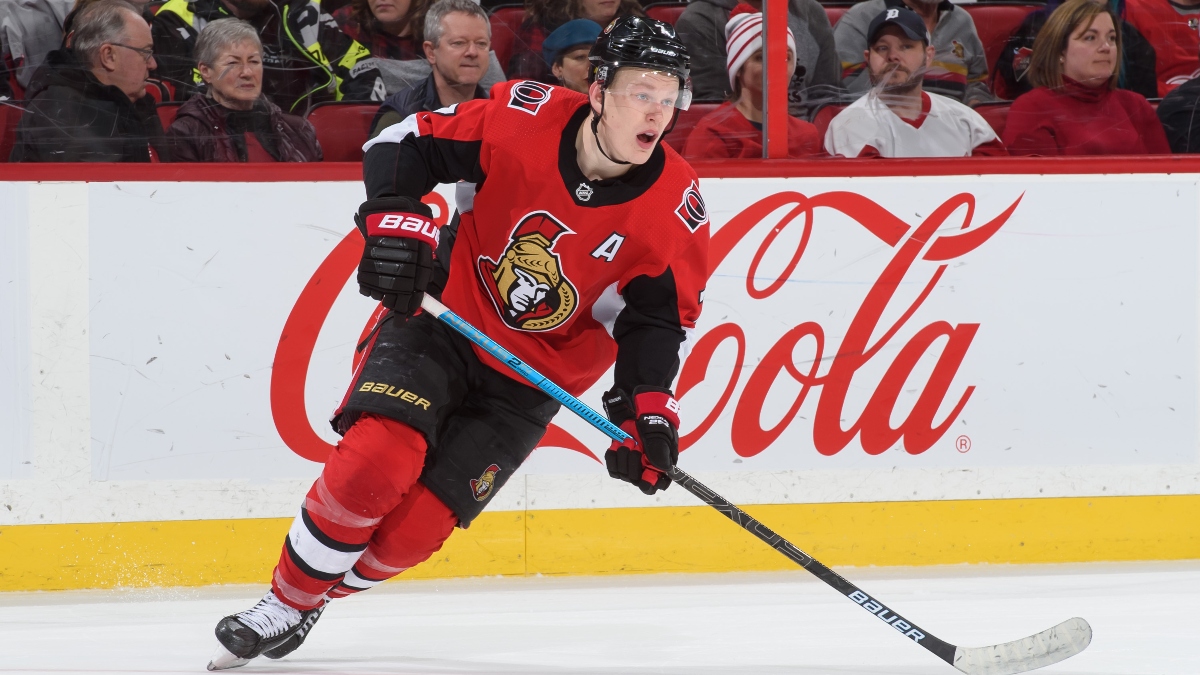 4. Ottawa Senators
Here are two pre-season predictions I know will come true: 1) I will be betting the Ottawa Senators quite often over the next four months. 2) It will not be fun.
I don't say that because I think the Sens will be good, but rather because I don't think they will be as bad as people think, which should create some buy-low value on Ottawa in 2021.
When you're betting on a sport consistently, you need to pay attention to every team. Just because a team is out of contention doesn't mean you should put a line through them. Most casual bettors and fans have no time for a team that is headed for the lottery and that often creates quite a bit of value on the clubs near the bottom of the table.
The Senators were 30th out of 31 teams in the NHL in 2019/20, but their 5-on-5 numbers largely improved in DJ Smith's first season behind the bench. Ottawa's statistical profile was still underwhelming but the Sens finished 11th in xGF/60 and boasted a better xGA/60 than seven teams, including the Jets, Canucks and Rangers.
Those may seem like modest successes, but those are the type of datapoints you want to look out for on a team that most other people will overlook.
| Stat (5-on-5) | 2018-19 | 2019-20 |
| --- | --- | --- |
| Goals per 60 | 2.5 | 2.23 |
| Goals Against per 60 | 3.23 | 2.71 |
| Goals Differential per 60 | -0.73 | -0.48 |
| Expected Goals per 60 | 2.31 | 2.43 |
| Expected Goals Against per 60 | 2.68 | 2.54 |
| xG Differential per 60 | -0.38 | -0.11 |
The Senators will likely still struggle to score and their depth down the middle is a real issue, but there are enough high-ceiling players on this roster that they could be a pesky underdog.
The biggest question mark for Ottawa will be in goal. The Senators are making a bet that two-time Stanley Cup winner Matt Murray can find his championship form after two down seasons in Pittsburgh. Murray was near the bottom of the league with a -13.98 GSAx in 2019/20, but it's not all that rare for goaltenders to go through peaks and valleys in their careers. A resurgent season from Murray and all of a sudden Ottawa becomes pretty interesting.
Ottawa is the second-biggest longshot in the market ahead of Detroit, but I don't think there's all that much that separates the Sens from teams in the tier above them on the oddsboard like the Kings, Blackhawks and Coyotes.
The Senators should also benefit from the unique circumstances in 2021. A 56-game season will create more variance and the North Division projects to be the most wide-open group in the league, so there are a lot of winnable games on the schedule for a team that will be consistently offered at a big price.
Get ready to bet the Ottawa Senators every night.
Favorite Bet: Ottawa moneylines in the early part of the season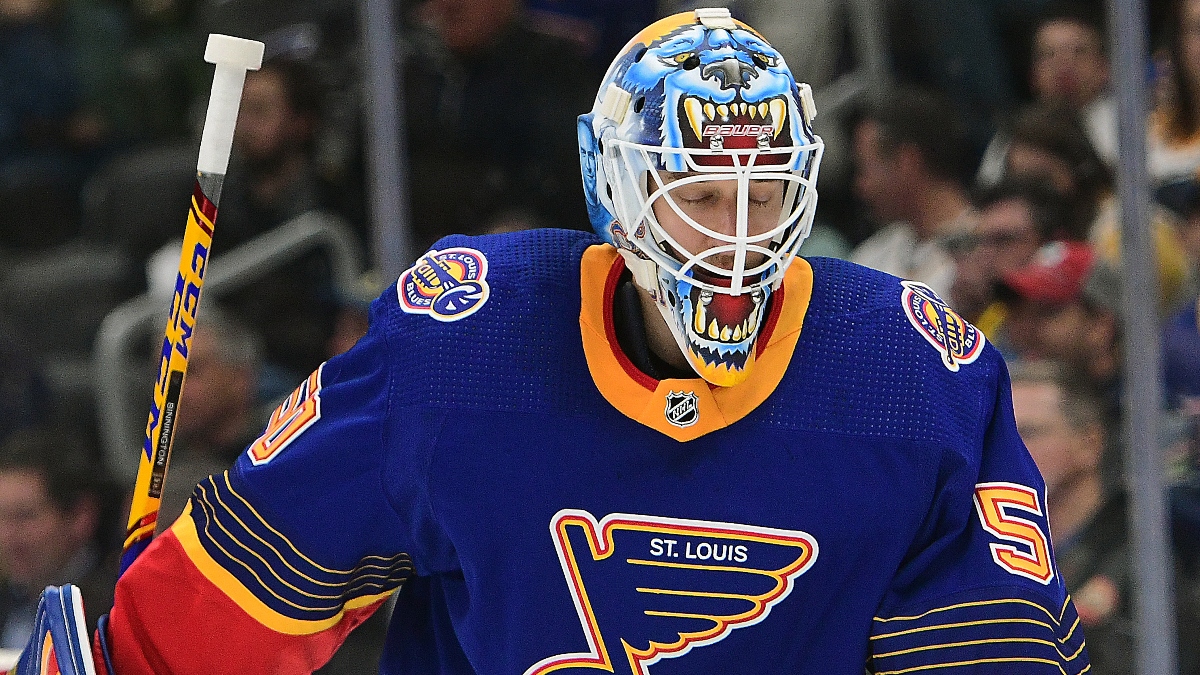 3. St. Louis Blues 
The St. Louis Blues could be a bit of a sleeping giant. With so much attention being paid to Colorado and Vegas, St. Louis is flying a bit under the radar in the West Division, probably because the Blues lost No. 1 defenseman Alex Pietrangelo, one of the league's best, to Vegas.
Pietrangelo was spectacular in St. Louis, but the Blues did as well as they could in replacing him by bringing in Torey Krug from Boston. Krug joins Colton Parayko, Justin Faulk, Marco Scandella, Robert Bortuzzo and breakout-candidate Vince Dunn on what should be one of the NHL's most solid bluelines. It's quite impressive that this team could handle losing their best player with this much grace.
If Dunn takes the expected step forward, that should give Craig Berube plenty of options for his top pairing. That's important considering that this will be a real test for Parayko, who has spent a good chunk of his career playing with Pietrangelo.
It's a similarly high bar for Krug to clear since he's been playing behind Zdeno Chara and Charlie McAvoy in Boston. I don't have any real concerns about Krug and Parayko, especially since Berube has other options at his disposal should things not fit right away.
Additionally, Krug is leaving one terrific defensive team for another. The Blues grind out results.
| Stat (5-on-5) | Regular Season (71 games) | Rank |
| --- | --- | --- |
| Goals per 60 | 2.56 | 16th |
| Goals Against per 60 | 2.01 | 3rd |
| Expected Goals per 60 | 2.28 | 24th |
| Expected Goals Against per 60 | 2.2 | 8th |
St. Louis did run hot through the last regular season, posting a +0.55 goal differential per 60 minutes despite an xGD/60 of just +0.06. That said, the defense was still Craig Berube's bread-and-butter as St. Louis finished third in goals against per hour and eighth in xGA/60.
If some offensive regression does come for St. Louis, it's not something it can't handle. The team's defense and goaltending allows some room for error and cold streaks on offense.
I don't think that this team will struggle to score, though. Ryan O'Reilly, Brayden Schenn, David Perron, Mike Hoffman, Jaden Schwartz and Robert Thomas is a decent top-six and they should get some help from Krug, Faulk and Dunn on the back-end. It's another testament to the depth in St. Louis that not only does the club seem like it can deal with Pietrangelo's loss, but also Vladimir Tarasenko.
The Blues succeeded without Tarasenko for most of 2019/20 and will likely need to repeat that feat until at least the halfway point of this season. The signing of Hoffman, a pure goal-scorer if there ever was one, seems like shrewd business considering the Tarasenko-sized hole up top.
Getting by Vegas and Colorado won't be easy, and the likeliest scenario is that the Blues end up needing to beat both of them, but St. Louis remains a heavyweight, even without Pietrangelo and Tarasenko.
While I am confident that the Blues will make the postseason without much of a problem, I don't think that their Cup odds will fall much, unless they surprise and run away with this division. With Vegas and Colorado looming when the playoffs start, I wouldn't be shocked to see St. Louis stay right inside this range all season. That should avoid curious onlookers some time.
That could be important considering that the Blues' situation in goal is a bit fragile. St. Louis traded Jake Allen, who grew into a terrific No. 2 goaltender last season, to Montreal, leaving very little cover for Jordan Binnington.
Binnington consolidated his 2019 star-turn with another quality regular season last time around the block, but he did stumble a bit in the postseason. Ville Husso, who has never played an NHL game, will be tasked with deputy duties in St. Louis and while the Blues' defensive structure should give him a chance to succeed, it makes me a tad nervous about getting too deep with the Blues.
The goaltending depth is really just a blip on the radar, though, and nothing I'm too worried about. I think St. Louis is just about in range for a bet at this number, but I think I'm going to wait to see how the season progresses as I don't think this number is going to plummet.
The Bet: St. Louis Blues to win the Stanley Cup (+2000)
2. Montreal Canadiens
I think the Montreal Canadiens are a legitimate Cup Contender in 2021.
On the surface, the Habs looked like a picture of mediocrity in 2019/20. They finished 31-31-9 with 71 points and a -9 goal differential in 71 games. Under the surface, Montreal looked like a team that should be a contender. The Habs had the second-best xG differential per 60 minutes during the regular season, finishing just behind Vegas and slightly ahead of Tampa Bay. Not bad company to keep.
| Stat (5-on-5) | Regular Season (71 games) | NHL Rank |
| --- | --- | --- |
| Goals per 60 | 2.54 | 17th |
| Goals Against per 60 | 2.45 | 13th |
| Goal Differential per 60 | +0.08 | 13th |
| Expected Goals per 60 | 2.66 | 3rd |
| Expected Goals Against per 60 | 2.34 | 11th |
| Expected Goals Against per 60 | +0.41 | 2nd |
Driving play is never a bad thing, but Montreal's terrific possession numbers never really led to sustained success because of a roster flaw: The Habs lacked scoring talent.
The Canadiens finished 26th overall with a 7.45% shooting percentage at 5-on-5 and that lack of scoring put more pressure on the defense and goaltending to make the chances they did convert stand up. That didn't happen as Carey Price struggled to a -11.04 GSAx over the regular season.
Part of Price's struggles seemed to be workload related as the former league MVP played in 58 of Montreal's 71 games in the regular season, tying him with Connor Hellebuyck for the most appearances in 2019/20. But after a five-month hiatus due to the pandemic we saw the return of "Vintage" Carey Price as he returned to form in The Bubble.
Price posted a +7.92 GSAx in Montreal's 10 postseason games and carried the Habs to an upset over the Pittsburgh Penguins in the Qualifying Round. Montreal probably deserved to pull off another shocker in Round 1 as the Habs thoroughly outplayed the Flyers but didn't score enough to get through the series.
Montreal still doesn't have the game-breaking finisher that you'd think it would need to contend, but the Habs bolstered an already strong group of forwards by signing Tyler Toffoli and trading Max Domi for Josh Anderson. When Domi was on, he was a force but the team is betting that Anderson will give this group the consistent finisher it has sorely lacked.
If Anderson and Toffoli provide even a little bit of scoring oomph, the Habs could have one of the deepest rosters in the league and the ceiling could be pretty high considering middle-six centers Nick Suzuki and Jesperi Kotkaniemi are 21 and 20 years old, respectively.
Things check out on defense, too, as Jeff Petry and Shea Weber give Montreal two No. 1 defensemen and the rest of the unit projects to be fine, too.
That brings us back to Price. Goalies are always the elephant in the room because of their importance and volatility, but I think there's reason to be confident that Price will provide the type of netminding needed for this team to compete.
Not only did Price recapture his old form during the postseason, but the Canadiens acquired Jake Allen from the Blues in the offseason and that should take some of the burden off their franchise goalie during a jam-packed regular season. Allen struggled to become a true No. 1 goaltender in St. Louis but he flourished as a back-up to Jordan Binnington in 19/20, posting a +7.03 GSAx in 24 games last season.
The Canadiens should also benefit from playing in the wide-open Canadian Division. You can make a case for, or against, every team in the set outside of Ottawa. The Maple Leafs will enter the season as the favorite but they are far from perfect and every other contender has serious flaws, too. Montreal isn't a surefire bet to make the playoffs, but I think the Habs have a pretty high ceiling and their depth gives them a bigger margin for error than the other teams in this division.
There is a feasible path to success for the Montreal Canadiens in 2021 and that's all you're really asking for out of a team in this range. Montreal's odds have crashed since the beginning of the offseason, but I still think there's a chance this team will be undervalued as the season goes on. So much attention will be paid to the Leafs, McDavid and perhaps the young stars in Vancouver that if the Canadiens just put together a solid, but not spellbinding season a number could pop on them if the other teams get off and running.
Favorite Bet: Over 66.5 Points  
1. Carolina Hurricanes 
The Carolina Hurricanes are a Stanley Cup contender. I'd put them right behind the three favorites (Colorado, Tampa Bay and Vegas) and ahead of teams like Washington, Philadelphia and Pittsburgh. If Toronto wasn't in the easiest division in the NHL, I'd have Carolina ahead of the Leafs, too.
The Central Division won't be a cakewalk, but I think the Hurricanes can hang with the Lightning and they are a leap better than Columbus, Nashville, Dallas and Florida. A lot of folks may see this as Tampa's race to lose, but I think this is a two-horse race and I would be surprised if it's a blowout.
The Hurricanes have everything you look for in a contender. They have a handful of talismanic forwards, a strong group of centers, a true No. 1 defenseman backed up by a strong supporting cast and decent goaltending.
Overall, the Hurricanes played like a solid, but not exemplary team in 2019/20. They had the fifth-best xGD per 60 and were 11th in 5-on-5 goal differential per hour. However, a deeper look revealed a very distinct line of demarcation in the Hurricanes' season: When No. 1 defenseman and Norris Trophy candidate Dougie Hamilton was injured. With Hamilton, the Hurricanes played to a near-elite level. When he was out, they faded into mediocrity.
| Stat | With Hamilton (47 games) | Without Hamilton (21 games) |
| --- | --- | --- |
| xGF/60 | 2.79 | 2.68 |
| xGA/60 | 2.43 | 2.68 |
| xGF% | 53.4% | 50% |
| GF/60 | 2.46 | 3.02 |
| GA/60 | 2.34 | 2.95 |
| GF% | 51.2% | 50.6% |
Hamilton and Jaccob Slavin  give Carolina one of the best pairings in the NHL, so it's not a huge deal that the rest of the Canes' blueline leaves a bit to be desired. Brett Pesce, Haydn Fleury, Jake Gardiner and Brady Skjei won't win you many games, but they're not an issue.
Where the Hurricanes do have impressive depth is up front. Like on defense, Carolina has a copybook top-line featuring Sebastian Aho in between Andrei Svechnikov and Teuvo Teravainen. I think Svechnikov and Aho could both be interesting bets for an end-of-season award, I especially like the former to lead the league in goals, while Teravainen is a fine facilitator for two shoot-happy linemates.
Vincent Trocheck, Jordan Staal, Morgan Geekie and Jordan Martinook give the Canes reliable depth down the middle, though Trocheck figures to be the difference-maker. If Trocheck can re-discover his form after a down season, this group could be a steamroller because there are plenty of secondary-scoring options on the edges with Nino Niederreiter, Ryan Dzingel and Martin Necas, while the Hurricanes also brought in a great two-way forward in Jesper Fast to play alongside Staal on the team's shutdown line.
The Hurricanes thrive in high-event contests and when they're off that could put some stress on the goaltenders, but the James Reimer-Petr Mrazek tandem seems to be working for them. Reimer and Mrazek combined for a +11.07 GSAx in the regular season and The Athletic's Dom Luszczyszyn rates Carolina's goaltending as the seventh-best unit in the NHL.
With a handful of star forwards, one of the NHL's best defensemen and enough depth to survive some bad breaks, the Canes have all the makings of a contender. The market just hasn't caught up to that, yet.
Favorite Bet: Carolina Hurricanes to win Stanley Cup (+2000)
Are you looking for a safe, reliable, trustworthy sportsbook? Check out our ratings of the best sportsbooks and their current sign-up offers for new customers.