Moore: Nikola Jokic Emerging With Sleeper MVP Value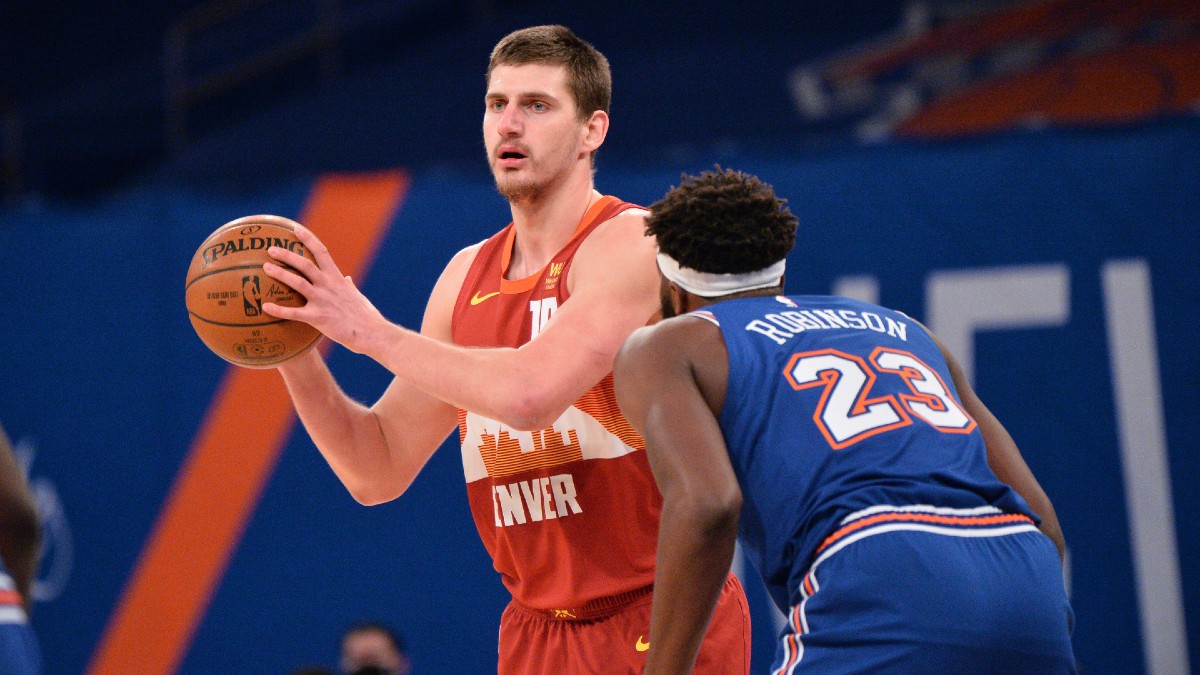 It's too early to talk MVP, but that won't stop us. We're through almost 20% of the season, and if you're trying to find value for MVP that's still at a long number, there isn't a better number than Nikola Jokic for MVP.
The Nuggets are under .500. They have wins vs. the Rockets without half their team due to COVID-19 tracing, the "seven Sixers" after almost every meaningful player was out with COVID-19 tracing, the Timberwolves without Karl-Anthony Towns (twice) and the Knicks. It has been an absolute faceplant of a season for Denver, which is 1-5 in clutch games after being the best team in the league in such situations three years running.
However, there's every reason to think Denver will turn it around and with how Jokic is playing, if they do, his case may be as strong as anyone's.
The (Entirely Too Early) Case
Here's the headline: Jokic leads the league in assists, averaging 10.3 per game along with 25 points on 57% shooting from the field and 39% shooting from 3-point range. He's also nabbing 11.4 rebounds per game and, remarkably, 1.9 steals per game.
We have no real precedent for Jokic. Wilt Chamberlain towered above his opponents, his relative athleticism and skill made those he faced mere mortals attempting to stop Zeus himself. (Unless your name was Bill Russell.) Arvydas Sabonis never passed like this; he was 31 before he reached the NBA.
Kareem Abdul-Jabbar is 10th all-time in assists per game among centers. Jokic this season is averaging nearly twice as many as Abdul-Jabbar did in 1979.
Seven players in NBA history have averaged at least 25 points and at least 10 assists per game. Two of those players won MVP (Russell Westbrook, Oscar Robertson). Two more finished second (LeBron James last season, James Harden in 2017). Tiny Archibald, who averaged 34 and 11 in 1973, won the Sporting News MVP, a kind of alternate vote.
Robertson garnered at least a share of the MVP vote every season he accomplished those numbers. Michael Adams in 1991 is the only player with at least 25 points and at least 10 assists to not draw any share of the MVP vote.
Only two players have ever averaged at least 25 points, at least 10 assists, and at least 10 rebounds. Robertson, and Westbrook twice Jokic is doing so thus far this season. Only two players, Jokic and Westbrook, have hit those marks with 1.5 steals per game, and Jokic is the only one to hit all those marks while shooting better than 50% from the field.
With Jokic on the floor this season, the Nuggets have a 120.6 offensive rating, which for an entire game would make them the best offense in the league. His individual offensive rating is third-best in the league behind Kawhi Leonard and Nic Batum. Without Jokic, the Nuggets fall to an offensive rating of 97.3, which is the basketball equivalent of throwing rocks into a plastic bin 20 yards away while blindfolded. Jokic's on-vs.-off-court differential is 10 points wider than Leonard's. The Clippers' offense is really good, not great with Leonard off the floor. The Nuggets' offense is hazmat zone without Jokic.
The Wizardry
Those are all numbers, and numbers matter in the MVP debate, they do. However, narrative and eye test both play a part as well, especially with voters.
The narrative with Jokic is that he is the engine, and no one else can do what he does. Watching him, that's impossible to argue against.
Jokic has always thrown nifty passes, incredible passes, highlight passes. But what's evolved over the past two seasons is a control over the game that, as stars get older, separates them among other stars to form the elite. With Jokic, the speed with which he reads situations is mind-boggling.
Check out the speed that he reads a streaking teammate, off a made basket, and then the ability to thread the pass perfectly. If Mitch Trubisky could make just this pass, I would have won that Bears division bet.
Let's take another football analogy. Patrick Mahomes is the best quarterback, maybe ever, against the blitz. Via the Athletic:
Mahomes has the best touchdown-to-interception ratio in the league when opponents blitz, throwing 11 touchdown passes and zero picks, according to Sportradar's Radar360 service. Mahomes' 134 passer rating is also the league's best. In fact, more than a quarter of Mahomes' 4,208 passing yards this season — 1,094 yards, to be exact — have been recorded when the opposing defense has fewer than seven defenders in coverage.
So never blitz Mahomes. Likewise, never send a double at Jokic. Jokic is tied with Leonard for most doubles in the post this season via Second Spectrum, and tied for most points per possession that results from it at 1.3. The Nuggets score more than a point per possession when teams try to send another defender.
Part of why it's so difficult for doubles to affect Jokic is that he's patient. He doesn't pass quickly to avoid them, he's comfortable working through them. Most bigs use footwork to create separation for a shot. Jokic uses those same moves to manipulate two defenders. Here, he fakes the pass to the wing which draws the big defender to Jokic's left. The trailing smaller defender can't close that gap, which opens the window for the cutter.
Jokic is able to read situations faster than even most NBA players, which is already exceptional. The double hasn't even committed here, but Jokic "feels" it and knows where the cutter should be.
Some of the passes Jokic makes, there's really no way to predict and counter. What in Bill Walton's name are you supposed to do with this?
It's not just the no-look, or the velocity, or how unpredictable that pass is. It's the placement. Perfectly in the pocket. Watch Harris' feet. He doesn't have to move at all. (Him clanking the shot isn't important here.)
The Nuggets use handoffs the sixth-most often in the league per Synergy Sports, and have been top 10 in each of Jokic's seasons. They're also seventh in points per possession. Teams have scouted this the last few seasons to make it more difficult. But there are always counters. Here, Batum tries to jump the route … and then this happens:
Jokic is often the butt of a lot of jokes about being slow, and no one will confuse him for the rim-runner bigs in the league. But he's quick as all get-out. That's part of how he's managed to mitigate his defensive issues; he uses his quick hands to create deflections and both teams. Here, he snipes the pass and then immediately delivers an arcing lob that allows his man to catch the ball in stride.
I've focused on Jokic's passing, but he's still an elite scorer, too.  Here, Rudy Gobert, who got the win on Sunday but against whom Jokic shot 7-of-13 for 19 points, has to respect Jokic's passing and keep his arms wide, allowing Jokic to size him up and calmly shoot over him.
Jokic has shot 37-of-68 on jump shots this season, 93rd percentile in the whole league. He also doesn't take many mid-range shots, optimizing better looks for teammates, layups or threes.
A good way to encapsulate it is that Joel Embiid is a better scorer out of the post, but Jokic generates more offense for his team. Combined with his patented Sombor Shuffle (affectionately named after Jokic's hometown by DNVR's Adam Mares), Jokic possesses one of the most versatile offensive arsenals in the league:
The Problem: The Nuggets Have Kind of Sucked So Far
I've covered the MVP in-depth for 10 years and wins matter more than anything. There are exceptions, most notably in 2017 when Westbrook averaged a triple-double as Jokic is doing now. However, Westbrook's performance fostered a revulsion from media members who came to view such exploits as stat-padding and a product of statistical inflation in the modern era.
(To be clear, this is nonsense. Pace isn't nearly what it was in the '70s or '80s, and even if systemic things are built in to accommodate stats like Steven Adams clearing out for Westbrook to grab the rebound, the player still has to go get the board.)
Jokic doing something that's only been accomplished three times in history (averaging a triple-double)? Helps his MVP case. Jokic doing it within three years of the Westbrook backlash? Bad for his MVP case.
But the bigger issue is just Denver's record. They're 6-7. They lost to the Kings twice. They have no good wins outside of the Warriors game. They have losses to Utah, Dallas, the Nets and Clippers. If Denver simply can't find a rhythm in this weird, disjointed season, it might simply never get to a top-three seed. Jokic can have as many impressive stats as possible, but it won't matter if the Nuggets don't win a significant amount of games.
Finally, Jokic faces a market disadvantage. Let me put it this way: If Jokic were sniffing averaging a triple-double for a .500 team in Los Angeles? Nightly updates on his performance, round the clock coverage, and daily features on the TV shows.
In Denver?
Eh.
This is just the reality. Denver matters less than other cities in the NBA landscape, and the voters are absolutely beholden to those norms.
---
Check out our free NBA odds page, which automatically surfaces the best line for every game. Subscribe to our new NBA Insiders tool at FantasyLabs to beat the market with our cutting edge player projections, injury news and betting thresholds.
---
The Value
Still, Jokic remains +800, caught between being so good that his odds have shortened considerably and still 8-1 because of the team's struggles. If Denver, who gets Michael Porter Jr. back in the next week, perhaps, rattles off a win streak to get over .500, those odds will shorten again.
The difference between the Nuggets being over and under .500 is two losses to the Kings, a clearly worse team than Denver.
LeBron James' numbers are down this year, and while the Lakers' record is gaudy, they're also clearly coasting. Giannis Antetokounmpo faces voter fatigue after two consecutive MVPs. Luka Doncic and the Mavs have started slow. Kevin Durant is sharing the spotlight with two other stars, the same predicament that kept him from the award in Oakland.
If you want MVP value on a player who will find his odds closing, Nikola Jokic has the best value in the NBA right now, even if his statistical pace falls off.
_BookPromo=49
Are you looking for a safe, reliable, trustworthy sportsbook? Check out our ratings of the best sportsbooks and their current sign-up offers for new customers.