Packers vs. Buccaneers Odds & Picks: How To Bet the NFC Championship Spread, Total, More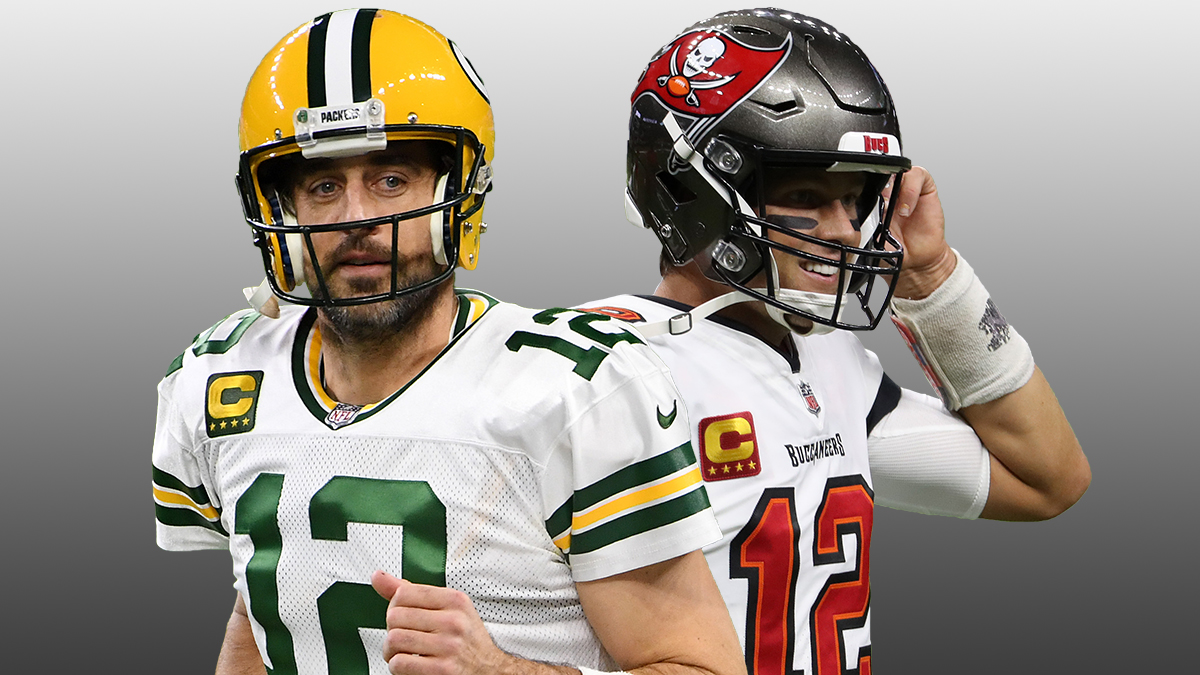 Packers vs. Buccaneers Odds
Packers Odds
-3.5
Buccaneers Odds
+3.5
Total
51.5
Time
3:05 p.m. ET
TV
FOX
Odds as of late Saturday and via BetMGM, where you can bet $1 on the Packers-Buccaneers moneyline to win $100.
Expectations weren't high for the Packers heading into 2020. Sure, they went 13-3 the season before, but their 6-1 record in one-score games suggested they were lucky. Then they spent first-round draft capital on a quarterback, signaling Aaron Rodgers' Super Bowl window was closing … until he broke it wide open with his best season by multiple metrics.
Now Rodgers and the Packers are back in the NFC Championship Game, looking to punch a ticket to their first Super Bowl since winning it in 2010. They host the Tampa Bay Buccaneers to kickoff Championship Sunday with Tom Brady seeking his seventh ring.
Our staff breaks down how they're betting this game, featuring cases for both sides of the spread and a consensus on the over.
Packers vs. Buccaneers Picks
Click on a pick below to skip ahead to that analysis.
Buccaneers Spread
Raybon: Can the Packers beat a team by more than a field goal that crushed them, 38-10, back in Week 6? Perhaps, but I'm willing to pay to find out.
The Bucs are the better team in terms of Football Outsiders' overall DVOA, and they are top-five on offense and defense, leaving the Packers' 17th-ranked defense as the weakest unit in this game (outside of special teams, which are both bottom-10).
The Bucs showed the ability to limit the Packers offense, holding them to their lowest point total (10) and total yardage output of the season (201). Keyed by cornerback Carlton Davis, Tampa Bay has also fared better against No. 1 wide receivers (sixth in DVOA) than even Green Bay's Divisional Round opponent (Los Angeles, 13th in DVOA). The Bucs proved their mettle by holding Michael Thomas catch-less on four targets and 28 pass routes last week while Adams posted a 9/66/1 line on 10 targets and 33 routes against Jalen Ramsey and Co.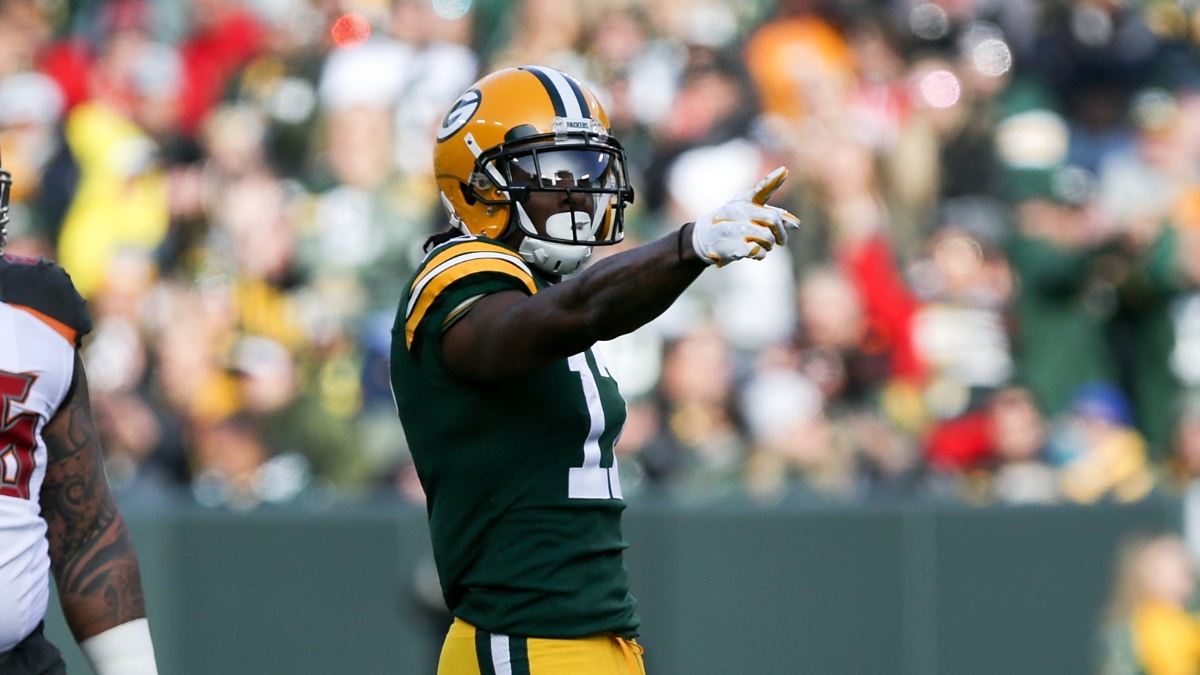 Despite the Bucs defense being able to do what the Rams could not, the more compelling reason for the Bucs being able to hang close in this game is their offense. The Packers ranked No. 1 in scoring offense during the regular season (31.8 per game) and have scored 30 or more points in 13-of-17 games, so the Bucs' ability to pile up points (30.8 per game, third) will be crucial.
Green Bay also tends to start fast, leading the NFL in first-half scoring (18.7 per game), but Tampa Bay is the league's second-highest scoring offense in the second half (15.4 per game).
Even without Antonio Brown (out, knee), the Bucs posses enough pass-catching weapons to force Packers defensive coordinator Mike Pettine to keep extra defensive backs on the field. That's his preferred scheme but wasn't always the case against the Rams last week (or the Titans in the Packers' impressive 40-14 win). This should open Tampa Bay's run game, which posted 35 carries for 127 yards and a touchdown against New Orleans' second-ranked run defense last week.
On the flip side, the Bucs won't be able to play as much press man as they did against Drew Brees' downfield-averse throwing arm. They'll have to revert to their signature zone blitz scheme with more off coverage, so the defense is unlikely to produce another four-turnover 20-points allowed showing like they did against the Saints. The Packers torched a somewhat similar Rams scheme (albeit with less blitzing) for 507 yards and 32 points last week, so all in all, there should be no shortage of points in this game despite the cold weather at Lambeau Field.
For the reasons outlined above, I like the Bucs and the over here. While winners of the regular-season matchup have gone 55-39 in playoff rematches since 2002, I don't think Tampa Bay will be able to win with defense this time around. However, the Saints have been the only team all year to beat the Bucs by more than a field goal all season, and only nine of Tom Brady's 43 postseason starts (20.9%) have ended with his team losing by more than three points. Meanwhile, Rodgers has come out with a win of more than three in only 11-of-20 playoff starts (55.0%), and for what it's worth, has lost his last three conference championships by an average score of 36.3-21.0 (though none came at Lambeau).

_BookPromo=106
Packers Spread
Arinze: I assessed both teams head-to-head in my full game preview here, but ultimately, home-field advantage could tip the scale in Green Bay's favor.
You'll hear a lot about how Brady is the GOAT of cold-weather games, but what does that have to do with the Bucs as an overall team?
🏈 Road trip to Green Bay. No palm trees. Cold, snow, wind. Cold weather advantage to the home team? Maybe. Did you know that @TomBrady has been called by some as the "best cold weather quarterback of all-time" with his 13-2 record in cold weather playoff games.#GoBucs #LetsGo pic.twitter.com/WXiiJRPkky

— Ric Kearbey WTSP (@RicKearbeyWTSP) January 18, 2021
According to our Action Labs database, the Bucs are 26-48-2 (-23.3 units) against the spread (ATS) in games for which the temperature is below 65 degrees. And in games for which the temperature is below 40 degrees, they're 1-4 ATS.
I'm not sure if there's a team in the NFL that has a bigger home-field edge than the Packers — especially if we're talking about football played during colder months. In Week 16, we saw the Titans look almost helpless at Lambeau Field, with some players even lacking the right footwear to get a firm footing on the surface.
Can we really trust this Tampa team to be in command of even the subtlest of nuances for this game?
Sunday's temperature could be as low as 26 degrees, with winds up to nine miles per hour. The wind speed could be strong enough that it's a factor, and I'm not sure if Brady still has the arm strength to handle those conditions.
Green Bay backers would be happy to know that Rodgers has a +44.4% Return On Investment in games for which the temperature is 32 degrees or colder, and he's 8-1 ATS in his last nine games in this spot.
Here are two more things to keep in mind: The home team has won and covered the spread in all three matchups involving Rodgers and Brady. And home teams in conference championships are 10-4 ATS (+5.31 units) dating back to the 2013 season.
All things seem to point to Green Bay. The Packers were 3-point favorites for much of the week (check real-time odds here), but the consensus number has now ticked up to -3.5. I would much rather buy this number down to -3, particularly if the weather conditions impact the scoring.
It would cost only an additional 15 cents at BetMGM to lay the three points at -125, and that's exactly how I'll look to play this game.

_BookPromo=144
Over
The marquee matchup of the Divisional Round was the Packers' No. 1 offense against the Rams' No. 1 defense (based on weighted DVOA). Green Bay's offense came out on top, putting Los Angeles away, 32-18. Now we have a matchup between the top two offenses in weighted DVOA — and I'm projecting the total closer to 54.5, three points higher than the current line.
The Bucs defense will get a massive boost with the return of Vita Vea, who should make their stout run defense (No. 1 in DVOA) even more challenging to run on. That will likely force Aaron Rodgers to throw more, which would only  enhance this game's scoring environment.
The Packers offensive line finished the regular season first in ESPN's pass-block win rate and rankings. And despite losing David Bakhtiari to a season-ending injury, this unit is still elite and will be able to keep the pocket clean for Rodgers.
The MVP favorite should be able to pick apart a Buccaneers pass defense that's been shaky late in the season, allowing massive yardage totals from Jared Goff (376 in Week 11), Patrick Mahomes (462 in Week 12), Matt Ryan (356 in Week 15), and Taylor Heinicke (306 in the Wild Card Round). The Bucs did hold Drew Brees to 134 yards last week, but as I forecasted heading into that game, his inability to throw downfield played right into the Bucs' hands. His 5.4 average Intended Air Yards ranked second-lowest last week (per NFL NextGenStats). For comparison, Rodgers 10.1 rate ranked second on the week.
The Bucs will need to drastically change their defensive game plan for Rodgers.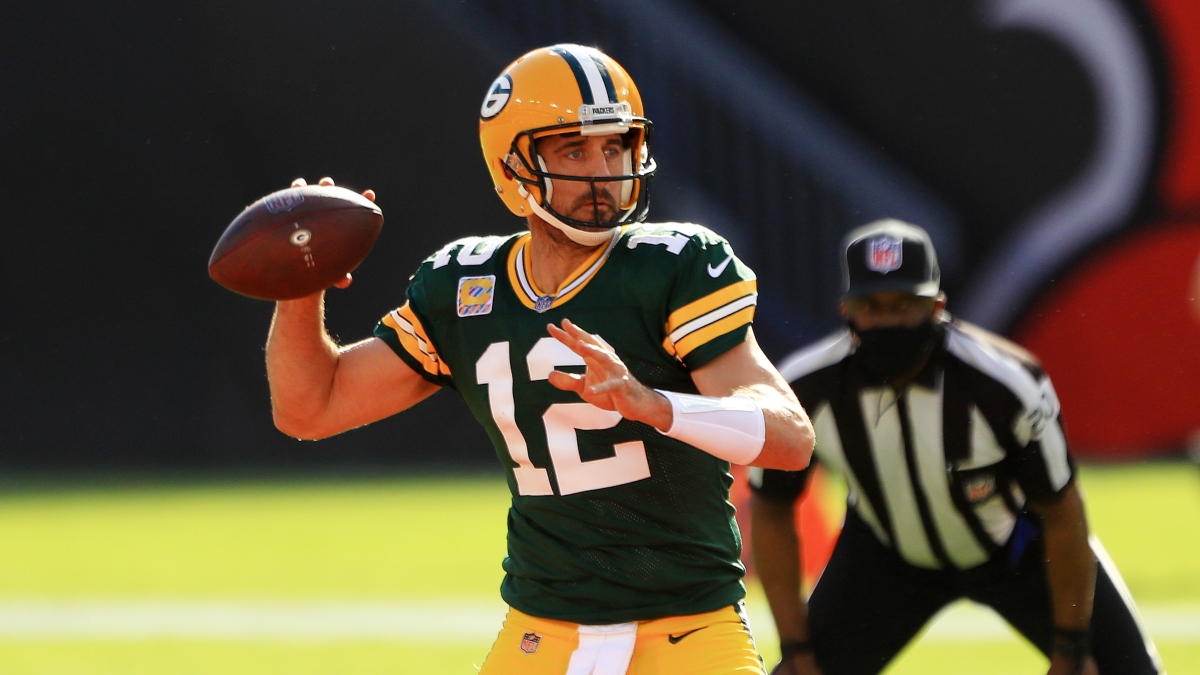 The Packers defense has been heating up. Since Week 12, they rank second in sacks per game with 3.43, although their 33.8% pressure rate is the sixth-lowest over that stretch — a more reliable metric for projecting future sack rates. It's unlikely that they'll continue their high sack rate, especially against Tom Brady, who gets rid of the ball fast (his 2.57 time to throw ranked ninth out of 41 qualified quarterbacks).
The Bucs have now scored 30 or more points in five straight games. The Packers defense (14th in weighted DVOA) will be the Bucs' easiest matchup of the playoffs so far, considering they have now faced the Football Team (third) and Saints (second). I don't expect the absence of Antonio Brown to impact the offense much, either. Backup wide receivers Scotty Miller and Tyler Johnson are more than capable of stepping up as reliable weapons for Brady.
I expect both offenses to be aggressive and put up points as they have all season (the Packers rank first in points per drive while the Bucs rank third). Since I have the total projected closer to 54.5, I would bet the over up to 53.5.

_BookPromo=560
Packers First-Half Over
The last time the Packers faced the Buccaneers in Week 6, they jumped out to a 10-0 first-quarter lead before an Aaron Rodgers pick-six and an interception on the following drive put Tampa Bay on Green Bay's 2-yard line, completely changing the momentum of the game.
The Packers had several things going against them: They were dealing with the absence of Allen Lazard, who missed the game after undergoing core surgery. DeVante Adams wasn't himself, coming back from an early-season hamstring pull. And things got worse when they lost left tackle David Bakhtiari and right tackle Rick Wagner mid-game.
It's one thing to come into a game without your starting tackles and have a game plan prepared to protect Rodgers, it's another to lose them mid-game. Low and behold, the game snowballed out of control and Rodgers was sacked five times for 53 yards, and the Packers didn't score another point after the first quarter.
Seems like an aberration right?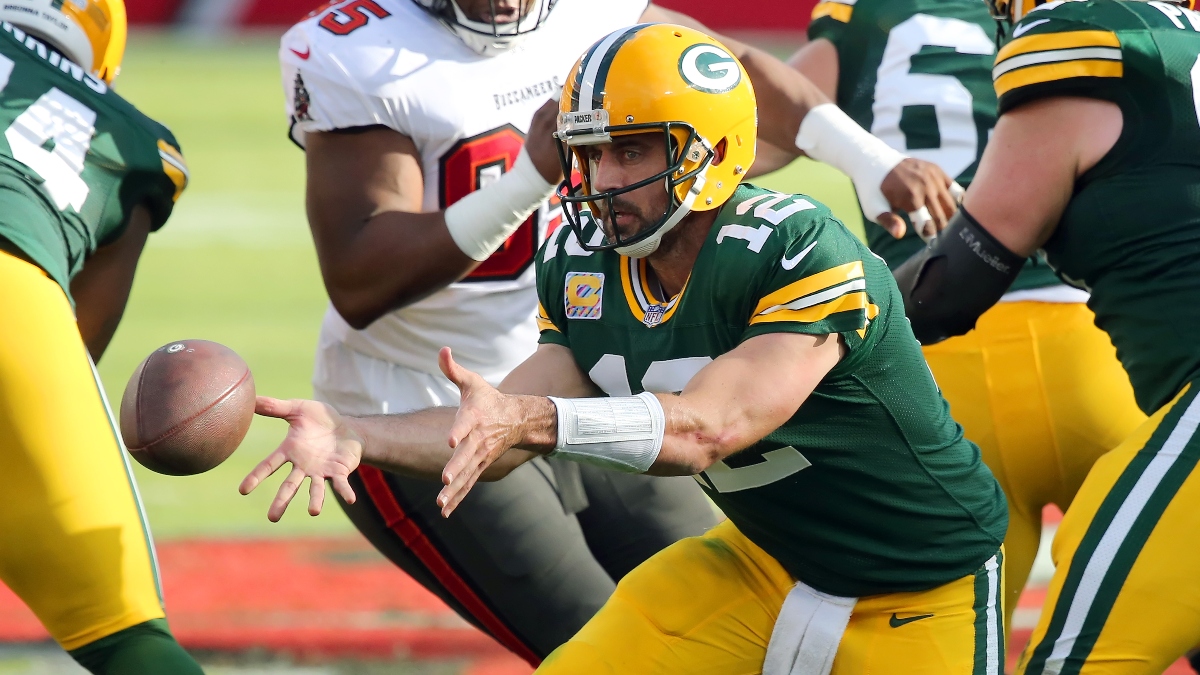 As I detailed last week, sometimes NFL games take a life of their own — they can spiral out of control and aren't necessarily indicative of the actual strength of a particular opponent. A turnover or two can completely change outcomes, or one team could get into such a rhythm that the opposing team is on its heels from the opening kickoff.
The Buccaneers were victims in their regular-season matchups against the Saints, but scored 21 points off four Saints turnovers in last week's 10-point playoff win. While the Buccaneers scored 30 points, they scored just nine on drives that started in their own territory and had just 4.6 yards per play. The key moment came in the third quarter, when the Saints held a 20-13 lead and were driving to score more as Jared Cook fumbled the ball in Bucs territory. Tampa Bay recovered the fumble, subsequently tied the score and never looked back.
While the Buccaneers are giving up just 22.2 points per game and rank in the top-five of nearly all defensive metrics, but I'm not sold on this unit. Washington's third-string quarterback Taylor Heinicke came off the street to replace Alex Smith in a playoff game and carved up this defense, completing 26-of-44 passes for 306 yards and touchdown while scoring 23 points. Even an old and washed Drew Brees resembling Larry Holmes in his 1988 fight vs. Mike Tyson had this unit on the ropes.
Let me remind you: The Buccaneers aren't facing an undrafted quarterback from Old Dominion or a Brees acting as the real life version of Jack 'Cap' Rooney from Oliver Stone's Any Given Sunday in the twilight of his career. This is Aaron Rodgers. Nah, not just Aaron Rodgers, it's Aaron Rodgers on his revenge tour. Do a quick google search for "Aaron Rodgers" and the word "elite" — odds are you'll find numerous articles from 2019 questioning his status as a top-tier NFL quarterback.
This season, Rodgers put all the critics to bed. Just like I predicted early in the season, Rodgers is the odds-on favorite to win MVP and now has his team in position to win their conference and go to their first Super Bowl since the 2010 season.
Rodgers is first in DVOA, ESPN's Total QBR, quarterback rating (121.5), EPA/play, success rat, and touchdowns (48) while throwing for 4,299 yards and just five interceptions all season. This offense is first in DVOA, scoring a league-leading 31.8 points per game.
The Packers also have the highest first-half scoring offense, averaging 18.7 points. Take a look at their first-half scoring output for every game of this season.
| Opponent | Packers 1H Points |
| --- | --- |
| Rams | 19 |
| Bears | 21 |
| Titans | 19 |
| Panthers | 21 |
| Lions | 14 |
| Eagles | 14 |
| Bears | 27 |
| Colts | 28 |
| Eagles | 14 |
| Jags | 17 |
| 49ers | 21 |
| Vikings | 14 |
| Texans | 21 |
| Buccaneers | 10 |
| Falcons | 21 |
| Saints | 13 |
| Lions | 17 |
| Vikings | 22 |
They've scored 14 points in 15 of their 17 games this season and scored fewer than 14 points in the first half of games just twice this season.
Matt LaFleur's offense should be ready for the Buccaneers defense this time given the changes they've made, implementing more pre-snap motion to determine where blitzes are coming from. With the Buccaneers being notoriously slow starters this season, the Packers should be able come out hot. I like the Packers' first-half over at 13.5 points (which you can bet at DraftKings), and I'm not deterred by the chance of snow as wind typically has a greater impact at suppressing scoring outputs.
As far as the full game, I personally have liabilities on this game given that I'm holding 10-1 futures on the Packers to win the NFC. I do think the Buccaneers have some things in their advantage, such as their ability to run the ball on a Packers defense that struggles to stop the run. The Packers defense also has trouble defending the middle of the field. But Bruce Arians' Bucs aren't generating the most efficient offense given their "risk it, no biscuit" philosophy, which doesn't typically play to Brady's strengths.
With snow in the forecast and the Packers at home, they should cover the 3-point spread as well.
Are you looking for a safe, reliable, trustworthy sportsbook? Check out our ratings of the best sportsbooks and their current sign-up offers for new customers.