Moore: Is This the Year Joel Embiid and the 76ers Finally Break Through?
Look out, Lucy! This time Charlie Brown is gonna kick that football!
The Sixers have been the biggest Eastern Conference title tease and Joel Embiid the ultimate MVP tease the last few seasons: profoundly impactful, dominant at times, missing a bunch of games, and ultimately never making the most out of his considerable talents.
This season, the Sixers boast the best record in the East (12-6) and have beat up on the rest of the conference. So, is it time to buy the 76ers as legitimate contenders?
---
The Benefits of Spacing
Embiid is the most physically dominant player in the league outside of Giannis Antetokounmpo. Yet, he is also the player who ranked seventh in mid-range shots per game before the bubble last season while shooting just 41% on those attempts, the worst of any player in the top 12.
This season, the added spacing seems to have unlocked the full Embiid.
I will cop to not being a big Seth Curry guy. There's a fair amount of evidence that, much like his brother, he can be exploited in individual defensive situations.
However, this is the second consecutive season where Curry has been placed next to a top-10 talent (Luka Doncic last season), and the ceiling was raised considerably.
I was skeptical that simply replacing the Sixers' long-bodied wings with Danny Green and Curry would make that much of a difference. I was wrong.
The numbers are flat out ridiculous. When Embiid and Curry both play, the Sixers are 9-0 and 6-3 against the spread.
Last season, the Sixers weren't all that much better with Embiid on the floor vs. on the bench. That's a major issue for star-centric teams. You need to be great when your best players are on the floor because your best players, by their nature, make more money, so you have a steeper drop-off to the bench minutes.
This season, however, they're flat out dominant with those two together.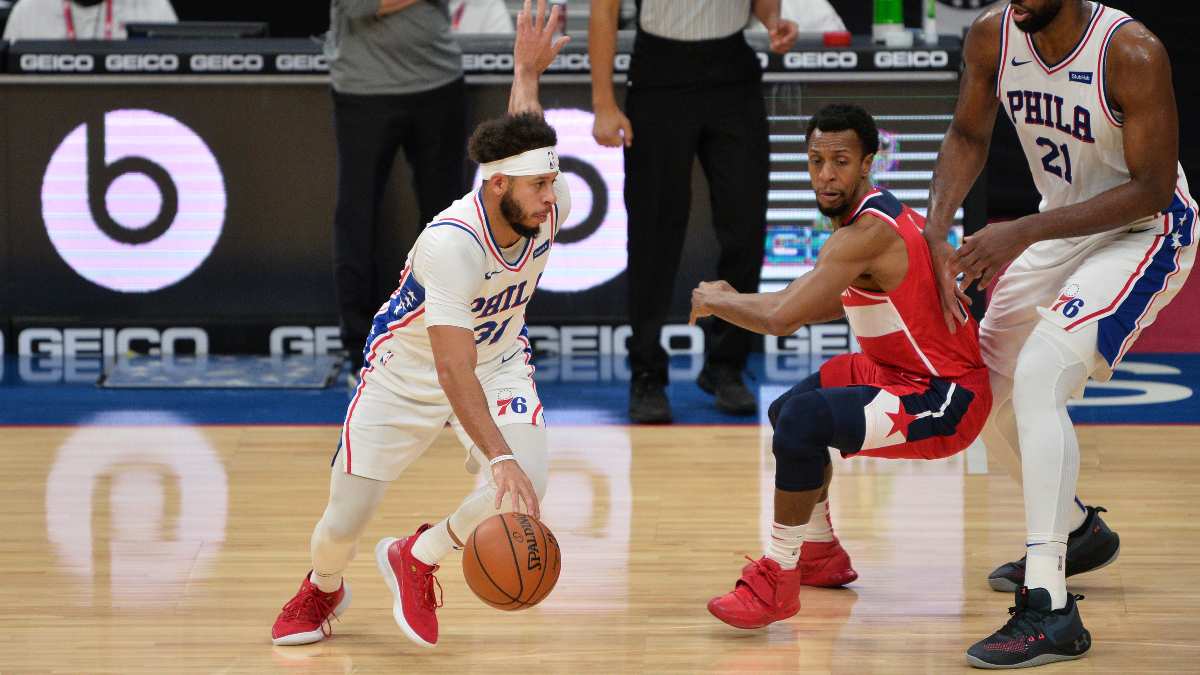 With Embiid on the floor and Curry on the bench, the Sixers have averaged a pedestrian 105.5 points per 100 possessions offensively and have been outscored by 1.8 points per 100 possessions. (Notably, some of these minutes were absorbed with Embiid playing while Curry was in COVID protocol along with, you know, half the team.)
With Embiid and Curry together? The Sixers put up a hotter-than-the-Hadron-Collider 122.8 Offensive Rating, per NBA Advanced Stats. That would rank best in the league were they to play every minute of every game. Meanwhile, those lineups are giving up just 102.2 points per 100 possessions, which would be best in the league if played for the whole game.
The Embiid-Curry combinations smash teams.
Interestingly, this dynamic isn't working the way you would assume, given the type of players both are. Embiid not only has more post-ups than any player in the league, but he's averaging better efficiency by far as well.
For comparison, among players with at least 50 post-ups this season, Anthony Davis ranks second in points per possession at 1.07, while Embiid is at 1.11. That's a huge differential, four points for every 100 post-ups.
So you would think that Embiid is constantly forcing double teams and finding Curry on the perimeter a la Hakeem Olajuwon with Kenny Smith and the crew.
But that's not how it has worked, for various reasons. Embiid only has 13 assists total this season to Curry — more than he has to any other player but not a significant amount.
Truth be told, the Sixers don't generate much offense from Embiid's assists. Of the 17 players with at least 20 post-ups this season, Embiid ranks 11th in points produced off pass-outs, including secondary assists.
However, there's one consistent way Embiid and Curry are getting points, and that's from Embiid taking defenders off the dribble from space:
That's a good example of Embiid drawing gravity just like Stephen Curry does.
Here, again, Embiid uses a shot fake to draw the defense and then get the assist:
It's not just Curry, though. Embiid is clearly just more comfortable playing face-up and creating off the dribble rather than in the post.
Sixers coaches have talked about how they look to get him in more of those spaces because it helps him see the whole floor.
And again:
So the question is whether Embiid has really taken a step forward or if this is a momentary surge.
---
The Argument For Regression
Embiid has shot 37-of-63 on mid-range jumpers (59%) after shooting just 40% last season and 36% the season before that. Shooting 45% from that range makes you fairly elite, so there's going to be some regression here unless Embiid is suddenly a 7-foot Klay Thompson.
Overall, Embiid is 74th percentile on all jump shots this season per Synergy Sports.
It's not just that those numbers come down. It's what happens to Embiid's effectiveness and the offense's overall performance if and when they do.
Embiid has relied heavily on his jumper this season; 37% of all his shots are jump shots, according to Synergy Sports.
Even in the post, it's his preferred go-to move. His post-up moves often look awkward and off-balance. Part of that is due to his efforts to draw fouls.
There are certainly times when he beasts in the post. Embiid completely trucked Tristan Thompson in Philly's two matchups vs. the Celtics, shooting 13-of-15 and scoring 38 of the Sixers' 40 points when the two shared the floor.
Thompson had absolutely nothing for him:
But that jumper is where Embiid wants to get to, consistently:
Embiid's statistical dominance in the post is unquestioned. He leads the league in post-ups and post-up efficiency, shooting 59% and drawing free throws on 27% of all post-ups.
However, as it has been for years, there's still an effective counter to Embiid's most efficient scoring opportunity: send a double team.
According to Second Spectrum data provided to Action Network, Embiid has been single-teamed in the post 111 times, and the Sixers have scored 1.26 points per possession on those attempts.
He's been double-teamed a league-leading 60 times, and Philly's scoring efficiency drops to .659 points per possession on those attempts. Embiid turns the ball over on 6% of his post-ups in single coverage. When the opponent sends a double team, its up to 32%.
It's been anecdotally discussed this year that Embiid is handling double-teams better. Beyond the fact that his turnover rate vs. double-teams is actually up from 25% last season, there are many examples where that's not true.
He does make some good plays to reverse the ball. This stagger-step pass is very Jokic like, where it looks out of control, but the placement on the pass is perfect:
A big difference in what Embiid faces vs. centers of old like Olajuwon and Shaquille O'Neal is that doubles rarely come from one pass away.
Teams send them to his weak side so that he turns into them:
I looks like he thought his man at the top would move left here, but even so, the placement is so off I'm not sure it would matter:
Embiid consistently tries to draw fouls, which is honestly a good way to counter his double-team issues.
But when he doesn't get the call, it results in things like this:
So if Embiid's mid-range jumper starts to drop inefficiency, and the turnover issues persist, that's going to take a big zip off the offense.
The Defense is Elite
Do you know why it's probably OK if Embiid's offensive game regresses a bit, even with all the turnovers?
He's monster on defense.
With Embiid on the floor, the Sixers are eight points better per 100 non-garbage time possessions per Cleaning The Glass. They allow the seventh-fewest shots at the rim and the second-lowest FG% on such shots.
The biggest advantage Embiid provides is that the Sixers can play drop coverage in pick and roll and contain both the ball-handler and big.
There's no angle here for the pass or the shot:
Many players in the NBA are big, but being able to understand that spacing and deter both is an elite skill.
If a player challenges him, he can swat it. Here's Bradley Beal trying to pull a fast one:
Maybe the most telling thing is how many times guards elect not to challenge the rim in pick-and-roll. They settle for jumpers.
Oddly, the numbers don't reflect this; opponents are actually shooting 36% more shots at the rim with Embiid on-court, which is confusing. But the overall numbers still show Embiid as an elite player.
THE ODDS
The Sixers are still +650 to win the Eastern Conference at both DraftKings and PointsBet, despite the team being 12-6, with the eighth-best Net Rating, even after having a health protocols issue that resulted in multiple starters missing multiple games. When Curry and Embiid play, the Sixers are 9-0, with a +12 point differential.
I don't think there's a better value than that. Look at their potential matchups down the line.
The Nets have no center and are poor defensively. Embiid would body DeAndre Jordan, and Ben Simmons is the perfect model defender for Durant, as much as anyone can defend him.
The Sixers already have a win vs. Milwaukee, and Curry and Green help provide the shooters you need vs. Milwaukee. There are also enough bodies to contain Antetokounmpo on Philly, and the Bucks haven't proved they can adjust.
The Celtics, as the obliteration of Tristan Thompson showed, do not have a counter for Embiid, either. (That Myles Turner trade sure would have helped.)
The Pacers are a little dangerous; they are 3-1 vs. the Sixers over the past two seasons and have bigs and shooting. But they already have injury issues and can't afford to lose anyone else.
The Raptors and Heat do not look anywhere near the same teams from last season, and Embiid maintains a matchup advantage.
The path is excellent.
Of course, Embiid's injury history is a concern. If they slip to a 5-seed, having to go through Pacers, Bucks, and Nets, all on the road, that could be tough.
But this team looks flat-out different this season, and the market has not caught up to them yet.
The Sixers can absolutely win the East if they live up to their potential …. and Lucy doesn't pull that football again.
_BookPromo=496
Are you looking for a safe, reliable, trustworthy sportsbook? Check out our ratings of the best sportsbooks and their current sign-up offers for new customers.