Edmonton Oilers vs. Calgary Flames NHL Odds & Pick: How To Bet the Battle of Alberta (Friday, Feb. 19)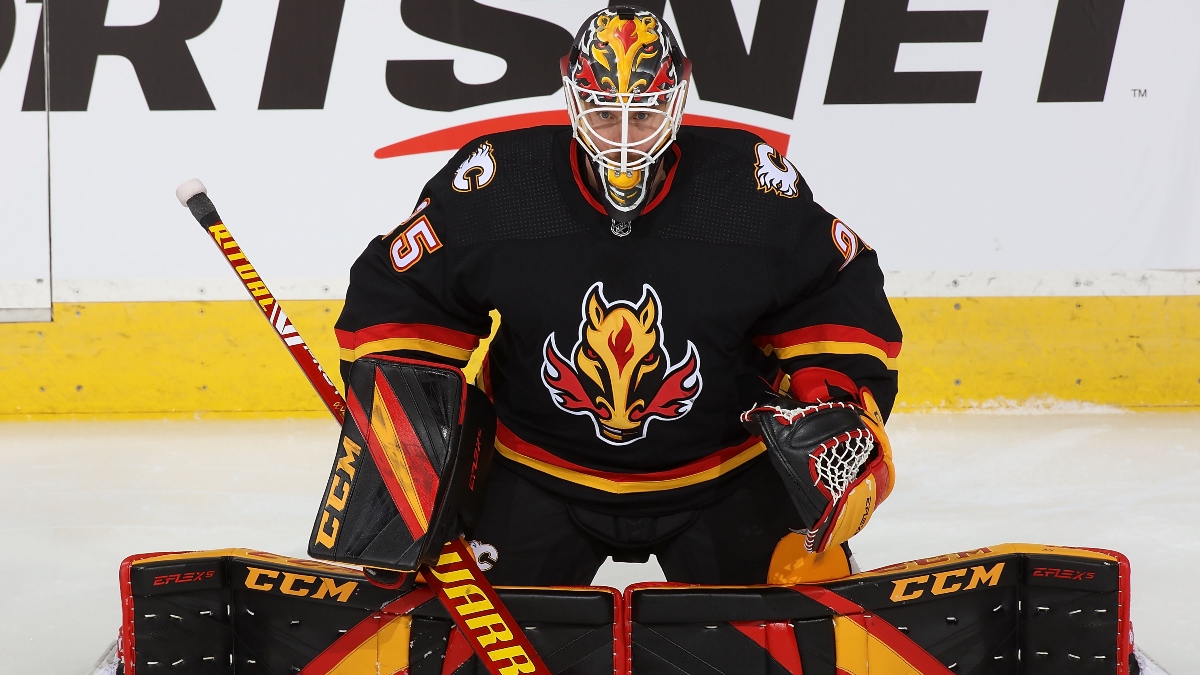 Oilers vs. Flames Odds
Oilers Odds
+107
Flames Odds
-125
Over/Under
6.5
Time
Friday, 9 p.m. ET
TV
ESPN+
Odds as of Thursday and via DraftKings.
The North Division is shaking out about as expected, with the Leafs setting the pace and the Senators bringing up the rear, leaving the other five teams to fight for three playoff spots. Two of those five teams, Edmonton and Calgary, will renew acquaintances in Stampede City on Friday night.
Bookmakers project this to be a pretty tight contest, with the Flames coming in as -125 favorites. That line tells you that the market views these teams as near-equals on neutral ice. Should that be the case?
Edmonton Oilers
The Edmonton Oilers are a real hoot. They're also a bit of an outlier. By that I mean, there's really only so much you can glean from looking at the Oilers' underlying metrics.
Sure, they'd have more success if they dominated the shot clock and created more scoring chances than they give up, but when you have Connor McDavid and Leon Draisaitl out there for half the game you can take more risks than other teams, knowing that at some point McDavid and/or Draisaitl will create a moment of magic to get you on the board.
---
Expected goals (also known as xG) is a predictive statistic that gives an indication of whether results are based on sustainable factors like a steady creation of scoring chances, or whether it is down to aspects such as shooting luck or outstanding goaltending.
Simply put, an expected goals rate (xGF%) above 50% is considered good because it means a team is creating the majority of the scoring chances. Anything below 50% is usually a sign that a team is struggling to control play.
xG numbers cited from Evolving Hockey.
---
The Oilers could always stand to play better defense — they are 24th in goals against per game and 26th in expected goals against per 60 minutes — but as long as their offense is humming, Edmonton can live with pedestrian play in its own zone.
And the offense is certainly humming. The Oilers are fifth in the NHL in goals per game, sixth in expected goals per 60 minutes at 5-on-5 and have the league's top two point producers in McDavid and Draisaitl.
As good as Edmonton's offense has been this season, there are still some red flags with this team. Not only is the defense leaky, but the goaltending has been unreliable. Mikko Koskinen has struggled to a -7.56 Goals Saved Above Expectation (GSAx) in 14 starts, leaving the door open for Mike Smith to become the starter. That's not a good thing, as Smith posted a -14.59 GSAx over his last two seasons.
---
Goals Saved Above Expectation (GSAx) is an advanced statistic that measures a goaltender's performance against the quality of scoring chances he faced. It is a better catch-all metric compared to save percentage because every SV% counts every saved shot and goal the same, while GSAx weights shots by the quality of the scoring chance.
GSAx numbers cited from Evolving Hockey.
---
Calgary Flames
With an 8-7-1 record and a -1 goal differential, the Calgary Flames look like the picture of mediocrity to start the 2021 season. If you take a deeper dive, however, the picture looks a shade rosier.
Although their numbers won't jump off the page, Calgary currently sits 12th in the NHL in both goal differential (+0.29) and xG differential (+0.16) per 60 minutes at 5-on-5. The Flames have achieved these modest numbers thanks to an offense that is creating 11.4 high-danger scoring chances and 2.45 xGF per 60 minutes.
Like Edmonton, Calgary could stand to improve on defense, though the situation is a little less dire thanks to the presence of Jacob Markstrom in goal. Markstrom has followed up his breakout performance last season in Vancouver with a solid start in Calgary, posting a +1.37 GSAx through his 14 starts. The Swede was pulled in his last outing — a 5-1 loss to the Canucks on Wednesday — but I expect he will be back in the blue paint for Friday's installment of the Battle of Alberta.
Betting Analysis & Pick
The Oilers come into this game with seven wins in their last nine contests. The Flames, on the other hand, lost two of their last three games, including a 5-1 drubbing on Wednesday night against the Canucks. Perhaps these results are having an impact on the market because I think the Flames are worth a bet at this number.
Despite an inconsistent start, I think the Flames are the third-best team in the North Division, slightly ahead of Edmonton thanks to a big edge in goal and on defense. When you add in home-ice advantage, Calgary looks like it is being underrated a bit in this spot.
As long as Markstrom is in goal, I think the Flames are playable up to -130 on Friday night.
Pick: Calgary Flames -125
_BookPromo=49
Are you looking for a safe, reliable, trustworthy sportsbook? Check out our ratings of the best sportsbooks and their current sign-up offers for new customers.