Final Four Odds & Picks: Our 12 Best Bets for Baylor vs. Houston & UCLA vs. Gonzaga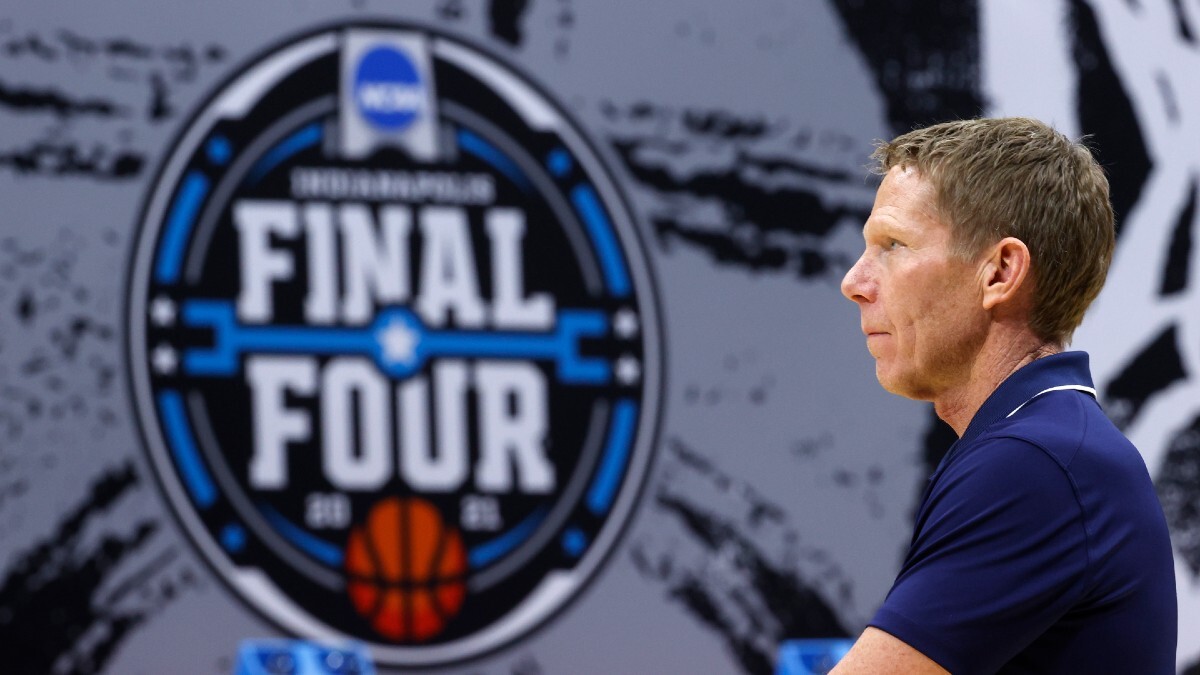 728 days.
That's how long it's been since last we witnessed a NCAA Tournament Final Four.
That drought ends today. The Final Four is back.
And so, since it's been such a long time since the 2018-19 college basketball season, allow us to set the scene for you:
Saturday, April 6, 2019. U.S. Bank Stadium in Minneapolis, MN.
The red-hot Auburn Tigers take the court with unheralded and unexpected championship aspirations in tow. Opposing them: The No. 1-seed Virginia Cavaliers.
The first half was tight throughout, but in the first 10 minutes of the second half, the Cavaliers began to nurse a 4- to 7-point lead. Auburn rallied time and again, but with five minutes remaining in the game, the Tigers found themselves down 10 points.
But then — Auburn's Bryce Brown drains a 3.
One minute later, Brown launches another shot from long range and connects. Then another. And in the blink of an eye, Auburn erases that 10-point deficit with a blistering 12-point run to take the lead.
With 17 seconds remaining in the game, Auburn's Anfernee McLemore sinks two free throws to put his team up 61-57 …
… and then this happened:
Watch the ending to the first final four game today. Virginia vs. Auburn. INSANE ENDING!! pic.twitter.com/YceAP9KlO8

— openstrive (@openstrive) April 7, 2019
One desperation corner 3, one missed free throw, one blown double-dribble call and a 3-point shooting foul later … and Virginia completes an improbable comeback to avoid defeat and advance to the title game (which the Cavaliers won, of course).
Here's to more magic in today's Final Four games — and most importantly, here's to being on the right side of the sweat and making money in addition to memories.
Four teams. Two games. Twelve best bets for your Saturday Final Four card: From standard sides and totals to team totals, game props, player prop picks, and even a double result thrown in for good measure. Check out each of our staff's top picks below, and enjoy every second of today's action.
---
Final Four Odds & Picks
---
All listed odds have been updated as of Friday night. Specific bet recommendations come from the sportsbook offering preferred odds as of writing.
Always shop for the best price using our NCAAB Odds page, which automatically surfaces the best lines for every game.
Note: All photos below are via Getty Images.
---
---
No. 2 Houston vs. No. 1 Baylor
| | |
| --- | --- |
| Houston Odds | +5.5 (-115) |
| Baylor Odds | -5.5 (-106) |
| Moneyline | +180 / -220 |
| Over/Under | 134.5 (-113 / -107) |
| Time | TV | 5:14 p.m. ET | CBS |
---
Although Houston had a pretty easy path to the Final Four, the Cougars are one of the most balanced teams on both ends of the floor.
The Cougars are the No. 7 team in the country in terms of offensive efficiency, per KenPom. The reason they are so efficient is because they have the second-highest offensive rebounding percentage in the entire country.
That will be a huge advantage for them against Baylor because the Bears rank 273rd nationally in defensive rebounding. Along with grabbing a lot of offensive rebounds, Houston will need to limit its turnovers and shoot a high percentage from 3-point range because Baylor is ranked third in turnover rate forced and gives up a decently high percentage from behind the arc.
The most fascinating matchup in this game is going to be Houston's defense versus Baylor's offense.
Houston has completely shut down all of its opponents so far in this tournament. Nobody has averaged more than 1.00 points per possession against it. In fact, Oregon State is the only team to score more than 60 points against the Cougars since Memphis in the AAC Tournament.
However, Baylor is by far the best offense they've seen this season. The Bears own the third-ranked offense nationally in terms of efficiency and have the best 3-point percentage in the nation.
However, Houston has the guards to match up with Baylor, and DeJon Jarreau should be a tough matchup for Jared Butler offensively.
I only have Baylor projected as a -1.27 favorite, so I like the Cougars to cover +5.5.
Pick: Houston +5.5 (Play to +4.5)
_BookPromo=126
---
»» Return to the table of contents ««
---
Houston sits as a five-point underdog and priced at +175 to win the game outright. I see some value in the Cougars' moneyline as the market seems to already be anticipating a Gonzaga vs. Baylor final.
Houston is known for its defense, but it owns the eighth-best offensive efficiency in the country.
If there's a chink in the Baylor defense, it's securing defensive rebounds, where it ranks 273rd in the country. Houston's offense is heavily-reliant on second-chance points, ranking second in the same category while grabbing offensive boards on 39.8% of its misses.
In what should be a low-scoring affair, points will be at a premium, and second-chance points could leave Baylor vulnerable.
With two great defenses, this game could come down to which team shoots the ball better and can hit contested jump shots. KenPom projected Baylor to win this game by one, so I'm taking the +175 price with Houston.
Pick: Houston ML +175 (Play to +165)
_BookPromo=1386
---
»» Return to the table of contents ««
---
Houston and Baylor are much more evenly matched than the spread and moneyline would indicate, so I see plenty of value in getting the Cougars at nearly 2-to-1 odds.
Both teams rank in the top 10 in adjusted offensive efficiency, with Baylor at third and Houston seventh, per KenPom. Both teams rank in the top five in points per possession, according to TeamRankings, with Baylor ranking second and Houston fifth.
Baylor does shoot it better than Houston, but the Cougars' top-ranked offensive rebounding rate can help make up for an off shooting night.
Defensively, the Cougars have an edge over the Bears on paper.
Houston boasts the eighth-best adjusted defensive efficiency ranking in the nation while Baylor ranks 28th. The Cougars lead the nation in opponent effective field goal percentage and are fifth in the nation in 3-point defense, limiting opponents to just 28.3% from beyond the arc. If anyone has a chance to slow down Baylor's scorching hot 3-point shooting, it's Houston.
Obviously, pulling off the upset on a Baylor team of this caliber will be no easy task, but +190 is too good to pass up.
If Quentin Grimes and Marcus Sasser get hot from deep and Houston can control the glass on both ends, I really like its chances.
Pick: Houston ML +190 (Play to +160)
---
»» Return to the table of contents ««
---
Pat McMahon: Houston vs. Baylor Over 134.5
Baylor and Houston are two of the most complete teams in the nation, so it's not a surprise that both found their way into the Final Four.
Both defenses are very good, but they may be getting too much respect in this game. The offenses are elite as well, with Baylor ranking third in adjusted offensive efficiency and Houston ranking seventh, per KenPom.
Houston rode its defense to the Final Four, holding its first four opponents in the tournament to an average of 56 points per game. However, it hasn't seen an offense as talented and explosive as the Bears all tournament, let alone all season.
Baylor is so tough to cover because it just has so many different weapons and it shoots it ridiculously well as a team. The Bears are the best 3-point shooting in the nation, sinking 41.1% of their attempts as a group. Baylor has five players shooting between 39.6% and 45% from 3 and will often have four of them on the court at the same time.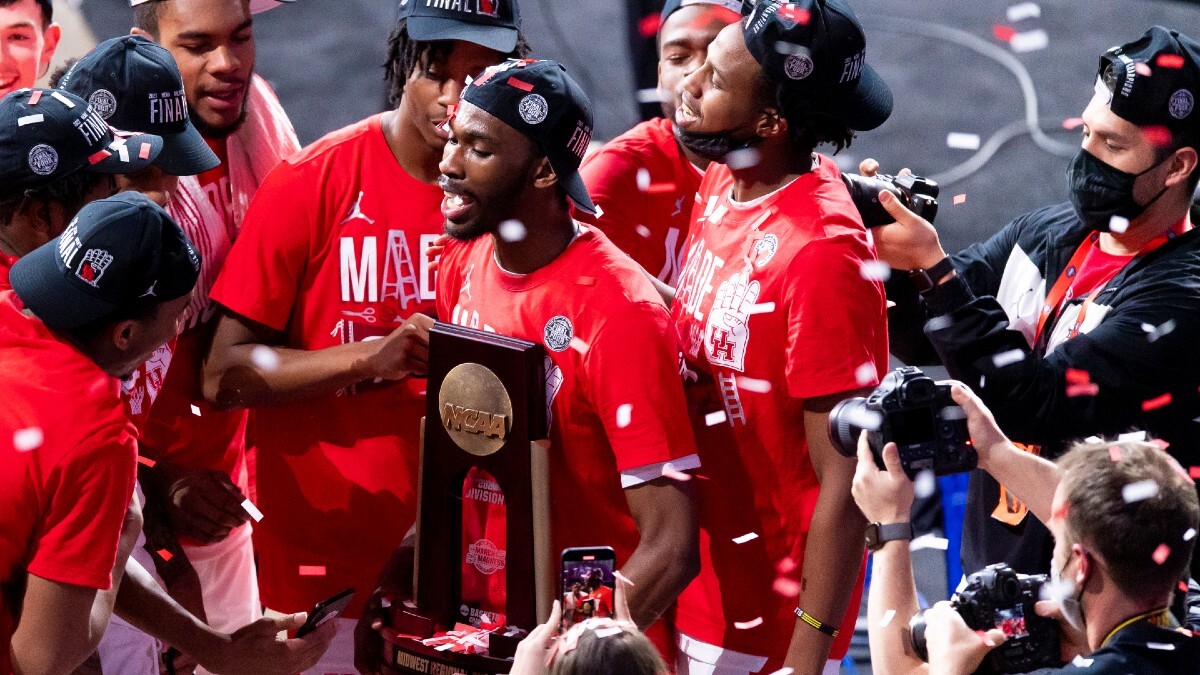 The Bears have only had one bad offensive half in this tournament, mustering just 23 points in the first half against Villanova. However, they turned it up in the second half, putting up 39 points on 53% shooting from the floor. This offense is too good to be kept down for long.
On the other side of the floor, Houston's offense is overshadowed by its smothering defense and doesn't get nearly the amount of credit it deserves.
The Cougars are a strong 3-point shooting team as well, sinking 35.4% of their attempts from deep. The offense didn't look too sharp against the zone defenses of Syracuse and Oregon State in their last two games but should be more comfortable against Baylor's man-to-man scheme.
When it's clicking, Houston can really score the rock, and the Cougars rank fifth in the nation in points per possession, per TeamRankings. They should be able to put up some points on a Baylor defense that ranks outside the top 25 in adjusted efficiency.
These offenses are simply too good for the total to be this low. I think there's a chance both teams could get to 70, so I'll gladly take the over at 134.5.
Pick: Over 134.5 (Play to 135)
---
»» Return to the table of contents ««
---
Kyle Remillard: Houston vs. Baylor Under 134.5
Baylor's defense looks to have recovered from its COVID-19 shutdown and returned to its defensive roots.
The Bears have dominated on the defensive end of the court in tournament play so far, holding teams to just 60.3 points per game. They can switch on every off-ball screen, and point guard Davion Mitchell is one of the best on-ball defenders in the country.
Houston's offense is reliant on winning its one-on-one matchups, a feat that will be much harder against one of the most athletic units in the nation.
_BookPromo=235
Houston itself is also one of the top defensive units in the country, ranking eighth in defensive efficiency. It ranks first in the country, holding teams to just 43.3% from the field and locking down the 3-point line to hold opponents to just 29.2% from behind the arc.
The Cougars play with the 328th-fastest pace in the country on offense and will force Baylor to play a slow-paced game.
The blueprint of this game reminds me of Baylor vs. Villanova, a game in which the Bears scored just 23 points in the first half. They then flexed their defensive muscles in the second half and held Villanova to just 21 points.
I see value in the under of 134.5 in a game that should have no easy buckets and many contested outside jump shots.
Pick: Under 134.5 (Play to 133)
---
»» Return to the table of contents ««
---
Mike Calabrese: Houston Team Total Over 65.5
If you're looking for a direct comparison in this tournament, Wisconsin tried its best to play Baylor at its preferred pace.
The Badgers finished their 2021 campaign averaging just 67.7 possessions per game (307th), yet they nearly broke through this 65.5-point barrier in a 76-63 Round of 32 loss to Baylor.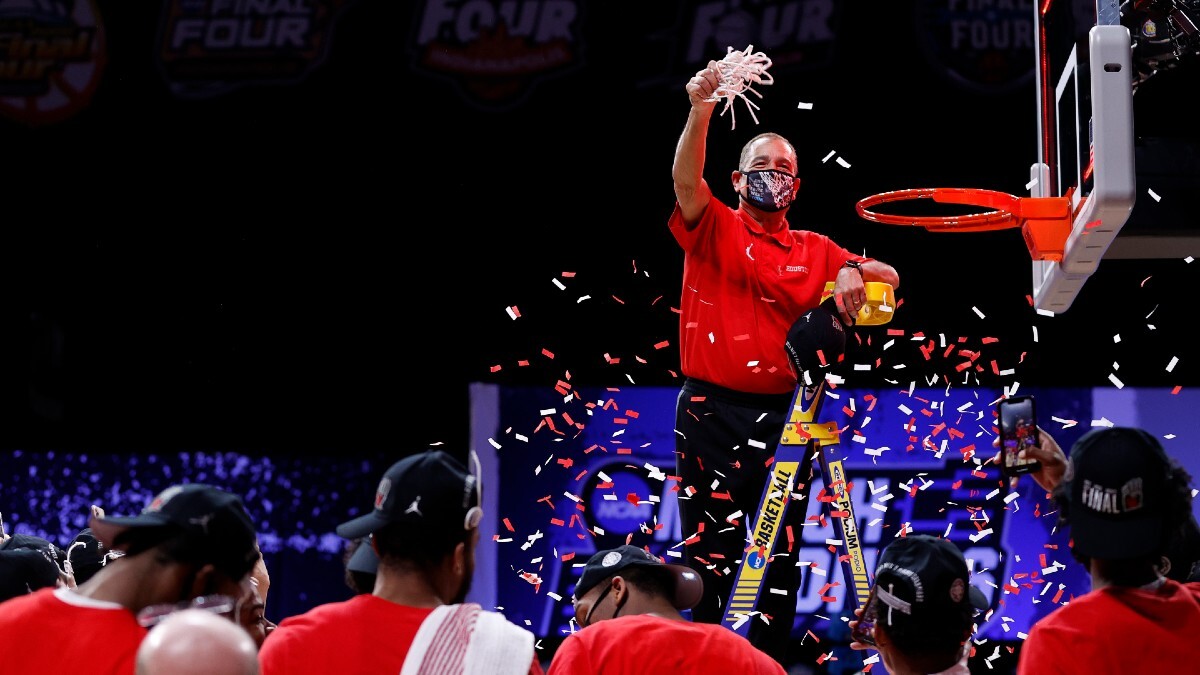 And it bears mentioning that Wisconsin had twice as many turnovers as free-throw attempts in that game. Point being, there were more points available to it.
Houston plays at a similar pace (67.4 possessions per game, 316th) but is infinitely more efficient on the offensive end than Wisconsin (87th vs. 5th).
Given the volume of shots the Coogs like to fire up from deep, the likelihood that they'll be chasing down a Baylor lead late, and the fact that they generate the most second-chance scoring opportunities in all of college basketball, there's really only one way to play this total: Over.
Pick: Houston Team Total Over 65.5 (-105)
---
»» Return to the table of contents ««
---
No. 11 UCLA vs. No. 1 Gonzaga
| | |
| --- | --- |
| UCLA Odds | +14 |
| Gonzaga Odds | -14 |
| Moneyline | +700 / -1250 |
| Over/Under | 146 |
| Time | TV | 8:34 p.m. ET | CBS |
---
Gonzaga is more than 14 points better than UCLA on a game-to-game basis, but there are additional reasons to believe that this game will not be the kind of outlier that allows the Bruins to hang around.
Gonzaga has won just seven of its 30 games by 14 points or fewer, with each of the teams that were able to hang around finding some very specific advantages. UCLA, however, shouldn't be expected to find those same advantages.
Some teams have just lucked into cold nights from the Zags.
Gonzaga shot under 30% from outside the arc against West Virginia and Santa Clara. Iowa and BYU were treated to sub-60% free-throw shooting by the Zags.
UCLA has been extraordinarily lucky in both of those areas during the tournament and should expect to regress. The Bruins' last four opponents have combined to shoot 23% from beyond the arc and 56% at the line.
The Zags have, at times, let teams hang around by gifting them turnovers. Iowa and Santa Clara forced 18 and 16 Gonzaga turnovers, respectively, in their (relatively) close losses to the Bulldogs. UCLA ranks 252nd in the nation in forcing turnovers, per KenPom.
None of the magic secrets to challenging the Zags are in the Bruins' favor. Don't overthink it. Gonzaga is the pick here.
Pick: Gonzaga -14 (Play to -16)
_BookPromo=1219
---
»» Return to the table of contents ««
---
BJ Cunningham: UCLA vs. Gonzaga Over 145.5
Throughout UCLA's historic run to the finals, it has been lucky to catch some fantastic offenses on off-shooting nights.
Now, you could say that's from UCLA playing fantastic defense, but it also is a little bit of luck that both Michigan and Alabama shot under 30% from 3-point range. That's not going to happen against Gonzaga because not only are the Bulldogs a fantastic 3-point shooting team making over 37.1% from deep for the season, but they don't rely on the 3-point shot.
Gonzaga attempts 66.9% of its field goal attempts from inside the arc, where it's the best 2-point offense in the nation, shooting 63.7%. In the Elite Eight, the Zags faced the nation's top 2-point defense in USC, and they torched it by shooting 57.8% from inside the arc.
UCLA allows almost 50% from 2-point range, so Gonzaga should be able to do the same.
The Bruins have been hitting a really solid percentage of their 3-pointers this tournament and are taking more of them than they are used to. They shoot 3-pointers on only 31.7% of their field goal attempts and they'll have to attempt a lot of them because they're not going to be able to score inside on Gonzaga since the Zags allow only 46.5% from 2-point range.
If Gonzaga gets ahead early, it's going to be able to control the pace of this game, which is going to be really fast since it plays at the sixth-fastest tempo in the country, per KenPom.
I have 151.07 points projected for this game, so I think there's some value on over 145.5 points.
Pick: Over 145.5 (Play to 146.5)
_BookPromo=299
---
»» Return to the table of contents ««
---
Shane McNichol: Gonzaga Team Total Over 79.5
Gonzaga has failed to reach this total just three times this season.
Two of those instances came against Saint Mary's, which always grinds the Zags down to the slowest pace possible. The third came on the road at Pacific in the Zags' second-worst 3-point shooting game of the season.
UCLA will take every page out of the Saint Mary's playbook, doing everything it can to keep the Zags to as few possessions as possible in this game. The Bruins rank 338th this season in tempo, per KenPom.
That likely isn't enough to keep the Zags under 80 points. A wave of regression is due to smack the UCLA defense, which has faced just 23% 3-point shooting and 56% free-throw shooting in the last four rounds of tournament play.
In Gonzaga's first meeting with Saint Mary's, the Gaels forced the Zags into their slowest game of the season at just 67 possessions.
A hot-shooting second half still spurred the Zags to 87 points for the game.
If Gonzaga makes shots tonight, especially with an advantage on the glass, this number should be well within reach.
Pick: Gonzaga Team Total Over 79.5 (Play to 82.5)
---
»» Return to the table of contents ««
---
Kyle Remillard: Gonzaga 1H Team Total Over 39.5
Gonzaga's first half team total currently sits at 38.5 and has floated around that number throughout the tournament.
The Bulldogs have averaged 45.7 points in the first half this season and have scored an average of 45.3 in the first half of the tournament.
In their four tournament games, the Zag's have hit their team total in the first half team total each time, scoring 43, 46, 43, and 49 points. They have also scored at least 80 in each game and are averaging 88.5 points per game in the tournament, proving that this offense is one for the ages.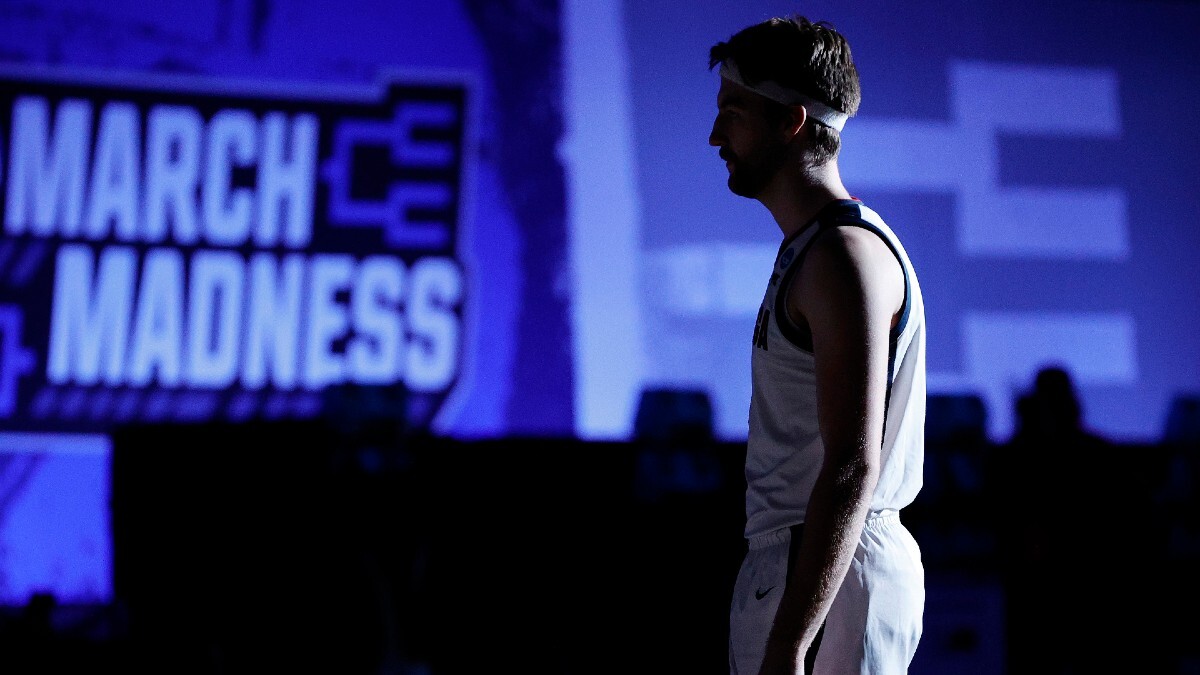 Gonzaga owns one of the most efficient offenses over the last decade, averaging 91.6 points per game while scoring 126.8 points per every 100 possessions.
The Bulldogs play with the sixth-fastest tempo in the country and show no signs of slowing down. UCLA will attempt to do just that by slowing the game down to a half-court game, as many teams this season have tried and failed to do.
Jalen Suggs is lightning quick and uses his speed to kickstart Gonzaga's offense in transition every opportunity he gets. No one in the Gonzaga starting lineup is smaller than 6-foot-4, and they will take advantage of 5-foot-11 Tyger Campbell.
Mark Few doesn't want to just beat teams. He wants to show that the Zags are in a different league than the rest of the country.
Pick: Gonzaga 1H Team Total Over 39.5 (Play to 41)
---
»» Return to the table of contents ««
---
Tanner McGrath: Gonzaga 1H Team Total Over 38.5 (-125)
What a ridiculous number this is.
Not only is Gonzaga averaging 45.7 first-half points per game this season (per TeamRankings), Gonzaga hasn't scored fewer than 40 points in the first half since Feb. 4. That's 12 straight games.
Gonzaga's WCC schedule is soft, but Gonzaga has hammered its high-quality opponents too.
For example, Gonzaga just put up 49 points in the first half against USC in the Elite Eight. Earlier this season, it scored 41 first-half points against BYU, 44 first-half points against Virginia and 54 first-half points against Kansas.
Now, we expect Gonzaga to score fewer than 40 first-half points against a UCLA team that ranks 166th in defensive effective field goal percentage?
UCLA isn't a terrible defensive team, but it tends to pick things up in the second half. It ranks 36th in second-half points per game allowed but just 75th in first-half points allowed per game.
During just this tournament run, UCLA allowed 39 first-half points to Alabama and 44 first-half points to Michigan State.
Gonzaga scoring at least 39 first-half points might be my favorite bet of the tournament. I'd happily play this bet at anything better than 40.5.
Pick: Gonzaga 1H Team Total Over 38.5 (-125)
_BookPromo=1283
---
»» Return to the table of contents ««
---
Mike Calabrese: UCLA vs. Gonzaga Double Result
(1) Gonzaga to Win;
(2) Both UCLA and Gonzaga to Score 80 or More Points (+1600).
Many commentators believe that the Bruins' only chance in this game is to muck things up, drag out possessions in the half-court and edge past Gonzaga in a low-scoring affair.
And while that may even be the preferred tactic being discussed inside the UCLA camp, the Zags are simply too efficient to hold down for 40 minutes. The Bulldogs will go on a run in the first half, and this game hinges upon both UCLA's willingness and ability to keep up the pace.
Aided by a handful of wild overtime affairs, UCLA has eclipsed 80 points seven times since Jan. 9. Over that period of time, Gonzaga has accomplished the feat 16 times.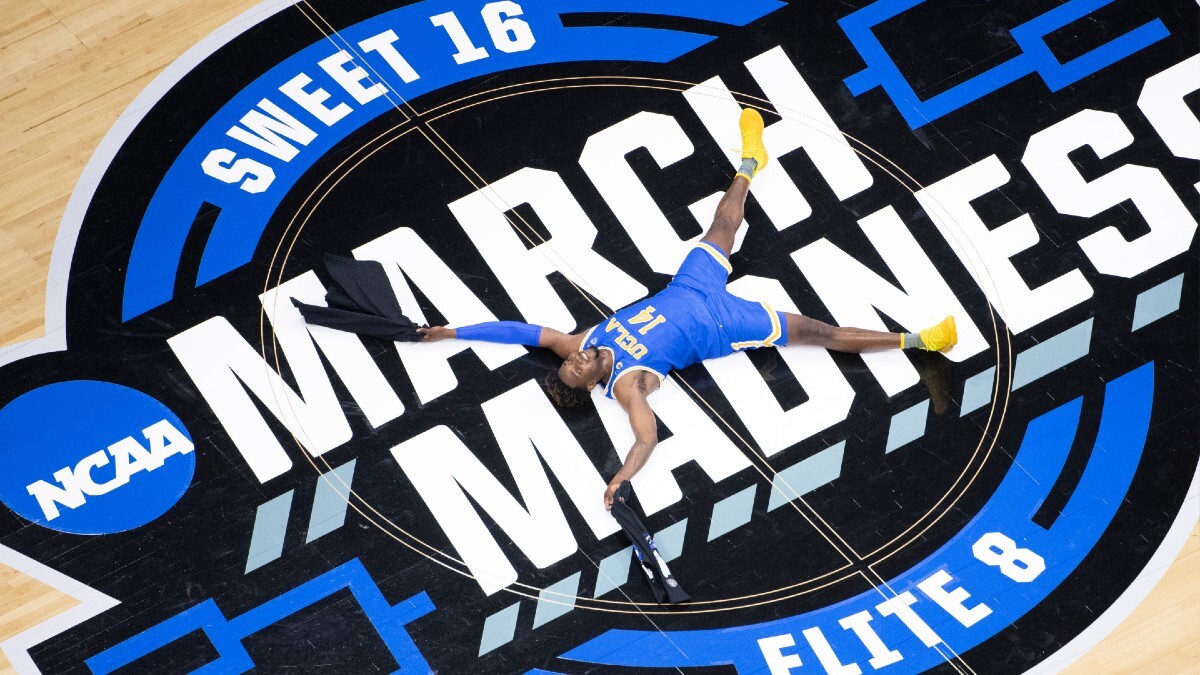 It will likely take overtime or a breathtaking performance from 3-point range from UCLA to cash here, but the fact that I can bank on Gonzaga to do its part in this prop bet makes the +1600 too rich to pass up.
If the Zags drop 45+ in the first half and appear ready to cruise to victory, holding a +1600 ticket will create some hedge opportunities via live betting in the second half.
Buying 10-15 points on the live team total will likely run you in the -600 to -800 range, but if UCLA can get to 60 before the five-minute mark, that means you can squeeze a bit of value out of this generous offer from FoxBet.
Pick: UCLA vs. Gonzaga Double Result
---
»» Return to the table of contents ««
---
Are you looking for a safe, reliable, trustworthy sportsbook? Check out our ratings of the best sportsbooks and their current sign-up offers for new customers.