NBA Betting Odds & Picks for Grizzlies vs. 76ers: Back Philadelphia, Embiid To Cover Against Memphis (Sunday, April 4)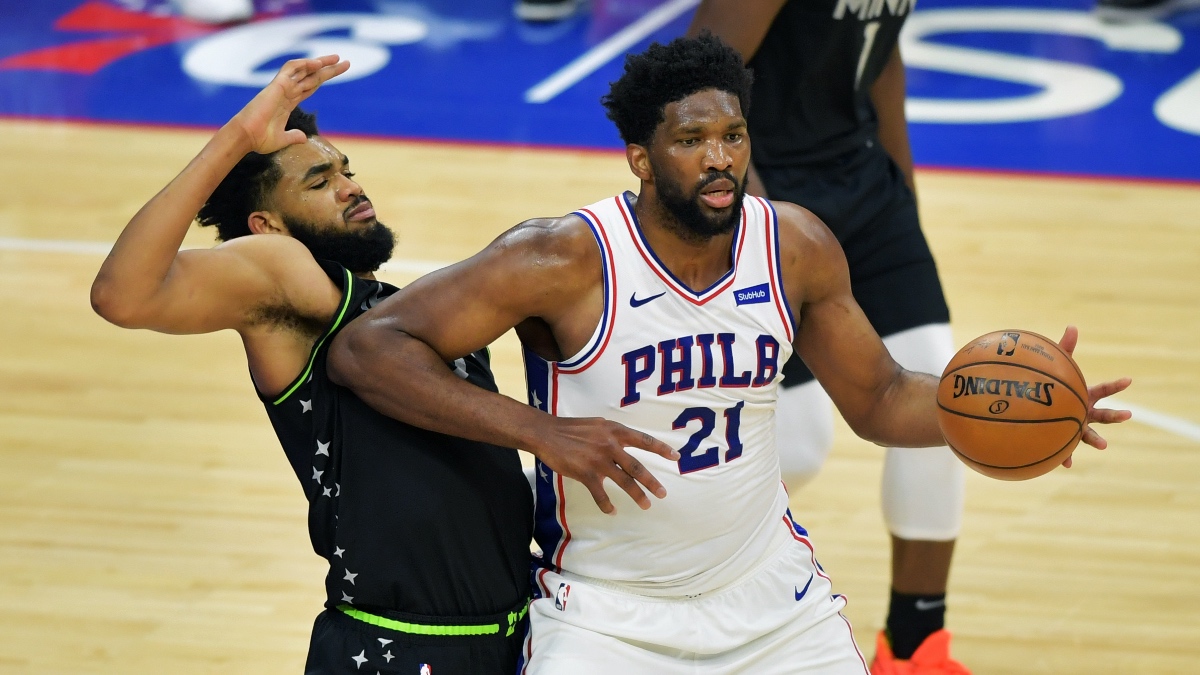 Grizzlies vs. 76ers Odds
Grizzlies Odds
+3.5
76ers Odds
-3.5
Moneyline
+135/ -160
Over/Under
225.5
Time
Sunday, 7 p.m. ET
Odds as of Sunday morning via BetMGM.
Joel Embiid is back.
Well… he's kind of back. Embiid returned Saturday against the Minnesota Timberwolves and looked good. In 28 minutes, Embiid collected 24 points and eight rebounds, and he got to the line a whopping 17 times in the victory.
Minnesota pushed back late and made Philadelphia fight for it, though, and this game will happen less than 24 hours after the win. So is Embiid really back or will he sit this one out? A line this close implies the books suspect Embiid will miss the game, and head coach Doc Rivers sounded uncertain as well.
Can Memphis pull off the upset with or without Embiid playing?
_BookPromo=245
Memphis Grizzlies
The Grizzlies sit at 23-23 heading into this contest. They're exactly at .500 and exactly on the edge of the playoff race, which honestly feels perfect because they're a candidate for the most average team in the league.
Is that a diss? Is it a compliment? Honestly, that probably depends on your opinion of Memphis and it's fair to point out this team is still missing two starters in Jaren Jackson Jr. and Justise Winslow. The Grizzlies have been without them just about the whole season.
Credit to head coach Taylor Jenkins for keeping Memphis up at .500 and, remarkably, 12th in Net Rating per Basketball Reference. What is this team actually good at? Well, the Grizzlies rank seventh in Defensive Efficiency, so that's something. But exactly what is Memphis good at defensively?
The Grizzlies have a pretty weak defensive shot profile. Opponents are largely getting the looks they want and hitting them at above-average rates. Really, what Memphis is doing at a genuinely above-average level comes down to two things: rebounding and winning the turnover battle.
The offense has been a real slog for Memphis. The Grizzlies have very little spacing without Jackson healthy. They've taken the most 2-pointers in the league, but rate bottom 10 in 2-point percentage. They're also one of the worst 3-point shooting teams in the league.
However, the Grizzlies rarely turn the ball over and they're terrific on the offensive glass. Since Memphis also plays at a pretty high tempo, that just gives it a lot of extra opportunities to score in most games and it's needed.
It's a similar story on defense. Memphis is a very good rebounding team on that end, too, and it forces a turnover on more than 14% of opponent's possessions, which is second highest in the league.
The Grizzlies aren't particularly good at doing that straight up, but they're pretty good at bending the possessions equation, so they get an extra five or 10 cracks a game to even the score out.
Memphis has a deep roster of reliable role players, but no real stars yet. Ja Morant has not taken the sophomore leap many expected. Brandon Clarke has slumped a bit. Jaren Jackson's shooting is badly missed. Guys like Jonas Valanciunas and Kyle Anderson have been perfectly fine, but that's precisely the problem. The Grizzlies have a bunch of perfectly fine dudes.
And sometimes, that's just not enough, especially against the best teams.
_BookPromo=24
Philadelphia 76ers
The 76ers are pretty good, and they're a lot better than the Grizzlies. We know this by Philadelphia's 33-15 record, especially considering the fact it has won quite a few of those games without Embiid. Philadelphia has triumphed in 11 of its last 14 games, with Embiid missing almost all of them.
The Sixers have the NBA's best defense at the moment. They ranked second overall in Defensive Efficiency, trailing the Los Angeles Lakers. Philadelphia is the best product right now, and has played the best defense over the past month even without Embiid. That is a pretty scary thing to digest, and it should be getting Ben Simmons some serious Defensive Player of the Year looks.
Offensively, the Sixers rank around league average, but that's selling the team short — at least the healthy version. Remember, Embiid isn't the only one who has missed a bunch of games. Simmons missed a couple handfuls and Seth Curry was out almost a month.
The question of exactly how good the Sixers are offensively depends a lot on whether Embiid plays. Per Pivot Analysis, Philadelphia is about 13 points per 100 possessions better with Embiid on the court than off it this season. Basically, the Sixers are a very good offense with their MVP candidate and a below average one without him.
Still, the Sixers are 9-8 without Embiid and that includes 8-3 — both straight up and against the spread — in the most recent 11 games without their big man.
Philadelphia is not as good without Embiid, but it's still been very solid and limited opponents to around 102 points per game. Also worth noting in this particular matchup: the Sixers are a top-10 rebounding team, even without Embiid, and tend to force a lot of turnovers. They also turn the ball over a lot, though they do so less without Embiid.
Grizzlies-76ers Pick
Here's the thing about perfectly average teams like Memphis: they tend to be a nice litmus test for the opponent. The Grizzlies are perfectly fine against bad or other average teams, but if things don't go right, they really don't go right.
Fifteen of Memphis's 23 losses have come by double digits. That's not great. There's also a troubling trend against teams in everyone's current top eight (the top three teams in the East and top five in the West). The Grizzlies started the year 4-2 against those teams, but two of those wins were against the wonky pre-James Harden Nets and another was against these Sixers minus Embiid and Curry.
Since that start, Memphis has lost nine of its last 10 against those top teams. And typically, the games haven't been close.
The road map to an upset for Memphis here is pretty easy. The Grizzlies need to win the turnover margin, and they need to win it by a significant margin. Memphis is not better than Philadelphia, even without Embiid.
The Grizzlies need to force a bunch of turnovers and stop the Sixers from doing the same like they usually do, get an extra 10 possessions in this game and hope that's enough. Memphis isn't going to dominate the glass like it does against some teams, and it's very unlikely they're going to outshoot or out-defend Philadelphia.
That said, it's too narrow of a scenario for me. There are too many ways for Philadelphia to take this game, and most of them involve just being the much better team.
The sports books clearly don't expect Embiid to play, but there's always the chance he does. If he does end up going, this line jumps a handful of points and gives even better closing-line value.
However, I like the Sixers anyway — with or without Embiid — so that's all the more reason to grab the line where it's at and then just be in for a pleasant surprise if the big man does play.
Pick: Sixers -3.5
_BookPromo=49
Are you looking for a safe, reliable, trustworthy sportsbook? Check out our ratings of the best sportsbooks and their current sign-up offers for new customers.