2022 College Basketball National Championship Odds Tracker: Gonzaga, Michigan, Florida State Lead the Pack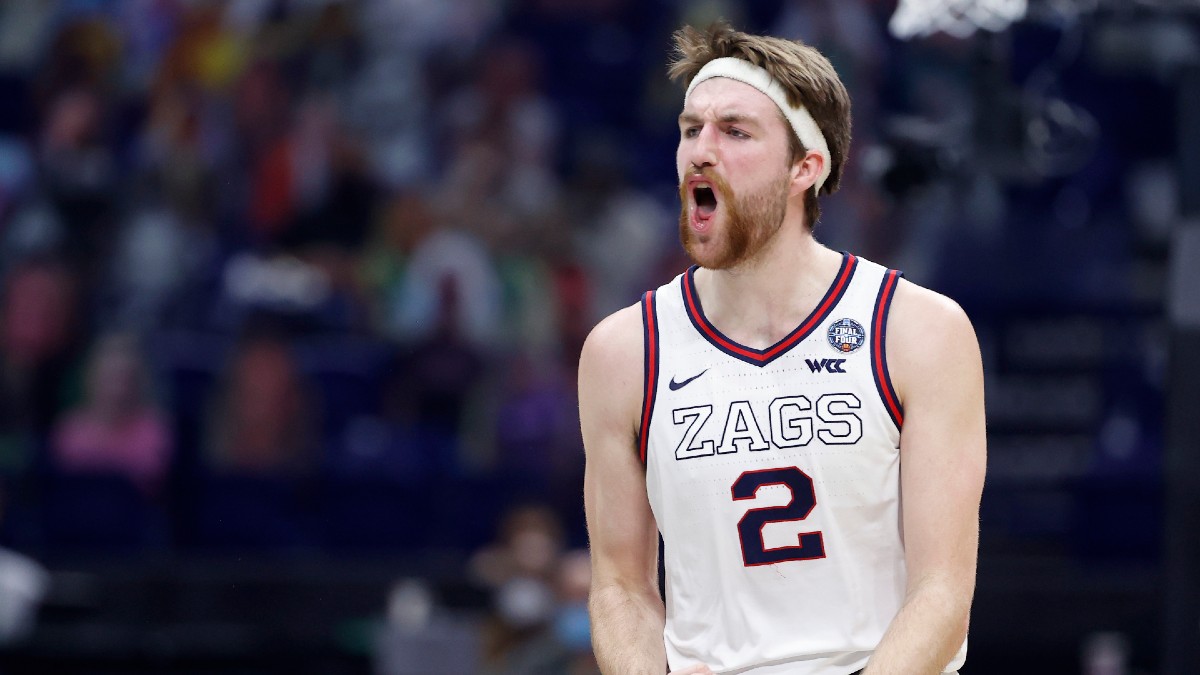 2022 National Championship Odds
| Team | Odds (4/5) |
| --- | --- |
| Gonzaga | +600 |
| Michigan | +1200 |
| Florida State | +1200 |
| Ohio State | +1400 |
| Villanova | +1400 |
| Baylor | +1600 |
| Kansas | +1800 |
| Duke | +2000 |
| Houston | +2000 |
| Illinois | +2000 |
| Kentucky | +2000 |
| Louisville | +2000 |
| Texas Tech | +2000 |
| UCLA | +2000 |
| Virginia | +2000 |
| Virginia Tech | +2000 |
| West Virginia | +2000 |
| Michigan State | +2500 |
| Oklahoma | +2500 |
| Purdue | +2500 |
| USC | +2500 |
| Wisconsin | +2500 |
| Arkansas | +3000 |
| Creighton | +3000 |
| Oregon | +3000 |
| Alabama | +3300 |
| North Carolina | +3300 |
| Rutgers | +3300 |
| Syracuse | +3300 |
| Iowa | +4000 |
| Drake | +4000 |
| UConn | +4000 |
| Clemson | +4000 |
| Auburn | +4000 |
| LSU | +4000 |
| Maryland | +4000 |
| Memphis | +4000 |
| Oklahoma State | +4000 |
| Oregon State | +4000 |
| Texas | +4000 |
---
Above are updated college basketball national championship odds from DraftKings Sportsbook.
For those new to sports betting, +150 odds mean a $100 bet would win $150 (in addition to the $100 risked).
Last updated April 5.
_BookPromo=49
---
April 5 Update
After competing in the national championship game in 2021, Gonzaga tops the oddsboard once again for the 2022 national title.
The Bulldogs come in at +600 to make another run at the championship, ahead of Michigan (+1200) and Florida State (+1200).
That number remains low despite the fact that stars Jalen Suggs and Corey Kispert could potentially be top-10 picks in the upcoming NBA Draft.
Meanwhile, the Wolverines earned a No. 1 seed in the 2021 NCAA Tournament after a stellar season in the Big Ten, while the Seminoles finished as a No. 4 seed. The two teams met in the Sweet 16 with Michigan securing the victory, but the Wolverines then fell to No. 11 seed UCLA in the Elite Eight.
Gonzaga's opponent in the 2021 title game, however, finds itself further down the board. Baylor comes in at +1600, which are longer odds than both Villanova (+1400) and Ohio State (+1400).
Blue bloods like Kansas (+1800), Duke (+2000), and Kentucky (+2000) sit on the board with relatively short odds compared to other schools, but other historically relevant programs such as North Carolina (+3300) and Indiana (+8000) find themselves farther down the board.
The mid-major with the shortest odds to win the 2021-22 national championship is Drake (+4000), which shares company with power-6 programs like Iowa, Texas, Maryland and Oklahoma State at 40-1. The Bulldogs were the favorite team of college basketball bettors across the country and are now receiving some love from sportsbooks.
Are you looking for a safe, reliable, trustworthy sportsbook? Check out our ratings of the best sportsbooks and their current sign-up offers for new customers.