NCAA National Championship Odds & Picks: Our Top 9 Best Bets for Baylor vs. Gonzaga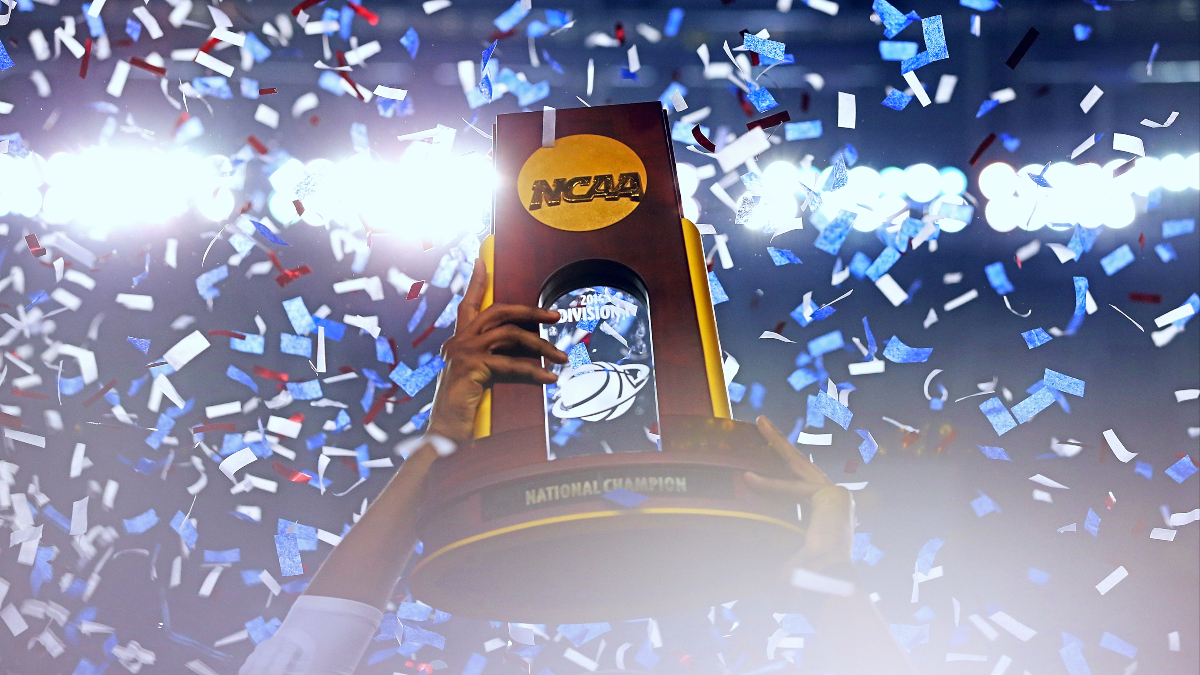 Baylor vs. Gonzaga Odds
Baylor Odds

+4.5 (-108)

Gonzaga Odds

-5.5 (-112)

Moneyline

+165 / -225

Over/Under

159.5

Time | TV

9:20 p.m. ET | CBS

Odds as of Saturday night and via DraftKings.
Saturday, Dec. 5, 2020.

No. 1 Gonzaga and No. 2 Baylor were scheduled to play a neutral-site game at Bankers Life Fieldhouse in Indianapolis, IN.

Then, the inevitable happened … or, at least that's how it felt at the time: Gonzaga vs. Baylor was postponed, then ultimately cancelled, due to COVID-19.

Since the cancellation, college basketball fans have spent every minute of every day waiting for this matchup.

Now, we're two victories away from that dream becoming a reality. And if indeed that dream is realized, then it won't just be an early-season non-conference victory at stake: The NCAA National Title will be on the line.
---
Those were the words penned by The Action Network's Tanner McGrath just before the Final Four tipped off. His words exemplify and animate the magnitude of the matchup of tonight's NCAA Tournament Final.
Baylor vs. Gonzaga is not just another college basketball game. It is a time capsule of the entire season — once postponed, once canceled, now revived and thriving.
It's serendipitous for the season to come down to these two teams, and in Indianapolis, no less.
For bettors and fans alike, if you don't have action on this game … then, with all due respect, you're simply not enjoying it properly. Of all games, this is the one that deserves the sweat. This is the game that deserves your emotional investment.
We hope that you'll join us in doing just that — and as our final sendoff, our final roll call — our staff has delivered its top nine best bets for Monday night's title game to help you build your own betting card.
---
2021 NCAA National Championship Picks
---
All listed odds have been updated as of Saturday night. Specific bet recommendations come from the sportsbook offering preferred odds as of writing.
Always shop for the best price using our NCAAB Odds page, which automatically surfaces the best lines for every game.
Note: All photos below are via Getty Images.
---
---
I played Baylor +5 immediately after the Gonzaga thriller ended.
I don't think anybody can stop the Gonzaga offensive juggernaut at this point, but Baylor's extremely aggressive and versatile no-middle defense has as good of a shot as any at getting key stops.
I've said all tournament that I wouldn't go against the Bulldogs until a potential final with Baylor. And here we are. I make the game a tad under 3, so I gladly took +5 and would also recommend 4.5, but it becomes a little dicier at 4, and I certainly would not go any lower than that.
Ultimately, I think a team is just going to have to outscore Gonzaga to take it out. UCLA almost did it by hitting nearly every 2-point jumper imaginable.
Baylor has the scorers to keep up and can get it done from the perimeter as the best 3-point shooting team in the nation. Prior to Baylor's three-week COVID-19 pause, I had these teams neck-and-neck in my power ratings with a large gap between the third-best team.
I think the Bears are fully back to their pre-COVID-19 level, as evidenced by their five wins in the tournament all by at least nine points.
While I'm not at a pick'em after continuously bumping Gonzaga since, I see value worth betting at anything above 4. I personally think this goes down to the wire.
---
»» Return to the table of contents ««
---
Houston and UCLA did everything imaginable to make Baylor look unstoppable and Gonzaga barely worth a spot in the title game.
The Cougars committed 11 turnovers against the Bears, yet Baylor only managed six steals and no blocks. Houston did everything to take itself out of the Final Four with mishandled rebounds, traveling in the paint and posting its worst opponents points per possession of the season at 1.34.
The general consumer believes the Baylor defense is back, but against Houston, the Bears posted well below their season average in forced turnovers and opponents points per possession. The Cougars dismissed their run in March Madness instead of crediting the Bears' defense.
UCLA actually took high quality midrange shots in the game and were expected to shoots 51% on them…

But Gonzaga dominated almost every facet, the shots just didn't fall as frequently as they have in the past pic.twitter.com/fsW1TXQvzx

— ShotQuality (@Shot_Quality) April 4, 2021
The Bruins were red-hot against Gonzaga in the second semifinal.
UCLA posted the 11th-best points per possession and fourth-best effective field goal percentage of all games played in the 2021 NCAA Tournament. The key to beating the Bulldogs is a post presence to force double-team help for Drew Timme while hitting every jumper.
The Bruins did this perfectly, as Johnny Juzang went for 29 points and Cody Riley posted a double-double from the interior.
The question remains whether Baylor's profile matches more with UCLA or Oklahoma, a team that relies on multiple ball screen pop.
With no post presence, Baylor falls into the category of being the best ball-screen small-guard shooting team in the country. Here is a look at Gonzaga opponent points per possession, with ball-screening Oklahoma highlighted against UCLA.
Because Baylor will rotate Jonathan Tchamwa Tchatchoua at the five to guard Timme, this could be a long night for the no-middle defense of Baylor.
Timme is the best big man in the country when working the paint, from finding another slasher or a teammate waiting for the 3-point attempt. Baylor's defense efficiency continues to fall sharply, as Gonzaga will maximize its possessions in this national championship.
Baylor

Gonzaga

Opp. Points per Possession

Points per Possession
Before the Final Four, Gonzaga was posted at a 5.5-point favorite over Baylor. KenPom makes this game Gonzaga -4, while Torvik makes the game -5. Public perception from the semifinals is going to send a bevy of gamblers to the window for the Bears. Having no post presence and facing the best ball-screen defense in the nation is not a good combination for Scott Drew's team.
Pick: Gonzaga -4.5 (up to -5)
---
»» Return to the table of contents ««
---
We have the game we wanted all season.
While Gonzaga's defensive showing against UCLA is a cause for concern, this line is an overreaction to Gonzaga's miraculous escape against the Bruins.
A better comparison comes from Baylor's game against Arkansas in which the Bears were fortunate to escape despite torrid-hot shooting from 3-point (8-of-15).
The Razorbacks were down 29-13 after 10 minutes but repeatedly closed the gap throughout the second half. If not for three consecutive fouls in a two-minute stretch that eliminated J.D. Notae from the game, Arkansas may have been able to pull off that comeback.
Gonzaga's defense is elite, entering the championship game as the eighth-best team, per KenPom. UCLA put forth a historic performance from 2-point range, so I'm betting against a Baylor repeat performance.
WOW…

Gonzaga was expected to win by 22 based on the shots taken!

Win Chance: 98% pic.twitter.com/KZgQ3ONYeO

— ShotQuality (@Shot_Quality) April 4, 2021
The Bears have shown issues with turnovers, which will be deadly against a Gonzaga team that shot an amazing 71.4% (30-of-42) from inside the arc against UCLA.
Bruins head coach Mick Cronin is a brilliant game-strategist and received superior performances from Johnny Juzang (29 points) and undersized big man Cody Riley (14 points, eight rebounds, five assists).
The Zags will again have the best post player on the floor in Drew Timme, a dominating two-way player. Timme's ability to score and pass is unlike anything Baylor has encountered since Illinois' Kofi Cockburn back in December. Timme needs to avoid foul trouble, but after a Copperfield-like escape against UCLA, I'm betting he does.
This is a wonderful matchup between the two best teams all season. It's the matchup college basketball fans wanted and deserved.
While Scott Drew has led a deep and versatile Baylor team to the final game, I am completely buying into the "team of destiny" angle with Gonzaga.
Mark Few's Bulldogs are deep and superior on both ends of the floor. In the end, I think Timme is the difference and the Bears' turnovers give Gonzaga too many extra possessions.
I believe Gonzaga will wln, so the 4.5 points just aren't enough for me to bet against the undefeated Bulldogs.
Pick: Gonzaga -4.5 (up to -5)

_BookPromo=1219
---
»» Return to the table of contents ««
---
Despite a topsy-turvy start to the Big Dance, the college basketball world has been gifted it's preferred title game matchup. Yet, despite the year-long spotlight on these two programs, I still believe there are misconceptions about both teams, namely how they like to win games.
Gonzaga has earned its reputation as an offensive juggernaut, but that credibility really boils down to its efficiency and not necessarily its preferred pace. Gonzaga is not an all-gas, no-brakes kind of team.
Sure, it's top-20 in overall pace, but anyone who has watched it closely this season can attest to its command and ultimate control of games. Once it's established a lead, it breaks presses and methodically carves up opponents in the half-court while milking the clock.
That's why it may come as a surprise to casual observers that overs have a 16-15 record in games involving the Zags.
As for Scott Drew's bunch, Baylor contests have surpassed the closing total in three of the Bears' five NCAA Tournament games, but the average margin actually favors the unders at -5.1 points per game. And in the Bears' five games this season against top-50 teams in terms of offensive efficiency, the average total of points came out to 145.2 per game.
_BookPromo=1283
The Bears have traded in flashy blowout victories for suffocating defensive performances. In eight of the Bears' last nine games, they've held opponents to 73 points or fewer with their no-middle defense. And I believe they'll do everything they can to avoid an out-and-out track meet with far-and-away the nation's top offense.
And finally, it's easy to view Gonzaga's 93-90 victory over UCLA on Saturday night as an appetizer for Monday's night main course, but I believe both teams want to prove their championship mettle through their defense.
The Zags were exposed by Johnny Zujang and Jaime Jaquez's size and versatility.
But Baylor's go-to offensive options check in at 6-foot-2 (Davion Mitchell), 6-foot-3 (Jared Butler) and 6-foot-4 (MaCio Teague). College basketball is a matchup sport, and — believe it or not — Baylor's offensive personnel is a better matchup for the Zags than UCLA's frontcourt was two nights ago.
You won't confuse this game for a 1980s Big East battle, but even slower-paced stretches will make this under more and more attractive as the game wears on. I would play this down to 158.
Pick: Under 159.5 (down to 158)
---
»» Return to the table of contents ««
---
Warning: This will not be a fun play to root for. However, I see some value in backing a slow start on Monday night.
This total feels a bit inflated for a couple of reasons.
First, UCLA's offense played way above its head against Gonzaga on Saturday. The same Bruins team that shot 39% from the floor and managed just 51 points for the entire game against Michigan in the Elite 8 exploded for 44 first-half points on 58% shooting against the Bulldogs.
That hot start continued all night, as Johnny Juzang and the Bruins shot a ridiculous 58% for the game, including 47% from beyond the arc.
Keep in mind this is a Gonzaga team that ranks eighth in adjusted defensive efficiency, per KenPom, and allowed an average of just 30 first-half points through its first four tournament games.
_BookPromo=235
Baylor boasts the top 3-point shooting offense in the nation, but it shot it an unsustainably high rate — even by its standards — in the first half against Houston. The Bears went a scintillating 8-of-15 (53.3%) from beyond the arc in the opening period against the Cougars, leading to 45 first-half points.
They came back to Earth in the second half, scoring 33 points and shooting 33% from deep.
It's improbable for the Bears to shoot that well again in the first half against a Zags defense that is capable of slowing them down.
On the other side of the floor, Defensive Player of the Year Davion Mitchell leads a very strong defensive backcourt that can cause issues for Gonzaga early.
It's scary backing an under involving two elite offenses, but the defenses are elite as well, and I think this number is set a couple of points too high.
---
»» Return to the table of contents ««
---
Shane McNichol: End of Second Half Result = Tie (+1700)
I'll be staying away from betting either side in this game for a few reasons.
First, I'm a lifelong Gonzaga fan eager to avoid jinxing the Zags either way. More importantly, this game is going to be dictated by a few things that are hard to judge prior to tip-off.
Baylor's offense rises and falls with the Bears' 3-point shooting. A hot night could lead to a big Baylor lead. An off-night could doom it. The Bears are too talented to predict which way regression might swing.
Additionally, I'm very curious to see how this game is officiated. A tight whistle likely favors Gonzaga, which is more aggressive in the paint over Baylor's jump-shooting offense. Plus, Baylor's guards are very physical defenders. Foul trouble for Baylor, especially Davion Mitchell, could change the game.
No matter how Baylor shoots the ball or how involved the referees get, I would be surprised if either team runs away with this game. Both defenses are good enough to keep things close if one team goes cold.
Neither team has a glaring schematic advantage. If it's going to be close, overtime is a viable outcome. In that case? These odds are too good to pass up.
Pick: End of Second Half Result: Tie (+1700). Play down to +1200.
---
»» Return to the table of contents ««
---
Stuckey: Matthew Mayer Over 9.5 Points
My favorite player prop to bet is Matthew Mayer over 9.5 points.
The Gonzaga defense can be exploited at the rim and in pick-and-roll situations if teams create mismatches with Drew Timme. I think Mayer is the perfect player for that role. I also believe that he will earn extended minutes based on the matchup.
I assume Baylor will need to go with a true big man for a large majority of the game in order to try to slow down Timme at the rim (which might not even be possible).
As a result, I don't think the Bears can also have Mark Vital on the floor much due to the offensive limitations the lineup would have with him as a big.
Baylor needs to keep up here, and getting Mayer extended run gives the Bears the best chance at doing just that. Also, defensively, Mayer can chase around Corey Kispert, so it's not a bad matchup for him on that end, either.
Pick: Matthew Mayer Over 9.5 Points
---
»» Return to the table of contents ««
---
Collin Wilson: Corey Kispert Over 16 Points / Over 2.5 3-Pointers Made
The best long-distance shooter on Gonzaga averages 44.5% and stands at 6-foot-7. Corey Kispert is a matchup issue for plenty of rosters with Baylor soon to be added to the list.
The Bears are most efficient in their four-guard small-ball set, but a closer look at MaCio Teague, Davion Mitchell, Jared Butler and Adam Flagler shows that not a single defender goes over 6-foot-4.
Teams with height differential advantages have shot well from the perimeter against Baylor. Wisconsin is top-40 in height and shot 38% from beyond the arc, while Oklahoma State's Cade Cunningham shot 40%.
In a game that is projected to have 73 possessions, Corey Kispert should have plenty of opportunities to hit this prop. Kispert has had at least eight attempts from outside in seven of the Zags' past nine games.
Our Action Labs product projects Kispert to make 2.8 three point shots. The value on the prop exists through -110 and can be found at plus money in most shops.
Pick: Corey Kispert Over 16 Points & Over 2.5 3-Pointers Made
---
»» Return to the table of contents ««
---
Pat McMahon: Jalen Suggs Under 5.5 Assists
This play isn't as much of a knock on Suggs as it is showing respect for Andrew Nembhard and Davion Mitchell.
Mark Few has the luxury of rolling out two of the nation's best point guards in his starting lineup.
Nembhard proved to be one of college basketball's top playmakers last year at Florida, averaging 5.6 assists per game as a sophomore. He knew he'd be taking a smaller ball-handling role when he came to Gonzaga, splitting the load with Suggs. Despite not having the ball in his hands this much this season, Nembhard is still averaging an impressive 4.4 assists while turning it over just 1.2 times per game.
---
The reason I point out Nembhard's impressive capabilities is that he will likely have a more favorable matchup than Suggs tomorrow.
Baylor's Davion Mitchell, the Naismith Defensive Player of the Year, should have the task of guarding Suggs. It was a well-deserved DPOY award for Mitchell, who uses his lighting quickness to keep opponents in front of him and give them little room to operate.
If Mitchell can bother Suggs early, there's no need for the Bulldogs to have him bring up the ball with Nembhard also on the floor.
I also think this number is a little inflated due to Suggs' recent play.
Suggs went over the 5.5-assist mark in each of the last three games but has only eclipsed that mark in 10 of his 29 games on the season (34.5%). With Mitchell marking him and Nembhard by his side to share the playmaking load, it's tough to see Suggs getting to six assists Monday night.
Pick: Jalen Suggs Under 5.5 Assists
---
»» Return to the table of contents ««
---
Are you looking for a safe, reliable, trustworthy sportsbook? Check out our ratings of the best sportsbooks and their current sign-up offers for new customers.