Can James Harden Really Win NBA MVP? Our Experts are Split.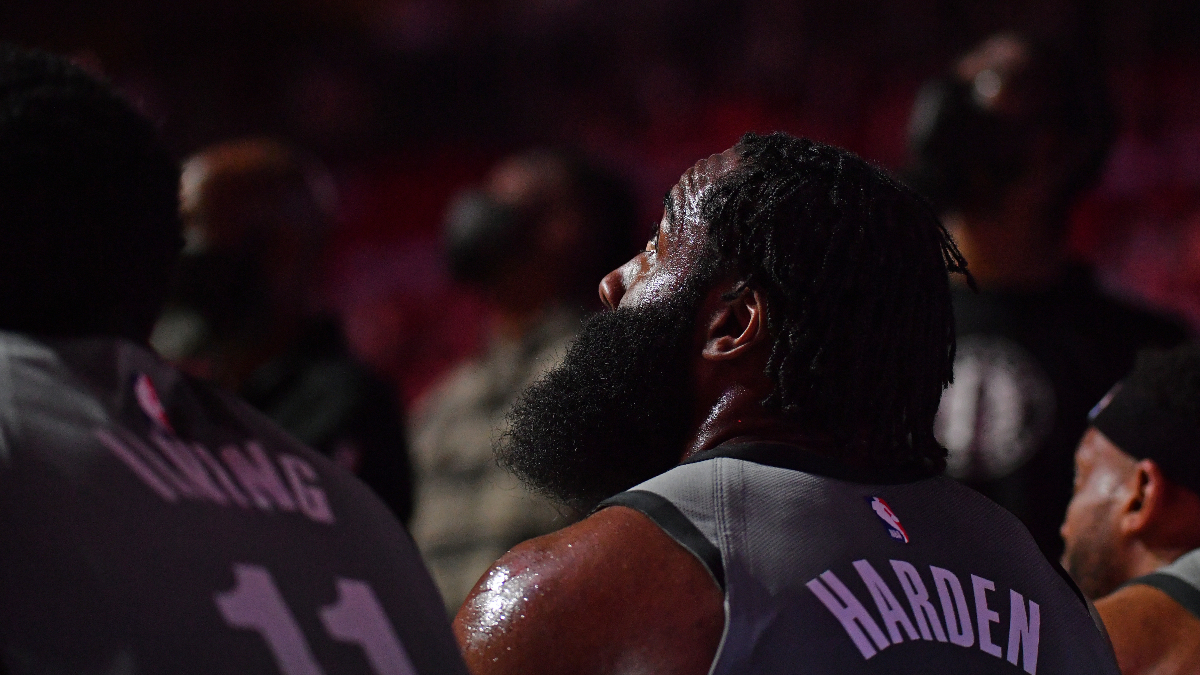 No award in professional sports generates the level of debate that the NBA's Most Valuable Player Award.
And no player in recent memory has consistently forced voters to reconsider what the "most valuable" aspect of MVP means as much as James Harden has over the past six seasons.
His playing style has alienated some. His lifestyle has made him a target of scrutiny over the past year.
But his production has him in the mix for his second career MVP award. So can he actually win this thing or will he become a four-time runner up?
We tapped two of our NBA analysts to make the case for and against Harden for MVP.
The Case for James Harden
Raheem Palmer: You'd be hard pressed to find too many NBA players who have put together the run James Harden has over the past eight seasons.
Since being traded from Oklahoma City to Houston before the 2012-13 season, Harden has averaged 29.4 points, 7.9 assists, 6.2 rebounds, was named All-NBA team seven times (six first team selections), made the All-Star game eight times and has finished top-three in voting for league MVP five times, winning the award in 2018.
Outside of LeBron James — arguably the greatest basketball player ever — Harden has exhibited the best blend of scoring, playmaking we've seen in the modern era of the NBA.
His floor-raising ability is legendary. He turned the Houston Rockets into a legitimate championship contender leading them to 50 wins in five of the past eight seasons.
He reached the Conference Finals twice and pushed the seemingly unbeatable Warriors to the brink before bowing out in seven games (a series in which Chris Paul missed the final two games due to injury).
Harden is essentially this generation's version of Wilt Chamberlain: A score-first player with video game numbers who is addicted to partying and wasn't universally seen as a winner for most of his career (until he won). Harden has his best shot at shedding the latter characterization since 2012.
Despite playing alongside Kevin Durant and Kyrie Irving, this season hasn't been any different for Harden as he once again finds himself at the top of the MVP race with oddsmakers listing him as low as +550 to win the Award behind Joel Embiid (+500) and Nikola Jokic (-145).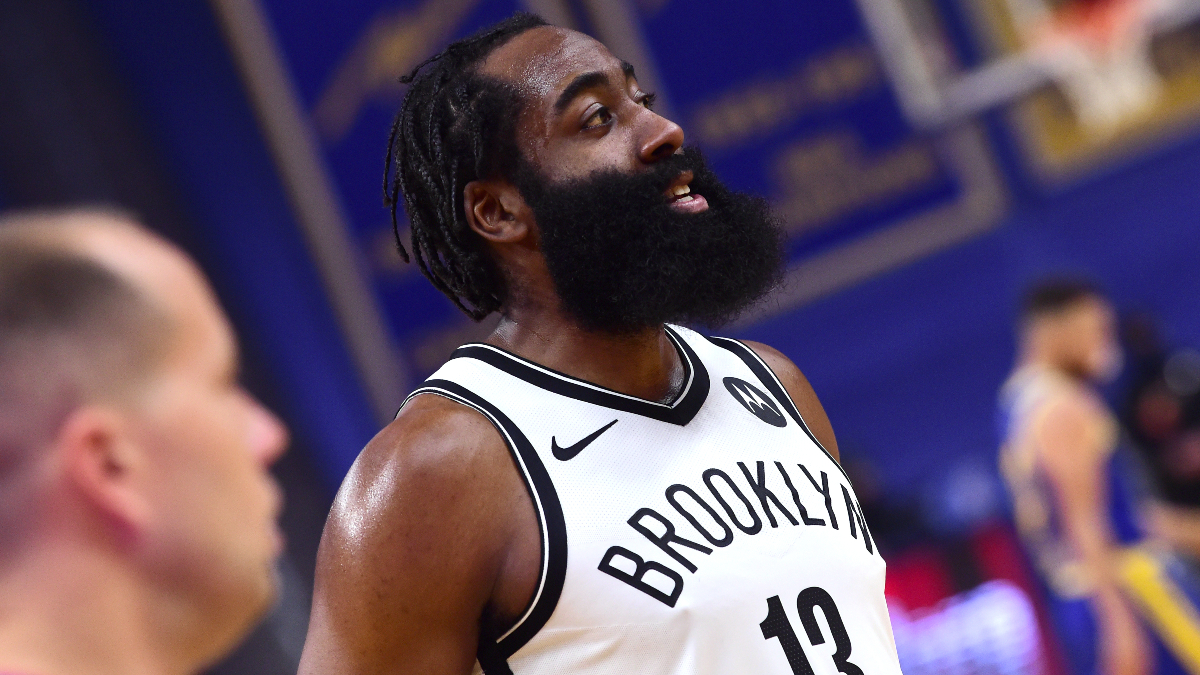 Outside of his recent hamstring strain, which will be re-evaluated in 10 days, Harden has been one of the most durable NBA stars, rarely missing time despite shouldering both the scoring and playmaking load for most of his career and especially this season where we expected his individual play to take a step back given the top-end talent on this roster.
Although it's certainly reasonable to disqualify a player from winning MVP on a team with Durant and Irving, Durant missed 23 games with a right hamstring strain and Irving has been due to injuries and personal matters. Meanwhile, Harden was thrust back into the same high usage role he played in Houston. The Nets never skipped a beat amassing a 27-7 record in his 34 games of action.
I have trouble believing he's not the most worthy candidate for the award considering his impressive numbers — 25.2 points, 8.0 rebounds, and a league-leading 10.9 assists per game — are the biggest reason the Nets are tied for the first seed in the Eastern Conference playoff picture.
Even during a season with a truncated schedule, the NBA season is long enough that we often forget what happened earlier on in the season and thus recency bias can play a huge role in who wins these awards.
When the Nets acquired James Harden in January, they were just 7-6 on the season and were fourth in Offensive Rating (114.1). Since acquiring Harden, the Nets are scoring 118.3 points per 100 possessions despite Durant playing in just 10 games during this time period. Their Offensive Rating is 121.2 when Harden is on the floor and they're +4.7 points per 100 possessions offensively with him on the court vs off.
Harden is in the 93% percentile in Points Per Shot Attempt, generating 123.7 points per 100 possessions but he's also in the 95% percentile in Assist percentage. Thats's something that neither LeBron James, Nikola Jokic, Luka Doncic nor Damian Lillard can say. While many of his advanced stats such as PER, BPM and VORP are down due to a decreased usage rate, Harden is still fifth in Offensive Real Plus Minus (6.06) and sixth in RPM wins (7.74).
For an award that has historically placed a premium on team success, it feels like many are going to break that precedent by looking at everyone but Harden based on his ugly departure from the Houston Rockets.
Despite showing up late for training camp, Harden still had a superstar level impact on a bad Rockets team that would go on to eventually lose 20 consecutive games without him.
I'm not particularly a big fan of a player getting an award because his teammates stink (ie: LeBron and the Lakers) but based on how the Rockets have performed without Harden, that certainly has merit here. The metrics still show he had a star level impact despite the narrative that he quit on the team.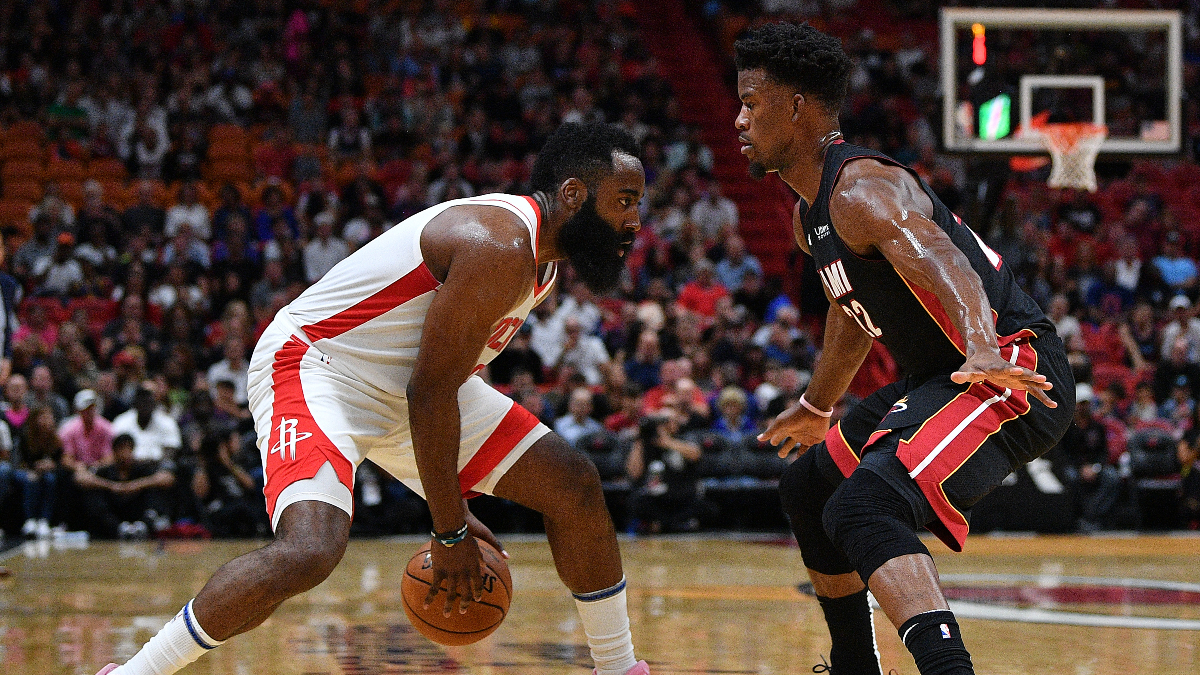 The Rockets were +5.2 points per 100 possessions better offensively with Harden on floor this season and for a team ranks 27th in Offensive Rating right now, you can imagine they'd love to have those 5.2 points back. Harden averaged 24.8 points, 10.4 assists and 5.1 rebounds on 44.4% shooting with Houston, which is nearly identical to what he's averaging since being traded to the Nets.
At some point we have to be honest about how poorly the Rockets have been run since Feritta took over and given the trades they've made since moving Harden, it's pretty clear this team isn't attempting to win nor go above the salary floor next season.
If we're giving other MVP candidates leeway in regards to coming into the season out of shape, not winning due to injuries to teammates, and whining in complaining for every foul call, we can give a superstar in his prime some slack for not wanting to play for a tanking franchise.
---
The Case Against James Harden
Matt Moore: Look, it's awesome that once again James Harden has put up regular season numbers for a top-two seed, even if it is the East. It's great that he's held a team up with his heliocentric style, acting as both engine and tip of the spear. No one is debating that Harden is an incredible player.
However, for him to be most valuable, we have to consider the entire season.
Let's start here: I don't think that the fall of the Houston Rockets is James Harden's fault. It does not take a soothsayer to read between the lines and decipher how events unfolded.
Tilman Fertitta took over the franchise, and immediately began making noise about how much his two stars — Russell Westbrook and James Harden —  made in salary. Negotiations with Mike D'Antoni about a contract extension quickly reached an impasse; D'Antoni eventually left after his deal expired.
Chris Paul, Mike D'Antoni, Russell Westbrook, James Harden. Fertitta's priorities have not been subtle, especially since the pandemic started impacting both his basketball and outside-league income. It's pretty clear that Fertitta deserves the onus for the fall of one of the most stable and successful organizations in sports.
But Harden did not do anything to slow the fall. His inability to handle conflict in part led to the departure of Chris Paul and the acquisition of Russell Westbrook. Westbrook cited culture problems with Houston. As far as the locker room goes, Harden was the culture.
Then came the first round exit when, according to sources, Harden decided the Rockets were heading in the wrong direction. He partied, during the rise of the third wave of the pandemic and flaunted It as he was routinely seen on social media.
Those are choices Harden gets to make, the same way every person has. Harden's decision not to sit at home, socially distanced, while reading a novel has no bearing on his MVP status.
But the consequences of those actions, less time in training camp, more time in quarantine while his teammates worked to incorporate new schemes under a new coach and new teammates, hurt Houston.
Harden came in out of shape. My colleague will stress that after all that, he still came in and dropped 44 points and 17 assists in his first game back, and that's awesome, the kind of incredible performance we've come to know Harden for.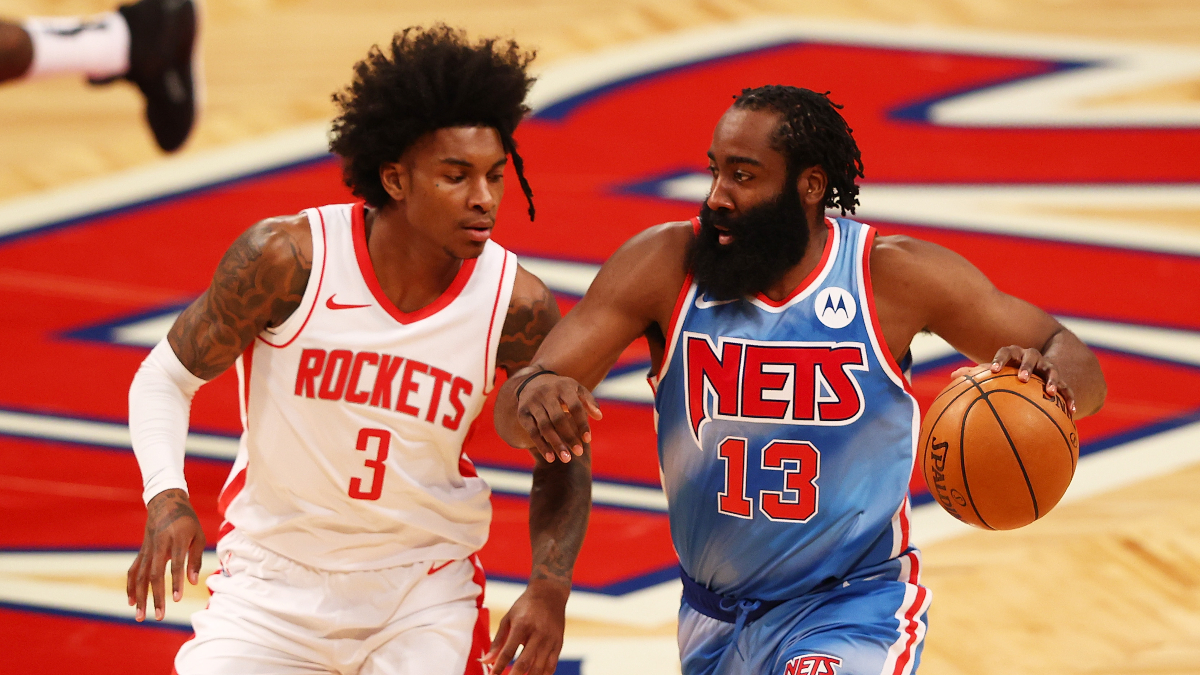 However, in Houston, he played eight games. He scored his lowest per-game average since he left OKC, with his lowest effective field goal percentage since 2017 when his usage rate was out of this world. He shot 44% from the field and grabbed his fewest rebounds since he left OKC.
These games all matter. The games he missed getting back in shape matter. The games he missed sitting out waiting for Houston to trade him matter.
And with all that, Harden is averaging the fewest points of the six top MVP candidates (Harden, Nikola Jokic, LeBron James, Damian Lillard, Joel Embiid and Giannis Antetokounmpo). He also has the lowest eFG% of that group. He is averaging the second-lowest 3-point percentage, the lowest PER, the second-lowest VORP, the second lowest Box Plus-Minus.
Harden isn't a real contender for the MVP, but it's not because of some moralist crusade. It's because Harden's actions had tangible impacts on the performance of his old team, and his on-court production in both those games and since in Brooklyn simply do not match up with the other contenders.
James has missed games due to injury. Embiid missed time due to contact tracing and injury. Jokic hasn't missed any games.
Rewarding Harden would mean that all off-court behavior is irrelevant, when we know that chemistry, commitment, and intensity go a long way towards team success in the regular season.
He is not a viable candidate.
What MVP Voters Are Saying
There are voters with MVP ballots who will ignore almost everything that's not directly on-court performance. However, most will consider all variables.
I polled twelve likely voters for MVP with the simple question of whether what happened in Houston will impact their vote. Only three voters said it would not.
Responses ranged in terms of how much, but the consensus was that Harden was absolutely in the running and that the events in Houston would absolutely be a factor in their vote.
Notably, those voters who said it would impact their vote said it wasn't any sort of moralist crusade, but instead about how effectively scuttling the Rockets before joining Houston impacts Harden's "value."
"Effectively quitting on a team midseason seems to contradict the V part in MVP," one voter said.
Most said that if the race was close, Harden's actions early in the season would effectively mean he loses the tiebreaker.
If we look at the broader voter base, his prospects are dim.
Would a so-called LeBron voter be swayed to vote for Harden considering what happened in Houston, with the way James has carried himself the past two seasons in LA?
Finally, there's another compelling argument against Harden and he's returning to the floor Wednesday night: Kevin Durant.
Harden will miss some time with a hamstring injury, and even if he were still playing, it would be apparent from tipoff that Durant is the best player on the Nets. Winning MVP when you're not the best player on the team is nearly impossible; there isn't a clear example of it in league history.
Harden's odds have risen recently, but all that really presents is a buy-low opportunity for players like Embiid (who was the favorite before his injury) and LeBron. Harden cannot be considered a value bet for MVP.
Are you looking for a safe, reliable, trustworthy sportsbook? Check out our ratings of the best sportsbooks and their current sign-up offers for new customers.