2021 NHL Playoff Odds & Betting Preview: Our Best Stanley Cup Futures, Conn Smythe Bets and More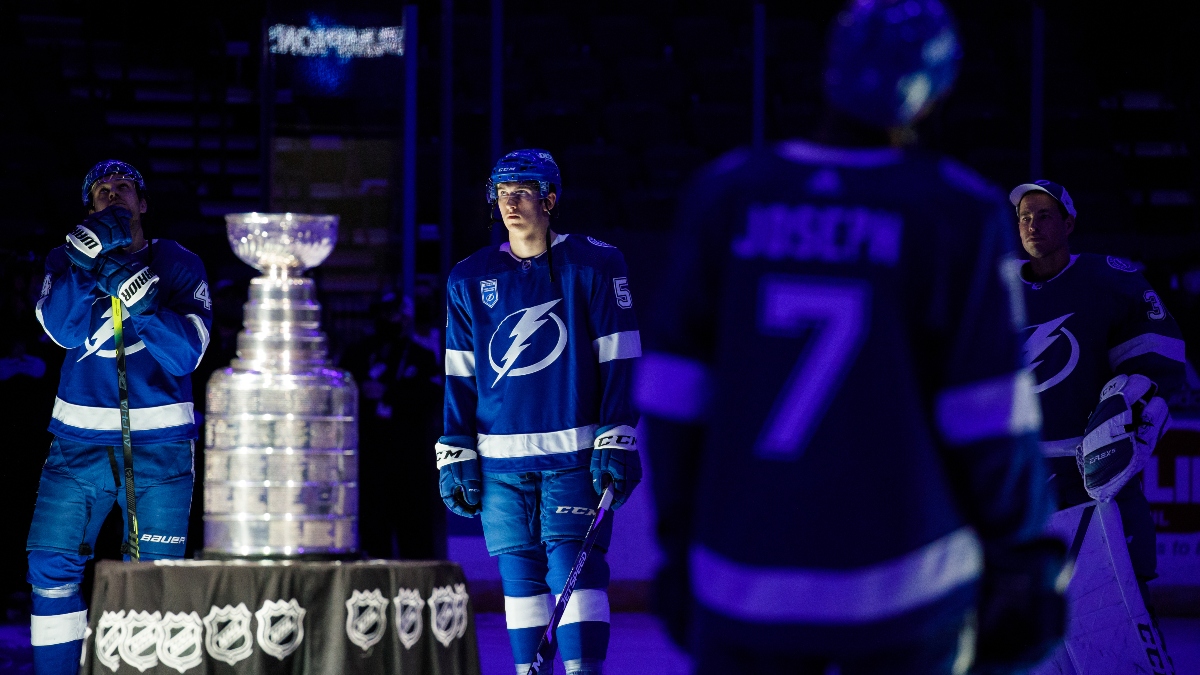 The field for the Stanley Cup Playoffs is set. After a 56-game grind, 16 teams will now battle it out for the chance to hoist Lord Stanley to the sky.
Just as they were at the beginning of the season, the Colorado Avalanche are your Stanley Cup favorites at +450 ($10 bet wins $45). Those odds translate into an implied probably of 18.2%, meaning that bookmakers are giving Colorado an 18.2% chance of winning the Stanley Cup. Or if you want to flip the script, the bookies are implying that another team wins 81.8% of the time.
While it's quite easy to envision Colorado winning it all, the Stanley Cup Playoffs are a soap opera filled with twists, turns and a lot of facial hair. To celebrate their arrival, we've picked out our favorite bets for the following:
Stanley Cup champion
Conn Smythe winner (Playoff MVP)
First-Round Series bet
But before we get to our picks, let's take a look at the odds:
2021 Stanley Cup Odds
| Team | Current Odds | Opening Night Odds |
| --- | --- | --- |
| Colorado Avalanche | +450 | +700 |
| Vegas Golden Knights | +550 | +1000 |
| Toronto Maple Leafs | +600 | +1100 |
| Carolina Hurricanes | +750 | +2000 |
| Tampa Bay Lightning | +800 | +900 |
| Boston Bruins | +1000 | +1400 |
| Pittsburgh Penguins | +1300 | +2100 |
| Florida Panthers | +1500 | +4500 |
| Washington Capitals | +1800 | +1900 |
| Edmonton Oilers | +2000 | +2500 |
| New York Islanders | +2200 | +3000 |
| Minnesota Wild | +2200 | +5000 |
| Montreal Canadiens | +3200 | +2700 |
| Winnipeg Jets | +3500 | +4500 |
| St. Louis Blues | +3700 | +2000 |
| Nashville Predators | +4000 | +3000 |
Stanley Cup Future Bets
Michael Leboff
New York Islanders (+2200)
Just about five weeks ago the Islanders were being talked up as legitimate Stanley Cup contenders in the same tier as the Avalanche, Hurricanes, Lightning and Maple Leafs. While those teams certainly had more starpower and name-recognition compared to the Isles, the gap between their on-ice results and metrics was negligible.
Through their first 38 games the Isles ranked fourth in 5-on-5 goal differential, third in expected goal rate and first high-danger scoring chance rate. Barry Trotz's team was a force to be reckoned at even strength thanks to a stifling defense, a deep forward group and superb goaltending.
But as bettors, fans and human beings we are conditioned to think in terms of "what have you done for me lately?" And if you look at the Isles through that lens you can come away concerned since the team wobbled across the finish line with a pretty pedestrian final 18 games. That said, there may be reasons to excuse the Islanders for their dip in form.
First of all, they lost their captain Anders Lee to a torn ACL in the middle of the season. Lou Lamoriello went out and acquired Kyle Palmieri at the trade deadline to replace Lee's production but it took some time for Palmieri to get his feet under him in the Islanders system. Additionally, the Isles were basically cemented into a playoff spot at the beginning of April. That may be a flimsy excuse, but in a season where players could barely talk to one another off the ice, you can give a team a pass for running out of gas down the stretch if there was little to play for.
It's also worth noting that, under Barry Trotz, the Islanders do well after resets. They started all three seasons well under Trotz, they came out of the gates flying in The Bubble and they stormed the Penguins in the 2019 playoffs.
I think it's more likely that we see a rejuvenated Islanders team than the one that moseyed across the finish line this season. Don't forget that the Isles were hanging between +1200 and +1500 not that long ago, so you're buying low on a team that has shown it can play at an elite level.
Jeremy Pond
Toronto Maple Leafs (+600)
Having spent most of the last few years in Toronto after marrying a fantastic Canadian woman, I was quick to understand how the sporting world works north of the border.
And what did I learn, my friends? I will keep it very simple for you. No matter how many times the Toronto Raptors win an NBA title or Toronto FC brings "The Six" an MLS Cup, one thing will always hold true. Hockey is the gospel in this country and nothing will ever replace it.
So, as you can imagine, life as a Toronto Maple Leafs fan base must be downright excruciating to say the least. There might not be a more hyped-up, underachieving franchise in the entire NHL, with every season starting out with hopes hopes and title aspirations ending in complete disappointment.
However, in between my late-night curling events and, I've caught the majority of the Maple Leafs games in this COVID-era season and I've been mighty impressed with this outfit from top to bottom. This is powerhouse on both sides of the puck, having led the North Division in goals and allowed the least through 56 games.
Toronto's hard work in the regular season led the club to the top seed in the North divisional round, where it will face No. 4 Montreal. The Maple Leafs, priced at -275 odds to eliminate the Canadiens, are the biggest favorites among the eight best-of-seven playoff series. If you look at the tale of the tape below, you can see why oddsmakers are giving Montreal little chance.
---
| | MONTREAL | TORONTO |
| --- | --- | --- |
| Overall Record | 24-21-11 | 35-13-7 |
| Total Points | 59 | 77 |
| Goals For | 159 | 185 |
| Goals Against | 168 | 144 |
| Last 10 Games | 4-4-2 | 7-1-2 |
---
Auston Matthews is having an MVP-caliber season (41 goals, 25 assist) and partner-in-crime Mitch Marner (20 goals, 47 assists) gives Toronto one of the league's best 1-2 punches. Goaltender Jack Campbell is in the midst of an unreal run after taking over for Frederik Anderson, going an insane 17-2-2 with a 2.11 goals against average and .923 save percentage.
I placed futures wagers on three teams — Toronto, Tampa Bay and Edmonton — prior to the start of the season. I felt the Lightning, who I correctly picked to win the Stanley Cup last time around, had the distinct possibility of putting together back-to-back championship campaigns. Now, I'm not so sure.
That said, I truly believe of all the top seeds that Toronto has the fewest potential problems ahead of it. If it gets past Montreal, which has become an absolute shell of what it was at the start of the season, the club will likely face Connor McDavid and the second-seeded Edmonton Oilers.
That series will be must-see TV up in these parts if that happens, but the Maple Leafs dominated the regular-season matchup against the Oilers. Toronto went 7-3 overall, which including winning five of the last seven and three of those triumphs were blowouts.
Bottom line, Toronto is going to be a tough out and I think its +600 odds to lift the Cup are on point. I have a larger number of my futures ticket, but this is a fair price that won't drop much lower even if the Maple Leafs get off to a bad start against Montreal.
Mike Ianniello
Pittsburgh Penguins (+1300)
At +1300, the seventh-best odds at DraftKings, the Pittsburgh Penguins have the longest odds to win the Stanley Cup of any division champion. The Penguins went 37-16-3 on the season, amassed the third-most wins in the league, and finished fifth in the NHL with 77 points.
In fact, only Colorado has won more games since Valentine's Day than the Penguins, and they did most of that without Evgeni Malkin. Pittsburgh also has the best home record in the NHL, going 22-4-2 at PPG Paints Arena and will have home-ice advantage through the first two rounds.
Pittsburgh ranked second in the league in scoring this year, averaging 3.45 goals per game. They have the fourth best power play percentage. In case anybody has forgotten, three-time Stanley Cup champion Sidney Crosby is one of the best hockey players of all-time, and still one of the best players in the NHL. Crosby notched 62 points (24 goals, 28 assists) in 55 games.
The Penguins top line of Crosby, Bryan Rust and Jake Guentzel played 647 minutes together this season, the most of any line in the NHL and over 100 minutes more than the next closest trio. The three all had over 20 goals and 40 points, and combined for 69 goals and 161 points.
On the backend, the Penguins also saw a resurgence from defenseman Kris Letang. With 45 points in 55 games, Letang was tied for third among all defenseman in points. He has the most career playoff goals among any active defenseman in the league. Letang and Brian Dumoulin are the key to that Penguins blue line unit.
In net Tristan Jarry and Casey DeSmith give Pittsburgh two goaltenders they can trust, with Jarry expected to get most of the action. Jarry went 25-9-3 this season with a .909 save percentage and 2.75 goals against. Jarry enters the postseason winning eight of his last 10 games.
I think the Penguins are every bit as good as the elite teams in the NHL this season and are flying a bit under the radar. Pittsburgh went 6-2 against both the Islanders and the Capitals this season. The Bruins will be the toughest competition to get out of the East Division but I think they have an easier path than the teams out of the West and Central Division, and I don't trust any of the Canadian teams.
At +1300 odds, the Penguins offer great value for a team that produced a better point percentage this season than any of the three recent Stanley Cup seasons for Pittsburgh. Plus, anytime you have Sidney Crosby, you have a good chance to make a Cup run.
Pete Truszkowski
Edmonton Oilers (+2000)
A lot of ink has been spilled over the NHL's All-Canadian North Division this season. The consensus is that the North offers the easiest path to the league semifinals and most people expect the Toronto Maple Leafs to come out of the circuit, but much like the other teams, they also have flaws of their own.
At +2000, the Edmonton Oilers are a value bet. Oddsmakers give them approximately a 65% chance of winning their first round series with the Winnipeg Jets. Should the Oilers defeat the Jets, they'll find themselves as underdogs against the Maple Leafs. But, I would argue that the Oilers have a solid chance to pull off the upset in that series.
Analytically, Edmonton is nothing to write home about. They are league average to slightly below average in terms of expected goal rate, as well as shot attempt share. However, their elite talent level makes their analytical profile less important than that of an average team.
In case there was any doubt about who the best player in the sport was prior to the season, that topic is no longer up for discussion. Connor McDavid has put up 104 points in 55 games this season. The next closest player in the league is his teammate, Leon Draisaitl who has 83 points. Behind the two Oilers stars, no other player in the league has cracked 70 points.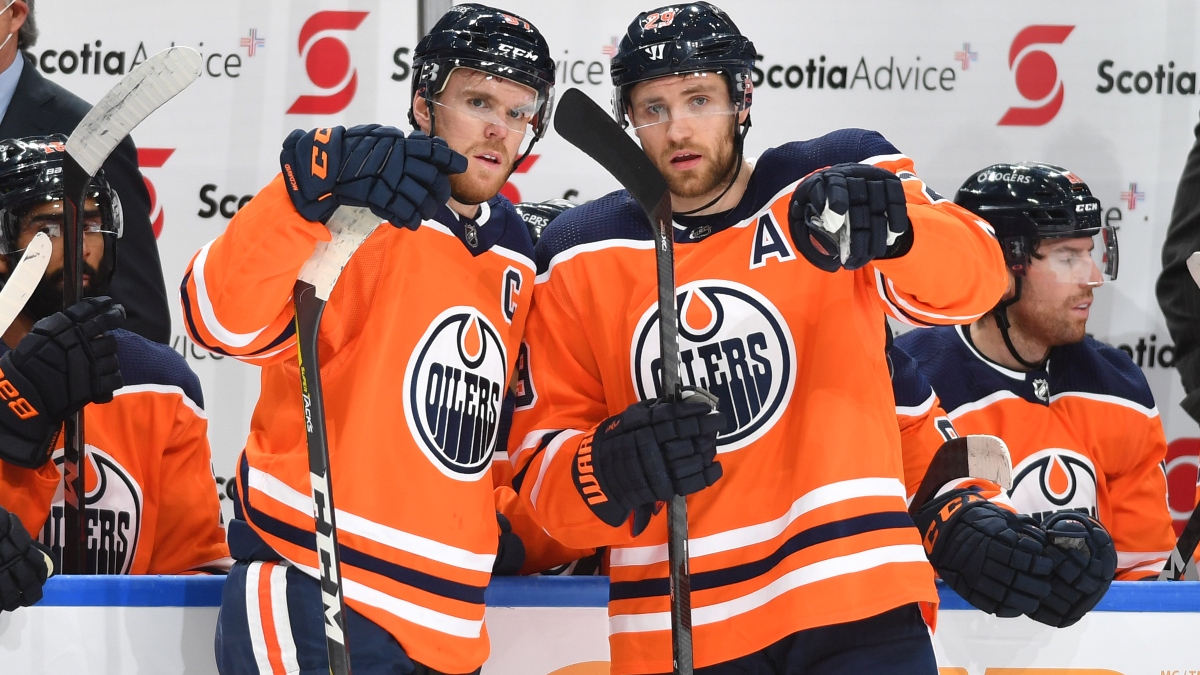 One huge advantage for the Oilers might come as a surprise to some. Mike Smith has a resurgent season between the pipes at the age of 39. His +14.4 Goals Saved Above Expectation is the fourth-best mark amongst all NHL goaltenders.
With Smith providing exemplary goaltending and the Oilers having arguably the two most dynamic forwards in the league, they have the opportunity to win on any night. McDavid needs just a moment or two of brilliance a night to turn a game on it's head. I'm not fully on board with the Leafs, so I think the Oilers have a decent chance of getting to the Final Four and from there, anything can happen.
Matt Russell
Colorado Avalanche (+450)
Ugh. Gross. I look up from my worksheet and realize something that no one wants to hear in the uber-sexy world of making Stanley Cup Futures bets. I have to make the favorite my best bet to win the Cup. I get it, no one wants to hear it. After all, the Stanley Cup Playoffs are famous for their upsets! Underdog hockey teams win all the time!
While that sentiment is somewhat true, my axiom has always been "underdogs early, faves late", when it comes to the Stanley Cup Playoffs. Essentially, if you can catch a good team early on, that's your best chance to knock them out. While history is littered with surprise teams in the Conference Finals, surprise Cup Champs are few and far between. Even the Blues two years ago were on a lot of people's radar by the time the Playoffs started.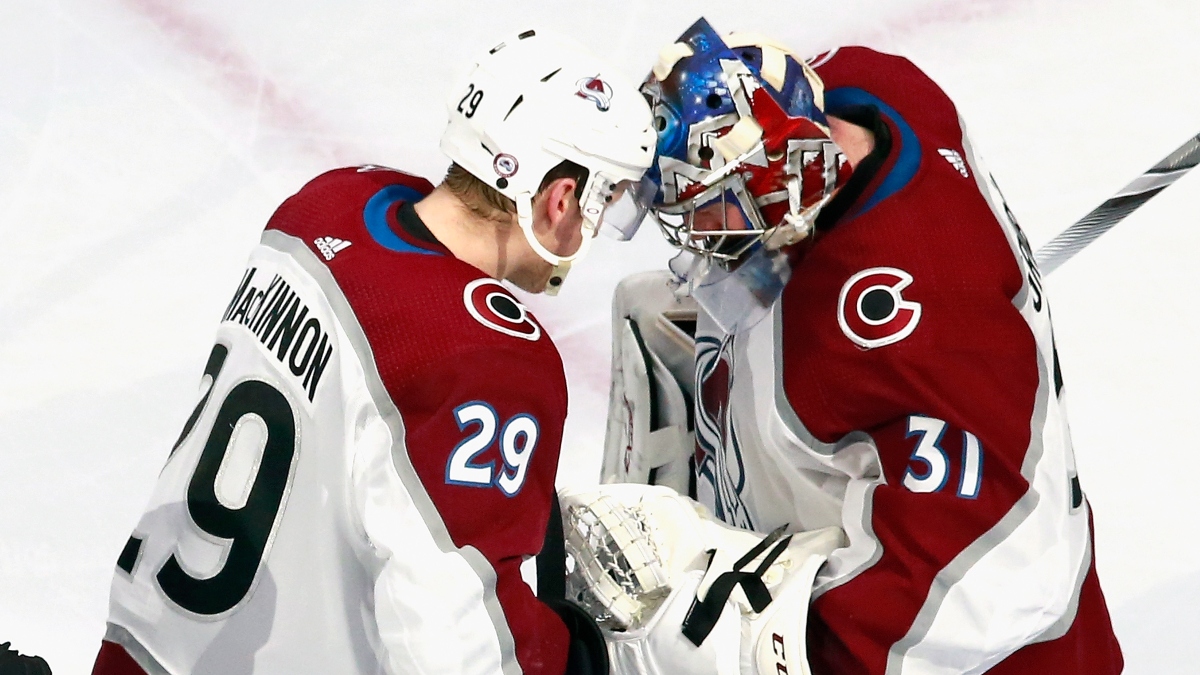 So which team is vulnerable in the first round? While I don't think Carolina is going to lose, they can only face the Avalanche in the Stanley Cup Final, and have a road that may include the defending champion Lightning with a full roster for the first time all season, in round two. Then as the 2-seed for the semis, they'll get either the Maple Leafs, or the winner of the East Division. Any of which would be a struggle.
Meanwhile, the Avalanche can be had in some places as a +500 favorite which is a price unheard of for a favorite in any other league. Thanks to the existence of the popular Leafs, the analytics-darling Canes, and the defending champion Lightning, the Avs price has been tempered relative to what my numbers suggest.
Those +500 odds imply a 16.7% chance of winning, but I would suggest that there's more than a 20% chance the Avs win the Cup. More specifically, my "Let's Do That Hockey" Model, as heard on THE WINDOW: Sports Betting Podcast, loves Colorado against St. Louis in the first round, even more than the market does even as more than a -300 favorite.
On top of that, my model gives the Minnesota Wild a real chance to knock off the Vegas Golden Knights in their first round series.
Vegas is right up there at the top of both the odds board and the NHL Standings with the Avalanche, but my model gives the Avalanche a 61.8% chance to beat the Knights, which will be higher than the market again.
Finally, the Avalanche will get the lowest seed remaining in the semi-finals, and since the NHL has a history of one Cinderella story going deep, I would expect to see the Avs up against another team where they will be -300 or better to win the series.
With a sneaky easy route to the Stanley Cup Final, you're likely to have a +500 bet set to go off as the favorite in the season's ultimate series. So even if you like Carolina, or Toronto, or Tampa Bay, you can make some moves when the time comes to lock in a profit or free roll the underdog.
If that's not enough for you animals, the Bruins +1200 is something that has similar value as the Bruins will be favored in their first two series, and given their relatively low position in the standings, they could meet Colorado in the semis which at least guarantees one of your two futures surviving into the Stanley Cup Final.
Nicholas Martin
Boston Bruins (+1200)
It should come as no surprise to see this Bruins group looking like a legitimate cup contender yet again, as they dominated the NHL last season on route to a Presidents' Trophy win, but never found their form in the playoff bubble and  ultimately lost to the eventual champion Lightning.
In the 2018-19 season, we saw most of this same Bruins core fall one game shy of hoisting the Cup as they fell in Game 7 of the finals to St. Louis. But with Taylor Hall causing a tremendous surge to Boston's second line, and several defenders trending towards their primes, is this possibly the best recent iteration of the Bruins?
The Bruins joined a very tough division in the East this season, adding another powerhouse into a group that has seen a ton of recent perennial success with Pittsburgh, Washington and the Islanders. The division alignment creates a tougher road to the final four than some of the much shorter-priced favorites, but given the current state of this roster I still see value with the Bruins at +1200.
Boston comes in to these playoffs in excellent form, as from the trade deadline on we saw Boston dominate opponents on route to a 11-3-1 record, plus-28 goal differential, and an ridiculous 61.71% expected goals rate.
The obvious causation for the turnaround here would be the addition of Taylor Hall shoring up a clear weakness in secondary scoring (and some weaker opponents), but Boston also skated many of the games prior to the deadline with a severely depleted D-core, and that makes the turnaround look even more acute when in actuality the Bruins' complete roster would have likely put together much better results.
The second line of David Krejci, Taylor Hall and Craig Smith has combined for 36 points and a 64.4% expected goals rate in 13 games (180.5 minutes) since Hall's acquisition. The line has gone a long way in sorting out Boston's biggest cause for concern, a need for more secondary scoring behind Patrice Bergeron, Brad Marchand and David Pastrnak, aka "The Perfection Line."
Bergeron, Marchand and Pastrnak have once again been dominant, skating to a 61.8% xGF over 435 minutes of play. Marchand continues to emerge as one of the league's very best, and deserves some second and third place votes on this season's MVP ballots.
Boston has also continued to build on its identity of being a very tough group to play against. The B's offer very little to the opposition offensively, skating to the third-best expected goals against rate in the NHL at 1.89 xGA/60. Charlie McAvoy continues to show as a true No. 1 defensemen, but there a lot of underrated pieces in behind him creating excellent depth defensively. Matt Grzelcyk has developed to be one of the better two-way defensemen in the game, with his tremendous mobility showing offensively and defensively. Mike Reilly has been stellar since his addition at the deadline and forms a terrific second pairing with Brandon Carlo. Connor Clifton and Jeremy Lauzon are a solid third-pairing in large part due to Clifton's underrated play.
Special teams can play a massive factor in the playoffs and Boston come into the tournament with one of the league's best penalty kills and the 10th-best power play. Coaches like to point to a need to be over 100% when you combine your PK% and PP% with all cup winners dating back to 2014-15 holding such a standard; this Bruins group is at a whooping 107.0%.
In net Tuukka Rask will open as the starter, and has been very solid again this season owning a .913 SV% and stopping 3.6 goals above expected. Jeremy Swayman has been superb with the Bruins, with a .945 save percentage over a small sample size of 10 games. There is definitely some added value in the fact that the Bruins hold two very solid goaltending options, compared to some rosters like Tampa Bay or Colorado, who will be in very tough should the starting go down or lose their form.
A first round with the Capitals certainly is tougher than some other cup favorites, and it is certainly still very realistic that we see Boston fall out early in what will be very tough first and second round matchups, but the makeup of this Bruins roster shows no clear weakness and features a lot of the components we have seen in recent cup victors.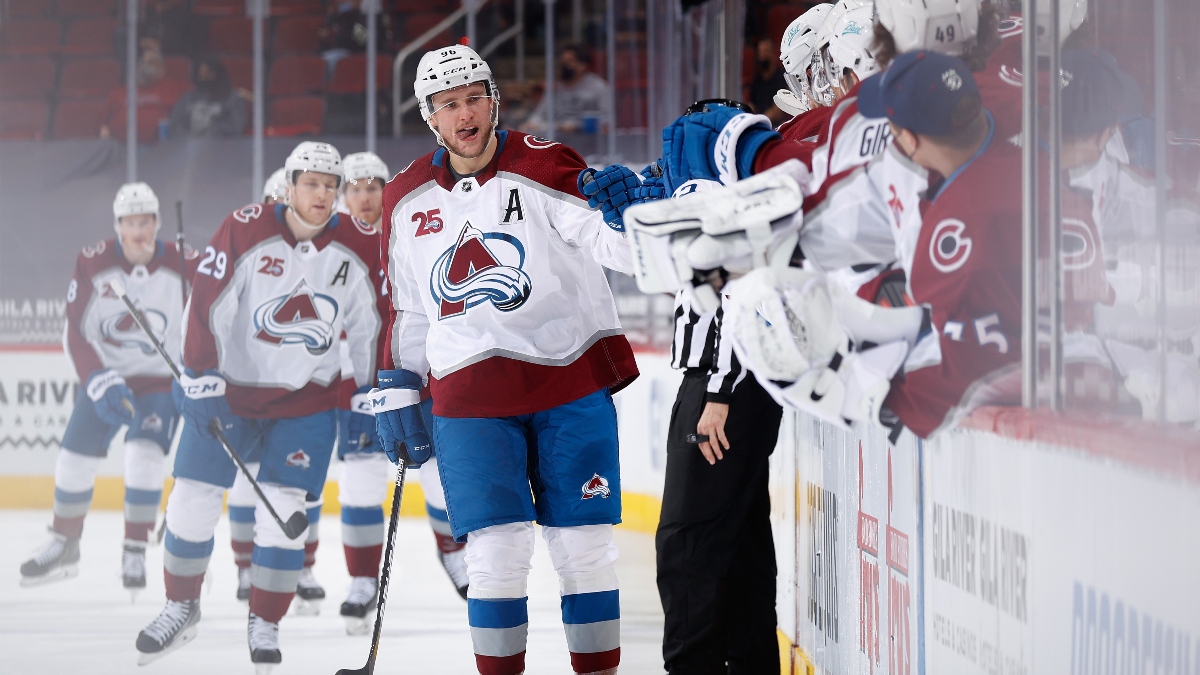 Conn Smythe Best Bet
Michael Leboff
Mikko Rantanen (+2000)
The Colorado Avalanche are favorites to win the Stanley Cup so it makes a lot of sense that Nathan MacKinnon is the current favorite to win the Conn Smythe Trophy as playoff MVP. MacKinnon is the best player on the best team.
When betting on a market like the Conn Smythe, I often like to swerve Batman and instead bet on Robin. While Batman gets all the headlines, Robin holds all the value in the market. In this case, MacKinnon is Batman and Rantanen is Robin. Sure, MacKinnon is the bus-driver for Colorado's offense, but Rantanen is one of the best running mates in the NHL.
The Finn led the ultra-talented Avs with 66 points (albeit in four more games played than MacKinnon) and finished the season with 30 goals in 52 games. Rantanen is one of the game's best finishers and with MacKinnon taking up a lot of space and attention, Rantanen will have plenty of opportunities to find the back of the net.
For Rantanen to win this award the Avs will need to win the Cup and he will need to score a lot of goals. I think getting 20/1 on that situation playing out is a good number.
Jeremy Pond
Auston Matthews (+1100)
Sticking with my Toronto theme, I am backing Auston Matthews (+1100 odds) to earn the Conn Smythe Trophy at the conclusion of the NHL playoffs. Obviously, you want to target guys on teams you think have a chance of at least making the Stanley Cup finals to get the maximum amount of games possible that enhance your chances of hitting this wager.
Matthews has been downright fantastic for the Maple Leafs this season, racking up 41 foals and 25 assists. The star center got off a team-best 220 shots, leading to an 18.6 percent shooting percentage. Matthews has a team-high 10 goals on the power play, plus he's top four in minutes played (goaltenders not included) as well.
Matthews is the second betting choice in this category, sitting behind Colorado star Nathan MacKinnon (+800) in the odds. Vegas duo Mark Stone (+1500) and goaltender Marc-Andre Fleury (+1500) are next, followed by Toronto's Mitch Marner (+1700) and Pittsburgh star Sidney Crosby leading a trio of betting options at +2000 odds.
What I like even more about this angle is the fact Matthews owned the Canadiens during the regular season. In the 10 games against Montreal, Matthews had at least one points in every contest, en route to leading Toronto to a 7-3 record against its rival.
That said, Matthews is my top selection. However, if you're looking for more value, you could take a swing on three goaltenders in Fleury, Tampa Bay's Andrei Vasievskiy (+2200) and Toronto's Jack Campbell at ripe +3500 odds.
Pete Truszkowski
David Pastrnak (+3000)
Even as the No. 3 seed in the East Division, the Boston Bruins are the favorites to come out of the group when all is said and done. Based on current form, it's hard to argue with that. While the Washington Capitals, Pittsburgh Penguins and New York Islanders are all formidable opponents, Boston was the favorite prior to the season to win the division. Since the trade deadline, the B's have finally met those expectations.
Team performance is important when betting the winner of the Conn Smythe. Every winner since 2003 has also won the Stanley Cup. If you don't see an avenue to a team winning the Stanley Cup, you should avoid betting their players to win the Conn Smythe.
Over their last 17 games, the Bruins have gone 12-4-1. During that stretch, the Bruins rank second in expected goal rate, third in shot attempt share and sixth in 5-on-5 goals-for percentage. All season long, the defense has carried Boston as it ranks third in expected goals against. However, over the past 20 games the offense has finally started to contribute, ranking seventh in expected goals per hour at 5-on-5 and fourth in goals scored.
Despite missing a few games, David Pastrnak had 20 goals in the shortened season. He might have even gotten a tiny bit unlucky, as his season shooting percentage is 3 percentage points below his career average. Last season, Pastrnak tied for the league lead in goals with Alex Ovechkin. Pastrnak has developed into one of the more feared snipers in the league.
Additionally, Pastrnak plays on the Bruins top line with Patrice Bergeron and Brad Marchand. The trio is referred to as the "Perfection Line" and is arguably the best line in hockey. Should the Bruins make a deep run and win the Stanley Cup, this trio will get a lot of love and a lot of credit.
At +3000, I like the value in one of the league's best goalscorers. I see the Bruins making a deep run and I'd consider them one of the favorites to win the Stanley Cup. If Boston does get to the promised land, Pastrnak will likely be contributing some big goals and his line will be getting a lot of praise and buzz.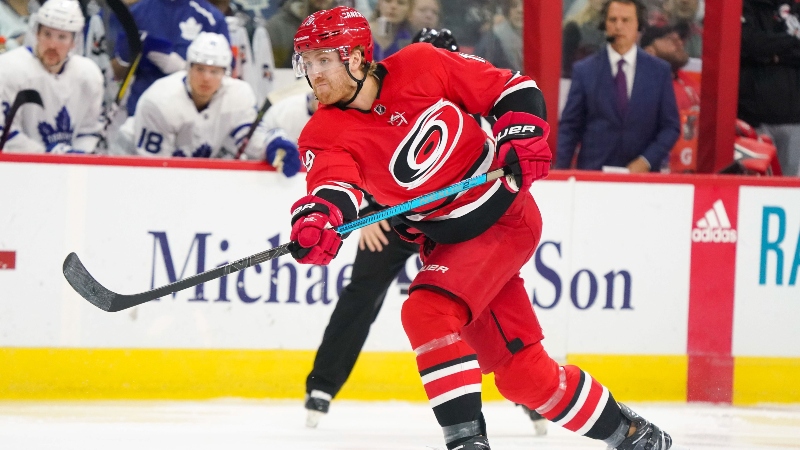 Matt Russell
Connor McDavid (+2200) & Dougie Hamilton (+2500)
Betting the Conn Smythe Trophy is fascinating to me. The world we live in is a space where we try to find value when making our bets. However, the market for the NHL playoff MVP is often void of that value. The best players on the best teams have no value because they play with other really good players that could swipe the award. For example, five different Lightning could win the Conn Smythe if they win the Cup, which in and of itself is a current not much more than a 10% probability. Same thing with my aforementioned best Stanley Cup futures, the Colorado Avalanche and Boston Bruins.
For this market, in finding value, you have to start from the end and work backwards. You have to start with the assumption that a team wins the Stanley Cup and then hope there's value on their player most likely to win. That leaves me with two candidates in the entire league.
The first is the almost-definite MVP of the season, Connor McDavid. If the Oilers, currently available at less than +2000 to win the Stanley Cup, do in fact realize that probability and do so, there is a 100% chance that McDavid is the playoff MVP as well. By definition, that means that McDavid at any price better than 20-1 is worth a play on McDavid. Don't think the Oilers win the Cup? That's fine, because I think there's a universe in which the McDavid-led Oilers get to the Final, don't win, and he still wins the Conn Smythe thanks to ungodly numbers built up over three rounds, and in a losing cause to a quality team with tons of depth, and no clear-cut MVP.
Given that non-zero chance, that slight win probability in a losing cause has to take away win probability from those on the other teams, as small as that might be.
Elsewhere, there's one player on one of the other teams that is priced reasonably and it's not a household name. The Carolina Hurricanes will attack you in waves offensively, and have two very capable goaltenders that will likely both see action. Should they win the Stanley Cup, it will be because 3-4 lines will contribute above-average offence. However, that makes each individual forward less likely to stand out. If their goaltenders split any games, that will take them out of the running for playoff MVP, especially with how well the skaters play.
That leaves a ton of Conn Smythe win probability just sitting there. I think No. 1 defenseman, Dougie Hamilton, is a good candidate to scoop up that leftover win probability. He finished with the most shots on goal by D-men this season, but had a relatively low shooting percentage at 5.6%. That means there's room for regression towards more scoring for a guy who had 16 assists on the power play.
With scoring distributed widely, there's a chance he's right there with his teammates in scoring by the end of the playoffs, and with his strong contributions that measure well in advanced metrics, Hamilton is my way to back the Hurricanes this postseason. The current Draft Kings price of +2500 is as low as I would go.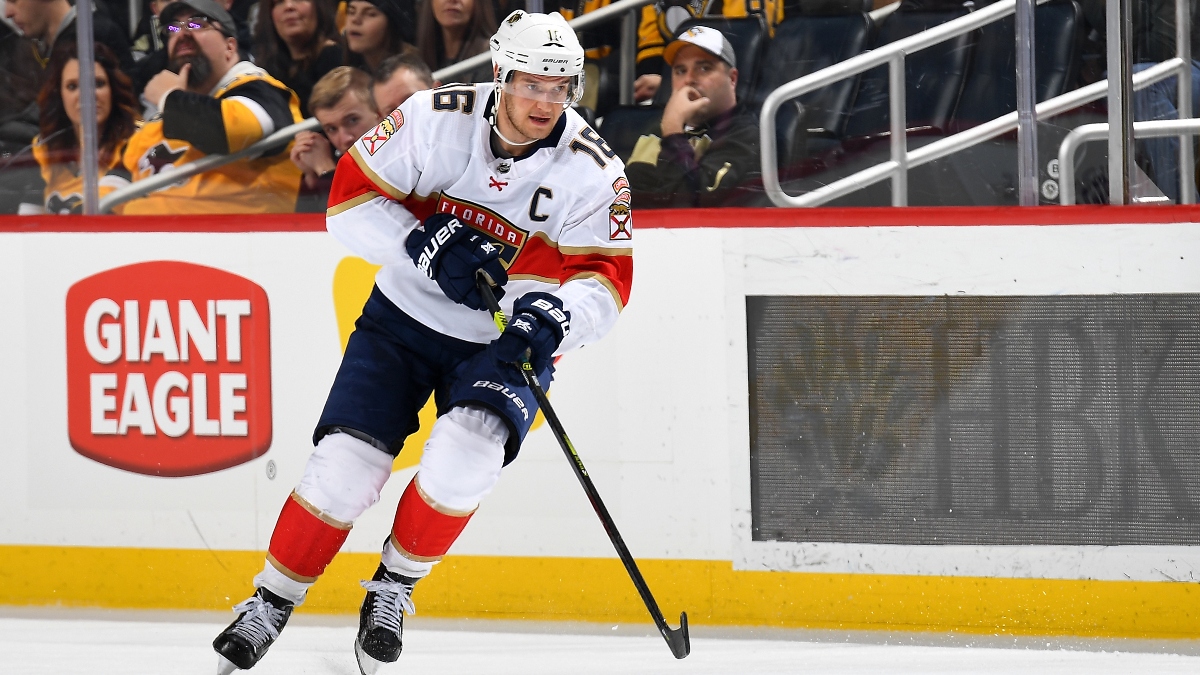 Nicholas Martin
Aleksander Barkov (+4000)
As my colleagues have alluded to, the Conn Smythe odds offer a good chance to grab some additional value if we can conclude with a good degree of certainty the likelihood of a given player claiming the trophy in the event of his team winning it all. Sidney Crosby and Connor Mcdavid go as obvious examples, but I believe that Alex Barkov quietly comes in as another guy who will almost always be claiming the Conn Smythe given an unlikely run by the Panthers.
Florida finished just three points shy of the Presidents' Trophy, and are tied as the seventh-favorite by consensus at +1200. The Panthers surprised many with their level of dominance this season, but the underlying numbers certainly suggest the results were replicable with Florida finishing with the third-best xGF% at 54.89 over the entirety of the season.
Barkov is Florida's most important skater, and if you ask his teammates it isn't close. Jonathan Huberdeau is one of the league's most offensively talented players, and holds merit as a candidate to win this award should Florida somehow pull it off, but Barkov is regarded as an excellent leader, and has finished fifth and 10th in the last two Selke votes for top defensive-forward, and should be at the very minimum a nominee this season.
Given the two-way excellence of Barkov playing the center position I believe we can safely assume that Huberdeau would need to outscore Barkov by a significant margin to gain more votes. Looking back at a situation like the 2016 Conn Smythe vote I think we have a good comparable, where we saw Phil Kessel outscore Sidney Crosby in both points and goals, yet Crosby still winning the vote due to his additional contributions defensively, and his excellent leadership.
Chris Driedger and Sergei Bobrovsky also hold the same odds as Barkov, but yet again I believe they are significantly less likely to take home the award over Florida's captain. This Florida team is not built upon defense, but more so upon stellar offensive totals.
Undoubtedly the Panthers will need good goaltending to get through the high-powered offenses they will face, but it is unlikely that we see either goalie come in with the kind of numbers it will take to draw votes from Barkov, specifically given the potential that both goalies get some starts during the tournament.
The 2019 Conn Smythe race comes to mind as a comparable for me here, with Ryan O'Reilly dominating ballots with his excellent two-way play from the center position beating out a very strong run from goaltender Jordan Binnington.
So given the excellence of Florida's season, and my perceived likelihood that Alex Barkov would be voted MVP should they make the improbable run, I see some value in backing him at long odds to win the Conn Smythe.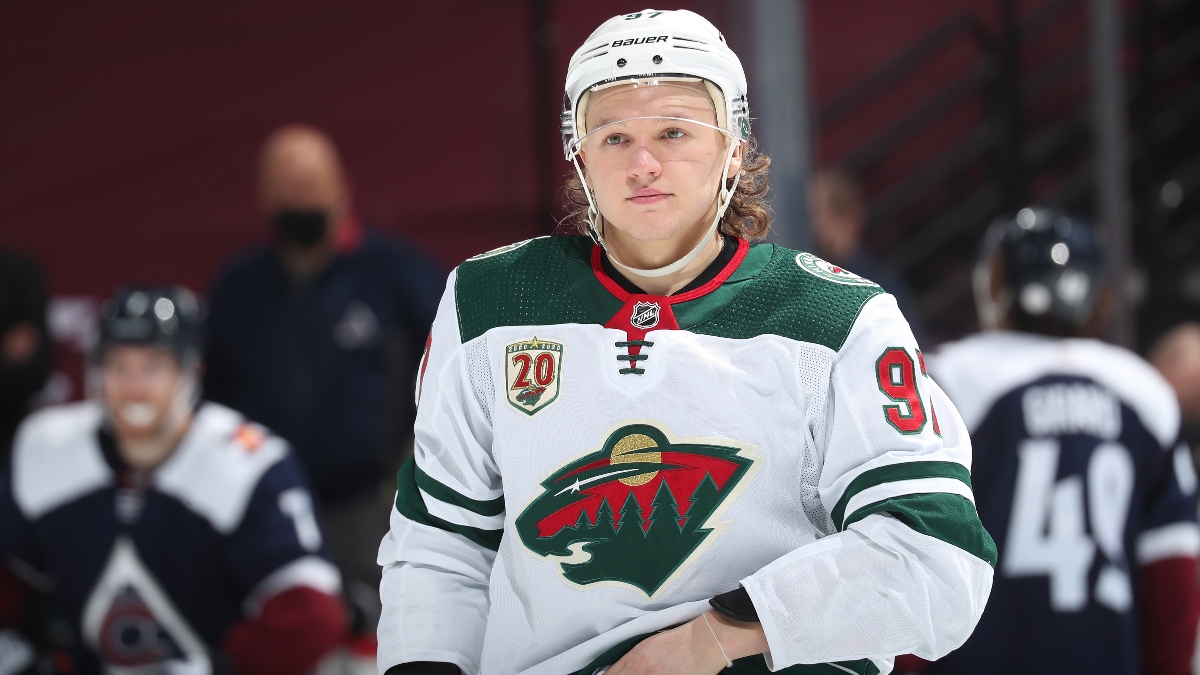 First-Round Series Bet
Michael Leboff
Minnesota Wild (+190) vs. Vegas Golden Knights
The Minnesota Wild were a betting darling during the regular season. Assumed to battle for the No. 4 spot in the West before the season, Minnesota stormed out of the gate and never really looked back, finishing just seven points shy of Colorado and Vegas.
What's more is that the Wild were able to achieve those results thanks to stellar 5-on-5 play. Minnesota finished fourth in the NHL in expected goals allowed, ninth in goal share and 11th in expected goals rate. While those aren't dominant numbers, they tell you that this is a consistent team that is able to stifle opponents.
The Knights are the better team, have a decided edge in goal and are deserving favorites, but the gap between these two teams is not as wide as these odds suggest. Minnesota's defense can turn a game with any opponent into a coin flip and that will create a lot of value on the Wild at this price.
Jeremy Pond
Washington Capitals (+125) vs. Boston Bruins
You always want to try to find some value in these opening-round series. Honestly, I think there are several underdogs capable of springing outright series upsets and moving in the playoffs.
However, I really like Washington to bounce Boston in what should be an electric best-of-seven showdown. The Capitals, led by do-it-all center Nicklas Backstrom (15 goals and 38 assists) were impressive on their way to second place in the East Division.
Washington dominated in the advanced metrics, boasting 65.5 expected goals for and a solid 40.2 xGA at 5-on-5 during the regular season. When comparing those stats to the league averages of 57.3 xGF and 57.3 xGA, the Capitals dominated across the board.
---
| | BOSTON | WASHINGTON |
| --- | --- | --- |
| Overall Record | 33-16-7 | 36-15-5 |
| Total Points | 73 | 77 |
| Goals For | 168 | 191 |
| Goals Against | 136 | 163 |
| Last 10 Games | 6-3-1 | 7-2-1 |
---
Led by Backstrom, T.J. Oshie, Alex Ovechkin and defenseman John Carlson, Washington also has a strong power play that scored 25.68 percent of the time, which was also above the NHL average of 20.06 percent.
This series could go either way, but I think the Capitals simply have too much depth, balance and veteran leadership. Add those things up and I'm giving the slight edge to Washington in a tight matchup that could go the distance.
Back Washington as a live underdog at +125 odds in what should be a fantastic series between Stanley Cup contenders.
Matt Russell
Minnesota Wild (+190) vs. Vegas Golden Knights
There's not actually a ton to choose from here. The division-only schedule this season has made the series prices tighter than they've ever been. They say familiarity breeds discontent, but in sports betting it also breeds certainty. What we want in betting is variance. With 8-10 games played in not much more than four months, the teams and oddsmakers alike, know what to expect from these teams.
As someone that wants to give you an underdog in this space, that leaves me with just two choices that I'll be betting. I'm also positive our fearful leader Michael Leboff is going to give you his Islanders as an underdog play to beat the Penguins, and while I concur, I'll get a little spicier with my best bet for a series upset.
The Minnesota Wild are +190 to knock off everybody's second favorite team, and that's no surprise that they would be considering both teams' reputation and the location the Golden Knights play their home games. However, my "Let's Do That Hockey" model, as heard on THE WINDOW: Sports Betting Podcast makes this series much closer. In fact, the model states that the Golden Knights have only a 52% chance to win this series.
Both teams have out-High-Danger Chance'd their opponents this season at a near-identical rate during 5-on-5 play. To your probable surprise, it's the Wild though that have a better than average conversion rate on converting those even-strength High-Danger Chances, while the Golden Knights have actually been below-average at converting their offense into goals.
In their 8 matchups this season, the Wild have the advantage in both Expected Goals and High-Danger Chances at even-strength as they've split the games 4-4 on the moneyline.
It would be much easier to select a heavy-favorite that I think still isn't priced highly enough, like the Avalanche, or Hurricanes, but instead I'll take the big underdog number with a series I see as closer to a coin flip.
_BookPromo=1085
Pete Truszkowski
Tampa Bay Lightning (-143) vs. Florida Panthers
The Florida Panthers have been very good to hockey bettors this season, as no team has returned more of a profit if you blindly bet them in every game. In addition, the Panthers are a very good team by almost every metric. They had the fourth-best record in the NHL and were a top-5 team in terms of expected goal rate, shot share and 5-on-5 goal differential.
After a tremendous season, the Panthers were rewarded with a first-round matchup against the defending Stanley Cup champions.
I like the Tampa Bay Lightning in this series for two reasons.
After missing the whole regular season, the Lightning will welcome Nikita Kucherov back to their lineup. Kucherov is one of the best players in the whole league and his impact on the lineup figures to be profound.
Even without Kucherov, the Lightning ranked seventh in shot attempt share and ninth in expected goal rate this season. Those metrics should only improve with Kucherov in the line-up. Additionally, the Lightning struggled to take advantage of their opportunities as they underperformed slightly. They ranked 12th in goals-for percentage. With Kucherov, Tampa should be able to convert on a higher percentage of these chances.
In the postseason bubble last season, the trio of Kucherov, Brayden Point and Ondrej Palat played to an expected goal rate of nearly 62%. If they can recreate that magic, Florida will struggle to slow them down especially with the absence of Aaron Ekblad.
Another huge advantage for the defending champs comes between the pipes. Andrei Vasilevskiy was one of the best goalies in the NHL this season and his +18.2 Goals Saved Above Expectation (GSAx) ranked second in the circuit. It's unclear who will start for Florida, but there's a good chance that Sergei Bobrovsky will get first crack over Chris Driedger. Bobrovsky has a -8.1 GSAx mark on the season and if he falters and costs the Panthers a game or two early, it might be a hole the Panthers are unable to climb out of.
While the Panthers deserve a lot of credit for their season, and they definitely have a chance of pulling off the upset in this series, I will back the Lightning at the short price due to Kucherov and Vasilevskiy.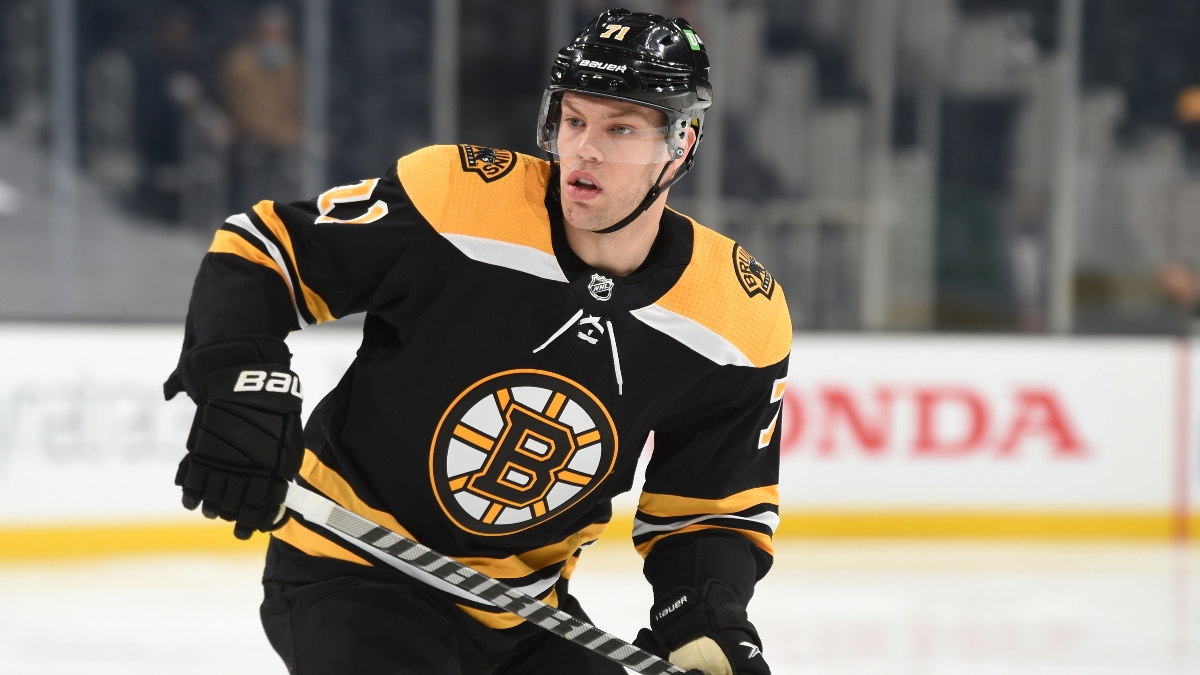 Mike Ianniello
Boston Bruins (-138) vs. Washington Capitals
The storyline coming into this series will be longtime Boston Bruins captain Zdeno Chara facing his former team with the Washington Capitals.
What the story should be, is what a difference Taylor Hall has made for this Bruins team. The Bruins are 12-4-1 in their 17 games since acquiring former MVP Taylor Hall at the April 12th trade deadline.
You know what you're going to get from the Bruins "Perfection Line." Boston's top unit of Patrice Bergeron, Brad Marchand and David Pastrnak is the best line in the NHL and combined for 72 goals and 165 points this season. The trio also skated to a 61.8% expected goals rate.
Hall's addition gives the Bruins a top tier second line, elevating the value of David Krejci and Craig Smith. Krejci has been an elite playoff performer his whole career, tallying 115 points (40 goals, 75 assists) in 145 playoff games, the second most postseason points in Bruins history, trailing only Ray Bourque.
In 16 games together, Hall, Smith and Krejci were on the ice for 13 goals for and just one goal against at 5-on-5. Since April 12, Hall was second on the Bruins with eight goals and Krejci was tied for team-lead with 21 points in 16 games. Krejci has not had a trusted winger since Nathan Horton and with Hall, the Bruins have a strong second line to take the pressure off the Perfection Line.
This is a terrific matchup for the Bruins, as the Capitals are below average defensively and in net, and rely on a great offense and elite power play.
Boston's strength is their strong dependable defensive systems. The Bruins are fourth in the NHL allowing just 2.39 goals per game and have the second best penalty kill in the NHL. The B's are third in xGA and sixth in High-Danger Chances Against.
Tuukka Rask has been fantastic in the postseason for the Bruins in his career, holding a .926 save percentage and 2.20 goals against in 93 playoff games. Rask has the second highest save percentage of any goaltender in history with more than 50 playoff games.
Neither of the Capitals netminders inspire much confidence. Ilya Samsonov has a -6.67 GSAx and Vitek Vanecek is at -8.45 GSAx. In recent weeks Washington has dealt with injuries to their stars like Alex Ovechkin, John Carlson, T.J. Oshie and Evgeny Kuznetsov and I imagine none of them will be 100%.
The Bruins are peaking at the right time and have looked like a totally different team since the trade deadline. This will be a strength-on-strength matchup and likely comes down to special teams and who wins out between the Washington power play and Bruins penalty kill. I think the Bruins have the advantage on defense and in goal, and are now getting the scoring depth needed to carry them past the Capitals and into the second round.
_BookPromo=69
Are you looking for a safe, reliable, trustworthy sportsbook? Check out our ratings of the best sportsbooks and their current sign-up offers for new customers.