NBA Playoff Odds & Betting Preview: Our Best NBA Futures, First-Round Bets for the Postseason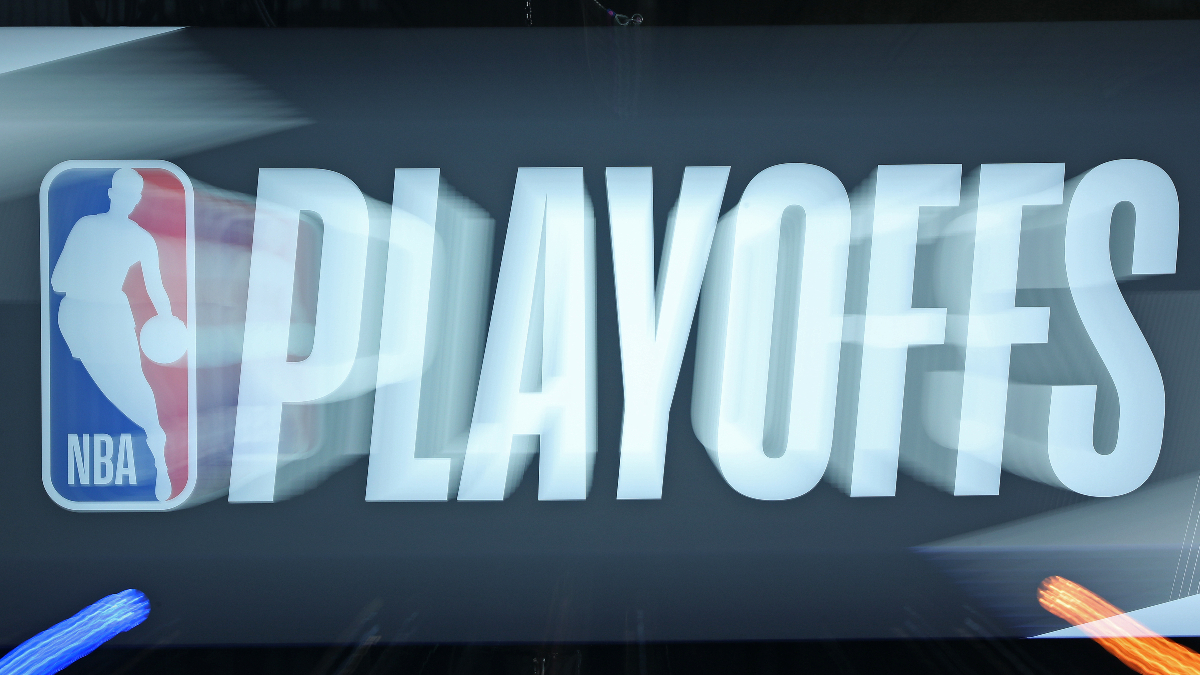 You want NBA Playoff bets? You got 'em.
Despite this season being shorter than the standard version, we've had to wait longer into the spring than usual to actually get to real playoff basketball (no shade to the Play-In games).
Our NBA crew dug into the odds at various books to find the best value bets on every first-round playoff series currently available. They are also tackling Eastern/Western Conference winners, NBA Championship odds and more.
For their picks on playoff futures, click the button below, otherwise, scroll down for our favorite Round 1 of the NBA Playoffs.
NBA Round 1 Series Odds & Picks
No. 3 Bucks vs. No. 6 Heat
| | |
| --- | --- |
| Pick | Bucks ML (-275) | Bucks -1.5 Games (-145) |
| Book | BetMGM |
| Tipoff | Game 1: Saturday, 2 p.m. ET |
| TV | ESPN |
Raheem Palmer: Unlike the Los Angeles Clippers and Denver Nuggets, the Milwaukee Bucks elected not to tank to secure a more favorable postseason matchup. That means the Bucks will need to face the Miami Heat and potentially the Brooklyn Nets and Philadelphia 76ers to get out of the East.
It's a tall task and starts against a Heat team that ruined Milwaukee's season in the bubble last summer.
One of the biggest scores of my wagering career was betting on the Toronto Raptors to come back from an 0-2 deficit and defeat the Milwaukee Bucks in the 2019 Eastern Conference Finals. I had many reasons, but one thing that stood out for me was that the Bucks hadn't suffered enough pain yet. Think about the history of the NBA and the teams and star players that eventually won the championship. They've all suffered catastrophic and devastating losses before finally getting over the hump.
Michael Jordan vs. Pistons is the best example. Hakeem Olajuwon vs. the entire Western Conference. Shaquille O'Neal and Kobe Bryant vs. the Jazz and Spurs. LeBron James vs. the Celtics. Stephen Curry vs. the Spurs and Clippers.
Kyle Lowry and the Raptors were owned by James before Kawhi Leonard helped push Toronto over the top.
That's where the Milwaukee Bucks are at this point. They've been the best regular-season team for the past two seasons, only to fizzle out when it mattered. Milwaukee has felt the pain and they've made adjustments, the biggest of which was upgrading from Eric Bledsoe to Jrue Holiday at point guard.
Giannis Antetokounmpo is still arguably the best player in the league and is the biggest reason that the Bucks finished the regular season fourth in Net Rating, fifth in Offensive Rating (116.5) and ninth in Defensive Rating (110.7).
In addition, this Bucks team isn't deep enough for head coach Mike Budenholzer to play anything but the most optimal lineups.
More importantly it speaks volumes that Milwaukee did not actively avoid the Heat. It's pretty clear this isn't the same Bucks team from last season.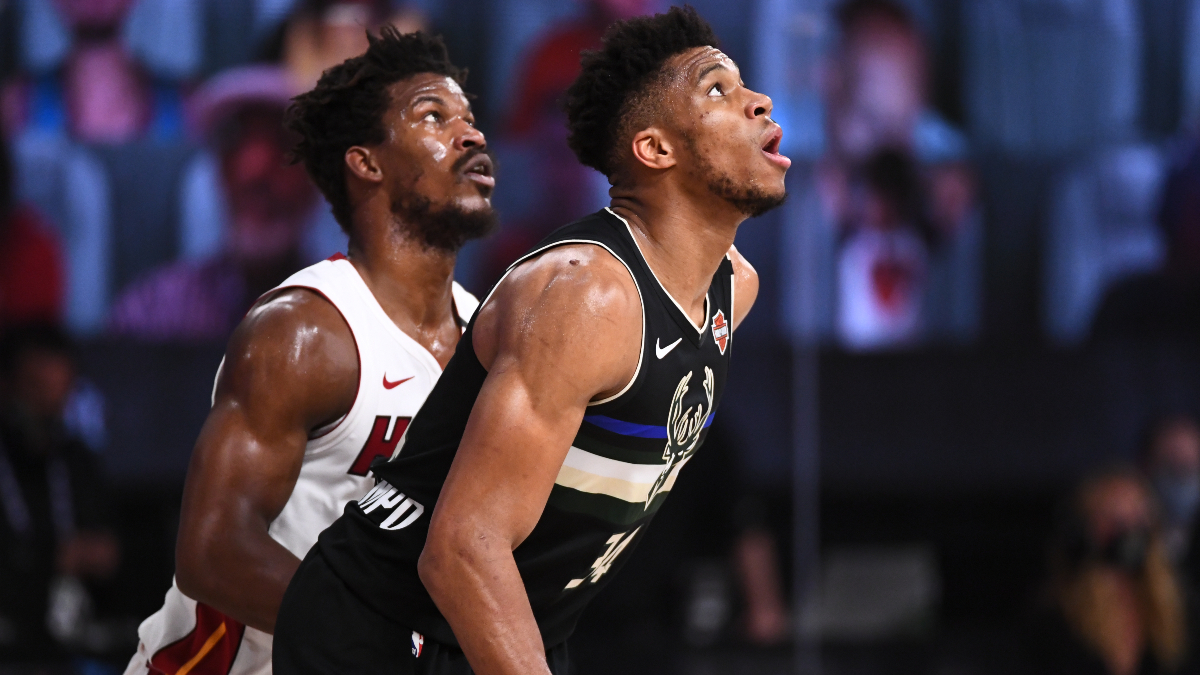 The Heat have a top-10 defense, holding teams to 110.7 points per 100 possessions, but there's some concern. Miami ranks last in 3-point frequency (42.6%) and is about to face a Bucks offense that is sixth in 3-point percentage (38.8%). With one less player on the wing to put up a wall for Antetokounmpo, I'm expecting the Bucks to score a lot more efficiently than they did in last year's playoff series against the Heat.
Offensively, Heat shooters have seen their 3-point shooting percentages plummet from last season, with Tyler Herro going from 38.9% to 36%, Duncan Robinson going from 44.6% to 40.8% while Jae Crowder and Kelly Olynyk, each of whom shot over 40%, are gone.
Miami is just 18th in midrange shooting percentage (40.8%) and 19th in 3-point shooting percentage (36.2%). The shooting that made them such a scary team in the bubble last year has regressed.
The Heat are also a poor rebounding team, ranking 24th in offensive rebound rate (24%). They're getting fewer shots than their opponents, which is troublesome against a Bucks team which is third in defensive rebound rate.
Overall, this offense isn't as scary as they were last season and that will be the difference this year against a Bucks team that has made a major upgrade at point guard in Holiday who should be able to defend and create plays better than Bledsoe.
I'll lay the -275 on the Bucks to win this series because I believe they have greater than a 73% chance of winning. I also like the Bucks' series spread of -1.5 games.
---
» Return to the table of contents «
---
No. 4. Knicks vs. No. 5 Hawks
| | |
| --- | --- |
| Pick | Hawks ML (-110) |
| Book | BetMGM |
| Tipoff | Game 1: Sunday, 7 p.m. ET |
| TV | TNT |
Roberto Arguello: The Knicks don't have a single player with a usage rate over 15% who is shooting in at least the 65th percentile among his position group in points per 100 shots, Cleaning The Glass
Derrick Rose (26.7% Usage Rate) ranks in the 64th percentile among point guards with 113.3 points per 100 shots, Julius Randle (30.4%) ranks in the 42nd percentile among bigs with 114.3 points per 100 shots, and RJ Barrett (23.0% usage) ranks in the 36th percentile among wings with 106.7 points per 100 shots.
Conversely, the Hawks have five players with at least 15% usage who are scoring in at least the 65th percentile among his position group in points per 100 shots. This includes Bogdan Bogdanovic, John Collins, DeAndre Hunter, Trae Young and Danilo Gallinari.
This is kind of amazing. 3PT%, 2019-20 & 2020-21….

Randle: 27.7% -> 41.1%
Barrett: 32.0% -> 40.1%
Rose: 30.6% -> 38.8%
Bullock: 33.3% -> 41.0%

Those are the 2nd, 10th, 11th & 13th biggest jumps among 202 players w/ 100+ 3PA in each of the last 2 seasons.

— John Schuhmann (@johnschuhmann) May 19, 2021
While the Knicks have a few key players who are shooting the ball better than they ever have from beyond the arc, the Hawks have been more efficient overall. I expect Atlanta's superior shooters (and shooting depth) to give it enough of an advantage to win the series, despite the Knicks' elite defense.
While I like the Knicks' chances of success building around this core of Randle and Barrett, who led the most profitable team against them in the regular season because they consistently outperformed expectations, the Hawks are better built for the postseason despite Young getting fewer foul calls.
Expect Young, Bogdanovic, and other shooters — who have been consistently strong shooters for years rather than just this season — to prove themselves in a tier above the Knicks as they win the series in six games.
---
» Return to the table of contents «
---
No. 4. Knicks vs. No. 5 Hawks
| | |
| --- | --- |
| Pick | Hawks win 4-2 (+450) |
| Book | BetMGM |
| Tipoff | Game 1: Sunday, 7 p.m. ET |
| TV | TNT |
Brandon Anderson: As a Wolves and Bulls fan, I am well versed in the way of Tom Thibodeau.
We know the Thibs formula by now. He does a brilliant job maximizing his teams in the regular season, getting everyone to buy in on team defense and pushing the minute and game limits to the max. Thibs teams play at 11 on a scale from 1 to 10 all season. There is no extra playoff gear.
Does Atlanta have an extra playoff gear? Does Trae Young have that in him, and does head coach Nate McMillan know how to pull it out of this team? That remains to be seen. But my confidence in the Hawks doesn't stem in those things — it's in the rest of this roster, which is pretty underrated.
Everyone focuses on the Hawks suddenly winning games once McMillan took over, but the truth is that they started winning when they finally got healthy. Atlanta simply has a bunch of really good players.
You can quibble about how good you think Young is, but Clint Capela was terrific this season, Danilo Gallinari is a savvy veteran scorer, John Collins remains super efficient, and Bogdan Bogdanovic was quietly the best player on this team the back half of the season, averaging 21/4/4 on scorching 50/49/90 shooting.
I think Atlanta has five of the best six players in this series, maybe even six of seven if De'Andre Hunter is finally healthy and ready to go. The Hawks have an extra gear by definition. Because they had so many injuries to Bogdanovic, Gallinari, Kevin Huerter led the team in minutes and Solomon Hill was in the top-five.
Huerter has been moved to the bench now with Bogdanovic starting, and Hill will be deep in the rotation, with all these much better players taking on bigger minutes in the playoffs.
This is still going to be a slog between two teams with very little playoff experience and the knowledge that this is basically their NBA Finals. I think Atlanta is a clearly better team with a bigger ceiling, but I don't think it'll be easy.
I also don't trust them to win on the road in Game 7, if it gets there, but I'm not sure I see them winning a closeout Game 5 either, or sweeping. That leaves Atlanta in six, and the exact line nearly doubles my Hawks price, so I'll take my chances.
_BookPromo=495
---
» Return to the table of contents «
---
No. 4. Knicks vs. No. 5 Hawks
| | |
| --- | --- |
| Pick | Over 5.5 Games (-200) |
| Book | DraftKings |
| Tipoff | Game 1: Sunday, 7 p.m. ET |
| TV | TNT |
Joe Dellera: Ordinarily, I don't love laying this much juice on a series bet, but I think it's a lock. Although the Knicks went 3-0 against the Hawks in the regular season, that record is a bit deceiving. In the last matchup, the Hawks likely would have won had Trae Young not gotten hurt toward the end of the game.
These are two very evenly matched teams. I don't think the Hawks are some barnburner team that is suddenly going to turn it on in the playoffs, which is good for the Knicks. Tom Thibodeau-coached teams historically play hard during the regular season and never take a play off, let alone an entire game.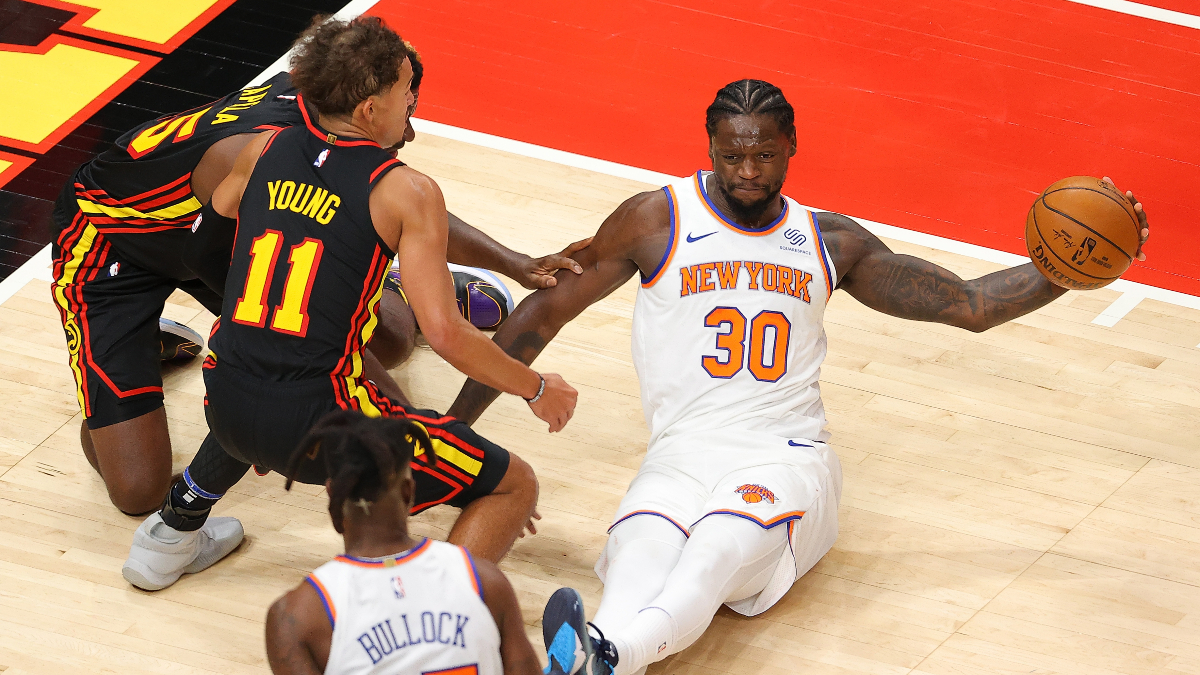 In the playoffs, no one is taking plays off. This is going to be a grind and over the last month, New York is 10-4 while Atlanta is 10-5. Both have been led by young stars and a strong defense.
Each of these teams will be looking at this series as a huge opportunity to advance, especially considering they each avoided one of the primary title contenders in the East (the 76ers, Nets and Bucks). Although these teams and players have had lofty hopes, a second-round series should constitute a successful season.
This series will be a dogfight, and I'll be shocked if one of these teams runs away with it.
---
» Return to the table of contents «
---
No. 4. Knicks vs. No. 5 Hawks
| | |
| --- | --- |
| Pick | Hawks ML (-110) | Hawks win 4-2 |
| Book | BetMGM |
| Tipoff | Game 1: Sunday, 7 p.m. ET |
| TV | TNT |
Austin Wang: The NBA is a lot more exciting when the Knicks are successful. They're backed by one of the most passionate fanbases in the league and will have up to 13,000 fans cheering them on at Madison Square Garden. New York is a bettor's favorite too, having finished the season with a league-best 45-26-1 (62.5%) ATS record.
The Hawks have had a roller-coaster season that featured a surprising head-coaching change. After Lloyd Pierce was relieved of his duties and Nate McMillan took over as head coach on March 1, the Hawks went 27-11 under McMillan with a 23-14-1 (62.2%) ATS record.
During this time, they've battled adversity with many of their key players missing time. Since the All-Star break, the following players have missed multiple games: Trae Young (seven games), Clint Capela (six), Danilo Gallinari (nine), Bogdan Bogdanovic (three) and John Collins (nine).
This is the healthiest that Atlanta has been all season, and I believe it can overwhelm the Knicks with its depth.
In May, the Hawks had the second-best Net Rating (12.7) in the league, getting it done on both ends of the floor. Bogdanovic has been red hot of late, and Atlanta has the luxury of bringing Lou Williams and Gallinari off the bench. The Hawks also have the necessary interior defense between Collins and Capela to limit Julius Randle.
The Knicks boast the league's fourth-best regular-season Defensive Rating (107.8), but they do not have the offensive firepower to keep up with the Hawks in a seven-game series. Furthermore, Thibodeau has fully utilized Randle (averaged 37.6 minutes per game in 71 games) and RJ Barrett (played in all 72 games, averaging 36.3 minutes per game since March) and I think the tread on their tires cause them to be fatigued and struggle against the Hawks defense.
This series will be close. Both teams play well at home, so it will be a battle as each team trades haymakers, but I believe the healthy, deep Hawks can steal a game in New York City and end the Knicks' magical run in six games.
---
» Return to the table of contents «
---
No. 4. Knicks vs. No. 5 Hawks
| | |
| --- | --- |
| Pick | Total Games – 7 (+200) |
| Book | PointsBet |
| Tipoff | Game 1: Sunday, 7 p.m. ET |
| TV | TNT |
Raheem Palmer: This has seven-game series written all over it.
You have Hawks coach Nate McMillan, who has struggled in the playoffs, winning just one out of nine series as a head coach with an abysmal 17-36 record. Making matters worse, his teams are 1-12 in their past 12 postseason games.
He matches up against Tom Thibodeau, whose teams are great during the regular season but struggle during the postseason when every team plays hard, not just his.
The market currently has the Hawks as high as -120 favorites despite the Knicks having home-court advantage.
One of the things that stands out is that these are two teams without much playoff experience. The Hawks' core of Trae Young (22), John Collins (23), Bogdan Bogdanovic (28), De'Andre Hunter (23) and Cam Reddish (21) has no playoff experience.
While Clint Capela, Danilo Gallinari and Lou Williams all have played in this environment, the lack of overall experience will loom large here.
Take Young for instance. Small guards tend to struggle in playoff settings and while Young typically gets a lot of calls in the regular season, he may not receive those same calls in the postseason.
The Knicks also don't have much experience either — Julius Randle, RJ Barrett, Elfrid Payton and Immanuel Quickly haven't been to the postseason. While the Knicks have veterans in Derrick Rose, Alec Burks and Taj Gibson, it's clear both squads have enough young players who we can't count on to be consistent at this level just yet.
I do think both of these teams have plenty of matchup advantages to make this a long, drawn-out series. The Knicks have the better defense, the Hawks have the better offense. Which one gives?
I'm expecting a see-saw-like series where the zig-zag theory is profitable. I'll play the Knicks-Hawks to go seven games at +200. You could also bet both teams to win in seven games at +460 and get a better price.
---
» Return to the table of contents «
---
No. 3 Nuggets vs. No. 6 Trail Blazers
| | |
| --- | --- |
| Pick | Trail Blazers ML (+100) |
| Book | PointsBet |
| Tipoff | Game 1: Saturday, 10:30 p.m. ET |
| TV | ESPN |
Matt Moore: The name of the game is firepower. The best way to attack the Trail Blazers is with pick-and-roll, but the Nuggets are missing franchise point guard Jamal Murray, Will Barton and PJ Dozier. They are starting Facundo Campazzo, who struggles shooting off the dribble, and Austin Rivers. It's a problem.
Even if Nikola Jokic can dominate on his way to 30 points per game and Michael Porter Jr. steps up and averages 25, that's just 55 points. To beat Portland four times, the Nuggets are going to have to score at least 110 points. Can they get 55 points from the rest of the roster? I'm dubious.
The Nuggets' success against the Trail Blazers in recent seasons has been built on their ability to scheme against Damian Lillard pick-and-rolls with traps and containment. But since adding Norman Powell, Lillard is averaging four more ISOs per game and rejecting the screen more often, both counters to Denver's scheme.
With Murray, this is light work for Denver. Without him, they likely don't have enough to get past a Blazers team playing its best basketball and fighting to keep a core, and its coach, together.
---
» Return to the table of contents «
---
No. 3 Nuggets vs. No. 6 Trail Blazers
| | |
| --- | --- |
| Pick | Trail Blazers ML (+100) |
| Book | PointsBet |
| Tipoff | Game 1: Saturday, 10:30 p.m. ET |
| TV | ESPN |
Kenny Ducey: On the surface, this series appears to be tilted towards the Nuggets. After all, Denver won two of the three regular-season meetings, and the one loss happened in a game it didn't particularly care too much about. The Nuggets are also lightyears ahead of the Trail Blazers defensively and on the boards, and they have absorbed the blow of Jamal Murray's injury quite well, losing just five of the 18 games they played without him.
Well, I'm here to tell you the Trail Blazers will win this series, and that it's not all that uneven of a matchup. Portland has won 10 of its past 12 heading into the postseason and in those last 12, no team has scored more points per 100 possessions.
In addition, only three of Portland's opponents have collected a higher percentage of available rebounds, and best of all the Trail Blazers have been a league-average defense. We always knew this team was capable of great things on offense, but the improvements that Terry Stotts' unit has made on the defensive end have been evident lately. I'm expecting this to carry into the playoffs.
The biggest reason I like Portland here, though, is its frontcourt. Jusuf Nurkic returned late in the season and was a menace in the post, averaging 15.1 points and 11.5 rebounds over his last 14 games. He provided Portland another scoring threat when he was on the floor and together with the tenacious Enes Kanter made this team formidable on the glass.
I think these two can bang with Nikola Jokic and make life very difficult on him. As long as they can just limit the presumptive MVP ever so slightly, the Blazers should be able to tip the scale in their favor. I love Portland in this series as an underdog.
---
» Return to the table of contents «
---
No. 3 Nuggets vs. No. 6 Trail Blazers
| | |
| --- | --- |
| Pick | Trail Blazers ML (+100) |
| Book | PointsBet |
| Tipoff | Game 1: Saturday, 10:30 p.m. ET |
| TV | ESPN |
Raheem Palmer: I've initially struggled with this series.
Similar to the series between the Knicks and Hawks, both the Nuggets and Trail Blazers have advantages. Although Nikola Jokic and the Nuggets should be able to thrive inside against a Blazers defense that ranks 15th in opponent field goal percentage at the rim, I believe the Blazers have the edge with Jamal Murray sidelined.
As great as Jokic is, having a guard who can break down the defense and create his own shot is key in today's NBA. With PJ Dozier and Will Barton unlikely to be back for the start of this series, Denver will be at a severe disadvantage in the backcourt.
Damian Lillard and CJ McCollum are a problem for any opposing team, but the trade deadline acquisition of Norman Powell added another creator and playmaker into a lineup that is already lethal. In a league dominated by guards, the Nuggets don't have anyone who can defend these three.
The Nuggets are 24th in opponent 3-point frequency (38.5%) and facing a Blazers team that is shooting a whopping 41.8% of their attempts from behind the arc, second most in the NBA. They're also making the fifth-highest percentage of 3s, as well (39.2%). Although Facundo Campazzo plays with a lot of effort and energy, the Nuggets will have their hands full.
The Blazers have been red hot, having closed the regular season by winning 10 out of their final 12 games with an Offensive Rating of 124.5 (first), Defensive Rating of 111.6 (15th) and Net Rating of 12.9, which trailed only the Philadelphia 76ers.
Trading Gary Trent Jr. for Powell has improved the Blazers' defense, which has gone from 29th in Defensive Rating, allowing 116.7 points per 100 possessions in their non-garbage-time minutes, to 115.1, 17th over the past two weeks.
Although the Nuggets should be able to score efficiently given their advantage on the wing with Aaron Gordon and Michael Porter Jr., I'm not sure how they keep up with this Blazers offense without Murray.
The Nuggets were 10th in Offensive Rating since Murray went down, but they're facing perhaps the best offense in the league currently. Jokic will get his stats and while Porter has averaged 23.5 points per game on 56% shooting since Murray went down, it remains to be seen how he will handle a playoff spotlight.
I think this is a hard fought series that possibly goes six or seven games, but the Nuggets simply don't have the guards to keep up in a league that is increasingly geared towards on-ball creators. I'd play the Blazers up to -115 here.
---
» Return to the table of contents «
---
Here's a breakdown of our favorite bets for the NBA title, Eastern and Western Conference winner and early picks on NBA Finals MVP.
NBA Futures Odds & Picks
Eastern Conference Winner
Matt Trebby: The Philadelphia 76ers aren't going to have any problems in the first round of the playoffs. Against either the Knicks or Hawks in Round 2, they're likely to advance.
To me, this +300 number says that the Sixers are +300 to beat either the Bucks or Nets in the Eastern Conference finals.
When healthy the 76ers have proven to be a tough out for anyone. They ranked second in Defensive Rating during the regular season, trailing only the Lakers, and were fifth in Net Rating.
While 3-point shooting might be the sexy way to win in the NBA nowadays, defense still wins championships, as was proven by the Lakers last season.
Philly matches up well with the Bucks, having Joel Embiid to clog the paint against Giannis Antetokounmpo, and there's Milwaukee's terrible playoff failures in each of the past two seasons.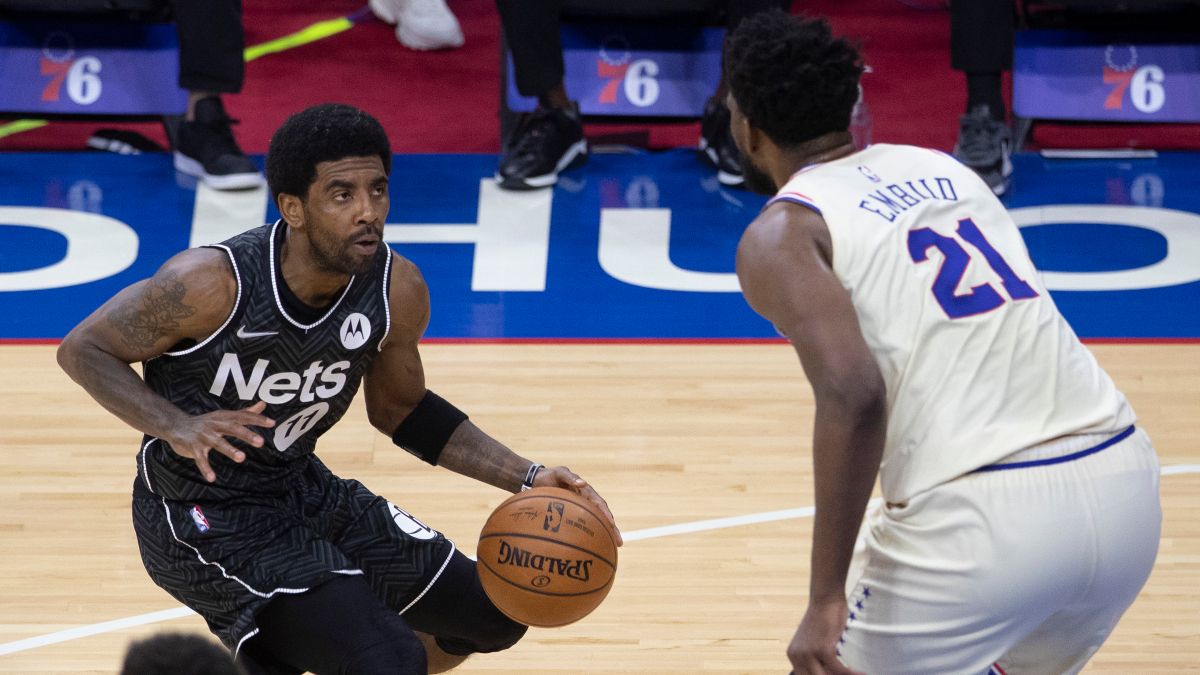 The Nets would obviously be favored in any series in the East at this point, but they have so many more question marks than the 76ers. Philly has played well of late and is fully healthy. The Sixers know who they are and are a fully functioning unit.
Brooklyn, meanwhile, is hoping to get by on talent. The Nets have had some rough injury luck in the second half of the season, primarily to James Harden, that has prevented them from gelling.
The thought: Who needs that when you have two MVPs and a championship-winning point guard?
I'll happily take Philly at +300 here. The 76ers have been the best team in the East all season and are undervalued because of the hype around Brooklyn.
---
» Return to the table of contents «
---
NBA Finals MVP
| | |
| --- | --- |
| Pick | James Harden (13-1) |
| Book | FanDuel |
Roberto Arguello: While teammate Kevin Durant is the favorite to win the NBA Finals MVP at +420, I prefer the value on Harden at +1300.
Harden will be the point guard of the team and will have the ball more often than Durant, which will give him more opportunities to put up numbers. Harden will also benefit from assists on Durant buckets more often than the other way around.
Against a potential matchup in the Finals against the Lakers, Anthony Davis or LeBron James will likely guard Durant while Harden would have a more favorable set of matchups. The Clippers also present a more favorable matchup for Harden than Durant.
Before his quadriceps injury, Harden proclaimed himself to be the regular-season MVP, and I can see that becoming a storyline if the Nets take a series lead in the Finals while he is putting up triple-doubles.
I also like the value on the Bucks at +800 to win the title as a hedge for this Harden bet. If the Nets don't win the title, they will either lose in the NBA Finals or to the Bucks in the second round.
The biggest concerns I have about the Nets include their health and cohesion as a team, and a Bucks-Nets matchup will be the first test for both of those concerns because Brooklyn shouldn't be challenged by the Celtics in the first round.
I believe the Bucks are the toughest matchup for the Nets because of their length and athleticism defensively and 3-point shooting and rim pressure offensively. Jrue Holiday and Giannis Antetokounmpo will also be the most challenging combination of defenders who can keep Harden (or Kyrie Irving) and Durant somewhat in check among any playoff teams.
I would expect the winner of that second-round series to beat the 76ers and be the favorite in the Finals (or at least close to even money against the Lakers, if it's the Bucks), which would provide an arbitrage opportunity on a hedge bet on the Western Conference winner.
---
» Return to the table of contents «
---
NBA Title
Brandon Anderson: Because we've still barely seen them play together, I think we're somehow still all underrating just how good these Brooklyn Nets can, and should, be in their playoff form.
We already know Kevin Durant can be a Finals MVP, the best player on the court for an NBA champion. We already know Kyrie Irving can be a championship-winning wingman, good enough to be a clear second banana on a title team and hit the clinching shot.
And you might argue about what we already know about James Harden, but he's been one of the best few players in the league for half a decade and was an 0-for-27 ice cold 3-point stretch in Houston away from being the best player on the only team ever to beat the full-strength Warriors.
The point is that Kevin Durant, James Harden and Irving are really good — like really, really, really good. Durant is as good a scorer as we've ever seen. Harden is one of the most efficient players in league history. Irving is the third wheel and just had a 50/40/90 All-NBA caliber season. His season profile rates him among the very best third bananas in NBA history, guys on all-time great title winners.
Will the Nets stay healthy? I have no idea, and neither do you. But we've seen how incredible Brooklyn is with even two of these three stars once Harden showed up, and if they get all three, I just think the Nets are a level or two above everyone else.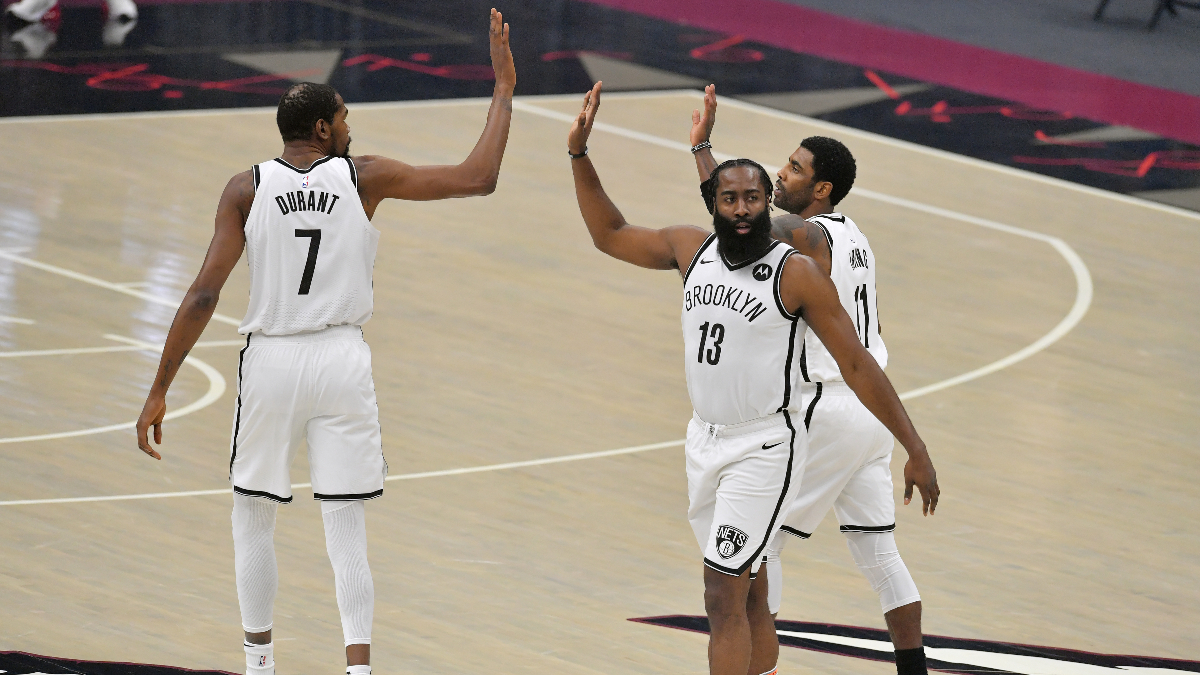 I think the Nets defense will be passable too. They rebound fine and actually rank sixth best in 2-point percentage on defense, and that's before you add in the fact that increased playoff effort should help on the boards and in forcing turnovers. The defense can be good enough when you remember that the Nets just had the No. 1 Offensive Rating in NBA history — despite getting half a season from Durant, half from Harden, and two-thirds from Kyrie.
I tend to get cute with my picks sometimes and play long shots, but I'm keeping this one easy. I don't believe in the Lakers' health. I don't trust that the Bucks finally figured things out. I haven't trusted the Sixers all year. I can't quite get there with the Jazz, though I'm eyeing that Nets over Jazz Finals at +1200 at BetMGM and will probably sprinkle a little of my wager on it.
But at the end of the day, I'm at a point where the one thing I trust this season is all that Nets talent, and I think I'd consider them straight up against the field. I have to bet them at +250, even if they're already the favorites.
_BookPromo=216
---
» Return to the table of contents «
---
Eastern Conference Winner | NBA Title
| | |
| --- | --- |
| Pick | 76ers (+270) | (+800) |
| Book | FanDuel |
Joe Dellera: This is more of a bet against the Nets and the Bucks than anything else. The 76ers have absolutely elite talent with Joel Embiid and Ben Simmons then they're flanked by critical players such as Tobias Harris, as well as defensive stalwart Matisse Thybulle.
They also have key rotational depth with George Hill, Danny Green, Seth Curry and Furkan Korkmaz. The Nets and Bucks will likely see each other in the second round, which will be at least a six-game, hard-fought series. Raheem Palmer wrote on the impact of playing these long series in the playoffs and how that impacts teams in the next round last year, and it's still relevant today.
Considering I expect the Knicks and Hawks to be a long series, I think that should give the 76ers an edge in their second-round matchup. Then looking at the matchups. Embiid is a monster, and Simmons and Thybulle are legitimate Defensive Player of the Year Award candidates.
Additionally, Philadelphia's depth is impressive. It's irrelevant that the 76ers can play with a 12-man rotation since bench depth doesn't matter in the playoffs. What does matter is that the players they have on their bench can fill in and play similar roles to their starters.
Dwight Howard is a defensive presence down low still, Hill can play the facilitator role that Simmons has, and then Green, Curry, and Korkmaz are all effective perimeter scorers. This team has depth that can be optimized in a playoff setting. The concerns are the same. Embiid does not fare well when double-teamed in the post.
Simmons can't shoot. Can Harris be a legitimate third option? Despite all of this, they wear down opponents with a top 3 defense, per Cleaning the Glass.
On the season they have a +5.4 point differential per 100 possessions but they've had extended absences from Embiid and Simmons. They're healthy now, and when they play together with Tobias Harris, they're point differential increases dramatically.
All lineups with those three are +15.2 points per 100 possessions with a 58.7% eFG%, these are in the 98th and 97th percentile of all lineups. In the playoffs, you'll be seeing a lot of this trio.
If they make it to the Finals, I may hedge a bit depending on their opponent, but the 76ers path is favorable, and I'm betting on that in conjunction with their talent.
---
» Return to the table of contents «
---
NBA Title
| | |
| --- | --- |
| Pick | Clippers (+600) |
| Book | BetMGM |
Austin Wang: The Los Angeles Clippers are hoping to avenge last season's embarrassment in the playoffs as they completely faltered, allowing the Dallas Mavericks to push them in the first round and getting eliminated by the Denver Nuggets in the second round.
Paul George will also be looking to shake off the negative "Playoff P" perception from his consistent, poor playoff performances. After some strategic maneuvering, they have placed themselves in the fourth seed, which may provide them with an easier path to the NBA Finals.
They once again face the Mavericks in the first round, whom I consider to be a less formidable opponent than the red-hot Trail Blazers. With continued injury question marks with big man Kristaps Porzingis, Dallas should not present too much of a challenge to the Clippers.
With the Jazz, Lakers and Nuggets not at full strength due to injuries or superstars not at 100%, this really opens up the opportunity for the Clippers to capitalize. They should be in a good position to continue to advance, having gotten better and deeper this season.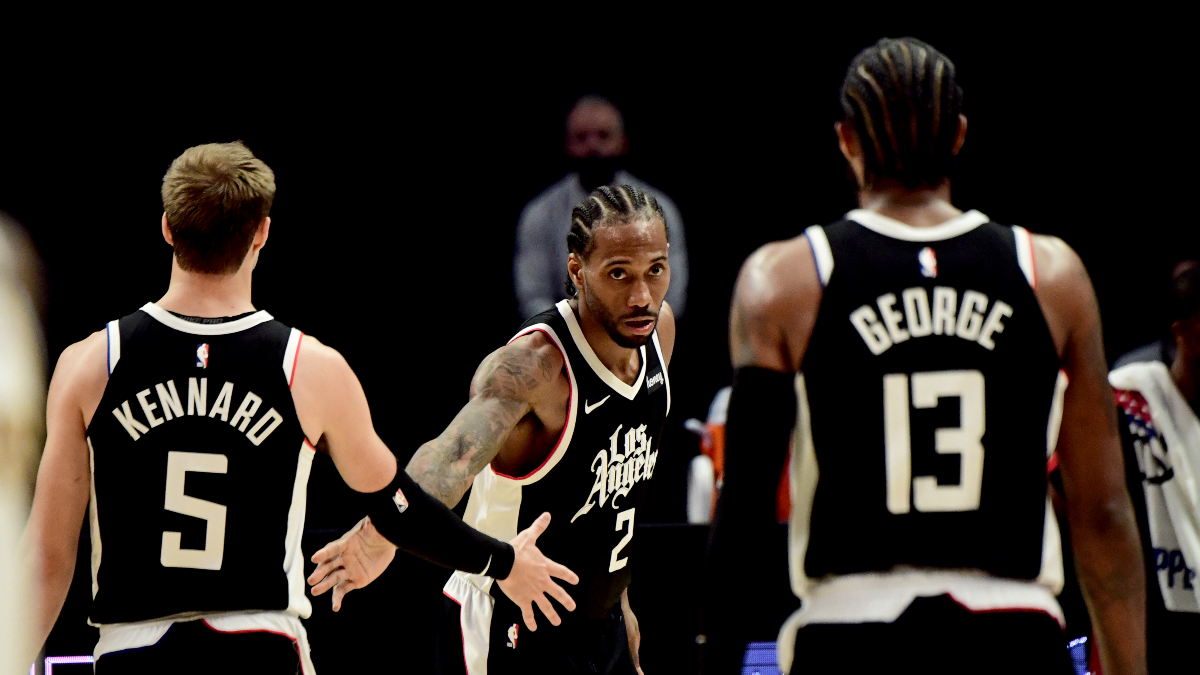 Serge Ibaka, Nicholas Batum, Luke Kennard and Rajon Rondo have all been effective additions. They've dominated on both ends of the floor, ending up third in Offensive Rating (116.7), eighth in Defensive Rating (110.6) and first in 3-point percentage (41.38%).
In games that both George and Kawhi Leonard played in together since they became teammates last season, the Clippers have gone an amazing 51-28 (64.6%) ATS. At +600, I believe the Clippers present the best value to win the NBA Championship this season.
---
» Return to the table of contents «
---
Western Conference Winner
| | |
| --- | --- |
| Pick | Pacific Division (-225) |
| Book | BetMGM |
Matt Moore: You get the Lakers, Clippers, Suns, and Warriors for -225. I get that's a lot of juice, but it's half the Western field, the two heavy favorites and Golden State (if the Warriors make it in).
I'd take this at -225 if it were just the Clippers and Lakers. With all four, you get an absolutely absurd value. Basically, if the Jazz don't win, you're good.
---
» Return to the table of contents «
---
Eastern Conference Winner
Kenny Ducey: I like this for one main reason, and that is that defense (normally) wins out come postseason time.
Raheem Palmer touched on it earlier this season, but of the last 19 NBA champions, none were outside the top 11 in Defensive Efficiency, and the 45 teams to win it all since the merger averaged around fifth place in that category. The Nets checked in at 22nd for the season.
I'm willing to put my money down that this will hold the Nets back in the playoffs; that and the fact that the big three played just eight games together.
That's right — eight games!
There's no doubt that the Nets could run anyone in the league off the court with this starting five, but my issue is that the core has hardly played together, and that is going to be their undoing in a seven-game series against a team like Philadelphia, who can use the time to figure them out defensively.
Ben Simmons and Matisse Thybulle have been excellent on that end all season long, and Simmons in particular has proven capable of neutralizing even the league's best guards. There certainly will be no neutralizing Kevin Durant — there never is — but as long as Philly can hold the rest of the stars in check to a degree I think the offense can do enough here to get them four wins.
Joel Embiid should have a mismatch in the post whenever he wants it, and in general this team should just have more toughness and endurance to power through a long series with Brooklyn.
Perhaps next year, with more time to mesh, the Nets will win it all, but I think it'll be the Sixers to head to the Finals this season.
---
» Return to the table of contents «
---
NBA Title
| | |
| --- | --- |
| Pick | Clippers (+600) | Lakers (+460) |
| Book | FanDuel |
Raheem Palmer: I'm currently holding futures on the Clippers (+700) and Lakers (+550) to win the NBA title. Both of those numbers are long gone since I took the Clippers to win the title back in February and the Lakers to win two weeks ago when it was clear they would fall into the play-in game.
Just took some Lakers at +550 to win the NBA title.

Three games left against the Rockets, Pacers & Pelicans without Zion. They're one game behind the Blazers for the 6th seed. Even if they're in the play-in game, they'll get in. I can't pass up getting Lebron + AD at this price

— raheem palmer (@djrtodaizza) May 12, 2021
The Lakers bet is self explanatory: They have LeBron James, Anthony Davis and the league's second-best Defensive Rating (108). Despite being the No. 7 seed and having to play three series without home-court advantage, they're likely to be favorites to win every series and a pick'em against the Clippers. For me there's clear value in either betting them to win every series and rolling it over until they get to the NBA Finals.
I've spoken on how much I like the Clippers all year long. In February, I wrote a piece detailing why I'm higher on them than I was last year's team, which was overhyped.
This season's team is just better. They have an upgrade at coach in Tyronn Lue, the offense has more ball movement and they've gotten rid of their biggest deficiencies in Montrezl Harrell and Lou Williams.
The Clippers are fourth in Offensive Rating (118.6) and ninth in Defensive Rating (111.8) in their non garbage time minutes and have the league's best three point shooting percentage (41.8%). If you can play defense and shoot the three you can beat anyone.
With Kawhi Leonard and Paul George, this team is one of the best midrange shooting teams in the league and can hit tough shots which is key in the playoffs. They also have four wings in Leonard, George, Marcus Morris and Nic Batum which are matchup problems for teams on both ends of the floor.
This team is likely to be favorites against any non Lakers team in the West which gives them value to win the championship. Find a way to play both LA teams as they'll likely meet in the Western Conference Finals with a chance to go to the NBA Finals. At that point you'll be in a position to hedge your bet on one of the Eastern Conference teams or keep your position.
---
» Return to the table of contents «
---
Are you looking for a safe, reliable, trustworthy sportsbook? Check out our ratings of the best sportsbooks and their current sign-up offers for new customers.