NBA Playoffs Series Bets: Our Confidence Rankings for Each Round 2 Matchup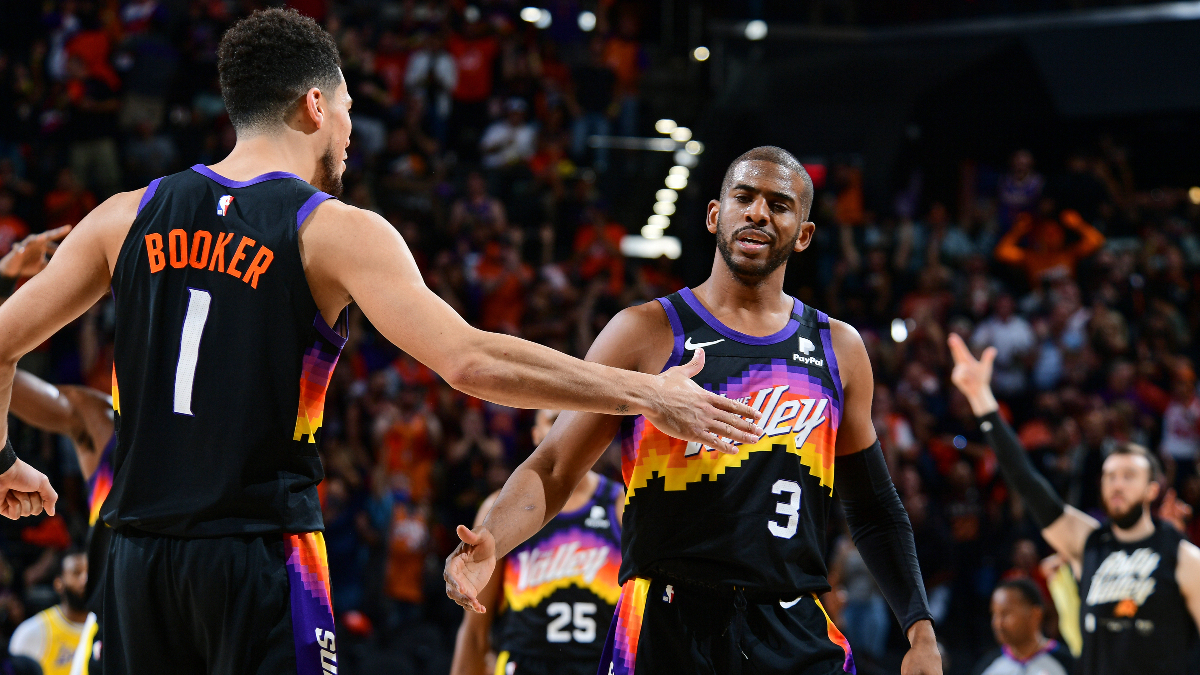 We're about two games into each series of Round 2, which isn't enough to tell us everything we need to know about every team, but just enough for us to start looking forward.
Two teams have jumped out and had outstanding performances so far, while others have been huge letdowns. As always, there are key injuries that muddy the waters as well. With all that in mind, we've decided to rank each team based on our confidence that they can make it out of the second round, along with bets that we like in the series.
We've tallied up the votes from our crew ballot style to determine which teams are inspiring the most confidence in our analysts as series begin to shift (spoiler alert: the two teams with blowout wins are at the top).
Take a look at our analysis below and favorite mid-series bets in Round 2.
Austin Wang
Congratulations to Nikola Jokic and his well-deserved MVP Award. I encourage the Denver Nuggets to cherish and celebrate this accomplishment because I anticipate their playoff exit soon.
The Nuggets have outperformed expectations without Jamal Murray, including beating the Portland Trail Blazers in Round 1. However, I believe most of that was attributed to the Blazers being a facade all along.
Now, with Paul looking closer to full strength, I am most confident about the Suns winning this series and getting a few extra days of rest while the Clippers and the Jazz duke it out.
Brooklyn Nets
Prior to the start of this series, I would not have argued with anyone who thought the Milwaukee Bucks were live underdogs.
My, how things have changed in a span of a week.
Now up 2-0, the Nets seem to be strolling their way to an easy second round victory. Would you prefer to back the Nets featuring Kevin Durant and Kyrie Irving — both who have been on championship teams — or the Milwaukee Bucks, who have consistently shrunk in the playoff limelight year after year?
Even without James Harden, the Nets have proven to be the superior team, which is even scarier for the rest of the league. I am expecting the Nets' stellar play to continue and take the series with my second-highest confidence rating.
This is a hot take, but I must stand by my original series prediction and pick the Hawks.
The series is now tied 1-1 and headed back to Atlanta, where the Hawks have gone 21-2 straight up since Feb. 21. They are incredible at home and did their job of stealing a game in Philadelphia, quite a feat in itself as the 76ers are an excellent home team. The 76ers, on the other hand, struggle on the road, as they've gone 21-17 straight up and 18-20 against the spread this season.
Game 2 was not a promising look for Hawks backers, but I think their fortunes will change at home. Matisse Thybulle and Ben Simmons both did an excellent job of slowing down Trae Young. The 76ers were able to get strong contributions from Seth Curry and Shake Milton, who caught fire in the second half.
Although he looked great in Game 2, Joel Embiid's injury will forever be a concern. I like the Hawks' depth to thrive and expect them to protect their homecourt en route to a series upset. At +190 (FanDuel), I am doubling down on the Hawks to win the series as my series best bet.
_BookPromo=24
Los Angeles Clippers
The Jazz-Clippers series falls to the bottom of my confidence rankings as I believe this is the most evenly rated matchup. Even after a grueling seven-game series against the Mavericks and a short turnaround, the Clippers went toe-to-toe with the Jazz in Game 1.
Kawhi Leonard is locked in and has been playing out of his mind, carrying the disappointing Paul George on his shoulders. Luke Kennard and Ivica Zubac both provided some valuable minutes off the bench in Game 1 and can be difference-makers in this series if they keep it up.
On the other side, Mike Conley's absence for the Jazz is huge. While Donovan Mitchell had a herculean effort in Game 1 to lead the Jazz to the win, I don't think it will be sustainable for the entire series. If Conley is out or is less than 100%, the Clippers will sneak back and take this series.
---
Brandon Anderson
Phoenix Suns
The Suns were my most confident pick coming into the second round by a wide margin, and nothing I've seen so far has convinced me otherwise. It sounds so simple to say it, but the Suns are just better than the Nuggets. They're way, way better defensively.
They're better on offense, at least better than this shorthanded version of the Nuggets. Poor Denver just got Will Barton back and now Michael Porter Jr.'s back has given out.
I'm still not convinced Phoenix is capital-G Great, but they're definitely very good, and they're not the Trail Blazers.
Good on Denver and its G-League guards for getting a playoff series win against a Portland team that should be embarrassed, but Phoenix was always going to be another animal, and the Suns have looked in control all the way thus far. An MVP can only do so much without any teammates.
Brooklyn Nets
I think this one is a wrap. We waited all year for this series, and I really thought it got ruined in the first play when James Harden went down injured, but apparently Brooklyn didn't even need him against the Bucks. Milwaukee has looked absolutely lost, and I'm not convinced the Bucks even win a game at this point.
This team looks absolutely shell shocked and overrun. And it's not even the defense that's worrisome — it's the putrid offense that is not moving the ball, or finding good shot against a very beatable defense.
Normally, this is a spot where I'd recommend caution, with the favorite going up 2-0 at home and everyone declaring the series over. In some ways, this reminds me of the 2012 Spurs who looked absolutely invincible and were up 2-0 on the Thunder but never won another game that year once Oklahoma City figured them out.
The difference this time? I am not seeing any adjustment, and Mike Budenholzer isn't figuring anything out on Milwaukee's sidelines other than how to shape his resume up.
This thing is a wrap. Maybe the Bucks get one last home win, but I think the Nets win at least one of these two and then finish things off in Game 5 if necessary. I like the value on Nets -2.5 (-115 at BetMGM) in this series.
_BookPromo=245
Utah Jazz
I picked the Jazz to beat the Clippers in seven games before the playoffs and increased my confidence heading into the second round, picking Utah in six. Now that the Jazz have a game in hand, you'd think my confidence would be even higher, but I'm actually feeling worse about things after Game 1.
The Jazz looked like they were in trouble for a half yesterday, but then Donovan Mitchell picked the Clippers apart and the Jazz got a massive energy boost, both from the crowd and from that huge rest advantage, with the defense ramping up and shutting the Clippers down as Mitchell did the rest.
There are clearly a whole bunch of matchups that tilt LA's direction in this series, and my big concern right now is Mike Conley's health. Utah's offense looked lost until Mitchell took over, and the Jazz badly need Conley's passing, creation, shooting, and leadership.
My specific prediction for this series coming in was that the Clippers would outscore the Jazz for the series but lose in six — meaning L.A. would get two huge wins but lose some close ones.
We're off to a good start. A tired Clips team has to win four of six, with half those games on the road against the best home team and all of those six against a very good offensive and defensive team that's not going to miss 20 shots in a row again.
If we could start a series fresh tomorrow, I might talk myself into the Clippers now. With a win in hand, I'll still favor the Jazz, but I'm less confident after Game 1.
Philadelphia Sixers
I picked the Hawks before the series, but I'm begrudgingly changing my pick to Philadelphia.
This is all about Joel Embiid. It's pretty clear the Sixers are the better team with Embiid out there. If he keeps playing his usual minutes, the Sixers should win the series.
Still, I don't think it's a knockout punch even with Embiid. The Hawks have gotten some really nice looks on offense so far, and Trae Young is a problem for Philly's defense. Atlanta can still win a game or two even against Embiid, and I'm still not totally convinced Embiid is just good to go.
With Embiid playing and DeAndre Hunter out for the season, I have to pick the Sixers now. But if Embiid goes out, I think Atlanta is the better team, and given what we've seen so far, I don't think that's a hot take.
I'm not counting Atlanta out and might look to nibble at the series price on the Hawks if they fall down 1-2 to another big Embiid game, but the Sixers are the favorites now.
---
Kenny Ducey
Brooklyn Nets
There's nothing left to say about the Nets that hasn't already been said in this piece. They struggled to defend all season long, and have been absolutely cooked on the glass game in and game out. Their top guys played just eight games together. Yet in the playoffs, none of that has mattered in the slightest.
The Nets — even without James Harden — have gone out and dominated on both ends of the floor. The Nets have a 97 Defensive Rating in this series, and while some of that is due to incompetence from the Bucks on the offensive side of things, you still have to credit these guys for giving a ton of effort on defense.
It appears nothing is going to stop this team all postseason long except for themselves.
We saw the Brooklyn let its foot off the gas in Round 1, and while that may very well happen a few more times this postseason, the Nets showed that they can simply flip a switch and run anyone off the floor.
I thought entering the playoffs that either the Bucks or Sixers would eliminate the Nets, but now I think no one has a shot at taking four games from Brooklyn.
Los Angeles Clippers
There's admittedly a lot of stubbornness here, ranking the Clippers — a team down 1-0 — over the Suns who are likely going to sweep based on how they are playing. With that said, I'm not worried one bit about the Clippers.
Sure, Paul George looked like Pandemic P again on Tuesday. Sure, the Jazz shot the lights out just as they have all season long. In the end, L.A. has Kawhi Leonard, and having the best player in the series is going to be enough for the Clippers.
In addition to extending his insane record when facing elimination (he's 9-2 lifetime), Ty Lue has proven himself to be a great coach this postseason, pushing all the right buttons.
The role players on this team have been tremendous this postseason, from Nic Batum to Luke Kennard — two brilliant off-season acquisitions. Reggie Jackson has also transformed himself into an extremely reliable player after being a walking Jordan Clarkson in Detroit.
Speaking of Clarkson, he had a fantastic Game 1, but on the whole hasn't been as great as he was when Donovan Mitchell went down to an injury. He, along with the rest of the Jazz second unit, have simply been underwhelming, and Utah's performance on defense against the Grizzlies was incredibly forgettable.
The Clippers are more disciplined, and have more players who have been here before. I'm also just that confident in Leonard — he's reminded us this postseason just how special he is after he took almost the entire season off. I like the Clippers to win the series outright with the best odds at PointsBet (+180).
_BookPromo=2537
Phoenix Suns
I don't know why, but I'm still a little scared about Phoenix. In a total juxtaposition to the Eastern Conference, I don't put much stock into the Suns beating a discombobulated Lakers team with a less-than-100% LeBron James and an injured Anthony Davis.
Further, are we really shocked they are smoking the Nuggets, who needed the helping hands of one of the worst defenses in the NBA to win their opening series, and who don't have starting point guard?
We saw during the regular season how quickly things can go wrong for the Suns, who begun quickening in Pace and Defensive Rating, two areas which defined who they were. It's also apparent that this team thrives off of timely shot-making from rather unreliable players.
Jae Crowder is just a few misses away from falling into a shooting slump, and Cameron Payne is pretty much back to being Cam Payne after having a moment a couple of weeks ago.
The Suns have something that their opponents don't have right now, and that is an above-average defense. That's what will get them across the finish line and into the Western Conference Finals, but I'm not quite sure they are built to go further than that.
Philadelphia 76ers
Nate McMillan really tries hard to make these series interesting, doesn't he? The Hawks coach has kept Trae Young on the sidelines an impossibly long time this postseason.
Perhaps he wants some good company, or perhaps he wants to help the NBA drive up their ratings. I'll tell you what, though, this Hawks team is just a couple of tweaks away from being much, much better than the Sixers.
Philly's defense has yet to impress me in this series, and I am deeply concerned given how hot the Hawks can get on offense. Atlanta had it for half of Game 1, and another outburst is right around the corner. Further, we have seen that this Hawks team is Embiid-proof, meaning it can win in spite of a dominant performance from Philly's best player.
Without being to simply hit the Embiid button to get out of trouble, I'm not super confident the Sixers can just breeze through this series.
I watched first-hand as the Hawks dismantled one of the league's top defenses in New York, and there are no signs pointing to Philadelphia being immune to that same fate on the defensive end.
If anything, the fact that it's turned the ball over so much has indicated that maybe Atlanta's defense is trustworthy.
---
Roberto Arguello
Phoenix Suns
The Suns are simply better than the Nuggets without Jamal Murray.
Deandre Ayton is one of the tougher matchups for Nikola Jokic, Will Barton and Michael Porter Jr. are playing at less than 100%, and the Nuggets can't stop the Suns from generating open 3-pointers.
I think the Suns win in five, and among futures bets, my best bet is the Suns to win the West at +220 on FanDuel. Their 3-point shooting and defensive switching makes them a tough matchup for the Jazz (whom the Suns swept in the regular season).
Brooklyn Nets
I originally thought this series was a toss up, but the Nets have established themselves as the superior team despite the James Harden injury. The Bucks have lost their offensive identity through two games as they have settled for too many jump shots with inadequate ball movement.
The Nets have the better isolation players, are shooting better, and are moving the ball better. This series has been the biggest disappointment of the postseason for me, and I like the Nets in five, but I give the Bucks a better chance at pushing the series to six than the Nuggets.
Philadelphia 76ers
After putting Ben Simmons and Matisse Thybulle on Trae Young, the series has shifted. If the 76ers can continue to keep Young out of the lane with these two, the 76ers will win the series.
However, the Hawks have the better shooters, and if Tobias Harris doesn't play well, the Hawks could still pull the upset despite a huge series from Joel Embiid. I like the 76ers in six, but Embiid's knee injury makes me hesitant to lay -230 on them.
Utah Jazz
The Jazz stole the first game from the Clippers despite falling behind early in the first half without Mike Conley. While I lean toward the Jazz to win the series in seven, Conley's health will determine the value in betting this series as he plays a key role in generating quality shots for others.
Donovan Mitchell dominated Game 1, but the Clippers' first round series win over the Mavericks should remind us that Kawhi Leonard is still the best player in this series.
Conley is questionable to play in Thursday's Game 2, and I like the Clippers at +176 on FanDuel as the best value among any of the second round series prices as I think they steal that game and the series price swings back to near even money.
However, my best value bet available is over 5.5 games in this series at -152 on DraftKings as I believe this series is evenly matched and both teams can win but only in six games or more.
_BookPromo=405
---
Phillip Kall
Brooklyn Nets
After the Bucks' performance against Miami, I thought we were getting a matchup of the two best teams in the NBA. Boy did the Nets make me look like a fool. Even without Harden for all but one minute of the first two games the Nets have been in complete control.
The obvious knocks on Brooklyn were chemistry, rookie coaching, and defense coming into the playoffs. They have shown that all of those are nothing to worry about simply because their players are just better. This series has been about who can beat their man one-on-one.
Durant and Kyrie have shown it doesn't matter who is on them while the Bucks have shown no ability to create against anyone. Adding in another MVP caliber player when Harden comes back and it's hard to imagine anyone stopping this team.
Phoenix Suns
The Nuggets problem coming into the playoffs was always going to be filling Jamal Murray's void. The biggest void showing right now is his contributions defensively.
In Round 1, despite the victory, Damian Lillard looked phenomenal cooking whomever guarded him. In Round 2, Chris Paul is doing the same. Paul is getting to his spots on the floor and either getting a bucket, or dropping a perfect dime to his teammates.
The major difference between Paul and Dame is his teammates are hitting their open opportunities. Similar to the Nets and Bucks series, this one looks like one team has more talent than the other.
Philadelphia 76ers
Now, we are at the teams where I am just in like with instead of love. Game 1's massive deficit to start had me worrying about my pick of the Sixers to win the series if Embiid played. However, despite a loss their second half performance revitalized my hope.
Following up that second-half with their strong Game 2 and I am back to confident they can control this series. The obvious difference maker is Joel Embiid. Had he been healthy he may have taken home the MVP. He is beating opponents inside, outside, and even off the dribble.
Their success hinges on whether he can play or not and that is the only issue that gives me any doubts. Games 1 and 2 clearly show his small meniscus tear doesn't bother him but with size and athletic ability I worry one wrong move and things could get ugly.
The confidence I have in a fully healthy Sixers team would be closer to the Suns and Nets. However, since that is not promised they take a small hit and end at third.
_BookPromo=68
Los Angeles Clippers
The Clippers are one team that on their best nights could have the best players on the floor. However, they also have nights where they just disappear. I like them in this series because Kawhi Leonard and Paul George pulled their disappearing act in Game 1 but things didn't go terribly.
Despite being in Utah (one of the most hostile environments), with no rest, and their stars not showing up, the Clippers only lost by three.
This will likely be another long series but when all the chips are on the table I expect Kawhi to again show he is the best player on the floor and lead the Clippers to the Western Conference Finals.
---
Raheem Palmer
Phoenix Suns
I've said it before but the Denver Nuggets are all but done.
Although Barton returned to the lineup in Game 2, at some point there's only so much impact one player can have and I believe we've reached that point. Michael Porter Jr is dealing with lower back tightness and should he not be 100%, that's one fewer threat this already depleted Nuggets team.
Aside from eliminating the Lakers in Round 1, the Suns ranked sixth in both Offensive Rating (117.7) and Defensive Rating (111.5) and truly has everything you want from a Championship contender. Unlike the Blazers, this Suns team actually has an NBA caliber defense and wings who are still worthy of getting NBA playoff minutes.
The Suns are one of the best teams in the league and Chis Paul's leadership should allow them to advance to the Western Conference Finals in what ultimately could be a sweep or a gentleman's sweep.
Brooklyn Nets
I was dead wrong about this series, but I can quickly acknowledge I made a mistake. This was supposed to be the de-facto NBA Finals.
Just one minute into the series the Nets lost the team's best playmaker in James Harden and they didn't skip a beat.
To quote the late Notorious BIG, this series is simply "separating the weak from the obsolete, it's hard to creep them Brooklyn Streets".
That's no exaggeration either as the Nets are just that much better than the Bucks, outscoring the Bucks by a whopping 47 points through the first two games of this series.
The final score of Game 1 was actually misleading considering they led by 19 points before the Bucks bench made a run in garbage time. Kevin Durant is averaging 30.5 points 7 rebounds and 4.5 assists on 55.8% shooting and 50% from 3-point range.
The combination of Durant and Kyrie Irving is hard enough to stop on its own, but it's clear there's a major discrepancy in the bench units between these two teams as the Nets are deeper.
_BookPromo=216
The Bucks have a limited superstar in Giannis Antetokounmpo, a two-time MVP who has historically struggled in the postseason where teams can create a wall to stop him from getting to the basket. Without a reliable jump shot, the Bucks are struggling to score one-on-one against Brooklyn's switching defense.
The Bucks have just a 97.8 Offensive Rating through two games and while I expect them to eventually shoot the ball better at home, Antetokounmpo, Khris Middleton and Holiday simply aren't going to keep up with the offensive firepower on the Nets.
Durant, Irving and role players who can space the floor and hit 3-point shots is just too much for a Bucks team that gives up the fifth-highest frequency of opponent 3-point attempts (38.9%) while ranking 29th in opponent 3-point percentage (39.3%).
I had high hopes for this series, but the Bucks look finished even if their 3s start falling at home.
Philadelphia 76ers
The Atlanta Hawks caught the Philadelphia 76ers slipping in Game 1 but since the first half of Game 1, the Hawks haven't been the same team. They had an Offensive Rating of 137 in the first half Game 1 but since then it's been all downhill.
The 76ers stopped turning the ball over, increased their defensive intensity and changed up their pick and roll coverages on Trae Young. The Hawks had an Offensive Rating of 100 in the second half of Game 1 and a total Net Rating of -32.1. They were competitive during parts of Game 2, but they still scored just 104.1 points per 100 possessions for the game with a -17.6 Offensive Rating.
The Hawks have no answers for Joel Embiid as he's averaging 39.5 points, 11 rebounds and three assists while getting to the line 31 times.
If that's not bad enough, the Hawks lost De'Andre Hunter for the rest of the NBA Playoffs with a small tear of his lateral meniscus in right knee. That means they also have no answer for Tobias Harris. The Hawks had a spark when they started, but the 76ers should wrap this series up in six games or less.
Los Angeles Clippers
This is the series I'm least confident in because I believe this is a true pick'em series. We have two teams whose offense depends mostly on three point shooting so there will be a ton of variance in this series.
In addition, these are two teams with contrasting styles as the Clippers play small with their wings, electing to take Ivica Zubac off the floor in order to put opposing centers in space.
The Jazz on the other hand have the Defensive Player of the Year in Rudy Gobert protecting the paint and he's a threat on lobs, rim runs and put-backs. Will the Clippers neutralize Gobert's strengths in the same way that the James Harden led Rockets- did? Or will Gobert and the Jazz dominate the paint on both sides of the ball with their physicality?
Both are possible but what this matchup comes down to for me is that the Clippers have Kawhi Leonard and Paul George and the Jazz simply have no answer for them at the wings. Royce O'Neale and Bojan Bogdanovic are solid players but the Clippers combination of wings in Leonard, George, Morris and Batum should eventually cause problems on both sides of the ball.
Donovan Mitchell could completely destroy my prediction given his 45-point performance in Game 1 but I think the Clippers will likely do a much better job at defending him throughout the series. Head coach Tyronn Lue won't allow Luke Kennard get abused over and over again as he did in Game 1. He found answers for what players to play on the floor with Luka Doncic and I believe he'll find the answers in this matchup.
The health of Mike Conley appears to be a wildcard and his ability to make plays and score can possibly swing the series. Still, it's hard to trust him recovering from a hamstring injury and playing up to his standard given how fickle hamstring injuries can be. Harden played just one minute before having to leave Game 1 of Brooklyn's first round series against the Bucks. Nonetheless, Conley's injury could plague him the entire series.
The Clippers let Game 1 slip but I believe a lot of that had to do with them coming off a grueling seven game series against the Mavericks. The narrative around this series is completely difficult had the Clippers held on and despite blowing a 14 point lead and finding themselves down double digits in Game 1, they still managed to come within one possession of tying the game.
Overall, I think the Clippers are the better team but I'll have to figure out how to neutralize Gobert, which they've done during parts of Game 1
Are you looking for a safe, reliable, trustworthy sportsbook? Check out our ratings of the best sportsbooks and their current sign-up offers for new customers.