Tips For Saturday's ITV Races From Sandown, York & Chester
It's the calm before the Royal Ascot Storm, but Tom Stanley and Adele Mulrennan are bullish on their selections this weekend.
Eight races on ITV this Saturday, and Adele Mulrennan and I take you through them all. A low-key weekend before Royal Ascot, but some decent betting heats nonetheless.
5f Handicap (13:40 Chester)
No bet for me here but Adele thinks Virginia Plane is overpriced at 6.5 at the time of recording and is very complimentary about rider James Sullivan.
Tom – no bet
Adele – Virginia Plane
---
Queen Mother's Cup (14:00 York)
A smaller field than you'd expect for this race. Adele thinks two at big prices are worth supporting whilst I'm a little more team obvious with Arctic Fox
Tom – Arctic Fox
Adele – Sameem / Flymetotthestars
---
Scurry Stakes (14:15 Sandown)
Both keen on the favourite here who bumped into a good horse last time. I'll also chance Mishal Star win and place.
Tom – Atalis Bay / Mishal Star
Adele – Atalis Bay
---
7f Handicap (14:35 York)
Adele's best bet lines up here at 6.0 at the time of recording. I'm with Golden Apollo who has the talented Ella McCain on board.
Tom – Golden Apollo
Adele – Gifted Ruler BEST BET
---
New to Matchbook? Get 0% Commission on ALL SPORTS for 30 days by using Bonus Code INSIGHTS. Click on the below banner for further details: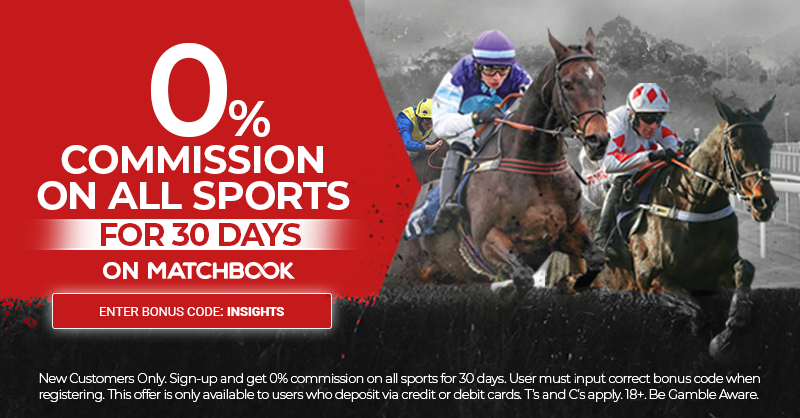 ---
1m Handicap (14:50 Sandown)
A trappy little contest but I do think the Crisford horse is very well treated. Adele thinks Don't Tell Claire should be backed in the place market.
Tom – Latest Generation
Adele – Don't Tell Claire place
---
Grand Cup (15:05 York)
Was going to leave this alone but the selection is a good horse and I thought he had a better chance than his odds suggest. Small stakes and so too for Adele with Ranch Hand.
Tom – Roberto Escobarr
Adele – Ranch Hand
---
1m 4f Handicap (15:20 Chester)
A tricky race but both of us going for a Mark Johnston horse. I'm with the outsider of the field whilst Adele fancies his second string. Both win and place.
Tom – Glen Again
Adele – Love Is Golden
---
Sprint Handicap (15:40 York)
Good betting race and a couple going up here at prices. My best bet lines up having finished second in a race last time which looks like strong form.
Tom – Jadwal BEST BET / Bickerstaffe
Adele – Showalong / Skyrunner
---
Watch The Full Preview Here:
---
Subscribe to the Matchbook Betting Podcast here
Subscribe to the Matchbook Youtube channel here
The post Tips For Saturday's ITV Races From Sandown, York & Chester appeared first on Matchbook Insights.
Are you looking for a safe, reliable, trustworthy sportsbook? Check out our ratings of the best sportsbooks and their current sign-up offers for new customers.