NBA Draft Lottery Preview: What Can Likely No. 1 Pick Cade Cunningham Do For a Team?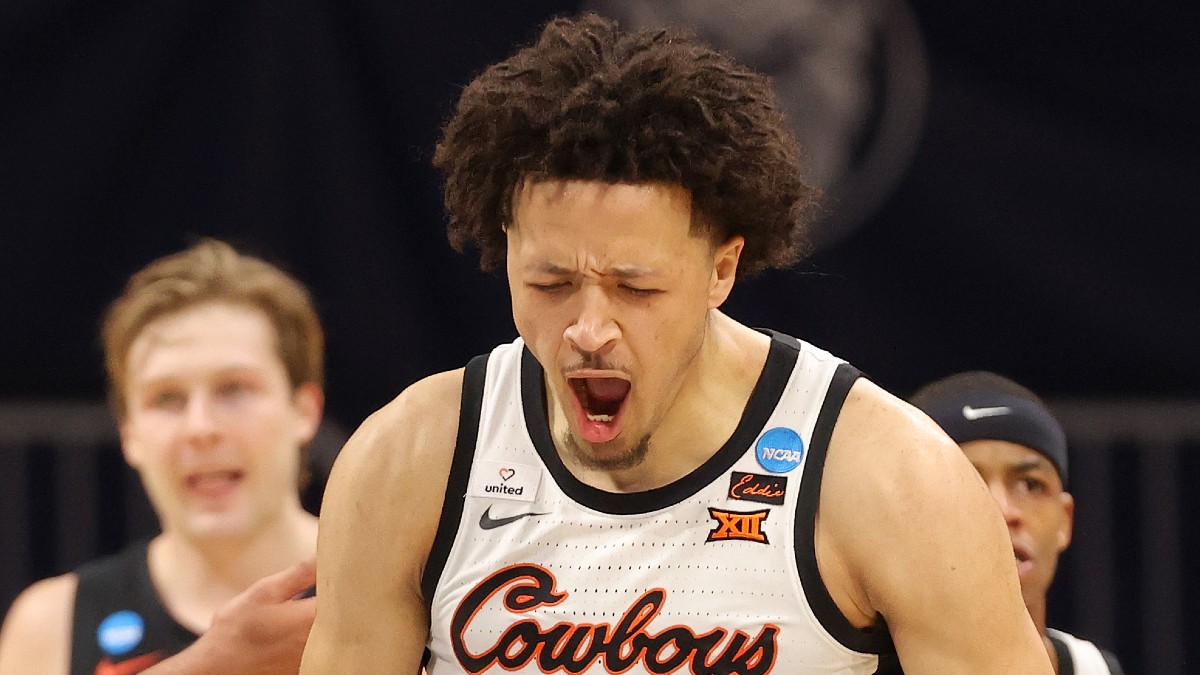 Surely you've heard of Cade Cunningham by now.
Cunningham is a 6-foot-8 freshman point guard out of Oklahoma State, and he's about to light the NBA world on fire when some lucky team wins the rights to the No. 1 pick in Tuesday night's NBA Draft Lottery. Cunningham opened as a clear favorite to be drafted first at -250, moved to -500 by May, and is now  -1000 or longer at most books.
In other words, Tuesday's ping pong balls will determine Cade Cunningham's NBA home. So, what do we know about Cunningham? What are his strengths and weaknesses as a prospect, and what will his role look like in the NBA?
Overall Profile and Size
The first thing you notice about Cunningham is his size. A 6-foot-8 point guard with a wingspan over seven feet, he's still a teenager until September, so he might still be growing.
Cunningham already uses his size and physicality really well. His height gives him unique passing angles, and he's already comfortable posting up. In Cunningham's lone year at Oklahoma State, his size overwhelmed most opponents. He could back down defenders with ease and used his strength and physicality to finish through contact.
Cunningham has an array of post moves and loves to put his shoulder into the opponent and drive to the rim. His size and strength also make him an outstanding positional rebounder, and he has good instincts on the glass.
Cunningham averaged 20.1 points, 6.2 rebounds, and 3.5 assists a game as a freshman, adding 1.6 steals and 0.8 blocks. Unfortunately, he also averaged 4.0 turnovers per game, finishing with more turnovers than assists.
So, with all those turnovers and a relative paucity of assists, what do we make of Cunningham's handle and vision?
Handle
Cunningham finished his college career with 94 assists and 109 turnovers — not exactly Chris Paul. You never want a player to have more turnovers than assists, and certainly not a future No. 1 pick point guard. Cunningham turned the ball over on 18.7% of his possessions in college. Yikes.
Of course, some of that isn't his fault. Oklahoma State isn't exactly a national powerhouse, and Cunningham didn't play for a particularly talented team. Like most precocious freshmen, he was asked to do far too much, and that often leads to turnovers.
Still, Cunningham's handle was at fault for many of the turnovers. He's comfortable with both hands and has a nice hang dribble he uses to create space for his jumper, but the dribble is a bit loose overall.
Especially considering how much stronger Cunningham was than his competition, he gets stripped a little too easily. In the final moments of a huge rivalry game against Oklahoma, Cunningham's loose handle nearly gave the game away, spoiling what was probably his best college game.
The whole point of rostering Cunningham is to put the ball in his hands a lot, to take advantage of his size and playmaking.
It's true that he isn't totally at fault for all the turnovers when opponents sent double teams at him, but it's also true that the whole point of having a player like Cunningham running an offense is so he can handle the double-team and break down the defense.
Cunningham's handle isn't bad, but it's also not elite. He'll need to tighten it up in the NBA, but handle is one of the most easily improvable point guard skills. What about his passing?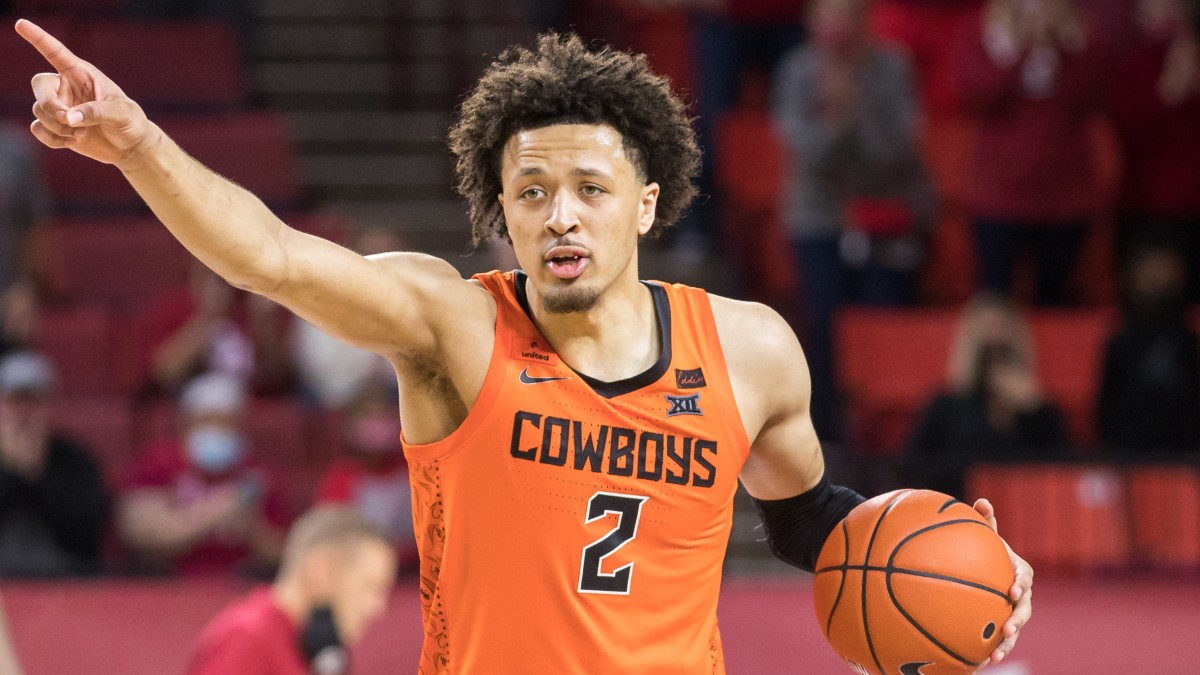 Passing and Vision
For a guy who's supposed to be the next great NBA point guard, Cunningham sure didn't rack up many college assists. He averaged just 3.5 dimes, with a median outcome of three assists at Oklahoma State. In fact, Cunningham had more than five assists only twice.
Still, it takes two to tango. Assists rely on teammates, and not just finishing looks. Teammates have to hit shots, but they also have to be good enough to be worth passing to and provide enough spacing for the star point guard to find room to get the ball to, and none of that was true for much of Oklahoma State's season.
Cunningham's passing will stand out more as a pro, where he'll have much more spacing and shooting around him.
Watch the film and you'll see Cunningham's elite passing ability pop. He loves the one-handed whip pass off a live dribble and can get it to either corner, so expect his new NBA team to see an uptick in corner 3s.
Cunningham makes quick reads and has great instincts and understanding of the game. In my first game watching Cunningham against Marquette, he had at least five "WOW" passes that called for an instant rewind.
Cunningham uses his size well to create passing angles many point guards can't get to, and that will only be more valuable with increased NBA spacing. He has good weight on his passes and can make every pass from every angle with zip, though his go-to is that lefty whip pass out of nowhere.
There's a difference between passing ability and vision, though. Cunningham's passing ability is elite, but his vision is more good than great. That is, he's typically passing to open teammates, rather than passing his teammates open. Cunningham is such a talented passer that that doesn't matter much of the time, but in the NBA, those extra fractions of a second matter.
Cunningham is already an outstanding passer because of his intelligence and natural ability, but his game will really unlock if the vision and creativity come along as strongly too.
That elite passing combined with elite vision can be Cunningham's calling card. And they might need to be because I'm not sure Cade has the elite athleticism to be a leading NBA scorer.
Athleticism and Burst
Let's be very clear: Cunningham is an elite athlete by any measure. But compared to NBA peers, Cade's athleticism may not stand out as much.
One of the most obvious weak spots in Cunningham's game is his lack of elite burst or dynamism as an athlete. He doesn't have a big leap or a quick twitch and isn't the quickest player, and you see that stand out game after game.
Cunningham doesn't get all the way to the rim often, and it often feels like he probes a little more than he penetrates. Cunningham can't turn the corner on many opponents, so often, that leads to him putting his shoulder down and trying to go physical through the defender. That may not work against bigger, stronger NBA competition, and it often led to charges and turnovers in college.
Even in Cunningham's NCAA Tournament opener against Liberty, it was clear he couldn't turn the corner even on lower-level competition. Instead, he tried to bowl the Flames over and got himself into foul trouble with multiple offensive foul calls. Cunningham has a nice spin move but too often uses it as a crutch since he can't just burst past the opponent.
There's not a ton of advanced craft or skill in Cunningham's handle and driving yet, and it's fair to worry he'll get a bit crowded in the NBA or be unable to turn the corner and get downhill on a pick-and-roll.
Still, burst isn't everything. This was a similar concern for Luka Doncic, one of Cunningham's popular comps, and Doncic turned out OK.
In fact, Luka has quickly become a far more dynamic scorer than most anyone expected, and like Doncic, Cunningham uses his long stride and wile to get to where he wants on the court.
Can Cunningham become a top scorer too? That depends on how much the shot can be trusted.
Shooting Touch and Scoring
Cunningham's shot was supposed to be his big question mark coming into the year, but it looks much more like an exclamation mark after this season.
Cunningham attempted 155 3-pointers as a freshman, and he made an impressive 62 of them, an even 40.0% of his treys. That's pretty good, and it came with some real volume too, at 2.3 makes per game. Cunningham didn't shoot much in high school, but almost 40% of his college field goal attempts were from beyond the arc.
Perhaps even more encouraging, Cunningham's free-throw stroke is terrific, and historically, that is even more telling for a player's future shooting ability than their 3-point percentage. Cunningham took 156 college free throws and made 132 of them, shooting 84.6% from the line. So much for those questionable shooting numbers.
Cunningham already shows the footwork and step-back 3 mechanism of an advanced shooter, though it does feel like most of his 3s come right at the top of the arc and that makes me question his range a bit. His shot also has a lower release point without a ton of lift, almost like a set shot, so that offsets the built-in height advantage a bit.
Still, one of the best indicators of shooting is a player's confidence in their own shot, and it's pretty clear Cunningham will be ready to rise and fire. He really trusts his step-back jumper — perhaps to a fault at times — and he comfortably put games away at the free-throw line and with a few big jumpers late in games.
I'm not sure Cunningham will be an elite shooter, but the shot should at least be useful. I'm less confident in his finishing inside the arc, though.
Considering Cunningham's size and physicality advantages, you'd think he would have excellent finishing numbers. Unfortunately, that's not the case. Cunningham took 9.1 attempts per game inside the arc and made only 4.2 of them, hitting just 46.1% of his 2s. That problem reared its head in the NCAA Tournament when Cunningham shot just 3-of-15 on 2-pointers against Liberty and Oregon State.
The problems again tie back to the lack of elite high-end athleticism. Cunningham is more of a below-the-rim player, and he's less likely to elevate and finish over or through an opponent and more likely to use his size to shield the ball and finish around the defense. Again, that's disappointing since it offsets the built-in size advantage some.
Without that "wow" athleticism, the shot becomes all the more important because a team needs a lead engine like Cunningham to be a scorer.
He dropped 25 points, eight rebounds, and five assists on eventual national champion Baylor in the Big 12 Tournament and had a season-best 40 points at rival Oklahoma as well.
Perhaps the most interesting side of Cunningham's scoring is that it feels like he turns the scoring ability on and off. And I'm not totally sure if that's a great ability or a limiting one.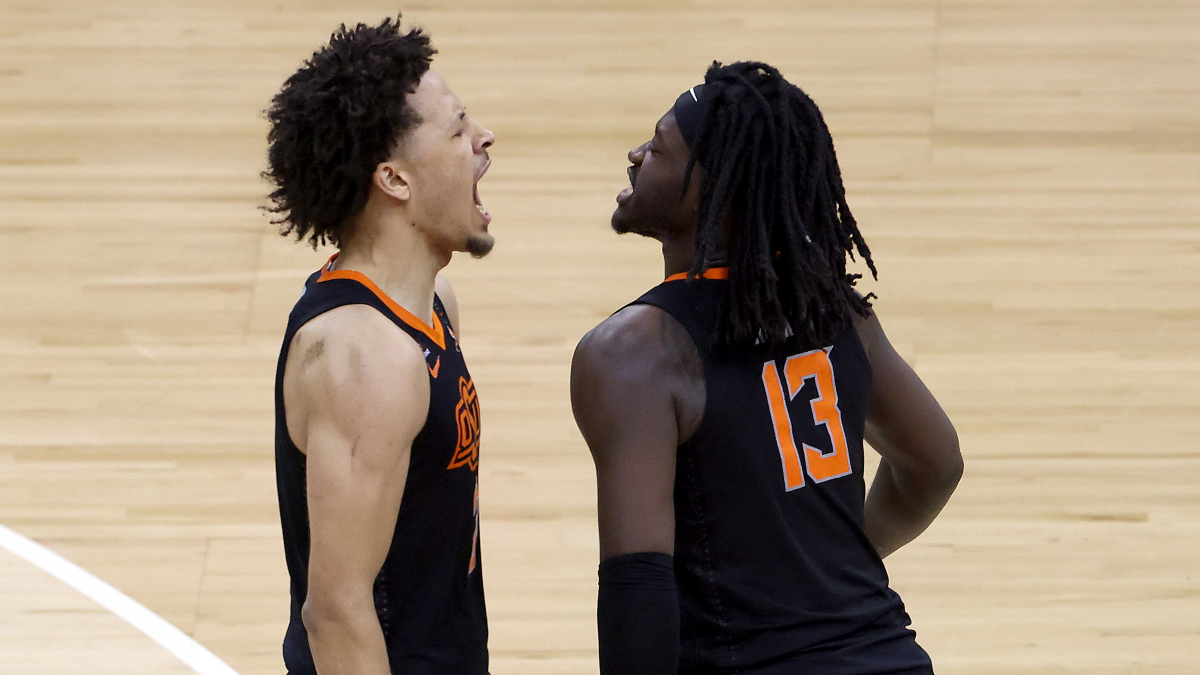 The Mental Side
At times, Cunningham can be absolutely dazzling, a clear No. 1 prospect, but there are other times when he's frustratingly quiet and almost passive.
He can go long stretches without really putting his imprint on the game, and he was annoyingly stationed off the ball far too often in Oklahoma State's offense.
You know how LeBron James does that thing early in a playoff series where he plays a little bit passive, feeling out the opponent and trying to get his teammates going? It felt like Cunningham did that almost every game in college. Time and again, he'd play a quiet first half but really crank up the aggression late, taking over the game in the final minutes. That's an impressive ability and can also be frustrating to wonder why he doesn't do it earlier.
It does seem like this is by design. In a podcast interview with J.J. Redick, Cunningham said his biggest strength is elevating his teammates. He shows a nice recognition of basketball as a team game and knows he will be at his best when his teammates are also at their best. That sounds like a point guard to me, and it's telling how hot Oklahoma State got by the end of its season, pushing all the way to a tournament 4-seed.
Still, Cunningham's game mentality was hard to get a handle on if you watched all season.
Remember that 40-point game against Oklahoma? The teams played again two days later, and Cunningham had just two points on three shots with 10 minutes left in the game. Against Baylor, he was over-aggressive early before going scoreless for over 10 minutes. In the NCAA Tournament opener against Liberty, he didn't make a field goal until well into the second half.
In both tournament games, it didn't feel like there was a ton of fire or competitive burn in there, considering the level of the game. These things are impossible to judge on a TV screen, but they sure were confusing and frustrating.
It's hard to know what to make of Cunningham's passiveness, but the rest of the mental game certainly checks out. He makes quick decisions with the ball and doesn't dally when making the pass. He clearly has a great feel for the game, and he processes the game quickly and with strong instincts.
There's one other area of the game in which Cunningham's instincts stand out, and it's the one area we haven't discussed yet — his defense.
Defense
What you think about Cunningham as a defender probably depends a lot on which game you tuned in for — and how early or late in the season it was.
By late in the season, Cunningham's defense had waned some. Perhaps he was tired after carrying so much of the offensive load all season, or maybe he just lost some focus in a long pandemic season with one eye on the NBA Draft.
Still, it's clear that Cunningham has the tools and abilities to be an excellent defender at the next level.
In my first Cunningham watch against Marquette, it was his defense that stood out the most. He was super engaged and instinctive as a team defender. Oklahoma State typically played zone, and that allowed Cunningham to collapse from the corner as a defensive playmaker, where he's at his best.
Cunningham had a 2.5% steal rate and 2.3% block rate in college, both good numbers for a point guard. He uses his size very well defensively and keeps great verticality with terrific hand placement that helps him block shots and poke the ball out for steals.
Against Kansas, Cunningham had a nasty chase-down block near the end of the game. Against Texas, he flashed impressive closing ability on multiple steals and blocks. He also has good footwork and instincts in transition defense, and he's a good help defender.
Cunningham did fall asleep in the zone at times. Against Arkansas, he kept getting himself into no man's land and guarding no one in particular, and it also caused him to lose his man on back cuts and boxing out on the glass. In addition, he tends to lunge for steals and get out of position, though the zone also allows him to use his great anticipation to jump passing lanes and tip balls.
Cunningham's size, playmaking, and natural defensive instincts make him a very high-floor defender in the NBA. He should be able to switch onto three or four positions defensively, though he's probably not going to defend centers or shut down elite wings.
We're not talking Ben Simmons as a defender, but Cunningham should be a plus defender. We've learned by now from Simmons, Lonzo Ball, and other high-end draft prospects to trust the defensive instincts, size, and ability much more than a perceived lack of effort in college.
NBA Role and Projection
There's a whole lot to like about Cade Cunningham, and it's pretty easy to see why he's the likely No. 1 draft pick.
Start with the size and instincts, add elite passing ability and defensive upside, and now throw in a good-looking shot, and you've got a pretty strong prospect.
When I first watched Cunningham play, I saw a smoother, more rounded Ben Simmons, a Simmons who could shoot but one who has the same frustrating passivity at times. As I watched more, I started to see more of a human version of Luka Doncic, with his ability to shoot that step-back J and pass the ball as a big wing creator.
Any team drafting Cunningham first overall will certainly expect him to be the lead engine of its offense. He'll likely be a heavy favorite to win Rookie of the Year in 2022 because he should get big playing time and rack up points, rebounds, and assists in a high usage role, and we know Rookie of the Year tends to be a stat-counting award.
What happens when the physicality and size advantage aren't quite as distinguishing in the NBA as they were in college?
If Cunningham doesn't end up being much of a lead scorer, that means he probably has the ball less often, and that mutes his terrific passing ability. We just saw that happen with Simmons in his disastrous playoff run, though Cunningham's shooting should give him ability off the ball and stop him from going invisible altogether like Simmons.
Really, that's one of the biggest strengths in Cunningham's overall profile — his lack of any huge weakness. He has an extremely high floor as a prospect because he's already so talented, and the size and shooting on top of the other skills make him useful to just about any team.
Personally, I have some long-term questions about Cunningham's ability as a championship-type ceiling-raiser versus an 82-game floor-raiser, but those are questions for another day, and those questions often have less to do with the player and more about the team constructed around him.
For now, the most important thing is also the most obvious.
Cade Cunningham is the surefire No. 1 pick in the 2021 NBA Draft, and some lucky team that wins tonight's NBA Draft Lottery is about to add a franchise cornerstone who should anchor the team for years to come.
_BookPromo=821
Are you looking for a safe, reliable, trustworthy sportsbook? Check out our ratings of the best sportsbooks and their current sign-up offers for new customers.