NBA Finals Odds, Picks & Predictions: Our Best Bets for Suns vs. Bucks Game 6 (July 20)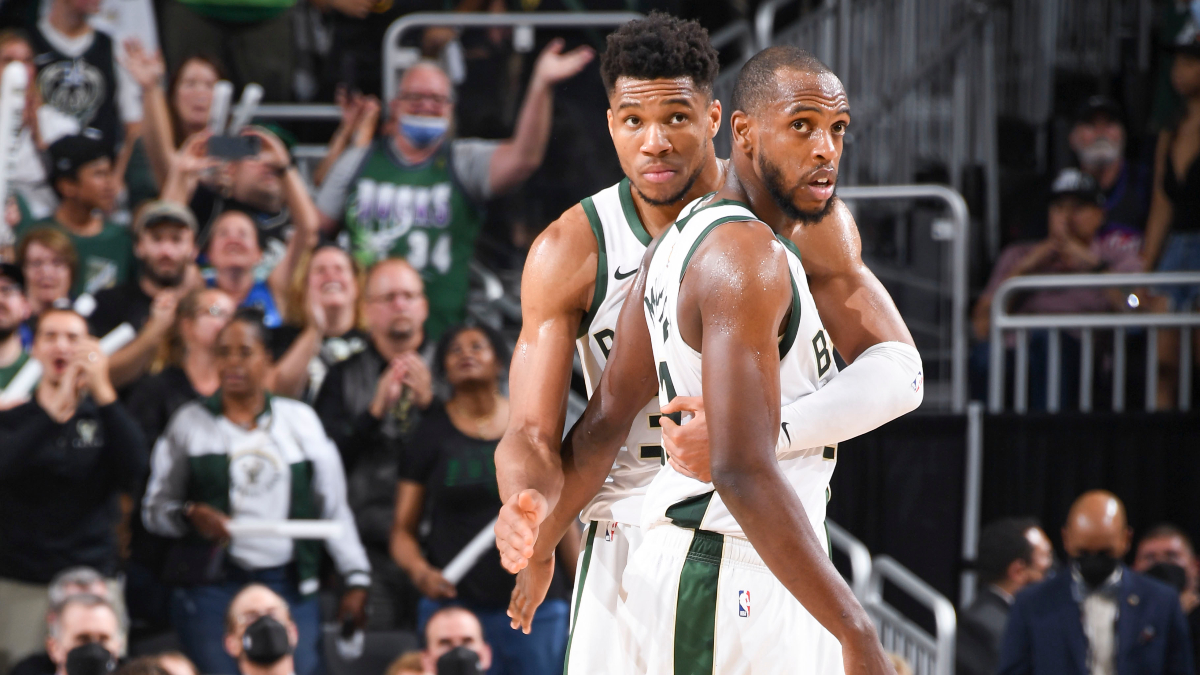 The Milwaukee Bucks enter Game 6 of the NBA Finals on the precipice of a championship. The Phoenix Suns, on the other hand, are in must-win mode with the season on the line.
Which team will win out on Tuesday night?
Our NBA analysts took a look at three bets entering tonight's closeout game a give their in-depth breakdowns below.
NBA Finals Game 6 Odds & Picks
---
Joe Crowder Over 1.5 Assists (-128)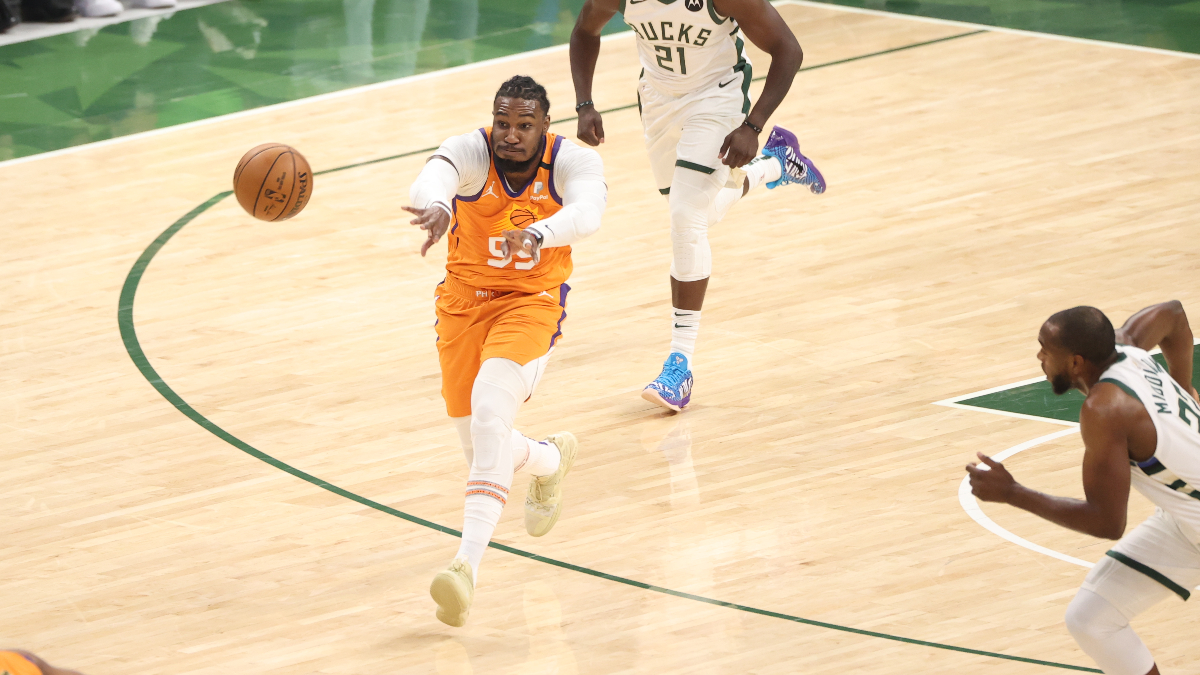 ---
Joe Dellera: With the injury to Dario Saric, the Suns' rotations thinned for the Finals.
This lead to an uptick in minutes and slight change of role for Jae Crowder. He's been tasked with more minutes, and more passes per game. Prior to the Saric injury, Crowder averaged 1.8 assists, 3.3 potential assists, and 39.2 passes made in 31.7 minutes per game.
After Game 1, Crowder is averaging 2.5 assists, 3.8 potential assists on 55.8 passes in 37.4 minutes per game. This is a significant change from the before the Saric injury. Crowder's role has dramatically changed and he's needed as a swing man rather than just a jump shooter.
_BookPromo=319
Since Game 1, Crowder has recorded assist totals of 3, 1, 3, and 3. In other words, he'd have gone over this prop in three of his past four games. This correlates with our Action Labs projection, which expects 2.8 assists from Crowder in Game 6. I think this line is a full assist short and would bet it to -175.
---
» Return to the table of contents «
---
Chris Paul NBA Finals MVP (+800)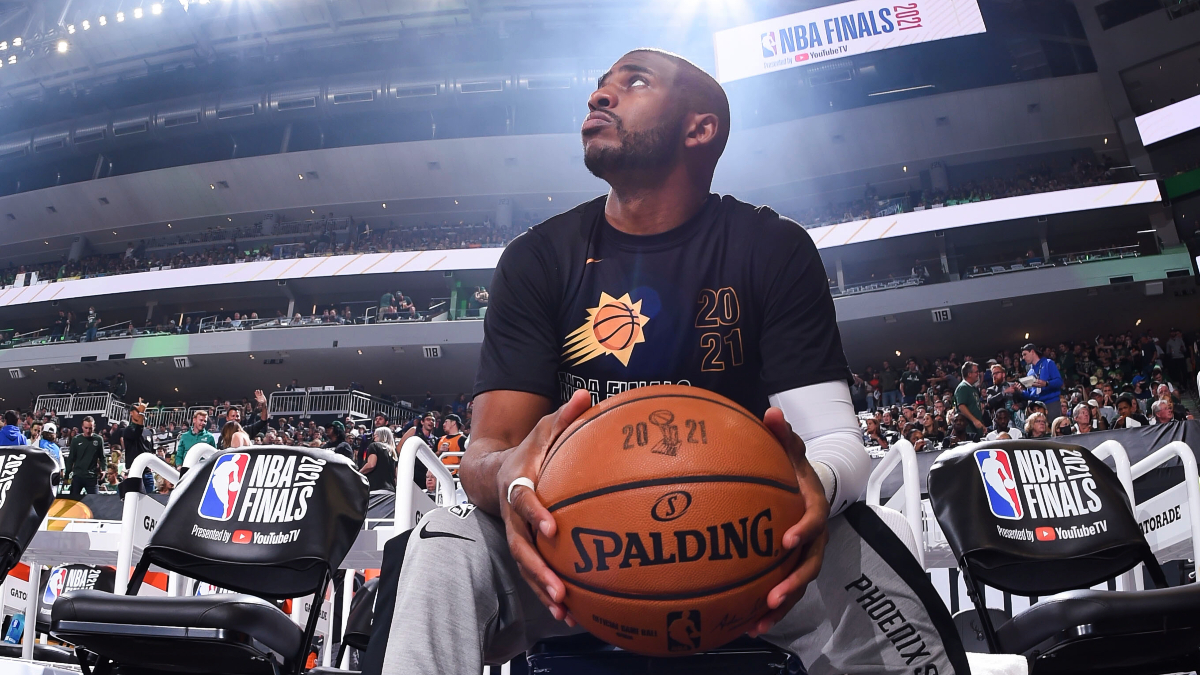 ---
Brandon Anderson: Everyone is counting out the Suns a little too quickly.
Too often, we think too binary in sports. The Bucks won, Giannis Antetokounmpo is dominating, Milwaukee feels inevitable, and with the Bucks home for Game 6, it feels like it's over. But feelings lie.
The same Bucks team that feels inevitable right now just got blown out in the first quarter of that same game and looked dead in the water. The Bucks needed 50% on 3s, another flurry of offensive rebounds, and an all-time great steal and alley-oop late to hang on to win after a big lead.
Game 5 didn't teach us that the Bucks are inevitable. It taught us that these teams are incredibly evenly matched. We've played five games now. Each side has one comfortable win, and the other three games could've easily gone either way. It's entirely conceivable Phoenix could be up 3-2 right now. Heck, a little more variance and this series could already be over in five — with either team a deserving champion.
That means the Suns are undervalued right now. It won't be easy. Milwaukee has been a little better, and Phoenix doesn't have much of an answer for Antetokounmpo or all that size on the glass.
_BookPromo=309
Even still, the Suns are shooting 50/41/86 for the series, and the Bucks just played an A+ three quarters and we know their offense is high variance and can go cold, especially if Phoenix doesn't turn it over and give away easy points.
The Suns can still win Game 6. They can win if the Bucks shot variance goes awry again. They can win if Phoenix hits big shots. They could win a rock fight against a tight young team playing for the title.
And if Phoenix does win, the Suns immediately become the favorite again. Historically, the home team wins Game 7 a full 79% of the time, both playoff-wide and in the Finals. It's a massive advantage to get Game 7 at home.
Devin Booker has been an elite scorer the last two games and pulled even with Chris Paul as a Finals MVP candidate at most books, but I don't buy it. The Suns have lost both huge Booker games, because they're not moving the ball or creating team offense as well. For Phoenix to win two more, the Suns will need two good games from Chris Paul — games worthy enough of him winning Finals MVP.
I still give the Suns at least a 25% chance of winning the Finals. Phoenix is one win away from being a favorite again, and that means we may be one good CP3 game away from him being Finals MVP favorite.
At +800, that implies an 11% chance, and I'd give Paul double those chances. The math says I have to play it and give the Point God one more chance.
---
» Return to the table of contents «
---
Over 221.5 (-110)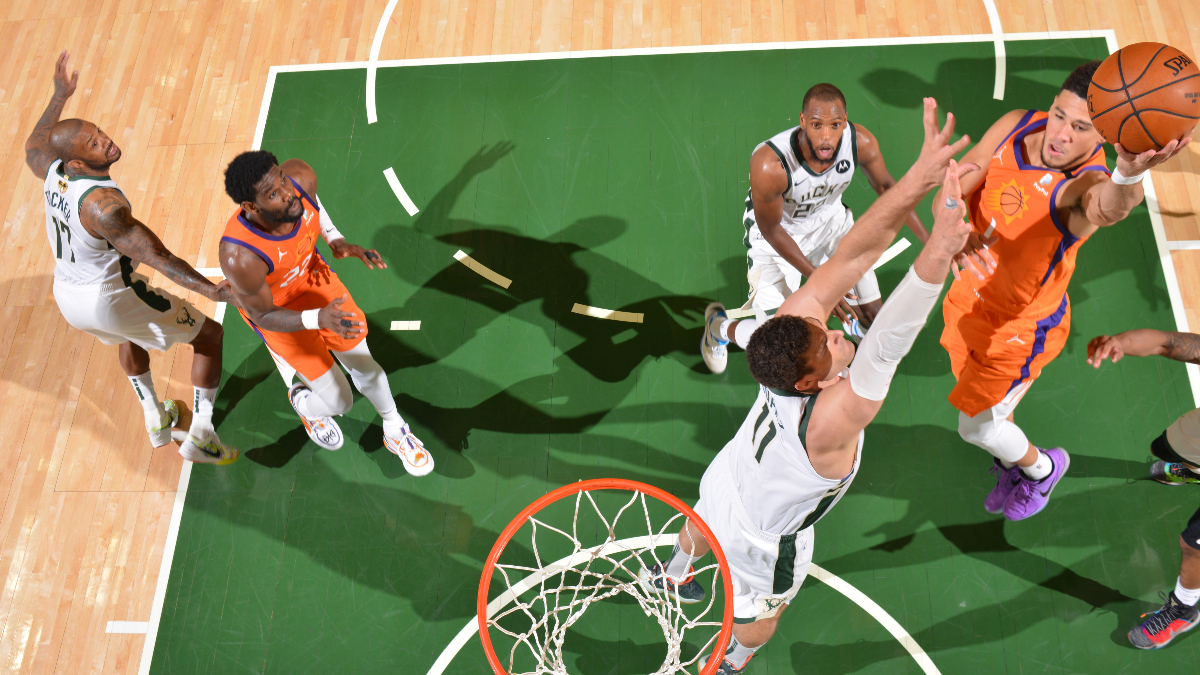 ---
Austin Wang: Game 6 is a potential elimination game for the Phoenix Suns as they fight to keep their season alive. They've lost three straight to fall behind 3-2 in the NBA Finals.
I think many will see this situation and lean towards an under.
There is a widely-believed assumption that since it is an elimination game, more defense will be played and the game will be low-scoring. However, in elimination games when the total is greater than the previous game's total, the total has gone 22-7-1 the over since the 2015-2016 season, per the Sports Data Query Language database.
Many expect some regression from the previous game's torrid shooting performances, which could lead to an under. However, when both teams shot 50% or more from the field in the previous playoff series game, the following game has gone 18-8-1 (69.2%) to the over since the 2009-2010 season, per the SDQL.
_BookPromo=317
Jrue Holiday and Khris Middleton both delivered on the road in Game 5 and have finally found a rhythm. I see their strong performances in Game 5 give them confidence to keep their scoring up. The Bucks have been moving the ball well and keeping the turnovers low. This had led to a string of consecutive games with a high Assist-to-Turnover ratio (Game 3: 3.1, Game 4: 4.4, Game 5: 2.4).
Since 2018, teams off three consecutive games with an assist-to-turnover ratio of 2.25 or greater are 146-92-6 (61.3%) to the over, per SDQL. I expect the Bucks' offense to stay hot and put a pressure on the Suns defense, who have struggled to stop the Bucks in the paint.
On the other hand, the Suns offense looked sharper and they committed much less turnovers in Game 5. Chris Paul and Devin Booker will need to continue their offensive output to offset their defensive struggles if they want to force a Game 7.
This season, five out of the seven matchups between these two teams have gone over the total. The Bucks have gone over in all three elimination games this postseason. I am recommending a play on the over at 221.5 (no greater than 222).
---
» Return to the table of contents «
---
Are you looking for a safe, reliable, trustworthy sportsbook? Check out our ratings of the best sportsbooks and their current sign-up offers for new customers.