2021 Big 12 Conference Odds, Preview, Predictions: Futures & In-Season Bets to Make for Oklahoma, Texas, More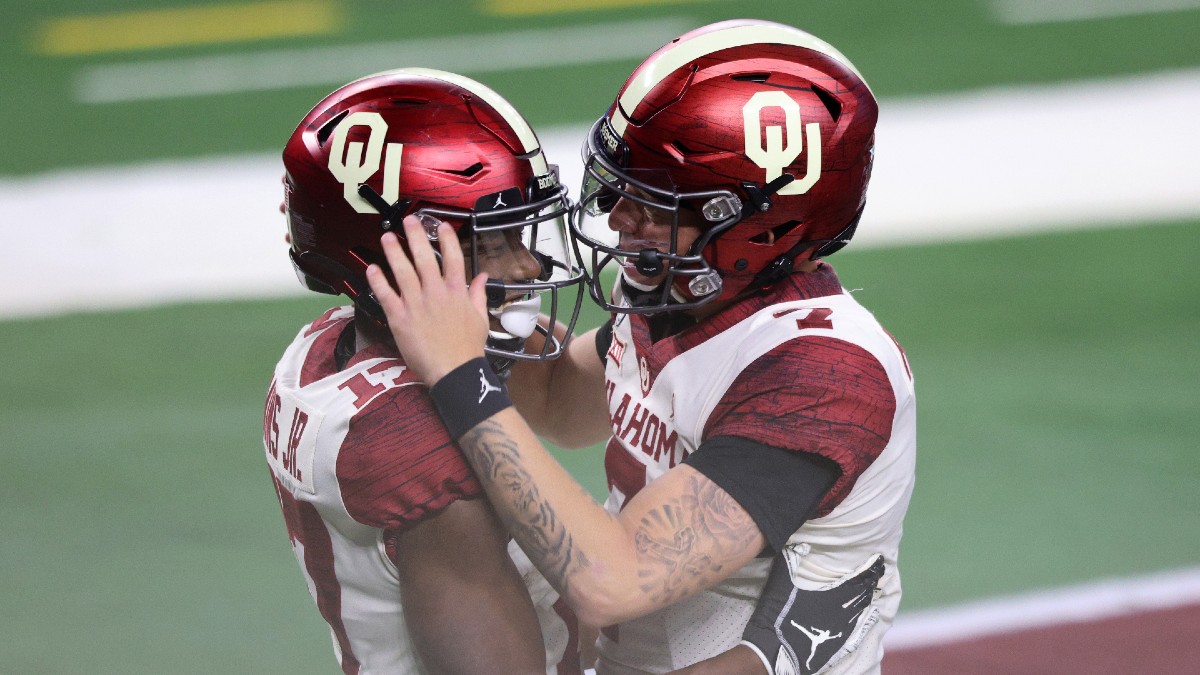 Welcome to possibly the last Big 12 college football preview ever.
The Big Eight Conference was created in 1907 and lasted until 1996 when conference realignment saw Oklahoma swap Nebraska for Texas as a peer. Although teams like Drake and Iowa passed through the Big Eight, the conference was considered a powerhouse thanks to national championships from Oklahoma, Nebraska and Colorado.
Following Texas and Oklahoma's expected move to the SEC, Big Eight originals Iowa State, Kansas State and Oklahoma State may not have a home after 2021.
Iowa State returns more than 82% of players on both sides of the ball after a trip to the conference title game. Generally, teams returning a heavy amount of players from a successful team are marked on opponents' calendars, but the potential departure of Texas and Oklahoma has taken the spotlight ahead of the 2021 season.
Every consumer of college football should enjoy one last round of Air Raids being countered with the 3-3-5 in the Big 12 as the Sooners, Longhorns and Beef Ref are all set to leave the conference.
---
Click any logo below to navigate to that specific team's breakdown, and click the Big 12 logo to return to the top.
Note: All photos are via Getty Images.
---
---
Big 12 Conference
Oklahoma Sooners
Team Rankings

Key Players

Total Off.

494.7 (1)

QB Spencer Rattler

Total Def.

350.6 (3)

WR Marvin Mims

Off. TARP

77%

LB Nik Bonitto

Def. TARP

69%

DE Isaiah Thomas
In a betting world saturated with content, it's easy to find positive narratives in the offseason. Those narratives lead to lazy assumptions and subsequent wagers that do not have the proper analytics to back up the bet.
A rule of thumb with betting futures: Try to poke as many holes into the scenario as possible.
With the 2021 Oklahoma Sooners, it's problematic to find holes in the coaching staff or roster. No team returns a better squad from an offensive Success Rate standpoint.
Heisman favorite Spencer Rattler has loaded weapons at the skill position from wide receiver Marvin Mims to tight end Austin Stogner.
Despite having the ability to pass in all quadrants downfield, Oklahoma has the most balanced attack from a rush versus pass perspective.
Running back Kennedy Brooks returns after sitting out 2020, while Tennessee transfer Eric Gray anchors an explosive attack. As a refresher, Brooks forced 51 missed tackles on 155 rushing attempts during the 2019 season.
Oklahoma freshman Kennedy Brooks embarrasses Kansas State's defense with 86-yard TD😲 https://t.co/ReriIMv15Jpic.twitter.com/7V1ejcRM4u

— For The Win (@ForTheWin) October 27, 2018
Head coach Lincoln Riley has an offense that ranked eighth in standard downs Success Rate. In the rare event the Sooners found a passing down, the offense produced a Success Rate rank of 25th while owning a rank of 14th in Expected Points.
The disguise of the play-action pass will continue to play a role of major importance. Rattler produced 17 big-time throws in play-action situations against 15 in non-play action pass attempts. Teams without skill at the safety positions are in jeopardy, as Rattler threw between the hashes for 10 or more yards on 24% of attempts with an adjusted completion percentage of 74%.
The handicap on the Sooners comes down to a defense led by coordinator Alex Grinch. Washington State produced a Havoc ranking of 34th in 2015, signifying the start of the Grinch's defensive footprint. Oklahoma ended 2021 on a long win streak as the defense finished seventh in Havoc and 16th in Success Rate.
There's a strong correlation between defensive Success Rate and covering the spread, and there's no reason to think the Sooners defense will not be one of the best in the nation.
With all the positive information surrounding the Sooners, is there a potential area of concern? The secondary loses both corners, but redshirt freshman Woodi Washington is already being touted as a shutdown corner.
While his coverage rating lacked in giving up a couple of explosive plays, Washington recorded just two missed tackles with 35 tackles and four pass breakups.
For Oklahoma to win the Big 12 and National Championship, the secondary must remain healthy.
What is the correct number to bet futures on the Sooners? Our Poisson distribution gives Oklahoma a 60% chance to go 9-0 during conference play. Considering the projected point spread against Iowa State, the true odds are more around +120 rather than the current market number. Its win total projection sits just above 10, with favored single-digit spreads projected against Texas, Iowa State and Oklahoma State.
A betting recommendation would be on the Sooners' win total under 11 at any plus juice with probabilities favoring a 10-win season versus a schedule sweep.
The real value lies in the National Championship number at +800 or better. This was the first bet I made in the Action App to kick off the 2021 season, as the Grinch defense is talented enough to handle Clemson, Ohio State and Alabama in new quarterback territory.
---
---
Iowa State Cyclones
Team Rankings

Key Players

Total Off.

436.3 (3)

RB Breece Hall

Total Def.

340.4 (2)

TE Charlie Kolar

Off. TARP

90%

DE Will McDonald

Def. TARP

82%

WR Xavier Hutchison
Despite racking up more total yards and holding Oklahoma to 1-of-11 on third-down attempts, Iowa State could not cash in during the Big 12 Championship game.
In three drives past the Sooners' 40-yard line, the Cyclones managed just one score with an interception and missed field goal ending the other two drives.
After a halftime score of 24-7, things got interesting in the fourth quarter, but Iowa State played itself out of a conference championship after finishing 15th in offensive Success Rate and 10th in Finishing Drives.
All the stars return for the Cyclones on both sides of the ball.
Wide receiver Xavier Hutchison has the most returning receptions from 2020. Running back Breece Hall had 25 runs of 15-plus yards while racking up 63 missed tackles in 280 rushing attempts. Then, there's quarterback Brock Purdy, who is famously known for "Brocktober" to winning sports investors everywhere.

The 3-3-5 defense is anchored by defensive end Will McDonald, who is a one-man havoc train. McDonald returns the third-most tackles for loss and most sacks from the 2020 season.
Opposing quarterbacks have issues against a loaded Iowa State secondary, but McDonald off the edge has the ability to disrupt any offensive tackle in the nation.
The pandemic-shortened 2020 season may have shown Iowa State's ceiling, as the program has achieved nine wins just three times in school history.
There's a tremendous gap in recruiting between Iowa State and its Big 12 peers. The Cyclones have recruited just three 4- or 5-stars since 2016, per 247Sports. In comparison, Oklahoma has recruited 84 players of that caliber in the same time period. The question is whether or not their market has fair value.
Iowa State will be favored by six points or more in every game outside of Oklahoma. Its projected win total sits at 9.6 with Texas, Iowa and TCU serving as the underdogs with spreads in the single digits.
Purdy has a chance to shine once again in October with a schedule that consists of Kansas, Kansas State, Oklahoma State and West Virginia. The November schedule is problematic, as the four most explosive offenses in the conference await.
While there's no play on the win total or conference odds, a national title ticket must be 40-1 or better to hold value.
Matt Campbell has yet to beat Iowa, and if that trend continues, the best time to buy a futures ticket may come after Week 2.
---
---
Texas Longhorns
Team Rankings

Key Players

Total Off.

475.4 (2)

RB Bijan Robinson

Total Def.

406.6 (7)

LB DeMarvion Overshown

Off. TARP

53%

QB Casey Thompson

Def. TARP

68%

TE Cade Brewer
Which part of past Texas football is an actionable item in 2021? That's the great mystery of the offseason as Steve Sarkisian takes over as head coach with an excellent hire of Pete Kwiatkowski as defensive coordinator.
The latest Alamo Bowl showed the type of talent the Longhorns have on the roster. Casey Thompson was electric at quarterback with four touchdowns, as Bijan Robinson emulated a Tecmo Super Bowl game with 183 yards on just 10 carries.
Two plays for Texas' Bijan Robinson's second TD 🔥 pic.twitter.com/wwnRePHkWL

— ESPN (@espn) December 30, 2020
Talent has never been the question at Texas, but plenty of other factors played a part at the end of the Tom Herman era. Player development was called out by recruits, boosters wanted Urban Meyer, and Herman's coaching style was high on emotions.
Herman, now an analyst with the Chicago Bears, was known for straight-up wins as an underdog and straight-up losses as a favorite.
The Longhorns consistently started each season with numerous injuries, a result of over-demanding physical practices. There's no question that establishing a new culture is the mission objective for Sarkisian, who has been kind to the bankroll of investors.
The Longhorns will look to replicate the 2020 offensive success of Alabama whether Thompson or Hudson Card is under center.
Defensively, the hiring of Kwiatkowski is similar to that of Grinch at Oklahoma from three years prior. Texas will throw multiple looks from three- and four-down defenses, as Kwiatkowski is known for having two nose tackles on the line during the same play.
One silent hire by Sarkisian is that of Terry Joseph as the defensive passing game coordinator, who will dictate coverage. Formerly of Notre Dame, Joseph's pass defense was on full display in a cover against Sark's Crimson Tide offense in the College Football Playoff semifinal. Those concepts that kept Alabama within the spread and led the Irish to a complete shutdown of North Carolina now reside in Austin.
Texas returns just 53% per transfer portal and returning players, but the key metric is Finishing Drives. The Longhorns were 13th in Points Per Opportunity and 22nd in Havoc allowed on offense. Sark will look to retain those numbers while amping up the Success Rate.
The defense finished top-25 in Havoc, but a Success Rate of 71st is the first order of business against a pass-happy Big 12.
There's plenty of room for optimism in Austin, as a case could be made that the floor is six wins and a bowl versus a ceiling of College Football Playoff and a dark horse Heisman contender in Thompson.
A win total set at 7.7 is just short of the market at 8. The true odds on a conference title are 9-1, where most of the market resides. While a Thompson 100-1 would be needed to get my Heisman attention, the real value may lie in a season opener against Louisiana.
Our Action Network power ratings project the Longhorns at -10 with a current number at -9.5. This number opened widely at -16.5 and has taken nothing but Ragin' Cajuns money.
With the highest number of returning experience coming back to Lafayette, Billy Napier's squad is sure to be the underdog on everyone's betting ticket.
Personally, this may be the last time to get Texas at value before we see the Sark and Kwiatkowski plan. I'll be monitoring the Week 1 line for a further drop to buy into the Longhorns program.
---
---
TCU Horned Frogs
Team Rankings

Key Players

Total Off.

411.0 (7)

CB Tre'Vius Hodges-Tomlinson

Total Def.

350.9 (4)

WR Quentin Johnson

Off. TARP

86%

QB Max Duggan

Def. TARP

89%

DE Khari Coleman
There were plenty of hurdles for TCU in 2020 from Max Duggan's heart condition to the Texas Bowl cancellation due to COVID-19.
Despite the challenges, this was a 6-4 team that lost two games by one score while putting up the most impressive defensive splits in the conference.
TCU returns over 86% to both sides of the football, but the defense ranked third in Success Rate and fifth in Havoc.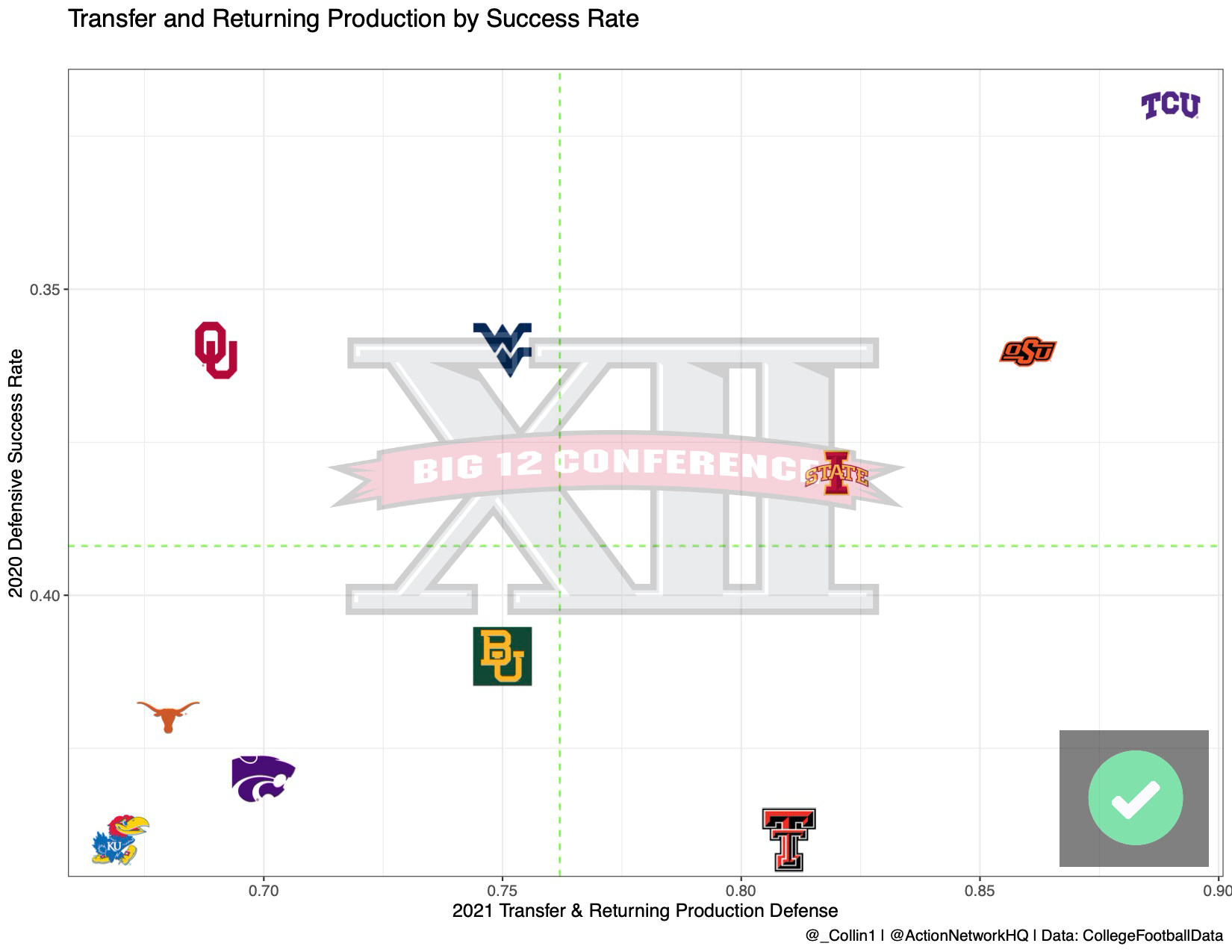 Defensive ends Khari Coleman and Ochaun Mathis are the best edge-rushing duo in the Big 12. The combo paired for 17 tackles for loss and 12 sacks and return to a defense that will be one of the best in head coach Gary Patterson's tenure running the 4-2-5.
The question for the Horned Frogs is not what can be done on the defensive side of the ball, but how it can find complementary weapons for Duggan on offense.
Whether it's play-action or RPO, Duggan is a force in space. The quarterback logged 22 scrambles for 167 yards to go along with 482 yards on designed runs in 2020.
Max Duggan oh my goodness🤯

— PFF College (@PFF_College) November 7, 2020
Wide receivers Taye Barber and Quentin Johnson will benefit from what Duggan is capable of doing, but it might be the departure of offensive coordinator Sonny Cumbie that accelerates the offense.
Doug Meacham moves from position coach to offensive coordinator and is not expected to change the offense. Meacham was quick to move former TCU quarterback Kenny Hill from analyst to quarterbacks' coach. Patterson has been quoted saying that the move from Cumbie to Hill focusing on Duggan has been seamless.
The win total projection for TCU is 8.1, higher than the market of 7.5, indicating that the over is the play.
The Iowa State game at the end of the season should represent a conference championship play-in game, as the Cyclones come off Oklahoma the week prior.
Although taking the win total over is the preferred bet, finding TCU to make the Big 12 Championship game at any number over +450 is where the best value can be found.
---
---
Oklahoma State Cowboys
Team Rankings

Key Players

Total Off.

426.8 (5)

QB Spencer Sanders

Total Def.

379.0 (5)

LB Malcolm Rodriguez

Off. TARP

66%

S Tre Sterling

Def. TARP

86%

OL Josh Sills
The offseason conversation has quickly moved to the future of the Pokes if the Sooners indeed leave the conference.
Will Oklahoma State continue in a modified version of the Big 12 or seek to join the AAC if another Power Five conference doesn't call? Plenty of questions remain outside of Stillwater, but the questions inside are all about two units heading in opposite directions.
Oklahoma State returns 86% to a defense led by coordinator Jim Knowles. That group finished 11th in Success Rate and 10th in Havoc and has Malcolm Rodriguez and Tre Sterling set to return.
This unit proved to be the best third-down defense in the nation in 2020 and should not have a severe drop-off with the loss of Amen Ogbongbemiga.
Watching OK State corner Rodarius Williams (Bottom of screen) but OH MY GOD LOOK AT TRE STERLING ALMOST BEHEADING THIS RUNNING BACK pic.twitter.com/zfbnQbnpVo

— Mike Spencer Hrynyshyn (@MikeH_Draft) July 24, 2020
The Pokes offense is heading in the opposite direction, and the losses continue to pile up.
Both running back Chuba Hubbard and wide receiver Tylan Wallace have moved on, leaving quarterback Spencer Sanders looking for new contributors.
Oklahoma State finished 2020 outside the top 100 in Success Rate on offense, along with a Havoc allowed rank of 81st. This has been a downward decline since the departure of Mike Yurcich as coordinator.
Sean Gleeson took over the coordinator role for a year before heading to Rutgers, leaving the position to be filled by long-time Cowboys assistant Kasey Dunn.
From the offensive line to the progression of Sanders in a crowded pocket, the offense is sputtering.
Oh le fumble de Spencer Sanders le QB d'Oklahoma State! Texas récupèrent et emmènent ce ballon dans la RedZone! pic.twitter.com/8kc5mhEibE

— The Trick Play Podcast 🎓🇫🇷 (@TheTrickPlayFR) October 31, 2020
The schedule dictates the season could go sideways early.
After an opener with Missouri State, the Cowboys will take on two of the better defenses from a Group of Five perspective in Tulsa and Boise State.
The Golden Hurricanes lose all-everything Zaven Collins but still have 87% of a defense that ranked sixth in Success Rate and 14th Finishing Drives. Boise State will host Oklahoma State, as the Broncos should be stout with the return of Andy Avalos at head coach. Boise State finished 2020 with a Success Rate of eighth on defense and returns 80% of that unit this season.
The win total projection places head coach Mike Gundy at eight wins, but a downward projection cannot be ignored.
The offensive line returns plenty of pieces to the two-deep but ended 2020 with a rank of 116th in Line Yards. A clean pocket has always been needed for Sanders, who finished with a 66% completion rate with no pressure and 39% when pressured.
Until the Cowboys resolve the offensive trench and identify explosive skill positions, this is a win total under to bet.
---
---
West Virginia Mountaineers
Team Rankings

Key Players

Total Off.

412.6 (6)

RB Leddie Brown

Total Def.

291.4 (1)

WR Winston Wright

Off. TARP

77%

DT Dante Stills

Def. TARP

75%

S Alonzo Addae
After two seasons of Neal Brown as head coach, the building continues in the quest to be conference contenders.
The West Virginia defense carried the water in the 2020 season, ranking top-20 in Success Rate, Finishing Drives and Havoc.
Defensive tackle Dante Stills returns after posting 8.5 tackles for loss and two sacks. Just 75% of production returns on the defensive side, but Akheem Mesidor returns after leading the team in sacks.
Back-to-back sacks by West Virginia True Freshman DT Akheem Mesidor @Akheem_Mes They don't know. The kid is a problem..4 sacks in 4 games. #TrustTheClimb #WVU #GSQUAD #TheProcess #TheCulture🇨🇦 pic.twitter.com/Rpm2FiSx4A

— Victor Tedondo – Gridiron Academy (@GridironCamp) October 17, 2020
The vulnerable area on the Mountaineers defense is the loss of Tykee Smith, a leader in the secondary who transferred to Georgia.
Brown has troops in the pipeline, finishing fourth in Big 12 recruiting over the past two signing periods. The results have been a pleasant surprise despite the firing of coordinator Vic Koenning before the 2020 season. Jordan Lesley will continue his key role in the Mountaineers defense as coordinator.
If West Virginia is going to make noise, it's the offense that needs to improve.
Quarterback Jarret Doege — who played his first season at Bowling Green in 2017 — returns as one of the most experienced quarterbacks in the nation.
Doege has the luxury of 1,000-yard running back Leddie Brown returning to lead the ground game. The offensive line must improve after a disastrous 2020 season that saw the unit allow 76 tackles for loss.
West Virginia ranked 113th in tackles for loss per game. Brown averaged 2.9 yards after contact and may be asked to create highlight yards as a result of an offensive line that is starting multiple freshmen.
The win total for the Mountaineers is set for 6.6 with a market number at 6.5.
The futures are a pass from an investment perspective, but all eyes will be on the opener against Maryland. The Terrapins finished 103rd defensively in Line Yards. If the West Virginia offensive line is unable to get a push against Maryland, it will be another season of the defense leading the charge.
---
---
Texas Tech Red Raiders
Team Rankings

Key Players

Total Off.

429.5 (4)

QB Tyler Shough

Total Def.

444.9 (9)

WR Erik Ezukanma

Off. TARP

74%

CB DaMarcus Fields

Def. TARP

81%

P Austin McNamara
The transfer portal delivered for Texas Tech, bringing former Oregon quarterback Tyler Shough to Lubbock. The sophomore played under offensive coordinator Joe Moorhead during the 2020 season, as the first three games showed an explosive weapon on the ground and through the air.
Shough finished with an 8:2 touchdown-to-interception ratio through games against Stanford, Washington State and UCLA. A handful of explosive gains through the running game complemented the Ducks quarterback.
Tyler Shough just juked a Stanford defender out of his shoes. pic.twitter.com/QtIHiTCzMl

— Chris Hummer (@chris_hummer) November 8, 2020
The production tailed off in the remaining schedule, as Oregon opted to give Anthony Brown more looks at quarterback.
With highly-touted freshmen expected to get playing time this season, the writing was on the wall for Shough and his near 2,000 all-purpose yards to find a new home.
New offensive coordinator Sonny Cumbie moves over from TCU and should have plenty of success managing a player of Shough's ability. Cumbie will have the Texas Tech offense throwing often, as TCU had one of the lowest offensive rush rates during his tenure.
Keith Patterson continues to act as the defensive coordinator after joining head coach Matt Wells from Utah State. The unit's Success Rate improved from outside the top 100 in 2019 to 83rd last season. More than 80% of production returns to the defense that struggled in Points Per Opportunity. The Red Raiders finished 2020 ranked 105th in defensive Finishing Drives.
The schedule sets up for success on the defensive side of the ball, as Houston, Stephen F. Austin and Florida International present offenses that struggle in Success Rate. Cornerback DaMarcus Fields was also fifth in the nation last season in pass breakups
The Action Network win total projection comes in at 5.6 versus a market that sits at 5, leaving room for an over on the win total.
The key stat comes with the defensive performance against the rush. When Texas Tech has held opponents to 130 yards rushing or less, the Red Raiders have gone 23-3 straight up since 2013.
Texas Tech should have a nice warmup in non-conference before conference play, but rankings outside the top 100 in Finishing Drives on both sides of the ball must improve for Wells and the Raiders to get to the postseason.
---
---
Kansas State Wildcats
Team Rankings

Key Players

Total Off.

337.4 (8)

QB Skylar Thompson

Total Def.

444.7 (8)

RB Deuce Vaughn

Off. TARP

76%

PR Philip Brooks

Def. TARP

70%

OT Cooper Beebe
Kansas State enters year three of the Chris Klieman era post-Bill Snyder. The results have been mixed with a Liberty Bowl loss in 2019 and a 4-6 record last season.
The issue remains the same on both sides of the ball: The Wildcats live and die on explosiveness numbers.
Super senior Skylar Thompson returns at quarterback with experience in backup Will Howard. The offensive line is deep in experience but must improve ranks of 101st in Line Yards and 90th in Havoc allowed.
Those numbers may result in persistent issues with Success Rate, as the Wildcats finished 112th in keeping the ball on schedule.
However, Thompson is rejoined by all-purpose back Deuce Vaughn, which should give the Wildcats a boost on the ground and through the air.
Deuce Vaughn: Only returning RB with an 85+ run grade and receiving grade last season 🔥
pic.twitter.com/uZ1YLvJgDm

— PFF College (@PFF_College) June 3, 2021
Vaughn added 434 receiving yards on top of 642 rushing yards to make him one of the most dangerous players in the conference. The issue is that Vaughn cannot take every snap and Thompson's health is dependent on his protection.
The defense had similar issues with Success Rate and explosiveness. A rank of 74th in both categories on defense played a key part in five straight losses to end the season.
The projected win total of 5.1 is short of the market at 5.5. There are two clear victories on the schedule in the form of Southern Illinois and Kansas, but then a half-dozen coin flips hit the schedule.
If this is a team that can overachieve on the win total side, then the opener against Stanford is a must-win. The Trees ranked outside the top 100 in defensive Line Yards, Havoc and pass explosiveness.
The best bet is to take Kansas State in Week 1 with the points in lieu of a team total future.
---
---
Baylor Bears
Team Rankings

Key Players

Total Off.

310.2 (9)

LB Terrell Bernard

Total Def.

383.4 (6)

KR Trestan Ebner

Off. TARP

59%

DB Jalen Pitre

Def. TARP

75%

WR RJ Sneed
Baylor's defense overachieved in the wake of Year 0 for new head coach Dave Aranda, finishing 54th in Success Rate but 101st in Finishing Drives. The concepts Aranda can bring to a program can be tough for defensive personnel, as players are asked to maneuver through a 3-2-6 scheme with plenty of blitz calls.
There are a few defenders that excelled in the new scheme. Jalen Pitre recorded 10.5 tackles for loss, while Terrell Bernard had 3.5 sacks on the season. The defensive Havoc rank of 66th is expected to improve with both players returning to Year 2 of the Aranda scheme.
The offensive roster isn't loaded with highly-recruited talent.
Gerry Bohanon and Jacob Zeno are expected to compete with a handful of underclassmen for the starting quarterback position. Running back Trestan Ebner returns after creating 14 missed tackles in just 51 rushing attempts in 2020.
📽️ Gerry Bohanon ran for 94 yards and his first career TD in the third quarter alone, including this highlight reel 38-yard scamper. #SicEm pic.twitter.com/gy03ItDxRE

— Baylor Football (@BUFootball) September 7, 2019
Outside of those players, Baylor returns just 59% of an offense that was 119th in Success Rate and 113th in Havoc allowed.
The biggest acquisition of the offseason is new offensive coordinator Jeff Grimes from BYU. The Cougars posted one of the biggest offensive seasons of all teams in 2020, with much of it coming from Grimes' game plan. Although BYU had one of the more explosive passing attacks behind quarterback Zach Wilson, Grimes had an even distribution of run versus pass.
Grimes got to work in getting help from the transfer portal on an offensive line that is a complete teardown.
Our Action Network win total projects 5.6, and the market sits on 5.5. The non-conference schedule is conducive to Grimes getting game experience for the offensive line against Texas State and Texas Southern.
A date with BYU could be considered an auto-Baylor bet with Grimes fresh out of the Cougars program.
The question remains whether or not the Bears can rack up three wins out of conference. Kansas projects as a double-digit underdog, but West Virginia and Kansas State are coinflips.
With so many questions in the trench for Baylor, the formula is simple. We will pass on team futures but consider game total unders with the defense continuing its ascent.
---
---
Kansas Jayhawks
Team Rankings

Key Players

Total Off.

259.2 (10)

DE Kyron Johnson

Total Def.

459.2 (10)

KR Kenny Logan

Off. TARP

77%

WR Kwamie Lassiter

Def. TARP

67%

OT Earl Bostick
Rock Chalk has shaken up the system with athletic director John White and head coach Les Miles getting a pink slip. Kansas then made the best move available by pulling Lance Leipold out of Buffalo.
Instead of previewing the dreadful advanced statistics this squad put up in 2020, it may be more use of seeing how Leipold may try to rebuild the Kansas program.
Consistency is 🔑 #RockChalk@CoachLeipold x #Big12MediaDays pic.twitter.com/WHklkVJc97

— Kansas Football (@KU_Football) July 15, 2021
When Leipold arrived in Buffalo during the 2015 season, he was able to maintain the five wins achieved by the program the year before. In 2016, the Bulls dipped to 2-10, which can be attributed to Leipold just beginning to implement his schemes. One thing Leipold is known for is turning a low recruiting class into conference contenders.
Kansas has finished in the bottom-three in Big 12 recruiting since 2017. Buffalo has been dead last in MAC recruiting since 2017 and still managed to be the class of the conference on the field.
Despite the recruiting scores, Leipold finished with the best against-the-spread mark of all FBS coaches since 2017 at 31-15. Keep in mind that running back Jaret Patterson was the highlight of the MAC but was recruited by Leipold out of the state of Maryland as a two-star athlete.
The question remains how to bet the Jayhawks, and the answer may be in the staff and personnel.
Andy Kotelnicki follows Leipold from Buffalo and fills the offensive coordinator role. Buffalo ranked fifth in rushing rate, meaning we may see a ground-first approach from the Jayhawks in the 2020 season. Offensive linemen were a theme in the transfer portal, indicating that Kansas games may move at a snail's pace offensively.
A handful of quarterbacks are expected to compete for the starting job. Freshman Jalon Daniels, junior college transfer Miles Kendrick and North Texas transfer Jason Bean are all in the mix to fill the role of game manager under center. 
But the transfer portal giveth and the transfer portal taketh, as the front seven on defense was decimated by player exits.
Safeties Kenny Logan and Rickey Thomas should limit explosive plays, but expect an uptick in defensive Havoc. Logan is one of the premier special teams players in the Big 12.
#TOUCHDOWN KANSAS

JAYHAWKS!! Kenny Logan Jr 104 yards to the house!!#IowaState #Kansaspic.twitter.com/6U8tf4dMPT

— JAZZ Sportsbook (Official) (@SportsbookJazz) October 31, 2020
New defensive coordinator Brian Borland also joins from Buffalo. The Bulls led the MAC in sacks and defensive total yards in 2020. Borland and Leipold are longtime peers, as both came through the coaching ranks at Wisconsin-Whitewater in the 1990s.
The win total of 1.5 market-wide is a tough one to handicap. The Action Network projection comes in at 1.3, as the opener against South Dakota features an 85% win probability with a spread close to two touchdowns in favor of the Jayhawks.
Other potential victories may come at Duke or as double-digit underdogs to Baylor, Kansas State or Texas Tech off a bye week. I am certainly a Lance Leipold buyer, and paying juice on over one win is more favorable than a +150 on under 1.5.
---
---
Are you looking for a safe, reliable, trustworthy sportsbook? Check out our ratings of the best sportsbooks and their current sign-up offers for new customers.