European Soccer Preview: Positive & Negative Regression Clubs for 2021-2022 Season
The European club soccer season is right around the corner, which means it's time to dissect the data from last season and overreact about the transfers surrounding each squad.
If you're new to The Action Network soccer coverage, you probably see us mention advanced metrics ad nauseam, like expected goals and expected points. There's a reason we use them as often as we do since the expected-goals metric is the best when telling how well a team "should" be playing.
Here are the textbook definitions of Expected Goals (xG) and Expected Points (xP):
Expected Goals (or xG) measures the quality of a chance by calculating the likelihood it will be scored from a particular position on the pitch during a particular phase of play. This value is based on several factors from before the shot was taken. Expected goals is measured on a scale between zero and one, where zero represents a chance that is impossible to score and one represents a chance a player would be expected to score every single time.
Expected Points (or xP) is similar to xG attempts to put context on how likely certain events are to happen based on the quality of the chances created. Expected points takes xG and moves to the next level from goals scored to look at how the results of the match would play out in the long run.
Using both xG and xP not only gives us which team should have won a certain match based on the number and quality of chances created, but it can also help us determine how many spots higher or lower in the table a certain club should have finished.
What I've done is gone through understat.com, fbref.com and infogol.net to find the clubs in the Europe's top five leagues due for the largest positive or negative regression heading into the 2021-22 season combined, with the transfers in and out during the summer.
Note: I avoided discussing clubs like Bayern Munich, Atlético Madrid and Real Madrid, simply because even though their xG numbers were pretty far below what their actual results were, the regression will not take them out of the top four placings. Their respective squad values are astronomically higher than other teams in their leagues.
_BookPromo=405
Positive Regression Clubs
Premier League
Brighton & Hove Albion
2020-21 Finishing Position: 16th place — 41 points
I'll be honest. It's going to be hard for me not to write 3,000 words on Brighton since it was almost impossible how unlucky it was last season. The Seagulls' +13.91 xGDiff was good for fifth best in the Premier League. That's right. Based on xG and xP, they should have finished 11 spots higher in the England's top flight. Brighton should have been battling for a Europa League spot, but instead it was battling against relegation.
What's even more ridiculous is how good Brighton was at American Express Community Stadium and how undeserving its results were. In their 19 home matches, the Seagulls had a +18.13 xGD and conceded just 0.81 xG per match. In fact, here is a list of Premier League teams that had a better xGDiff  and more xP than Brighton last season:
Manchester City (Premier League champion)

Chelsea (Champions League winner)
That's it. That's the entire list.
As you can see, the main reason for Brighton's struggles last season was due to its poor finishing, with Neal Maupay being the main culprit.
Most wasteful players in the Premier League this season (largest xG underperformance):

◎ Timo Werner – 6⚽️ from 13.54(xG)
◎ Neal Maupay – 8⚽️ from 13.79(xG)
◎ Jamie Vardy – 15⚽️ from 19.98(xG)

— The xG Philosophy (@xGPhilosophy) May 26, 2021
Brighton hasn't brought in any other strikers, so Maupay will once again be the main man up front. If he can start to put away the high-quality chances he was afforded last season, we could very easily see the Seagulls fly up the table.
Tactically, Brighton is incredibly well organized and have tremendous build-up play under manager Graham Potter. Typically, the Seagulls line up in a 3-4-1-2 or 3-4-2-1 formation, which is similar to Thomas Tuchel's system at Chelsea. They great part about these formations is that they allow Brighton to have defensive superiority over its opponent at either time, with the two wing backs easily able to drop into defense and turn it into a 5-2-1-2 or a 5-2-2-1 setup.
However, the Brighton wing backs are versatile and can easily get forward to supply the forwards and attacking midfielders on offense. In fact, one of Brighton's biggest losses over the second half of the season was youngster Tariq Lamptey, who injured his hamstring in March. The 20-year-old former Chelsea man is a rising star. He has already has interest from Tottenham Hotspur this summer and you can see why below:
England are blessed with some brilliant right-backs, but Tariq Lamptey looks like one of the best 🔥 pic.twitter.com/9ZpgiKDBbG

— Goal (@goal) September 21, 2020
Another reason why Brighton was so successful tactically under Potter is its pressing. The Seagulls had a 31.7% successful pressure rate, which was fourth best in the league, with most of their presses coming in the middle third of the pitch.
Yves Bissouma is a huge part of that, as the 24-year-old had the 11th-most successful pressures and second most tackles won in the league last season. What's even crazier is Brighton has been able to stave off a lot of interest from big clubs and hold onto him for this season.
Notable Transfers In
Enock Mwepu (23 years old) — Central Midfielder from Salzburg (Austria) for $25.3 million
This is a dream signing for Brighton to pair with Bissouma because they're essentially the same player. What's makes Mwepu such a talented player is his versatility. He played six different positions during his time at Salzburg, from attacking midfielder all the way to left back. He's nicknamed "The Computer," given his tactical genius and ability to make quick, correct decisions when passing the ball in tight spaces.
Mwepu also has motor rivaling that of Chelsea star N'Golo Kante, making it seem like he's everywhere on the pitch:
Enock Mwepu is 𝗲𝘃𝗲𝗿𝘆𝘄𝗵𝗲𝗿𝗲.

Easy to see why @OfficialBHAFC have signed the @FCRBS_en midfielder and why @stighefootball loves him so much.#BHAFC #Mwepu pic.twitter.com/o1hknHCpnm

— Twenty3 (@Twenty3sport) July 6, 2021
He was signed as Bissouma's replacement given all of the interest in him by bigger clubs in July, but that interest has since cooled down. So, if Bissouma and Mwapu are together in the midfield come opening weekend against Burnley, this could be one of the league's more underrated midfields.
Notable Transfers Out
Ben White (23) — Center Back to Arsenal for $64.35 million
White will be a loss for Brighton, given he was one of the keys in their successful build-up play from the back. The England international impressed so much during the 2020-21 season he made the national team for the European Championships.
While Brighton cashed in big on one of its best young players, replacing him will be tough.
(Graphic via fbref.com)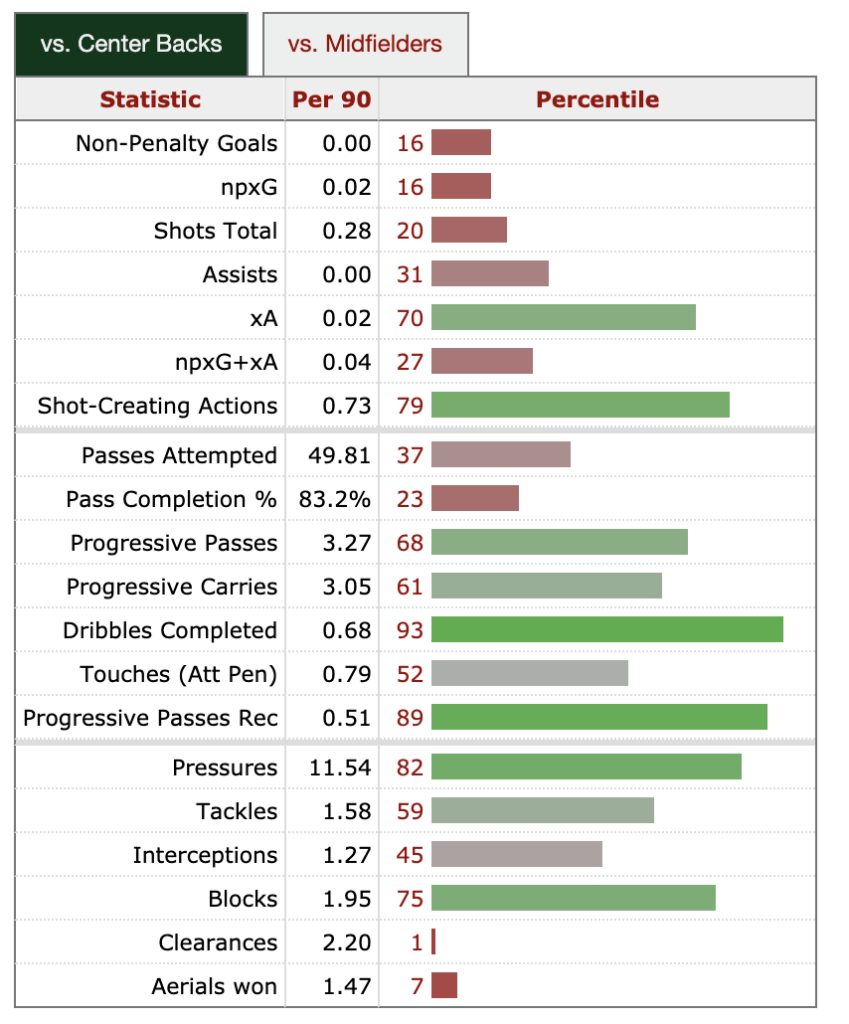 As you can see, White is an incredibly versatile defender that has tremendous ability on the ball to create going forward and supply the attack. Right now, Brighton doesn't have a defender like him, so I think we'll see a little bit of regression from 1.00 xGA per match this season.
Chelsea
2020-21 Finishing Position: 4th Place — 67 Points
It's hard to sit here and say a club coming off winning the Champions League is due for positive regression, but it just shows how good Chelsea was in 2020-21 and, honestly, how unstoppable it has been since Tuchel took the reins.
Since Tuchel Became Chelsea Manager
Tuchel changed Chelsea's system to a 3-4-2-1 from the 4-3-3 used by former manager Frank Lampard, which has allowed the club to be more unpredictable. The main objective of the 3-4-2-1 and 4-3-3 formations is to completely overwhelm opposing defenses by outnumbering them on the counterattack.
The formation allowed Chelsea some tactical flexibility and adjust on the fly based on how the match was going. That allowed Chelsea to dominate possession and keep opponents on their toes. The proof is in the numbers as well, because in almost 1,500 minutes, the Blues had a +20.91 xGDiff when playing out of that formation.
Another thing Chelsea has going for it is it kept pretty much its entire first team squad together and some of its signings from last summer like Timo Werner, Kai Havertz and Hakim Ziyech all have a season under their belts.
With the same squad coming back, that accumulated 42.74 xP in the Blues' 19 matches under Tuchel was only 1.19 xP behind Manchester City during that time span. That said, I think Chelsea is Manchester City's biggest threat to dethrone them as Premier League champion.
---
Bundesliga
RB Leipzig
2020-21 Finishing Position: 2nd Place — 65 Points
RB Leipzig finished second in the Bundesliga behind Bayern Munich last season, but when looking at xG and xP, it was actually better than the nine-time defending champion. Leipzig had a +37.9 xGDiff, compared to Bayern's +37.06 xGDiff. The reason for that is because it was by far the best defense in the German top flight.
The main reason for its defensive success is because it didn't allow its opponents to have very many touches, shots or created chances in the final third of the field. RB Leipzig led the Bundesliga in:
xG allowed (0.86 per match)

Shot Creating Actions allowed (11.21 per 90 minutes)

Touches allowed in the final third (38.73/90 minutes)

Touches allowed in the penalty area (5.9/90 minutes)
However, Leipzig did lose two of its main center backs in Dayot Upamaecano (Bayern Munich) and Ibrahima Konaté (Liverpool), so its defense will likely regress with new center backs entering the starting XI.
Additionally, manager Julian Nagelsmann, who is regarded as one of the best young coaches in the world, left for Bayern Munich. American Jesse Marsch, who once coached the New York Red Bulls of Major League Soccer, takes over the reins, which should be a smooth transition.
Marsch was an assistant at RB Leipzig during the 2018-19 season and has been managing sister club Salzburg (Austria) the past two seasons, guiding the club to back-to-back Austrian Bundesliga titles.
While its defense was significantly better than Bayern Munich and Borussia Dortmund, its offense was not up to par, scoring 60 goals and creating 67.14 xG, which finished well behind their two rivals.
The problem for RB Leipzig is it didn't have a reliable striker in front of net and most of the goal-scoring load fell on attacking midfielders like Marcel Sabitzer, Emil Forsberg and Christopher Nkunku, who were their top three goal scorers.
However, the club has solved that issue this offseason by bringing in one of last season's most prolific Bundesliga strikers.
Notable Transfers In
Andre Silva (25) — Striker from Eintracht Frankfurt for $25.3 million
This is a massive signing for RB Leipzig in its continuing search to replace Timo Werner. Silva was second in the Bundesliga last season with 28 goals off 25.60 xG, which put him behind Bayern Munich star Robert Lewandowski.
His 0.83 xG per 90 minute scoring rate was sixth best in Europe's top five leagues, with the reason for that being he's a perfect all-around striker. He has pace and an incredible one-touch finish, plus he's fantastic heading balls home and has unbelievable attack positioning.
All Andre Silva's Bundesliga goals this season 😎pic.twitter.com/8cJ5K6x4l7

— Goal (@goal) May 20, 2021
Now, Silva has some of the best attacking midfielders in the Bundesliga supplying him on a week in, week out basis, so it's not crazy to think he could top his 28 goals scored during the 2020-21 season.
Josko Gvardiol (19) — Center back from Dinamo Zagreb (Croatia) for $20.68 million
Gvardiol is one of the most highly touted teenage center backs in the world, already compared to the likes of David Alaba because of his rare ability to not only be a fantastic ball winner, but the left-footed Croatian is technically sound on the ball and great passer.
🇭🇷Joško Gvardiol (2002)
Central Back – U21 Croatia

⚽️What a performance. CB at once technical, powerful and fast. He reads the game very well. Good passing quality. Left-handed, he can play left back.

He will join RB Leipzig next season.

Brilliant.pic.twitter.com/7nqlNMegJm

— F👁️cusPlayer (@F0cusPlayer) November 14, 2020
He also made the Croatian national team for the Euros and started all four of its matches at left back, while putting up some pretty impressive numbers.
(Graphic via fbref.com)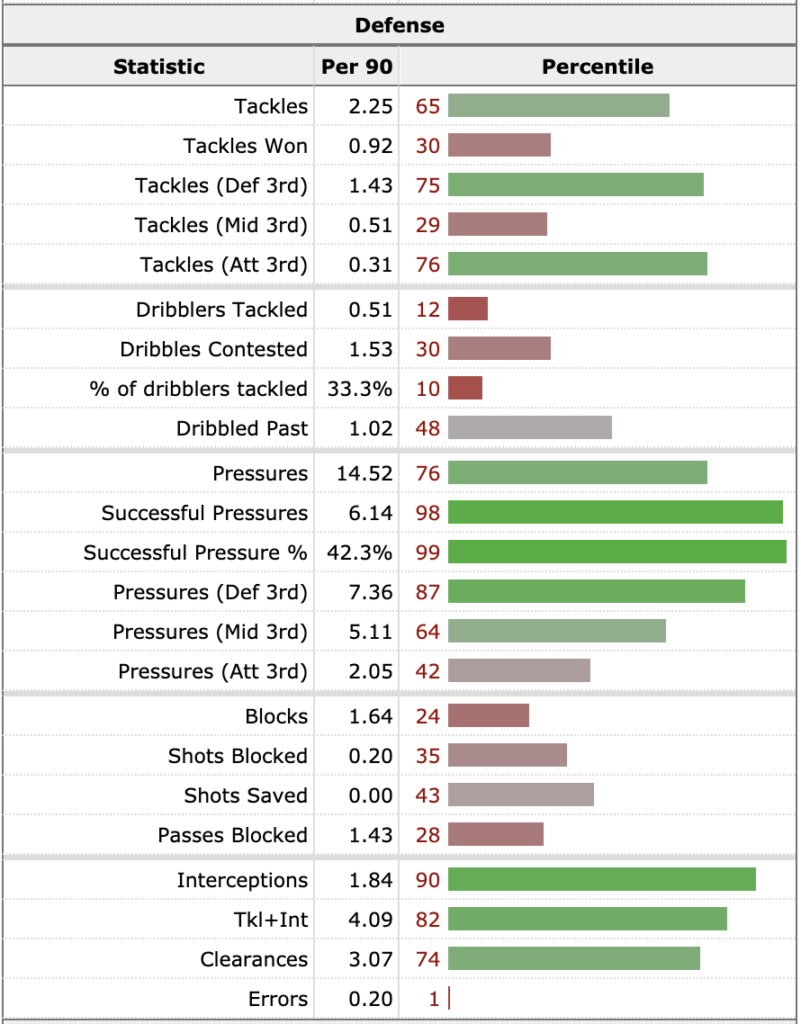 While the losses of Dayot Upamecano and Ibrahima Konaté will hurt Leipzig, the arrival of Gvardiol should help RB Leipzig continue its defensive dominance.
Notable Transfers Out
Dayot Upamecano (22) — Center Back to Bayern Munich for $46.75 million (Age 22)
Upamecano was the rock in the center of the RB Leipzig back three for a while now. His stats compared to other center backs among the top five European leagues shows you why Bayern Munich signed him.
(Graphic via fbref.com)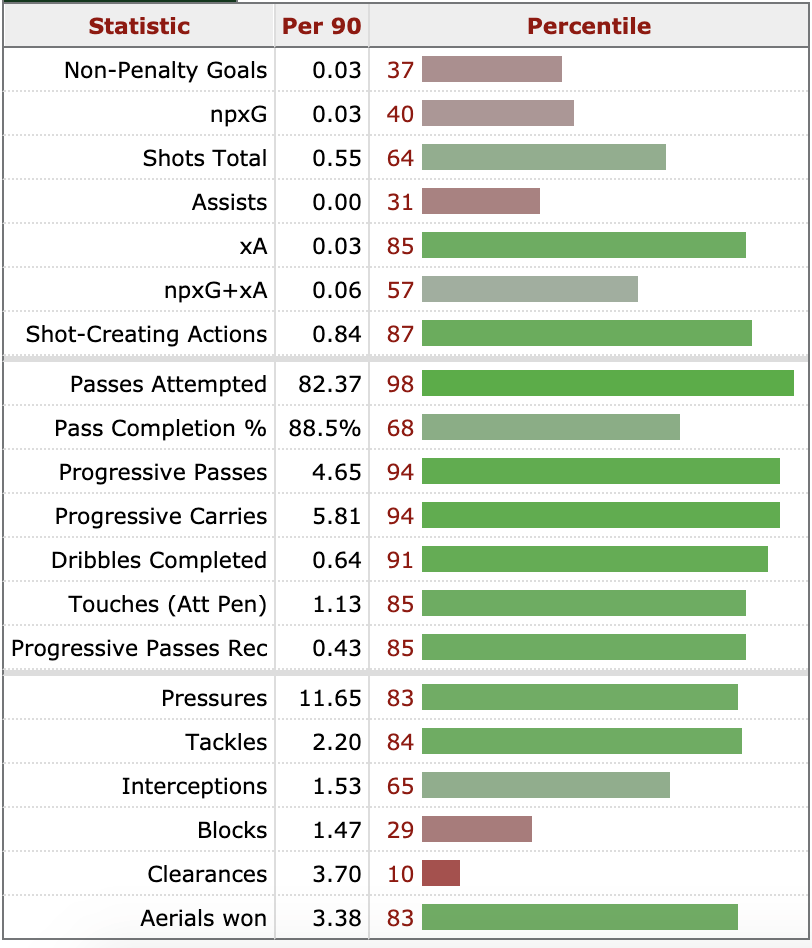 Replacing him will be a challenge, because outside of new signings Josko Gvardiol and Mohammed Simaken from Strasbourg, Willi Orban is the only center back on the roster from last season.
Ibrahima Konaté (22) — Center Back to Liverpool for $40 million
Konaté might not be the physical defender Upamecano is, but he's one of the best center backs on the ball in the Bundesliga. He was in the 90th percentile among all players at his position in Europe in dribbles attempted, dribbles completed, progressive dribbles and progressive carries. He's also incredible in the air, winning 75.9% of his arial duels, which is in the 96th percentile of all center backs in Europe's top five leagues.
However, he's not that great of a defender when it comes to tackling and pressures.
(Graphic via fbref.com)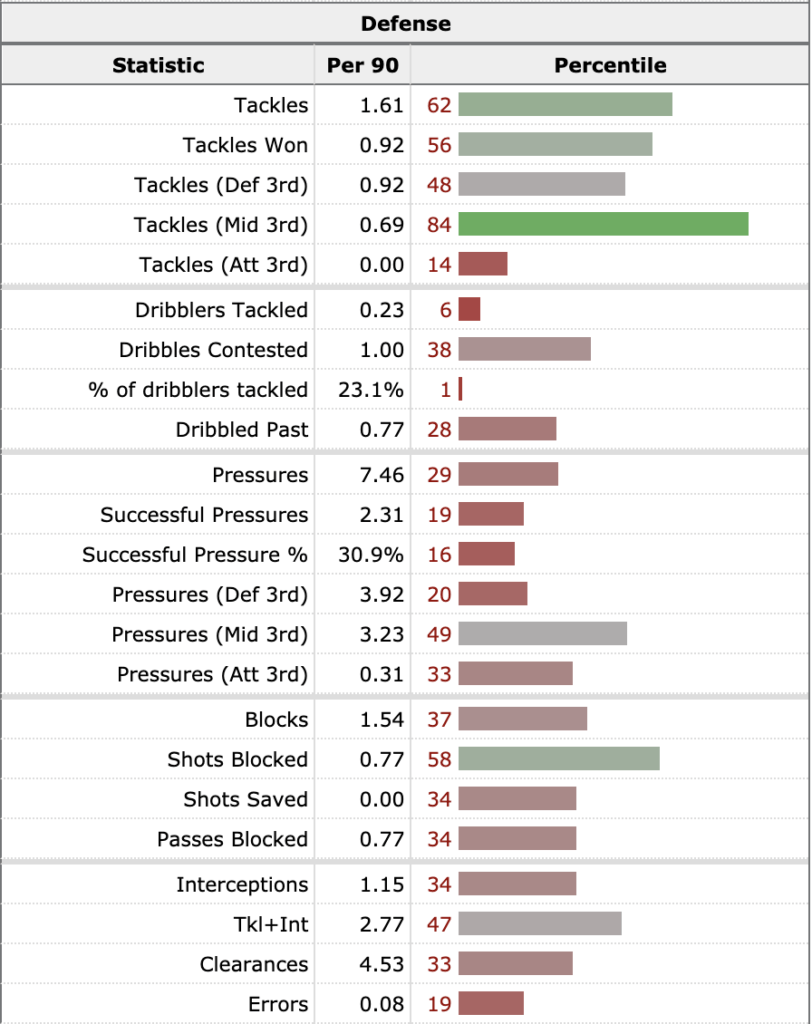 So, while RB Leipzig will miss his ability and creativity on the ball, Gvardiol should be able to replace his ability on the ball for their build-up play.
---
Serie A
Bologna
2020-21 Finishing Position: 12th Place — 41 Points
While Bologna's xG for and against aren't that much different than its actual results, the discrepancy between its actual points and xP of 8.36 was the second-highest among non-relegated clubs last season.
Where Bologna's positive regression will come is out of its 4-2-3-1 formation, which it played a majority of the time last season.
(Graphic via understat.com)

As you can see, when playing out of their 4-2-3-1 formation was quite prolific offensively, averaging 1.58 xG per 90 minutes. Offense is going to be the key for the club going into this season and it was able to retain it best offensive player in Musa Barrow, who was purchased from Atalanta after spending last season on loan at Bologna.
Barrow is an electric, young talent playing on the left wing, who provides a ton of pace and creativity on the outside. He bagged eight goals and dished out eight assists during the 2020-21 campaign.
8+8 – Musa #Barrow is the youngest player to have both scored at least 8 goals and provided at least 8 assists in the Top-5 European Leagues this season. Stratospheric.#BolognaTorino #SerieA pic.twitter.com/rh5dw9KmFm

— OptaPaolo 🏆 (@OptaPaolo) April 21, 2021
Bologna has essentially kept its entire squad together from last season, so I expect it to make the jump into the top 10 of the Serie A table.
---
La Liga
Getafe
2020-21 Finishing Position: 15th Place — 38 Points
Getafe is a very interesting team, given where it finished the 2019-20 season compared to how much they've fallen down the table. Getafe was battling for a Europa League spot two years ago, finishing eighth in the table with a +2.17 xGDiff. However, last season its offense cratered, resulting in only 28 goals, which was the lowest mark in the Spanish top flight.
Getafe is a very defensive team playing out of a 4-4-2 formation, which is similar to that of league champion Atletico Madrid. When playing from that formation last season, the club averaged just 0.89 xG per 90 minutes, but only allowed 0.99 xG per 90 minutes.
There won't be a change stylistically for Getafe heading into this season, but offensive regression should be coming its way, given the fact it created 7.62 more xG than its actual results in front of net.
Even though Getafe plays out of a defensive formation, it puts a ton of pressure on its opponents, especially in the midfield. Getafe had the most pressures of anyone in La Liga last season, with about 50% coming in the middle third of the pitch.
Getafe's pressure success rate went from fifth in 2019-20 to 16th last season, so improving the success of its pressures will be key for its positive regression.
---
Ligue 1
Saint-Étienne
2020-21 Finishing Position: 11th Place — 46 Points
Saint-Étienne might have finished in 11th place in Ligue 1, but based on xP, it should have finished inside the top 10. The positive regression is unique for the club, because it should be coming on both offense and defense.
Going into the season, Saint-Étienne might benefit greatly from making the 4-2-3-1 formation permanent rather than routinely playing a very defensive 4-4-2 formation.
(Graphic via understat.com)

As you can see in more than 700 minutes when playing out of the 4-2-3-1 formation, Saint-Étienne averaged 1.69 xG per 90 minutes, while only allowing 0.82 xG per 90 minutes.
The French side kept its entire XI together from last season, without any notable moves in the transfer window, so I think we will see it make a big jump this season and potentially battle for a Europa League spot.
Strasbourg
2020-21 Finishing Position: 15th Place — 42 Points
Outside of Brighton, Strasbourg was one of the most unlucky teams in all of Europe, especially on the defensive side. Much like Saint-Étienne, Strasbourg would really benefit in making its 4-1-2-1-2 formation permanent rather than playing out of a 4-2-3-1 tactical approach.
(Graphic via understat.com)
As you can see, in more than 900 minutes out of the 4-1-2-1-2 formation, it had a +10.05 xGDiff and scored 2.07 xG per 90 minutes. Saint-Étienne does have a prolific striker in Ludovic Ajorque, whose 16 goals last season tied him for fourth highest in the French top flight.
Strasbourg's defense was not that bad last season, despite lengthy injuries saddling its two best center backs. The team allowed the seventh-fewest shot-creating actions and had the third-best pressure success rate in Ligue 1. However, it did lose a big piece in the center of its defense with the departure of Mohamed Simakan to RB Leipzig.
Notable Transfers Out
Mohamed Simakan (21) — Center Back to RB Leipzig for $16.5 million
Simakan will be a big loss for Strasbourg, as he was the heart of its defense over the past two seasons. Looking at his numbers compared to other center backs among Europe's top-five leagues, you can see why RB Leipzig wanted to sign him.
(Graphic via fbref.com)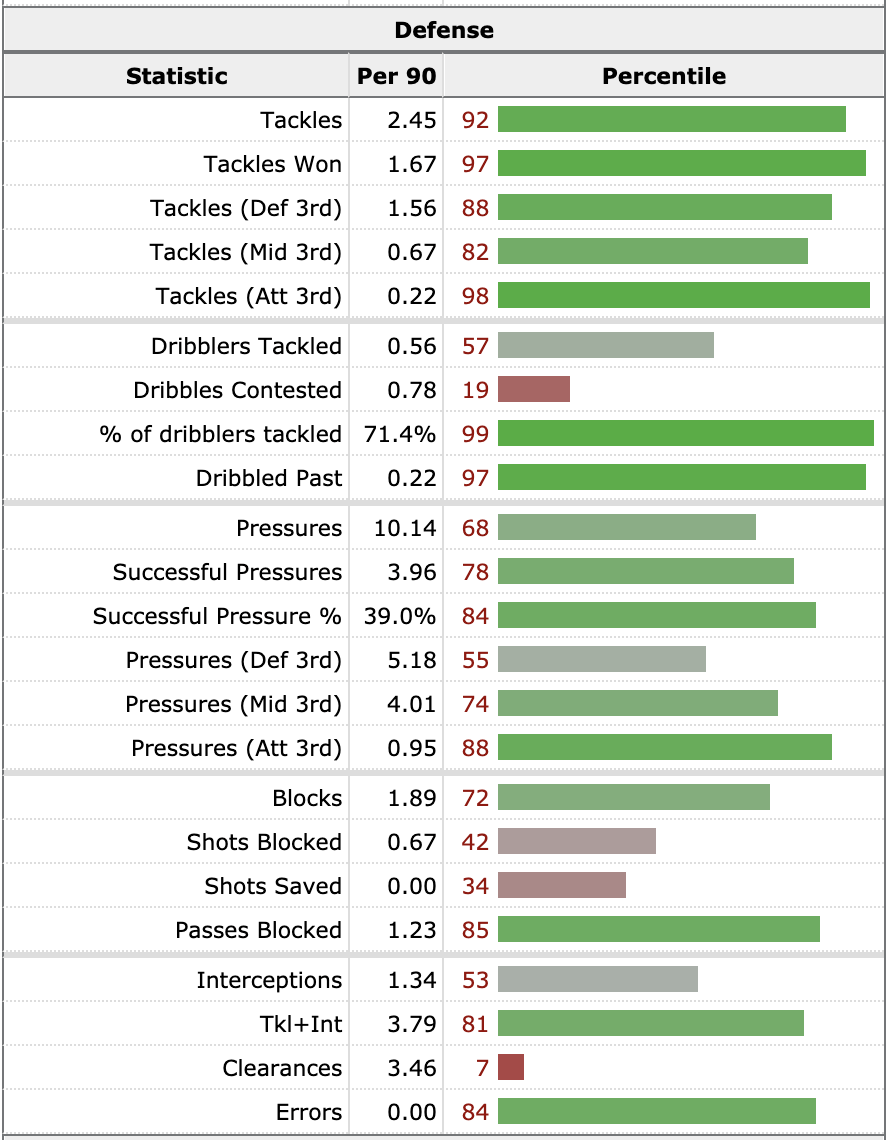 However, with that being said, he missed the entire second half of the season due to injury, so I don't expect Strasbourg's defensive numbers to regress too much with him gone.
---
Negative Regression Clubs
Premier League
Tottenham Hotspur
2020-21 Finishing Position: 7th Place — 62 Points
Tottenham is one of the biggest regression candidates in Europe this season, due to how fortunate it was in front of net. Now, you can make the argument Harry Kane and Son Heung-min are two of the most clinical finishers in the Premier League, but the fact remains Spurs didn't create as many high-quality chances as some of the top EPL sides.
In fact, Tottenham's 1.49 xG per match average was only ninth best in the English top flight last season.
Offensively, the club's main issue is the fact it's entirely too reliant on Kane and Son to shoulder the goal-scoring load. Gareth Bale came over on loan and scored 11 goals in 20 appearances, but now he's on his way back to Real Madrid. The next closest to Kane and Son outside of Bale was Lucas Moura, who had three goals.
Now, Tottenham does a have a new manager in Nuno Espírito Santo, who recently managed Wolves. It will be interesting to see if Spurs plays a more aggressive, offensive style than previous manager José Mourinho did Wolves primarily playing out of a 4-2-3-1, which is the same formation they played last season, so it should be a smooth transition.
Notable Transfers In
Cristian Romero (23) — Center Back from Atalanta for $59.21 million
After Tottenham sold Toby Alderweireld, it needed to find a replacement and Romero will fit in nicely with the squad. One of the best young defenders in world last season, Romero led Atalanta to the second-best xG allowed record in the Italian top flight.
🗞[@DiMarzio] | Atalanta officials are expected to meet with Tottenham Hotspur this week to try to finally close the deal for Argentinian centre-back Cristian Romero.#THFC #COYSpic.twitter.com/OwRuAqHpFa

— Last Word On Spurs🎙 (@LastWordOnSpurs) July 30, 2021
There is a reason why Tottenham is paying such a high price for him. Last season, he was in the 85th percentile in tackles, pressures and errors made. Spurs allowed 1.38 xG per match last season, so Romero will definitely help ease some of their negative regression.
Bryan Gil (20) — Left Wing from Sevilla for $25 million
Gil arrived at Tottenham this summer from Sevilla in a player-plus-cash swap, with Erik Lamela heading to the Spanish outfit. Gil is a big get for Spurs and a fantastic talent, who is really good on the ball.
👏 Bryan Gil impressing in Europe… #UEL pic.twitter.com/40ZzS0r7AD

— UEFA Europa League (@EuropaLeague) July 20, 2021
The question now is if he will get in the squad right away, because Son usually plays the left-wing position in the 4-3-2-1 formation. However, he will be an upgrade over Lamela.
Notable Transfer Out
Toby Alderweireld (32) — Center Back to Al-Duhail (Qatar) for $14.3 million
Alderweireld, who was a longtime Spurs defender, has moved on to finish his career in Qatar. He has been regressing ever since he hit 30, in particular last season when he was a below-average defender among Europe's top five leagues.
(Graphic via fbref.com)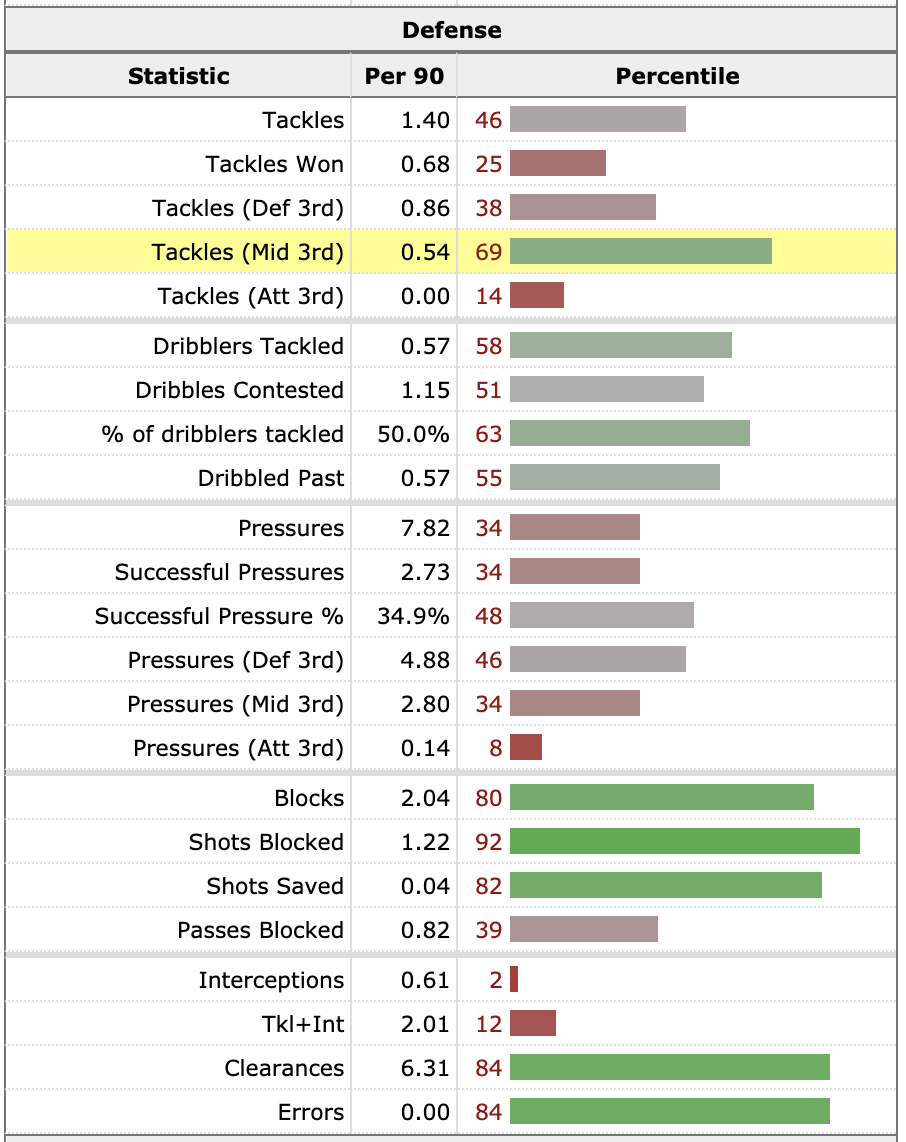 Tottenham had to move on from him at some point, bringing in Romero from Atalanta to improve its back line.
---
Bundesliga 
Wolfsburg
2020-21 Finishing Position: 4th Place — 61 Points
Wolfsburg is back in the Champions League after an overachieving 2020-21 season, finishing fourth in the Bundesliga table. Wolfsburg was quite fortunate offensively, scoring almost 10 more goals than the xG it created. Wout Weghorst was a main reason for the club's success, scoring 20 of its 61 goals.
Outside of him, Wolfsburg doesn't have much attacking fire power, as nobody other than him has a scoring rate more than 0.30 xG per 90 minutes.
Offensive regression for Wolfsburg is going to come if it continues creating fewer chances than the other top seven teams in Germany. Last season, Wolfsburg was ninth in touches in the opponents' penalty area; seventh in shot creating actions; and, seventh in passes that led to shot, per fbref.com.
Defensively, Wolfsburg is one of the best, allowing just 1.15 xG per match. And that number should only get better, because not only did it hold onto its entire roster, the club also added Sebastiaan Bornauw from FC Köln, who played a pivotal role in their relegation survival. He will add a lot of depth to an already solid center-back pairing of John Brooks and Maxence Lacroix.
While I might not be fading Wolfsburg right off the bat, it will be an "under" team I will be targeting given its offensive regression and continued solid defense.
---
Serie A 
Inter Milan
2020-21 Finishing Position: 1st Place — 91 Points
Negative regression was always likely to happen for Inter because of how ridiculously good it was during the 2020-21 season. However, the club has lost manager Antonio Conte and faces a bad financial situation in which its board has stated it needs to have a positive 80 million Euro balance at the end of the transfer window.
Romalu Lukaku was one of the most prolific strikers during the 2020-21 season and his partnership with Laturo Martinez in the 3-5-2 system was a thing of beauty. The two combined for 41 goals on 40.32 xG created. However, both are currently being linked with transfers to Premier League sides.
The heat on Lukaku has intensified over the past few days and it looks like Inter is going to accept a record fee for the Belgian international, who is keen on a return to Chelsea at Stamford Bridge.
Chelsea are getting confident to sign Lukaku soon. Direct talks with Inter, new official bid coming. €12m net per season + add ons offered to Romelu who's open to re-join Chelsea 🔵 #CFC

Inter are considering Duván Zapata as replacement – and Atalanta will go for Tammy Abraham.

— Fabrizio Romano (@FabrizioRomano) August 4, 2021
If Lukaku leaves, that will kill Inter's chance of not only repeating as champion, but staying inside the top four because based on xP, it actually finished behind Atalanta and Juventus last season.
Offensively, it was only fifth in shot-creating actions behind Atalanta, Juventus, AC Milan and Napoli. It was also third in xG per match, so there is going to be offensive regression after scoring 89 goals during its championship campaign.
The good news is there won't be a change in system, due to the fact new manager Simone Inzaghi ran the same 3-5-2 formation at Lazio the past four seasons.
Even if Inter doesn't sell Lukaku or Martinez, there is going to be some regression from putting up 91 points in one of Europe's most competitive leagues.
Notable Transfers In
Hakan Calhanoglu (27) – Central Attacking Midfielder via Free Transfer from AC Milan
Calhanoglu makes the switch from Red and Black to Blue and Black on a free transfer, where he'll earn a higher salary. Calhanoglu is one of the most dynamic attacking midfielders in the world. He's an unbelievable creator on the ball, plus he's one of the best free kick takers on the planet.
18 – Since the start of the 2013/14 season, only Lionel Messi (36) has scored more direct free-kicks in all competitions than Hakan Calhanoglu (18) among players in the top-five European leagues in that time. Specialist. pic.twitter.com/Sujpp8jHtJ

— OptaJoe (@OptaJoe) December 3, 2020
Calhanoglu will be an amazing benefit to Lukaku and Martinez up top, because his passing ability was ridiculous last season.
(Graphic via frbref.com)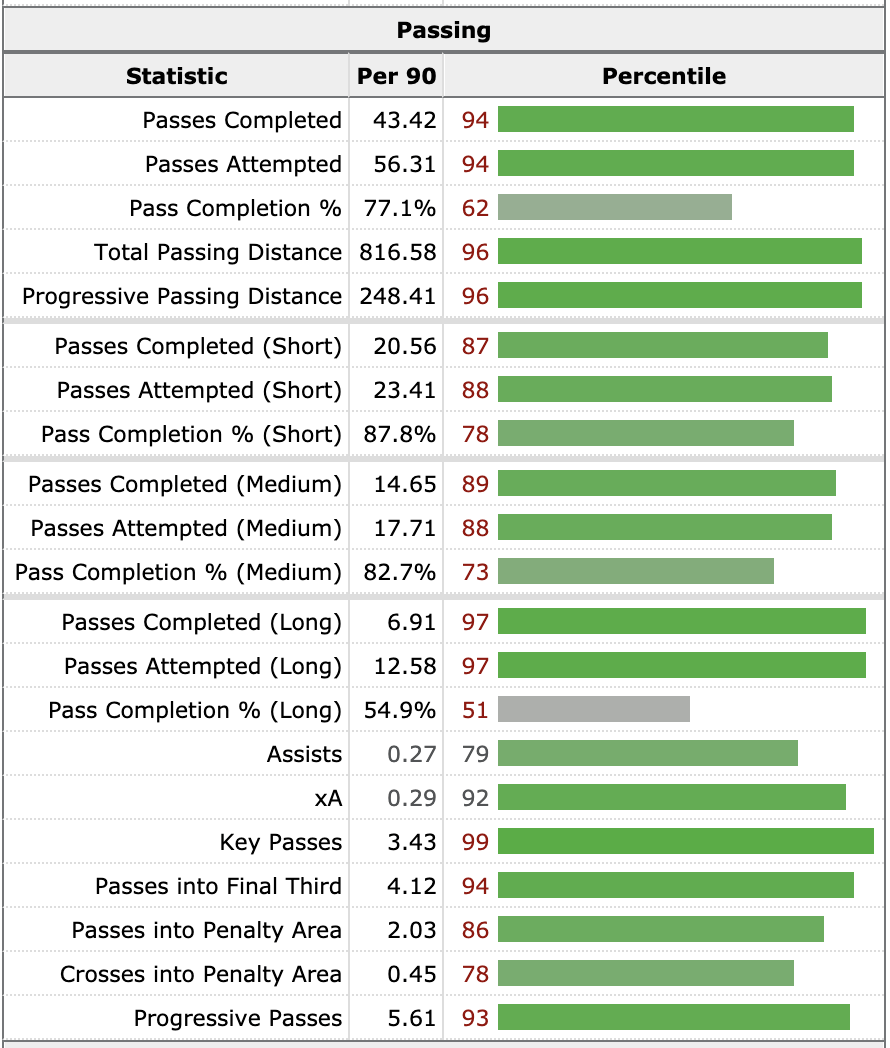 He will be a big help in stopping Inter Milan's negative regression, but if the club loses Lukaku or Martinez, it will be a huge blow for Inter.
Notable Transfers Out
Arcraf Hakimi (22) — Right Back to Paris Saint-Germain for $66 million
Hakimi, who's one the best young right backs in the world, spent his youth at Real Madrid, but has made the move to the French giant. His role as right wing back in the 3-5-2 system will be really difficult to replace given his ability to get forward and supply to attackers in the final third.
In his last three seasons (two with Dortmund; one with Inter), he scored 19 goals and supplied 28 assists, so he will be a big loss for Inter since it doesn't have suitable replacement for him.
---
La Liga
Valencia
2020-21 Finishing Position: 13th Place — 43 Points
Although Valencia's xP are close to what its actual points were last season, it will be a team that I will likely be fading on a match-to-match basis this season. Valencia used to be a club fighting for a Champions or Europa league spot, but over the past two years it has had a big drop-off.
In 2020-21, the club really struggled to find a reliable strikers up top in its 4-4-2 formation, as Carlos Soler was its top goal scorer with 11 goals from the midfield position. Maxi Gomez had issues as the No. 1 striker, putting up a 0.22 xG per 90 minute scoring rate, which wont help its cause going this season.
The biggest problem for Valencia is where its shots are coming from in the upcoming campaign. Last season the team had the third-fewest shots inside both the six-yard box (23) and penalty area (173). Needless to say, when you're playing out of a 4-4-2 formation, that's going to a problem since the formation lends itself to being very defensive.
Although its defense isn't due for a lot of negative regression, it allowed 1.47 xG per match last season. That was the fourth-highest mark in La Liga, which was quite pathetic considering how defensive that formation is in the first place. In fact, it allowed the most shot-creating actions of any team in Spain.
Also, Valenica made no moves in the transfer market to improve its squad, so I'll be looking to fade the side early on.
Elche
2020-21 Finishing Position: 17th Place — 36 Points
It's very rare a club that has lowest amount of xG scored and the most xG allowed survives relegation, but that's exactly what Elche did. However, it will not fair the club well heading into this season, because it's hard to improve after accumulating only 30.31 xP in a campaign.
The biggest problem for Elche is its completely anemic offensively. The club plays a very defensive 4-4-2 formation, like a lot of teams do in Spain, but it really struggles to create high-quality chances. Elche was dead last in shots inside the penalty area, shots inside the six yard box, shot creating actions and passes leading to a shot.
In fact, Elche didn't have anyone on its roster who averaged more than 0.25 xG per 90 minutes, which is almost impossible for a team that survived relegation.
Defensively, it's not  much better, allowing the second shots, shot creating actions and touches inside their own penalty area last season. I'm not sure how it's going to recover from allowing the most xG per match (1.62) in Spain, with essentially the same roster returning this season.
Additionally, according to transfermarkt.com, Elche has the second-lowest squad value in La Liga at $34.71 million and that includes the three newly promoted teams. It's not only one of the teams I will be fading on a match-to-match basis, but if you can find its odds to be relegated at anything -150 or better, I think there's a lot of value on the club not surviving this time around.
---
Ligue 1
Lille
2020-21 Finishing Position: 1st Place — 83 Points
It's rare a team wins one of Europe's top-five leagues creating only 48.07 xG in 38 matches, but that's exactly what Lille did last season in securing the Ligue 1 title as +5000 longshots. However, heading into this season, the club is due for some major negative offensive regression and will have to deal with the loss of former manager Christophe Galtier.
Lille was the best defensive team in Europe last season, allowing 0.68 xG per match in Ligue 1 play. The reason for that was due to the fact Lille typically lined up in a 4-4-2 formation, although that could change in an instant depending on what it saw from its opponent. In reality, Lille played a 4-2-4, with the two outside wingers pushing far out wide to create space in the middle for two strikers.
Defensively, it's incredibly organized at the back, with four defenders on the back line playing in unison and usually bunching toward the middle to force the opponents to play the ball from out wide. However, playing that defensive of a formation can sometimes cause the offense to be an afterthought, especially when Lille goes ahead in the match.
Lille has the same mindset of Atletico Madrid where they are trying to win every match 1-0. So, Lille will be a team that I will be targeting for unders on a match to match basis because of how large their offense is going to regress combined with having the best defense in Europe is just a perfect recipe.
For Lille, a couple of their key players from last season have left the club along with their manager and they haven't brought in any capable replacements, so I think we will see them drop out of the top three.
Notable Transfers Out
Boubakary Soumaré (22) — Center Defensive Midfielder to Leicester City for $22 million
Soumaré will be a big loss for Lille in the center of the pitch in its 4-4-2 because of how good he is on the ball and passing it to teammates.
(Graphic via fbref.com)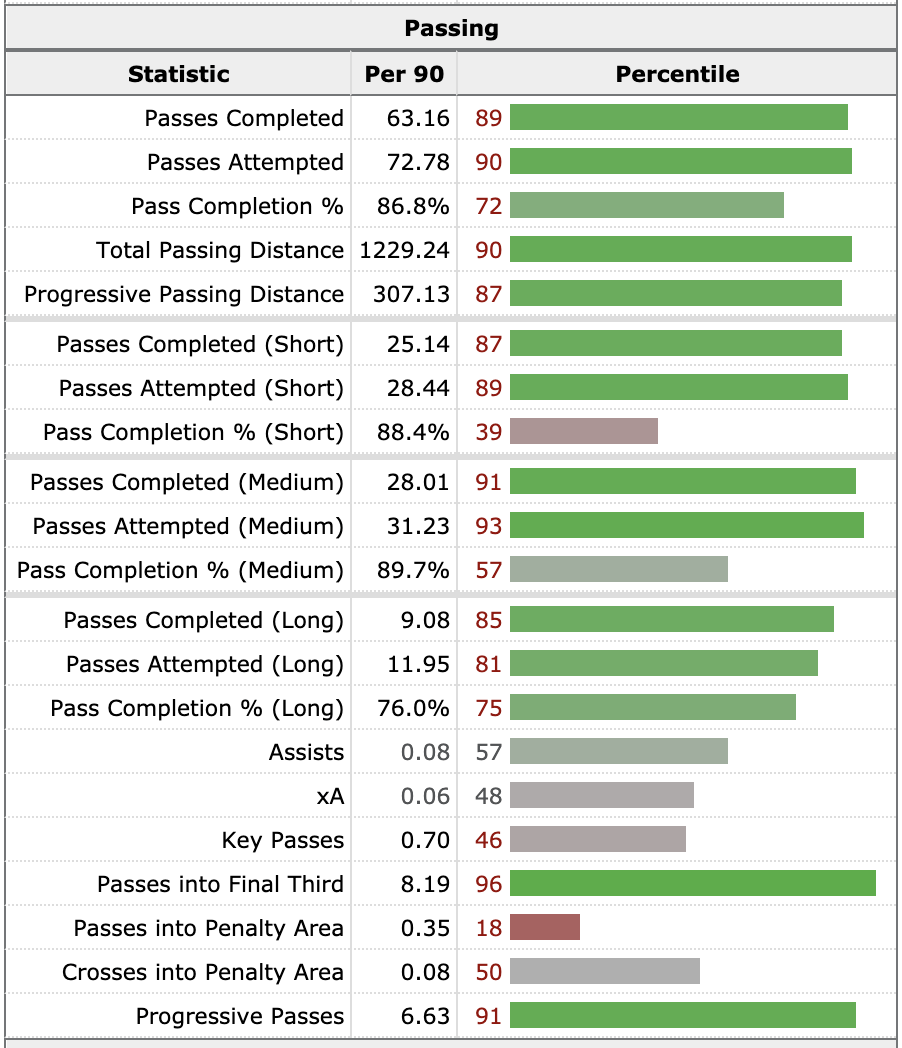 However, Lille can afford to lose him since it has capable replacements like Renato Snaches, Xeka, Benjamin Andre and Yusuf Yazici on its roster, so it won't be too big of an absence.
Mike Maignan (26) — Goalkeeper to AC Milan for $14.3 million
Maignan, who was a key part of Lille's title run, will be a huge loss because the French champion doesn't have a capable replacement . Maignan had 23 clean sheets during the 2020-21 season, which is almost unheard of at this level of European club soccer. He was in the 92nd percentile in save percentage among all goalkeepers in Europe's top five leagues, so he will be missed.
Stade de Reims
2020-21 Finishing Position: 14th Place — 42 Points
Reims is one of the biggest negative regression clubs among Europe's top-five leagues. Last season, it should have been relegated because it had the second-worst xGDiff and xP in Ligue 1.
The main reason it was able to stay up is because it had the most draws in the league (15), but it was tied for the second-fewest wins (9) during its campaign. Reims' negative regression is going to come on both sides of the pitch. It's really quite astonishing how lucky it was, considering there was more than a 20-goal difference between its actual goal differential and xGDiff last season.
Defensively, the team allowed the third-most shots, fourth-most shot creating actions and second-most touches in its own final third of the pitch. Reims didn't make any significant moves in the transfer market, so regression defensively will be coming big time this season.
Reims' offense had the fewest shots, fewest shots inside the penalty area, third-fewest shot creating actions and third-fewest touches in the opponents' final third last season. Bottom line, things are only going to get worse, because its best player in striker Boulaye Dia was sold to Villarreal in the summer.
Notable Transfers Out
Boulaye Dia (24) — Striker to Villarreal for $13.2 million
This is a significant loss for Reims, because Dia was everything for the club on the offensive side of things. He scored 14 goals, created 13.29 of its 33.23 xG (40%) and carried a 0.40 xG per 90-minute scoring rate. The next closest goal scorer on the club had four goals.
Reims also plays out of a 4-1-4-1 formation, which is incredibly reliant on the striker being clinical in front of net since he most of the player's time is spent out on an island alone in the final third. It's the same formation Leicester City plays in the Premier League and has had success because it has a clinical striker in Jamie Vardy.
Reims won't have that going into the season, so if you can find the club's odds to be relegated at anything -120 or better, I think there's a lot of value in it getting sent down to Ligue 2 next season.
Are you looking for a safe, reliable, trustworthy sportsbook? Check out our ratings of the best sportsbooks and their current sign-up offers for new customers.