2021 Big Ten Conference Betting Preview: Win Totals, Futures Odds & Predictions for Ohio State, Wisconsin, More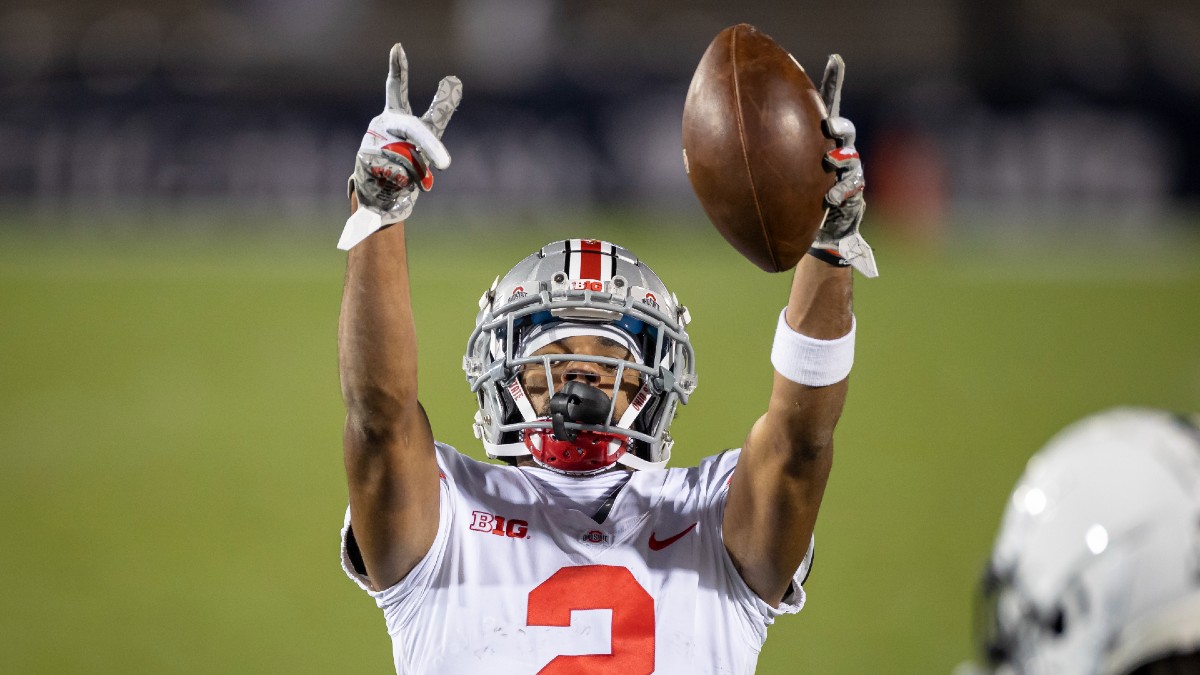 Big Ten football saw a winning postseason once again in 2020 as Ohio State led the charge in a playoff semifinal win over Clemson.
Northwestern ended its defensive masterpiece of a season by earning a Citrus Bowl victory against an SEC team in Auburn. Wisconsin made Big Ten fans proud, bringing home the first-ever Duke's Mayo Bowl trophy, albeit with duct tape and a bottle of the product.
But that's OK because this is the conference that plays for the Little Brown Jug, a bronze pig, an old Oaken Bucket and the Old Brass Spittoon.
The addition of a condiment trophy to the conference is no surprise, but what is a surprise is that the middle and lower class of the Big Ten has started to produce.
Northwestern and Minnesota have been mentioned as outside contenders for the national title over the past two years, while Indiana came one possession short of a perfect regular season. The 2020 pandemic also saw Michigan State defeat two top-15 teams with a first-year head coach and Rutgers get to three wins. The Scarlet Knights had won only three games since the 2017 season.
As Oklahoma and Texas could potentially play their final season in the Big 12, the Big Ten continues to populate bowl season and the national championship picture with plenty of fresh stories.
The big question is whether or not the middle class can punch above its weight and take down the mighty Buckeyes in a year of roster transition.
Big Ten Conference Odds
---
Big Ten Conference Team Previews
Click on a team logo below to easily navigate to a specific team's section, or click the Big Ten Conference logo in the center to return to the top of the article.
---
Big Ten West
Wisconsin Badgers
Team Rankings

Key Players

Off. Success Rate

46th

QB Graham Mertz

Off. Success Rate

5th

TE Jake Ferguson

Off. TARP

75%

LB Jack Sanborn

Def. TARP

83%

RB Jalen Berger
Highly-touted recruit Graham Mertz did not disappoint in his first game of 2020 against Illinois. The freshman connected on all but one of 21 attempts for five total touchdowns. Two canceled games later, the Badgers saw an explosive game on the ground from Jalen Berger. Mertz was accurate beyond his experience, while Berger continued a tradition of Wisconsin fielding the best bruising backfield in college football.
Many believe that @JalenBerger is the next great @BadgerFootball RB.

Joshua Perry (@RIP_JEP) is one of them.

The RB checks in at No. 2⃣5⃣ on the 𝗝𝗣𝟯𝟬 countdown of top @B1Gfootball players. pic.twitter.com/VKTJyxTjNn

— Big Ten Network (@BigTenNetwork) August 3, 2021
Berger averaged 5.1 yards after contact on 15 carries against Michigan. But those rushing numbers, along with Mertz's accuracy, came to a screeching halt.
COVID-19 set in on various players, including the offensive line. Wisconsin would go five weeks without racking up more than one touchdown in a game, finally doing so in an overtime victory against a Minnesota team that was dead last in defending the rush.
Defensive Success Rate is an indicator to a team covering the spread, and Wisconsin returns the bulk of a unit that ranked third in Rushing Success Rate and 29th in Passing Success Rate.
With the exception of corner Rachad Wildgoose going to the Bills, the Wisconsin defense remains intact.
In the Big Ten, it's imperative to stop the rush, a key factor that has helped Wisconsin return to Indianapolis yearly for the conference championship game. The Badgers finished sixth in Line Yards and welcome back linebacker Jack Sanborn.
Mertz later reported that he played with an injury through most of the 2020 season. The sophomore will get three offensive linemen back, along with one of the more dangerous tight ends in the conference in Jake Ferguson.
Jake Ferguson choosing to return for another season is MASSIVE for the Badgers play-action in the redzone#OneMoreYear pic.twitter.com/XPKHBlVD4j

— IKE Badgers Podcast (@IKE_Badgers) February 25, 2021
Wisconsin allowed the defense to dominate the season and earn a trip to the Duke's Mayo Bowl. If Mertz is throwing without limitations and Berger returns to racking up highlight yards, a conference championship is in play for the Badgers.
The Action Network win total is lined at 9.9, giving little value to going over the market number of 9.5. However, hosting Iowa on Oct. 30 is the key to winning the West.
Wisconsin should be lined around -5.5 against the Hawkeyes, giving value on the division number through the number of -150.
---
Iowa Hawkeyes
Team Rankings

Key Players

Off. Success Rate

40th

RB Tyler Goodson

Def. Success Rate

34th

DE Zach VanValkenburg

Off. TARP

68%

DB Riley Moss

Def. TARP

68%

G Cody Ince
Iowa returns less than the national average in transfer portal and returning production (TARP) on both sides of the ball at 68% per side.
Head coach Kirk Ferentz's task on the offensive side is to maintain a top-40 rank in Success Rate, Finishing Drives and Havoc Allowed.
Quarterback Spencer Petras returns for his sophomore season after starting 2020 against Purdue and Northwestern, games with a substandard 65% adjusted completion percentage. The freshman with a cannon arm caught on quick and posted a higher number in every game for the remainder of the season.
Completions: 18
Yards: 220
TDs: 3 (career-high)@HawkeyeFootball QB @spencerpetras is Joshua Perry's (@RIP_JEP) Week 7 Saturday Standout. pic.twitter.com/4yNwtbjn5A

— Iowa On BTN (@IowaOnBTN) December 6, 2020
Look for opponents that struggle to defend the pass in the deep right quadrant. All four of Petras' touchdown passes that exceeded 20 yards were to the right, as his quarterback rating to the deep right corner more than doubled his rating to the left or between the hashes.
There are question marks in the deep threat department with wide receiver Ihmir-Smith Marsette moving on, and the Hawkeyes will look to find targets for Petras' deep ball.
The defense is led by a secondary that ranks close to the top of the Big Ten, thanks to junior Jack Koerner. Iowa maintained a coverage rank of 12th while posting a top-five national number in opponent expected points.
The beef of the defensive front seven loses Chauncey Golston and Nick Nieman, which could decrease top-35 ranks in Line Yards and Stuff Rate. Underclassmen Yahya Black and Noah Shannon are listed at list less than 285 pounds at defensive tackle, making the rush defense a point of focus for Iowa investors this fall.
The secondary will be sure to keep opposing offenses in front of them and limit explosive plays, but getting into the backfield will be the key to the Hawkeyes' season.
Jack Koerner PICK pic.twitter.com/4Vcd41eqRp

— Heavens! (@HeavensFX) November 7, 2020
Besides a trip to Madison in what should be a battle for the West Division, Iowa plays host to Penn State and Indiana.
The Action Network projection places the Hawkeyes' win total at 7.6, well below the market number of 8.5. Iowa will be underdogs against Iowa State and Wisconsin. The Hawkeyes have a handful of coin-flip games (a one-possession point spread) in Penn State, Maryland, Minnesota and Nebraska.
There certainly is a possibility the Hawkeyes get to nine wins, but three of those games come on the road. With no explosive weapons on the outside for Petras and a depleted defensive front, Iowa under 8.5 wins is the suggested play on the total.
---
Minnesota Golden Gophers
Team Rankings

Key Players

Off. Success Rate

36th

QB Tanner Morgan

Def. Success Rate

123rd

RB Mohamed Ibrahim

Off. TARP

72%

G Conner Olson

Def. TARP

87%

WR Chris Autman-Bell
The defensive dip by the Gophers left plenty of fans and alumni with questions, but the extension of defensive coordinator Joe Rossi may have been the most puzzling.
A rank of 123rd in Success Rate and 117th in Havoc on the defensive side of the ball allowed Michigan, Wisconsin and Iowa to run Minnesota out of the building. The Gophers had a terrible 18 tackles for loss through seven games, compiling the worst per game average in the nation.
The good news is 15 of their 16 top tacklers return. The bad news is that limited Havoc returns within the group, including just three pass breakups. With no improvements from the transfer portal or recruiting, any Big Ten offensive line with a pulse should be able to create gaping holes for a rushing attempt.
This Minnesota front seven won't have a chance with Tyler Goodson in the Wildcat@HawkeyeFootball | #Hawkeyespic.twitter.com/9tRhBvzz21

— Collin Wilson (@_Collin1) November 14, 2020
Offensively, the Gophers were without coordinator Kirk Ciarrocca, who was the architect of the 2019 breakout for quarterback Tanner Morgan.
Swap in journeyman offensive coordinator Mike Sanford Jr., and the efficiency numbers took a dive during the 2020 season. Minnesota became predictable, moving from 25th to 14th-highest in the nation in terms of running the ball, doing so on 61% of plays.
Mohamed Ibrahim is one of the best running backs in the nation, but another 1,000-yard effort will be needed to keep Minnesota in games.
Mohamed Ibrahim: Preseason All-Big Ten RB

FIRST-TEAM 💪

— PFF College (@PFF_College) June 30, 2021
The explosiveness evaporated in the passing attack, falling to 59th in expected points. The offensive line finished with a rank of 53rd in Line Yards but returns only two starters. Sam Schlueter returns to left tackle after allowing 13 pressures in 205 dropbacks last season, posting one of the worst pass-block ratings of any starter in the conference.
The projected win total aligns with the current market offering, making sure there's no play from a futures perspective.
A good rush defense has the ability to keep Minnesota from putting points on the board. Miami (OH) fields one of the best defensive fronts in the MAC, while Colorado has the best overall linebacker units in the Pac-12.
Minnesota will be a spot play weekly, with a look to fade against stout rush defenses like Indiana and play on angles against lighter fronts such as Maryland.
---
Purdue Boilermakers
Team Rankings

Key Players

Off. Success Rate

50th

DL George Karlaftis

Def. Success Rate

77th

WR David Bell

Off. TARP

85%

RB Zander Horvath

Def. TARP

69%

DB Cam Allen
Purdue had challenges in 2020 thanks to the pandemic, but no moreso  than Jeff Brohm handing the keys to the team to his brother after contracting the virus.
The Boilermakers posted top-50 ranks in Success Rate, Finishing Drives and Havoc Allowed on the offensive side of the ball despite issues from COVID-19. Fast forward to the 2021 season, and there are plenty of positions with experience.
DAVID BELL 89 YARDS

Purdue coming back…
pic.twitter.com/KchHNz2iUW

— PFF College (@PFF_College) December 5, 2020
Jack Plummer and Aidan O'Connell completed 88 passes apiece, combining for 15 touchdowns and four interceptions. Although there were 14 big-time throws compared to 13 turnover-worthy plays, Brohm did not taper down the pass attempts.
Purdue has one of the lowest rush rates in the nation at 36%. The Boilermakers finished 116th in Line Yards but look for help in the form of Western Kentucky offensive lineman Tyler Witt, who has 50 previous starts.
Make no mistake, this will be one of the more exciting offenses in the conference, and it returns more experience than any other Big Ten team.
The passing game will continue, as David Bell will be complemented by Milton Wright as targets for O'Connell and Plummer. There's a chance that tight end Payne Durham completes what could be the best set of targets in the Big Ten Conference outside of Columbus.
On the defensive side of the ball, Purdue applied zero pressure to opposing quarterbacks and zero resistance to balls in flight. A Havoc rank of 105th came alongside a Defensive Passing Success Rate rank of 110th.
The defense will welcome the return of George Karlaftis after injury kept the NFL-bound edge rusher from the field in 2020.
Purdue edge George Karlaftis reminded everyone that he's a force to be reckoned with — mastful pass-rushing day vs Iowa, @TheGK3 pic.twitter.com/4QdsmzJyK8

— Cam Mellor (@CamMellor) October 26, 2020
Brad Lambert slides into the defensive coordinator role with a full plate of deliverables. The Boilermakers were bottom-five nationally in coverage and Sack Rate, an area the former Marshall defensive coordinator can assist. The Thundering Herd finished 2020 in the top 10 nationally in Opponent Rushing Success Rate, explosiveness and coverage while finishing second in tackling.
Lambert runs a 4-3 scheme, which is not too different from previous Boilermaker alignments. The wrinkle will be the weak-side defensive end standing up or floating around the linebacker position.
DaMarcus Mitchell transferred in from Southwest Mississippi Community College before 2020 and will be the first player Lambert considers for the hybrid position. No matter the position battles through camp, this Purdue defense would take major strides by finishing in the top 100 in any category.
Purdue has advantages against teams without a secondary and offenses that cannot establish the run. UConn, Northwestern, Michigan State and Illinois are all opponents the Boilermakers should be favored by a touchdown or more. To achieve five wins on the schedule, an underdog victory is needed against Minnesota, Nebraska or Indiana.
Each of those teams will field bottom-tier secondaries in conference play. With a projection of six wins on the schedule, the Boilermakers will be led by a much-improved defense and a passing attack to get to bowl season. Take the over 5 on the season win total with Purdue.
---
Northwestern Wildcats
Team Rankings

Key Players

Off. Success Rate

91st

DB Brandon Joseph

Def. Success Rate

20th

T Peter Skoronski

Off. TARP

28%

LB Chris Bergin

Def. TARP

50%

DL Samdup Miller
The magical Northwestern run to the conference championship game was led by a rank of 20th in Success Rate and second in Finishing Drives.
The Wildcats rarely allowed opponents to sustain drives, and those that did had no luck putting points on the board. TARP has the Wildcats as one of the lowest teams in the country in returning experience, as they lose linebackers Paddy Fisher and Blake Gallagher.
However, Brandon Joseph picked off six passes in 2020 and returns to lead an experienced secondary.
Brandon Joseph with one of the best INTs you'll ever see 👀 😱pic.twitter.com/BYAvQ1WxHw

— The Action Network (@ActionNetworkHQ) December 19, 2020
Mike Bajakian took over as offensive coordinator last season and aimed to play at a faster pace.
The Wildcats finished 41st in seconds per play with the short but efficient passing game of Peyton Ramsey. The clock on Ramsey expired, and the transfer portal brought Ryan Hilinski, who also specialized in the short passing game.
The South Carolina import played just six snaps last season, but in 2019, threw 407 passes with an average depth of target of just 7.1 yards. Of his 236 completions, only 40 of Hilinski's passes went longer than nine yards.
_BookPromo=245
Northwestern's top-four targets from 2020 have moved on, and the offensive front ranked 120th in Line Yards.
Head coach Pat Fitzgerald has beaten expectations before, but this is one of the larger gaps in win total market versus projections. Indiana State is the only easy win on the schedule. Games against Duke, Ohio and Rutgers will find Northwestern as no more than a touchdown favorite.
The Wildcats will be underdogs in their final six games, meaning any slip-up in the first half of the season could result in an early cash on a futures ticket.
Take Northwestern under 6.5 wins for an offense that has no explosive weapons against a defense that loses two of the best Havoc players in the nation.
---
Illinois Fighting Illini
Team Rankings

Key Players

Off. Success Rate

105th

DL Owen Carney

Def. Success Rate

124th

LB Jake Hansen

Off. TARP

84%

RB Chase Brown

Def. TARP

59%

P Blake Hayes
Bret Bielema is back in college coaching after an NFL stint on the sidelines for the New England Patriots and New York Giants. Bielema started his head coaching career at Wisconsin, winning a number of conference titles and visiting the Rose Bowl in three straight years. Now, he returns to the conference he first played and coached a game.
Although the offense boasts high marks in TARP, the advanced statistics include a rank of 105th in Success Rate and 113th in Finishing Drives. The focus of the offense will now center around an identity to pound the rock.
The Illini finished a vanilla 71st in Line Yards and 77th in Stuff Rate, leaving plenty of work for the new head coach. Bielema will look to establish an identity of physical trench play and running the football as often as possible.
Tony Peterson holds the offensive coordinator position after a season in the same role at Appalachian State. The Mountaineers had a 64% rush rate last season, a high level that further ensures the plan to make Illinois a physical ground team. Most of the offensive line remains, with the exception of Kendrick Green, who is now on the Pittsburgh Steelers roster.
Both Peterson and Bielema will look to a stable of running backs led by Chase Brown.
2 Touchdowns early for Chase Brown #StateSide5
pic.twitter.com/Eybvb7RoAt

— Krown Gridiron Nation on TSN (@KGNonTSN) November 21, 2020
The defense has a TARP of 59%, well below the national average of 76% in this season of the "Super Senior."
The goal for Illinois is to find answers for a Defensive Success Rate of 124th and 115th in Finishing Drives. Teams not only got down the field but maximized their points per opportunity past the 40-yard line. Without tackles for loss or pass disruption, the Illini finished in the bottom of the FBS in Havoc.
Defensive coordinator Ryan Walters moves from the same position at Missouri, but the statistics may not suggest improvement in Champagne. The Mizzou defense held a rank of 112th in Success Rate against the rush and 116th against pass explosiveness per expected rush.
A rank of 126th in Finishing Drives is certainly a stat that will point to fades of Illinois and plenty of tickets on the game total over. The returning experience and Success Rate from 2020 indicate this could be a tough first season for Walters.
Illinois' wins and losses will be determined by its ability to run five-plus minute drives on the ground and score when passing the 40-yard line. Past history suggests Illinois can make the turn early in the Bielema tenure.
On the schedule, Nebraska will have one of the weaker front sevens in the conference. Virginia will field a defense with the worst linebacker unit in the ACC. As for remaining conference play, Maryland and Minnesota field two of the worst defensive fronts heading into the season.
UTSA, Charlotte and Rutgers are a trio of games in which the Illini can secure victories. Underdog affairs against Maryland, Nebraska, Northwestern and Virginia are all winnable coin flips.
Bret Bielema never failed at getting a team to rise from program dips. There should be a restoration of Illinois football within the next 18 months, and a win total over 3.5 is the play.
---
Nebraska Cornhuskers
Team Rankings

Key Players

Off. Success Rate

20th

DL Ben Stille

Def. Success Rate

64th

LB JoJo Domann

Off. TARP

64%

RB Markese Stepp

Def. TARP

89%

LB Luke Reimer
The Cornhuskers got their biggest power rating upgrade over the offseason from the return of Havoc players on the defensive side of the ball. Linebacker JoJo Damann and edge rusher Ben Stille have an outside shot of making first-team All-Conference.
Nebraska returns 89% of the defense, per TARP, the highest mark in the West Division. Middling ranks in Success Rate and Havoc from 2020 must increase before any fan of the program will mutter "blackshirts."
Nebraska DL Ben Stille using his strength to push the LG away and burst forward to get the TFL #NFLDraft #Huskers pic.twitter.com/GTr1Ma8fqH

— Brian Johannes (@Draft_Brian) December 1, 2020
A Finishing Drives rank of 72nd is the clear separation point for Nebraska in relation to the product on the field for Iowa and Wisconsin.
Erik Chinander will continue to call a risk-reward 3-4 defense that can go heavy on blitz. Those high-risk, high-reward calls have generated a solid rank in the top 30 in Stuff Rate and Power Success, but the Huskers own rush explosiveness and Passing Success ranks of 82nd.  Chinander has been unable to sustain a Havoc rate similar to his time at Central Florida, as the biggest issue in Lincoln is the turnover difference between the offense and defense.
The offense gets a new offensive coordinator in Matt Lubick, as his top assignment is to eliminate turnover issues with Adrian Martinez. Nebraska has now had an amazing 49 fumbles over the past two seasons in just 20 games.
There are moments when Martinez will carry the Nebraska offense, with 1,286 yards on designed rushing plays over the past three years, including 75 missed tackles. The highs of Martinez come with a crashing low. He has 22 career rushing touchdowns alongside 32 fumbles.
Adrian Martinez with a fumble, and #OhioState recovers it for a return touchdown. #Nebraska #B1G pic.twitter.com/klOaV3tii5

— Justin Groc (@jgroc) October 24, 2020
Martinez's most efficient passing zone is the 10-19 medium range and in between the hashes. That points to plenty of production from returning tight ends Austin Allen and Travis Vokolek. If Lubick can get offensive regression in the turnover department, the Nebraska defense will have room to take risks in blitz packages.
The projected win total for the Cornhuskers sits at 6.7 with a market number of 6.5 on the win total. The number comes down to three coin flips in Michigan, Minnesota and as a clear underdog to Iowa.
Until Nebraska shows sustained drives that result in points on offense, the Cornhuskers are a no-play from a futures perspective. 
---
Big Ten East
Ohio State Buckeyes
Team Rankings

Key Players

Off. Success Rate

3rd

WR Chris Olave

Def. Success Rate

57th

WR Garrett Wilson

Off. TARP

60%

T Thayer Munford

Def. TARP

49%

DB Sevyn Banks
Throw out the College Football Playoff, and Ohio State has lost just one game since the start of the 2018 season. Ryan Day will look to reload with a roster that returns 60% on offense and less than 50% on defense.
The story on offense starts with new quarterback CJ Stroud, who had a much different spring game than his predecessor.
CJ Stroud to Marvin Harrison Jr #Devy pic.twitter.com/fvavXl71aF

— Greg Brandt (@devywarehouse) April 17, 2021
Justin Fields' first spring game on campus resulted in a 4-of-13 effort in the passing game, primarily due to accuracy issues. CJ Stroud executed on 16-of-22 passing attempts for 185 yards of mistake-free football.
Stroud gets the best receiving core in the nation with Garrett Wilson and Chris Olave returning, with depth as tight end Jeremy Ruckert continues to play a bigger part of the Ryan Day offense.
Plenty of investors will report a step back in this offense post-Fields, but Ohio State is one of the few teams in college football where a lack of returning experience isn't diminished because of a full pipeline of recruits.
Stroud will line up behind one of the best offensive lines in the country led by tackle Thayer Munford, who held a top-10 rating in both pass and run blocking during 2021. Munford allowed just three pressures on 248 dropbacks the entire season.
The defense will undergo a scheme change after years of indicating a 4-2-5 was the desired formation. Coordinator Kerry Coombs returned to Columbus last season after a two-year stint as the defensive backs coach for the Tennessee Titans.
Coombs will move to a new scheme and look to identify the personnel to play the "bullet" role. The position will serve as a floater to provide flexibility to work the defensive line or play in the secondary. While the player to fill the bullet position is unknown, true freshman Jack Sawyer is soon to be a household name.
Jack Sawyer: The #1 overall player in the 2021 class just signed with Ohio State✅

(📹 @Rivals)
pic.twitter.com/BFdtr7vMr8

— PFF College (@PFF_College) December 16, 2020
There should be no drop in a Defensive Havoc number that was inside the top 40 last season. New faces in new positions and a scheme change are not enough reasons to fade Ohio State.
The question is always what the correct price is for Ohio State. The Buckeyes will be favorites in every single game, giving no value to the win total with a projection of 10.7. Per Poisson distribution, the true odds to win the division are at -630, with the conference title at -145.
Those prices are recommended, especially considering the strength of schedule difference between the Buckeyes and Penn State. Any national title ticket at +600 or better is recommended as well, as Ryan Day will make another College Football Playoff.
---
Penn State Nittany Lions
Team Rankings

Key Players

Off. Success Rate

38th

T Rasheed Walker

Def. Success Rate

31st

DB Jaquan Brisker

Off. TARP

74%

WR Jahan Dotson

Def. TARP

76%

LB Ellis Brooks
James Franklin upgraded at offensive coordinator with the hire of Kirk Ciarrocca from Minnesota before the 2020 season. After an 0-5 start to the season, the writing was on the wall as the inconsistencies with Sean Clifford continued.
Former Oklahoma State and Ohio State offensive coordinator Mike Yurcich then took the position, as he replaces Ciarrocca after just one season. Yurcich has a proven past and will help improve an offense that fell to 76th in Finishing Drives.
Explosive running back Noah Cain also returns after suffering an injury last season.
Noah Cain, folks? He's a baller. pic.twitter.com/3rVncPvbP0 https://t.co/Gpyv3hbKcV

— Roar Lions Roar (@RLRblog) September 14, 2019
Yurcich will be tasked with improving an offensive line with Caeden Wallace and Rasheed Walker returning at tackles. The Nittany Lions fell to 110th in Power Success and 87th in Sack Rate, but those two offensive linemen allowed just one quarterback hit last season.
While the offense looks to rebound, the defensive numbers were an all-time low for coordinator Brent Pry.
Micah Parsons opted out of the 2020 season and is now a Dallas Cowboys linebacker, leaving Ellis Brooks and Jesse Luketa to rise up the depth chart as the top tacklers last season. The biggest difference between Parsons in and the Brooks/Luketa combination is the lack of Havoc. The duo recorded just seven tackles for loss and one sack through nine games.
The secondary returns two starters over the middle but must improve at the corner position, as opponents racked up explosive plays through the air. Cornerbacks Joey Porter Jr. and Tariq Castro-Fields were targeted 42 times, giving up five touchdowns and recording just three pass breakups.
The Nittany Lions lost their first five games but came alive from a Havoc perspective in their final four victories.
The schedule is unkind to Franklin in 2021 with cross-division games against Wisconsin and Iowa, a stark contrast from the Buckeyes, who play Nebraska and Purdue.
All hope of winning the East Division will come down to a road trip to Columbus on Oct. 30. An improving Maryland beat the Nittany Lions last season and will get the honor of playing Penn State directly after the Ohio State showdown.
Penn State has not covered the spread four years straight when playing the Buckeyes. The win total projection of 9.1 is in line with a market that has 8.5 juiced to the over. The better bet may be a money-line play against the Buckeyes if Yurcich improves Clifford and the defense is back to creating Havoc.
---
Indiana Hoosiers
Team Rankings

Key Players

Off. Success Rate

100th

QB Michael Penix

Def. Success Rate

50th

WR Ty Fryfogle

Off. TARP

81%

LB Micah McFadden

Def. TARP

73%

DB Tiawan Mullen
There are a number of factors pointing to a downswing in the Indiana program, and it starts with Second-Order Win Total. The Hoosiers finished 6-2, but a post-game win expectancy dictates Indiana should have finished closer to 4-4 because of turnover luck and total yards.
In six victories last year, Indiana won the turnover battle despite losing the yardage battle against Penn State, Michigan and Maryland. In two losses against Ohio State and Mississippi, the Hoosiers lost the turnover battle.
The Hoosiers' offense loses a top target in Whop Philyor, but Miles Marshall and Ty Fryfogle caught 56 passes in 2020. Michael Penix Jr. reported to Big Ten Media Days healthy and will continue to get protection behind an offensive line that finished 12th in Havoc allowed last season.
While Indiana rarely turned the ball over, the Offensive Success Rate lagged through most games, making the Hoosiers reliant on the explosive play to rack up scores.
Michael Penix Jr: Highest Big-Time Throw % among all Power 5 QBs last season (10.3%)pic.twitter.com/jVnWGZSbUd

— PFF College (@PFF_College) June 2, 2021
The defense returns a modest 73% of a unit that was ninth in Finishing Drives. Indiana allowed just 2.5 points to opponents that made their way past the 40-yard line.
The secondary returns playmakers from 2020 rankings of 13th in Havoc and 39th in coverage. The front seven of Indiana had consistent issues in rush defense, ranking 113th in Line Yards.
With a projection of seven wins, the clear bet is the under considering the schedule.
Idaho, Michigan State, Rutgers and Western Kentucky serve as the games Indiana will be a favorite of a touchdown or more. The Hilltoppers are undergoing an offensive scheme change that will challenge the Hoosiers' secondary, but none of those specific offenses can expose Indiana on the ground.
Coin-flip games are projections within a single score, and that applies to games against Iowa, Cincinnati, Maryland, Michigan, Minnesota and Purdue. The Hawkeyes, Bearcats and Badgers present the toughest test to Indiana because of the rush advantages.
Take the Indiana under 7.5 or juiced 8 on a total that could be decided after the opener at Kinnick.
---
Michigan Wolverines
Team Rankings

Key Players

Off. Success Rate

71st

DB Daxton Hill

Def. Success Rate

66th

LB Josh Ross

Off. TARP

78%

DL Aidan Hutchison

Def. TARP

70%

RB Ronnie Bell
Investors are taught to buy the dip, but that may be unidentifiable for Michigan football as the Jim Harbaugh era tumbles further from contending at a national or conference level.
Last season, the Wolverines fielded a 2-4 team that mercifully did not have to play Ohio State due in part to COVID-19.
The defense ended the season at 110th in Finishing Drives and 120th in Havoc, two numbers that are program lows over the past two decades. Both Wisconsin and Rutgers scored over 40 points against this defense that returns 70% of experience with minimal Havoc.
New defensive coordinator Mike MacDonald steps in after spending the past seven years on the staff of the Baltimore Ravens. MacDonald indicated that Michigan will be multiple, switching from a 3-4 to 4-3 to a 6-1 on a play-by-play basis. That may not be the solution to increasing turnovers or improving Defensive Success Rate.
Question marks exist on the offensive side of the ball with the transfers of both Joe Milton and Dylan McCaffrey at the quarterback position.
Cade McNamara and Texas Tech transfer Alan Bowman will now compete for starting duties. Bowman struggled to find protection in Lubbock, suffering multiple injuries, including a punctured lung.
Bowman will now compete behind an offensive line that was a strong point for the Wolverines, ranking 18th in Havoc Allowed and 20th in Sack Rate.
McNamara showed in limited action that he is a viable candidate to start, recording just a single turnover-worthy play in 72 dropbacks last season.
Good things happen for Michigan when Cade McNamara comes in the game 👀 @Cademac_12 @UMichFootball

(via @CFBONFOX) pic.twitter.com/XhrjBVx7Fu

— The Checkdown (@thecheckdown) November 22, 2020
The Action Network projection of six wins is well below the market number of 7.5. Generally, preseason wagers need indicators to go over or under on a win total, as Michigan has signs pointing to another season in the middle of the Big Ten.
A new defensive coordinator implementing a complex scheme, combined with new quarterbacks and skill position players, fits the mold.
To go over the win total, victories are needed in coin-flip spread games against Washington, Nebraska, Indiana and Maryland. Rutgers is no longer the doormat of this division after winning three games last season and taking the Wolverines to three overtimes.
Take the Michigan win total under 7.5, and expect Harbaugh to have hot-seat discussions fire up at the end of the season.
---
Maryland Terrapins
Team Rankings

Key Players

Off. Success Rate

96th

DB Nick Cross

Def. Success Rate

45th

WR Donate Demus

Off. TARP

80%

T Jaelyn Duncan

Def. TARP

96%

DL Mosiah Nasili-Kite
Dan Enos steps in as offensive coordinator under head coach Mike Locksley, a familiar role as the two worked together at Alabama.
Quarterback Taulia Tagovailoa returns to an offense that relies on explosiveness but has yet to prove anything about sustaining drives. The Terrapins must improve on a rank of 123rd in Finishing Drives, signifying one of the lowest point total rates for an offense that crosses the opponent's 40-yard line.
Wide receiver Dontay Demus is one of many explosive weapons returning to the Maryland offense.
Maryland gets a much-needed big play here on the connection from Taulia Tagovailoa to Dontay Demus Jr. pic.twitter.com/IgDt3UnDml

— Lila Bromberg (@lilabbromberg) November 28, 2020
The defense returns everything from last season at a nationwide high of 96% in defensive TARP.
Improvement is needed from a Finishing Drives perspective after finishing with a rank of 114th last season. There may not be a another team in the nation that has performed worse inside the 40-yard line on both sides of the ball.
Despite the challenges, this is a Maryland team that can threaten in the toughest parts of its schedule because of the talent.
The Terrapins will be comfortable favorites over Rutgers, Illinois, Howard, Kent State and Michigan State. That leads to a handful of home games that will get Maryland over 5.5 to the window.
A short underdog projection to Indiana, Minnesota and West Virginia all stand chances to be the game to get Maryland to bowl season.
---
Michigan State Spartans
Team Rankings

Key Players

Off. Success Rate

121st

WR Jalen Nailor

Def. Success Rate

39th

LB Noah Harvey

Off. TARP

77%

DB Xavier Henderson

Def. TARP

64%

DL Jacob Panasiuk
The first year of new head coach Mel Tucker resulted in two top-15 underdog victories against Michigan and Northwestern alongside five other losses.
Turnover differential played a key role in those games, evidenced by -4 turnovers in a loss to Rutgers and +3 in a victory over Northwestern.
Quarterback Rocky Lombardi has moved on to Northern Illinois but will be replaced by Anthony Russo from Temple. Although Russo had a 21:12 touchdown-to-interception ratio in 2019, the big-time throws will increase for the Spartans.
Wide receiver Jalen Nailor has an outside shot at making the All-Big Ten first team, and Russo has the arm to move up in pass explosiveness. Transfers populate the backfield for an offensive line that returns every starter. The Spartans ranked 120th in Havoc Allowed, indicating the floor may have been found for opponents' pass rush and tackles for loss.
_BookPromo=19
Defensive coordinator Scott Hazelton returns just 64% of a defense that finished top-40 in Success Rate but crumbled in scoring opportunities at 114th in Finishing Drives.
The secondary will be looking for playmakers with the departure of Shakur Brown, who accumulated all five interceptions for the Spartans. Of the returning players on defense, just 15 pass breakups were recorded in 2020. 
The defense should continue to get better with a defensive-minded head coach, but the offense must improve after ranking outside the top 120 in Success Rate, Finishing Drives and Havoc Allowed.
With a win total projection at 4.5, the under is the only suggestion, with Youngstown State being the only game on the schedule that can be considered a win. 
---
Rutgers Scarlet Knights
Team Rankings

Key Players

Off. Success Rate

115th

WR Bo Melton

Def. Success Rate

80th

WR Aron Cruickshank

Off. TARP

71%

LB Olankunle FatuKasi

Def. TARP

90%

LB Tyshon Fogg
Greg Schiano was the perfect hire for the Scarlet Knights from an on-field and off-field recruiting standpoint. In the head coach's return, he won three games, the grand total of wins through the 2018 and 2019 seasons.
Rutgers had not won a conference game since 2017.
The numbers are not pretty with a rank of 84th in Line Yards and 78th in Sack Rate, but those are improvements from previous installments of Rutgers football.
Bo Melton strikes again! #Devy pic.twitter.com/YqjUx62GBa

— Greg Brandt (@devywarehouse) November 22, 2020
Noah Vedral returns at quarterback looking for consistency in the passing game. Rutgers finished 108th in Passing Success Rate and outside the top 100 in passing expected points.
Vedral ended the season with more touchdowns than interceptions, but under the hood, there are other numbers to suggest a better season is in the works. The Rutgers junior finished with a better passing grade in 39 attempts over 20 yards than the 93 attempts between 0 and 9 yards. This could be a more explosive offense with weapons like wide receiver Bo Melton.
Schiano is known for his defense with his previous position as the defensive coordinator for Ohio State for three years.
Rutgers improved across the board from a Havoc rating of 51st to a tackling rating of 87th, per PFF. Those are gains, but a coverage rank of 111th will be at the top of items for improvement.
The front seven unit, led by linebackers Olakunle Fatukasi and Tyshon Fogg and edge Mike Tverdov, combined for 18 tackles for loss and eight sacks. Any opponent on the schedule that struggles to get the ball downfield in the passing game could come across a challenge from the Rutgers defense.
A win total of five is asking an over investor to believe Rutgers is ready for bowl season. The Action Network projection falls at 4.6, making this a no-play from an investment standpoint.
Both Maryland and Michigan State are winnable games, but the Terrapins and Spartans have explosive players at the receiver position who will challenge the Rutgers secondary.
Rutgers is headed in the right direction, but oddsmakers are well aware of the ascent of the Scarlet Knights.
Are you looking for a safe, reliable, trustworthy sportsbook? Check out our ratings of the best sportsbooks and their current sign-up offers for new customers.