2021 ACC Betting Preview: Win Totals, Futures Odds & Predictions for Clemson, North Carolina, More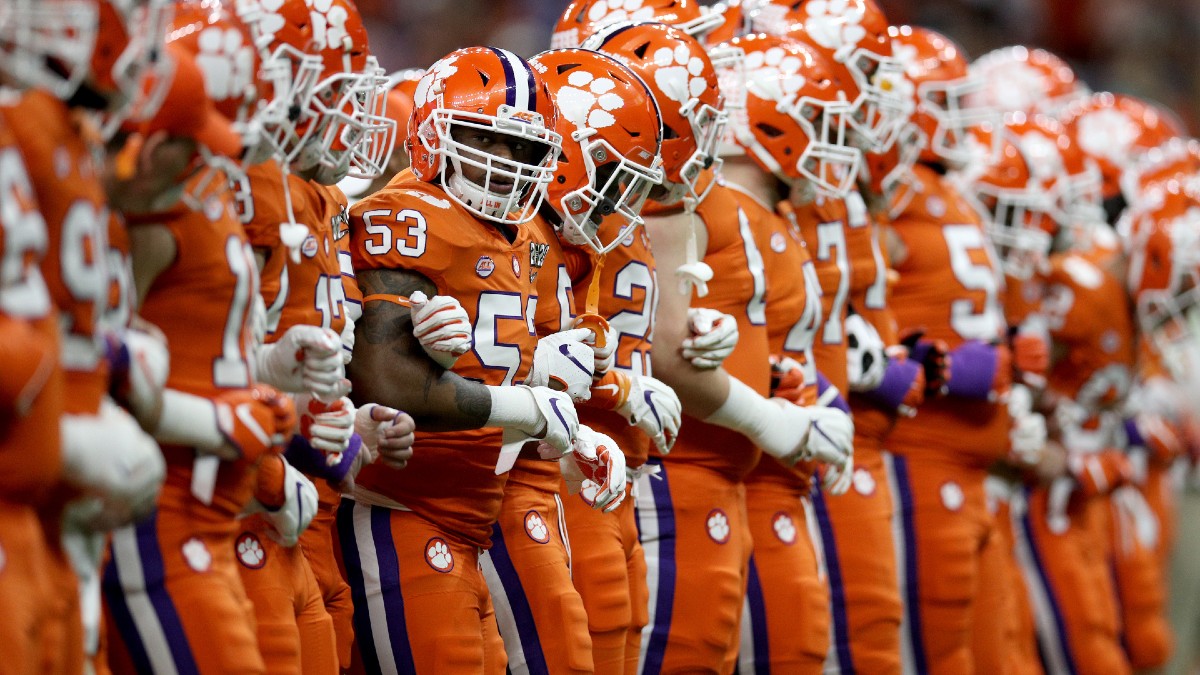 The ACC features two divisions with antithetical directions.
The inaugural College Football Playoff in 2014 was the only edition to not feature the Clemson Tigers. Dabo Swinney has won six consecutive ACC Championships, ironically against six different opponents. That opponent was Notre Dame last season, a one-time entry in the conference due to the pandemic.
Before the non-division ACC effort in 2020, the Coastal Division had been won by seven different teams since 2013.
Both North Carolina and Miami are leading contenders in the Coastal, as neither have Clemson in cross-division play.
In the Atlantic, both Boston College and Florida State look to take the next step in Year 2 for their respective coaches.
This conference is still dominated by the Tigers at the top, with quarterback DJ Uiagalelei just behind Oklahoma's Spencer Rattler in odds to win the Heisman. Clemson has not lost a game to an ACC opponent — other than Notre Dame — since 2017, and the Atlantic division has won 10 straight conference championships with an average margin of victory at 22.5 points.
Will 2021 be more of the Clemson steamroll, or have other ACC teams made enough improvements to challenge?
Atlantic Coast Conference Odds
---
Click any logo below to navigate to that specific team's breakdown, and click the ACC logo to return to the top.
Note: All photos are via Getty Images.
---
---
Atlantic Coast Conference
Clemson Tigers
Team Rankings

Key Players

Off. Success Rate

17th

QB DJ Uiagalelei

Def. Success Rate

7th

WR Justyn Ross

Off. TARP

47%

RB Lyn-J Dixon

Def. TARP

92%

LB James Skalski
The deck is certainly stacked against the ACC in terms of Clemson.
Questions surrounded the 2020 season, from an inexperienced offensive line to the rebuild of the defensive front seven. A season-ending injury to wide receiver Justyn Ross left Trevor Lawrence with only a handful of targets with experience.
Fast forward to the present, and the Tigers look to make a run at another national title. Ross has been cleared to play, and quarterback DJ Uiagalelei is now projected to be the No. 1 overall pick in the 2023 NFL Draft.
The biggest return for the Tigers comes with the defensive front seven, which may challenge the 2018 version as the best the program has ever fielded.
The Clemson offense returns just 47% with regards to returning production and the transfer portal.
Uiagalelei loses his top three targets and 178 pass receptions, but the cupboard isn't bare with EJ Williams, Frank Ladson and Joseph Ngata. Ross will be utilized with an expanded role after just 76 snaps in the slot and 291 as a wideout in 2019.
The biggest replacement on offense may be Travis Etienne, who complemented the rushing game with the highest elusiveness and missed tackles on the team.
Lyn-J Dixon looks to take over the role in the backfield, flashing his abilities in 2020 with 16 missed tackles in only 42 rushing attempts. Dixon averaged four yards after contact, an indication that the running back position will still produce explosive numbers for Clemson.
That's a big dog run from Lyn-J Dixon! 💪#ACCFootball | @CanesFootball @im_Next23 pic.twitter.com/IxPWLv2p2J

— ACC Digital Network (@theACCDN) December 6, 2020
From a defensive perspective, this is the best front seven in college football.
The Clemson defense returns 92% of a unit that ranked seventh in Success Rate, 10th in Finishing Drives and second in Havoc.
Baylon Spector and Bryan Bresee each recorded 11 quarterback hits in 2020. Super senior James Skalski returns at linebacker, leading the defense in play calling and getting his peers into the correct position.
The loss of Derion Kendrick to Georgia via the transfer portal will play a factor in the season opener, but the remaining schedule is one of the easiest in the country.
NC State is the only conference opponent that finished 2020 with a winning record in ACC play. Non-conference games against UConn, South Carolina State and South Carolina all serve as scrimmages in a bye week with none projected within four touchdowns of the Tigers.
Oddsmakers have overpriced the Tigers from the start, as the true odds should be closer to -730 for the Atlantic and -210 for the ACC.
Clemson lost conference games as heavy favorites to Pitt in 2016 and Syracuse in 2017. If there are spots to circle for 2021, Boston College comes to town after putting up 28 points on this defense in 2020. NC State returns explosiveness and a solid secondary in what will be the first road game for Clemson.
The win total projection sits at 11.2, suggesting a play on the juiced under.
One area of concern for Dabo Swinney is the backup quarterback situation in the event Uiagalelei is injured. Taisun Phommachanh and Hunter Helms combined for 29 pass attempts in garbage-time play in the 2020 season, but each represents a massive drop off in value over replacement level in comparison to Uiagalelei.
The best play on Clemson might come in the form of a Georgia moneyline position with the underdog juice. If Clemson is going to win 11 games or less, the Georgia number serves as a better payout than a win total under.
---
---
North Carolina Tar Heels
Team Rankings

Key Players

Off. Success Rate

7th

QB Sam Howell

Def. Success Rate

49th

LB Jeremiah Gemmel

Off. TARP

79%

DE Tomon Fox

Def. TARP

76%

WR Beau Corrales
The North Carolina offense loses all of the explosive weapons from last season, as Michael Carter, Javonte Williams, Dyami Brown and Dazz Newsome depart.
But the cupboard certainly is not bare in Mack Brown's third season. Ty Chandler and Beau Corrales step in to fill the gaps, while Khafre Brown will pick up more explosive passes after averaging 11.3 yards after the catch with a 13.1 yards average depth when targeted.
Sam Howell to Khafre Brown TD @Sam7Howell @khafre_brown #UNC pic.twitter.com/12unByRrVc

— Tar Heel Tapes (@TarHeelTapes) October 3, 2020
This was the most efficient passing attack in the ACC led by Sam Howell, currently a top-five contender for the Heisman.
The entire offensive line returns to protect Howell, but there's plenty of work to be done as North Carolina ranked 106th in Sack Rate.
The Tar Heels offense is not only one of the most explosive, but it's the standard for efficiency, ranking top-10 nationally in Success Rate and Finishing Drives. 
The defense does lose its top chaos player and leading tackler in Chazz Surratt. The Heels return their next eight tacklers from the 2020 season, including Tomon Fox, who chipped in with seven sacks. Jeremiah Gemmel brings 2.5 sacks and seven quarterbacks hits while spending plenty of time in opponents' backfields.
North Carolina finished top-50 in Defensive Success Rate and will look at a schedule that does not include Clemson or Boston College from the Atlantic.
Defensive Coordinator Jay Bateman will work on stopping the opposing rush after falling to 104th in Line Yards while maintaining a top-15 Sack Rate. The ability to tackle in space on defense is what will make the difference when D'Eriq King and Miami visit Chapel Hill on Oct. 16.
The Action Network's projected win total sits at 10.4, well ahead of the market at 9.5. The play is North Carolina over 9.5 -120 on the win total, but until the defense can eliminate opponents with an increase against explosiveness, there can be no futures made on the ACC when Miami and Clemson are the hurdles.
---
---
Miami (FL) Hurricanes
Team Rankings

Key Players

Off. Success Rate

72nd

QB D'Eriq King

Def. Success Rate

68th

DB Te'Cory Couch

Off. TARP

95%

TE Will Mallory

Def. TARP

90%

DT Nesta Jade Silver
Miami's renewed focus after time off paid dividends for the Hurricanes last season.
Bowl games and bye weeks had plagued this team since 2018, as it lost eight straight games when there was additional time off before the season, for a bowl game or off a regular-season bye week.
Manny Diaz addressed those issues prior to last season, with the result ending with a 2-2 record in 2020 among the stoppage time due to COVID-19.
The reason this is so important for the 2021 season is because of a schedule that sends Miami to Chapel Hill off a bye week. The Tar Heels threw 60 on the board in a rout of the Hurricanes in Miami Gardens, and if revenge is to be achieved off a bye week in 2021, the focus will come through two weeks of preparation.
D'Eriq King has looked healthy through the start of camp after consideration that he may not play the opener against Alabama.
Both the offense and defense return at least 90% from 2020, but Success Rate continues to hinder the Diaz era on both sides of the ball.
Offensively, the Hurricanes finished top-20 in explosive passing plays and Finishing Drives. Offensive coordinator Rhett Lashlee proved to be an excellent hire for Diaz, moving this Hurricanes offense at the 11th-fastest pace in the nation.
Some footage today of D'Eriq King and Miami's QBs working through drills pic.twitter.com/x9T8OZ9Q8r

— Manny Navarro (@Manny_Navarro) August 7, 2021
The defense will look to continue a top-25 rank in Havoc and Line Yards but must improve sinking rates against opponent explosiveness on the ground and through the air.
With this number of returning starters on both sides of the ball, a healthy King presents issues for the Tar Heels.
The buy price on the Coastal is where the market currently sits. North Carolina and Miami would be a pick'em at a neutral site, but because the game is at Chapel Hill, the Hurricanes will be a small underdog.
Miami to win the Coastal at +130 is the investment, with all eyes on Oct. 16.
---
---
NC State Wolfpack
Team Rankings

Key Players

Off. Success Rate

64th

RB Zonovan Knight

Def. Success Rate

41st

LB Peyton Wilson

Off. TARP

62%

LB Isaiah Moore

Def. TARP

90%

WR Emeka Emezie
NC State was on the upward trajectory through the 2018 season, as the Wolfpack finished consecutive seasons with nine wins.
Quarterback Ryan Finley's NCAA service time expired while offensive coordinator Eli Drinkwitz left for a head-coaching position at Appalachian State. The Wolfpack then regressed in 2019, collecting four wins and just two against the spread. The 2020 NC State campaign was most unexpected, as it finished 8-4 with a trip to the Gator Bowl.
Head coach Dave Doeren was instrumental in elevating Tony Gibson to defensive coordinator. The rush defense finished top-20 in Power Success and Stuff Rate. The back seven finished 43rd in Opponent Passing Success Rate.
The defense returns 90%, per TARP, with plenty of Havoc expected for the upcoming campaign. Linebackers Peyton Wilson and Isaiah Moore tallied 16 tackles for loss and 10 quarterback hits.
Doing a little film review tonight and what a vicious hit by Isaiah Moore. pic.twitter.com/i6tBz7RdvV

— Phillip Danford (@PDanford21) July 15, 2020
There is reason for optimism on the offensive side of the ball with the return of quarterback Devin Leary. The sophomore generated 14 big-time throws against five turnover-worthy plays in 122 dropbacks last season. Of all FBS quarterbacks with at least 100 dropbacks, Leary ranked inside the top five in average depth of target and big-time throw percentage, per PFF.
The NC State offense is not only solid under center, but running back Zonovan "Bam" Knight returns after generating 48 missed tackles and just two fumbles in 143 rushing attempts.
More importantly, Knight saw an increase in yards after contact from the 2019 season to 2020. He might also be the best kick returner in the ACC.
Zonovan Knight 100 yards to the house! What a return, and NC State leads No. 11 Miami 38-31 in a wild, wild game. pic.twitter.com/o6ryYjPdhe

— The Comeback (@thecomeback) November 7, 2020
There are areas of concern when it comes to NC State, as the offensive had a low ranking in Havoc Allowed. The Wolfpack have fumbled 37 times over the past two seasons.
The schedule is much more complicated than just overcoming Clemson in the Atlantic. NC State draws the two best teams from the Coastal in Miami and North Carolina. A non-conference game against a pass-heavy Mississippi State will challenge a talented back seven.
The projected win total is 6.3, in line with the market. Considering the talent at the skill positions and experience on defense, NC State over 6.5 at -110 or better is where I'm invested.
---
---
Pittsburgh Panthers
Team Rankings

Key Players

Off. Success Rate

88th

LB SirVocea Dennis

Def. Success Rate

10th

DT Calijah Kancey

Off. TARP

79%

WR Jordan Addison

Def. TARP

64%

P Kirk Christodoulou
Pitt may be the toughest handicap on a week-to-week basis.
Through six years of the Pat Narduzzi era, a trend has formed when the Panthers are a road underdog and a home favorite. Pitt lost to NC State as a two-touchdown favorite last season but beat both Florida State and Virginia Tech as an underdog.
In 2019, the Panthers beat Central Florida as a double-digit underdog and lost as a touchdown-plus favorite to Boston College. The biggest of these events came in 2016, as Pitt beat Clemson outright as 21-point underdogs.
Narduzzi is now 8-15-2 against the spread as a home favorite and 16-8 against the number as a road underdog.
_BookPromo=3890
Kenny Pickett is back for a fifth season and looks to build on an offense that returns nearly 80% of 2020 production.
A deep backfield and wide receiver unit will be challenged by moving pieces on the offense line. Pitt ranked 115th in Line Yards and 108th in Havoc Allowed, as coordinator Mark Whipple looks to gain stability in the trenches with the transfer portal bringing in Maryland tackle Marcus Minor.
The Panthers have prided themselves on defense since Narduzzi left his position as defensive coordinator at Michigan State. Pitt finished 10th in Defensive Success Rate and as the top overall team in Havoc. The TARP number sits at 64% on defense, but some of the biggest creators of chaos remain.
SirVocea Dennis continues to produce at an incredible rate this season.

7 Tackles, 3 TFL, 2 Sacks#H2P • @Sirvocea pic.twitter.com/VxKNKYIzoG

— Pitt Football (@Pitt_FB) November 8, 2020
Returning defensive players include SirVocea Dennis, who led the team in tackles and tackles for loss. Cam Bright and Phil Campbell will look to increase their sack totals of 4.5 apiece.
The only issues from the 2020 defense include an opponent passing expected points rank of 106th and a coverage rank of 61st, per PFF. Other than those two issues, the Panthers have the ability to terrorize opposing offenses this season.
Pittsburgh is projected at 7.5 wins for the season, matching the current market offering. Although there's no preseason play on the Panthers, a Week 2 trip to Tennessee may be our first play on Pitt.
---
---
Boston College Eagles
Team Rankings

Key Players

Off. Success Rate

48th

QB Phil Jurkovec

Def. Success Rate

110th

WR Zay Flowers

Off. TARP

77%

WR Jalean Gill

Def. TARP

81%

C Alex Lindstrom
The question with Boston College and the Jeff Hafley hire was no "if" but more of a "when."
Hafley is all about creating a productive environment for his program, none more evident than his quest to get the team vaccinated. The Eagles will not have COVID-19 disruption this season, especially with Hafley helping players who refused into the transfer portal.
Boston College is the hot team in the market, evidenced by the win total juice on the rise for the over throughout the summer.
The schedule sets up nicely for Hafley's second year, as Colgate, UMass and Temple will get the Eagles ready for an ACC opener against Clemson.
Hafley will continue to work on a defense that struggled in plenty of categories. The Eagles ranked 97th in tackling and 113th in Opponent Rushing Success Rate. Those numbers, along with a Havoc rank outside of 90th, are nowhere close to what Hafley produced in his tenure at Ohio State.
Marcus Valdez returns to the edge position along with 3.5 sacks from last season, but this Eagles defense will be dependent on a few transfer portal players.
The biggest surprise of 2020 was the output of the offense led by Notre Dame transfer quarterback Phil Jurkovec. The Eagles finished top-40 in Passing Success Rate and expected points.
The offensive line allowed just 12 sacks the entire season but struggled in the run game. Running back David Bailey has moved on from the program, as Travis Levy returns after running the ball 99 times last season.
Offensive coordinator Frank Cignetti had an even distribution of run versus pass with a seconds per play rank of 90th.
Jurkovec is complemented by two explosive receivers in Zay Flowers and Jalean Gill.
The bread and butter of the offense was Jurkovec in play action. The former blue-chip recruit obtained 12 big-time throws and just six turnover-worthy plays using play-action pass.
Zay Flowers strikes for 45-yards!

Watch @BCFootball vs. @UVAFootball now on NESN & NESN Go! https://t.co/6HucV2QSzA#GetIn | #ForBoston | #BCvsUVA pic.twitter.com/CSK7xEldX5

— NESN (@NESN) December 5, 2020
The projection for Boston College is 7.5, indicating a play on the over 7 at -130.
There are areas of concern with the Eagles from the Defensive Success Rate to who will carry the ball out of the offensive backfield. The play-action pass only works when the defense bites on the fake, as Cignetti will be looking for answers to rushing the ball on standard downs.
The September schedule is conducive to answering questions on both sides of the ball. The seven ACC games after Clemson are all projected to be within a touchdown spread, giving Hafley plenty of room to continue Boston College's climb through the Atlantic Division.
---
---
Virginia Tech Hokies
Team Rankings

Key Players

Off. Success Rate

16th

TE James Mitchell

Def. Success Rate

105th

DE Amare Barno

Off. TARP

64%

K Brian Johnson

Def. TARP

62%

DB Chamarri Conner
Virginia Tech continues to be in transition despite this being Justin Fuentes' sixth year in Blacksburg.
Running back Khalil Herbert has moved on, while quarterback Hendon Hooker is now with the Tennessee Volunteers.
The defense was in a constant state of flux during 2020 due to injury, suspension and COVID-19. Despite the loss of Divine Deablo, players such as corner Jermaine Waller remain to stabilize the secondary.
The defensive front is boosted from the transfer portal with Jordan Williams from Clemson. This group finished 57th in Havoc, one of the better stat categories for the defense. Chamarri Conner and Amare Barno combined for 13 tackles for loss and six pass breakups.
Take A Bow, @Ayye_Barno 💪🏾

Amare Barno leads Tech with 5.0 TFL and 3.5 sacks! #HardHatMentality 👷🏽‍♂️ pic.twitter.com/z4e7ZUcCvc

— Virginia Tech Football (@HokiesFB) October 18, 2020
Defensive coordinator Justin Hamilton has yet to create stability on the defense after a dip outside the top 100 in Defensive Success Rate and Finishing Drives. A Sack Rate in the top 15 provides plenty of highlights but not at the expense of giving up explosive touchdowns through the air.
Hamilton was elevated from secondary coach upon the retirement of Bud Foster, but this season may be a make-or-break year for the coordinator and his head coach.
Fuentes has the hottest seat of any Power Five coach, and the schedule is unforgiving. The Hokies play North Carolina, West Virginia and Notre Dame all in the first five weeks of the season. Although the strength of schedule ticks down toward the end of the season, the ACC schedulers did no favors for Virginia Tech. The Hokies will finish the season playing four of their last five on the road.
Quarterback Braxton Burmeister has plenty of experience from his time at Oregon and in snaps with the Hokies while Hooker sat out with an injury. Burmeister's stats are positively populated from one game on the schedule last season, as he racked up five big-time throws against Duke and none against other opponents in 2020.
The right side of the offensive line has new starters but must be able to provide enough protection for the explosive receiver set on this roster. Tayvion Robinson, Tre Turner and James Mitchell each had receptions of at least 50 yards last season.
James Mitchell made this one-handed catch look too easy. 👀@HokiesFB | @NavyFederal pic.twitter.com/Strpcmvx8v

— Stadium (@Stadium) December 14, 2020
Busted plays and explosiveness have dictated the final score in Virginia Tech games over the past two seasons.
One part of the Hokies that is in a downward spiral is special teams. Frank Beamer fielded defense and special teams units that not only stopped opponents but scored in every opportunity. Now, Fuentes has a special teams rank near the bottom of the conference.
Our projected total at the Action Network is 7.8 wins, close to the market number of 7.5. There has been plenty of action on the under, which has created plus-money on the over. Any book that drops the Hokies to seven wins flat is worth consideration for the over.
---
---
Georgia Tech Yellow Jackets
Team Rankings

Key Players

Off. Success Rate

59th

RB Jahmyr Gibbs

Def. Success Rate

75th

LB Quez Johnson

Off. TARP

84%

DB Juanyeh Thomas

Def. TARP

79%

LB Ayinde Eley
Geoff Collins' quest to move from the triple option to a balanced offense continues in his third season.
The Yellow Jackets ran the ball 59% of the time in 2020, one of the highest rates in the nation. The offense did find success in running with a rank of 40th in Rushing Success Rate, but issues in the passing game and with putting points on the board linger.
Quarterback Jeff Sims returns after putting up 13 touchdowns through the air to go along with 500 yards rushing in 2020. Sims did put the Jackets in danger more often than not with 11 big-time throws and 19 turnover-worthy plays. The freshman created 28 missed tackles on the ground, but plenty of mistakes were scoring-drive killers.
UCF Havoc costs Jeff Sims in the Yellow Jacket red zone @UCF_Football | #Go1and0 pic.twitter.com/Fm0qU5NVAs

— Collin Wilson (@_Collin1) September 19, 2020
The offensive line will replace two starters from a 2020 season that registered a rank of 113th in Stuff Rate and 121st in Havoc Allowed. There's some size in Collins' recruits and transfer portal activity, but experience is lacking in the two-deep trench.
As the offense returns 84%, per TARP, the defense is also above the national average at 79%.
The good news is 13 of the 16 top tacklers from 2020 return to the defense. The bad comes with a back seven that ranked outside the top 100 in opponent pass explosiveness and coverage.
Teams that can throw downfield will be an issue for Georgia Tech, but the rush defense has improved. Transfer players Ayinde Eley from Maryland and Keion White from Old Dominion should be immediate starters and upgrades for the defensive side of the ball.
The mathematical projection on Georgia Tech is 5.8, which led to an early-season play in the Action App on the Yellow Jackets over 4.5.
The schedule is unkind with games against Clemson and Georgia. Notre Dame, North Carolina and Miami are another set of teams just on the outside of the College Football Playoff.
Georgia Tech should start the season 2-0 against a Rocky Lombardi-led Northern Illinois team and the triple-option attack of Kennesaw State. The Yellow Jackets will not have to worry about those two teams exposing the secondary.
For Georgia Tech to eclipse a win total of 4.5, victories must come against Duke and a handful of coin flips in Boston College, Virginia Tech, Virginia and Pitt. The max number of wins on this schedule is seven, with a realistic win total of five if the offense eliminates mistakes.
Take Georgia Tech over 4.5 at -120 or better, and look for the Virginia Tech game on Oct. 30 as the hedge. Any juice or total at 5 is a no-play on the Jackets.
---
---
Wake Forest Demon Deacons
Team Rankings

Key Players

Off. Success Rate

76th

WR Jaquarii Roberson

Def. Success Rate

98th

RB Christian Beal-Smith

Off. TARP

86%

DB Ja'Sir Taylor

Def. TARP

75%

WR Donavon Greene
Dave Clawson enters his eighth season as the Demon Deacons head coach and will return every starter offensive starter from the team's Duke's Mayo Bowl loss to Wisconsin.
Wake Forest ranked 19th in Finishing Drives in 2020, scoring as many points as possible when crossing the opponent's 40-yard line. The Demon Deacons were held back by a Success Rate outside the top 50.
Quarterback Sam Hartman led Wake Forest to a top-20 rank in pass explosiveness.
Jaquarri Roberson has a chance to improve after making earning second-team All-ACC honors in 2020. With 87 targets last season, the junior had just four drops and 418 yards after the catch. Roberson has been a safety net for Hartman as the offensive line continues to struggle in passing downs. Wake Forest ranked 99th offensively in Sack Rate, resulting in 25 total sacks.
The defense was not without its own issues, sporting ranks outside the top 90 in tackling, Success Rate and Finishing Drives.
Coordinator Lyle Hemphill enters his fifth season with a TARP percentage of 75%. Ja'Cquez Williams departs the program along with his team-leading 73 tackles. The Demon Deacons were 52nd in Havoc and retain most of those counting stats with players such as Ja'Sir Taylor's six pass breakups and Nick Anderson's four interceptions.
Ja'Sir Taylor wears 6 for a reason! PICK SIX!!!@WakeFB | #ACCFootball

📺: https://t.co/QZNylZSIsK pic.twitter.com/Bflejymv9B

— ACC Football (@ACCFootball) September 20, 2020
Until the defense can improve in Success Rate through the air and on the ground, this should be another season of Wake Forest attempting to outscore opponents.
The win total projection for Wake Forest comes in at 6.9, indicating no play on the market number of 7. Old Dominion and Norfolk State are perfect starting games for the Demon Deacons to identify defensive starters and offensive linemen to protect Hartman.
---
---
Florida State Seminoles
Team Rankings

Key Players

Off. Success Rate

79th

QB McKenzie Milton

Def. Success Rate

114th

DE Jermaine Johnson

Off. TARP

83%

RB Jashaun Corbin

Def. TARP

66%

LB Stephen Dix
A full offseason of Mike Norvell may change the trajectory of the Seminoles program.
Florida State had poor numbers in a COVID-19 transition Year 0 that produced a victory over a top-five North Carolina team and a loss against Georgia Tech as a double-digit favorite.
Just 66% of experience returns to a defense that was outside the top 100 in Opponent Passing Success and Sack Rate. ACC offenses had plenty of time to pass and do damage against the Seminoles through the air.
Norvell was an active participant on the transfer portal front, as former South Carolina safety Jammie Robinson should provide immediate help.
The value of adding Jammie Robinson?

He's a two-year starter with experience at safety and nickel. FSU views him as a player who can play three positions in the secondary.

Hard hitter and very comfortable playing in space (as seen here):https://t.co/61xsYMO1hI pic.twitter.com/hmwzaRDsny

— Brendan Sonnone (@BSonnone) January 10, 2021
The Florida State handicap begins and ends on the offensive side of the ball, primarily with the offensive line. Both the Sack Rate and Havoc Allowed fell outside of the top 100 once again, signifying the Seminoles' path back to the top of the ACC begins in the trenches.
Darius Washington returns to left tackle after allowing 16 pressures and four sacks in 344 snaps last season. Dillan Gibbons transfers in from Notre Dame after logging more than 100 snaps for the Irish in 2020. Devontay Love-Taylor was the second-highest pass blocker on the team last season and should fill holes on the right side of the line.
Central Florida quarterback transfer McKenzie Milton has also grabbed a few headlines in Tallahassee. Milton has not played a snap since injury in November 2018, and there should be little expectation that his ground game returns to its previous form considering the injury.
The ground game is a different story for quarterback Jordan Travis.
Travis averaged 4.9 yards after contact and created 22 missed tackles in 2020. The sophomore generated 438 yards on designed runs and 203 off scrambles, giving Florida State a weapon to attack any of the soft defensive fronts on the schedule. Both Travis and Milton worked with the early session at the break of Florida State's camp.
Our Action Network projection has Florida State at 5 wins, just shy of their market number of 5.5.
There are certainly reasons to believe this team will improve in Norvell's second year. The offensive line continues a slow climb to decency in pass protection, while quarterback play should be improved no matter what happens in the battle between Milton and Travis.
Despite no futures on the Seminoles, there is a play on Florida State in Week 1 against Notre Dame. That number should be no greater than a touchdown, giving value at the dead numbers between 7.5 and 9.5 on the board.
---
---
Virginia Cavaliers
Team Rankings

Key Players

Off. Success Rate

55th

LB Nick Jackson

Def. Success Rate

38th

LB Noah Taylor

Off. TARP

66%

WR Billy Kemp

Def. TARP

58%

QB Brennan Armstrong
Virginia spent the 2020 season looking for answers on who would replace Bryce Perkins at the quarterback position.
Brennan Armstrong did everything to keep the spirit of a dual-threat quarterback like Perkins alive with 472 yards on the ground from designed carries.
Armstrong's passing game was hit or miss, generating six interceptions in the Cavaliers' first three games. The first month of play was a learning lesson for Armstrong, as he recorded five turnover-worthy plays through the air. The freshman would generate only five turnover-worthy plays in his final eight games.
BRENNAN ARMSTRONG HOUSE-CALL 😤

Armstrong finished 5th among power conference QBs last year with 207 breakaway yards. pic.twitter.com/RlBSXyWs5A

— ACC Content (@ACContent__) April 9, 2021
Armstrong returns to the offense that returns plenty to an offensive line unit that ranked 10th in Havoc Allowed and fourth in Sack Rate. If Virginia can identify explosive playmakers and progress honorable mention All-ACC wide receiver Billy Kemp, the Cavaliers will light up the scoreboard. 
Although the 2020 defense returned half of its 2019 production, the advanced splits took a dive.
Virginia ranked 115th in both defensive passing expected points while putting up a rank of 82nd in coverage, per PFF. The defensive rush unit was excellent, ranking top-20 in Line Yards and Rushing Success Rate.
There were other positives for Bronco Mendenhall's defense, from a conference-leading unit in Finishing Drives to ranking 10th nationally in Sack Rate.
The secondary loses plenty of disruption from a pass breakup and interception perspective, but most of the tackles for loss and sacks return to the defensive front seven.
Pick 6⃣ to the 🏡

Noah Taylor went 85-yards for @UVAFootball to get on the board early. pic.twitter.com/iQ4JUlLs6p

— Stadium (@Stadium) November 15, 2020
William and Mary, along with Duke, serve as two games in which Virginia will be heavily favored. Illinois travels to Charlottesville, but Bret Bielema will force a rushing attack into the Cavaliers' greatest strength on defense.
A trip to BYU late in the season could be the deciding factor in whether or not Virginia goes over its season win total and becomes bowl eligible.
The stakes could not be higher for Bronco Mendenhall in his return, as that game is projected as a coin flip and should decide the win total futures for the Cavaliers. With a projection of 5.6, playing Virginia win total under 6.5 is suggested.
---
---
Louisville Cardinals
Team Rankings

Key Players

Off. Success Rate

65th

QB Malik Cunningham

Def. Success Rate

28th

DB Kei'Trei Clark

Off. TARP

77%

C Cole Bentley

Def. TARP

61%

LB Yasir Abdullah
Year 3 of the Scott Satterfield era comes in the wake of a restless fanbase.
After flirting with job opportunities in the SEC and penning a letter to the fanbase asking for forgiveness, the Cardinals will look to continue one of the most explosive ground attacks behind Malik Cunningham.
There was plenty of activity in the transfer portal for Louisville this offseason, as Jawon Pass has left town and Georgia Southern quarterback Shai Werts is in to play wide receiver for the Cardinals.
The offensive line returns every piece but must improve on a rank outside of the top 100 in Havoc Allowed and Line Yards. Although 77% return for the offense, the missing pieces on the defense may lead to high-scoring games. 
Only two of the team's top seven tacklers return on the defensive side, but there are pieces that could improve a dreadful rank outside the top 100 in defending explosiveness.
Cornerback Ke'Trel Clark recorded 10 pass breakups after being targeted 39 times on the season. Opponents quickly threw around the shutdown corner, as he was targeted just once in the season finale against Wake Forest after eight targets came in three previous games against Syracuse, Virginia and Virginia Tech.
Along with Werts from Georgia Southern came safety Kendrick Duncan, who recorded five pass breakups for the Eagles. 
While there is optimism thanks to the transfer portal, Satterfield must improve Havoc Allowed and defending explosiveness. The points will come for the offense, but the biggest question is whether or not defensive coordinator Bryan Brown can get all his transfers to increase efficiency and improve a tackling rank of 66th.
The projection of Louisville at 7.8 suggests that can happen.
When including the previous stats from the transfers into Louisville, the cupboard does not look as bare for this program. The Cardinals pull two lowly Coastal teams on the schedule with Duke and Virginia. Only four true road games exist on the schedule, including coin flips with Wake Forest and Florida State.
With regression in the turnover department, Louisville is a prime candidate to return to bowl season and eclipse six victories to cash an over on the win total. 
---
---
Duke Blue Devils
Team Rankings

Key Players

Off. Success Rate

92nd

RB Mataeo Durant

Def. Success Rate

63rd

LB Shaka Heyward

Off. TARP

47%

P Porter Wilson

Def. TARP

60%

WR Jake Bobo
Digesting the advanced statistics for the Blue Devils should come with a warning label.
The offense ranked near dead last in Finishing Drives, Line Yards and Havoc Allowed. The defense finished near the cellar of FBS in opponent pass explosiveness, tackling and Finishing Drives.
Now, the offense belongs to quarterback Gunnar Holmberg and wide receiver Jake Bobo.
The defense loses most of the front four as the linebacker unit returns a core group that was predominantly freshmen. The secondary will be the strength similar to last season. Duke ranked 13th in Defensive Passing Success Rate thanks to the size and talent in the backfield.
David Cutcliffe is a coach who can pull a program from a two-win season back to a bowl, but this rebuild starts in the trenches on both sides of the ball.
The Blue Devils have not finished at the bottom of the ACC recruiting rankings since 2017, even finishing eighth of 14 teams in a couple of seasons.
The pedigree is there with the talent in-house to battle with the lower half of the ACC. Charlotte, North Carolina A&T, Northwestern and Kansas serve as winnable games for Duke.
A win in ACC play and a rise to bowl season would put Cutcliffe on the map for Coach of the Year. The projection on the win total is just south of the market at four wins. That means there's a no-play on Duke until there's evidence of improvement.
---
---
Syracuse Orange
Team Rankings

Key Players

Off. Success Rate

125th

RB Sean Tucker

Def. Success Rate

81st

DB Garrett Williams

Off. TARP

83%

LB Mikel Jones

Def. TARP

76%

DB Ja'Had Carter
In 2018, Dino Babers fielded a team that reached as high as 12th in the College Football Playoff rankings, finishing the season with a win over West Virginia in the Camping World Bowl.
Times have since changed, as Syracuse recorded a 1-10 record during the 2020 season with a massive drop-off in statistics. The Orange offense finished 124th or worse in Success Rate, Finishing Drives and Havoc Allowed.
Granted, last season was an all ACC schedule with a non-conference game against Liberty.
One area of concern for Babers — even in seasons of success — is the offensive line. The trench returns every player from the two-deep. However, the unit must improve a Sack Rate and Rushing Success Rank of 119th.
Quarterback Tommy DeVito returns, along with Mississippi State transfer Garrett Shrader, to compete for the position, but the ability to create scramble yards may be the deciding factor in who leads this offense.
The defense did post better numbers than the offense. A rank of 44th in coverage and 40th in Finishing Drives are stats to build on.
Just 76% of the defense returns, and it's led by super seniors in the front seven, as the secondary loses pieces that will need to be filled in fall camp. One position that is locked up is cornerback Garrett Williams, who brought 10 pass breakups from the 2020 season. 
Outside of Albany, there's not an abundance of games that can be marked as a win. The Orange are favored by one over Ohio in the opener, as the Bobcats will be playing without head coach Frank Solich for the first time since 2004.
Rutgers is a coin flip at home, while Wake Forest and Boston College should be touchdown favorites. Although these winnable games are at home in the Carrier Dome, there is no future play on the win total.
---
---
Are you looking for a safe, reliable, trustworthy sportsbook? Check out our ratings of the best sportsbooks and their current sign-up offers for new customers.