2021 Pac-12 Conference Betting Preview: Futures Odds, Win Totals & Predictions for USC, Oregon, More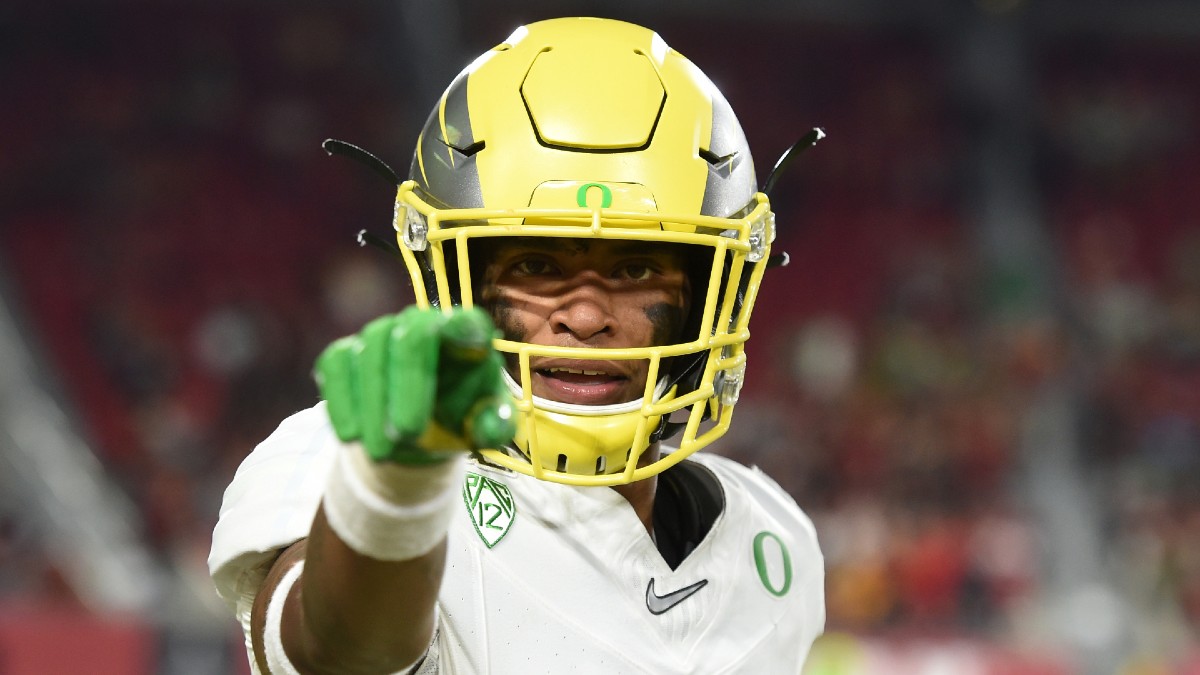 Since the dawn of the College Football Playoff era, the Pac-12 has been an afterthought in the national title picture.
Oregon lost the initial championship to Ohio State in January 2015. Since then, only Washington has received an invite to compete in the national semifinal, a non-cover loss against Alabama in the 2016 Peach Bowl.
The Pac-12 all but eliminated itself during the 2020 pandemic season when all teams played a limited schedule.
Those were the days under Larry Scott. The conference made a change at the very top with the hire of George Kliavkoff as the new commissioner.
As a former MGM Resorts sports entertainment executive, there's an expectation the Pac 12 will look to improve its media coverage, build an NIL system for recruiting and compete with the other Power Five conferences.
With Texas and Oklahoma on their way to the SEC, the Pac-12 will be active in bettering the conference.
Just when I thought my first month on the job could not get more interesting…

— George Kliavkoff (@Kliavkoff) July 21, 2021
As for 2021, the Pac-12 has a number of teams with enough talent to run the gauntlet in the conference.
Oregon continues to dominate recruiting in the Pacific time zone, while the term "super senior" applies to a handful of experienced teams in the South Division.
In a conference loaded with returning players and only one coaching change, "Pac-12 After Dark" will be appointment viewing.
Pac-12 Conference Odds
---
Click any logo below to navigate to that specific team's breakdown, and click the Pac-12 logo to return to the top.
Note: All photos are via Getty Images.
---
---
Pac-12 Conference
USC Trojans
Team Rankings

Key Players

Off. Success Rate

41st

QB Kedon Slovis

Def. Success Rate

62nd

WR Drake London

Off. TARP

71%

LB Drake Jackson

Def. TARP

69%

DB Chris Steele
A quick review of the hottest seats in college football finds Clay Helton at the top.
The Trojans started 2020 by winning five straight games before losing the Pac-12 Championship to an Oregon team that finished second in the North.
The key to the game was the Ducks' ability to rush a trio of defenders and dropping the rest into coverage. USC gained 115 more total yards than Oregon, but three Kedon Slovis interceptions resulted in two touchdowns for the Ducks.
Every Air Raid offense in college football is being defended with eight players in coverage, but the question remains whether or not offensive coordinators will look to ignite the running game to keep opponents honest.
Two big targets from the receiving corps depart, but reloading is the expectation with the transfer portal bringing receiver Tahj Washington from Memphis and KD Nixon from Colorado.
Highly-touted recruit Bru McCoy is currently away from the team following a domestic violence incident.
The option to hand the ball off to transfer Keaontay Ingram in standard downs should be monitored, as the Trojans ran the ball just 41% of the time last season.
Helton made the tough choice to let go of long-time defensive coordinator Clancy Pendergast and hire Todd Orlando before last season.
From a Havoc perspective, the gamble paid off. Now, 69% of experience returns to a defense that finished top-20 in Havoc but outside the top 60 in Success Rate and Finishing Drives. Those numbers show improvement, but the Trojans are a long way from fielding a conference championship defense.
USC DE Drake Jackson is going to be getting lots of buzz/attention this fall #2022NFLDraft

Trimmed down to 255lbs in 2020, after coming to USC & playing 2019 at nearly 275lbs

Can win in a variety ways as a rusher – love the inside moves (spin/rip) & then a 3-tech win 1on1 vs OG pic.twitter.com/ueNVwehHd2

— Ben Fennell (@BenFennell_NFL) May 16, 2021
Drake Jackson is one of the starters looking to replace Olaijah Griffin and Talanoa Hufanga's Havoc numbers. Isaiah Pola-Mao brings plenty of tackles for loss, pass breakups and interceptions for the Trojans. Orlando must now work on the smaller items with his defense after ranking 78th in tackling.
USC took a dip in offseason power rating due to second-order win total and a TARP just under the national average.
The year of the super senior can be found at UCLA and Utah as well, but the Trojans field a relatively younger roster in comparison.
The good news is the first five games should be victories with San Jose State, Stanford, Washington State, Oregon State and Colorado. The first test for the Air Raid offense comes with Notre Dame's new 3-3-5 and defensive coordinator Marcus Freeman.
The Action Network projection is lower than the market number of 8.5. While a USC win total under is suggested, the handicap comes down to Graham Harrell's flexibility in running the ball at a higher clip.
If not, competent secondaries on the schedule all have a chance to upset USC, including Arizona State, Cal, Colorado and Notre Dame.  There certainly is better value to find in the South Division.
---
---
Washington Huskies
Team Rankings

Key Players

Off. Success Rate

33rd

TE Cade Otton

Def. Success Rate

109th

T Jaxson Kirkland

Off. TARP

94%

LB Edefuan Ulofoshio

Def. TARP

62%

DB Trent McDuffie
Plenty of takeaways exist after Year 1 of Jimmy Lake.
The former defensive coordinator was elevated to head coach in the wake of Chris Petersen's retirement. That also elevated Pete Kwiatkowski to defensive coordinator, but he has since departed for the same role at Texas. Lake has been a part of the Washington program since 2014 and spent the previous two seasons at Boise State.
Even with turnover on the defensive side of the ball, the scheme remains the same for returning players.
RS soph Zion Tupuola-Fetui has 7 (!) sacks and 3 forced fumbles in 3 games this year – so many reps where he just walks the tackle back into the QB like this pic.twitter.com/VG1N8MuEkl

— Connor Rogers (@ConnorJRogers) December 2, 2020
Edefauan Ulofoshio returns four pass breakups, and Zion Tupuola-Fetui logged seven sacks in just four games last season. Washington should continue racking up top-10 grades in opponent pass explosiveness and Sack Rate. Washington has not ranked outside the top 15 in coverage since 2015, per PFF.
With the defensive side of the ball being the constant, the handicap comes on the offensive side of the ball.
John Donovan was hired pre-pandemic as the offensive coordinator after a previous stint with the Jacksonville Jaguars. Donovan has one of the more predictable play-calling sets in college football, opting to run in standard downs and pass in passing downs more than any other team.
The good news is the offensive line is loaded with experience, returning every player from the two-deep. Luke Wattenberg, Jaxson Kirkland and Henry Bainivalu each played 118 dropback snaps, and none of them allowed more than three pressures in four games.
There's a three-way battle for the quarterback position.
Patrick O'Brien transfers in from Colorado State, while Dylan Morris logged 118 dropbacks in 2020. The story is Sam Huard, considered the future of the Huskies offense with a five-star rating from Bellevue.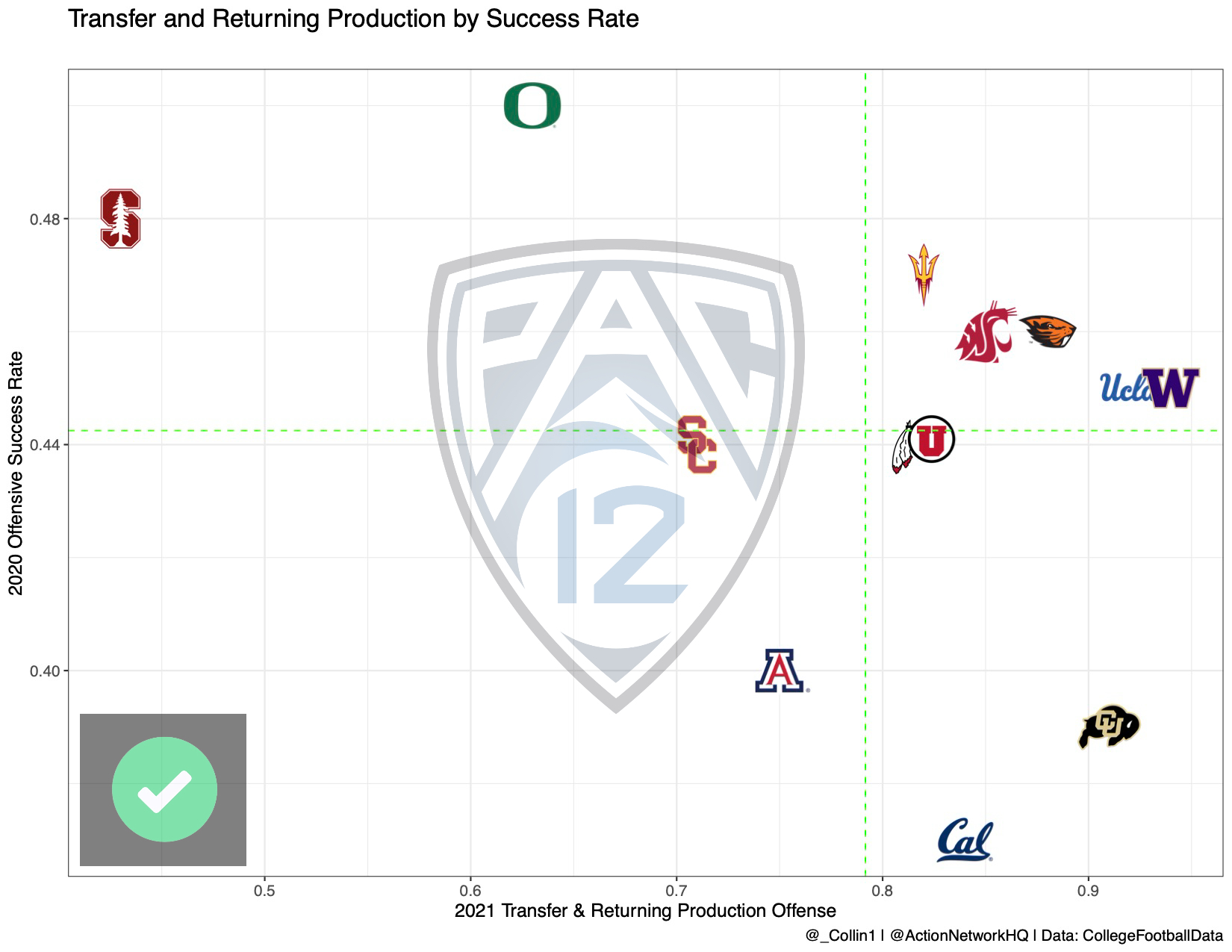 Morris or O'Brien are expected to be caretakers at the quarterback position with a kind September schedule. Outside of Michigan, the nonconference includes FCS Montana and an Arkansas State team going through a coaching change.
In Pac-12 play, the Huskies draw the two projected cellar teams from the South in Colorado and Arizona. The Super Bowl of the schedule is Oregon for the North Division, a game that Washington will host on Nov. 6.
The Ducks are projected to be slight favorites if it's not a pick'em when traveling to Husky Stadium. There's plenty of value in Washington to win the Pac-12 North to +130.
---
---
Oregon Ducks
Team Rankings

Key Players

Off. Success Rate

10th

DL Kayvon Thibodeaux

Def. Success Rate

88th

DB Mykael Wright

Off. TARP

63%

WR Devon Williams

Def. TARP

86%

LB Noah Sewell
Oregon was well on its way to having one of the highest marks in TARP because of Tyler Shough. The quarterback provided 1,500 yards passing and another 326 rushing yards.
The final tally of 13 touchdowns and six interceptions was a bit deceiving considering there were seven big-time throws to 11 turnover-worthy plays, a possible indicator into the usage of quarterback Anthony Brown before the end of the regular season.
Now, with Shough transferring to Texas Tech, Brown is competing against high-touted freshman Ty Thompson and Jay Butterfield for the starting quarterback positions.
WATCH: @coach_cristobal says Anthony Brown is the front runner for the starting QB spot right now. But he expects the young guys (Butterfield, Thompson, Ashford) to make competition interesting this fall. #GoDucks pic.twitter.com/mVZpRroP9d

— Julian Mininsohn (@JMininsohn) August 3, 2021
Not only was the power rating dropped due to a negative number in second-order win total, but the Ducks return 63% of an offense that ranked 98th in Offensive Havoc.
Gaps in offensive line coverage were expected when stars such as Penei Sewell opted out, but the existing offensive line must improve. George Moore will start at right tackle, but he allowed 15 pressures in 184 dropbacks. Joe Moorhead changed offensive styles as defenses adjusted to Shough, and more changes are expected depending on who starts under center in 2021.
Andy Avalos spearheaded one of the most Havoc-minded defenses in 2019. The defensive coordinator exits for the Boise State head-coaching position, as Tim DeRuyter fills the position after performing the same role for Cal.
DeRuyter has a much different style than Avalos, willing to give up yards and hold up in the red zone. The new Oregon scheme will float between a 3-4 and a 3-3-5, but the results were in decline.
DeRuyter started at Cal in 2017 and recorded the following ranks in Success Rate, Finishing Drives and Havoc:
Success Rate: 2017 79th, 2018 5th, 2019 43rd, 2020 111th
Finishing Drives: 2017 37th, 2018 18th, 2019 7th, 2020 80th
Havoc: 2017 10th, 2018 24th, 2019 73rd, 2020 82nd
DeRuyter's time at Fresno State saw the same slope in Havoc and Success Rate. Thankfully, the Ducks have a possible No. 1 overall draft pick in edge rusher Kayvon Thibodeaux.
Kayvon Thibodeaux is a monster

— PFF College (@PFF_College) December 19, 2020
Thibodeaux will get plenty of press for his work at the edge position, but his rush defense leaves much to be desired. The sophomore had the second-worst tackling grade of the entire defensive roster with a missed tackle rate of 25%.
Oregon will be tough to beat in passing downs, but to get to passing downs, the Ducks must have more success in standard downs.
A season win total of 9 is well over the projection of 8.1.
Any opposing offense with Standard Downs Success Rate utilizing the rush will cause issues for the Ducks defense. Road travels to Utah, Washington and Ohio State all present various issues for the defense.
Other opponents that will look to establish the ground game include Stanford and UCLA. The Bruins finished 2020 ranked 25th in Standard Downs Success Rate, which may be the deciding factor in getting the under to the window.
Take Oregon under 9 for the season win total. 
---
---
Utah Utes
Team Rankings

Key Players

Off. Success Rate

44th

QB Charlie Brewer

Def. Success Rate

30th

DL Mike Tafua

Off. TARP

82%

TE Brant Kuithe

Def. TARP

93%

K Jadon Redding
There may not be a team better prepared to take over the Pac-12 than Utah. Both sides of the ball return more than the national average in the year of the super senior.
Offensive coordinator Andy Ludwig stepped into an efficient and explosive attack in 2019 that got the Utes to the Pac-12 Championship game. Ludwig now gets answers at the quarterback position with Baylor transfer Charlie Brewer.
Utah QB Charlie Brewer was outstanding at the Spring Game today completing 15/15 passes for 2 TDs & a QB rating of 228.6 in 1 half of play.

The Utes are gonna be dangerous this Fall 👀

— WestCoastCFB (@WestCoastCFB) April 18, 2021
Brewer finishing a 2019 run to the Big 12 Championship with 21 touchdowns and seven interceptions.
Brewer is joined in the portal by Oklahoma running back TJ Pledger. The Utah offense is loaded in the trench and complemented with the return of tight end Brant Kuithe.
The defense returns 93% of experience, per TARP, from a unit that ranked 30th in Success Rate and top-20 in Finishing Drives and Havoc.
The Utes return an entire secondary, a strong turnaround after losing almost every player from the 2019 Pac-12 South-winning squad.
One of the remaining players is edge rusher Mike Tafua.
Mike Tafua for the 68 yard fumble return. Utes, who are 9th in defensive havoc, have their eyes on the @CFBPlayoff @Utah_Football | #GoUtes pic.twitter.com/KTL8z6lJnj

— Collin Wilson (@_Collin1) November 17, 2019
The Utes' defensive ranks from 2020 are above that of their South Division counterparts. Arizona State is loaded in the secondary but has issues in Success Rate. USC loses two Havoc contributors but crumbled when opponents passed the 40-yard line.  
The Utes have one of the kindest schedules in all of the Pac-12, giving them the best value on the board to challenge for the South Division.
Outside of the Pac-12, Utah sees non-conference games against Weber State, San Diego State and a depleted BYU.
While Utah over 8 is certainly worth an investment, any South Division number at +200 or better will come with hosting Arizona State, UCLA and Oregon at an expanded Rice-Eccles.
---
---
Colorado Buffaloes
Team Rankings

Key Players

Off. Success Rate

90th

RB Jarek Broussard

Def. Success Rate

9th

LB Nate Landman

Off. TARP

70%

DL Terrance Lang

Def. TARP

75%

LB Carson Wells
Karl Dorrell will go through a transition year after finding success in his first season as head coach at Colorado.
Quarterback Sam Noyer produced over 1,000 yards through the air and 230 yards on the ground. The Beaverton High School product elected to transfer to Oregon State.
Brandon Lewis is a holdover from the 2020 season, as the transfer portal brings in JT Shrout. The stable of quarterbacks is responsible for getting the ball in the hands of explosive targets such as Dimitri Stanley and Laviska Shenault.
Nothing stopped Dimitri Stanley in @CUBuffsFootball win over Stanford 😤 pic.twitter.com/aIFUiAohs2

— Stadium (@Stadium) November 15, 2020
The Buffaloes did post top-10 ranks in Success Rate and Havoc, but the schedule included Stanford, San Diego State and Arizona.
The schedule changes quite a bit in 2021 with USC, Texas A&M, UCLA, Washington, Utah, Arizona State and Oregon on the docket.
Considering Colorado will be underdogs in all of the aforementioned games, there is no play on the Buffaloes' win total.
---
---
Arizona State Sun Devils
Team Rankings

Key Players

Off. Success Rate

21st

QB Jayden Daniels

Def. Success Rate

76th

RB Rachaad White

Off. TARP

82%

DL Tyler Johnson

Def. TARP

94%

DB Chase Lucas
Will the NCAA rip apart the Arizona State program before the season starts? Make no mistake, this team has the talent to win the conference, but recruiting violations against the Sun Devils are expected for a number of events.
Parents and coaching staff flew recruits to Tempe for tours, trips to the game suite and off-campus workouts. There's a long list of credit card receipts and flight ticket stubs for the NCAA to work through before handing down punishment.
Despite the cloud hanging over the program, quarterback Jayden Daniels is one of the best in the nation. A 22:3 career touchdown-to-interception ratio shows his ability through the air.
Even more impressive is Daniels' rush attempts on the ground. In just 58 attempts, the quarterback has forced 23 missed tackles.
Jayden Daniels hit the B button pic.twitter.com/dMdkvhaBkL

— PFF College (@PFF_College) December 12, 2020
Offensive coordinator Zak Hill was brought on after putting up video game numbers at Eastern Washington and eventually Boise State. Hill gets 82% of the offense back in what should be a tough matchup for any defense.
Speaking of defense, the Sun Devils return 94% of a unit that ranked 37th in Havoc and 26th in coverage. Arizona State may have the oldest back seven in FBS play this season, allowing just one play to go for 50 yards last season.
_BookPromo=3890
If the offense and defense weren't loaded enough, the special teams proved to be a top-three unit in the conference.
The projection of 8.5 is in line with the market number. The issue with Arizona State has always been price point. The Sun Devils are worth +250 for the South Division, but that opportunity may be removed from the NCAA before kickoff.
---
---
UCLA Bruins
Team Rankings

Key Players

Off. Success Rate

31st

QB Dorian Thompson-Robinson

Def. Success Rate

103rd

WR Kyle Phillips

Off. TARP

92%

DB Stephan Blaylock

Def. TARP

84%

TE Gret Dulcich
Expectations couldn't be higher in the fourth season of the Chip Kelly era.
The Bruins return 92% on offense and 84% on the defensive side of the ball, both numbers exceeding the national average.
The defense excelled in preventing explosive plays, ranking sixth against the rush and 29th against the pass, but stopping the chains and improving Success Rate served as the main issue for defensive coordinator Jerry Azzinaro.
The Defensive Rushing Success Rate fell from 80th to 121st last season, making it the biggest point of focus for the Bruins this year.
The handicap of UCLA comes in the offense — more importantly, getting Dorian Thompson-Robinson to play consistent football.
The biggest mission is to eliminate mistakes for Thompson-Robinson, who has racked up 21 big-time throws and 44 turnover-worthy plays in his Bruins career.
Here's that UCLA touchdown, Greg Dulcich … from Dorian Thompson-Robinson!

💻: https://t.co/0KkQVIedMX
📻: @AM570LASports #GoBruins | #BeatSC pic.twitter.com/ixc108eKvG

— UCLA Football (@UCLAFootball) December 13, 2020
The biggest news of the offseason flew mainly under the radar. Kelly elected to hire away the San Jose State passing game coordinator in Ryan Gunderson. The former Broyles Award nominee is responsible for turning around a Spartans passing game to one of the most explosive under Nick Starkel.
Kyle Phillips and Greg Docich are just two weapons for Thompson-Robinson to create explosive plays while maintaining efficiency.
The Action Network projection puts the Bruins just north of 7.5 wins, dictating the UCLA win total over 7 is worth a play.
If the quarterback position plays mistake-free football, Kelly will field a team worthy of winning a conference championship.
---
---
Stanford Cardinal
Team Rankings

Key Players

Off. Success Rate

14th

DL Thomas Booker

Def. Success Rate

121st

RB Austin Jones

Off. TARP

43%

WR Brycen Tremayne

Def. TARP

55%

DB Kyu Blu Kelly
The Cardinal ended 2020 with a flurry of wins, four of them by a grand total of 10 points. Based on record alone, there would be optimism heading into the 2021 season, but TARP and second-order win total indicate a downward path for Stanford.
The offense loses quarterback Davis Mills and returns just 43% of experience. With Mills out of the picture, four-star recruit Tanner McKee could take the starting job under center.
Austin Jones returns to the backfield after compiling 550 yards and 13 missed tackles on 126 attempts. McKee will certainly target Jones out of the backfield.
What a route by Austin Jones (@rockwitaust). Shakes the DB and there's plenty of turf ahead pic.twitter.com/fasfd6VxEo

— Joe Broback (@joebroback) November 8, 2020
There will be holes to fill on the offensive line, as Drew Dalman and Foster Serell have moved on. Dalman finished the season as the highest-rated run blocker and took all 437 snaps at center.
The rest of the line was solid, allowing just six sacks on the season, although a quarter of the pressures came from guard Branson Bragg.
For the first time in many Stanford offenses, explosiveness fell outside the top 90 with both the rush and pass. Stanford must also improve past the 40-yard line after ranking 93rd in Finishing Drives on offense and 88th on defense.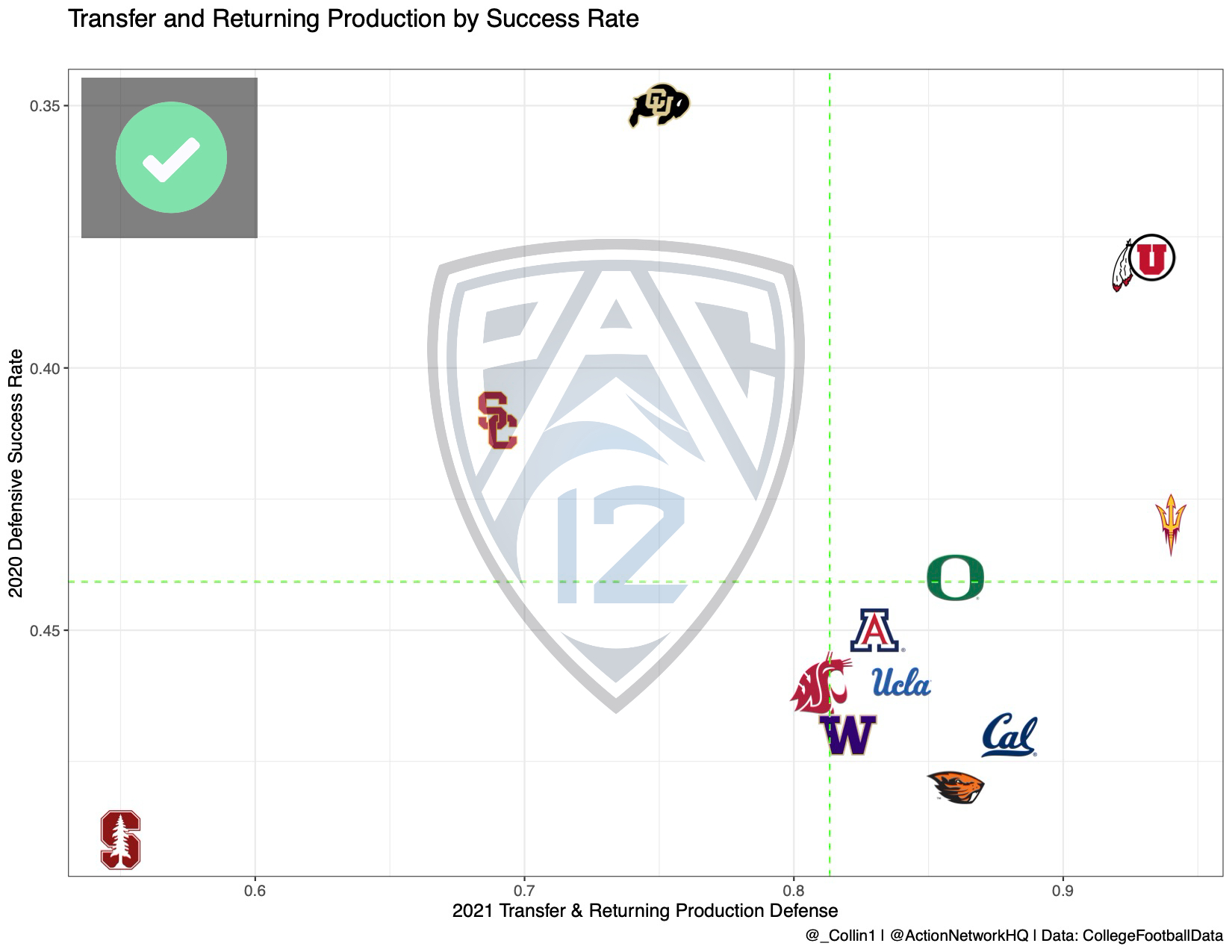 The defense also loses plenty of experience, returning just 55% based on transfer portal activity.
Curtis Robinson led the team in tackles while Malik Antoine led the way in pass breakups. Both players have departed a unit that ranked 119th in Havoc and almost dead last in Defensive Rushing Success Rate.
This unit does not stop the chains in the trench and does not disrupt opposing passing attacks. The final 2020 game against UCLA saw the Bruins rack up 13 drives with only two ending in a punt.
Vanderbilt is the one clear-cut victory on this schedule, but that game comes on the road. New Commodores head coach Clark Lea had one of the best defensive pedigrees at Notre Dame.
Will Stanford have an answer for Kansas State's Deuce Vaughn on a fast track in Arlington to start the season after finishing 2020 125th in Opponent Rushing Success Rate?
The Trees' schedule does not contain a single Group of Five program, making Stanford under 4 a strong investment.
---
---
Washington State Cougars
Team Rankings

Key Players

Off. Success Rate

28th

WR Renard Bell

Def. Success Rate

107th

DL Brennan Jackson

Off. TARP

85%

RB Max Borghi

Def. TARP

81%

WR Travell Harris
New coach, new scheme was the theme of 2020 when Nick Rolovich took the head coaching job, leaving Hawai'i and replacing the Mike Leach system.
Quarterback Jayden de Laura led the transition from the Air Raid to the Run and Shoot. The final numbers indicate there was no drop in productivity, as Washington State ended with a rank of 24th in Passing Success Rate.
this Jayden de Laura guy might be pretty good pic.twitter.com/O1I5aG8MGS

— Anthony Treash (@PFF_Anthony) November 8, 2020
One issue for the Cougars was the lack of explosiveness in the passing game, ranking next to last in expected points. With de Laura's average depth of target at 10.8 yards, it's the separation by the wide receivers that must see improvement in 2021.
The offensive line also must improve after ranking 73rd in Havoc Allowed.
Although Washington State gets their top two targets back for the pass game, the question remains what to do with healthy and explosive running back Max Borghi.
Max Borghi broke 48 tackles on 139 catches over the last two seasons 🤯

First-team All-Pac-12 🏆

(via @CougSportsNet)pic.twitter.com/uV1sTzLrdi

— PFF College (@PFF_College) July 1, 2021
Rolovich was more of a shoot than a run in his offense in 2020, calling a rushing attempt on just 42% of plays. Was that a result of not having the playmakers in the backfield or a result of the Run and Shoot scheme?
The 2020 Nick Rolovich offense at Washington State had a higher rush rate than Hawai'i's 2019 at 36% and 2018 at 37%.
Another option would be the passing game, but the Rolovich offense does not throw to the halfback. Hawai'i completed a grand total 16 passes to the halfback position over its final two years of the Rolovich scheme. Solving the Borghi equation and getting his 16 touchdowns from 2019 integrated into the offense will be paramount.
There were not many positives for first-year defensive coordinator Jake Dickert. The Cougars return 81% of production from a unit that ranked outside the top 100 in tackling, opponent explosiveness, Sack Rate, coverage and Finishing Drives.
Super senior Jahad Woods tallied most of the team's Havoc with plenty of tackles for loss, passes defensed and forced fumbles.
Jahad Woods brings down Eastern's Gubrud #GoCougs pic.twitter.com/LHG41t9wBk

— Washington State Football (@WSUCougarFB) September 16, 2018
The schedule is kind on the front half as the Cougars are projected favorites over Portland State, Utah State, Arizona and Stanford. The Aggies may be the only team on that slate capable of putting up quick strikes, but they're undergoing a shift in scheme with a new head coach.
The coin-flip games come against Oregon State and a BYU team with massive turnover and a new offensive coordinator. Once the Cougars complete those six games, the win total hinges on six games as an underdog against top-25 teams.
The Washington State under 6 is recommended with road games at Utah, Arizona State, Oregon and Washington.
---
---
Oregon State Beavers
Team Rankings

Key Players

Off. Success Rate

24th

LB Avery Roberts

Def. Success Rate

119th

WR Zeriah Beason

Off. TARP

88%

DL Isaac Hodgins

Def. TARP

86%

DB Reyzohn Wright
Although its final record sat at 2-5, Oregon State beat Oregon for the first time in the Jonathan Smith era.
The head coach now enters his fourth season with 88% of his offense returning, per TARP, but replacing the missing 12% will not be easy.
Jermar Jefferson has moved onto the NFL, leaving behind one of the best careers at running back in Oregon State history. Jefferson was a human first down, averaging 6.5 yards per attempt with 19 runs over 10 yards while generating 27 missed tackles.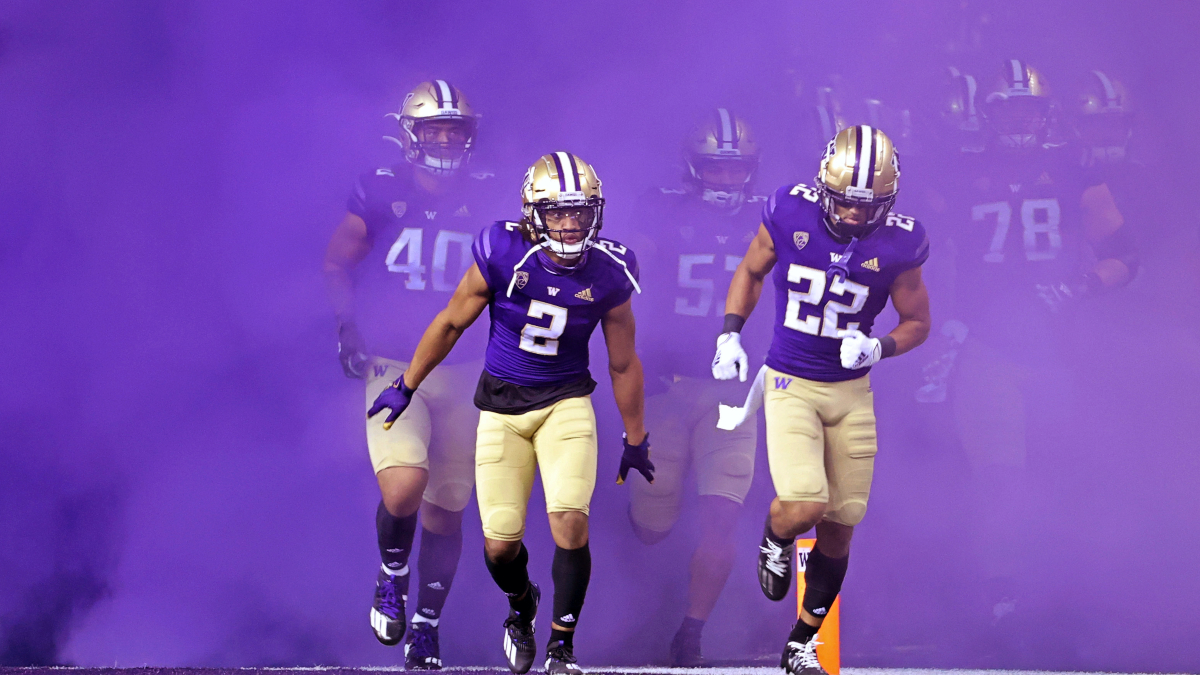 Collin Wilson's 2021 CFB Betting Power Ratings
Now, Deshaun Fenwick looks to pick up the load after transferring from South Carolina. The sophomore averaged a quality 5.5 yards on 54 attempts with an average of 3.5 yards after contact. 
The weapons on the outside are some of the most explosive in the Pac-12, but a quarterback battle may determine how successful the passing game will be.
The dual for duties under center fall on a trio of Tristan Gebbia, Chance Nolan and Colorado transfer Sam Noyer. Gebbia may have the leg up as the better passer of the three, but Nolan and Noyer created plenty of plays on the ground while only generating a combined 11 big-time throws versus eight turnover-worthy plays.
Tristan Gebbia played QB at Calabasas HS. I also played (kinda) QB at Calabasas HS.

That's it. That's the tweet. pic.twitter.com/p6jGcVyz2e

— Ben Stevens (@BenScottStevens) November 28, 2020
The defense also returns a high percentage of TARP, but a rank of 119th in Success Rate and 118th in Havoc had opponents effortlessly getting to the red zone.
Nashon Wright led the team in pass breakups but has moved on. Linebacker Avery Roberts was the highest-graded defender for 2020 and will look to stabilize a defense that finished 112th in Line Yards and 92nd in coverage. 
The Action Network projection of 5.9 gives plenty of reason to bet the over on the Beavers despite losing one of the best running backs in the conference.
Early games in Corvallis will see the Beavers as double-digit favorites against Hawai'i and Idaho. Six midseason games are coin flips from Washington State, Cal and Colorado.
The defense must show rapid improvement, especially with the run stop unit. That all starts in the opener against Purdue, where any season win total over would be dependent upon an underdog victory.
---
---
California Golden Bears
Team Rankings

Key Players

Off. Success Rate

108th

LB Cameron Goode

Def. Success Rate

111th

DB Josh Drayden

Off. TARP

84%

WR Kekoa Crawford

Def. TARP

88%

LB Kuony Deng
Cal returns 84% on offense and 88% on defense for head coach Justin Wilcox.
The defense has carried the water over the past four seasons, but a drop to 111th in Success Rate in a short four-game season leaves question marks heading into 2021.
With Tim DeRuyter's departure to Eugene, Peter Sirmon is the sole defensive coordinator after coming to Cal in 2018.
Cameron Goode and Kuony Deng lead a defense that will be looking to increase a Havoc rate that dipped to 83rd.
Hi there. Kuony Deng would like you to have a seat. He'll be taking that ball too pic.twitter.com/jLkyzlytMn

— Mike Spencer Hrynyshyn (@MikeH_Draft) December 31, 2020
Chase Garbers is back under center with plenty of super seniors at skill positions and in the trenches.
While the offense fell outside of the top 100 in Success Rate, it made trips past the 40-yard line count. Cal finished 43rd in scoring on drives that crossed the opponent's 40-yard line.
The offensive line issues from 2020 are directly related to injury and COVID-19, but a Stuff Rate and Sack Rate of 116th must improve for Garbers and running back Christopher Brown Jr.
Bill Musgrave took over offensive coordinator duties but commented that the playbook in 2020 was modified to fit the health of the Bears' personnel. 
Put this Chase Garbers fake on a loop. 📽️@CalFootball | #GoBears pic.twitter.com/E4RMK8rOPE

— Stadium (@Stadium) December 6, 2020
The projected win total for Cal sits at 6.7, close to the market number of 6.5. The Bears do draw two games as big favorites against Arizona and Sacramento State.
The projection for Cal sits at 6.7, but the schedule is unkind after wins against Arizona and Sacramento State.
Nevada will be a test with seasoned quarterback Carson Strong. Stanford, Washington State and Colorado represent the coin flips on the schedule, all games needed a win to eclipse the win total.
With persistent COVID-19 issues on the offensive side while the defensive side looks to improve with a solo coordinator, there is no preseason investment on the Bears.
---
---
Arizona Wildcats
Team Rankings

Key Players

Off. Success Rate

85th

WR Stanley Berryhill

Def. Success Rate

95th

K Lucas Havrisik

Off. TARP

75%

QB Jordan McCloud

Def. TARP

83%

LB Anthony Pandy
The term Year 0 refers to coaches walking into programs where a tear-down is needed from a scheme and culture perspective.
New head coach Jedd Fisch at Arizona may need consecutive Year 0s for the Wildcats.
The Sumlin era ended with a mass number of losses, as recruiting, coaching and on-field results all hit rock bottom. Fisch takes over a program with one of the lowest expected win totals in any Power Five conference.
Fisch pivoted between the NFL and college football but does have history in the Pac-12 as an interim coach at UCLA. Before the Chip Kelly hire, Fisch was responsible for the 2017 win over Cal and subsequent bowl loss to Kansas State.
The 2017 Cactus Bowl should be highlighted, as Fisch took a 17-7 locker room lead before Bill Snyder's adjustments in the second half shut the Bruins' down, as Kansas State went on to win, 35-17.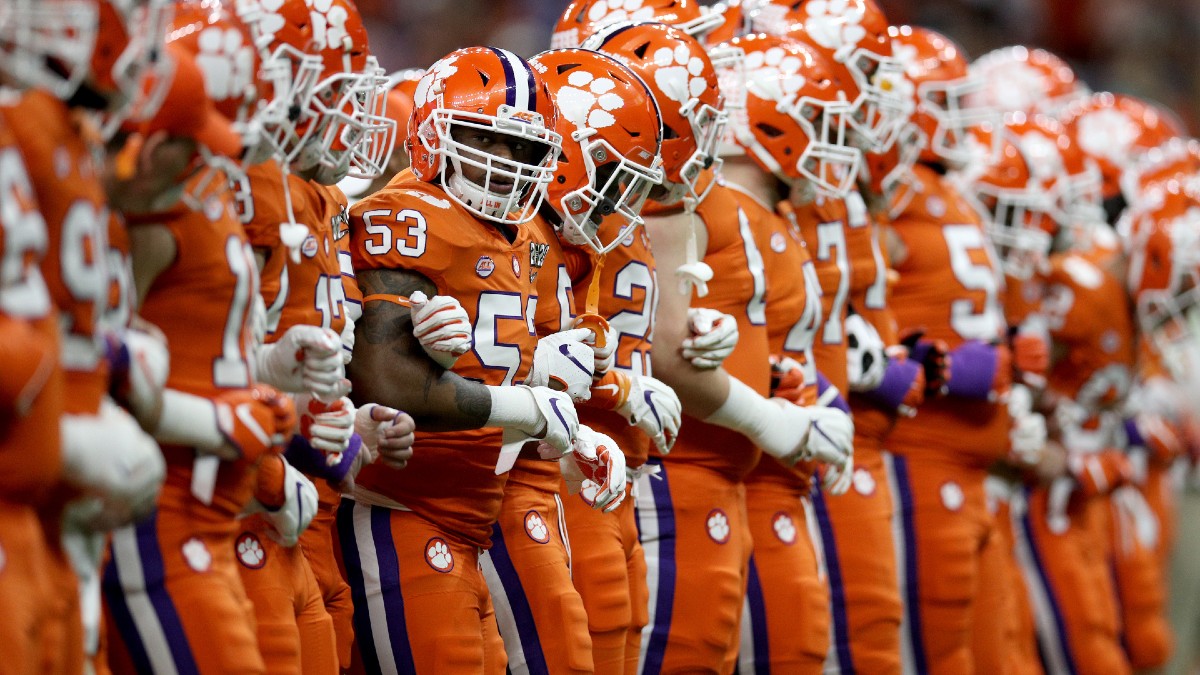 Watching Arizona second halves for betting value will start in Week 1 against BYU.
There's more than the national average of experience returning to both sides of the ball, but plenty of youth compiles rankings of 122nd in Defensive Havoc and 120th in Offensive Finishing Drives. Improving those numbers and the overall Success Rate on both sides of the ball may mean there are more victories than the final scoreboard says in 2021.
South Florida quarterback Jordan McCloud is expected to take over starting duties at quarterback. The statistics from the sophomore are beefed up by a four-touchdown performance in the Bulls' final game against Central Florida, but no doubt, the entire resume was subpar for McCloud.
The Tampa native recorded just five big-time throws against 12 turnover-worthy plays with an average depth of target at just nine yards.
A look at Arizona quarterback newcomer Jordan McCloud (USF transfer) making one of his early throws at his first practice with the Wildcats today. pic.twitter.com/XVKSaYkhha

— Matt Moreno (@MattGOAZCATS) August 6, 2021
There were some rushing yards for the South Florida quarterback last season, but a minimal amount came from designed runs. McCloud recorded just 30 rushing yards on designed calls and 163 from scrambling with only eight missed tackles created.
For Arizona to eclipse this win total, the lion's share of the wins must come in September. BYU is currently favored by 12 points in Week 1 action.
Subsequent games include a disruptive defense from San Diego State and Northern Arizona. The Lumberjacks should be full-speed by the Arizona game after starting their season with FCS national champion Sam Houston.
With advanced statistics putting this team outside the top 100 in every category, it's tough to support a season over win total ticket.
If McCloud can eliminate mistakes while the offensive line provides adequate protection, first-year coach Fisch will have a puncher's chance to record to three wins.
---
---
Are you looking for a safe, reliable, trustworthy sportsbook? Check out our ratings of the best sportsbooks and their current sign-up offers for new customers.