College Football Odds, Picks, Predictions: Collin Wilson's Top Bets for Week 0 (Saturday, Aug. 28)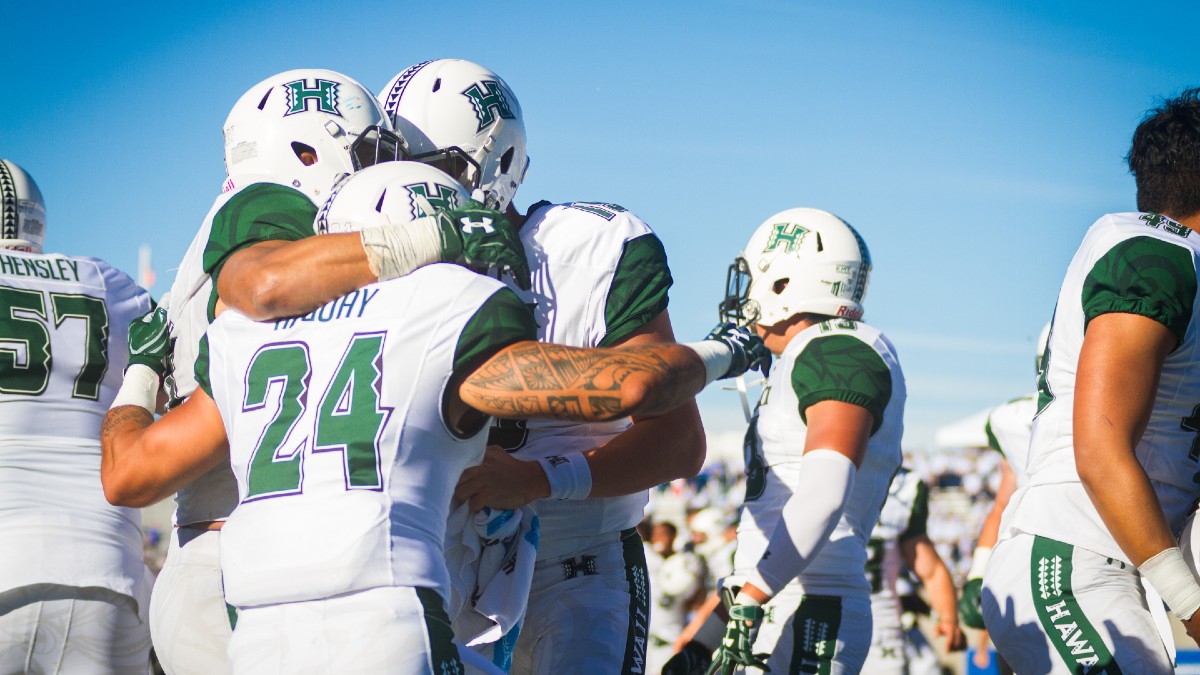 It's that time of year.
While the Week 0 slate doesn't fully represent the quality of games we will get later in the season, it's still college football. For that, we should be thankful.
The first week of the college football season kicks off with a Big Ten West battle between Scott Frost and the Nebraska Cornhuskers and the Bret Bielema-led Illinois Fighting Illini.
But that's not the only game I'm betting this week, as Hawaii travels to the mainland to take on UCLA and UTEP takes on the lowest-rated team in my power ratings in New Mexico State.
We've been waiting months for this day, so let's jump right into it.
---
The set of logos below represents the games that Collin Wilson has bet in Week 0. Click on any of the buttons below to navigate to that specific matchup.
---
Nebraska vs. Illinois Odds
Spread

Total

Moneyline

-6.5

55

-250
Spread

Total

Moneyline

+6.5

55

+200
Odds via DraftKings. Last updated: Thursday, 11:30 a.m. ET.

The fall camp atmosphere could not be further apart in atmosphere between Illinois and Nebraska through the summer of 2021.
Multiple NCAA violations against the Cornhuskers were reported by The Action Network's Brett McMurphy, leaving new athletic director Trev Alberts in a scramble from a public relations perspective.
As for head coach Scott Frost, this event has pushed him to the front of the list on the coaching hot seat.
Alberts noted the situation, "predates my hire… I became aware after my hire."
This comes on the heels of Nebraska ranking dead last in 2022 Big Ten recruiting and a comment that Frost feels "like the Charlie Daniels Band — used to be really big and now playing county fairs."
As for Illinois, a new coach with prior Big Ten experience comes in the form of Bret Bielema. After multiple Rose Bowl trips with Wisconsin, the head coach was fired from Arkansas before filling various roles in the NFL.
The former Big Ten coach has had big wins on the recruiting trail, locking up nine in-state players. Bielema will look to establish a physical identity starting with trench play.
While Nebraska had been shy to release information on COVID protocols or the number of players associated with the virus, but Alberts recently announced the Cornhuskers own a 90% vaccination rate. Meanwhile, Illinois has all but just one player in the travel squad vaccinated.
Putting the off-field news to the side, Nebraska has two different stories between the offense and the defense.
The offense returns 64%, led by quarterback Adrian Martinez. The Fresno native is in his fourth year and has the ability to fill a highlight reel with a clean game from a turnover perspective.
The unit will look to replace multiple offensive linemen and the top pass-catcher in Wan'Dale Robinson, who transferred to Kentucky.
The defense should rank in the upper tiers of the Big Ten. The Cornhuskers lose just two tacklers from their top 2020 unit for a TARP ranking of 89%, well above the national average of 76%. The numbers were middling with a rank of 64th in Defensive Success Rate and 60th in Havoc.
---
Cornhuskers Offense
Nebraska has been on the hunt to define a backfield for the running game.
Offensive coordinator Matt Lubick took over duties after the departure of Troy Walters to the Cincinnati Bengals. Although Lubick was the wide receivers coach beforehand, the rush-pass ratio did not change in 2020.
Nebraska ran the ball on 59% of snaps, keeping a rank of 35th highest in the nation.
The running back battle between USC transfer Markese Stepp and a handful of freshmen has been ongoing. Frost had a quick and crisp presser earlier in the week but mentioned Sevion Morrison as a standout in camp.
Every #Huskers fan's favorite play. #Huskers FR RB Sevion Morrison makes this a thing of beauty. Man, if he can stay healthy.

And man oh man! Look at that effort by York SOPH walk-on LB Simon Otte to make the tackle! #Husker football such a treat to enjoy again! pic.twitter.com/MoWWDtImZJ

— Chaz in SoCal ❄️ (@Chaz_in_Socal) May 6, 2021
There are questions along an offensive line that is expected to have a couple of new starters and a handful of freshmen. Left tackle sees the departure of Brenden Jaimes — who had 471 snaps in 2020 — and will be replaced by freshman Turner Corcoran, who pulled one of the lowest rush blocking grades on the team through 106 snaps. Guard Marr Schterman took just two snaps last year and only 31 in 2019, highlighting the inexperience on the line.
Nebraska finished 13th in Rushing Success Rate with a near 60% rush rate but was hampered by a rank of 110th in Havoc Allowed. Fumbles and tackles for loss are certainly an area of concern as the Cornhuskers look to continue work on the ground while limiting Martinez's rushing attempts.
---
Cornhuskers Defense
Coordinator Erik Chinander has run the 3-4 scheme since his Central Florida stint and continues to run heavy blitzes on opposing quarterbacks.
The defense returns 89%, per TARP, but own a middling rank in Success Rate and Havoc through 2020.
Damion Daniels has been named captain after a disruptive spring game and continued leadership in fall camp. JoJo Domann returns the most Havoc from last season after recording 6.5 tackles for loss and five pass breakups.
Nebraska OLB JoJo Domann powering through the WR's block to trip up the RB #NFLDraft #Huskers pic.twitter.com/zq4LmEYdHt

— Brian Johannes (@Draft_Brian) November 17, 2020
Because of the returning personnel to a familiar scheme, there is no expected drop in 2020 advanced statistics.
The Cornhuskers ranked 13th in tackling and top-60 in Havoc, Line Yards and Opponent Rushing Success Rate. If one area lacks for the Blackshirts, the Sack Rate fell to 98th last season.
---
Bielema has had a positive camp with limited injuries but has been quiet on all starting positions — with the exception of quarterback Brandon Peters.
There certainly is direction that the team will be molded to prior Bielema rosters at Arkansas and Wisconsin.
Offensive coordinator Tony Petersen comes in from Appalachian State, a program with an offensive identity that starts with rushing the ball. The Bielema philosophy of big and physical in the trench should see Illinois attempt to establish the run often.
Ryan Walters accepted the position as defensive coordinator after spending the past six seasons on staff at Missouri. Bielema has typically run a 4-3 scheme in his years as head coach at the FBS level, similar to that of former Illinois head coach Lovie Smith.
_PromoID=[4319]
---
Fighting Illini Offense
The only known starter is Peters, but center Doug Kramer has been the anchor of the offensive line for years. Vederian Lowe played almost every snap at left tackle and posted the best pass-blocking grade on the team in 2020. Right tackle Alex Palczewski had one of the highest run-blocking grades through 196 snaps last season.
Bielema certainly picked a great spot to get back into college football when it comes to inheriting an offensive line with experience and size.
The question remains how much Peters will be allowed to pass in standard downs.
Both Bielema and Petersen will look to establish the rush with a stable of running backs that includes transfer Chase Hayden and last year's leading rusher, Chase Brown.
Chase Brown is absolutely feasting early.@IlliniFootball has two scores, and both belong to Brown: pic.twitter.com/iKsF6w0fjb

— Illinois on BTN (@IllinoisOnBTN) November 21, 2020
Brown figures to be a heavy part of this offense after creating 20 missed tackles in 102 rushing attempts last season. He was targeted 10 times out of the backfield in 2020 as well.
Considering Bielema has a bag full of tricks that includes offensive linemen catching touchdowns, the Illini will look to improve from a rank of 121st in Passing Success Rate.
---
Fighting Illini Defense
Walters inherits just 59% of the defense that ranked 124th in Success Rate. Breaking even further into the statistic, Illinois was 125th in Opponent Passing Success Rate and just 116th on the ground.
With a coverage rank of 104th as well, there's plenty of work in front of Walters to move this defense out of the cellar of FBS.
If there are bright spots from a defense that returns every contributor with low quality of play, the Fighting Illini did rank 37th in tackling and 56th in Sack Rate.
It remains to be seen whether the hire of Bielema and Walters is enough to fix the leaks on defense.
Nebraska vs. Illinois Matchup Analysis
Toggle the dropdowns below to hide or show how Nebraska and Illinois match up statistically:
Nebraska Offense vs. Illinois Defense

| | | | |
| --- | --- | --- | --- |
| | | | |
| Rushing Success | 13 | 116 | |
| Passing Success | 42 | 125 | |
| Havoc | 110 | 96 | |
| Line Yards | 36 | 100 | |
| Sack Rate | 47 | 56 | |
| Finishing Drives | 91 | 115 | |
---
Illinois Offense vs. Nebraska Defense

| | | | |
| --- | --- | --- | --- |
| | | | |
| Rushing Success | 67 | 53 | |
| Passing Success | 121 | 82 | |
| Havoc | 52 | 60 | |
| Line Yards | 71 | 48 | |
| Sack Rate | 67 | 98 | |
| Finishing Drives | 113 | 72 | |
---
Pace of Play / Other

| | | |
| --- | --- | --- |
| | | |
| PFF Tackling | 13 | 37 |
| Coverage | 69 | 104 |
| Rush Rate | 59.3% (30) | 62.8% (14) |
| Seconds per Play | 36 | 52 |
Data via College Football Data (CFBD) and FootballOutsiders; SP+ projection per ESPN.
---
Nebraska vs. Illinois Betting Pick
The Action Network power ratings project this line closer to Nebraska -6, just a shade off the current touchdown in the market. The better play may come on the total.
When Bielema left college football, Arkansas finished with an adjusted pace outside of the top 100. Petersen ended his tenure at Appalachian State last season with a rank of 96th in seconds per play. There is nothing suggesting Illinois will run tempo or increase its Success Rate on the ground.
As for Nebraska, Frost has made it clear that establishing the run with a stable of running backs takes priority over designed runs by Martinez. The Cornhuskers are expected to give the entire stable of running backs rushing attempts.
Passing on standard downs will be at a premium between Nebraska and Illinois.
Based upon last year's projections, the total would have fallen at 49.5. Nebraska and Illinois finished 91st and 113th, respectively, in Offensive Finishing Drives.
While the Illinois defense must rebound from a rank of 115th in Finishing Drives, Nebraska may be left to kick field goals in double-digit expected winds.
Considering the offensive styles and a stout Nebraska defense, the under is the play in Week 0.
Pick: Under 55
---
---
Hawaii vs. UCLA Odds
Spread

Total

Moneyline

+18

68

+650
Spread

Total

Moneyline

-18

68

-1000
Odds via DraftKings. Last updated: Tuesday, 2:30 p.m. ET.

Two changes on the offensive side of the ball lead the offseason news for both the Bruins and Warriors.
UCLA looked to San Jose State passing game coordinator Ryan Gunderson to take on the role of quarterbacks' coach with the Bruins. The former Broyles Award nominee was responsible for the rebirth of a San Jose State offense that was top-25 in Passing Success Rate.
For Hawai'i, GJ Kinne moves on from the coordinator role to Central Florida. The GoGo offense produced poor numbers in Success Rate, but a new look may be in store for coordinator Bo Graham, son of head coach Todd Graham.
Tempo will be key, with the younger Graham being quoted as wanting to "snap the ball as many times as possible."
_PromoID=[4320]
Todd Graham begins his second year on the island after a 5-4 record that included a New Mexico Bowl win over Houston.
Now, the Warriors have one of the easiest 2021 schedules in the nation with the toughest game coming in the opener against the Bruins.
---
Rainbow Warriors Offense
Through the coaching changes from Nick Rolovich to Graham, the heartbeat of the offense is Chevan Cordeiro. The quarterback racked up 646 yards on the ground last season with an equal split between scrambles and designed runs.
The big difference in 2021 was the number of big-time throws with 14 compared to 11 turnover-worthy plays.
The return of Calvin Turner adds another dual-threat weapon to the Hawai'i offensive attack.
CALVIN TURNER 92-YARD 🏠 📞 pic.twitter.com/VW5rOEnEl1

— PFF College (@PFF_College) December 24, 2020
The Run-and-Gun offense requires running backs to be a heavy part of the passing game.
Graham mentioned a change in offensive philosophy for the bowl game that led to a 21-0 lead by the second quarter. Hawai'i will continue to push tempo after finishing 33rd in seconds per play in 2021.
Both Passing Success Rate and Finishing Drives finished outside the top 100 last season, but a bump in those categories could see a significant bump on the Warriors' scoreboard.
---
Rainbow Warriors Defense
The secondary may be the best unit of the Mountain West Conference, but tackling continues to be an issue for the team. Hawai'i finished the 2021 season ranked dead last in tackling, per PFF.
Victor Santa Cruz was reassigned from coordinator to defensive ends coach, as secondary coach Trent Figg secured coordinator duties.
Figg will move from the press box to the sideline, a challenge for the first-time coordinator. Figg commented that tackling in the secondary has been the primary focus this fall camp.
The Hawai'i defense stiffened with their backs to the end zone, finishing top-25 in Finishing Drives.
If the Warriors' defensive front seven can improve against the rush, Hawai'i has a shot to give UCLA a close game.
Chip Kelly enters year four with plenty of expectations.
The Bruins finished 2020 with four losses by a combined 15 points. This roster loses just seven lettermen from last season, but that did not deter Kelly from using the transfer portal to better the team.
Defensive coordinator Jerry Azzinaro was given a one-year extension after last season. The numbers suggest change is needed with an Opponent Rushing Success Rate rank of 121st and a final tackling grade rank of 113th.
The Bruins have the personnel to get to opposing quarterbacks, but Line Yards and coverage ranks must improve.
---
Bruins Offense
UCLA has one of the more loaded offenses in the nation.
Quarterback Dorian Thompson-Robinson will have a new quarterback coach to improve the passing game. The fourth-year starter has amassed 21 big-time throws to 44 turnover-worthy plays through the air.
DTR's dual-threat capability has allowed him compiled 685 scramble yards over his career, doubling his number of 15-plus yard runs through the shortened 2020 season.
Another weapon on the offense is Duke transfer Brittain Brown.
There's no taking down Brittain Brown 😤@BrittainBKB comes up a big run for @UCLAFootball pic.twitter.com/vI3vov5EMz

— FOX College Football (@CFBONFOX) December 6, 2020
Brown created 16 missed tackles on 82 rushing attempts for the Bruins last season, but his biggest strength is shown in the clip above. The senior running back averaged 4.8 yards after contact, giving warning to defenses with poor tackling ranks.
The running back stable was complemented by the transfer portal with Michigan import Zach Charbonnet. The sophomore produced 11 touchdowns to just one fumble in 2019, hopefully providing stability to UCLA's ongoing issue with turnovers.
UCLA ended last season with a 61% rush rate and a tempo rank in the top 20.
The offensive line returns every starter along with wide receiver Kyle Philips and tight end Greg Dulcich.
The trench did post a rank in the top 40 in Line Yards but must improve a Sack Rate of 52nd to give a stable of quarterbacks a window in passing downs. The Bruins have one of the most potent attacks in college football, and a Finishing Drives rank in the top 35 should continue this season.
---
Bruins Defense
The implementation of the 4-2-5 scheme created headaches for Azzinaro and assistant head coach Brian Norwood last season.
Not only did scheme play a role in the final numbers, but UCLA also dealt with a number of transfers into the program with the pandemic limiting preseason practice.
Most of UCLA DT Otito Ogbonnia's time is spent taking on doubles or nose-up on C stuffing runs. But I've seen the 330-lber win gaps like on this play, chase quick passes to the hash. Keeping his pads low and staying fresh gives him a shot to be a player on Sundays. #SnapScout22 pic.twitter.com/j39H8FLuRg

— Chad Reuter (@chad_reuter) July 11, 2021
Although the Bruins finished 73rd in Defensive Havoc, every contributor returns. A handful of players, including cornerback Obi Eboh, had a missed tackle rate of 25% or more.
The talent exists for UCLA to be a Havoc-minded defense, but an overall Success Rate rank of 103rd must improve to keep games from turning into a shootout.
Hawaii vs. UCLA Matchup Analysis
Toggle the dropdowns below to hide or show how Hawaii and UCLA match up statistically:
Hawaii Offense vs. UCLA Defense

| | | | |
| --- | --- | --- | --- |
| | | | |
| Rushing Success | 77 | 121 | |
| Passing Success | 102 | 56 | |
| Havoc | 79 | 73 | |
| Line Yards | 40 | 99 | |
| Sack Rate | 94 | 28 | |
| Finishing Drives | 111 | 45 | |
---
UCLA Offense vs. Hawaii Defense

| | | | |
| --- | --- | --- | --- |
| | | | |
| Rushing Success | 42 | 81 | |
| Passing Success | 25 | 26 | |
| Havoc | 60 | 49 | |
| Line Yards | 39 | 91 | |
| Sack Rate | 52 | 80 | |
| Finishing Drives | 35 | 24 | |
---
Pace of Play / Other

| | | |
| --- | --- | --- |
| | | |
| PFF Tackling | 127 | 113 |
| Coverage | 98 | 70 |
| Rush Rate | 50.6% (94) | 61.5% (18) |
| Seconds per Play | 33 | 20 |
Data via College Football Data (CFBD) and FootballOutsiders; SP+ projection per ESPN.
---
Hawaii vs. UCLA Betting Pick
Get the offensive fireworks ready on both sides of the ball. Each team sends a dual-threat quarterback under center with multiple explosive playmakers at the skill positions.
Both teams finished top-35 in pace of play.
Coinciding with the offensive alikeness, each team fields a defense that has issues stopping the chains against the rush. Thompson-Robinson, Brown and Cordeiro may post the best college fantasy numbers of the day.
Not many draft prospects today, but R-sophomore QB Chevan Cordeiro is pretty fun pic.twitter.com/kGkTUAyh81

— Matt Gajewski (@Matt_Gajewski) December 24, 2020
There is a major talent discrepancy from a recruiting standpoint with both of these teams, ultimately leading UCLA to getting more stops. With Hawai'i under new management at both coordinator positions, the handicap comes down to the Bruins defense playing contain against Cordeiro.
The Action Network projection is UCLA -17.5, in line with the current market. The question remains as to when the starters will be pulled for next week's LSU game. With a two-score lead, Kelly may elect to see quarterbacks Chase Griffin, Ethan Garbers and freshman sensation Parker McQuarrie.
The depth of the UCLA roster should maintain a lead over Hawai'i in the second half, but the safer bet may come in the first half before the starters are pulled.
The total projection from last season would come in the low 60s, but considering the Warriors' change in coaching personnel and depth at the skill positions, it remains to be seen whether or not Hawai'i can score its share of the points.
With a temperature expected over 90 degrees, an under must be considered at 69 or higher.
Pick: UCLA -10 1H or better.
---
---
UTEP vs. New Mexico State Odds
Spread

Total

Moneyline

-10

58.5

-410
Spread

Total

Moneyline

+10

58.5

+310
Odds via DraftKings. Last updated: Thursday, 3:20 p.m. ET.

New Mexico State has not played an FBS game in 21 months after opting out of the 2020 season.
The Aggies posted a 1-1 record in spring competition, a 26-point loss as a seven-point favorite to Tarleton State and a one-possession win over Dixie State.
While New Mexico State continues to rebuild after a bowl victory in 2017, UTEP continues an upward trajectory.
Dana Dimel starts his fourth year in El Paso after posting a 3-5 mark last season. More importantly to investors, the Miners were profitable at 5-3 against the spread.
Previously, UTEP had only one winning season against the number since 2012. Outside of New Mexico State, the Miners are scheduled to play Bethune-Cookman and Old Dominion. UTEP's goal of going to a bowl starts with New Mexico State.
_PromoID=[4352]
The UTEP position was a complete rebuild when Dimel joined after years in Manhattan as a player and coach at Kansas State.
New offensive coordinator Dave Warner has previous experience working with Dimel at Wyoming and Houston. The defensive side of the ball will also see a change as Bradley Dale Peveto takes over as coordinator after bouncing through multiple SEC programs.
---
Miners Offense
The experience Warner brings to the table includes working with Michigan State quarterbacks Kirk Cousins, Brian Hoyer and Connor Cook. That is good news for sophomore quarterback Gavin Hardison, who returns after a 1,400-yard season. Although the final statistics show a five-touchdown and five- interception season, Hardison had 14 big-time throws against 11 turnover-worthy plays.
Gavin Hardison's 82 yard pass to Jacob Cowing leads to a Deion Hankins TD run to put @UTEPFB on the board first!

🖥 > https://t.co/V5QLzhWVUZ (ESPN2) pic.twitter.com/cD19ouksU0

— Conference USA (@ConferenceUSA) September 26, 2020
Both wide receiver Jacob Cowing and running back Deion Hankins return as the most explosive weapons for Hardison. Warner did indicate that he will align with Dimel's strategy to be a run-first team.
Hankins is expected to get the ball in a number of different ways, but UTEP is expected to still rank as one of the slowest offenses in the nation, finishing 114th in seconds per play.
The UTEP offense may reach new statistical highs in the Dimel era this season.
The Miners finished 40th in Havoc Allowed, led by a rank of 17th in Opponent Sack Rate. The offensive line returns every starter to the two-deep, giving a copious amount of time for Hardison to continue his breakout.
---
Miners Defense
Peveto brings his SEC position and special teams experience to El Paso with a 4-3 scheme.
That goes well with a defensive line that has a number of players who are candidates for All-Conference USA honors. Edge rusher Praise Amaewhule posted seven sacks and an incredible nine pass breakups during the 2020 season.
UTEP has a dude in Praise Amaewhule. Twitchy pass rusher with some long damn arms—wins often with explosiveness and see his rip here. Against Louisiana Tech he had 3.5 sacks and 4 PBUs. pic.twitter.com/ds3ISFHmcl

— Bobby Football (@Rob__Paul) July 8, 2021
Defensive tackle Keenan Stewart kicked in seven tackles for loss last season, making the defensive line the strength of the defense.
Peveto's biggest challenge is getting production out of the back seven after posting a rank outside the top 100 in Success Rate and 83rd in Finishing Drives.
UTEP will pose plenty of trouble to opposing offensive lines that are rebuilding, but the ability to stop the chains and improve coverage ranks will be the crux of the Miners defense season.
By the time college football fans find FloSports minutes before kickoff, every investor will be aware of what New Mexico State posted against two FCS schools in the spring. The question is whether or not there's opportunity to fade a market that believes the same team that lost to Tarleton State shows up in Las Cruces on Saturday night.
Doug Martin enters his ninth season as head coach with a contract set to expire in June 2022.
After a 2020 investigation into allegations, Martin was cleared of any misconduct. Martin has publicly expressed disappointment for not getting an extra year on the staff contracts due to the pandemic, a story that may keep the Aggies on the fade side of investments without winning results.
---
Aggies Offense
Martin indicated the quarterback battle between Jonah Johnson and Weston Eget will continue through kickoff.
Johnson was the starter for the Tarleton State loss, throwing three interceptions to just one touchdown. An in-game injury to Johnson against Dixie State led to a touchdown drive led by Eget. Johnson finished the game, posting two touchdowns on the ground and none through the air.
Doug Martin wouldn't make a starter… Didn't expect he would. But Jonah Johnson said he believes he's improved a lot since the spring pic.twitter.com/XGIIJh5stB

— Jason Groves (@JPGroves) August 24, 2021
The offensive line will be anchored by Ole Miss transfer Eli Johnson at center and senior Sage Doxtater at left tackle.
Tight end Andre Bodison and wide receiver Terrell Warner represent the only Aggie targets with experience against FBS opponents from 2019.
---
Aggies Defense
New Mexico State was destroyed by explosive plays against Tarleton State. The Texans logged a 70-yard touchdown run just a minute into the game.
An 86-yard haul through the air came on the next drive. The explosive plays were not just limited to Tarleton State, as Dixie State accomplished the same in the following game. The Trailblazers notched three touchdowns that exceeded 50 yards both on the ground and through the air.
FB: Kody Wilstead + Quali Conley = TOUCHDOWN! #DixieBlazers #WeAreONE #OnTheRISE pic.twitter.com/9YxqdOfBUU

— Dixie State Football (@DixieState_FB) March 8, 2021
Frank Spaziani enters his sixth season for New Mexico State, but recruiting and transfer portal activity has diminished returns on the defensive side of the ball. There are no returning starters from the 2019 team that faced FBS competition.
Linebackers coach Oliver Soukup mentioned the New Mexico State defense has improved against the run through fall camp but allowed "a couple of big passes."
---
UTEP vs. New Mexico State Betting Pick
New Mexico State has done nothing to improve a defense that was detonated by the explosive play in two spring FCS games. The back seven continues to struggle in giving up explosive pass plays through multiple Aggie scrimmages leading up to kickoff.
That is good news for Hardison, who had a positive ratio in big-time throws to turnover-worthy plays. The key for UTEP is the drops, as Hardison saw 10 drops in 144 passing attempts from a clean pocket. The deep ball is certainly there for the quarterback after posting an average depth number north of 12 yards per catch.
The good news for UTEP is the defensive strength resides in the trench. The New Mexico State offensive line is in a rebuild with minimal FBS experience. Whether Johnson or Eget is under center for the Aggies, the Miners will apply max pressure with just a four-man rush.
The Action Network projection has UTEP -12, giving value to the current market number on the Miners. The hesitation is the pace of play with a Dana Dimel team, as running the play clock is the identity of the offense.
If New Mexico State is unable to stop the explosive pass, this could be a big night for Cowing and a long evening for the Aggies.
While UTEP is the only look from a point-spread point of view, the total has steamed through the week. The Miners will attempt downfield passing and look to execute at the level of Tarleton State and Dixie State.
The question on the projected total of 59 is whether or not New Mexico State can hold up its end of the deal in the scoring department.
Considering this is a revenge game from 2019, the best look is a UTEP team total over rather than on the full game.
Pick: UTEP -10 or better | Team Total Over 34 or better.
---
---
Are you looking for a safe, reliable, trustworthy sportsbook? Check out our ratings of the best sportsbooks and their current sign-up offers for new customers.