2021 College Football Week 1 Best Bets: Our Top 10 Picks for Thursday, Including Boise State vs. UCF, Ohio State vs. Minnesota & More (Sept. 2)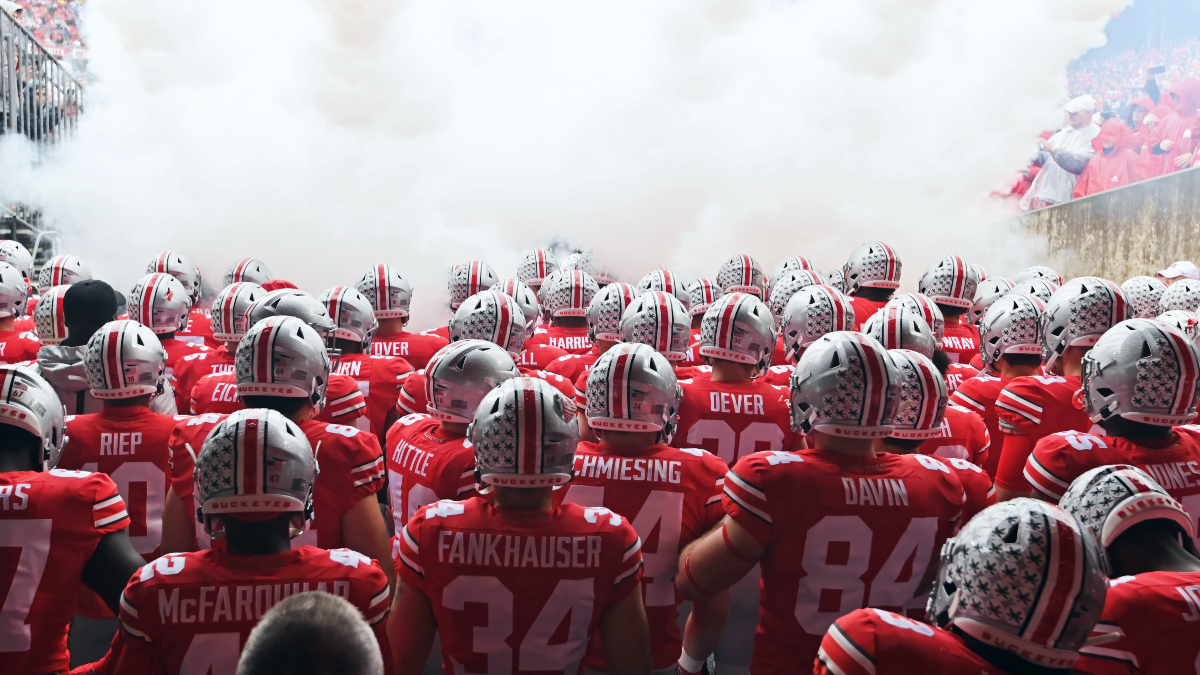 Last week marked the unofficial start of the college football season, as 14 teams took the field to ease us into the new year. And boy, wasn't it a thrill to see Illinois take on Nebraska in a Big Ten battle for the ages?
But now, college football officially back. The season will officially be in full swing starting tonight when Rutgers takes on Temple at 6:30 p.m. ET.
And as you'd expect, that's when our staff kicks off their favorite bets of the night. In total, our college football writers took up 10 bets across seven games in an effort to start Week 1 off on a high note.
They cover all of the big games of the night, including Ohio State vs. Minnesota, UCF vs. Boise State, and NC State vs. South Florida. But they also tackle some under-the-radar games like Eastern Washington vs. UNLV and Western Kentucky vs. UT Martin.
So, strap in for the season. We'll be here for the long haul. It's time to watch some football and make some money while we're at it.
_PromoID=[319,4288,4451]
---
Week 1 College Football Best Bets for Thursday, Sept. 2
The set of college football team logos below reflects each of our college football staff's Week 1 best bets for Thursday, Sept. 2. Click any logo to navigate to a specific pick discussed in this article.
| | | |
| --- | --- | --- |
| Game | Time (ET) | Bet |
| Temple vs. Rutgers | 6 p.m. | Over 51 |
| Boise State vs. UCF | 7 p.m. | UCF -4.5 |
| Boise State vs. UCF | 7 p.m. | UCF -4.5 |
| Boise State vs. UCF | 7 p.m. | Over 67.5 |
| Boise State vs. UCF | 7 p.m. | Under 68.5 |
| ECU vs. Appalachian State | 7:30 p.m. | Appalachian State -9.5 |
| USF vs. NC State | 7:30 p.m. | NC State -18.5 |
| Ohio State vs. Minnesota | 8 p.m. | Minnesota +14 |
| UT Martin vs. Western Kentucky | 8 p.m. | Western Kentucky -22 |
| Eastern Washington vs. UNLV | 10 p.m. | Eastern Washington +3.5 |
Listed odds have been updated as of Wednesday, Sept. 1 at 10 p.m. ET. Specific bet recommendations come from the sportsbook offering preferred odds as of writing.
Always shop for the best price using our NCAAF Odds page, which automatically surfaces the best lines for every game.
Photos via Getty Images.
---
Temple

Rutgers
The Temple Owls had a season to forget last year going 1-6 and being outscored by an average of 17.8 points per game.
COVID-19 protocols prevented the Owls from starting their season until October. The offense looked solid through the first three games when they averaged 32.3 points per game, until they were stung by the injury bug and ended the season with their fifth-string quarterback and the offensive line playing musical chairs.
The defense only has six starters coming back after allowing 37.1 points per game and an astonishing 9.2 yards per pass attempt.
Rutgers offense only averaged 13.3 points per game in 2019. In 2020, under head coach Greg Schiano they doubled that, averaging 26.7 per contest. They return nearly their entire team, only losing one starter on defense.
The Scarlet Knights offense returns 96% of its receiving yards and 89% of its rushing yards to help offensive coordinator Sean Gleeson's up-tempo offense. They ranked 34th in the country in plays per game where they averaged 75.4, which deserves extra praise when you remember they play in the Big Ten.
The defense wasn't great last season, allowing 32.1 points per game and over 450 yards per game. It struggled against the pass, allowing quarterbacks to complete 67.3% of their pass attempts.
With Temple's offense finally getting its continuity back and an up-tempo Rutgers offense, we should see a lot of points in this matchup. Add in the fact those offenses are matching up against subpar defenses that show no signs of improvement, and we are in store for a high-scoring affair.
_PromoID=[4451]
---
Boise State
UCF
By Doug Ziefel
There may not be a better way to kick off the first Thursday slate of the college football season. This matchup will have everything, from offensive fireworks to first-year head coaches, and even a dark-horse Heisman candidate. Not to mention this is the first-ever meeting between these two programs as Boise State leaves the blue turf and enters "The Bounce House" to face off against UCF.
New head coach Gus Malzahn inherits an explosive offense with seven returning starters from 2020 when the Knights averaged 42.2 points per game. The offense will be led by sophomore quarterback Dillon Gabriel. Gabriel is coming off a breakout campaign in which he finished fifth in the nation in passing yards, including setting a school record with 601 yards against Memphis.
The Knights' mediocre 6-4 record in 2020 can be attributed to the losses on the defensive side of the ball. Five players had opted out before the season and then four more were dismissed from the team mid-season. Malzahn's unit should be vastly improved as the formerly depleted defense returns nine starters.
The Boise State Broncos, now led by first-year head coach Andy Avalos, are coming off a down year from both sides of the ball. Their 5-2 finish to the 2020 season has covered the fact that the Boise State offense had its lowest yards per game since 1996. That was alongside a defense that gave up the most points since 1998.
Yes, the Broncos were hit hard by COVID, but they still return nine starters on offense and eight on defense. They will certainly improve from 2019, though that may be from their lowest point possible.
This line went up and down since it opened as it steamed up to 5.5, but it has now been bought back down to 4.5. This number should be jumped on as the Knights will simply be too much for the Broncos to handle.
They are the more efficient offense, and their big-play ability allows them to blow the game open after any defensive stop. They will also greatly benefit from this game being at home where they are 23-2 straight up over the last four years.
_PromoID=[319]
---
By Shawn Burns
After winning 35 out of its last 39 games, UCF fell back to Earth with a 6-4 record in 2020.
The offense returns nine starters, including All-AAC quarterback Dillon Gabriel and his top target receiver Jaylon Robinson. The Knights return all five starters on the offensive line, which is key when breaking in a new offensive system.
On the other side of the ball, they lost three defensive backs to the NFL Draft and return nine starters from last season. UCF has young talent and also hit the transfer portal, bringing in multiple players to improve the defense overall.
Boise State hired first-time head coach Andy Avalos in January, and he has veteran quarterback Hank Bachmeier and four starters back on the offensive line to assist with the transition from former coach Bryan Harsin.
The running game needs to improve, and with a healthy George Holani returning it should help an offense that averaged only 106 yards per game on the ground. Avalos is a defensive coach and will have nine starters back from a defense that allowed 27 points per game.
The Broncos lost both starting cornerbacks to graduation, and as a team, they forced only three turnovers.
UCF is 18-2 straight up over their past 20 games at home and is anticipating a sold-out crowd Thursday night. This will only add to the wild atmosphere for the season opener.
With Boise State breaking in two new corners in the secondary, look for Gabriel, Robinson and the Knights offense to play well in Malzahn's first game as head coach.
---
Hank Bachmeier is back for his third season as the Boise State starter at quarterback after taking a bit of a dip in 2020. Bachmeier played in only five games, but his yards per attempt went down from 8.6 in his freshman season to 7.4 in 2020.
He'll be asked to throw a lot more in new offensive coordinator's Tim Plough's offense because the coach threw the ball 65% of the time in 2019 and was one of the fastest offenses in terms of seconds per play at UC Davis.
Boise State does bring back four offensive linemen, but the rushing attack needs to improve. The Broncos ranked 110th in Offensive Line Yards, 123rd rushing explosiveness, and gained only 3.3 yards per carry.
Bachmeier will have a ton around him, as the Broncos return 75% of their offense, according to TARP, including one of the best receivers in the country in Khalil Shakir. Last season, PFF had him graded as the No. 9 wide receiver after catching 52 balls on 76 targets for 719 yards and six touchdowns in only seven games.
He should be able to light up a UCF secondary that ranked outside the top 100 last season in Passing Success Allowed, pass explosiveness allowed, and tackling.
The Gus Malzahn era begins in Orlando, and he has one of the best Group of Five quarterbacks in the country in Dillon Gabriel.
Gabriel was one of the best downfield passers in college football last season, putting up a 6.5% big-time throw rate compared to a 1.9% turnover-worthy play rate, both of which ranked inside the top 10 in the nation, per PFF. He should be able to throw all over a Boise State defense that lost its top two corners from last season and still finished with coverage ranking of 94th, per PFF.
UCF did lose its top two rushers from last season, but junior Bentavious Thompson Jr. is poised to take the lead role, as he averaged 5.2 yards per carry in 73 attempts last season. He will be joined by two transfers in Mark-Antony Richards from Auburn and Isaiah Bowser from Northwestern.
So, it should be a solid backfield and UCF shouldn't see a big drop off from ranking inside the top 35 in Rushing Success, Offensive Line Yards, and Power Success Rate last season.
Boise State's front seven brings back a lot of production from last season, but the group really struggled against solid rushing attacks in 2020.
Air Force gained 415 yards and 6.3 yards per carry against the front seven last season, and BYU recorded 5.8 yards per carry.
This is going to be a fast-paced game with two of the best offenses outside of the Power Five.
With the additions of Plough and Kinne as offensive coordinators for Boise State and UCF, the pace of this game is going to be ridiculous. Both offenses should be able to torch each other's secondaries, as both ranked outside the top 90 in coverage and outside the top 100 in passing explosiveness allowed, per PFF.
So, I love Over 67.5 points at -110 and would play it up to 71 points.
_PromoID=[4288]
---
Admittedly, when you think of Boise State and UCF, you think of points. Lots of points.
And with good reason. The Knights and Broncos finished eighth and 27th in scoring last season, averaging 42.2 and 33.9 points, respectively. UCF ran the fastest-paced offense in the country and has a Heisman contender returning at quarterback in Dillon Gabriel. Meanwhile, the Broncos return a talented Hank Bachmeier at the position.
But both teams bring in new head coaches this year, including Gus Malzahn at UCF, who will be calling plays.
While Auburn ran only a slightly higher percentage of the time than UCF did last season — and both Josh Heupel and Malzahn like to use up-tempo, no-huddle offenses — it's still a completely new vernacular that Gabriel will have to learn.
UCF also lost three of its top receivers from 2020, and the Knights could lean more run-heavy with motion and jet sweeps that will keep the clock rolling until the offense masters the new scheme.
Furthermore, the UCF defense is far from great, but Bachmeier didn't exactly light the world on fire last year, throwing more than one touchdown in just a single game last year — almost exclusively against bottom-feeding Mountain West teams.
Finally, there's also the home-field advantage that UCF has at the Bounce House, one that Collin Wilson ranks as the 21st-most influential place affecting spread.
Not only could it keep the Broncos off their game playing in front of a major crowd for the first time since 2019, but the weather is also projected to be in the 80s with a humidity of 75% and a 33% chance of thunderstorms.
That's pretty sticky for offenses to maintain blistering paces into the fourth quarter.
Add all that up, and while this game won't exactly be a rock fight, I think there's still some value to be had down to 66 as the total continues to drop from the opening line of 72.5.
_PromoID=[4451]
---
East Carolina

Appalachian State
Appalachian State and East Carolina square up on neutral turf for a nationally-televised opener in Charlotte, North Carolina. This is the 32nd meeting between the two programs all-time but the first meeting as FBS teams. Officially a home game for the Mountaineers, App State will place a logo in each end zone.
The Mountaineers enter the 2021 season without the prestige of being the reigning Sun Belt champions for the first time in five years. After a 9-3 season last year, App State will be back in the thick of the conference race.
Appalachian State returns 18 starters to a squad that only lost to ranked teams last year.
Chase Brice replaces quarterback Zac Thomas after his successful stint as a three-year starter. The former Clemson and Duke product has plenty of experience, having played in 36 FBS games, throwing for 3,200 yards and 19 touchdowns.
The defense brings back the majority of a group that was one the best in FBS, ranking 17th in total defense.
East Carolina will saunter into the Queen City under third-year coach Mike Houston, who is just 7-14 during his tenure with the Pirates.
Quarterback Holton Ahlers is a dual-threat QB who showed flashes of brilliance but was ultimately plagued by a weak line and interceptions.
The Pirate defense is a major area of concern heading into this matchup. It finished outside the top 100 in total defense last season. ECU will have to make significant improvements in both run and pass defense if it wants to hold its own against App State.
App State has all the weapons needed on offense to cover in this matchup. Brice, a former backup to Trevor Lawrence, has plenty of experience in Power Five play.
The Mountaineers have had a 1,000-yard rusher for the last nine seasons, and running back depth is stacked again this season.
The entire App State receiving corps returns as well. Look for App State to lean on the run early in this game as Brice settles into the new offense.
A swarming defense should cause plenty of havoc for an ECU team that has had issues protecting its quarterback.
My model projects App State as 17.26-point favorites and the total at 58.09 points. I like App State -9.5 here as the veteran Mountaineer team cruises to a cover.
---
---
USF
NC State
Nearly everyone returns from NC State's two-deep on defense (90% production, sixth). And that unit features playmakers at all three levels.
Payton Wilson has All-American potential at linebacker, and their performance against an electric Liberty offense (15-14 victory) late in the season showcased how they can crank up the Havoc (8 TFLs, 3 INTs).
On a Zoom call with the media two weeks ago defensive coordinator Tony Gibson made note that when Tanner Ingle (Safety) played last season, NC State was undefeated. The team captain returns after battling hamstring injuries in 2020 and gives a veteran unit even more confidence against a work-in-progress offense from USF.
Offensively, I'm encouraged by the small sample size Devin Leary provided last fall. The Wolfpack were 3-0 straight up and against the spread with Leary starting, and he hit three passing touchdowns with air yards in excess of 20 yards during that stretch.
South Florida was embarrassed defensively in 2020, surrendering 34 or more in seven of its nine contests.
The Bulls' 3-3-5 defense needs to break in new starters in its "back eight" which is not what the doctor ordered against a Wolfpack offense returning just about all of its difference makers at the skill positions.
NC State -10 in the first half is another way to attack this, but I am opting for an out-and-out blowout, tapping the alternate line at NC State -27.5 (+250).
_PromoID=[319]
---

Ohio State
Minnesota
It's the first Thursday night of the season, and potential rain is in the forecast in Minneapolis. It's a Big Ten battle between the class of the conference in the Buckeyes and a team coming off a very mediocre 2020 campaign in the Gophers.
Ryan Day hands the keys to the car over to quarterback CJ Stroud, who enters 2021 with very lofty expectations. Stroud inherits arguably the best wide receiver tandem in the country in Chris Olave and Garrett Wilson, as well as plenty of other weapons. This offense has all of the tools to be an elite unit once again, despite some turnover on the offensive line.
On the Gopher side of the house, PJ Fleck will look to recreate some of the buzz from a special 2019 season that had the Gophers inside the top 10 late into the year. To do that, he and defensive coordinator Joe Rossi will need to seriously improve a defensive unit that got consistently torched in 2020.
Along with several defensive starters returning, the Gophers welcome Clemson transfer nose tackle Nyles Pinckney and NC State transfer defensive tackle Val Martin, so there is reason to believe this unit could be better in 2021.
There is no question a huge talent disparity exists in this matchup. The Buckeyes have, pound for pound, one of the most complete rosters in the entire country.
But experience matters, especially in Week 1. Tanner Morgan and Mohamed Ibrahim came back for a reason and have played in plenty of big games before. I expect them to both come out of the gates firing and generate their fair share of chunk plays against a still somewhat unproven Buckeyes secondary.
I'll also bank on a bit of early rust for Stroud in his first career start in what should be a pretty rowdy environment.
Minnesota does not possess the firepower to win this game, but with Morgan and Ibrahim leading the way, they can put up enough points to hang inside this number and cover the 14. Grab your oar, and row the boat.
_PromoID=[4847]
---
UT Martin

Western Kentucky
By Keg.
Offensive coordinator Zach Kittley, quarterback Bailey Zappe, wide receivers Ben Ratzlaff, and brothers Jerreth and Josh Sterns all arrived at Western Kentucky this offseason from Houston Baptist University.
Last season, Zappe completed 141 of his 215 pass attempts for 1,833 yards, 15 touchdowns, and one interception. Ratzlaff and the Sterns brothers were HBU's three leading receivers, combining for 89 catches, 1,256 yards and 12 touchdowns in four games each.
Three of HBU's four games last season came against FBS opponents, including a two-point loss at Texas Tech in which Zappe threw for a school record 567 yards.
WKU's defense, led by Conference USA Defensive Player of the Year DeAngelo Malone, returned its top six tacklers from 2020 when it finished 22nd in the nation in scoring defense (20.1 ppg), eighth in passing yards allowed (177). It also owns a unit that's top-20 nationally in third-down defense (seventh, 29.7%) and red-zone defense (T-19, 75.8%).
Tennesee-Martin will be no match for WKU, a veteran team that is slated to start 17 seniors with this transplant Air Raid offense and a strong returning defense.
I'm taking the Hilltoppers -22 (-110), and I would bet them up to -23.5 (-110). But make sure to shop around on this line. I have seen it everywhere from -14 to -26.5.
---
Eastern Washington
UNLV
Eastern Washington has had a short offseason after making an appearance in the FCS Playoffs in the spring, but it could give UNLV a run for its money in Week 1.
The Eagles have the passing attack to keep up in this one after leading the FCS in PFF team passing grade over its seven-game season.
Quarterback Eric Barriere returns this fall — with 38 career starts under his belt — and was named a preseason first-team FCS All-American and the preseason MVP in the Big Sky Conference.
Overall, Eastern Washington's offense ranked fifth in the nation in Expected Points Added Per Play in the spring season.
UNLV has nowhere to go but up entering this season after an 0-6 finish in 2020.
Tate Martell comes in at quarterback after being in college for what seems like a decade, but he has done nothing to indicate that he can be an effective passer.
The Rebels struggled almost everywhere on offense last season, ranking outside the top 100 in EPA Per Play, Success Rate and Points Per Drive. UNLV's offensive line also ranked 122nd in Sack Rate.
The Rebel defense may have been even worse than the offense, with bottom-10 rankings in EPA Per Play Allowed and Points Per Drive Allowed. All six of its opponents in 2020 scored at least 30 points and averaged at least six yards per play.
The Eastern Washington passing offense should find its fair share of success against this weak defense, and it's a major question mark if UNLV's offense will be able to keep pace.
---
Are you looking for a safe, reliable, trustworthy sportsbook? Check out our ratings of the best sportsbooks and their current sign-up offers for new customers.