College Football Odds & Picks for Week 1: Collin Wilson's Top 3 Games to Bet on Saturday (Sept. 4)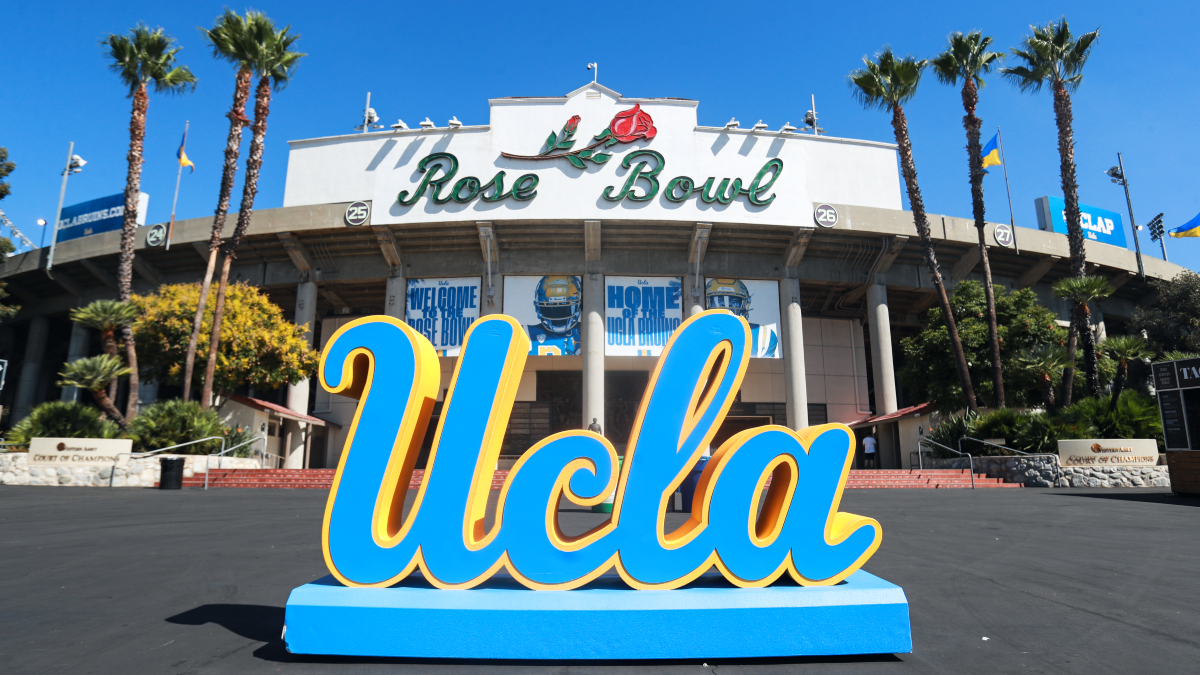 After a nice Week 0 appetizer with bits of Wednesday, Thursday, and Friday action, we've made it to the main course.
Week 1 is here, representing the official start of the new college football season.
The beginning of the new season will allow a number of teams to find themselves once again after challenging 2020 campaigns, including Wisconsin and Penn State, who open Big Ten conference play against each other at noon ET.
Nick Saban's Alabama Crimson Tide once again serves as the measuring stick for the rest of the country, and Miami has the chance to learn whether or not it can contend on Saturday.
Finally, LSU travels to SoCal to take on UCLA in a battle to find out which side has fewer question marks entering the 2021 season.
All three storylines lend themselves to specific bets, and I'll break down each one below.
---
_PromoID=[319,4288,4451]
My College Football Betting Card for Week 1
Here's a rundown of my favorite betting spots on Saturday's slate of games.
Click the team logos for one of the matchups below to navigate to a specific game on my Saturday Week 1 college football betting card.
| | | |
| --- | --- | --- |
| Game | Time (ET) | Pick |
| | Noon | Penn State +5.5 |
| | 3:30 p.m. | 1H under 31 |
| | 8:30 p.m. | UCLA +125 |
Listed odds have been updated as of Thursday, Sept. 2. Specific bet recommendations come from the sportsbook offering preferred odds as of writing.
Always shop for the best price using our NCAAF Odds page, which automatically surfaces the best lines for every game.
Photos via Getty Images.
---
---
No. 19 Penn State vs. No. 12 Wisconsin

Penn State
Wisconsin
Arguably the two best Big Ten teams outside of Ohio State will face off in a cross-division season opener on Saturday.
Both Penn State and Wisconsin left numerous questions on the table after uncharacteristic campaigns last season. Wisconsin lost three straight conference games spread out among COVID-19 cancellations.
A win in the first-ever Duke's Mayo Bowl alleviated concerns, but questions linger about whether or not the offensive attack that led to consistent New Year's Six bowls will return.
Penn State lost five straight before winning the final four remaining games of its all-Big Ten schedule. The Nittany Lions struggled with injuries deep through the skill position depth chart while getting acclimated to a new offensive coordinator.
The defense, known for being top-10 in Havoc yearly, finished 40th in the country. There are plenty of questions for James Franklin with yet another offensive coordinator and a defense needing to return to contending form.
---
The Nittany Lions return close to the national average on both sides of the ball, as 74% of the offense and 76% of the defense returns counting stats, per transfer activity and returning production.
After just one season in State College, offensive coordinator Kirk Ciarrocca is out and longtime Oklahoma State coordinator Mike Yurcich is now in charge of putting points on the board.
It was an off-season for the defense, starting with Micah Parsons opting out of the season and before becoming part of the Dallas Cowboys roster.
Coordinator Brent Pry took responsibility over the offseason, refocused on getting players to buy into the system. While the Nittany Lions remained top-10 in tackling, coverage and Finishing Drives, each category took a dive for the defensive unit.
---
Nittany Lions Offense
A review of Yurcich's resume gives investors hope that this could be the best season yet for quarterback Sean Clifford. The junior quarterback indicates he feels like a different player under Yurcich through fall camp.
Clifford regressed in 2020, recording just five big-time throws and committing 10 turnover-worthy plays.
Although the touchdown-to-interception ratio is aesthetically on pace with his career trajectory, the Nittany Lions quarterback's production slid compared to the 2019 season.
Fine, I'll be the one to say it. This was a TERRIBLE throw by Sean Clifford. pic.twitter.com/2s9E9WrxEH

— Ben Stevens (@BenScottStevens) November 14, 2020
Ciarrocca did not change much from a scheme and run ratio, averaging 80% of plays in 11 with a 53% lean to the pass. All of that will change with Yurcich calling the plays. Last season, Yurcich ran exclusively 11 with Sam Ehlinger and the weapons on the Longhorns roster.
Before serving as quarterbacks coach at Ohio State in 2018, the coordinator lit up scoreboards at Oklahoma State.
Expect Penn State to line up much of what the Cowboys fielded from 2013-18. Half of the formations will come in 11, but Yurich also ran 10 personnel on 30% of snaps.
While the run-pass ratio was an even distribution in 11, the empty-back set will feature the pass on 70% of snaps.
Yurcich will do everything he can to get the ball in the hands of wide receiver Jahan Dotson.
All Jahan Dotson needed was ☝️ hand. 😤

PSU (+10.5) cuts the deficit to 12.

— Action Network Colleges (@ActionColleges) November 1, 2020
Considering the talent at running back with Noah Cain and Devyn Ford, this Penn State offense has the chance to improve on a Success Rate rank of 38th.
Only one offensive line position had competition for a new starter, and with consistent play out of Clifford, the Havoc Allowed rank should improve from 41st last season.
---
Nittany Lions Defense
The perennial bite of the Penn State defense was missing through the first five games of the 2020 season. There were big losses from a personnel perspective.
Brent Pry continued a 4-3 scheme that inserted a nickelback in passing downs, but incorrect pre-snap alignment and missed assignments allowed offenses to gain explosive plays in handfuls.
Over the four-game winning stretch to end the season, Penn State had rediscovered Havoc and kept every opponent to 24 points or less.
Jaquan Brisker has really had himself a solid season, confidence on display to crash down on this play so aggressively. pic.twitter.com/8rz6nC3CjH

— Ben Jones (@Ben_Jones88) December 6, 2020
Jaquan Brisker leads one of the deepest secondaries in the nation after posting 49 tackles and five pass breakups. Even more impressive, through 488 total snaps, Brisker logged just one missed tackle.
The depth in the secondary may lead to more play of the 4-2-5 scheme as Pry looks for answers at the linebacker position.
The defensive line consists of player transfers and a number of position swaps. Pry's ultimate goal is to field edge rushers capable of getting Penn State back in the top 10 in Havoc.
The Nittany Lions fell from 11th in tackles for loss per game to outside the top 45 in 2020, as getting into the backfield will be a key factor in Penn State's success.
---
The 2020 season may be a complete throwaway from a statistical perspective. COVID-19 ravaged Wisconsin through its 4-3 campaign, along with an injury to quarterback Graham Mertz that was not disclosed until this past spring.
The offense finished 46th in Success Rate and 77th in Finishing Drives, both out-of-order anomalies in the Paul Chryst era.
The defense was rock-solid in getting Wisconsin to Charlotte for a victory in the Duke's Mayo Bowl. The Badgers return 83% of the defense, per TARP, great news for a unit that was top-10 in Success Rate and Finishing Drives.
Like Penn State, the Badgers will be looking for answers to a dip in Havoc. Defensive coordinator Jim Leonhard's unit finished an uncharacteristic 43rd with the primary driver being a tackles for loss per game rank of 93rd.
---
Badgers Offense
Joe Rudolph returns for his sixth season as offensive coordinator at Wisconsin.
The Badgers primarily use 11 personnel but often switch to a two-back set in 21 depending on down and distance. The focus will continue to be on establishing the run, with a surprising victor in fall camp at first-string running back.
Chryst on Mellusi being the No. 1 RB over Berger: "He's been really consistent. It means a lot."

Expecting a number of guys to contribute, including Guerendo. Mentions that Braelon Allen has some things he can give them, too. pic.twitter.com/UToMKPvQZw

— Zach Heilprin (@ZachHeilprin) August 30, 2021
Clemson transfer Chez Mellusi has taken over duties from Jalen Berger for being consistent throughout camp.
Mellusi backed up Travis Etienne and recorded 27 rushing attempts last season. Nothing in the advance stats from 2020 suggests Mellusi is an explosive back, as he created just one missed tackle with an average of 3.07 yards after contact. Mellusi had the lowest elusiveness rank of any Clemson player with at least 10 carries in 2020.
If the transfer can return to 2019 form, when he created seven missed tackles and averaged four yards after contact, Wisconsin may have the explosive running back it needs.
Chez brings experience to the Wisconsin offense. Goals have never been higher #OnWisconsin @chez_mellusi pic.twitter.com/IT3vOkA1kY

— IKE Badgers Podcast (@IKE_Badgers) August 31, 2021
One area to watch is left tackle Tyler Beach, who is recovering from a left leg injury.
There is experience in the two-deep at multiple positions, but the blindside tackle for Mertz is paramount to the success of the passing game.
Both tight end Jake Ferguson and wide receiver Chimere Dike led the Badgers in receptions in 2020 and look for continued continuity in the passing game.
Considering linebacker is the center of all questions on the Penn State defense, the success of the Wisconsin offense may come down to Ferguson over the middle.
Jake Ferguson making his granddaddy Barry Alvarez proud. pic.twitter.com/fuI2lBxg97

— FOX College Football (@CFBONFOX) September 23, 2018
---
Badgers Defense
Wisconsin returns the best back seven of any other team in the Big Ten, led by linebackers Jack Sanborn and Leo Chenal.
While poor tackling grades were consistent throughout the defense, Sanborn logged an individual rank of seventh among all FBS linebackers who played at least 250 snaps.
The @BadgerFootball defense has been on the field twice.

It has two interceptions.@chenal_leo does the honors here. pic.twitter.com/qb7RVOjkU0

— Big Ten Network (@BigTenNetwork) November 15, 2020
Keeanu Benton returns to nose tackle to control the A gaps, a big reason Wisconsin ranked sixth in Defensive Line Yards.
Four-star freshman Hunter Wohler is expected to work his way into a defensive backfield that goes 10 deep on the depth chart.
All eyes will be on Matt Henningsen and Isaiah Mullens at the edge positions, as Wisconsin fell to 104th in Sack Rate during 2020.
---
Penn State vs. Wisconsin Betting Pick
Both Penn State and Wisconsin will be searching for answers from underwhelming 2020 seasons.
There are positives in both fall camps, from Mertz progression as a third-year quarterback for the Badgers to Penn State focus on eliminating mistakes with Clifford.
The biggest victory in the offseason may have been the hire of Yurcich as offensive coordinator for the Nittany Lions.
He has depth at offensive line, specifically at the tackle positions. That is key against a Wisconsin defensive front that has one of the best nose tackles in the nation but lacks chaos at defensive end.
This will allow Clifford the time he needs to run through familiar 11 personnel sets and the new 10 personnel that will consist of getting the ball into explosive playmakers hands with low risk play calling. If Penn State improves a Finishing Drives rank of 76th, additional points on the board may lead to an outright victory.
As for the Wisconsin offense, Mertz started 2020 throwing a near-perfect game against Illinois. The Penn State secondary will present a tougher challenge with a projection to be a top-20 unit in FBS.
The expectation is a strong ground game featuring Mellusi and Berger, while Ferguson continues to get the lion's share of targets at tight end. The Wisconsin offense may be devoid of explosive plays from outside targets, and Mellusi still has plenty to prove through the ground attack.
Although the defensive coordinators have not changed on either side, it is tough to ignore tackling ranks of eighth for the Nittany Lions and 76th for the Badgers. The inability to generate a pass rush or make tackles on explosive plays may have Wisconsin playing on its heels the entire game.
Our Action Network projection lists the game at Wisconsin -2.5 with a total of 51. The total is in line with the market, as Yurcich generally runs a top-20 tempo and Wisconsin consistently ranks as the slowest in FBS.
Without pressure on Clifford, taking Penn State and the points is putting our faith in one of the best offensive coordinators in the game.
Pick: Penn State +5.5 (Play to +4)
_PromoID=[319]
---
---
No. 1 Alabama vs. No. 14 Miami
Alabama

Miami
Bigger than the Independence and Cheez-It Bowls, this may be the biggest game for the Miami Hurricanes in the Manny Diaz era.
The measuring stick for a college football team is Alabama, and the Hurricanes get a chance to see just how close — or far away — the program is from national title contention.
If there is a time to catch the Crimson Tide, the first game of the season after a mass departure in talent is ideal.
Nick Saban continues to shatter records.
Not only did the coach go undefeated in the first-ever 10-game conference schedule to win the SEC, but the 2020 National Championship also made him the winningest coach of all-time.
Only one more goal is on the table, as Saban is now tied with legendary Crimson Tide coach Bear Bryant in national titles in Tuscaloosa.
Alabama brings back a top-10 defense, but questions on offense persist after multiple departures in every unit to the NFL.
---
The Hurricanes finished the 2020 pandemic season at 8-3 with losses to ranked North Carolina and Clemson. The Cheez-It Bowl loss to Oklahoma State continued the questions about Diaz's ability to win in big games.
One area of improvement was the offense with transfer D'Eriq King and coordinator Rhett Lashlee leading the way.
Diaz continued to call multiple variations of the 4-2-5 defense but with declining results. Although the defense returns 90%, per TARP, the Hurricanes fell to 68th in Success Rate and 75th in Finishing Drives.
The signature of a Diaz defense is Havoc, and the Hurricanes were par for the course, ranking 12th on the 2020 season. The creators of chaos return and face their biggest challenge yet with Alabama.
---
Hurricanes Offense
Lashlee brought tempo and efficiency to a Miami offense that inherited the biggest prize in the portal with King.
The results were immediate with a tempo and Finishing Drives rank each in the top 20. The Hurricanes ran 11 personnel on 70% of snaps, quickly moving to a two-back 12 set depending on opposing defenses.
With King in control, Miami saw an increase in explosive plays.
The subject of King's knee has been the entire talk of camp. The senior has claimed 100% health throughout the summer after an ACL tear. King made multiple cuts on the open field during scrimmages, signifying he is ready for the Crimson Tide defense.
The ability to run is the most important element to the Canes offense, as King generated 27 missed tackles in 85 rushing attempts. The passing attack is just as important, as he tossed an impressive 23 big-time throws against seven turnover-worthy plays.
King gets every target and lineman back on offense with an additional weapon in wide receiver Charleston Rambo from Oklahoma via the transfer portal.
With backup quarterbacks Tyler Van Dyke and Jake Garcia on the sidelines, King is easily the most valuable player to any team in the FBS.
_PromoID=[319]
---
Hurricanes Defense
Training camp led to a few defensive swaps in the two-deep after rosters were released earlier this week.
The defensive line will see the same names in the starting lineup, bringing handfuls of tackles for loss and sacks. While the unit lagged in opponent Rushing Success Rate, the Hurricanes owned the trench with a rank of 21st in Line Yards.
Expect big things from Jahfari Harvey at Miami this year.. looked really good in his one start in the bowl game last year.. Canes defense needs to replace Jaelan Phillips and Quincy Roche pic.twitter.com/GIQ1AKEbDd

— Ryan McCrystal (@Ryan_McCrystal) June 28, 2021
The linebacker unit will field fresh faces, which may be a point of attack for the Crimson Tide offense. Both Corey Flagg and Keontra Smith saw limited snaps in 2020 but are expected to provide the speed needed to keep up with the Alabama skill positions.
The secondary is deep in returning experience, but if the freshman quarterback for the Tide lives up to the hype, a rank of 80th in coverage must improve for the linebackers.
---
Saban fielded one of the best college football teams in history through a pandemic. Alabama completed an undefeated season with a 9-4 mark against the spread.
To the victor go the spoils, as Alabama returns just 26% on the offensive side of the ball. Mass departures on the offensive line, skill positions and quarterback will be a challenge for new offensive coordinator Bill O'Brien.
Alongside Clemson and Georgia, the Crimson Tide may field the best defense in the nation. Alabama returns 76% of a stop unit that ranked 26th in Success Rate and top-20 in Finishing Drives and Havoc.
Every playmaker from the back seven returns, with the exception of Dylan Moses and Patrick Surtain. That leaves openings for blue-chip talent to step in and create highlights for NFL scouts.
If Alabama is to repeat as national champions, the defense must exceed outstanding 2020 numbers.
---
Crimson Tide Offense
Despite the losses on the roster, the offense will not undergo a scheme change as O'Brien takes the reigns from Steve Sarkisian.
Alabama primarily runs the 11 personnel but had an increase in two-tight end sets through the years under Sark. The Crimson Tide ran 12 personnel on 22% of snaps in 2019, a number that moved to 45% last season.
Alabama listed three different starters on the depth chart at tight end, as last year's starter, Jahleel Billingsley, started fall camp with disciplinary action.
"I've been sworn into secrecy with the advice he's talked to me about."

Current @AlabamaFTBL QB @_bryce_young says he's still in contact with @Patriots QB @MacJones_10 and appreciates having him in "his corner." pic.twitter.com/VfAUsUIFhV

— Trill Pinarski (@philpinarski) August 30, 2021
Bryce Young takes over at quarterback after the Crimson Tide fielded household names in Tua Tagovailoa, Jalen Hurts and Mac Jones. The sample from last season is minimal with 31 dropbacks, and he recorded one big-time throw and three turnover-worthy plays.
Saban has been more than pleased with the development of Young through camp but notes that timing and accuracy are persistent issues that are "on both the passer and route-runner.'
Young will have new faces on the offensive line and at the wide receiver position.
Slade Bolden, JoJo Earle and Jameson Williams will join proven explosive target John Metchie. The pipeline is always full of blue-chip talent at the offensive skill positions, a point that will be on full display against Miami.
---
Crimson Tide Defense
The defense remains largely unchanged under coordinator Pete Golding, a coach who consistently fields teams that are top-25 in Havoc back through his time at UTSA.
There are new faces to watch in the multiple 3-3-5 schemes, including Justin Eboigbe and Phidarian Mathis, who had limited time at the edge position.
Thanks to Tennessee and the transfer portal, Alabama brought in the best free agent on the market with Henry To'oTo'o.
Now that's more like it! Pick 6 Henry To'oto'o!! #GBO #Vols on top! pic.twitter.com/dw32FIxVPL

— Davey Hudson (@Davey_Hudson) September 27, 2020
With Surtain moving on to the NFL, Alabama is expected to field true freshman Kool-Aid McKinstry. Loaded is probably an understatement when it comes to the weapons Saban and Golding will have at their disposal this fall.
If there is an area that might be a level below elite, it's the defensive line.
Alabama finished 56th in Line Yards and 34th in Opponent Rushing Success Rate. The 3-3-5 defense is built to confuse opposing quarterbacks in passing downs and depends on a nose tackle to fill the gaps around the center.
Offenses may get away with running between the tackles, but top-20 ranks in tackling and Finishing Drives suggest the Crimson Tide defense always shows up with their backs against the end zone.
---
Alabama vs. Miami Betting Pick
The handicap comes down to King's knee versus an Alabama defense that can shut down any explosive attack in the country. The handicap on beating Miami comes down to tackling in space.
When King can force missed tackles and create deep passes on scramble attempts, it's a strength for Lashlee's offense. The problem for Miami is that this is the best back seven defense it will face the entire season.
This exact scenario played out for the Hurricanes last season against Clemson. Taking out a 56-yard run in the second quarter, King ran for just 28 yards on 13 attempts against the Tigers defense. Like Clemson, Alabama does not miss opportunities to tackle in space.
The Alabama offense is increasingly moving to a 12 personnel that averages more rush attempts than pass. Will Saban and O'Brien elect to throw straight into the heart of an excellent secondary for Miami? The weakness of the Hurricanes defense is the linebackers, which can be tested with short throws over the middle and a steady diet of screens.
Considering Miami's point of attack is at a fresh defensive line for Alabama, explosive plays may be at a minimum at Mercedes-Benz Stadium.
Interestingly enough, Alabama has scored a combined 17 points in the first quarter of opening nonconference games against Duke, Florida State and Louisville.
Pick: 1H Under 31 or better
_PromoID=[4288]
---
---
No. 16 LSU vs. UCLA

LSU

UCLA
UCLA could not have kicked off the 2021 season any better, destroying Hawai'i in Week 0.
The Bruins flexed not only a strong rush attack, but a defense that consistently played behind the line of scrimmage.
An easy cover in Chip Kelly's opener was highlighted by three touchdowns from Michigan transfer Zach Charbonnet, a 52% Stuff Rate from the defense, and most importantly, zero turnovers.
Although the Warriors had plenty of question marks on the field and a first-time offensive coordinator, UCLA will take those positive results into a showdown with LSU.
The Bruins' opposition has dealt with plenty of hurdles before the season even started. LSU will have two new coordinators with Jake Peetz calling offensive plays and Daronte Jones getting an assist from head coach Ed Orgeron.
With new schemes come the struggles of fall camp, from starting quarterback Myles Brennan's potentially season-ending injury to both future NFL cornerbacks missing weeks of practice.
Within the walls of the LSU program, the football team is looking to recapture the 2019 season, while outside of the program, Hurricane Ida displaced players and staff.
The focus for LSU players will be questionable on an extended road trip, but the Bruins have made plans to pack the Rose Bowl after disappointing attendance against Hawai'i.
The UCLA athletic department has offered complimentary tickets and discount offers to alumni as the Tigers come to Pasadena after three practice days in Houston.
With a kickoff scheduled just before sunset, there will be plenty of New Year's Six vibes in this head-to-head.
---
The days of Joe Burrow at quarterback and Joe Brady as passing game coordinator feel longer than just 20 months ago.
The Tigers ended 2020 with a 5-5 record after embarrassing double-digit losses in the opener to Mississippi State and later to Alabama. Bo Pelini quickly left Baton Rouge after a short stint as defensive coordinator, while Steve Ensminger retired as offensive coordinator.
Plenty of numbers flatlined last season as the offense regressed to outside the top 50 in Success Rate with a Finishing Drives rank of 95th.
The defense fell outside the top 100 in Success Rate and consistently posted the worst tackling grades in FBS.
New coordinators on both sides of the ball are looking for 2019 success by returning to the formula that won a National Championship.
---
Tigers Offense
Serving as a defensive assistant to the UCLA team in 2007, Peetz has come a long way in his journey to being the offensive coordinator for LSU. After hopping around the NFL as a quarterbacks coach, the Nebraska alum spent one season on Joe Brady's Carolina Panthers staff in 2020.
Peetz has made it clear that replicating the Brady scheme and tempo is the goal, along with flipping tables to get players' attention.
The offense will feature Max Johnson under center after he spent the better part of training camp getting dominated by the defense in scrimmages.
In two starts last season, Johnson had four big-time throws and five turnover-worthy plays. Those numbers paint a better picture of the quarterback's struggle with accuracy and decision-making in a crowded pocket outside of his eight touchdowns to just one interception.
Johnson's arm strength has been in question with an offensive line that has shuffled through the month of August.
As for the skill positions, Kayshon Boutte is one of the best targets in the country but has little support from other skill positions. Five-star tight end Arik Gilbert has moved on from LSU, while freshman standout Malik Nabers will sit out UCLA game with injury.
If Peetz wants to replicate 2019, then the role of Clyde Edwards-Helaire must be filled by one of the candidates in the backfield. John Emery Jr. does have the elusiveness after posting 20 missed tackles in 76 rushing attempts.
John Emery makes house calls. pic.twitter.com/BPAW5ECmHn

— SEConCBS (@SEConCBS) December 6, 2020
Emery will be joined by Tyron Davis-Price in providing success in standard downs, as each back averaged over three yards after contact.
If Peetz is to replicate the 2019 LSU offense, the Tigers will remain primarily in 11 personnel with a pass rate of 64% that contains motion over 80% of snaps.
If Johnson is unable to move the chains, look for Orgeron to move on with true freshman Garrett Nussmeier under center.
---
Tigers Defense
The LSU defense could not have started 2020 out any worse against the Air Raid of Mississippi State, as Bo Pelini elected to stay in man coverage rather than rushing three and dropping eight.
The former Nebraska head coach was asked to simplify the defense early in the season, as issues with pre-snap alignment and tackling persisted. Pelini was fired despite fielding some of the best recruiting talent in the nation.
Derek Stingley Jr: Highest coverage grade among returning CBs (91.9) 🔒
pic.twitter.com/OyY8JSPB2E

— PFF College (@PFF_College) June 3, 2021
Jones is expected to run a simplified 4-3 defense to decrease the number of explosive plays from opposing offenses. An entire rotation of linebackers has been solid through camp that even Clemson standout transfer Mike Jones Jr. may not have much of a role in defending the rush.
LSU fields two of the best cornerbacks in the country in Derek Stingley and Eli Ricks, but the handicap against UCLA comes down to the defensive line.
Both defensive ends, Ali Gaye and Andre Anthony, played 10 games and over 450 snaps last season. Gaye has consistent issues setting contain at the edge position and recorded one of the highest missed tackles rates a season ago. At the other edge position, Anthony struggles in the pass rush, generating just 16 hurries in 276 opponent passing attempts.
With a season-ending injury to Glen Logan, Maason Smith and Neil Farrell will receive duties at defensive tackle. Smith was one of the most sought-after recruits and has the size as a true freshman to keep gap integrity. Farrell played over 300 snaps last season, struggling with missed tackles.
If there are two areas UCLA may attack, Farrell and Gaye may be targeted all evening on the ground.
_PromoID=[4451]
---
Defensive coordinator Jerry Azzinaro surely had a bit of relief after the Hawai'i numbers served as redemption to a subpar 2020 season.
The Bruins posted a rank of 121st in Defensive Rushing Success Rate and 113th in tackling last season, but the box score against the Warriors indicates massive improvement.
UCLA stuffed Hawai'i on 10-of-19 rushing attempts while averaging 2.2 yards per play on passing downs.
With a spread closing north of -17, the UCLA defense generated two turnovers and allowed just 1.8 points on drives that crossed the 40-yard line.
This isn't your average UCLA defense. They are flying around right now! pic.twitter.com/ob55a6fdNZ

— Zach McKinnell (@zachmckinnell) August 28, 2021
---
Bruins Offense
There were expectations that the ground game would be elite for UCLA.
Brittain Brown was a known quantity after a transfer from Duke last season, but his six yards per carry on 13 attempts were outshined by another transfer. On just six rushing attempts for the day, Michigan transfer Zach Charbonnet recorded over 100 yards and three touchdowns.
Former @UMichFootball Wolverine Zach Charbonnet is going BEAST MODE for @UCLAFootball 😤

(🎥 @espn) pic.twitter.com/Co7Cl2wMJc

— 247Sports (@247Sports) August 28, 2021
The one-two punch of Charbonnet and Brown will keep every defense on the UCLA schedule honest in defending the rush. While the highlights from Week 0 are exciting to consume, there were a few alerts in the box score that may indicate the Bruins passing game is well behind the rush.
Quarterback Dorian Thompson-Robinson completed just half of his 20 attempts for 130 yards. On the positive side, two of the incompletions were recorded as drops and no turnover-worthy plays were recorded.
Thompson-Robinson was pressured on five attempts, with the first incompletion coming on a throwaway to avoid a sack attempt.
An average depth of target of 12.1 yards is well beyond any of the fourth-year quarterback's previous seasons.
There is reason to believe UCLA is ready to take the next step as a program under Kelly, but a glorified scrimmage against Hawai'i is not enough to say the Bruins are Pac-12 contenders.
---
Bruins Defense
The best adjective for the Bruins defense may be "swarming." Every defense play saw a handful of UCLA hats around the ball, as the 10 missed tackles were recorded by players who primarily took snaps in the second half.
The new and improved 4-2-5 defense played tight zone coverage while mixing in Bullets A Cross stunts from the linebackers. The key to UCLA being successful is using the cross -oute stunts against an LSU offensive line that did not get continuity through training camp.
Datona Jackson with the ridiculous Bruins INT@UCLAFootball | #GoBruinspic.twitter.com/RugI0RGFYA

— Collin Wilson (@_Collin1) August 28, 2021
UCLA forced a pair of interceptions and sacks against Hawai'i. The Warriors had an average third-down distance of 8.3 yards and converted just 4-of-15 attempts.
The most impressive stat may be available yards allowed, as Hawai'i posted just 27% well below the national average of 44%. The Bruins will need a similar performance from a Havoc and Success Rate standpoint to stop an LSU attack that will target Boutte in every series.
---
LSU vs. UCLA Betting Pick
Our Action Network power ratings initially made UCLA a small favorite. The box score from the Hawai'i game shaded the Bruins in a positive direction, projecting UCLA out to 3.5-point favorites.
Kelly has an opportunistic home squad trying to make noise in the college football landscape.
If Thompson-Robinson continues to stay out of the turnover-worthy play column, the Bruins will win this game. Considering the strength of the LSU defense is against the pass, the handicap is the UCLA rushing attack.
Both Charbonnet and Brown will target Farrell and Gaye on the defensive line, putting the LSU tackling drills to test. LSU finished 2020 ranked 80th in Line Yards and now starts a true freshman on the interior. While the defense for the Tigers is loaded with talent, the inability to stop the run will allow UCLA to overpower LSU on the ground.
Every single unit on the LSU offense has dealt with injury through training camp. Emery and Boutte create a typical SEC powerhouse punch on the ground and through the air, but questions about Johnson's accuracy and decision-making will be on full display with the UCLA blitz packages.
Each offensive ground game will dictate the Success Rate, and ultimately, the winner in this SEC/Pac-12 showdown.
The team with the least amount of questions is UCLA.
Pick: UCLA ML +125
---
Are you looking for a safe, reliable, trustworthy sportsbook? Check out our ratings of the best sportsbooks and their current sign-up offers for new customers.